Lens Sharpness, Contrast and Color Rendition
As I reveal in the sharpness tests below, the performance of the 24-120mm at shorter focal lengths is outstanding. Center sharpness is top-notch, even wide open, while the corners start out a little weaker at f/4, but get much sharper by f/5.6, with the best overall sharpness at f/8. Unfortunately, the same does not hold true for the longest focal length – that's where the lens suffers the most. There is plenty of vignetting and distortion at all focal lengths as well, which is a nuisance, but certainly fixable in post-processing. Contrast and colors are superb and the lens does not suffer from any major chromatic aberration issues.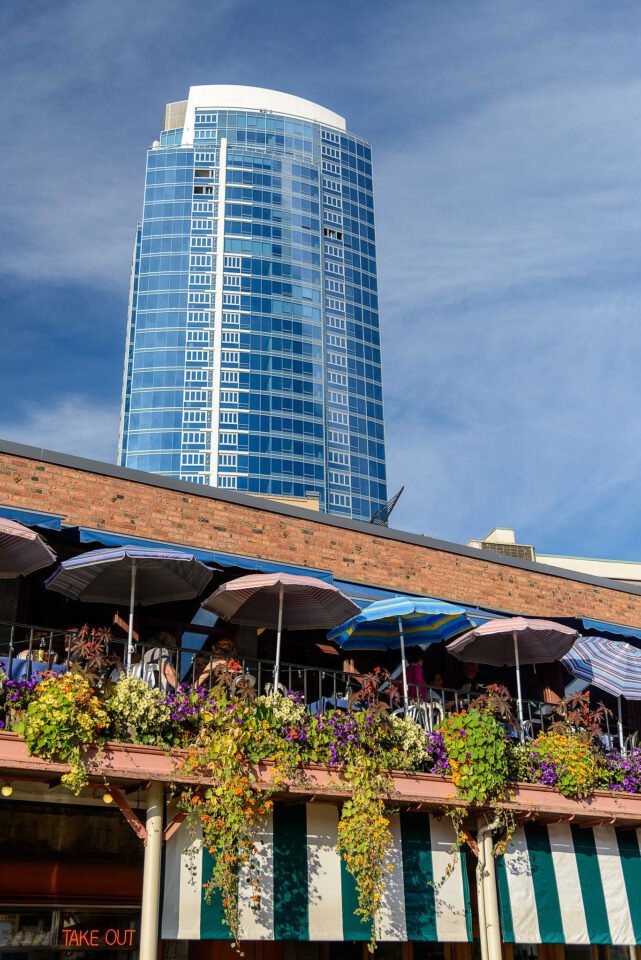 Here is the MTF chart for the lens, measured by Imatest: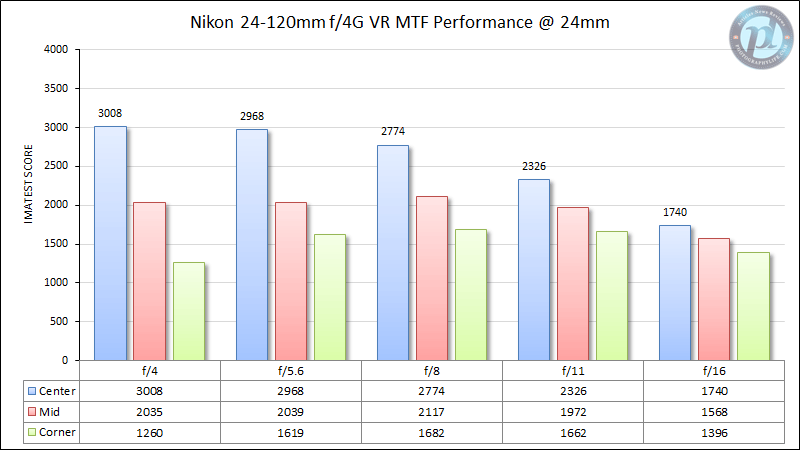 The lens starts out strong in center sharpness, but its corners are somewhat weak wide open. Stopped down to f/8 though, the 24-120mm yields pretty even performance across the frame.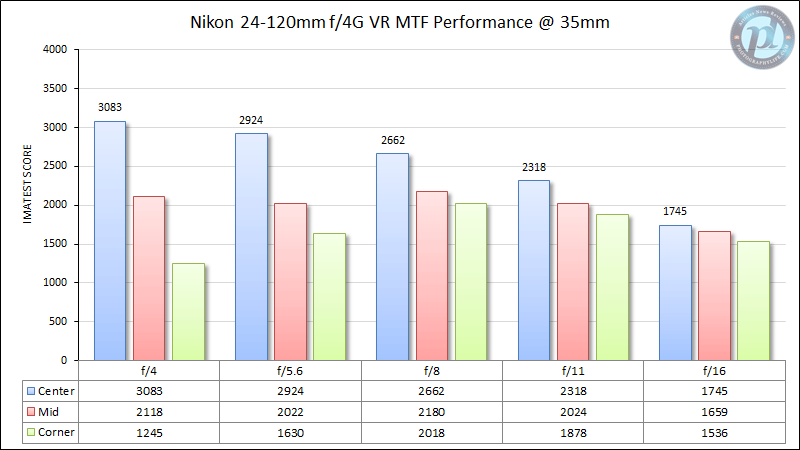 Corners get better when the lens is zoomed in to 35mm, with f/8 again being the sweet spot of the lens for the best overall sharpness.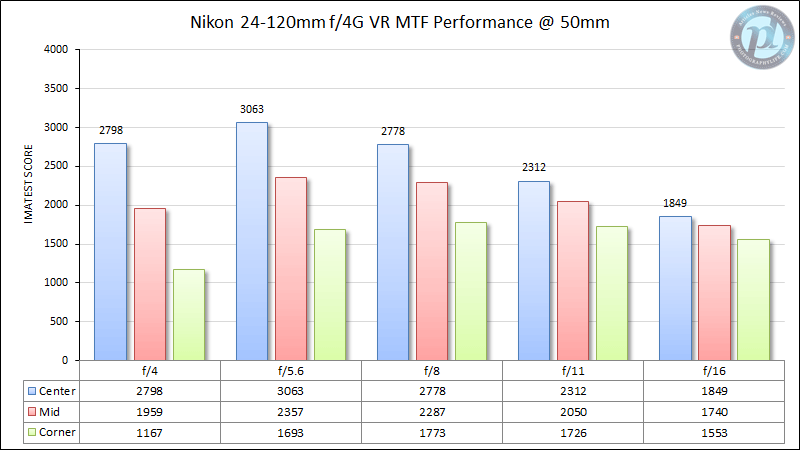 Zooming in towards 50mm results in weaker wide-open performance, which seems to also impact the performance of the lens towards the edges of the frame.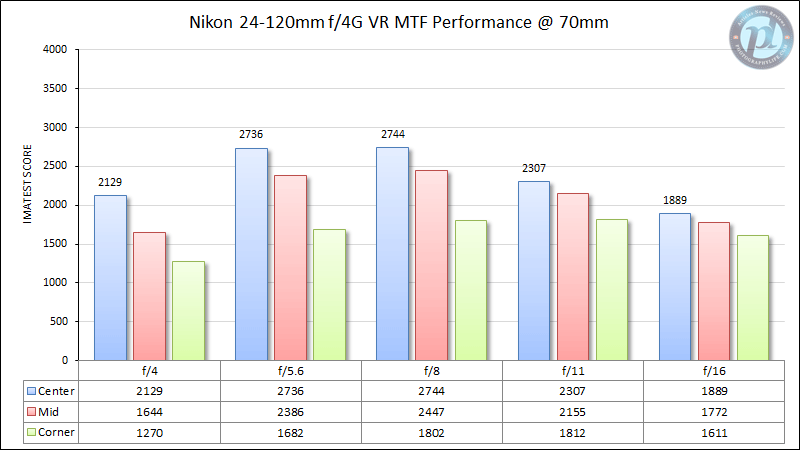 Quite a bit of sharpness is lost at longer focal lengths on this lens. As shown above, the 24-120mm f/4G VR certainly does get worse in its center performance, although stopping down again yields pretty solid overall sharpness.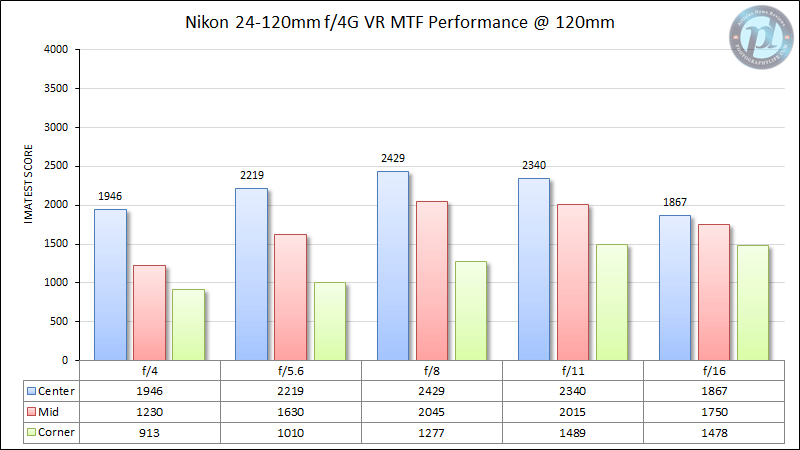 And 120mm is definitely the weakest point of the 24-120mm f/4G VR. We see a pretty visible overall drop of sharpness across the frame, with wide-open performance looking the worst. Sadly, even stopping down to f/8 does not do much to improve its extreme corners.
Vibration Reduction – VR II
I am a big fan of Vibration Reduction (VR) lenses – I wish every lens had VR in it, because it is one of the most useful lens features for low-light photography. VR certainly does work very well on zoom lenses and the Nikon 24-120mm f/4G VR comes with a second-generation Vibration Reduction system (VR II), which is supposed to deliver sharp images up to four stops the shutter speed. What this means, is that you might be able to get sharp images at 1/8th of a second when shooting at 120mm (the reciprocal rule says to keep your shutter speed at your focal length and 4 stops from 1/120th is 1/8th) – VR II certainly does work as advertised.
VR is incredibly useful at any focal length. When Nikon released the 16-35mm lens (which was the first image-stabilized short-focal zoom lens in the world) so many photographers at first stated that VR for such short focal lengths would be useless. Those who tried out the 16-35mm quickly discovered that VR actually works great even for super wide-angle lenses.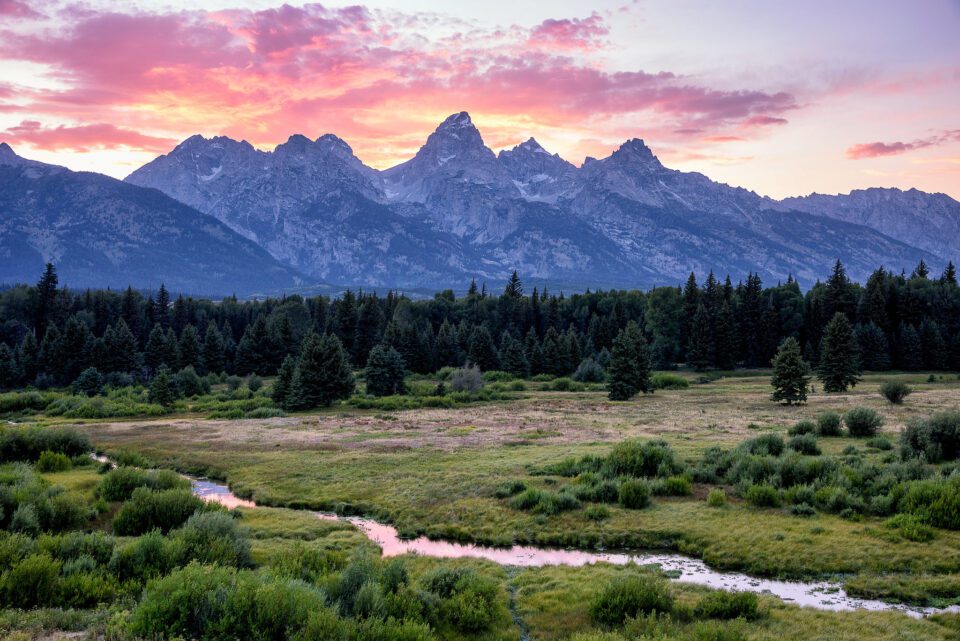 Bokeh
When it comes to bokeh, the Nikon 24-120mm yields a somewhat busy bokeh, similar to how other zoom lenses render the background. Obviously, it is not a portrait lens and the lens' maximum aperture of f/4 is very limiting in terms of subject isolation, but overall, the results are very comparable to those of other similar class lenses. Here is a quick comparison with the Nikon 24-70mm shot outdoors in daylight (50mm @ f/4 on both):

Looks about the same, doesn't it? However, when shooting bright light sources in the background, the situation is a little different:

The Nikon 24-120mm here looks busier or "dirtier" than the 24-70mm. Although both lenses sport aspherical glass elements that negatively impact those out of focus highlights, the 24-120mm appears visibly worse in comparison.
Other than that, the overall bokeh of the lens is not too bad, as seen on some of the images in this review: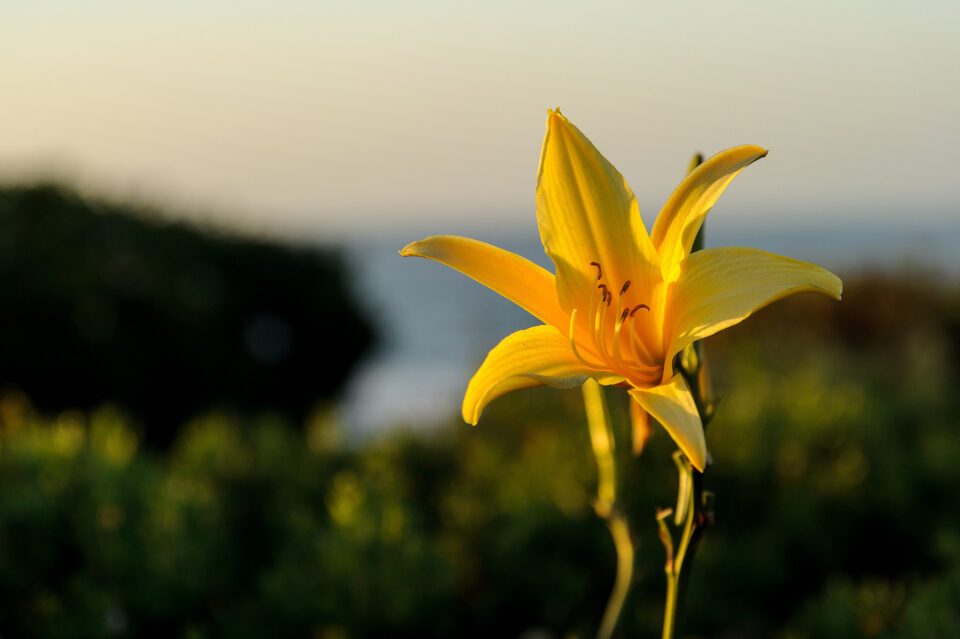 Vignetting
Another bad similarity to the Nikon 28-300mm is also in heavy vignetting that is visible throughout the zoom range. Here are some vignetting tests shot at 24mm, 35mm, 70mm and 120mm:
Vignetting seems to be worst at 24mm when shot wide open, but as you can see, it is quite evident at all focal lengths. At 35mm, it gets a little better, but the problem returns at longer focal lengths. Another thing you have to be careful with is using filters when shooting at 24mm, just like on the Nikon 24-70mm. Take a look at what happens when I used a polarizing filter on the 24-120mm:

As you can see, the corners are even darker with a polarizing filter attached, so just be a little careful when shooting at the shortest focal lengths with thick filters attached (using a regular clear filter did not seem to make a difference). Please note that the Nikon 24-70mm also has a similar problem when using thick filters – if you want to shoot at the widest focal length with a polarizing filter, my advice is to use slim versions of polarizing filters. This problem is gone once you zoom in a little. At 28mm and beyond, I could not see much additional vignetting when using a rather thick filter.
Here is how Imatest measured vignetting on the Nikon 24-120mm: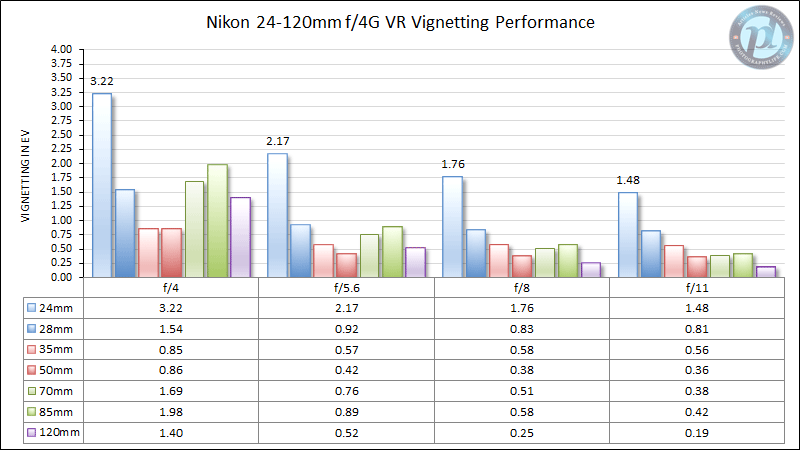 As you can see, the most problematic focal length is 24mm, which had pretty dark corners reaching over 3 EV at f/4. Once stopped down, vignetting at all focal lengths goes down significantly.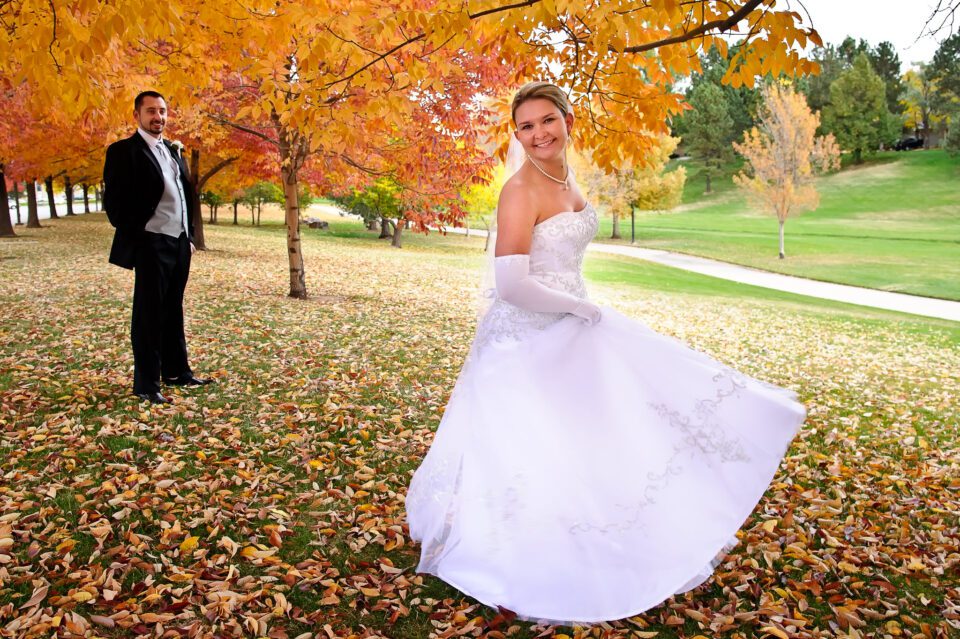 Ghosting, Flare and Distortion
Ghosting and flare are controlled very well, thanks to the Nano Crystal Coat. I shot images with the sun in the center and different corners of the frame and could not get any images with nasty flare/ghosting. Take a look at this example with the sun on the right top: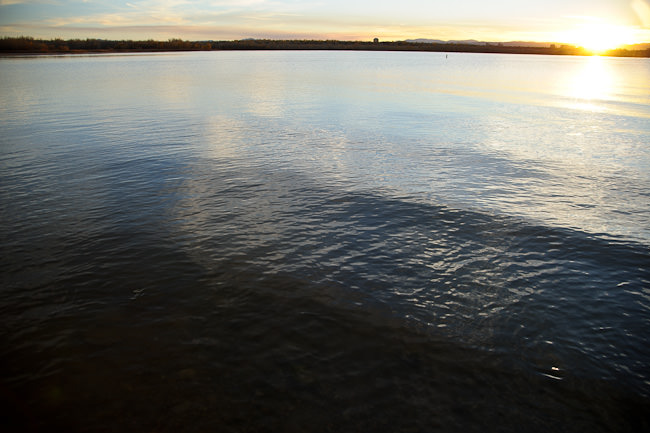 Besides seeing two small ghosts on the top right and bottom left corners of the frame, I do not see anything else. No color changes due to flare either! Obviously, Nano Crystal Coat does not completely eliminate ghosting and flare, so you just have to be careful how you position the sun in your frame. Using filters might also potentially introduce more flare and ghosting.
As you can see form the last image above, barrel distortion is very noticeable at the widest focal lengths. Once you zoom in, like most other lenses, barrel distortion changes over to pincushion. Take a look at the following example at 58mm, where strong pincushion distortion is visible on the top: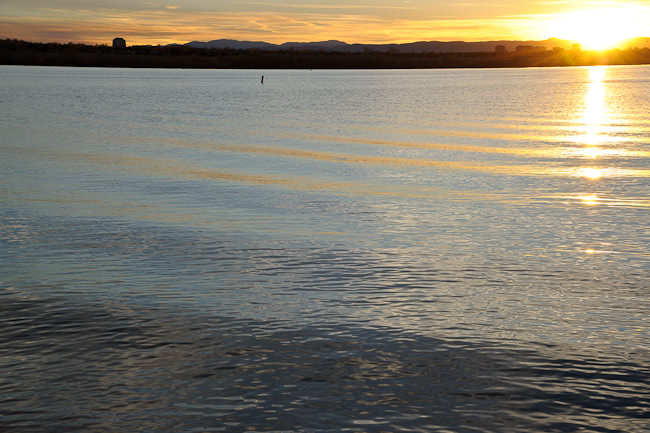 These kinds of distortion issues are present across the focal range with the strongest effect at 24mm (barrel) and beyond 28mm (pincushion) and weakest at 28mm. Distortion is something that is relatively easy to fix in post-processing. Lightroom already includes the Nikon 24-120mm lens profile in its Lens Correction sub-module, which means that you can quickly fix the issue with a single click of a button.
Here is how Imatest measured distortion on this lens: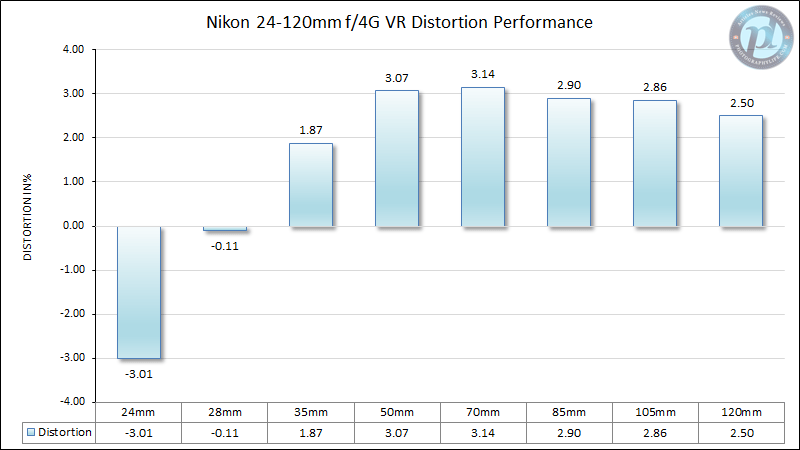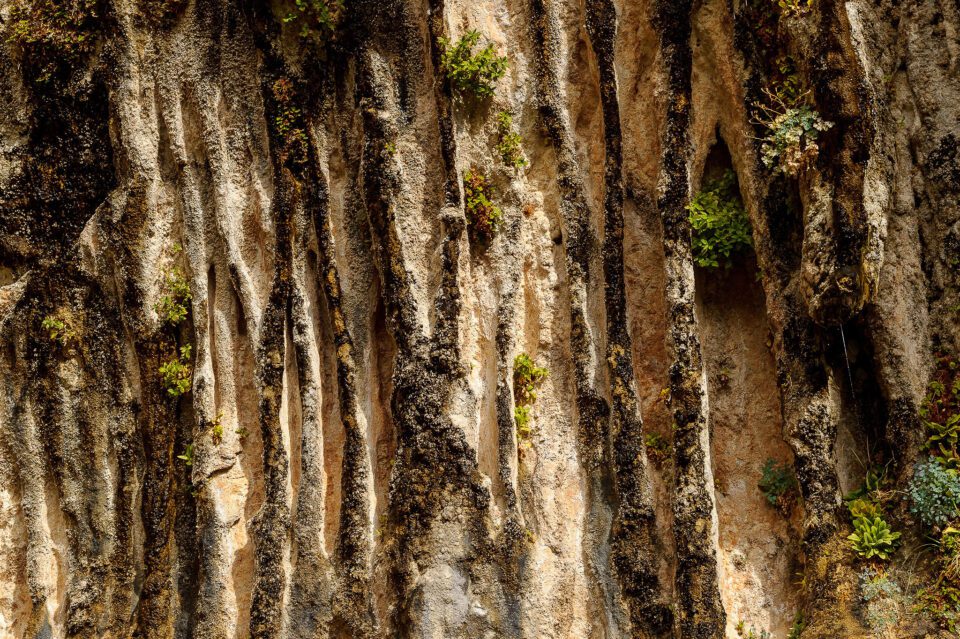 Chromatic Aberration
Lateral Chromatic Aberration (CA) is controlled relatively well, with a little bit of purple fringing present in the corners. Here is an extreme example with some purple CA in the corner frame: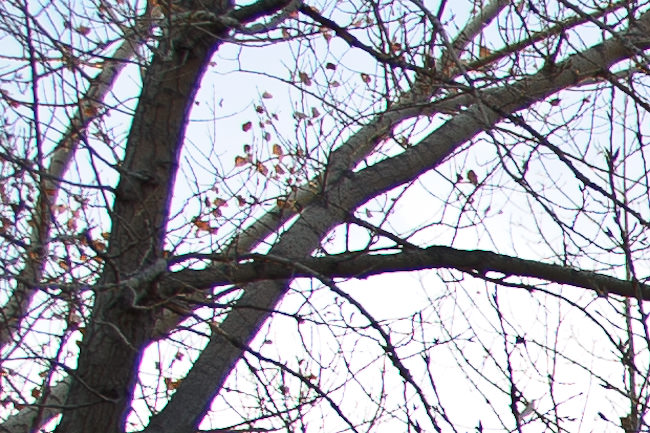 And here is how Imatest measured chromatic aberration across all focal lengths: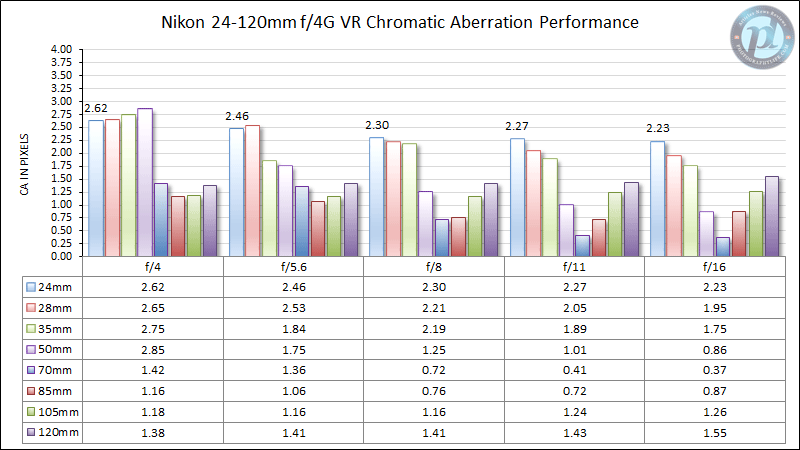 As you can see, the most problematic focal lengths are from 24mm to 50mm, after which CA goes down significantly. Stopping down definitely improves CA at 35mm and above, but not much at the widest end. Gladly, chromatic aberration can be quickly fixed in Lightroom or Photoshop.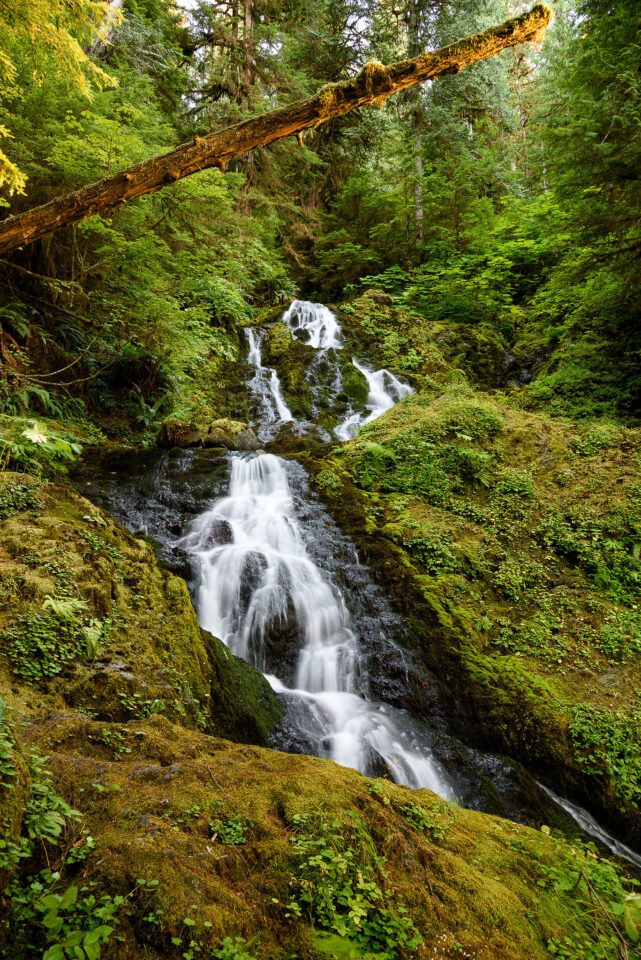 Focus Breathing
This lens does NOT suffer from the focus breathing problem the Nikon 28-300mm does, which means that you get the "true" 120mm focal length on the long end. What this also means, is that if you were to shoot a very close subject with this lens at 120mm and with the 28-300mm at 300mm, you would only get a very marginally enlarged image with the 28-300mm…talking about the usefulness of the long focal length of the 28-300mm! Obviously this is not true for subjects shot at infinity, so the comparison depends on how close you get to your subjects.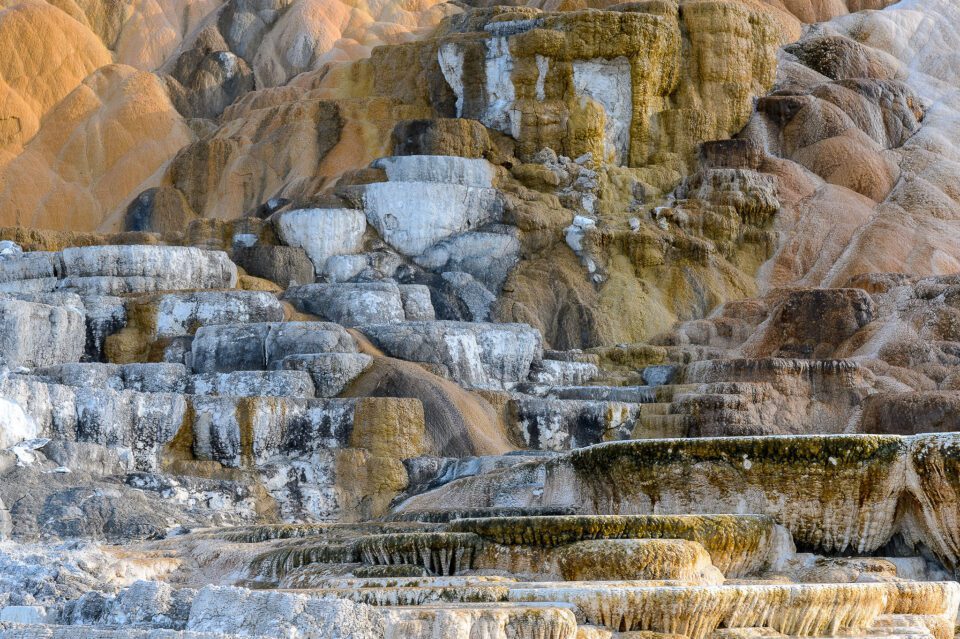 Let's now move on to lens comparison.