This is an in-depth review of the Nikon 18-35mm f/3.5-4.5D IF-ED, a variable aperture zoom lens that was released a long time ago, in the year 2000. The lens has been recently replaced with the Nikon 18-35mm f/3.5-4.5G ED, which I recently reviewed and praised for its superb performance. I decided to post this particular review, because it might be useful for those that are considering purchasing the lens at a bargain price, now that it has been replaced and will soon be discontinued. Plus, I have all the data I need for a detailed review.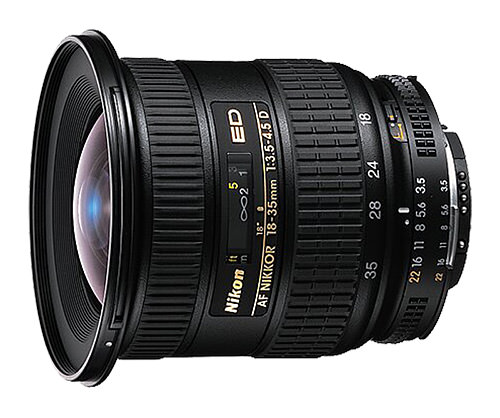 The Nikon 18-35mm f/3.5-4.5D was never a very popular lens. Although it was generally a pretty good performer (for its price) on film and earlier APS-C cameras, it was known to have poor corner performance, visible distortion, vignetting and chromatic aberration problems. With the introduction of high-resolution full-frame and APS-C cameras, these optical problems got amplified even more, making it a difficult lens to work with. In this review, I will be comparing the Nikon 18-35mm to its AF-S replacement and will spend some time talking about features, handling and optical performance of the lens.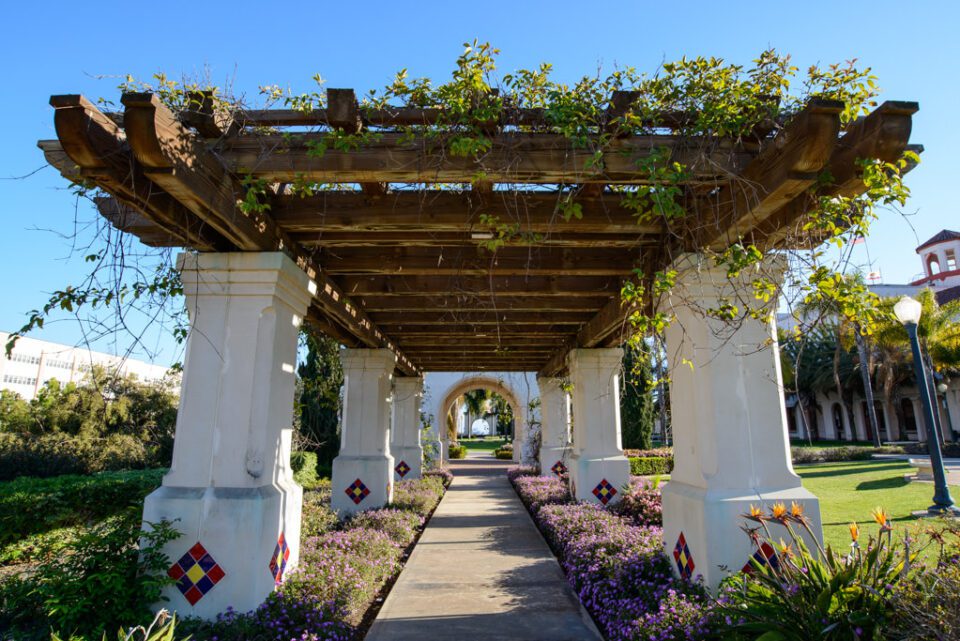 Nikon 18-35mm f/3.5-4.5D Specifications
Focal length: 18-35mm
Maximum aperture: f/3.5
Minimum aperture: f/22
Lens construction: 11 elements in 8 groups (with 1 ED and 1 aspherical lens elements)
Angle of view: 100° – 62° (76° – 44° with Nikon DX format)
Closest focusing distance: 0.33 m (1.1 ft.)
Maximum reproduction ratio: 0.15x
No. of diaphragm blades: 7
Filter/attachment size: 77mm
Diameter x length (extension from the camera's lens-mount flange): Approximately 91.4 x 81.2 mm
Weight: 370 g/13 oz.
Supplied accessories: HB-23 Hood, 77mm lens cap, Rear lens cap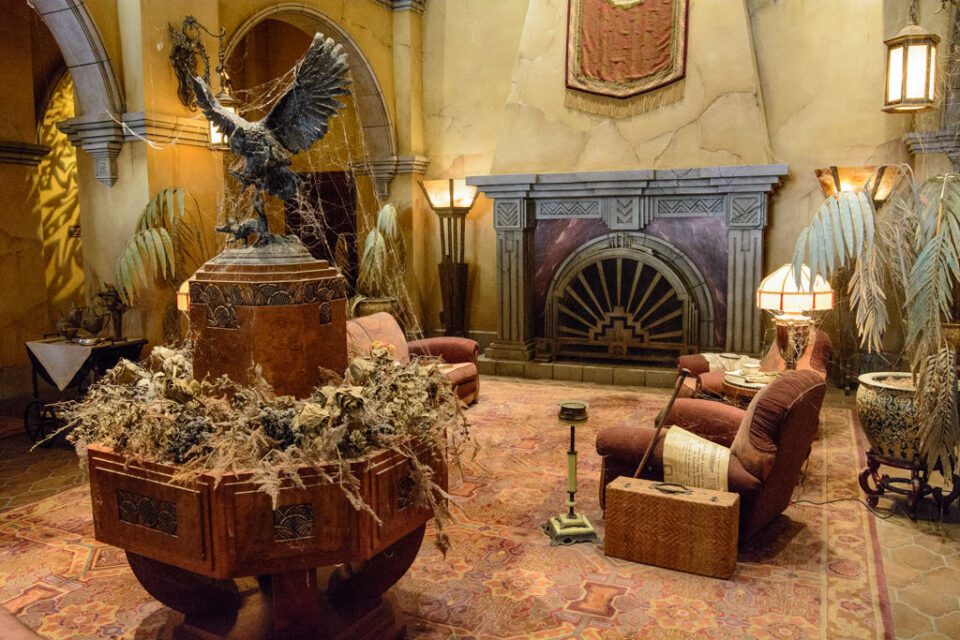 Other technical information, including manufacturer-provided MTF chart can be found in the Nikon AF NIKKOR 18-35mm f/3.5-4.5D IF-ED page from our lens database.
Lens Handling and Build
The barrel of the Nikon 18-35mm f/3.5-4.5D is all plastic, something one would expect from a consumer-grade lens. At just 370 grams, it is a very lightweight lens when compared to other ultra-wide angle lenses. Zoom and focus rings are plastic, covered with rubber rings for better grip. The lens mount is metal, with CPU contacts for autofocus operation and sending distance information to the camera. When compared to modern wide-angle zooms, it is a pretty compact and lightweight lens. Take a look at the below image for size comparison (From left to right: Nikon 18-35mm f/3.5-4.5D, Nikon 18-35mm f/3.5-4.5G, Nikon 16-35mm f/4G VR):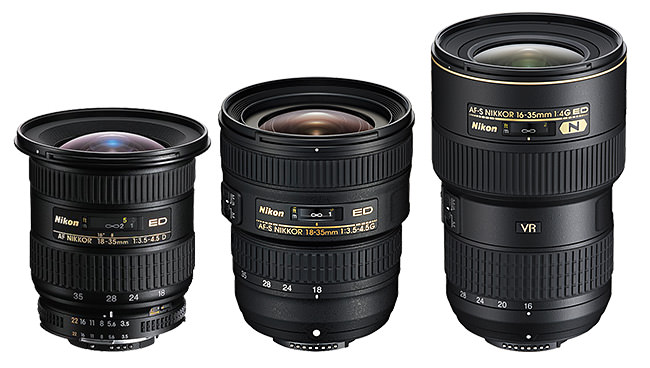 Being an Internal Focus (IF) lens, the front of the lens does not rotate during focusing, which is good for using polarizing filters. The 77mm filter thread is plastic, similar to what you see on all consumer and many modern pro-level lenses today. The lens does extend a little when zooming out to 18mm and is at its shortest length at 35mm. The focus ring located on the front of the lens is pretty narrow and does not feel as dampened as on pro-level lenses.
The zoom ring moves smoothly when going from 18mm to 35mm and vice-versa. Like on all AF-D lenses, there is an aperture ring close to the lens mount for manual aperture control. On all modern cameras, you would have to set the lens aperture to f/22 to be able to change aperture directly from the camera. There is an aperture lock lever right on the ring to lock aperture at f/22 and prevent it from accidentally changing.
Unfortunately, being an old lens, there is no rubber gasket on the lens mount for weather/dust sealing purposes. Try to keep the lens mount clean in order to reduce potential dust and other debris from entering the lens and the camera. The lens is not weather-sealed in any way, so I would recommend to keep it away from dust, rain and humid conditions. The lens ships with a plastic petal-shaped hood, which sits relatively well once attached.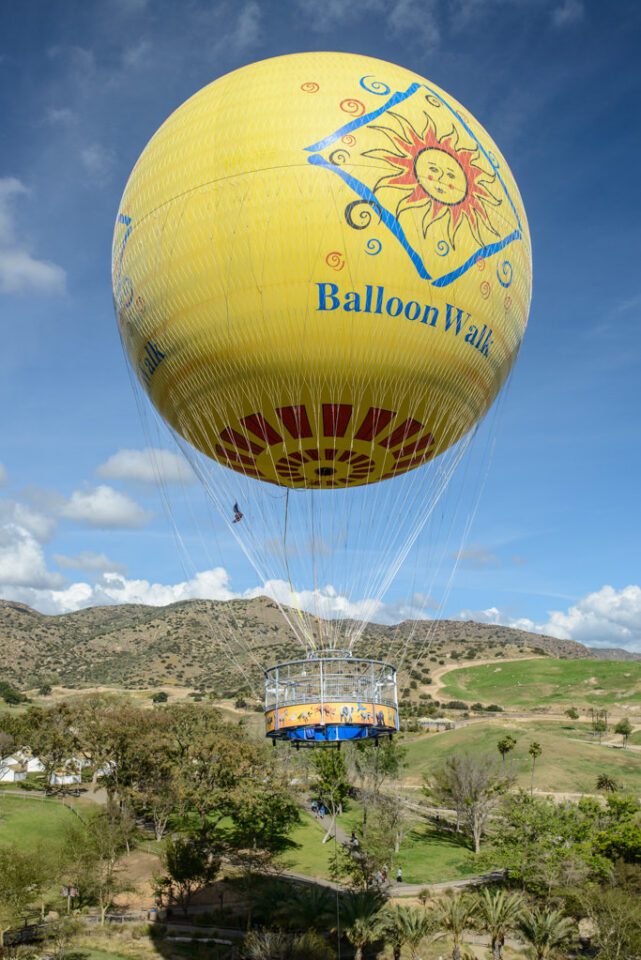 Overall, the build quality is not bad, but obviously not as good as on professional Nikkor lenses.
Autofocus Performance and Accuracy
Although the Nikon 18-35mm f/3.5-4.5D lens has an old screw-type focus, its focus rotation is very minimal, so the AF speed is very fast – even faster than on the new AF-S version. Unfortunately, being an AF-D lens, it will not autofocus on entry-level Nikon DSLRs such as Nikon D3100/D3200/D5100/D5200 with no built-in autofocus motors. In addition, it is much noisier than the new AF-S lenses and there is no way to override focus by simply rotating the focus ring – you will have to switch to manual focus on the lens first in order to be able to focus manually.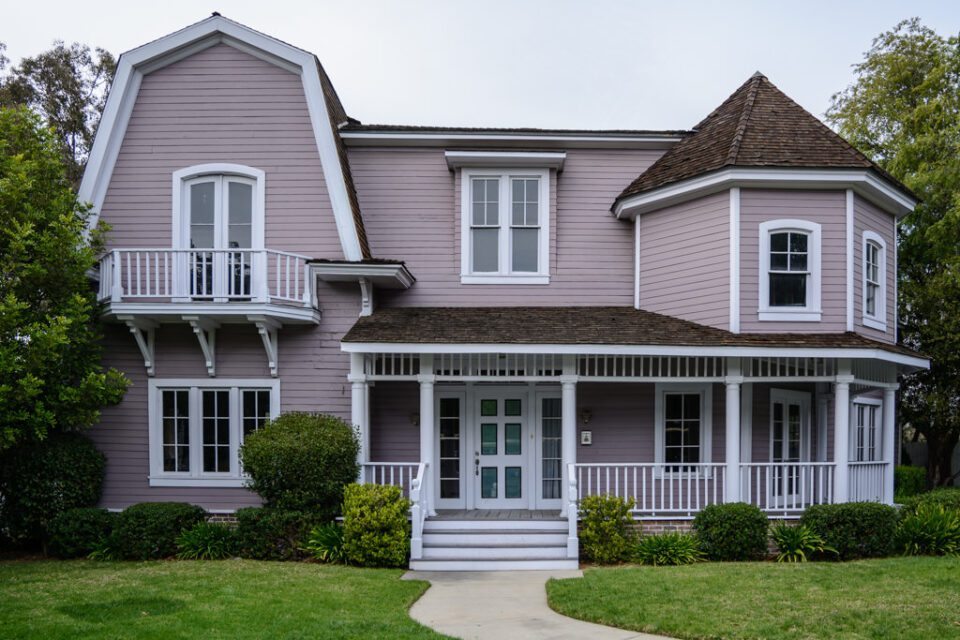 When it comes to autofocus accuracy, the Nikon 18-35mm seems to be quite reliable. It may not be as accurate as pro-level f/2.8 levels in low-light conditions, but it is still solid in most situations. I primarily used the lens on the Nikon D800E camera body and the lens did not need to be calibrated with AF Fine Tune.