Lens Sharpness, Contrast and Color Rendition
The lens suffers from similar problems as the other superzooms – sharpness and contrast vary by focal length and aperture, with the weakest numbers at the largest apertures. The performance of the lens at short focal lengths is pretty good, but anything above 105mm is average to below average. Contrast is quite poor wide open but gets better at f/5.6 and beyond.
Overall, the lens sharpness is not bad for a superzoom when compared to the 18-200mm, but certainly nowhere close to the sharpness and contrast of pro-level lenses like Nikon 24-70mm f/2.8G or Nikon 70-200mm f/2.8G VR II. You can see lens sharpness tests with comparisons to the 18-200mm and 28-300mm later down in the review. Color rendition is pretty good, I would say on par with the 28-300mm.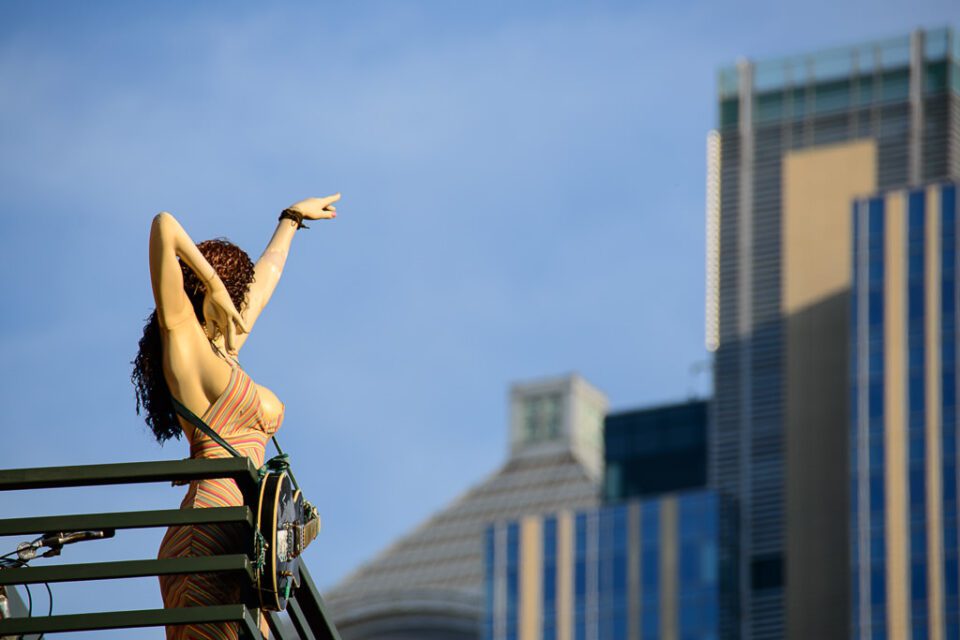 Vibration Reduction – VR II
I am a big fan of Vibration Reduction (VR) lenses – I wish every lens had VR in it, because it is one of the most useful lens features for low-light photography. The Nikon 18-300mm f/3.5-5.6G comes with the second generation "VR II" image stabilization technology, which is supposed to deliver sharp images up to four stops the shutter speed. While VR seemed to work fairly well in most situations, I did not find it to be as reliable, again mostly at telephoto focal lengths. In many cases, VR seemed to go on the opposite direction of motion and the only way to address the issue was to re-engage VR and wait until it stabilizes. I have not experienced such problems on higher-end lenses, so either my copy of the lens was bad, or the VR mechanism on the lens is unreliable.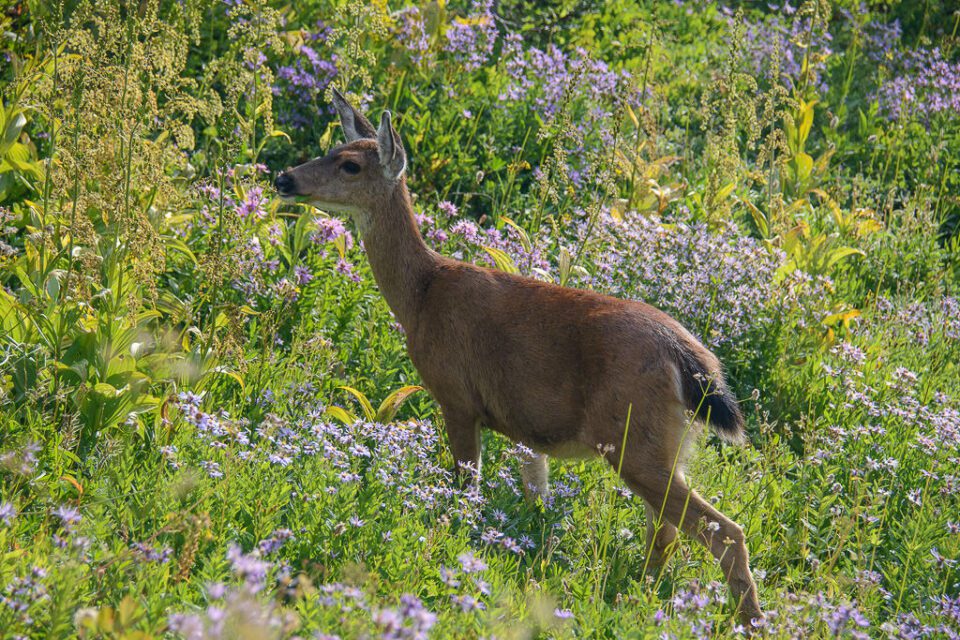 Bokeh
One of the key advantages of the Nikon 18-300mm lens is supposed to be its 9 blade diaphragm, which should result in better-looking round bokeh. In my experience, the number of blades on the latest Nikon lenses does not really matter, since the aperture blades are rounded. I have done some extensive bokeh tests and comparisons and I really could not see major differences between 9 blade and 7 blade rounded diaphragms. Now if you compare old straight aperture lenses with fewer blades to the new rounded ones, the difference is quite evident. In fact, I prefer rounded 7 blade diaphragm to a straight 9 blade one – try to test an older lens and see for yourself.
As for the bokeh on the 18-300mm, I found it to be similar to bokeh on the 18-200mm and 28-300mm lenses, which is quite nervous. In short, none of the superzooms will give you great-looking, "creamy" bokeh. The shapes of background highlights are defined and often layered. Here is the best case scenario, with a Marmot photographed at 300mm, wide open: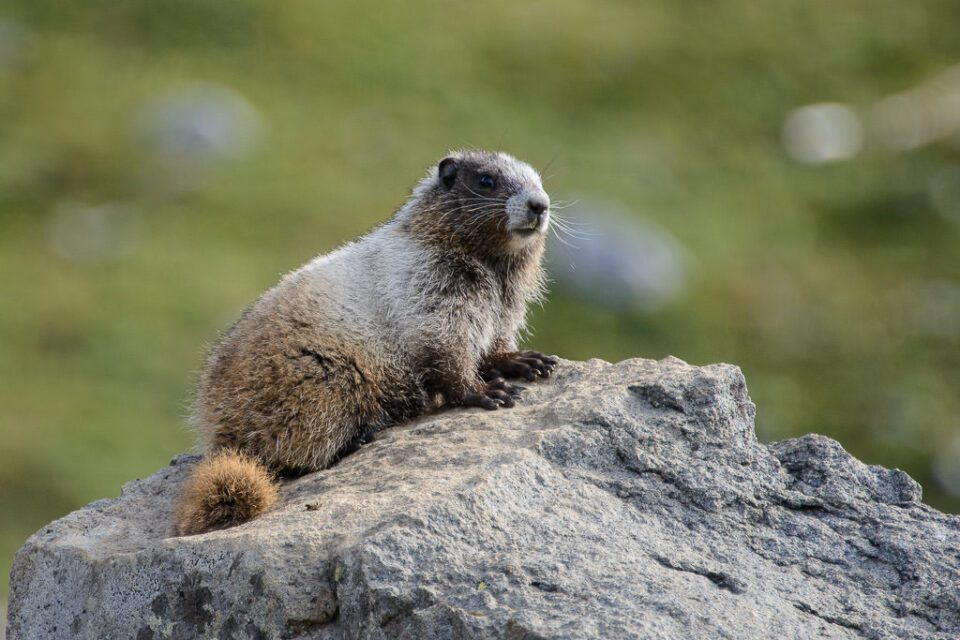 Again, nothing to be excited about. For these kinds of wildlife shots, I would rather shoot with my favorite Nikon 300mm f/4 AF-S. It is significantly sharper even with the TC-14E and it produces absolutely beautiful bokeh.
Vignetting
Besides sharpness issues, the Nikon 18-300mm also suffers from heavy vignetting. There is plenty of vignetting at 18mm, which is significantly reduced towards 50mm, but comes back again at telephoto ranges. Take a look at the following chart that shows vignetting at different focal lengths and apertures:
While vignetting is easy to remove in Lightroom or Photoshop, it is still another process to run during post-processing. Take a look at the following worst-case scenario vignetting example, where the extreme corners are darkened by over 2 stops: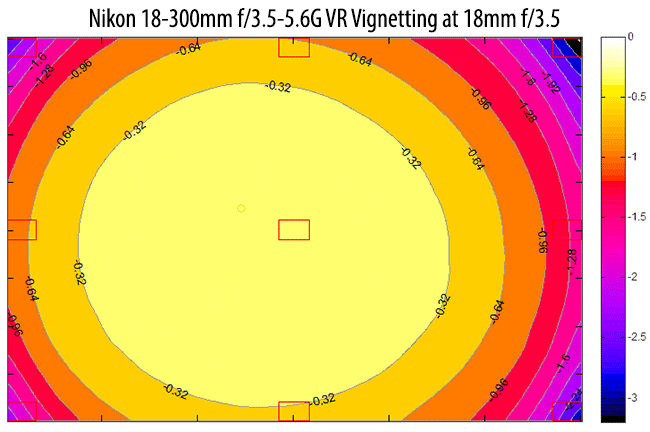 Ghosting and Flare
Ghosting and flare are handled quite well, depending on the focal length and where you place the source of light. Here is an extreme example with the sun in the top left frame: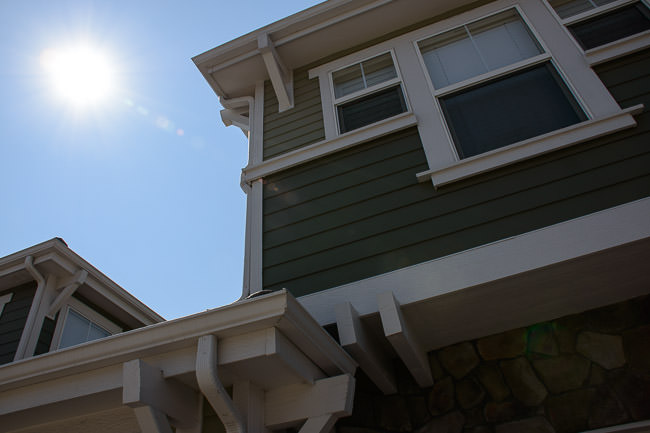 And here is an example with the sun in the top right frame at sunset: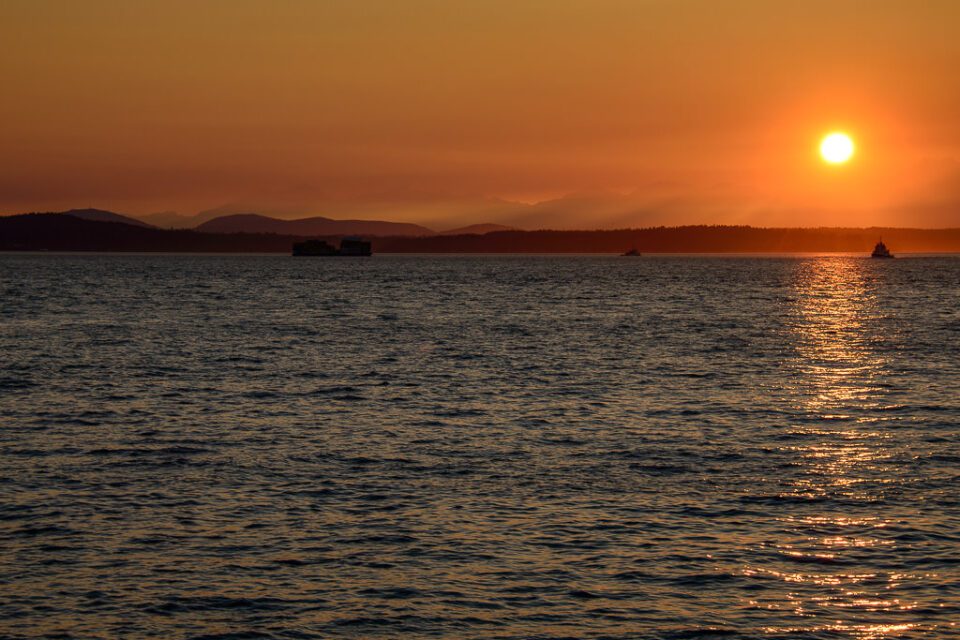 Not bad, I cannot see any apparent ghosting and flares in the image. As you zoom in towards the telephoto range, however, ghosting can become an issue.
Distortion
This lens, just like both the 28-300mm and the 18-200mm has lots of distortion throughout its range, which is expected for a 16.7x zoom lens. At 18mm, it suffers the most, producing images with very noticeable barrel distortion. As you zoom in towards 28mm, barrel distortion immediately switches to pincushion distortion and stays that way all the way to 300mm:
Pincushion distortion reaches its peak at 105mm and then diminishes again towards 300mm. Distortion is also something that is easy to fix in post-processing. Lightroom 4.3 already has built-in support for this lens, so you can fix it with a single click of a button using the Lightroom Lens Correction sub-module.
Chromatic Aberration
One of the big downsides of this lens, is the amount of chromatic aberration or color/purple fringing that is present in the images. My sample had a strong amount of CA present above 28mm, as can be seen from the below chart:
These issues can be easily corrected in Photoshop or Lightroom, now that the lens is fully supported by Adobe.
Focus Breathing
Similar to the Nikon 28-300mm and 18-200mm lenses, the lens does suffer from a "focus breathing" problem. Basically, in order to keep the minimum focus distance shorter, Nikon made a few adjustments to the lens design, which resulted in shorter effective focal lengths when shooting close objects. If your subject is very close at minimum distance, the 300mm on the Nikon 18-300mm will be equivalent to around 135mm, which is less than twice. As the distance between you and the subject grows, the field of view narrows.
When I was doing my tests between 2-2.5 meters, the field of view at 300mm was equivalent to around 150mm. In order to get the full 300mm out of this lens, your subject would have to be very far away, with your focus set to infinity. Even at a 50 meter distance, you would still get around 275mm. As I have stated above, this lens is not a good candidate for photographing birds or other small wildlife. If you want to get close, the Nikon 70-300mm f/4.5-5.6G VR or Nikon 55-300mm f/4.5-5.6G DX VR are much better candidates, since they can get to true 300mm.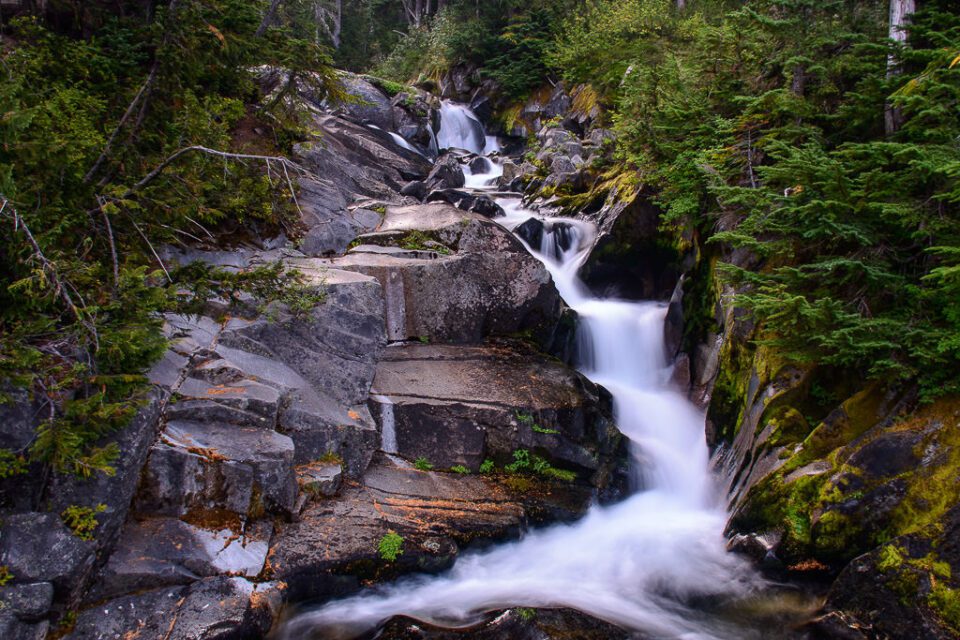 Let's now move on to the good stuff – Sharpness tests.
Sharpness Test
Take a look at the following sharpness charts that illustrate the optical performance of the lens at different focal lengths from 18mm to 300mm:
The Nikon 18-300mm starts out fairly well at 18mm, with good center sharpness. Mid-frame is pretty average and corners are a little worse in comparison.
At 28mm, the image gets weaker, especially in the extreme corners.
Zooming in to 50mm does not change the picture much.
At 105mm, there is a pretty significant drop of resolution.
Even worse at 200mm.
At 300mm we get the worst sharpness – image quality suffers pretty badly and the resolving power of the lens is greatly diminished. These results are pretty typical for a superzoom though. The other two lenses are also weak in the long end. On the next page are our head-to-head comparisons: