Lens Sharpness and Contrast
Having tested both the Nikon 16-35mm f/4G VR and the older 17-35mm f/2.8D, I can confidently say that the former is sharper overall, especially in the corners. Nikon optimized the lens to perform very well on modern Nikon digital cameras, so it certainly delivers. It does have a few weaknesses though. First, its corner performance at 16mm can be a bit disappointing on high-resolution cameras.
Second, there is quite a bit of sample variation out there, with some samples performing much better than others. Lastly, there is a noticeable amount of focus shift and field curvature at 16mm, similar to what are seen on other lenses like the Nikon 14-24mm f/2.8G. In order to obtain the below results, I had to reacquire focus at each aperture. Fortunately, as one zooms towards 24mm, focus shift pretty much disappears. Field curvature is at its strongest level at 35mm, which is why the corners look considerably worse compared to other focal lengths. To avoid these optical problems on high-resolution sensors, I would recommend shooting at small apertures like f/5.6-f/8, where the effect of focus shift and field curvature is least pronounced.
Here are the MTF charts for the lens, measured by Imatest: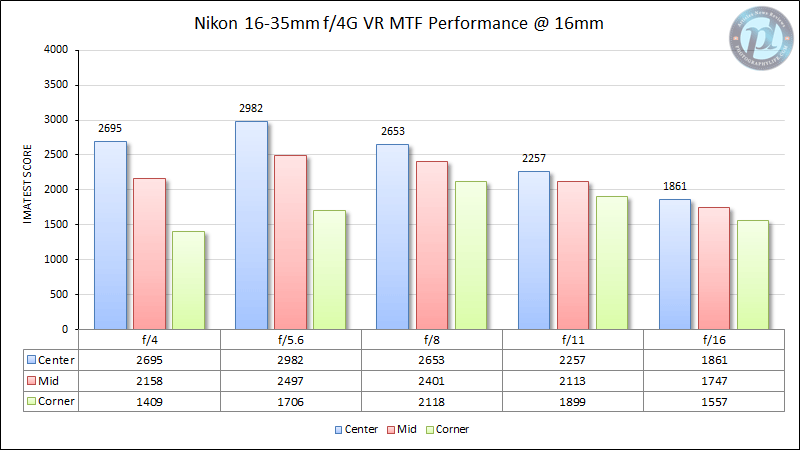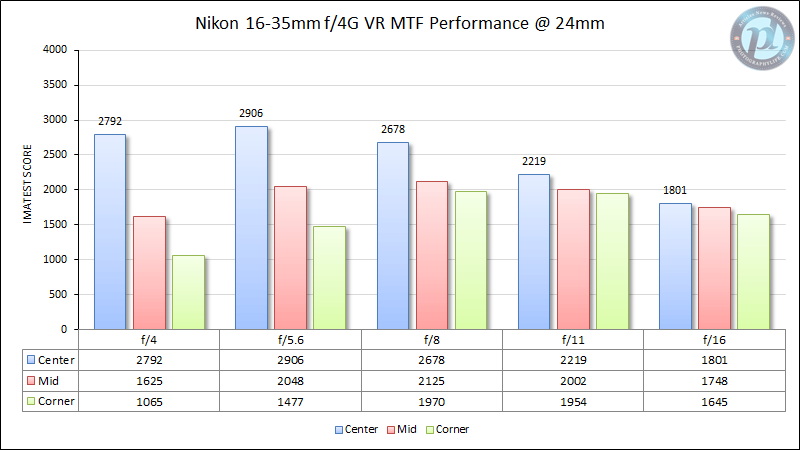 As you can see, sharpness is excellent in the center and the mid-frame throughout the zoom range. The corners suffer a bit when zoomed in to 35mm, which is pretty typical on similar wide-angle lenses (the Nikon 18-35mm f/3.5-4.5G has the same problem at 35mm). As stated earlier, the corners on the wide end are a little soft, but still better than on the 17-35mm. Color and contrast are truly amazing and top of the class.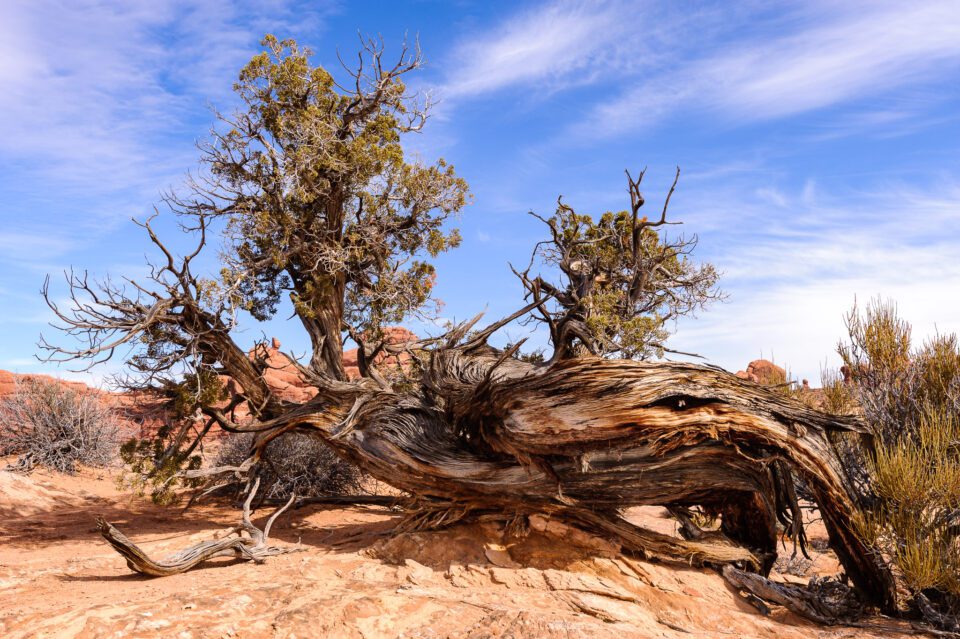 Vibration Reduction – VR II
As I have pointed out before, the Nikon 16-35mm VR is Nikon's (and World's) first ultra wide-angle lens with a vibration reduction (VR) technology. Back in the old days, it did not make much sense to put VR into ultra-wide lenses, because the vibration is not as big of an issue on short focal lengths compared to long/telephoto focal lengths. Plus, it was expensive to add VR on professional lenses, due to the already complex lens optics and design. By adding VR to an ultra wide-angle lens, Nikon set a new high standard, which caused other manufacturers to react and start offering image stabilization on their wide-angle lenses as well. VR proved itself effective on consumer "wide to tele" lenses such as the Nikon 18-200mm VR and it was just a matter of time until Nikon started adding VR to its professional line.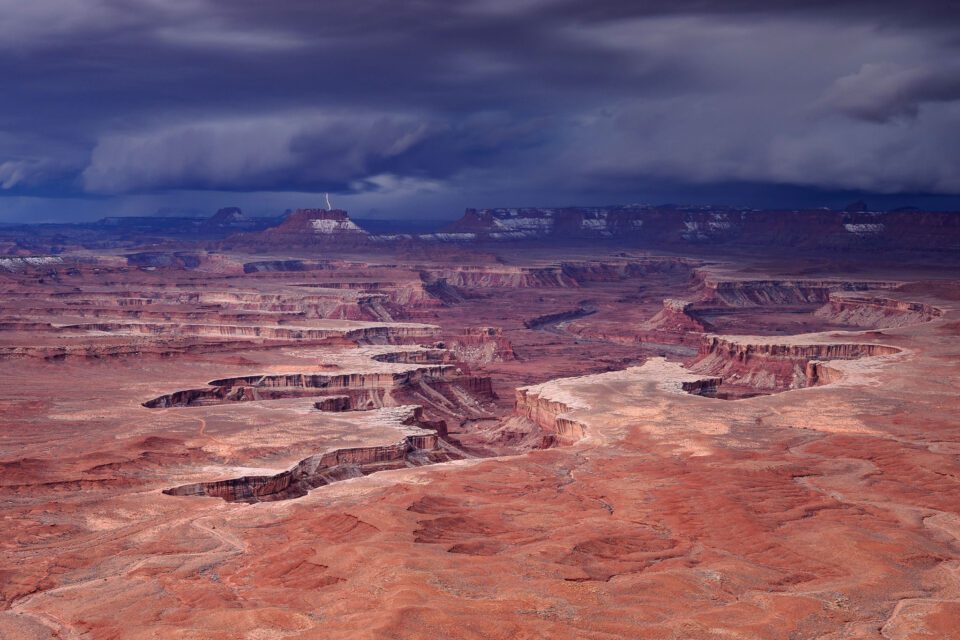 The Vibration Reduction II (VR II) system on the Nikon 16-35mm f/4G VR is truly amazing. I have never been able to produce a sharp hand-held shot at 1/2 of a second on a wide-angle lens and I was able to get quite a few good shots even at the shutter speed of 1 second @ 16mm! Zooming in to 35mm makes it a little difficult, but even then I was able to get good results at 1/4 – 1/8th of a second. Take a look at this shot: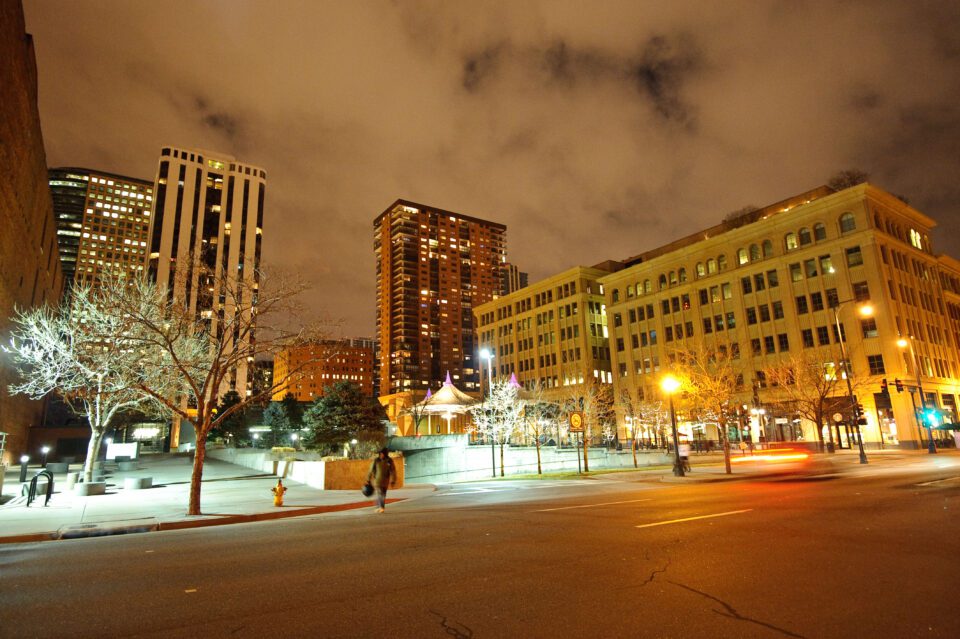 That's tack sharp at 1/3th of a second hand-held! Good luck trying the same on the Nikon 17-35mm! The new vibration reduction system really works and you can get some magical shots with this lens. Yes, wedding and event photographers will absolutely love this lens!
Bokeh
Just like many other ultra wide-angle lenses, this lens is not really designed to yield beautiful bokeh, due to its small maximum aperture and large depth of field. After doing a couple of test shots at f/4 @ 35mm, I was actually pleasantly surprised by the quality of out of focus areas this lens is able to produce. Check out this image shot wide open at 35mm: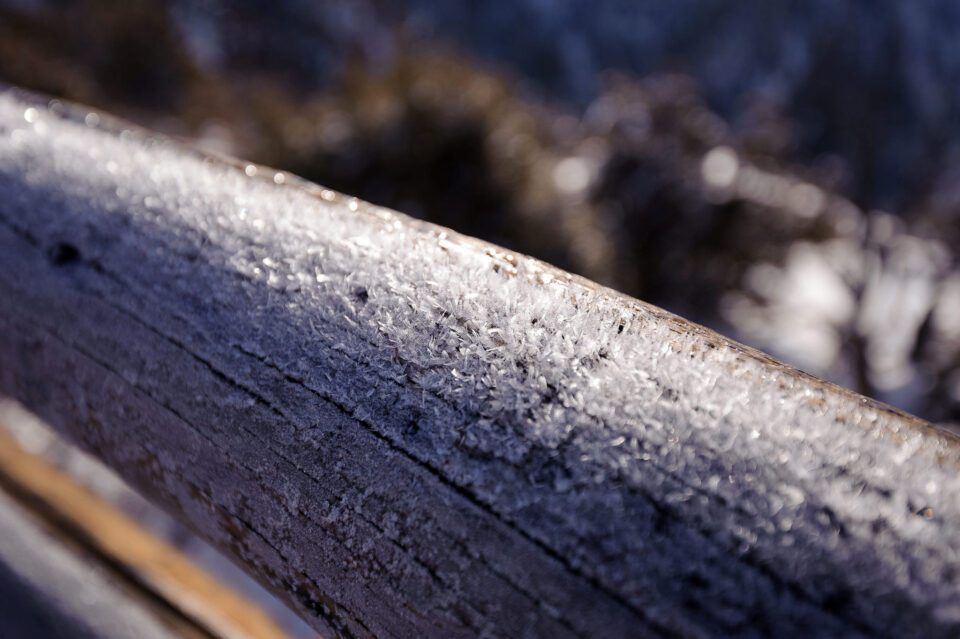 Not bad at all!
Vignetting
There is a heavy amount of vignetting present when shooting wide open (f/4) at 16mm, as seen below. Stopping down the lens down to f/8 almost completely gets rid of it: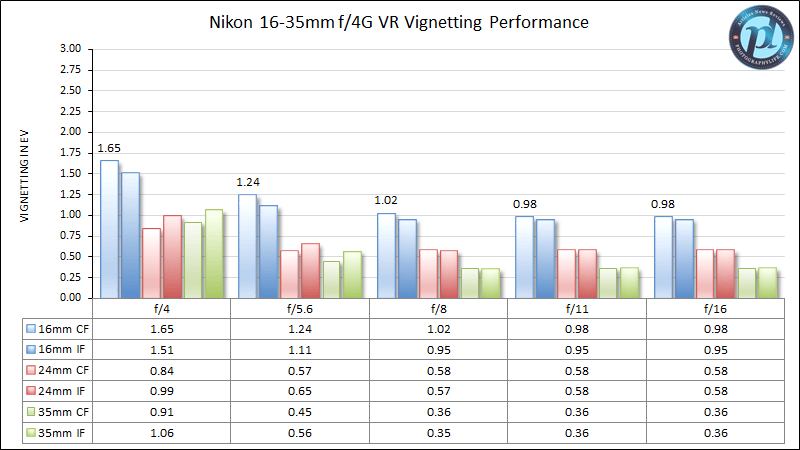 The vignetting issues can be quickly corrected in Adobe Photoshop or Lightroom, so it is not a big problem.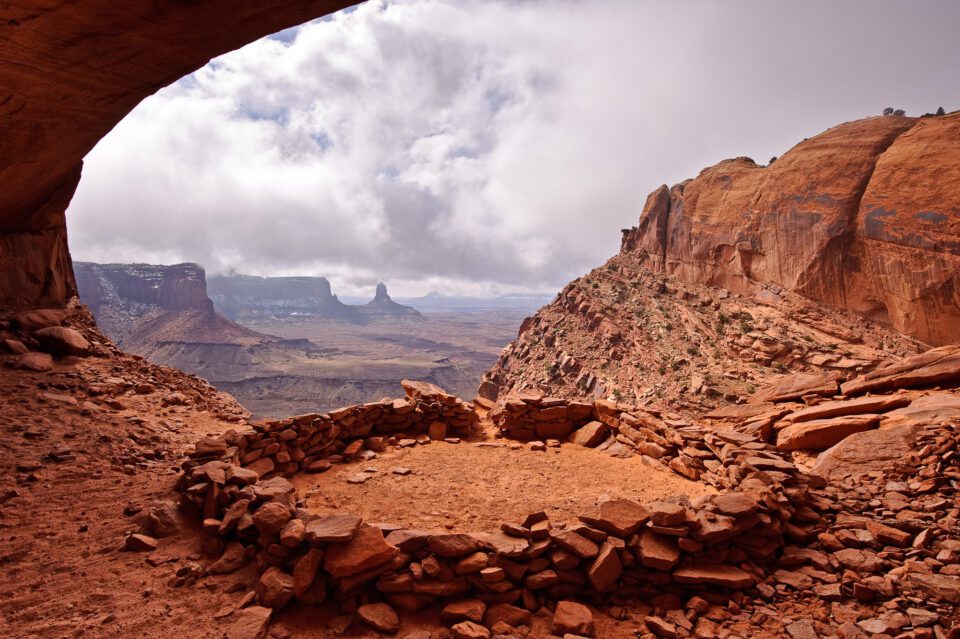 Ghosting and Flare
Ghosting and flare are not an issue for this lens. I shot against bright light sources on multiple occasions and did not see any harsh flares or ghosting. Although both 16-35mm f/4G VR and 17-35mm f/2.8D share the same lens hood, one thing for sure – the "N" (Nano-Coating) glass inside the lens definitely helps, making it a better candidate to shoot against the sun.
Here is an extreme example of shooting directly at the sun: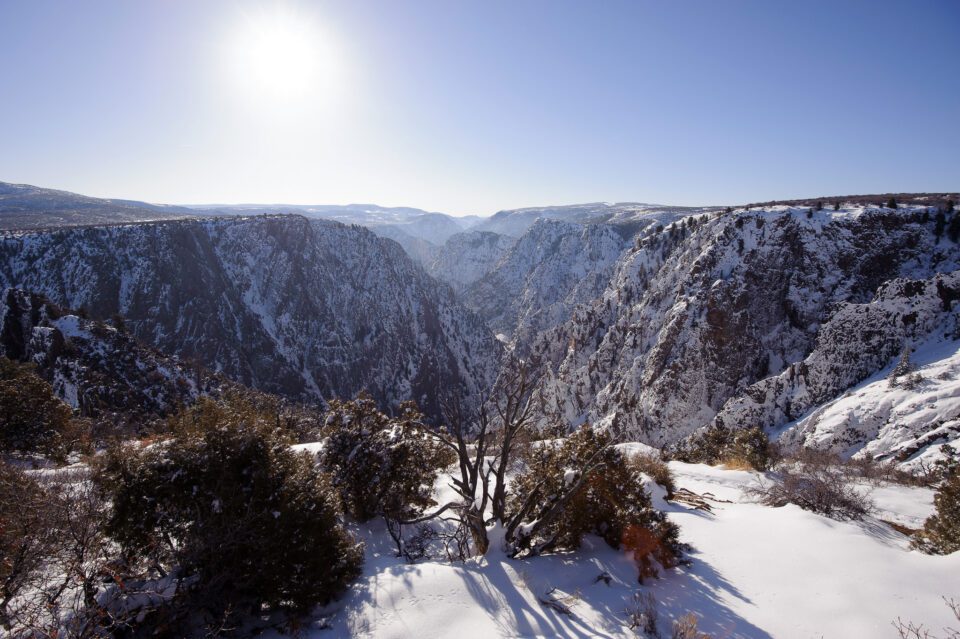 Distortion
One of the things I noticed immediately, was the amount of distortion on the wide end of the lens. This is not unexpected, because we are dealing with a very short focal length that is prone to distortion, but it is definitely a lot more noticeable than on the Nikon 17-35mm at 17mm. Barrel distortion at 16mm goes away at 24mm and slightly comes back as pincushion distortion towards 35mm. When you use this lens for architectural work and for photographing textures and patterns, you can fix the distortion in Lightroom and Photoshop easily by using the Lens Corrections sub-module.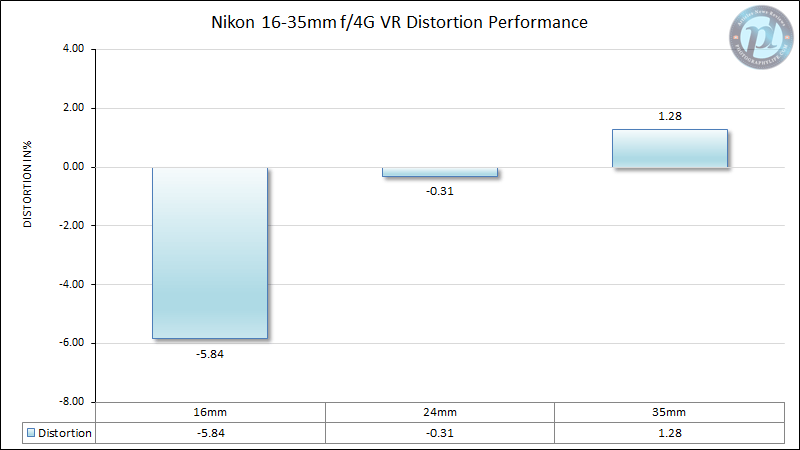 Chromatic Aberration
Below are the lateral chromatic aberration results, as measured by Imatest: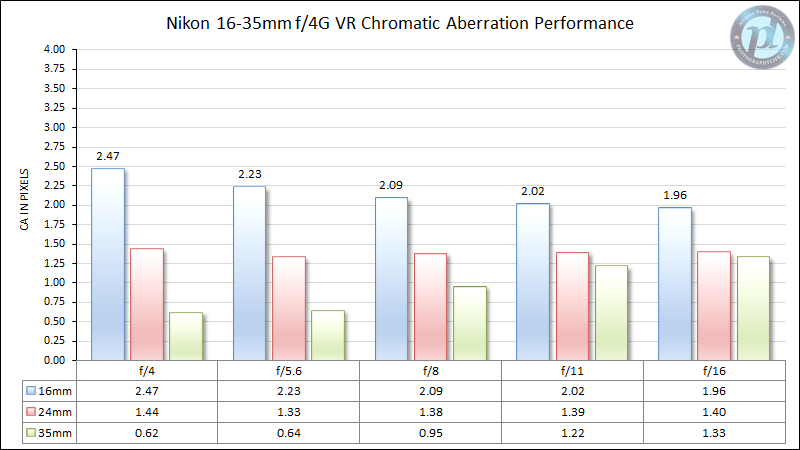 As you can see, the lens produces quite a bit of lateral CA at 16mm – over 2 pixels, which is a bit high. The good news is that it diminishes greatly as you zoom in towards 35mm.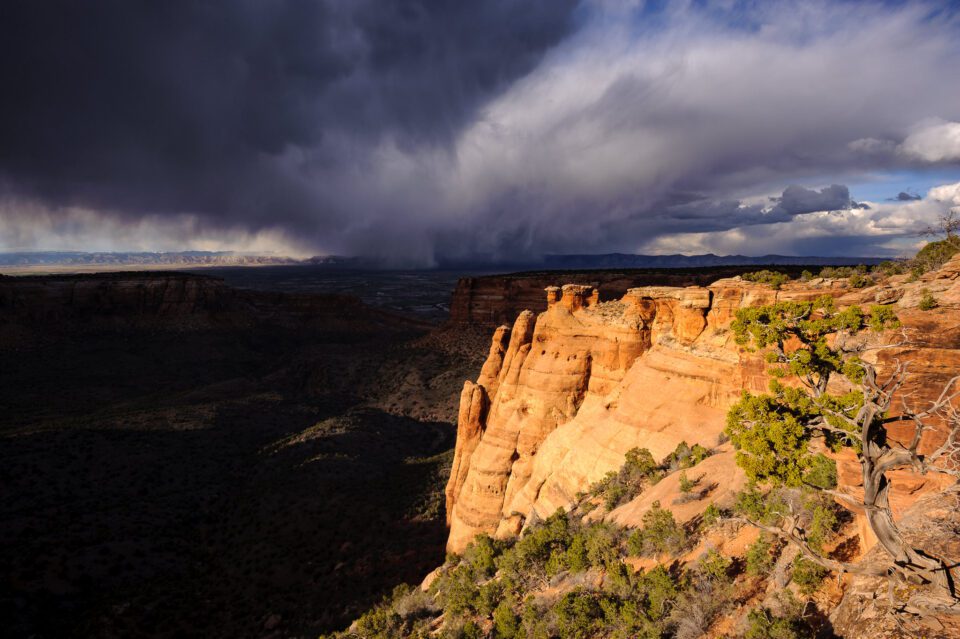 Let's now move on to lens comparisons.