This is an in-depth review of the Nikon 14-24mm f/2.8G ED lens that was released in August of 2007 together with the Nikon 24-70mm f/2.8G ED. Sporting two ED and three aspherical lens elements in a complex 14-element optical design, the Nikon 14-24mm f/2.8G has been known for its remarkable edge-to-edge performance, superb colors, and excellent contrast across its zoom range. To improve light transmission and reduce the effects of ghosting and flare, Nikon incorporated both Nano Crystal and Super Integrated Coating into the lens, making it an ideal lens for many kinds of photography including landscape and architecture photography. The 14-24mm f/2.8G features Nikon's Silent Wave Motor (SWM) that delivers fast, smooth, silent, and accurate autofocus operation, and it has a rugged construction to withstand heavy use in the field under any conditions.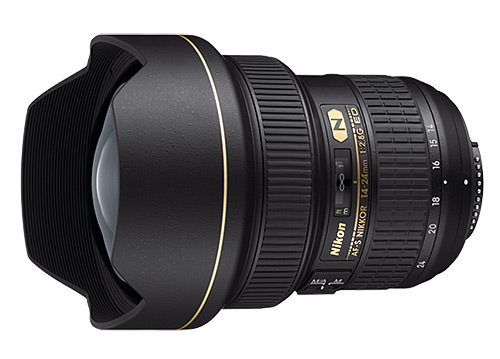 Nikon 14-24mm f/2.8G ED Review: Introduction
Let me start by saying that the Nikon 14-24mm f/2.8G is a work of art. Marketed as Nikon's flagship ultra wide-angle lens, the Nikon 14-24mm is beautiful craftsmanship that one can only appreciate after holding it in hands and trying it out. When Nikon introduced it in 2007 as a full-frame lens to be used with the back-then newly released, Nikon's first-ever full-frame D3 DSLR, the lens set a new standard in zoom lens performance in terms of sharpness and contrast. It was the world's first 14mm ultra-wide-angle zoom lens with a constant f/2.8 aperture and Nikon was proud to state that it rivaled prime lenses when it came to optical performance.
The Nikon 14-24mm f/2.8G lens was designed for a variety of wide-angle photography needs – from landscape and architectural photography to fashion and press photography. It incorporates Nikon's advanced optical technologies and works well both on full-frame (FX) and cropped (DX) sensors, although it was specifically engineered to work best on full-frame cameras. On a cropped sensor, the 14-24mm is equivalent to a 21-36mm lens, which is still wide enough for most situations, but not quite what it was designed to be…the 7mm field of view difference is quite significant on the wide end. For ultra wide-angle photography needs on DX sensors, a better choice would be the Nikon 12-24mm f/4G DX or Nikon 10-24mm f/3.5-4.5G DX.
The two letters "ED" in the lens name stand for "extra-low dispersion", as explained in our Nikon Lens Naming Convention article, which means that the lens delivers superior sharpness and reduced chromatic aberration in photographs. In addition to the Silent Wave Motor (SWM/AF-S) that provides fast and quiet autofocus, the Nikon 14-24mm also features Nano Crystal Coating and Super Integrated Coating, which drastically reduce ghosting and flare. When it comes to weather sealing, the Nikon 14-24mm is well-protected against dust, moisture, and tough weather conditions.
Being such a great lens, I would almost call it "perfect in every way", except it also has two major weaknesses – heavy weight and a rather steep price tag. One could argue that inability to use standard filters is also a negative, but considering how wide the lens is, standard filters would not fit anyway. The good news is, it is certainly possible to use filters with the right third-party adapter (such as this one), but the bad news is that such a filter system is rather large and expensive.
Nikon 14-24mm f/2.8G ED Specifications
Mount Type: Nikon F-Bayonet
Focal Length Range: 14-24mm
Zoom Ratio: 1.7x
Maximum Aperture: 2.8
Minimum Aperture: 22
Maximum Angle of View (DX-format): 90°
Minimum Angle of View (DX-format): 61°
Maximum Angle of View (FX-format): 114°
Minimum Angle of View (FX-format): 84°
Maximum Reproduction Ratio: 0.15x
Lens (Elements): 14
Lens (Groups): 11
Compatible Format(s): FX, DX, FX in DX Crop Mode, 35mm Film
Diaphragm Blades: 9
Distance Information: Yes
Nano Crystal Coat: Yes
ED Glass (Elements): 2
Aspherical (Elements): 3
Super Integrated Coating: Yes
Autofocus: Yes
AF-S (Silent Wave Motor): Yes
Internal Focusing: Yes
Minimum Focus Distance: 0.9ft.(0.28m)
Focus Mode: Auto, Manual, Manual/Auto
Dimensions: (Approx.) 3.8×5.2 in. (Diameter x Length), 98×131.5mm (Diameter x Length)
Weight: (Approx.) 34.2 oz. (969g)
Lens Case: CL-M3
Lens Hood: Built-in
Supplied Accessories: CL-M3 semi-soft case, Lens cover, Rear lens cap
Detailed specifications for the lens, along with MTF charts and other useful data can be found on the Nikon AF-S NIKKOR 14-24mm f/2.8G ED page of our lens database.
Lens Handling
The Nikon 14-24mm f/2.8G lens is built like a tank. Except for the non-removable front plastic hood, the lens is mostly made of metal, making it one of the heaviest Nikon wide-angle lenses at 969 grams. I have used this lens in very hot, cold, humid, and rainy conditions and it always survived, so its weather sealing is quite effective. The lens balances well on both entry-level and semi-pro/pro bodies because the center of balance is close to the zoom ring, where one would normally hold the lens with the left hand. The lens is larger and heavier than most other ultra-wide-angle zoom lenses out there and it is a little shorter than the 24-70mm f/2.8G without the front hood. The Nikon 14-24mm f/2.8G feels very solid in the hands and the focus ring is conveniently located in the front of the barrel, making it easy to manually focus with a thumb and index fingers while shooting images or video. When you move the focus ring and reach the focus limit, the ring continues rotation with a little more resistance, instead of an abrupt stop. The zoom ring was a little stiff in the beginning and got much smoother as I used the lens. Although the physical length of the lens does not change (due to the fixed plastic hood), the front element moves in and out when the focal length is changed.
Autofocus Speed and Accuracy
The Nikon 14-24mm f/2.8G is equipped with Silent Wave Motor (SWM), which drives the AF performance to its limits. Similar to other professional-grade f/2.8 lenses, the lens snaps into focus instantly. While it is often difficult to nail focus with most lenses in low-light conditions, the Nikon 14-24mm f/2.8G rarely fails to focus, especially on the latest generation Nikon DSLRs. Unlike previous generation autofocus lenses with loud screw drive motors, the Nikon 14-24mm f/2.8's SWM is practically silent in comparison. Autofocus accuracy is excellent and the lens focuses well consistently, something that cannot be said about many other lenses (especially third-party choices) on the market.