Nikon 105mm f/1.4E vs Nikon 105mm f/2 DC
Let's go ahead and compare the sharpness of the 105mm f/1.4E to the Nikon 105mm f/2 DC lens: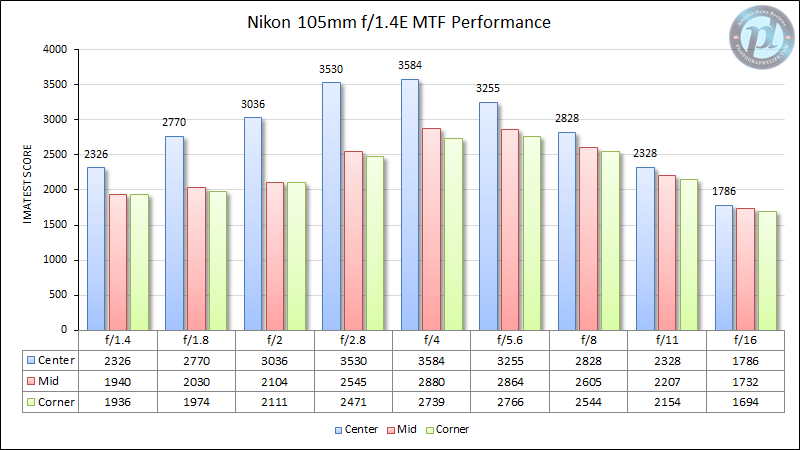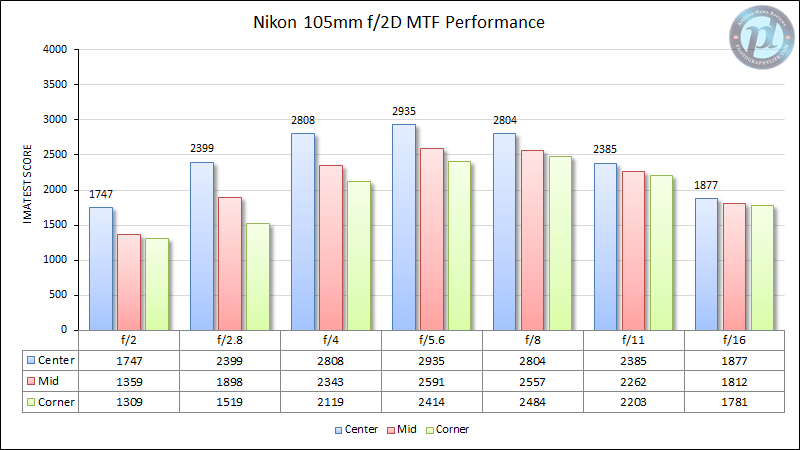 As you can see, the difference is pretty drastic – the new 105mm f/1.4E is a significantly sharper lens when compared to the 105mm f/2 DC, whether you are shooting wide open or you are stopping down. The 105mm f/2 DC was never made to be an ultra-sharp lens, that's certainly not the point of it. For portrait photography, it has enough details to make stunning images, and with the ability to control the look of both foregrounds and backgrounds (with the Defocus Control ring), one can yield images with different looks – something the 105mm f/1.4E cannot produce.
However, with the huge difference in maximum aperture and a completely different resulting "look" in images (which I personally favor the 105mm f/1.4E for), I really do not see much point in reintroducing the DC feature in lenses anymore. While the ability to defocus the foreground or the background sounds good on paper, DC lenses can be painful to use in practice. First, one has to constantly re-focus each time the DC ring is adjusted. Second, the additional rotating element certainly makes autofocus a lot less reliable, since AF shifts when DC adjustments are used.
The bad part about it, is that AF can shift for each DC value! And if one already has challenges with autofocus in DC neutral position, AF reliability and accuracy can quickly go down the drain, making focusing very challenging. Third, having to adjust both the DC ring and the aperture at the same time can be a hassle in the field, particularly when working fast – if one forgets and uses a larger DC value than the aperture, the lens can add a really nasty "soft glow" effect. Soft glow might have been somewhat popular in film days, but it just never looked good in digital. And lastly, most photographers I personally know who shoot with either the 105mm DC or the 135mm DC lenses rarely ever touch the DC ring, so it does not seem to be that desirable of a feature in the first place.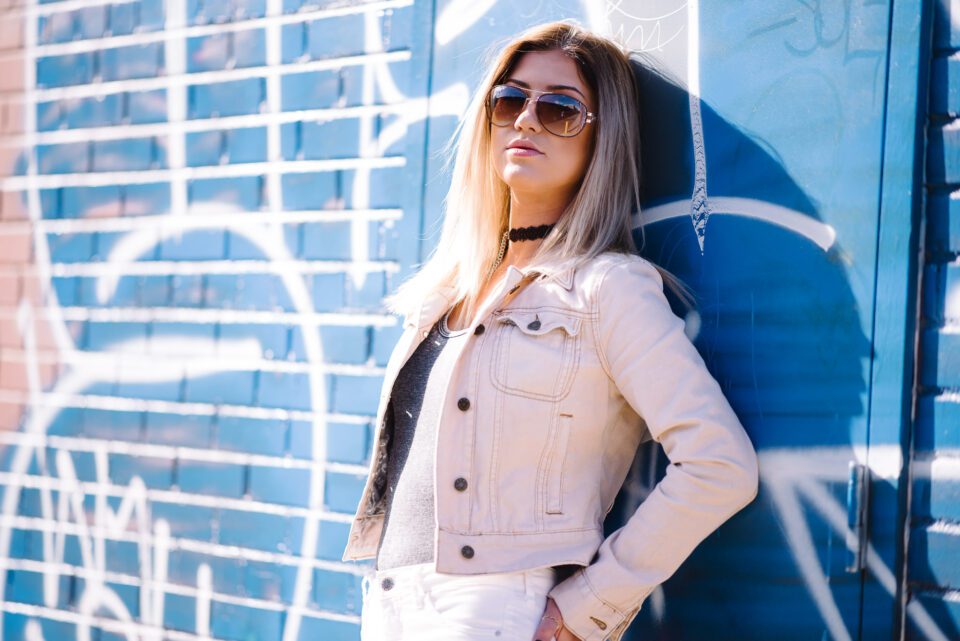 So if you are trying to decide between the 105mm f/1.4E and the 105mm f/2 DC and you have no budget constraints, I would get the 105mm f/1.4E without even giving it a second thought. If budget is an issue, I would encourage you to try out both the 85mm f/1.4G and the 105mm f/2 DC to see which one you like better. Personally, I favor the 85mm f/1.4G over the 105mm f/2 DC primarily because its AF is more reliable, but if you crave for the unique look and feel of the 105mm f/2 DC and the sample you are looking at does not have serious AF issues, then, by all means, go for it – it is certainly a beautiful lens.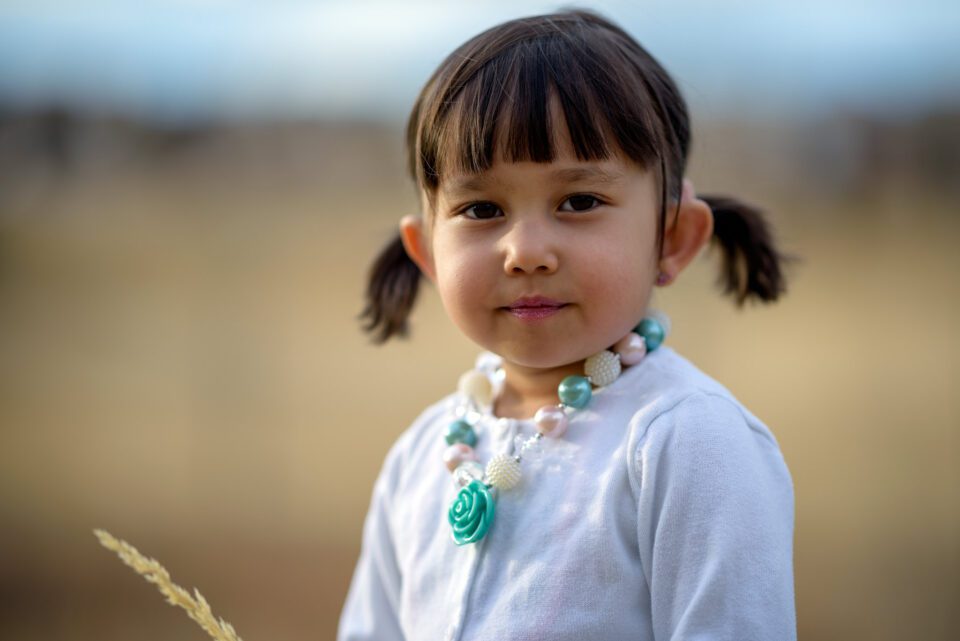 Nikon 105mm f/1.4E vs Nikon 85mm f/1.4G
The next lens to compare the sharpness to is the Nikon 85mm f/1.4G, which I personally own and have been using for many years, with wonderful results. Let's take a look at the Imatest numbers: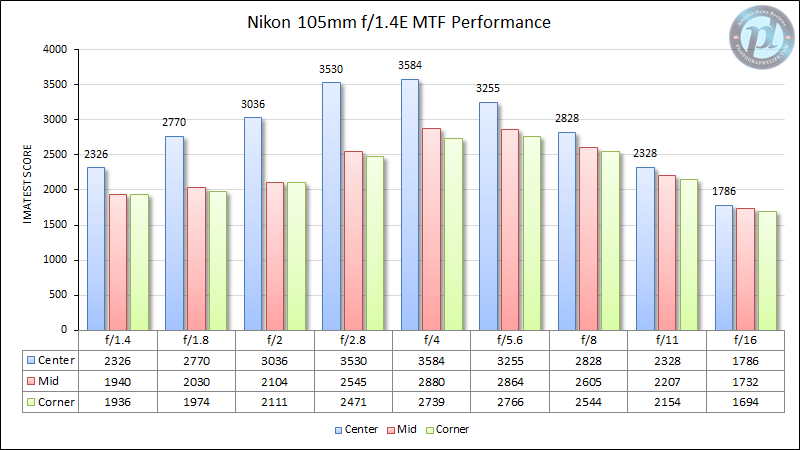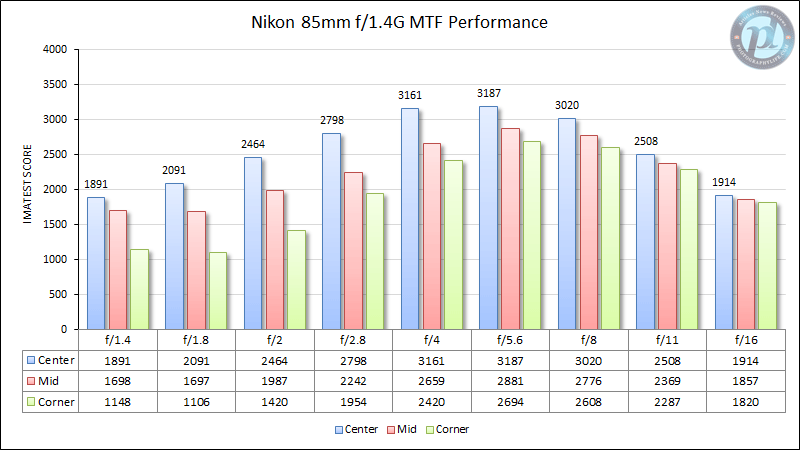 Once again, we can see why the 105mm f/1.4E is an optical marvel – at wide-open apertures, it out-resolves the 85mm f/1.4G by a pretty noticeable margin. I have already shown you the visual difference in images earlier and it is something you will certainly see when comparing the two side-by-side. This difference becomes even more noticeable with both lenses stopped down. At f/2.8, the 105mm f/1.4E is insanely sharp, reaching resolution numbers that most other lenses cannot even reach when stopped down to f/5.6. Still, having been using the 85mm f/1.4G for such a long time, I rarely complained about its sharpness, since images are so dreamy to look at. Unless you shoot with a high-resolution camera like the Nikon D810, the softer look of images at f/1.4 probably won't bother you that much and if it does, you can always stop it down a little to get a bit more crispness out of the lens.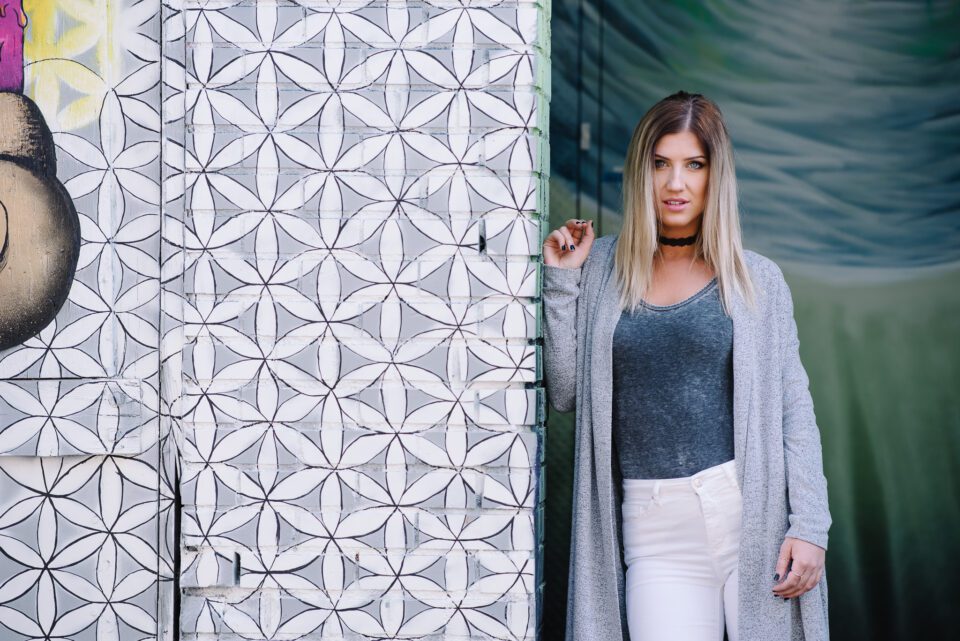 Another alternative is to explore the Sigma 85mm f/1.4 Art, which I personally have not tested yet, but heard of being a very sharp lens (make sure to test its AF right away though, as many seem to have had issues with its AF accuracy). Or if you are open to exploring another third party offering, the Tamron SP 85mm f/1.8 VC is another great candidate, with built-in image stabilization – something no other 85mm lens for the Nikon mount offers. If you want to save even more money and you don't care for an f/1.4 look or Nano Coating, you might want to give the Nikon 85mm f/1.8G a try. It is smaller, lighter and it is a sharper lens wide open. It obviously does not have all the bells and whistles of pro-level lenses (inferior build, no Nano Coating, etc), but for a third of the price of the 85mm f/1.4G, it is a real bargain!