Let me start off this hands-on review of the Nikon 1 V2 with a reminder that no one camera can do everything that an owner may require. Regardless of the price paid, every piece of equipment comes with compromises. And, so it is with the Nikon 1 V2. I should also state upfront that I shoot more client videos with my Nikon gear than I do still photographs, so this review does contain a reasonable amount of evaluation from a video perspective.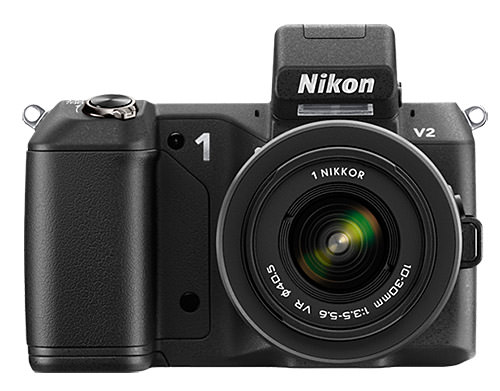 Please note that the Nikon 1 V2 has been replaced by the Nikon 1 V3.
The Challenges and Advantages of a CX Sensor
The Nikon 1 V2 has a small 1" CX sensor. This gives the camera some inherent challenges when using it in real-life situations such as more noise at higher ISOs, somewhat limited dynamic range, and difficulty in achieving shallow depth-of-field. Some people are quite negative about the V2 because of its sensor size and immediately dismiss it as a 'toy'. This is very unfortunate because the Nikon 1 V2 does have some wonderful capabilities and I believe it should have a place in the bags of many professional photographers.
My main camera is a D800 and until I bought my V2 a few months ago I also had a D7000 and some of the better performing DX lenses (16-85, 10-24, 35 f/1.8, 85 micro). I have now transitioned away from DX completely, sold all of that equipment, and purchased some additional Nikon 1 lenses. Quite simply I have found that a Nikon D800/V2 combination gives me significantly more flexibility for the kind of work I do than did the D800/D7000 pairing.
The 2.7X crop factor of the CX sensor and the ability to use any of my F-mount Nikkor lenses on the Nikon 1 V2 (FT-1 adapter is required) has really extended my shooting range. For example, if you own a Nikkor 85mm f/1.8G, on the V2 you will have an equivalent field of view (efov) of 230mm…still at f/1.8. Or, a 70-200 f/4 zoom on the V2 will give you an efov of 189-540mm still at f/4. As a comparison, on a DX body the efov would be 128mm and 105-300mm respectively. The crop factor of the CX sensor can be extremely useful when shooting wildlife like smaller birds where it is often a challenge to get close enough for a good shot. More on that later in the review.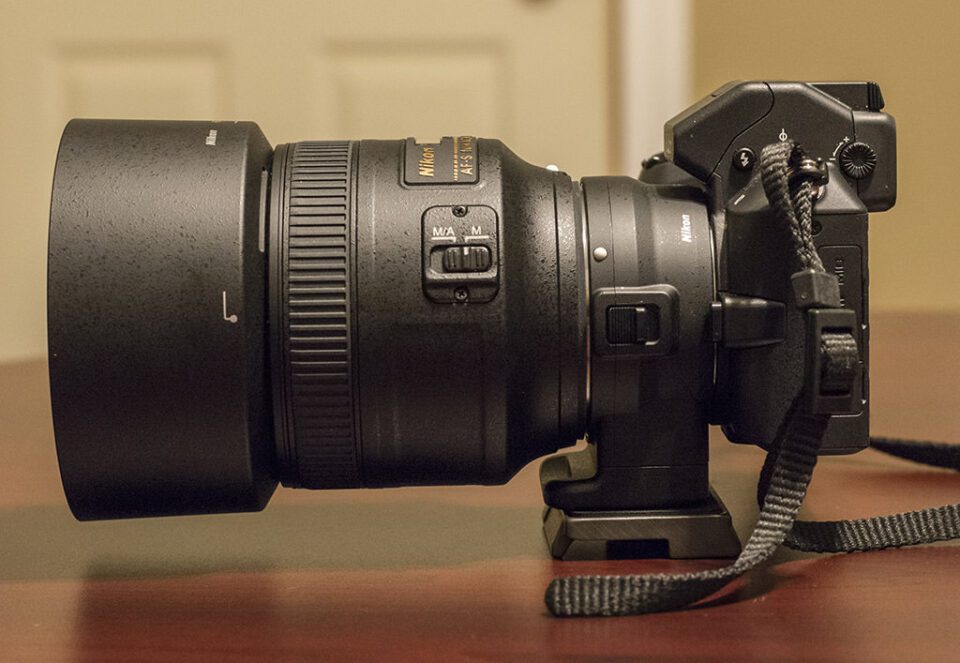 Image Noise
Image noise can be a factor with the Nikon 1 V2 at anything over ISO 800, and even at that level some people may want to apply a bit of noise reduction. I try to keep my shooting with the V2 at ISO 800 and lower. You can still get usable images with the V2 at ISO 1600 and ISO 3200 depending on how you intend on using them. For any kind of a decent sized enlargement staying at ISO 800 or below is preferred. If you do shoot at high ISOs you will find that the in-camera 'High ISO Noise Reduction' setting softens jpeg images considerably and really obliterates a lot of detail, so you'll be much better off shooting in RAW and being careful when applying your noise reduction to try and preserve as many details as possible. Under good lighting conditions when you can use lower ISO settings (160-400) the V2 does perform very well.
Depth of Field and Diffraction
The high pixel density of the 14.2 MP CX sensor means that diffraction can set in early. To get the sharpest still images from the V2 your aperture should be kept at a maximum of f/5.6. For landscape photography this is not a big issue at all since a CX sensor produces images with more in focus at any given f-stop when compared to an FX or DX sensor. Here is an example of the same scene, both shot at 50mm efov at f/5.6, the one on the left with the Nikon 1 V2 with a Nikon 1 18.5mm f/1.8, the other with a D800 using a 50mm f/1.8 G.
You can clearly see how much more is in focus at f/5.6 with the Nikon 1 V2 and its CX sensor compared to the D800 with its FX sensor. If you were willing to risk some diffraction, shooting at f/8 would render very deep depth-of-field with the Nikon 1 V2. Trying to achieve very shallow depth of field with the Nikon 1 V2 is a challenge. Here is a comparison of the same subject taken at f/1.8 using the V2 with the Nikon 1 18.5mm f/1.8 lens (50mm efov) and a D800 using a 50mm f/1.8G lens.
As you can see from the images, a setting of f/1.8 with a V2 creates an image similar to f/5.6 on a full-frame camera like the D800 in terms of depth-of-field. If you're trying to achieve very shallow depth of field with particular images or video clips the Nikon 1 V2 is not the best choice. On the other hand, if you want more of the frame in focus at any given f-stop, then the Nikon 1 V2 really shines, especially when shooting video.
Dynamic Range
The dynamic range is somewhat limited with the Nikon 1 V2, about 10.8 EVs for JPEG files and roughly 11.5 EVs in RAW (according to DxOMark). The range seems to hold up quite well from ISO 160 through to ISO 800 and I haven't been able to see any noticeable difference. At ISO 1600 dynamic range does start to drop off a bit and the deterioration escalates as you go to ISO 6400. This is not unique to the Nikon 1 V2. It is a common issue with any digital camera. Even cameras like the D800 which have outstanding dynamic range suffer from drop-off as you crank up the ISO. With the D800 that drop starts to happen after ISO 400.
Where you will really notice the dynamic range limitations with the Nikon 1 V2 is in bright sunlight when shooting high contrast scenes. Under these conditions, it is very easy to clip highlights. If you're shooting JPEG, it can be helpful to underexpose by at least 1 EV to try and hold the highlights. Shooting in RAW will always give you more latitude and it's always easier to try and dig details out of the shadows because once highlights are blown they are gone for good. Underexposing in RAW is also recommended in high contrast scenes.
Another good way to try and work around the limited dynamic range of the Nikon 1 V2 when shooting landscapes is to shoot a spread of exposures and use HDR software to combine your images. The V2 does not have auto exposure bracketing so you will need to do it manually. This is easily done by using the wheel on the back of the camera body. Without changing your base exposure you can get a range from +3 to -3 which should be sufficient to capture all the detail you need out of almost any scene and produce a good HDR image.
The following three images show the same scene. The first is an out-of-camera jpeg at default settings, the second is a RAW file with some very quick adjustments, and the third is a quick HDR image that I put together. I was focusing on the detail in the sky in the various shots in order to show differences in the amount of highlight detail available so please excuse the other color variances between the images. What the images do show is that there is more highlight detail available with a RAW file vs. a jpeg (these were shot without any exposure compensation), and using HDR technique can reveal a lot more subtle shading differences and show a good range of highlights to shadow.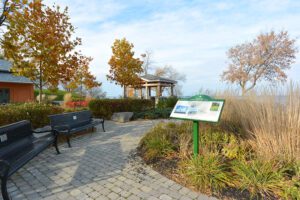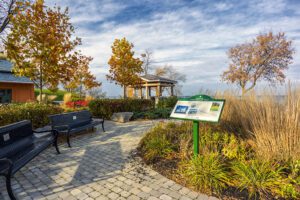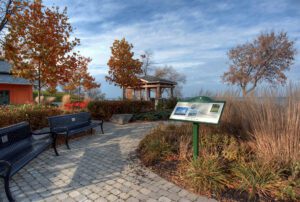 Nikon 1 V1 vs V2
For those of you who would like to see a detailed comparison between the Nikon 1 V1 and V2, it can be found here.
Autofocus Performance
The Nikon 1 V2 has a dual auto-focus system incorporating contrast-detect and phase-difference methods. The camera has control over which system is used based on light levels. Under good lighting conditions the phase-difference system is used and focusing is lightning fast and it does a very good job on moving subjects. Capturing birds in flight with the Nikon 1 30-110 lens when the phase-difference system is operating is outstanding. Focusing using the FT-1 adapter with F-mount lenses is also very fast and accurate under good light conditions. With the FT-1 adapter you are limited to one focus point in the middle of the frame and it cannot be moved, so you may need to focus and re-compose some of your shots.
I have used the TC-17E II teleconverter with my Nikkor 70-200 f/4 VR and mounted that on the Nikon I V2 with the FT-1 adapter. This combination has an efov of 918mm at f/6.7 and under good lighting conditions the focus is very quick and accurate. I have not been able to get reliable focusing for birds in flight with this set-up, but for perching birds it is a great combination, allowing me to get very good, usable images hand-held at 918mm efov at 1/200th of a second.
In lower light conditions the camera will switch to contrast-detect and focusing slows down considerably, although it is still reasonably quick. If you use the FT-1 adapter with F-mount lenses in lower light conditions you may experience some focus hunting. The amount experienced does vary by lens and it can be frustrating at times. I found this to be the case with my Nikkor 105mm f/2.8 Micro and I often switch to manual focusing as a result.
None of the Nikon 1 lenses have focus rings so to focus manually you need to go into the camera menu, set it for 'Manual', press 'OK' to have the image enlarge on the rear screen, then use the scroll wheel on the back of camera to focus. This is a bit cumbersome but it does work reasonably well. If you are having trouble getting what you want in focus it can be helpful to use single point focus and recompose the shot as necessary. For video you will likely use the manual focusing feature more often than you will with still images, as having the camera changing focus when shooting a video clip can make it look very amateurish.
If you use the FT-1 adapter with your F-mount lenses the manual focus on them will work without any problem on the Nikon 1 V2. All you have to do is set the camera to manual focus, change the focus setting on your lens, then use the lens focus ring.
Mechanical and Electronic Shutters
The Nikon 1 V2 has both electronic and mechanical shutters. The mechanical shutter allows a respectable 5 fps. Where the V2 really shines is with its electronic shutter. Frame rates of 15 fps, 30 fps and 60 fps are possible. Continuous auto-focus works at 15 fps when using any of the Nikon 1 lenses. The Nikon 1 30-110 zoom is actually a very capable lens for its diminutive size and when mounted on the V2 this combination will enable you to capture some excellent shots of birds in flight at 15 fps in continuous auto-focus. Capturing 30 fps or 60 fps may seem like overkill but there are times when this does come in handy, even though continuous auto-focus does not work at these higher frame rates. Capturing a bird just as it is landing at these high frame rates can yield some very precise…if not jaw-dropping shots. The electronic shutter will fire up to 1/16,000 of a second, while the mechanical shutter is limited to 1/4000.
Unfortunately you are limited to single exposures when using the FT-1 adapter with your F-mount lenses so these fast frame rates are a non-starter with your F-mount lenses. The fast frame rates of the V2's electronic shutter do allow for some great birding shots if you can get close enough with the Nikon 1 30-110 zoom as you can see from the photos below.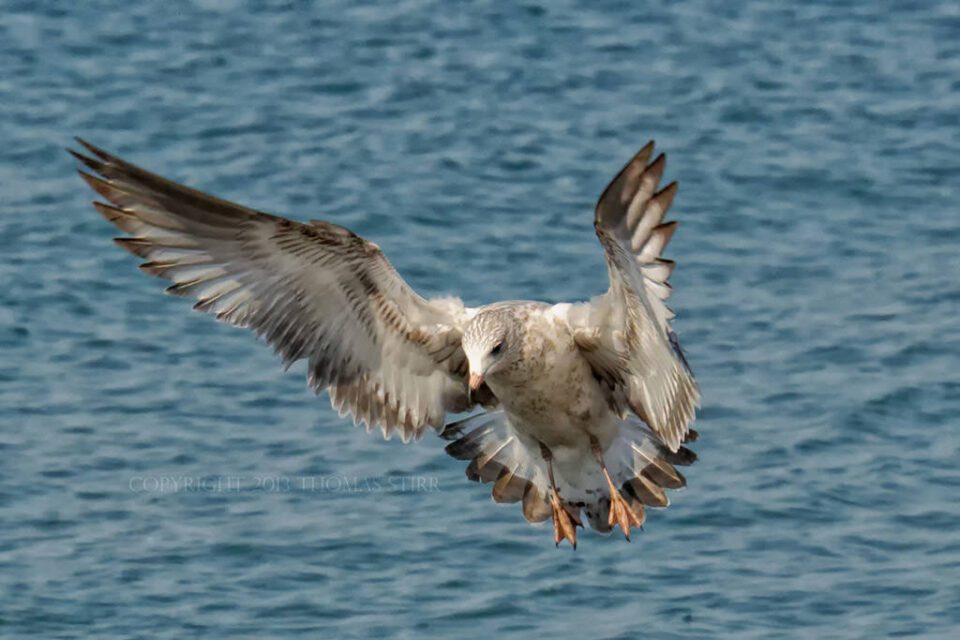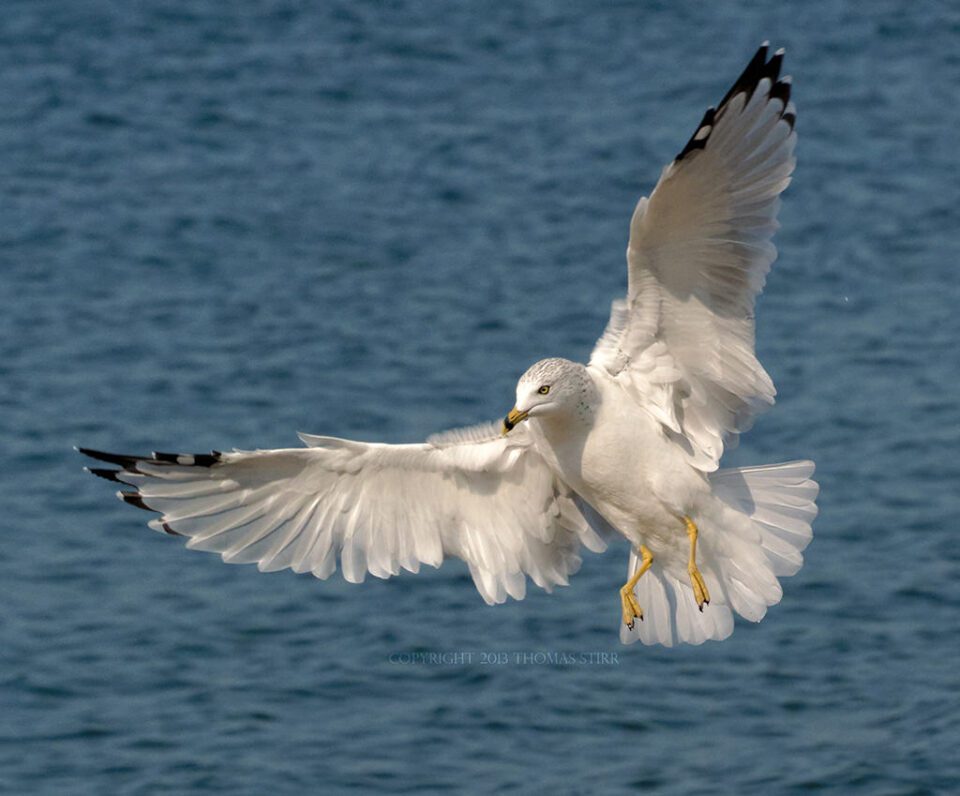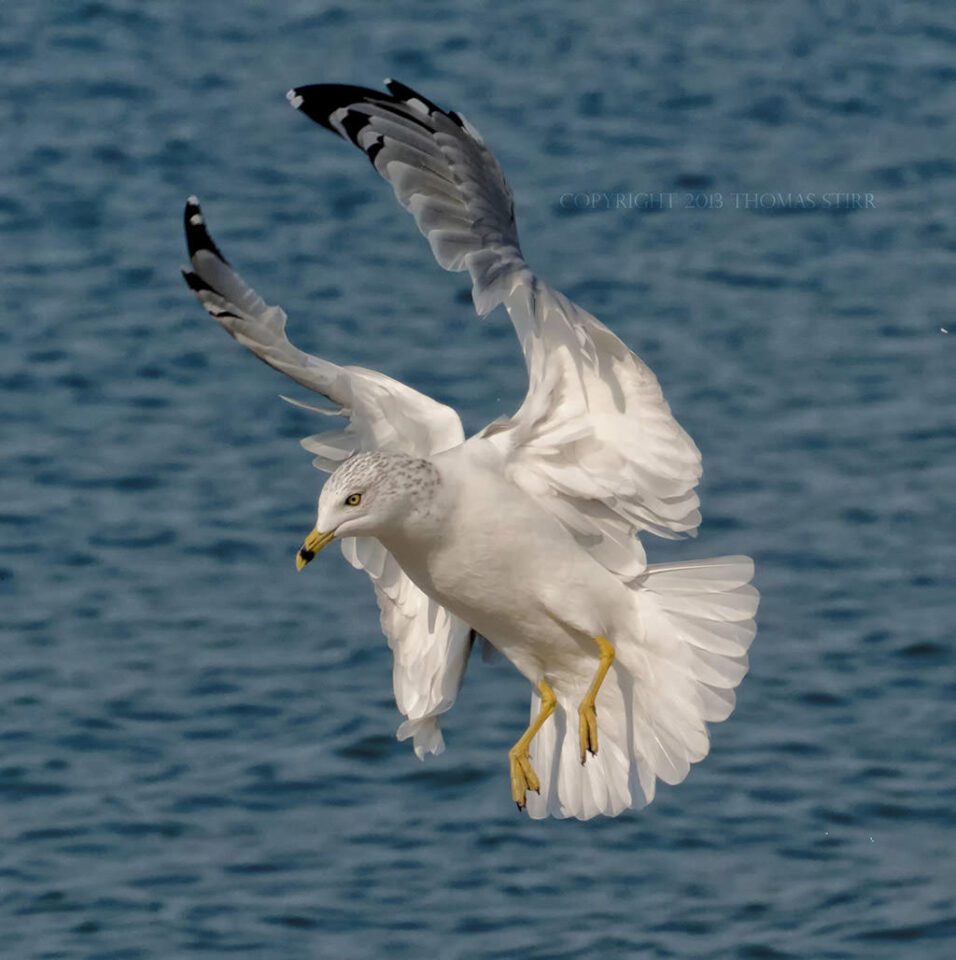 Using the FT-1 adapter and F-mount lenses with the Nikon 1 V2
One of the primary reasons that I bought the Nikon 1 V2 was to use it with the FT-1 adapter to extend the reach of my current Nikkor F-mount lenses, specifically for nature and bird photography. Having now shot thousands of images I can tell you that I absolutely love this capability of the V2. I am waiting, like many of you, for Nikon to release an update of their 300mm f/4 telephoto. In the meantime I have been using my TC-17E II teleconverter with my Nikkor 70-200 f/4 VR and I've been more than happy with the results. The efov with this combination is 918mm (f/6.7) and the VR on the 70-200 f/4 lens is excellent. I've had no problem getting very good shots hand-held at 1/200th of a second.
When Nikon does launch an updated 300mm f/4, mounting that lens on the V2 will give me an efov of 810 at f/4, or with my TC-17E II, an efov of 1377mm at f/6.7! Talk about a super light, fast focusing set-up for birding! Just imagine the kinds of shots you could get by being able to put 14.2 MP on your subject hand-held at 1377mm. Below are a few shots taken at an efov of 918mm hand-held.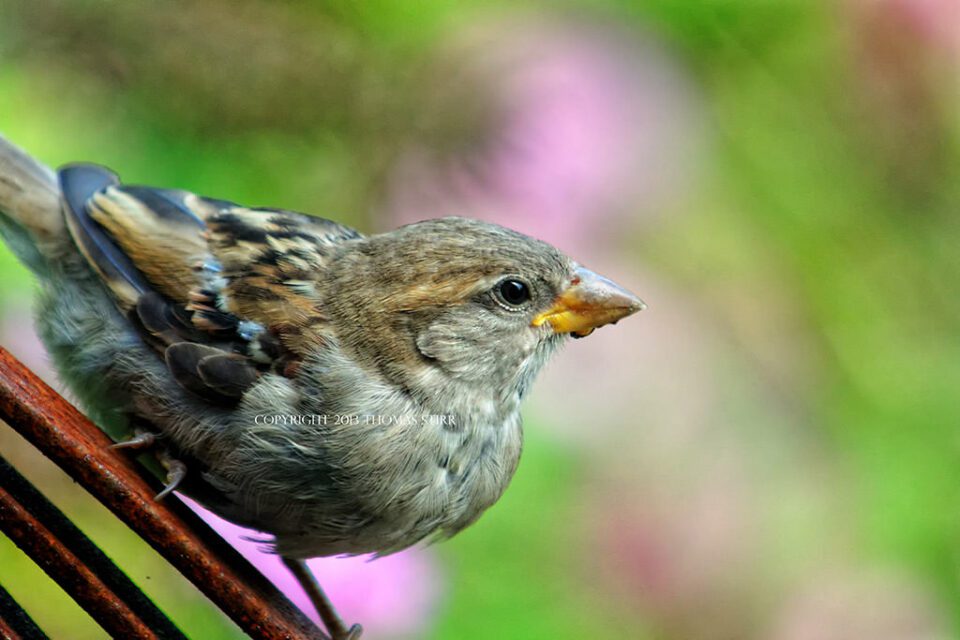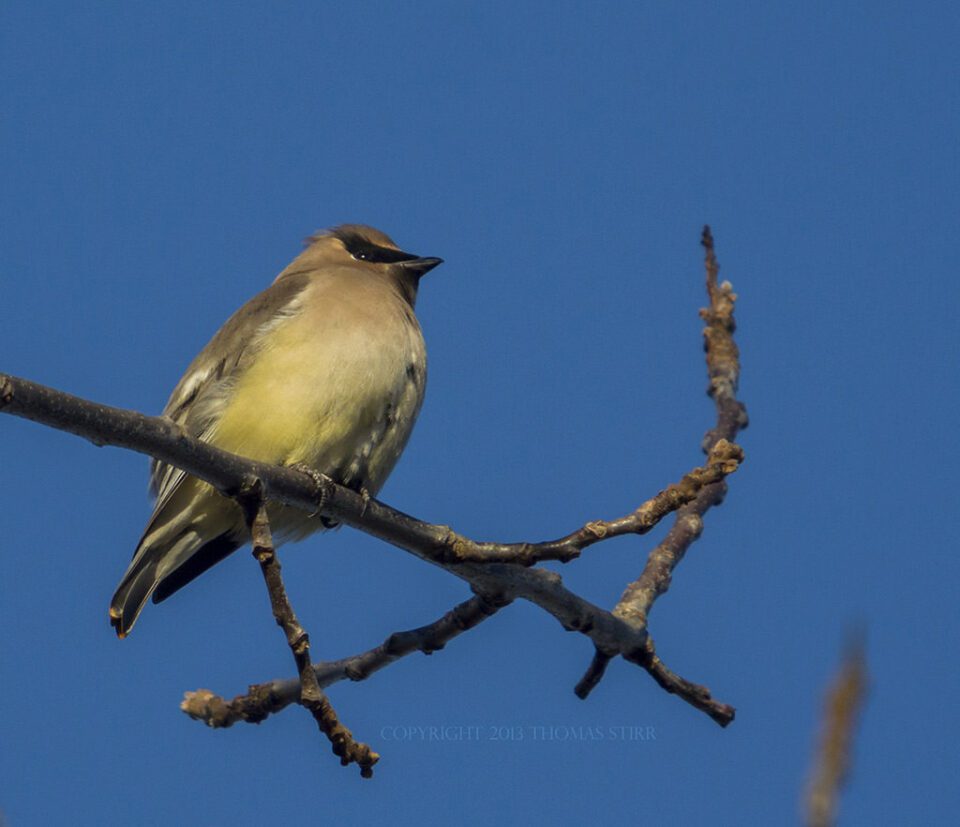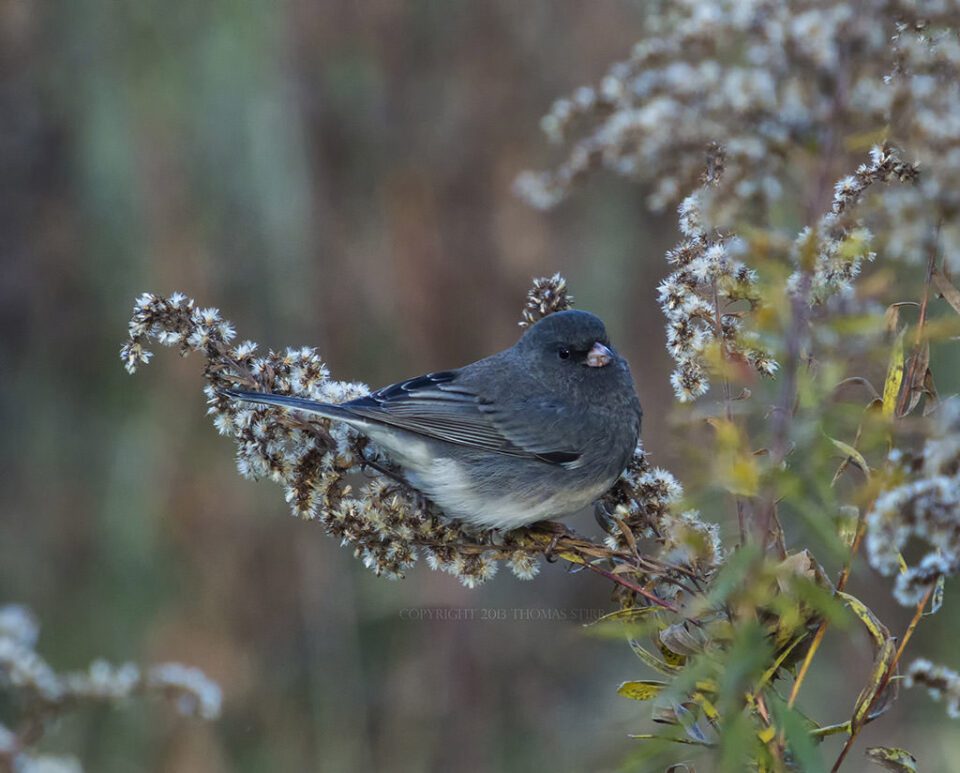 There are always trade-offs as I mentioned at the start of this review, and trying to use the FT-1 with an F-mount telephoto lens on the Nikon 1 V2 to capture birds in flight is very challenging. Being limited to one focus point in the middle of the frame and trying to hold that directly on a bird long enough for the lens to focus is extremely difficult. If you position yourself at 90-degrees to the flight path it does help. Obviously it is easier to capture birds-in-flight without the TC-17E II, and I have gotten some decent shots with the 70-200 f/4 mounted on the V2 (efov 189-540mm) but it still can be somewhat frustrating. I find that I would rather use the TC-17 II/70-200 f/4 combo on my D800 and crop the resulting images. My D800 nails focus pretty much every time and the files are large enough that I have plenty of cropping potential.
For perched birds I do prefer using the Nikon 1 V2 with the F-mount lens combination over my D800. I did some tests shooting hummingbirds hand-held from the same vantage point, using the D800 and Nikon 1 V2. The exact same set-up was used with both cameras (TC-17E II and 70-200 f/4 VR). I found that the V2 at an efov of 918 with a 14.2mp sensor can produce images that rival those from my D800 at 340mm with its 36.2mp sensor. Proof again that there is a benefit to putting more megapixels on a subject.
FT-1 autofocus caution
One thing to keep in mind when you are using the FT-1 adapter and F-mount lenses is that the Nikon 1 V2 will keep the autofocus and VR active as long as the camera is turned on, regardless of whether you have half-depressed the shutter or not. I'm not sure how much wear and tear this may cause on a lens, but just to be safe I either turn off the V2 while waiting for shot opportunities, or I turn off the VR and autofocus on the lens between shots.
Handling
Anyone who owns a Nikon DSLR will feel very comfortable shooting with the Nikon 1 V2. Thankfully the update from the V1 added many external controls including a PASM mode dial. Video shooters will love the fact that you can adjust both shutter speed and aperture on the fly with external controls. All Nikon DSLRs from the D610 on down do NOT allow this degree of manual control in video. You have to go in and out of LiveView in order to change your aperture. This may seem like a small issue, but when you are on-location shooting video for a client it can save a lot of time.
Some adjustments, like ISO, are a bit limited compared to a Nikon DSLR; as you can only adjust in full stop increments (160-6400), and Active D-Lighting is either 'on' or 'off'. The camera does have a range of scene modes, auto focus and metering settings, and other common adjustments.
The upper wheel allows you to adjust shutter speed and the dial on the back changes aperture. Once you shoot with the Nikon 1 V2 for an hour or so you'll find it quite easy to handle. Exposure compensation can be done from the back button/dial with a range of +3 to -3 EV, which is quite acceptable for HDR shots.
The handgrip is very comfortable and overall the size of the V2 makes it very portable and convenient to use.
Overall the menu is easy enough to use, although it does take a bit of scrolling time depending on what you are trying to adjust. Professional DSLR shooters who are used to a host of external body controls will find that they will need to go into the menu a lot more than they are used to doing, but at least the V2 has more external controls than other Nikon 1 models. Once you get used to the limited adjustments compared to your professional-level DSLR you'll just relax and enjoy shooting with the Nikon 1 V2.
Lens Selection
Nikon has expanded the selection of Nikon 1 lenses quite a bit from when the format was originally launched. And, Nikon is creating higher quality lenses for the system. For example, the recently launched 32mm f/1.2 Nikon 1 lens (efov 86mm) has Nano Crystal Coating and is priced at about $900.
I own four Nikon 1 lenses and I find the combination of 6.7-13 (efov 18-35mm), 10-30 (efov 27-81mm), 30-110 (efov 81-297mm) and 18.5 f/1.8 (efov 50mm) gives me quite a bit of flexibility. Image quality with Nikon 1 lenses is actually quite good in terms of centre sharpness, very respectable corner quality, color rendition etc. Obviously these particular lenses don't match the performance of Nikkor professional-grade FX glass, but I think they are a solid step above entry-level, consumer-grade Nikkor DX lenses. Since the final images you capture are a product of the combination of the body and the lenses you use, I believe that most 'family' or 'weekend' shooters will get better overall image quality with the Nikon 1 V2 using the 6.7-13, 30-110 and 18.5 f/1.8 lenses than they would with a Nikon DX format DSLR and a selection of low priced DX lenses.
Nikon 1 lenses are quite good for video work. The zoom lenses, including the 6.7-13mm, all have VR which also adds some flexibility shooting stills at slower shutter speeds in low light conditions. With the FT-1 adapter you can use any of your F-mount glass, but remember that the 2.7x crop factor will greatly increase the efov of your lenses. Based on how good the Nikon 1 V2 is for shooting wildlife and birds I would be in heaven if Nikon introduced a Nikon 1 300mm or longer telephoto. I would buy it in a heartbeat.
I mentioned earlier that I now shoot with a D800/V2 combination and have sold off my D7000 and remaining DX lenses. The following chart shows the equivalent field-of-view of the FX lenses that I use and how the CX sensor in the Nikon 1 V2 helps to increase overall in-the-field shooting flexibility in terms of additional efov. And, where there are direct overlaps on efov between my FX and Nikon 1 lenses, the large differences in depth-of-field characteristics between FX and CX sensors also adds more creative options. The FX sensor size of the D800 and its DX crop capability makes owning a DX body redundant for the kind of shooting I do.
Nikkor FX Lenses
D800 FX 36.2 MP
D800 DX EFOV 15 MP
Nikon 1 V2 CX EFOV 14.2 MP
28mm f/1.8G
28mm
42mm
75.6mm
50mm f/1.8G
50mm*
75mm
135mm
85mm f/1.8G
85mm
127.5mm
229.5mm
105mmm f/2.8G Micro VR
105mm
157.5mm
283.5mm
105mm f/2.8G Micro VR + TC-17E
178.5mm f/4.8
268mm f/4.8
482mm f/4.8
16-35mm f/4G VR
16-35mm**
24-52.5mm
43-94.5mm
24-85mm f/3.5-4.5G VR
24-85mm***
36-127.5mm
65-230mm
70-200 f/4 VR
70-200mm****
105-300mm
189-540mm
70-200 f/4 VR + TC-17E
119-340mm f/6.7
178.5-510mm f/6.7
321-918mm f/6.7
Nikon 1 CX Lenses
18.5mm f/1.8
50mm*
6.7-13mm f/3.5-5.6 VR
18-35mm**
10-30mm f/3.5-5.6 VR
27-81mm***
30-110mm f/3.8-5.6 VR
81-297mm****
Image Quality with Nikon 1 Lenses
While not at the highest, professional quality standards, the Nikon 1 V2 with system lenses can produce very good quality images, especially if the aperture is kept at f/5.6 or under. I have found that some of the Nikon 1 lenses such as the 18.5mm f/1.8, 30-110mm and 6.7-13mm are particularly good, producing consistently sharp images with nice contrast, and quite a bit of detail in the corners. The CX sensor is able to achieve reasonably deep depth of field at f/5.6 which is ideal for landscape photography.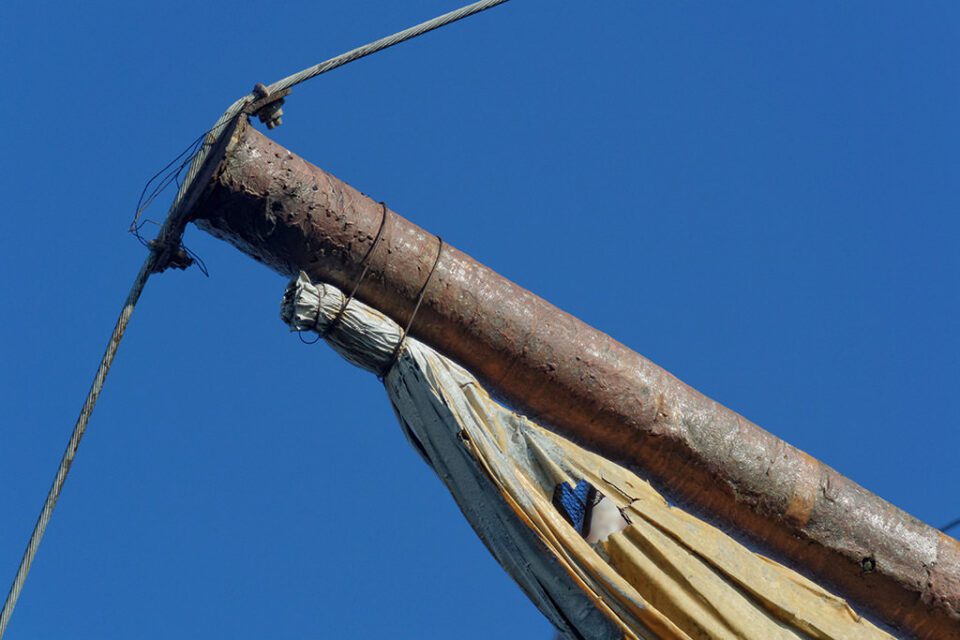 100% Crop: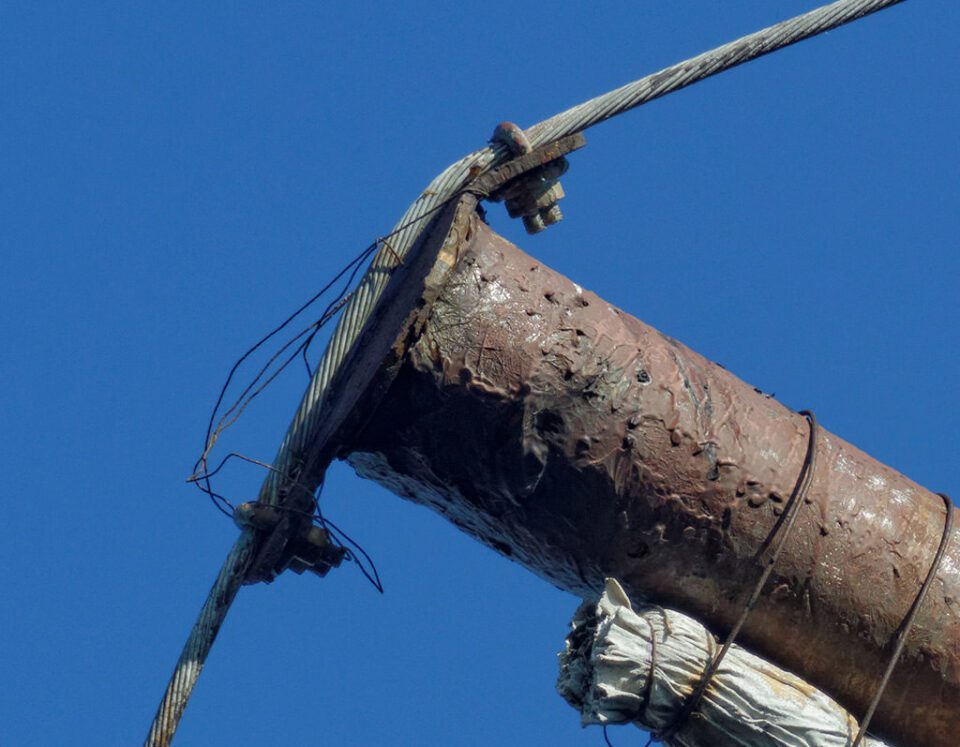 RAW files respond well to post processing and I've found that many Nikon 1 V2 files really seem to like DxOMark OpticsPro8.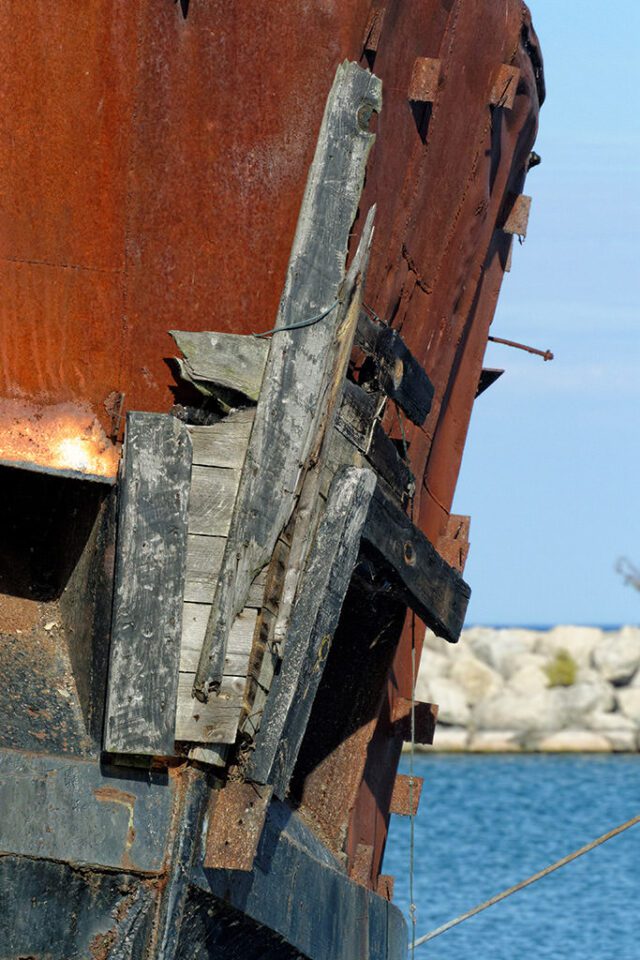 100% Corner Crop: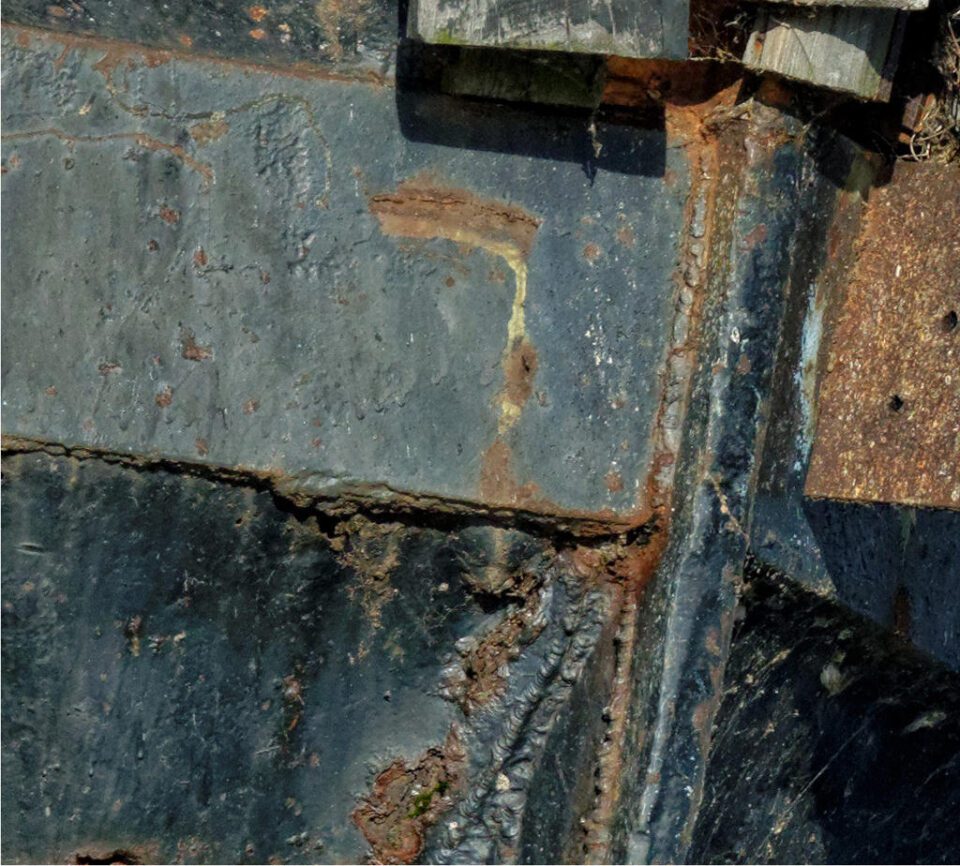 The high density of the CX sensor does cause diffraction to be an issue, and over f/5.6 it becomes increasingly noticeable. By f/11 the softening effects of diffraction due to the high pixel density of the Nikon 1 V2's CX sensor are clearly visible (left side images are f/5.6, right side images are f/11):
At resized size for web, you obviously cannot spot any differences. However, the difference is definitely there at pixel level:
Viewfinder
Unlike most of the other models in the Nikon 1 line-up the V2 features a viewfinder. Anyone that is used to a DSLR will really appreciate this feature. The default viewing on the V2 is the screen on the back of the camera. There is a sensor on the right side of the viewfinder that senses your face coming close to it and will automatically shift the view from the back panel of the camera to the viewfinder. There is a bit of a lag of a ½ second or so, and if you're not careful you can miss a shot because of this lag. When I'm out shooting birds I purposely put my thumb over this sensor so that the image is always in the viewfinder. Then as I bring the camera up to my eye to shoot I pull my thumb away when the camera is close enough to my face for the sensor to detect it. This allows me to shoot without any kind of lag.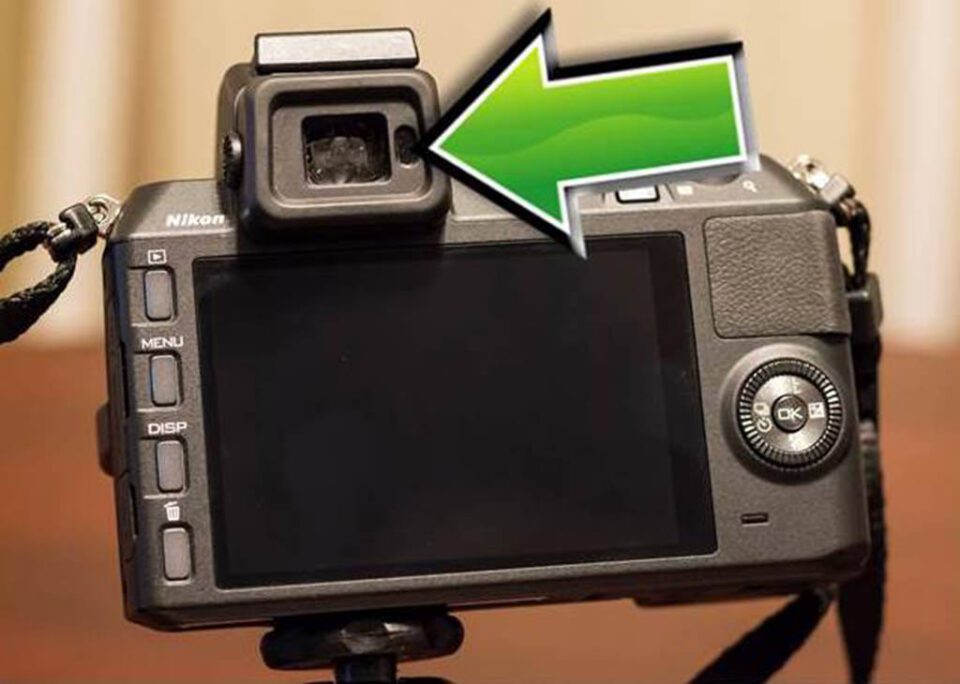 Compact Sized System
While many people bemoan the fact that the Nikon 1 V2 has a small 1" CX sensor it has allowed Nikon to engineer quite compact system lenses for the camera. I have a cotton jacket with a couple of large cargo pockets that I often wear when I'm out shooting and I can easily carry my complete system of a V2 body, 4 lenses and a ME-1 microphone is just one of those pockets. Try doing that with a DSLR or even a 4/3 format camera with the same selection of lenses! Nikon has developed a dedicated flash and a small video light for the Nikon 1 system. In my mind it would have been better if they could have just made adapters so owners could use existing Nikon accessories like they can with the ME-1 microphone. That particular adapter (AS-N1000) is quite high priced for what it is and sells for about $30.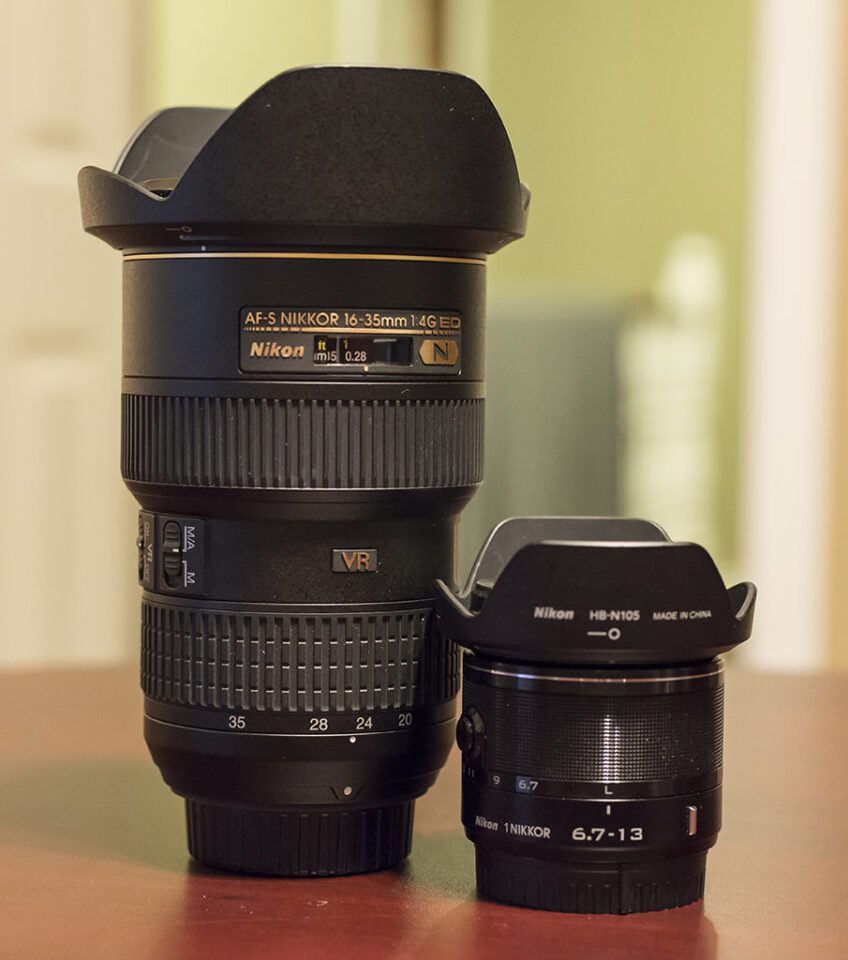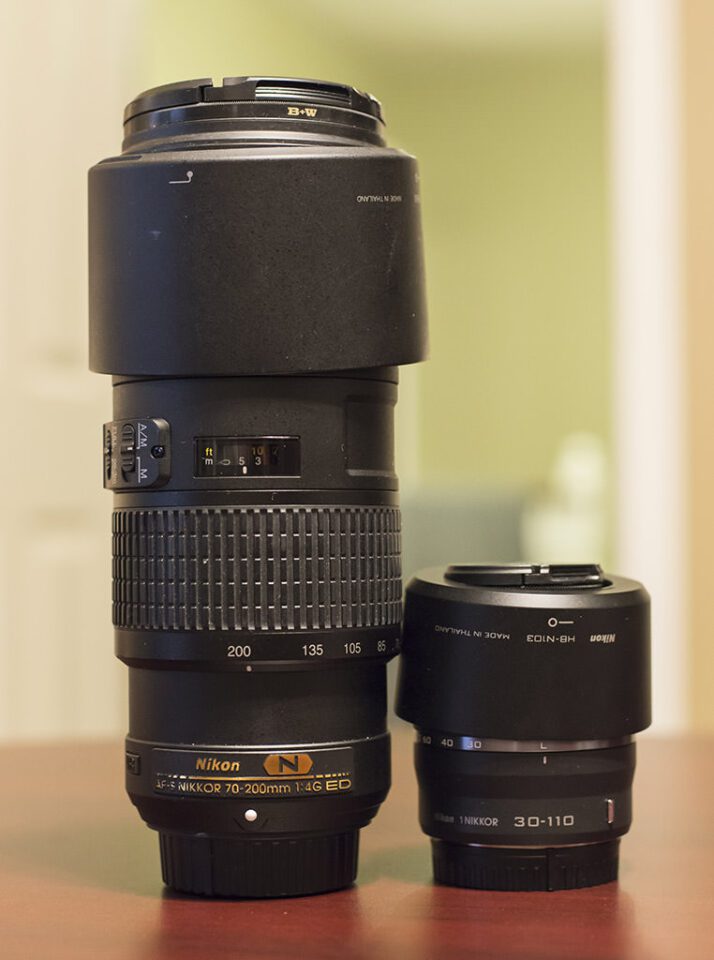 While the Nikon 1 V2 CX sensor may not match the overall performance of a micro 4/3 or DX sensor, the V2's portability and speed does make it a good alternative to these other formats. And, if you have been using cheaper cropped sensor lenses on a DX body the Nikon 1 V2 with some of its better quality system lenses may surprise you in terms of the overall image quality they produce.
The photo below shows my Nikon 1 V2 with the Nikon 1 30-110mm lens (efov 81-297mm) mounted on a very small table top tripod. When shooting video the diminutive size of the V2 has allowed me to put it in very tight or awkward spaces, capturing very unique angles and perspectives that would not have been possible with a DSLR or micro 4/3 format camera.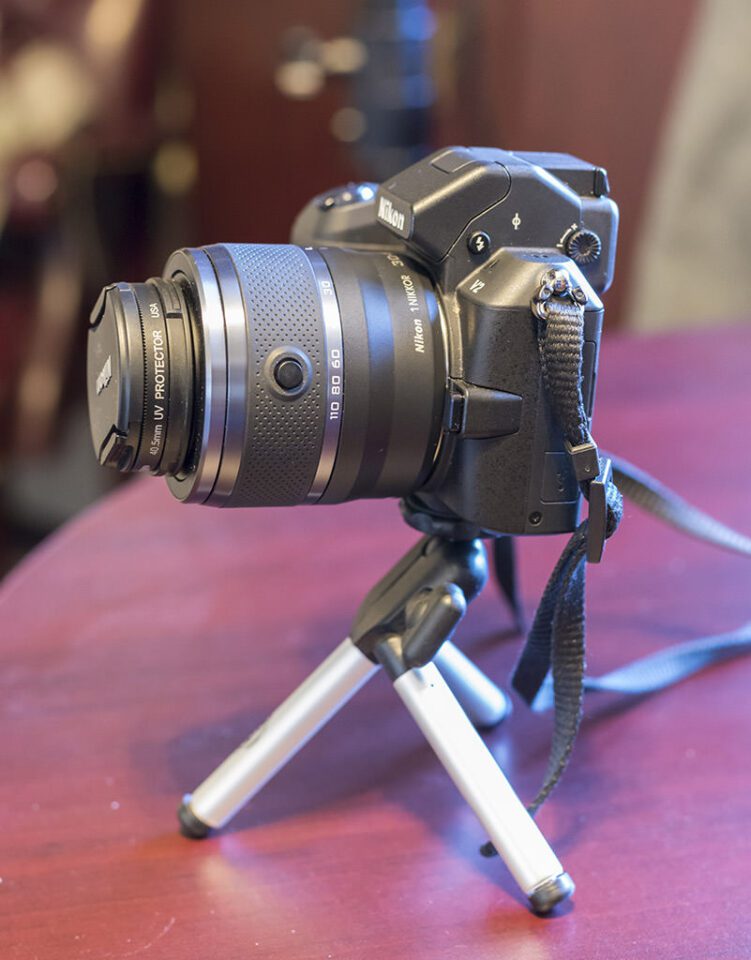 Using the Nikon 1 V2 with camera mounting equipment
The Nikon 1 V2's small size also means that it is well suited to be used with camera stabilizers like the CMR Blackbird, the Fat Gecko dual suction cup mount, skater dollies like the Konova KSD-2000, or small-sized camera sliders like the Cinevate FLT Atlas 10 (I use all of this equipment in my business). This flexibility can add a lot of creativity to video productions. Its small size also means that when travelling you can use a small size combination tripod head like the Manfrotto 391RC2 with the Nikon 1 V2 to shoot video with some basic pan and tilt moves.
Shooting video with the Nikon 1 V2
My main camera for video is a D800 and I use the V2 as a second camera on client video shoots. I bring some of my studio lights with me when shooting video indoors to help ensure I can shoot at fairly low ISOs. As a result, the vast majority of my client video segments are shot at ISO800. This makes the potential problem of noise from the Nikon 1 V2's small sensor pretty much a non-issue for me. If you do not have adequate lighting you may want to consider how much noise will be acceptable in your video footage and how much time you want to spend in post correcting it.
Generally speaking Nikon cameras are noisier when shooting video than Canon at higher ISOs, so if you are already shooting video with Canon you likely will not have much interest in switching to Nikon.
Before buying a Nikon 1 V2 for video you do need to understand some of its limitations to make sure that it will meet your specific needs.
The video capability of the V2 was one of the primary reasons that I bought the camera, and I have found it to be very competent shooting video in 1080HD at 30p and 720HD at 30p or 60p. For typical industrial productions that I do like product reviews, safety videos, and YouTube promotional videos the Nikon 1 V2 produces very acceptable results and the limited number of frame rate options is not an issue as most clients prefer 1080HD at 30p. There is also a capability to shoot video at either 400 fps or 1200 fps. Resolution changes to a panorama at those speeds and the 1200 fps (320×120) setting is more of a marketing gimmick than a practical application. The 400 fps setting, even given its small resolution (640×240), can actually be helpful in specific situations where, for example, you may want to capture slow motion footage of industrial machinery in action; then superimpose the small-sized clip onto an explanatory graphic in your video assembly.
The Nikon 1 V2 also shoots video in 60i (interlaced). It is important to remember that 60i still produces 30 finished frames per second, but captures them differently than the 30p (progressive) setting. At 60i the camera captures 'half scenes' then laces them together to create a single finished scene. This can help fast action scenes like sports look a bit smoother than if shot in the 30p setting.
If you are trying to achieve a 'film look' with your video the Nikon 1 V2 is definitely not the right camera to choose as the depth-of-field characteristics of the CX sensor are not nearly shallow enough to get the sharp image separation and ultra-soft backgrounds used in film production. Also, the V2 does not provide the 1080HD 24p setting that is preferred for this style of production. A full frame camera like the D800 is needed to achieve the 'film look'.
The quality of the Nikon 1 V2 video files is very good up to ISO 400 and there isn't much difference in noise levels between the V2 and D800 at low ISOs. At ISO 800 there is a bit more noise in the V2 files and it increases as ISOs rise. At higher ISOs I'd estimate there is at least a full stop difference, perhaps a tad more. Given the difference is sensor size between the two cameras this is to be expected.
As mentioned earlier, having full manual control, including changing aperture, when shooting in video mode is a huge advantage when compared to most Nikon DSLRs that force you to go in and out of LiveView to change the aperture.
There are sufficient picture controls with the Nikon 1 V2 to allow you to match the settings you are likely to use when shooting video with the D800. Most video shooters will want to capture as flat an image as possible and then color grade it in post. This means shooting in Neutral with the contrast turned all the way down. In scenes where you may run the risk of moire you may also want to reduce the sharpening down to the lowest level. To get smooth looking video you will want to match your shutter speed to the frame rate you are capturing, using a 1/60 shutter speed for 1080HD or 720HD video at 30p, and 1/125 shutter speed for 720HD at 60p. Whenever possible shoot video at ISO800 or lower to keep noise to a minimum. You can go to ISO 1600, and maybe push it to ISO 3200 the odd time with the Nikon 1 V2, but you should expect to have to clean up a fair amount of noise in post at these settings.
I have found that the depth-of-field characteristics of the CX sensor in the Nikon 1 V2 can be extremely useful when shooting video, especially in situations where you may be limited to an aperture of f/5.6 or less, and where you need more depth-of-field than is possible with the FX sensor in the D800 at that f-stop.
While it may be convenient to use one of the ISO range settings (e.g. 160-800) when shooting still photos with the Nikon 1 V2, you'll want to avoid this when shooting video as the camera can shift ISO settings if lighting changes slightly while recording a scene. This can cause a noticeable shift in exposure in your video clip and make it look amateurish. For the best, consistent results with the V2 I'd recommend always shooting video in full manual mode and using a specific ISO setting.
Manual focusing with Nikon 1 lenses is a bit cumbersome since they do not have focus rings, but it can be done and is preferred for video shooting as you would seldom want the lens to re-focus during the recording of a scene.
Of special note to video shooters…it is impossible to pull focus or to do rack focusing while recording with the Nikon 1 V2 as the same rear wheel is used for aperture adjustment and manually focusing Nikon 1 lenses. As soon as you hit record, the function of the rear wheel immediately defaults to aperture adjustment. As noted earlier, manual focusing with F-Mount lenses is no problem at all.
You can certainly use the Nikon 1 V2 with the FT-1 teleconverter and a Nikon F-mount telephoto lens to shoot videos of wildlife and birds. For some sample video clips check out this YouTube video:
At this point I am not aware of any follow focus unit that will work with the Nikon 1 V2 even for zoom adjustments only. Given that Nikon 1 lenses do not have external focusing rings video shooters will have to use their main camera to pull focus or do rack focus clips anyway so it wouldn't make any sense to invest in a follow focus unit (I use my D800 with an iDC System Zero follow focus).
I do not own the Nikon 1 10-100 zoom lens but from what I have read it has a power zoom control specifically designed for video. The power zoom will have some definite advantages in terms of zooming in and out of scenes and that capability will enhance your video productions to some degree, but it would not address the issue of pulling focus or doing rack focus which for most video shooters are very important creative techniques. The 10-100 is a relatively large, heavy and expensive lens compared to the other Nikon 1 lenses and most people shooting still photography would get better image quality and value by buying a combination of the 10-30mm and 30-110mm zooms instead.
Overheating in Video Mode
Since the Nikon 1 V2 is such a small, compact camera you need to be aware that it can overheat when shooting video if you try and run a continuous clip of 20 minutes or more, or if you use it capturing clips in rapid succession for more than 20 minutes. Under these conditions it will give you an overheating visual warning on the screen and shut-down, and will not be operable until it cools sufficiently. This means that the Nikon 1 V2 is not a good choice to do interview-on-camera scenes where long uninterrupted scenes or numerous back-to-back takes are the norm. I always turn the V2 off between capturing video scenes to help keep it from overheating.
Video Sound Quality
Audio input controls are in the menu and only three audio settings are available. The integrated microphone on the Nikon 1 V2 is not good enough for any kind of commercial production. To produce decent quality you will definitely want to use an external microphone. I use both the Nikon ME-1 and the Rode VideoMic Pro with my Nikon 1 V2. Both do an acceptable job, with the Rode VideoMic Pro being the superior of the two. I can also use my Sennheiser Freeport wireless microphone for even better sound. There is no headphone jack on the Nikon 1 V2. I tried using my Sescom patch cable to get my headphones to work with the V2. While this cable worked with my D7000 and allowed me to monitor video sound levels with headphones while recording, I could not get it to work on the V2. I don't know why…perhaps the EN-EL21 battery just doesn't have enough power.
Who Should Buy the Nikon 1 V2?
The Nikon 1 V2 is ideally suited for any photographer who puts a premium on small size, fast performance, and good image quality.
The Nikon 1 V2 with Nikon 1 system lenses is perfect for travel photography, especially if you use HDR techniques
FX shooters who want the unique depth-of-field characteristics of the CX sensor for both still photography and video to expand their creative capability will like the Nikon 1 V2
Anyone who enjoys shooting wildlife with their Nikon DSLR, even professional shooters, should absolutely buy a Nikon 1 V2. Having one in your camera bag with the FT-1 adapter is like carrying around a powerful little 2.7x teleconverter. It is an amazing tool to extend the reach of your current Nikkor glass.
People who plan to use their cameras to shoot a lot of video as well as stills and want the convenience of external, live manual control of both shutter speed and aperture.
Professional video shooters using a D800 should take a serious look. The Nikon 1 V2 is a great compliment to the D800 and they will find that the differences in depth of field characteristics between FX and CX sensors opens up additional creative options when shooting video.
Copyright 2013 Thomas Stirr. All rights reserved. Used by Photography Life with permission.
Nikon 1 V2
Features

Build Quality

Focus Speed and Accuracy

Handling

Value

Image Quality

High ISO Performance

Size and Weight

Metering and Exposure

Movie Recording Features

Dynamic Range
Photography Life Overall Rating