ISO Performance at low ISOs (ISO 100-800)
Let's take a look at how the Nikon 1 V1 performs at low ISOs. Here are some 100% crops at ISO 100, 200, 400 and 800:
Base ISO 100 looks somewhat clean, similar to DX performance, but ISO 200 already shows some noise.
ISO 400 adds a little more noise and the shadows get a little grainier, but overall it still looks pretty good. ISO 800, on the other hand, seems to be adding larger grain than ISO 400, but image detail is still preserved well.
High ISO Performance (ISO 1600-6400)
Let's see what happens when ISO is boosted to much higher levels:
Even larger grains at ISO 1600 and the shadows get noticeably grainier as well. Details still look very good though. ISO 3200, which is still native ISO, is where things get considerably worse. Noise almost doubles and we see loss of details and colors.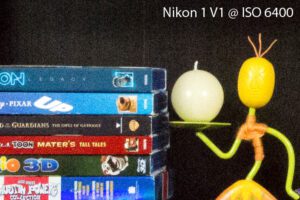 When ISO is boosted to 6400, large grains and artifacts show up all over the image.
Overall, the ISO performance of the Nikon 1 V1 camera is very impressive for a small CX sensor, especially when compared to the competition. Let's see how it fares against the Micro Four Thirds sensor. Select the next page below.