During the last few weeks, I have been trying to come up with a good solution for testing lenses that did not require constant movement when dealing with slightly de-centered lenses. The idea was to build a setup similar to macro rails, but one that is bigger in size and very stable at the same time. Stability is extremely important, because even a slight vibration can negatively affect lab results. Using an Arca-Swiss quick release setup was a no-brainer, because it allows moving the setup without having to deal with mounting and dismounting anything, while being rock solid when tightly secured. While my BH-55 Pro tripod head from Really Right Stuff has been serving me well for a while now, it was hard to use for minute adjustments that are often necessary when testing lenses. Therefore, I decided to replace it with a geared head that would allow very precise vertical and horizontal tilt adjustments, along with the ability to pan, when needed. My quick search revealed that unlike the army of pan/tilt heads and ballheads, which are made by a myriad of companies, there are only a few options available for geared heads today. One of them is the Manfrotto 405 Pro Geared head, which I am reviewing today.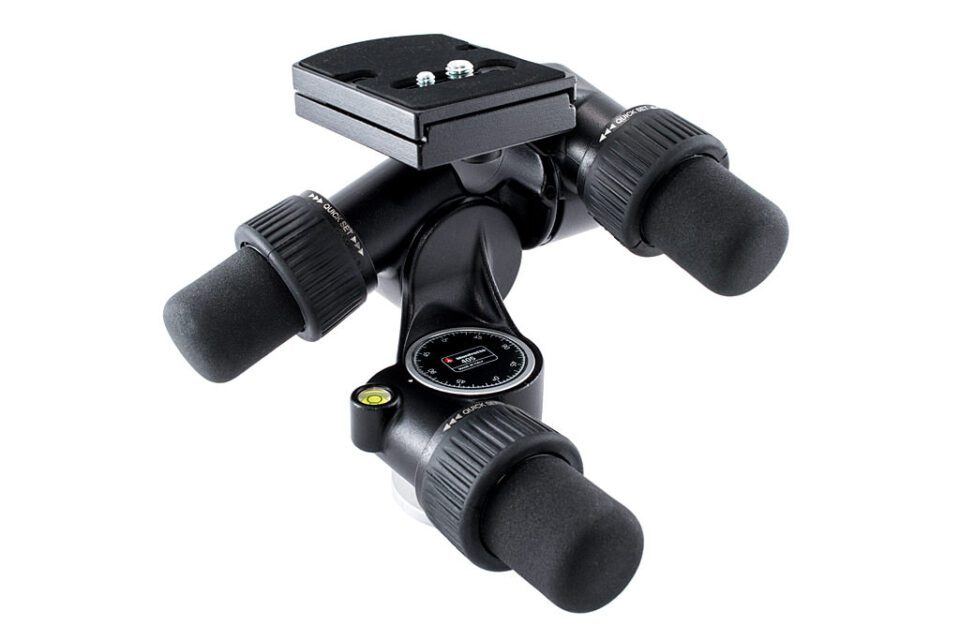 The Manfrotto 405 Pro seemed like a great solution for my needs. It is a very large and heavy head that is capable of handling a lot of load, and its three large knobs looked like a great way to make quick and precise adjustments, which is exactly what I needed. Compared to a ballhead, it will not immediately drop to the heavy side when loosened, because you physically hold each knob with your hand to control panning or tilting movements. In addition, you don't have to lock or tighten anything – the tripod head is always in a locked state. The knobs are used for making adjustments, but once you are done, you simply release the knob(s) and you are done. A very simple and a straightforward approach that works really well. You are in control of the heavy and often expensive setup and there is no chance to damage the equipment just because something got too loose. The Manfrotto 405 Pro is a popular tripod head among medium format photographers for these reasons.
1) Specifications
Here is a quick rundown of the specifications:
Maximum Camera Supported: All medium format systems
Load Capacity: 16.5 lb (7.5 kg)
Height: 6.3″ (16.0 cm)
Quick Release: Yes
Spirit Level: Yes
Tension Control: No
Tripod Mount Thread Size: 3/8″-16
Weight: 3.53 lb (1.6 kg)
Its load capacity of 7.5 kg is quite impressive – you would be able to support pretty much any setup on it.
2) Quick Release Plate
When I received the tripod head, I knew that the plate that comes with the head would not work – my Arca-Swiss quick release rails would not fit on it. I still played with the plate a little to see how practical it would be for using it on cameras. The good news is, the plate is large and comes with two screws of different sizes, so you can mount pretty much any size camera or lens on it. The bad news is, mounting the plate requires a screwdriver, since it is impossible to hold the little screw with fingers and tighten it well. So I would not want to quickly swap the plate between cameras when working on the field. If you are planning to use the plate, I would suggest to buy a plate for each camera you own. Thankfully, the plate only costs $15, so you can buy it for all of your cameras without breaking the bank. When it comes to function, the quick release plate might require some time to get used to initially. Just remember that the flip-locking mechanism engages when some pressure is applied to the plate. Once locked, you use your index finger on the flip-lock to loosen the plate. The plate itself is protected from falling down (which is good) until you press the little silver piece on the flip-lock and twist it further down – that's when the plate can be removed. If you tighten it well, the plate sits firmly without any wiggling like on some cheap tripod heads, so there are no issues with stability.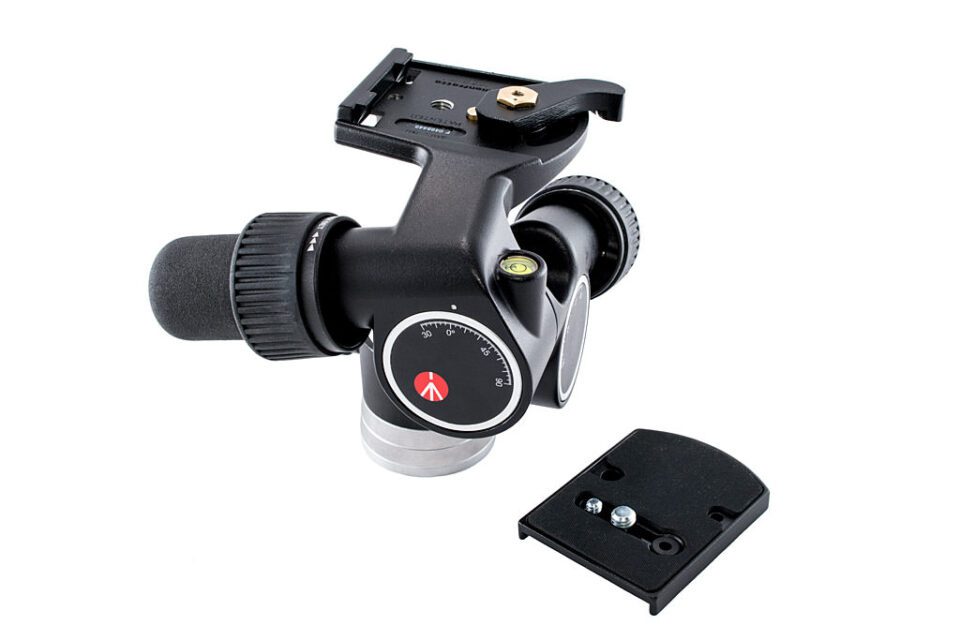 3) Manfrotto 405 Pro Arca-Swiss Conversion
As I have mentioned above, the quick release plate that comes with the head would not work for my Arca-Swiss setup, so it required a conversion. As I have written in my Hejnar Photo Accessory review, I was able to quickly convert the plate to Arca-Swiss type using this conversion plate and it turned out to be a superb solution – extremely stable. Hejnar Photos's F63 quick release clamp was as big as the original plate and my custom rails fit perfectly on it. Here is how my setup looked like after the conversion:
So if you are planning to convert your 405 Pro head to Arca-Swiss, look no further.
4) Operation and Adjustments
As I have already stated above, the Manfrotto 405 Pro head is always in a locked, tightened state. In order to make tilt adjustments, you use the vertical or horizontal knobs. There are two ways to adjust the tilt: you can either use "Quick Set" rubber part of the knob, which completely disengages the gear mechanism, or the soft tip of the knob for fine adjustment. When using the Quick Set part, you look at the arrows that point to which direction you need to twist the knob. Horizontal tilt and panning knobs are twisted counter-clockwise, while the horizontal tilt is twisted clockwise. Each tilting side has stickers that show -30 to 90 degrees of tilting capability. While -30 degrees might sound limiting for adjustments, you can simply rotate the camera the other way and move it to 90 degrees to point the camera straight up or down. Hence, it is certainly a versatile head that can be used in different configuration. Just watch out for your fingers when twisting the rubber Quick Set, as your fingers could get squeezed by the metal parts of the head at certain angles.
The head comes with three bubble levels on each side. While the panning and horizontal tilt bubble levels seemed to be fairly accurate, the vertical tilt bubble level on my head was off by quite a bit. This was clearly visible when using rails with bubble levels on them. So I would not trust those bubbles completely, since there seem to be precision issues there (which probably varies from sample to sample).
Overall, operating the unit is a breeze. I love the ability to make quick and precise adjustments on the Manfrotto 405 Pro head.
5) Weight and Size
The Manfrotto 405 Pro Geared Head is clearly not for those that like to travel, because of its huge size and really heavy weight. At 1.6 kg (3.53 lb), this sucker is much heavier than any other head I have used to date. Due to its enormous size, it also does not fit in any normal camera bag or backpack. If you have a medium format camera, you will probably need a separate case for this head alone when travelling.
6) Problems
As with most products out there, the Manfrotto 405 Pro has its issues, which turned out to be problematic for my particular case / use. The biggest problem with the head is some "play" on each axis. Without mounting anything, it did not seem that I would have such problems. However, the moment I put my custom rig on the tripod and tested it for stability, the play was quite obvious. When the panning base was fully locked, there was about 1-2mm of angle shift when I tried to rotate it. Those 1-2 millimeters translated to very noticeable shifts on a long arca-swiss rail, which was not good news for me. Most people would probably never notice this problem, but it could negatively impact sharpness due to vibrations when using high resolution cameras such as the Nikon D800E with heavy lenses or other high-resolution medium format cameras that weigh a ton. And on my sample, the same play is seen on all three axes! Now imagine what it would do to an image at certain shutter speeds, where a slight vibration frequency could affect the image and potentially blur it.
Please note that the above issue is not the "drifting" problem that is often reported by the Manfrotto 405 Pro head users. At first, I thought that it had to do with the base being a little loose, so I removed the sticker on the panning base and tried to tighten the screw. It was already very tight. I applied even more force and tightened the screw as much as I could, but the play issue did not go away. I then realized that the gears inside each axis were to blame for this, so it is basically a design issue.
The second problem with the head is the distance between the base of the unit and the plate. Because it is a very large head with huge knobs, there is plenty of space in-between the two – about 165mm. This basically translates to the same issue when using a center column on a tripod – vibrations amplify as you move away from the base.
Lastly, due to the design of the head, the top plate where you mount the camera is not perfectly centered with the base of the head. Again, this means that the head will be potentially more prone to vibrations – simple physics come into play here.
7) Summary
As much as I liked the Manfrotto 405 Pro Geared Head for its amazing versatility and precision, I had to return it and move on to a different solution. I really wanted to avoid paying over $500 for a head, but it seems like I have no other choice at this point. The play and stability issues with the head are just unacceptable for my lens testing lab and I will have to find a different solution. Like I have pointed out above, there aren't that many choices out there. Manfrotto has a "junior" version of the same head, the Manfrotto 410, but it works the same way and is even smaller, which is not going to work for me. The bigger Manfrotto 400 Deluxe is operated with foldaway cranks and that's just not something I see myself doing. Plus, I am afraid it will have similar "play" issues as the 405 Pro. So I am basically left with the Arca-Swiss d4 and the Arca-Swiss C1 Cube, both of which are on their way for further testing. At their current prices of $1,142 (d4) and $1,699 (C1), one of them is going to leave a large hole in my wallet. But having already invested close to $10K in lens testing equipment, it might be something I will have to do.
Does it mean that I do not recommend the Manfrotto 405 Pro to our readers? No, of course not. While it does not work for me for the above-mentioned reasons, it works very well for many photographers. A number of medium format and DSLR shooters rely on this head for their photography needs and are quite happy with their choice. The versatility of the head is very impressive and the fact that it is always locked and does not fall to the side like ballheads do when loose is very important in keeping gear protected and safe. Those features alone are worth the money for many. Lastly, not everyone needs the absolute rock solid stability that I require for my setup.
8) Where to Buy
The Manfrotto 405 Pro Geared Head can be bought from our partner, B&H Photo Video for $499 (as of 01/25/2014 it is on sale for $464.90).
Manfrotto 405 Pro Geared Head
Features

Build Quality

Handling

Value

Size and Weight

Packaging and Manual

Ease of Use

Stability
Photography Life Overall Rating