I recently reviewed Kata 3n1-33 which is my main travel pack for camera equipment. However, as I mentioned in that review, there are better choices if you need a backpack for hiking – for that I prefer the Lowepro Flipside 300. Obviously, it doesn't carry nearly as much gear as the Kata 3n1, but then, while backpacking, I wouldn't normally want to bring a laptop or a kitchen sink with me.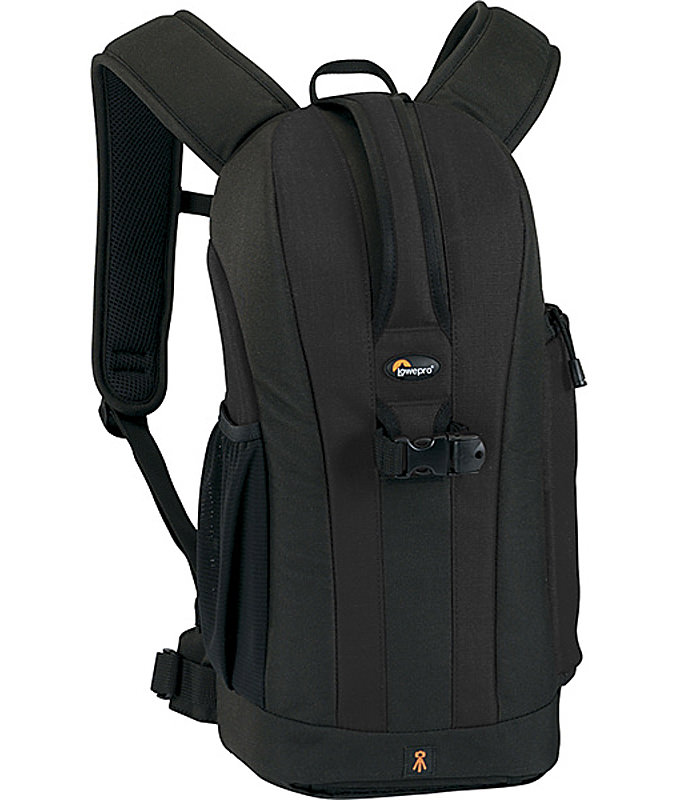 While there are many good bags and packs, each with their own strengths and weaknesses, this is one that I enjoy a lot, so if you are on a lookout for a good, light backpack, read on!
1) General Information and Dimensions
What I like about this pack is the fact that it is streamlined and will carry a pro camera body with the 300/2.8 lens attached (hood reversed) and still have room for another lens or two and/or some accessories. Compact, lightweight design of Flipside 300 backpack lets you carry your pro digital SLR without worry. The unique back compartment entry gives you safe, easy access to camera gear when you're setting up, plus extra security when you're on the move. Outer storage panels are great at keeping gear accessories and personal items close at hand.
1.1) Dimensions
You can carry 1 Pro DSLR with a 300mm f/2.8 lens attached plus 1–3 additional lenses or flash units, 1 tripod, multiple cables, memory cards, manuals and other accessories.
Here are the official dimensions:
Interior: 9.1W X 5.4D X 15.9H in./23 X 13.8 X 40.5 cm
Exterior: 10.2W X 6.9D X 17.5H in./25.8 X 17.4 X 44.5 cm
Weight: 2.6lbs/1.2kg
1.2) What's in the bag?
Here is a fully loaded Lowepro Flipside 300: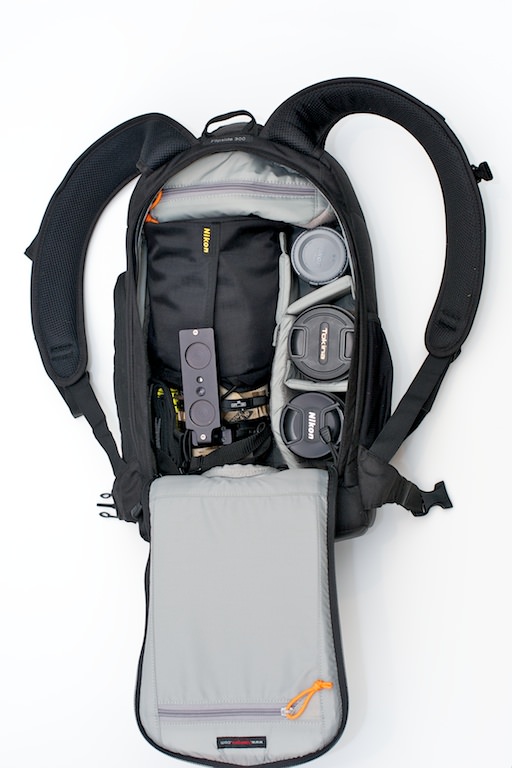 To give you an idea of capacity, the following items were packed in this backpack for the previous photograph:
Camera Body and mounted lens:
Nikon D300 with a Nikkor 300/2.8 mounted (hood reversed)
Lenses:
A general purpose lens – the Nikon AF-S 18-200mm f/3.5-5.6G VR
A wide angle lens – Tokina 11-16mm f/2.8
Nikkor 1.4x Teleconverter
Nikkor 1.7x Teleconverter
Nikkor 2.0x Teleconverter
Accessories:
Filters
Op/Tech Rainsleeve
Extra battery and cards
Here is everything taken out of the bag: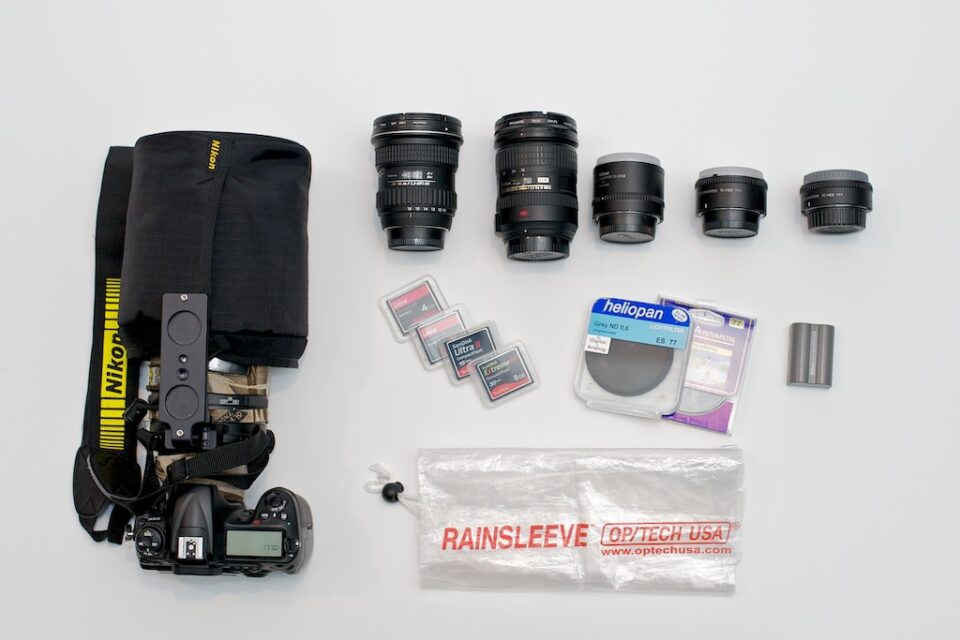 2)Functionality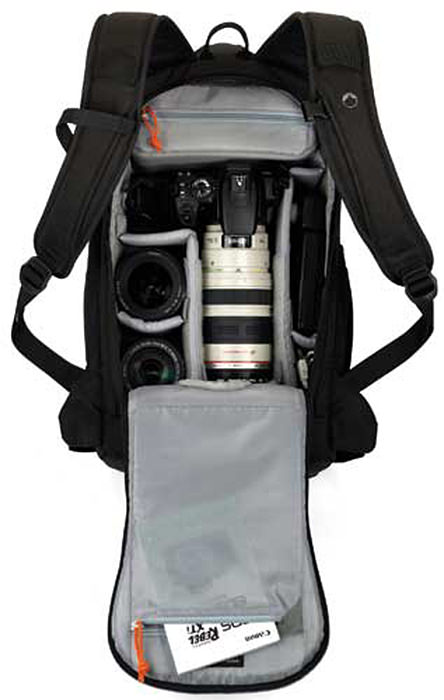 The opening to the main compartment takes some getting used to in that you have to take the pack off to unzip it – the zipper is on the side of the pack that lays against your back. While this is less convenient than a sling type pack, since you are forced to remove the pack to get the camera out, it does have the advantages of added protection by preventing the bag from unwanted opening and by distributing the weight more evenly on both shoulders.
Shoulder straps and backside of Lowepro Flipside 300 are adequately padded and comfortable. I like the curved straps and the chest strap that keeps the shoulder straps from slipping off. Lower hip strap adds some stability but is not padded at all. It does little to transfer weight off your shoulders, but keeps your pack steady and tight at your back.
2.1) Interior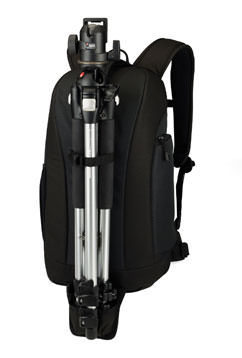 There is adequate room to store enough gear for a day by planning for the type of photos you feel you will be taking. Like many packs the interior is made up of padded modular dividers that can be customized to your needs by reconfiguring them. A separate pouch for accessories such as extra batteries is included but can be easily removed if you need the extra room for a larger lens such as a 300mm/2.8 mounted on a pro body. Lastly, a small zippered pocked on the flap can hold manuals, filters or other smaller items, such as cards.
2.2) Exterior
There is an outside bungee pocket that comes in handy to store a water bottle or light packable windbreaker and on the other side is a zippered pocket for extra cards and accessories. On the back there is a strap to hold a monopod or smaller tripod using its hideaway tripod holder.
3) Build Quality and Durability
The pack is well built with sufficient rigidity to protect your gear while hiking or biking to an area to photograph, just like other packs from Lowepro. The outer cover material is tough, 600 denier water resistant, polyester and has held up well to weight and stress placed upon it. While build quality does not seem to match that of the Think Tank Glass Taxi, the backpack itself is lighter and less costly.
4) Conclusion
If you are doing a longer or more strenuous hike with a larger lens such as a 500/f4 or larger, there are packs with frames and better padding for more support. If that sounds like your needs, then consider taking a look at the Kata TLB-300 PL (for 300/2.8 lens) or Kata TLB-600 PL (holds up to a 600mm lens). These bigger packs carry more, but for me, they are more obtrusive for my average outing. I prefer to pick the type of photography for that day and try to limit the gear carried. The Lowepro Flipside 300 is the right balance of size, weight and value for me. It carries enough for any shorter outing that I undertake whether hiking or biking.
Feel free to share with us your favorite hiking pack and why you like it. Or if you have had a particularly poor experience with a pack let us know about that as well. For instance, once while traveling thru an airport, my laptop bag strap broke, sending my laptop to the ground resulting in a damaged corner to my computer. We all carry valuable gear in our packs and one that doesn't hold up isn't worth buying, so thank you in advance for helping out our community with your input.
5) Where to Buy:
B&H Photo Video sells the Lowepro Flipside 300 for $94.95 as of April 2012.
Lowepro Flipside 300 Backpack
Features

Build Quality

Handling

Value

Size and Weight
Photography Life Overall Rating