When Nasim asked if I would be interested in reviewing some of the top photography bags and backpacks, I enthusiastically agreed to help out. I have always had a fascination and appreciation for high quality luggage and travel gear. Over the course of my many domestic and international adventures, I have come to appreciate well-designed gear that keeps my equipment well-protected and can endure the rigors of travel, whether it be air, land, or sea. Discovering that your luggage seam split open somewhere along a 3 flight hop across Europe, and realizing that many of your possessions are now permanently assigned to the airline version of limbo, or having your camera backpack's main zipper go awry and seeing your $1,500 lens doing somersaults on the rocks below (and receiving extremely perfect scores for Technical Difficulty while simultaneously racking up complete zeros for Impact Resilience) can quickly cause you to rethink saving a few bucks by opting for cheaper luggage. I always recommend that people invest a reasonable amount of time investigating their luggage options and select the very best models they can afford. "Best" doesn't always mean the highest price, however, so it pays to thoroughly investigate your alternatives.
"The bitterness of poor quality remains long after the sweetness of low price is forgotten."
– Benjamin Franklin

1) Initial Thoughts
My first impression of the Lowepro Pro 400 AW Trekker Backpack (referred to as simply "LP400AW" for the rest of the article) was that it was far larger than I expected. I immediately checked bag's label to ensure that I had received the correct model. I then looked at the item's feature listing once again to confirm that it met the size regulations for carry-on luggage. Sure enough, it was the right bag and B&H's website had this line:
Meets current FAA specifications for carry-on luggage 1
I had become accustomed to believing that my current workhorse, the Lowepro Nature Trekker AW II , was a large bag, but LP400AW made it look rather small. Considering our upcoming trip to the Canadian Rockies, the Nature Trekker was indeed a bit small. It was not capable of carrying the amount of DLSRs, lenses, and accessories I planned to take on our vacation. I had considered purchasing the Lowepro 600 AW Trekker, but realized that this backpack was far too large for my needs.
Whenever I receive a new piece of gear, I always take some time to look it over, get a general sense of the fit, finish, polish, stitching, etc. and ensure there are no defects. The LP400AW passed these tests with flying colors. This backpack exudes quality. It is obviously made to the same high standards we have come to expect from all Lowepro products. Although I am partial to black bags, I immediately warmed up to the main green and tan colors, highlighted with black trim. These colors simply look like they belong in a natural setting. And as you can see, my backpack's colors had quite a bit more contrast between the green and tan colors than those seen in Lowepro's product photos.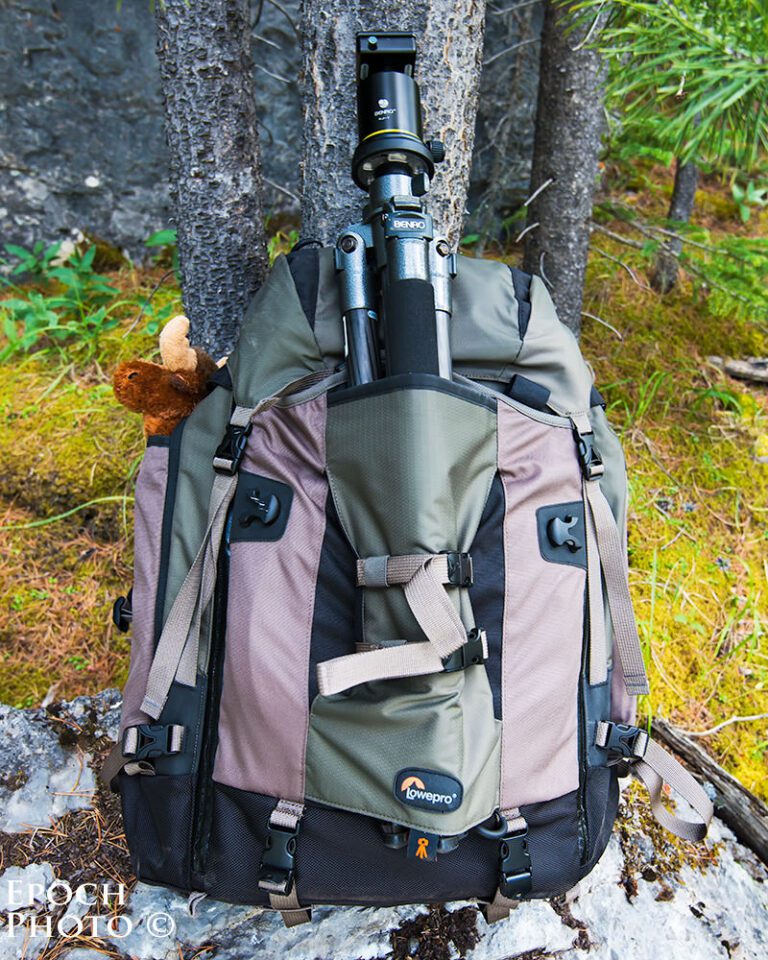 2) Dimensions
EXTERIOR:
15.4W x 14.2D x 21.3H in.
39 x 36 x 54 cm
INTERIOR MAIN COMPARTMENT:
11.4W x 6.5D x 17.3H in.
29 x 16.5 x 44 cm
These dimensions seems pretty straightforward, right? Well… not so fast. See Airline Considerations below.
4) Features
3.1) Size
You may not think of it as a feature, but size is every bit as important as any other aspect of the bag, particularly if you need the space for an extensive array of gear or have some personal limitations or third party size guidelines you need to comply with. Ever since one of my first forays to Europe, when I packed very light and found myself missing some of my "favorite things," I decided to give up attempting to "pack light." I suspect I will change my mind someday, but the frustrations of being without something that might come in handy on a photography adventure far outweigh the need to save a few pounds. In 10-15 years, my thoughts may change. But for now, I am of the mindset, "If you think you may need it, bring it!" ;) The LP400AW is not a light bag. It weighs 7.2lbs – empty! That is approximately 1.6lbs more than a Nikon D800 and Nikon 70-200mm f/2.8 VRII combined!
3.2) Airline Considerations
When considering this bag for airline travel, I had a few questions:
How well would a bag with a heavy load of photography gear navigate through airport security?
Does this bag meet the airline size restrictions? If so, which airlines?
Would I encounter issues when using different airlines for given trip and find that the LP400AW met the size guidelines for some but not others?
Would the bag fit comfortably in the overhead luggage compartment?
I initially thought that determining whether a bag did/did not meet airline carry-on guidelines was relatively straight forward, and this section would be complete within a few minutes. Au contraire… What transpired was a time consuming investigation that led me to many of the leading airlines' websites to verify their individual carry-on guidelines, recheck Lowepro's specific language regarding this bag, and finally, place a call to Lowepro's Customer Service department to reconcile some conflicting information and resolve my concerns.
A bag's ability to meet airline carry-on guidelines can be a critical consideration for a photographer, considering that if it fails such tests, it may wind up in the checked-in luggage area, where baggage handlers with dreams of being professional wrestlers eagerly await to practice their moves on your bags – a truly scary proposition! As mentioned, Lowepro advertises this bag as, "Meets current FAA specifications for carry-on luggage," but I struggled to verify this statement. I found that the airline restrictions related to carry-on luggage size dimensions are determined by adding the measurements for width, depth, and length. While airlines do not have a mandated standard, the majority have adopted 45 inches. Each airline rather has its own standard, however, and can also include specific restrictions on width, depth, and length. It is important to remember that such limits are always subject to change.
Given the LP400AW's stated exterior dimensions above, the LP400AW measures a total of 50.9 inches. Going "by the book," the LP400AW's dimensions would comply with 3 of the 11 US domestic airlines' carry-on size limits – at least those related to the total inches. The LP400AW would comply with a whopping "0" of the 39 international airlines' size restrictions. Uh-oh…
Is this the end of the concerns? Not quite. It seems that beyond the total inches restriction, each airline also has guidelines for the maximum width, length, and depth (height). Going strictly by Lowepro's own stated dimensions, the LP400AW's 14.2 exterior depth appears to be outside of every airline's limit – domestic and international. The maximum depth allowance I could find was 12 inches, that would place the LP400AW outside the limit by 2.2 inches. Many airlines have depth restrictions of 9 or 10 inches, thus putting the LP400AW 5.2 or 4.2 inches over officially guidelines. Ouch! I began to question my purchase of this backpack and had visions of a flight attendant (who coincidentally resembled Sister Mary Magdalena from my grade school days who, quite often and for good reasons, used to rap my knuckles with a ruler!) looking at me and sternly proclaiming, "You are going to have to check that, pal!", while a group of big, burly baggage handlers with sharp teeth were eagerly were leaping up and down with anticipation of getting their hands on my precious collection of DSLRs, lenses, and accessories.
At this point, I thought something didn't seem right. How could Lowepro claim that, based on the exterior dimensions of this bag, the LP400AW was "airline friendly" – when those dimensions clearly showed it to be outside the total inches guidelines of all but 3 airlines (domestic and international), and outside the depth measurement guidelines for ALL airlines? This wasn't adding up. I decided to contact Lowepro's Customer Support department to explain the apparent dilemma. I left a message and received a call back within ½ hour. The Lowepro representative explained that the LP400AW with the side pockets and tripod carrier empty, and without the laptop sleeve, was much smaller than Lowepro's stated dimensions. The listed external dimensions assume you have the various compartments maxed out with items. Sure enough, after the call, I measured my LP400AW, fully loaded with my gear (I didn't have anything in the side pockets or my tripod attached for airline travel) from our recent trip to Canmore/Banff (including my 24-70mm f/2.8 standing on its end), and found the exterior dimensions to be quite different than those listed in the specifications and almost exactly what the Customer Support representative shared:
Length 19.25 in.
Width 13.75 in.
Depth 10.5in. (with laptop and iPad)
This would bring the total to 43.5 total inches – now complying with every airline's carry-on size guidlines. Hallelujah! And with respect to depth, you can easily remove the laptop/sleeve combination and reduce the size by another 1.25, bringing this measurement to 9.25 inches and under the lowest restriction of 10 inches. If you wish to buy yourself another inch on the length side, you can remove the cover/waist pack from the top. With the extra 2.25 inches, the total will come to 41.25 inches. I immediately started feeling much better about purchasing this backpack. Of course, my next thought was why Lowepro wasn't more explicit in its specifications? I strongly suggested to the Customer Support representative that Lowepro clarify the difference in these measurements, as it might actually eliminate some confusion and perhaps improve its sales. You have to wonder if some others had gone through a similar exercise, and not bought this backpack simply because the stated external dimensions from Lowepro put it outside the carry-on restrictions listed for every airline.
You do have to be a bit more careful with the weight limits. These range from a lowly 13 lbs all the way up to 50 lbs – quite a variance. Chances are slim that a flight attendant is going to weigh your bag as you put it into the overhead luggage compartment – they have enough challenges ensuring that people board at a respectable pace, having people comply with the request to turn off their cellphones and other electronic gizmos, and dealing with other headaches. But remember, if your backpack is over their stated weight limit and the flight attendant asks to inspect it, you risk having to check it in.
I have read some reports that the LP400AW may fit underneath the seat of a regional jet, but found this a bit hard to believe. For regional jet travel, I would reconcile yourself to the fact that you may need to leave your LP400AW on the tarmac to be packed into the plane's luggage storage, since many of the overhead compartments of regional jets cannot fit anything with a depth exceeding 7 inches. However, this is not necessarily a terrible proposition, since most of these bags are checked in right next to the plane, and then taken out and placed on the ground at arrival. Your gear will likely be safe, but this does entail a bit of risk. A bright label that reads, "FRAGILE," might not be a bad idea if you are loading up your LP400AW and expect to rely on a regional jet for some portion of your journey.
TravelSmith, a site specializing in gear for road warriors, posts an extremely handy guide for carry-on and checked-in bag size/weight limits per airline. I suggest having a copy handy on your smart phone. It may come in handy if you encounter any questions or conflicts with airline personnel.
I also recommend checking with your airline regarding their carry-on luggage guidelines before a journey, just to be safe. As airlines are quick to remind you, their policies on such issues are subject to change. I don't envision that the airlines will reduce the 10 inch depth and 45 inch total restrictions for carry-on luggage any time soon, since that would render millions of bags completely useless – something that would inflame an already perturbed customer base. And whatever you do, if you encounter an issue when putting your LP400AW in an overhead compartment, DO NOT act like this, lest you suffer a similar fate!
3.3) Zippers
I have to confess (Lowepro staff please stop reading here…) that due to my pack rat nature, I have, on occasion, stuffed my Nature Trekker AW II backpack to, and perhaps beyond, its limits. Fortunately, the LP400AW has adopted a similar, if not the same, gorilla-like zipper from the Nature Trekker AW II (and many other popular Lowepro bags). This was very reassuring, since this design has proved so rugged and reliable over the years. I don't know how Lowepro makes this particular zipper, but I am glad that it does. The same goes for the rest of the Lowepro zippers; they are solidly constructed. Like previous Lowepro bags, I suspect the zippers on the LP400AW will last for many years, even under the most demanding situations. Zippers may not seem like a big deal, until you have one bust when out in the field.
3.4) Compartments
On The Outside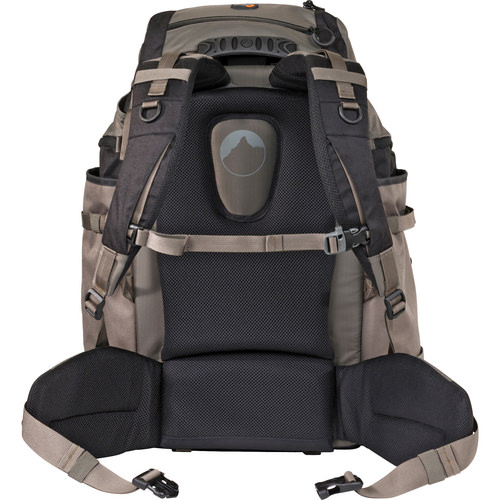 The LP400AW has two main compartments on the outside. The first compartment is for storing just about anything you wish to keep handy on the outside the bacpack, which might include a few pieces of fruit, some trail mix, a bottle of water, a knife, or a flashlight. Lowepro has included a few CF or SD card pouches in this compartment – a nice feature to have when you need to change cards quickly. I happened to keep a small stuffed moose in this compartment during our trip to Canmore/Banff recently, which more than a few small children wanted to "adopt" during our travels! ;)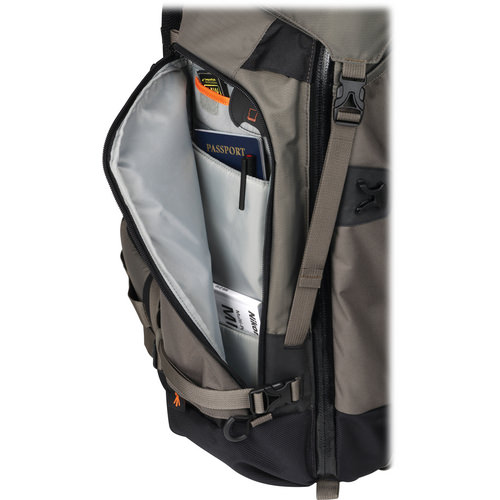 The second compartment has the ability to store a flexible hydration unit to make sure you don't run out of fluids. Lowepro didn't include the the actual hyrdration unit, but merely the storage for it. This disappointed some people. I don't consider the lack of the hydration unit to be a big deal, since I consider the ability to store a bottle with some ice and liquid of my choice more than adequate for my travels.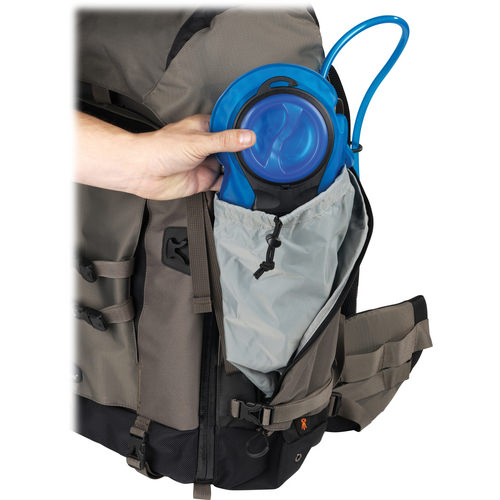 The LP400AW has a much-improved means of storing a tripod. My Nature Trekker AW II has a bungee-cord like drawstring for this purpose. The LP400AW has a dedicated sleeve and two heavy duty straps with the traditional polycarbonate enclosures. When tightened, these straps ensure that your tripod is stable and securely attached to the bag.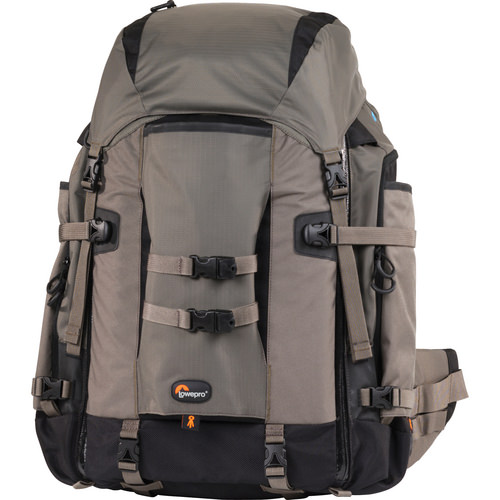 The LP400AW also features Lowepro's patented SlipLock system, which enables you to quickly secure additional containers to the rings located on the outside of the bag. The SlipLock system requires the purchase of additional Lowepro pouches, but offers quite a bit of flexibility in terms of customizing your backpack's configuration and providing quick access to your gear. I struggled to think of attaching more items to LP400AW, that already contained quite a bit of gear and was heavy enough, but it is a nice touch if you have the need.
Lowepro has included a well-padded, zippered nylon case that comfortably accommodates most laptops and iPad sized tablets, and an open sleeve to store it. While the top of this sleeve doesn't have a zipper, once the top of the LP400AW is latched shut, your laptop locked securely in place. Even without the top enclosure locked down, it took a good bit of effort to pull my iPad, stored in the padded case, out of the bag.
On The Inside
The top flap or cover of the LP400AW has the familiar CF/SD card pouches that are common to most Lowepro backpacks. It also has a few zippered compartments for spare batteries, power cords, white balance cards, etc. The main camera/lens compartment features the standard Lowepro series of well-padded gray nylon dividers that can be customized to fit your particular DSLR, lenses, and other items.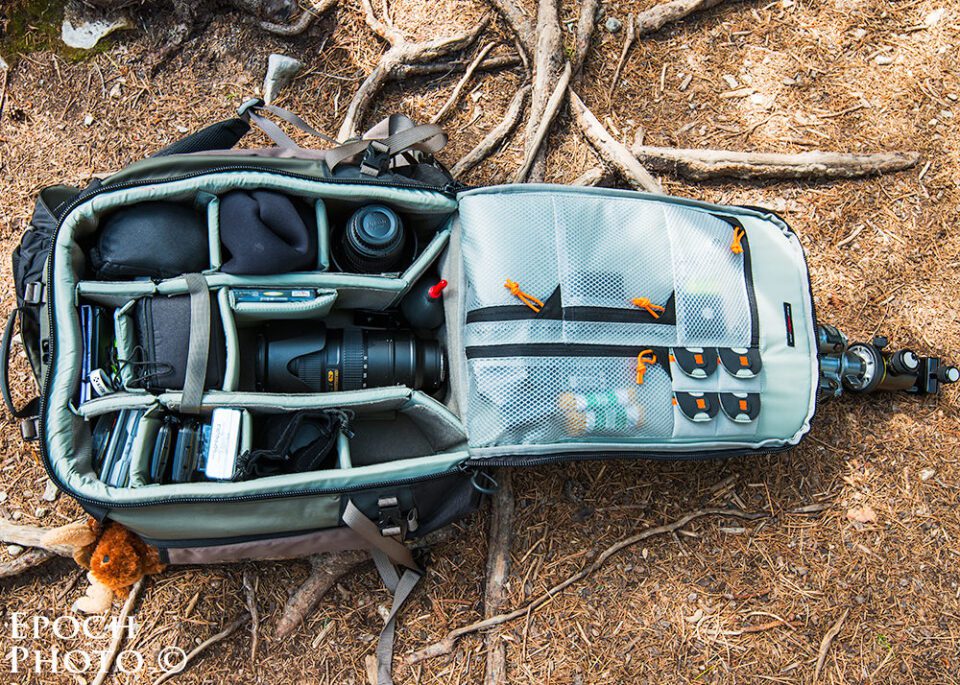 3.5) The Bag On Top Of The Bag
One of the great features of the LP400AW is outside top cover, which serves double duty: 1. It can be store a variety of items such as your cell phone, wallet, keys, notepad, pens, filters, etc. – anything you may wish to access quickly. When locked down via the heavy duty nylon clips, it can compress the bag a bit. It can quickly be expanded via the adjustable straps to securely hold additional items such as a fleece jacket, rain jacket, etc. 2. And while it is not immediately obvious, this cover can be removed and serve as a roomy and comfortable waist/fanny pack if you wish to leave the LP400AW behind and travel lighter. Similar standalone multi-zippered waist/fanny packs can sell for between $25-$65 alone.
3.6) Rain Protection
Like most Lowepro bags, the LP400AW has a zippered enclosure on the bottom that houses a high quality nylon rain cover. Since it only rained briefly on one day of our Canadian Rocky Mountain vacation, I didn't need to use the rain cover.
3.7) On The Road Again – Balance And Comfort
While the LP400AW's ability to carry a load of heavy gear is obviously a key aspect of its appeal, the real test was how well it would hold up under realistic field conditions. For me, this meant traveling through multiple airports and eventually hiking through the Canadian Rockies along some very steep and challenging trails. The questions I had before heading off to the airport and into the mountains included:
How well would the LP400AW balance a heavy load?
Would the bag be comfortable against my back with 35-40+lbs of gear?
Would the shoulder and waist straps prove to be comfortable as I navigated some rocky terrain for 4-6 hour trips?
Would the addition of a tripod/ball head combination move the center of gravity too far away from my back?
When you purchase a bag in this particular category, the expectation is that you are going to fill it full of some weighty gear, and likely take hiking in a variety of conditions. As such, the quality of the padding becomes an extremely important consideration. There are three main areas that such a bag needs to address:
The part of the backpack that directly comes in contact with your back
The shoulder straps
The waist strap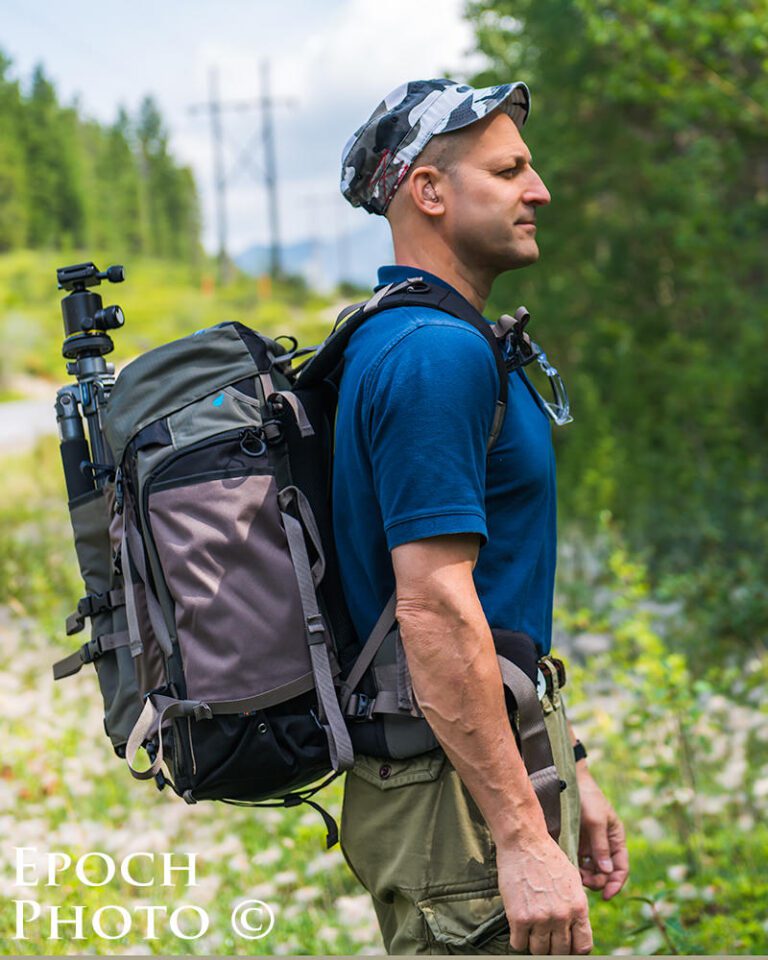 Any deficiency in padding, faulty placement of a hard-edged nylon seam, misplaced buckle or other hard plastic attachment, and under a heavy load over a long trip, you will quickly be cursing the bag manufacturer. I am pleased to say that even tapped out at 44lbs, the LP400AW was extremely comfortable and well-balanced. With the shoulder straps and waist strap appropriately tightened, the back felt as if it were a part of me. Lowepro provides 10 ways to adjust the LP400AW, including its patented Pack Jack system, which enables you to position the bag to ride higher/lower on your shoulders. I have never chosen anything other than having the pack positioned as high as possible on my shoulders, but others may find different positions to be more comfortable.
Occasionally, I would lean over and touch my toes in order to stretch as well as to see how the backpack would behave. Despite the weight, the LP400AW only moved slightly upward on my back, and hold its position extremely well. My wife, Tanya, and I hiked up some of the lateral moraines of glaciers and other steep grades that would have quickly exposed any deficiencies related to the bag's ability to balance a heavy load comfortably. Never did I feel off-balance or that my ability to navigate up some difficult terrain was made more difficult by the LP400AW. I was surprised to find that the waistband is removable, although I couldn't identify a good reason for detaching it.
4) What Is In The Bag?
The most obvious answer is "too much!" ;) But then again, the LP400AW was designed for carrying quite a bit of gear. With all items below, my LP400AW tipped the scale at ~46lbs. When I packed it for airline travel, I did not attach the tripod and ball head to the LP400AW. I also moved a number of smaller items such as batteries, battery chargers, flashlights, reflector, etc. to my and my wife's check-in suitcases. This brought the weight of the backpack down to ~34lbs. When I went out into the field, the LP400AW weighed between 38-44lbs, depending on what I packed on any given day.

DSLRs
Nikon D800
Nikon D90 (converted for infrared)
Lenses
Nikon 24-70mm f/2.8
Nikon 16-35mm f/4
Nikon 70-200mm f/2.8 VRII
Samyang 14mm f/2.8
Nikon 16-85mm f/3.5-5.6 VR
Nikon 50mm f/1.4G
Filters
Marumi 77mm Polarizing Filter
Hoya 77mm Polarizing Filter
Nikon 77mm Polarizing Filter
Batteries
4x Nikon EN-EL 15
2x Nikon EN-EL3e
Tripod
Benro C228 Legs
Benro KJ-1 Ball Head
Teleconverters
Nikon 1.4X II T/C
Nikon 2.0 III T/C
Memory Cards
2x Pelican CF Card Case
Pelican SD Card Case
10x CF Cards
8x SD Cards
Flash
Nikon SB-700
Computer
Apple iPad in ZAGG Case/Keyboard
Miscellaneous
2x Flashlights
32 inch Collapsible Reflector
Waterproof Hat
3x Power Cords
RFN-4S Wireless Shutter Remote
Macbeth Color Chart
Giottos Rocket Blower
Kitchen Sink
5) Quality
I have purchased 7 other varieties of Lowepro photography backpacks and related accessories over the years. The quality of each has been superb. The LP400AW is no exception. It certainly exceeded my expectations. The seams, zippers, nylon material, snaps, belts, compartments, and padding are made of the very best materials. The LP400AW is expertly designed and constructed. It is extremely well-balanced, even with very significant loads. With reasonable care, it should last a lifetime.
6) Value
The LP400AW provides exceptional value for the money. At its current price of $320, The LP400AW provides far more features and gear-protecting padding than a number of competing backpacks that cost far more. This bag is clearly designed to carry some serious gear safely and comfortably in extremely demanding environments. The high quality padded laptop case and removable waist pack together are worth $50 to $75. As I learned from long ago, from being a dedicated Consumer Reports reader, spending more doesn't always mean getting better quality or necessarily more features. Lowepro products provide a sweet spot relative to the combination of price, quality, and features. For consumer goods, this is the very definition of "value." Lowepro clearly understands its market and delivers highly competitive products within each segment.
7) Suggested Improvements
It is difficult to come up with ideas for improving the LP400AW, but I have one functional and one documentation suggestion:
Cords to Limit the Movement of the Main Compartments Cover/Flap
When you open the LP400AW's main compartment, the cover cannot help falling backward. With nothing in stored in this compartment and without a tripod/ball head attached to it, this is not a concern. But with 3-8lbs of gear tugging on the cover, the weight may put the main zipper under quite a bit of stress. When opening this bag with my tripod/ball head attached a few times, I realized that it would be helpful to have something to rest the cover against. This issue is not unique to this particular backpack, however, as every similar sized backpack suffers from the same concern. You can alleviate most of this concern by strapping your tripod/ball head to the side of the bag, but this may create a balance issue.
My suggestion to Lowepro would be to provide two nylon straps, on both sides of the bag, that you could attach/detach via a small easy-snap buckle. This would limit how far the main compartment's cover could travel and take the pressure off the main zipper. When not in use, these straps might fit in a small zippered/Velcro pouch on the inside of the bag.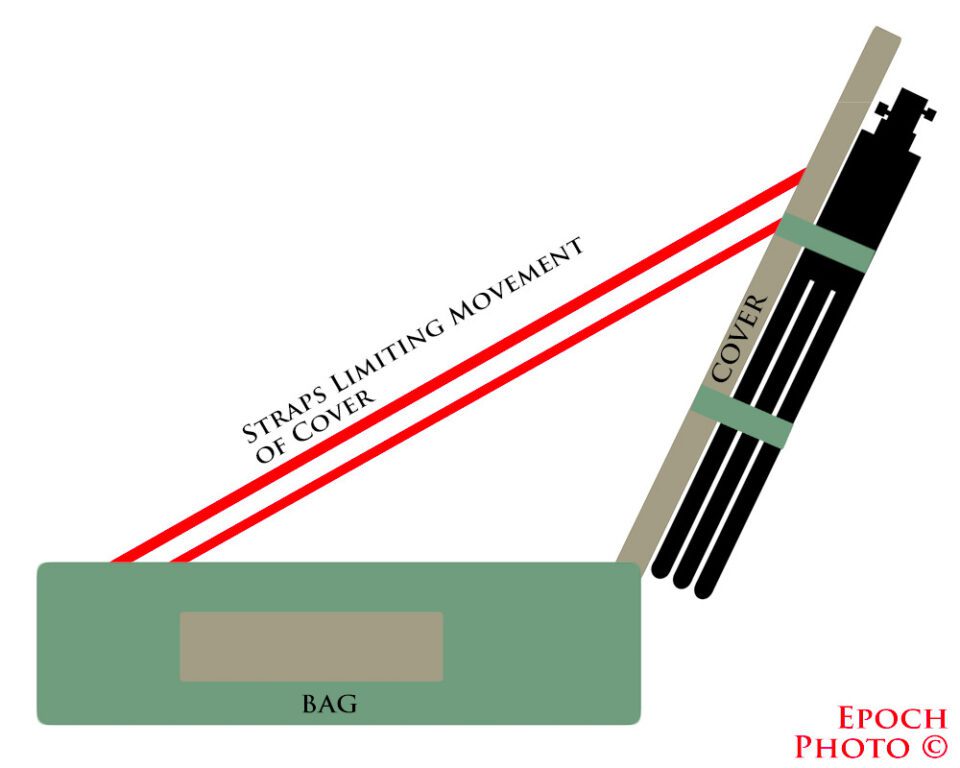 Clarify Exterior Size Dimensions
If you advertise a bag as being compatible with airline carry-on luggage restrictions, the exterior dimensions listed should reinforce this claim. Unfortunately, Lowepro's specifications currently do not. I strongly recommend that Lowepro update its exterior dimensions to reflect the measurements of this backpack when the outside pockets are empty and a tripod is not attached. This is a more reasonable set of dimensions for customers to use when considering its ability to comply with airline carry-on guidelines. Unless a potential customer is willing to do quite a bit of digging to learn what I did in my investigation, he/she may simply decide not to purchase the LP400AW because of the confusion regarding this issue. That would be a very disappointing outcome for Lowepro as well as those customers that might be well-served by this high quality backpack.
8) Conclusion
If you need to pack a fair amount of gear, travel via air or road, and regularly hike through average to challenging terrain, the Lowepro Pro Trekker 400 AW is a solid investment and will not disappoint you. Prior to our Canadian Rocky adventure, I wouldn't have imagined that a bag packed with this much gear could navigate the challenges of airport security, fit so well in carry-on luggage compartments, and prove to be so comfortable on long, arduous hikes.
9) Compared To
Lowepro Nature Trekker AW II Camera Backpack
Both bags are extremely comfortable and versatile. The LP400AW has a just enough depth that makes it possible to stand lenses such as the Nikon 24-70mm 2.8 and Nikon 16-35mm f/4 upright. Bags with shallower depths almost always require you to lay these lenses lengthwise, thus reducing the available space. This feature alone enables you to pack quite a bit more gear in the LP400AW than in the Nature Trekker, including a laptop. The Nature Trekker's smaller size, however, enables you to put it under an airline seat, making it a bit friendlier for airline travel because it does not require an open space in the overhead luggage compartment. It is also a better choice when you don't need the space or bulk that the LP400AW offers.
Airport Accelerator By Think Tank – Coming Soon
Tenba Roadie II Video Backpack – Planned
10) Where To Buy
The Lowepro 400 AW Trekker is priced at $319.95 (as of 09/01/2012) and is available at B&H Photo Video.
Lowepro Pro Trekker 400 AW
Features

Build Quality

Handling

Value

Size and Weight
Photography Life Overall Rating