Loupedeck is a photo editing console for Adobe Lightroom. It is a keyboard-sized device that allows you to adjust most image settings in the develop module with a simple turn of a knob, scroll of a wheel, or push of a button. If you've ever wanted to ditch your mouse while editing photos and have direct access to each individual field in Lightroom, this might be a step in the right direction. In this review, I'll give an overview of the Loupedeck Lightroom editing console, describe my experience with it and make some recommendations as to who might find it useful.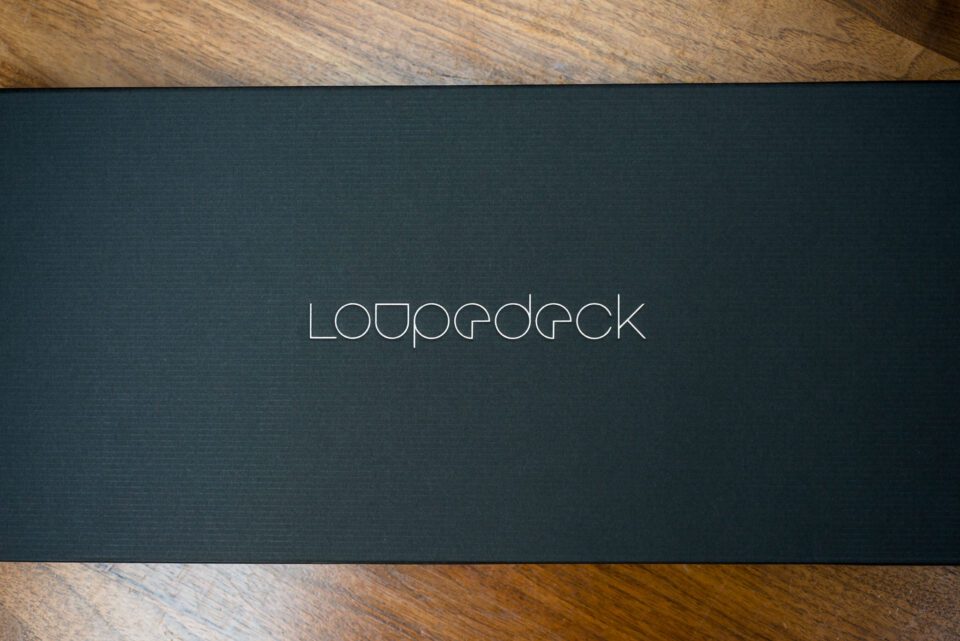 1) Loupedeck Overview
Loupedeck is an interesting concept. It's a device that only works with newer versions of Adobe Lightroom (versions 6 or LR Classic CC) and allows you to directly make adjustments to an image without actually using Lightroom's software interface. The Loupedeck website claims that it helps boost creativity, speeds up your workflow and offers better ergonomics than a traditional mouse and keyboard setup. Let's take a closer look at the device itself.
The packaging gives an impression of a high quality product. Loupedeck comes in a sturdy, sleek black box with a simple, minimalist look. After removing the outer sleeve and opening the box, you're greeted with the device itself. It is snugly secured inside the box and makes a great first impression. The attached USB cable is concealed inside a branded cardboard sleeve and the minimal amount of included paperwork is hidden underneath the device.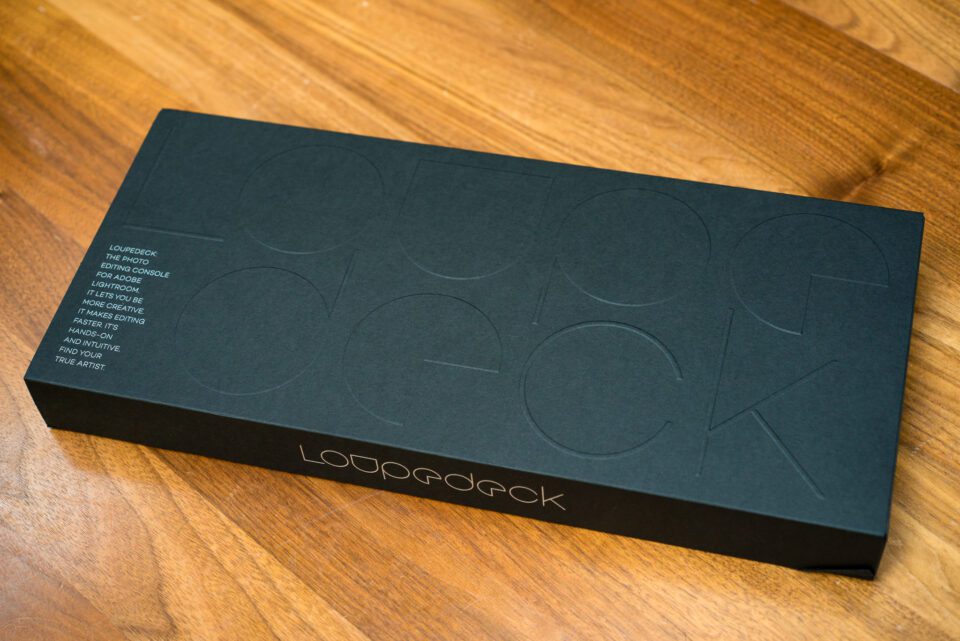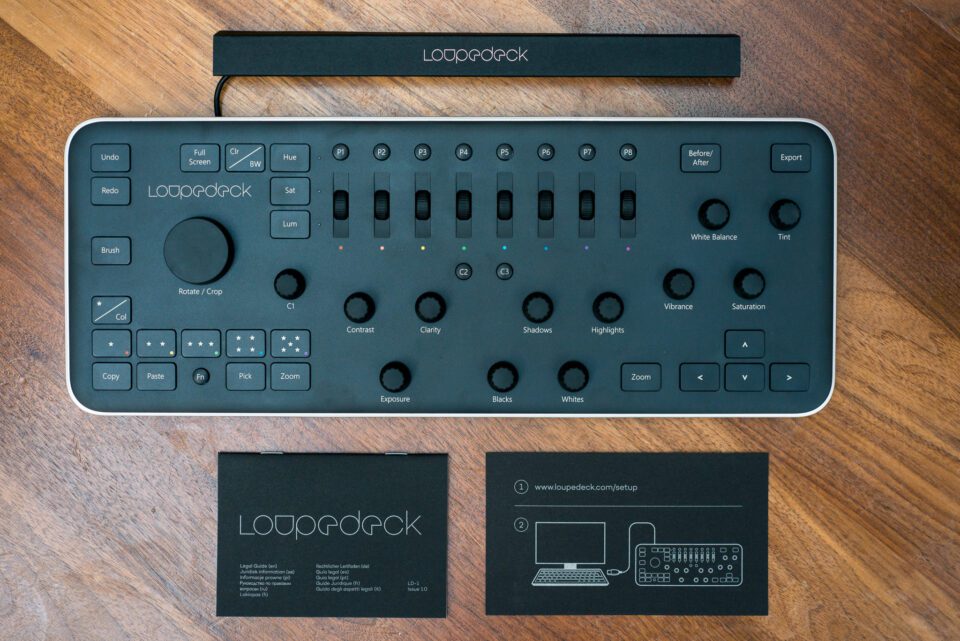 Looking at the Loupedeck device, you'll see a bunch of keys, knobs and wheels. At first glance it looks a little overwhelming, but you'll soon see the logic in the controls and realize that they are no more overwhelming than the different sub-modules in the Lightroom Develop module. The scroll wheels that run across the top of the device correspond to the Hue/Saturation/Luminance sub-module. The knobs correspond to the Basic sub-module. Many of the keys on the left side of the device are only used in image sorting and culling. Once you realize how the controls are grouped, the devices starts to look a lot more manageable.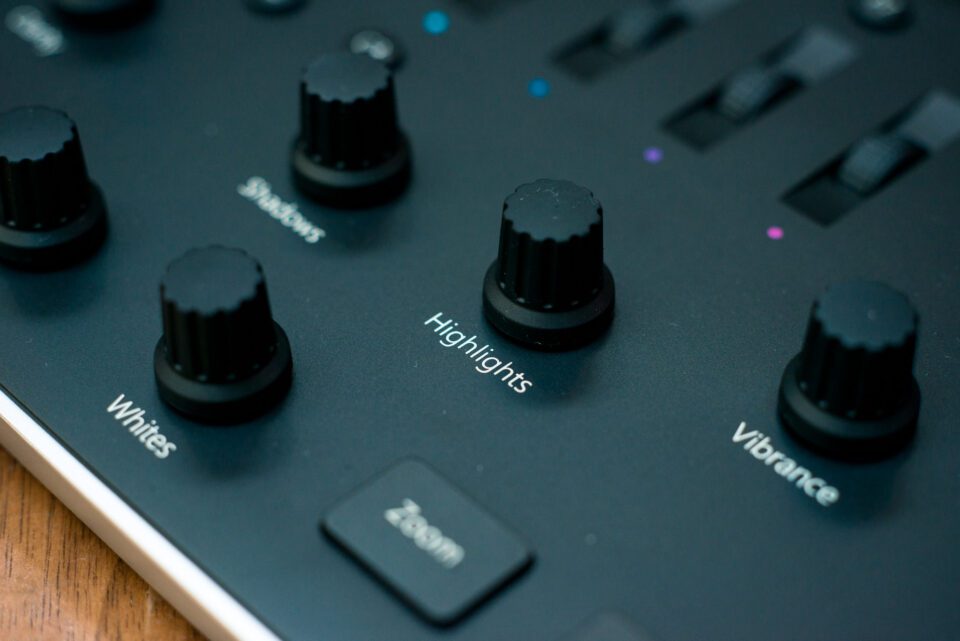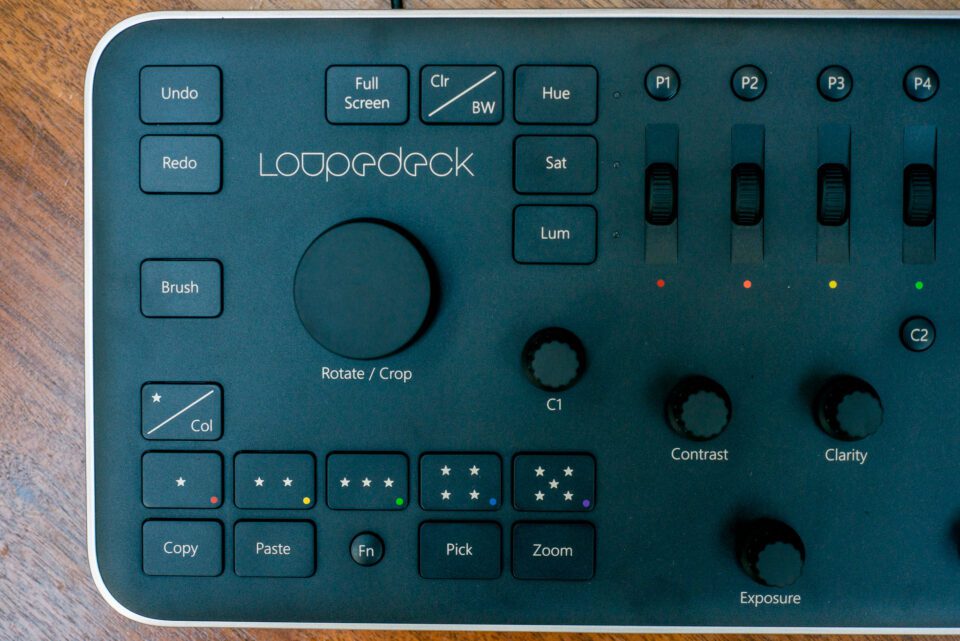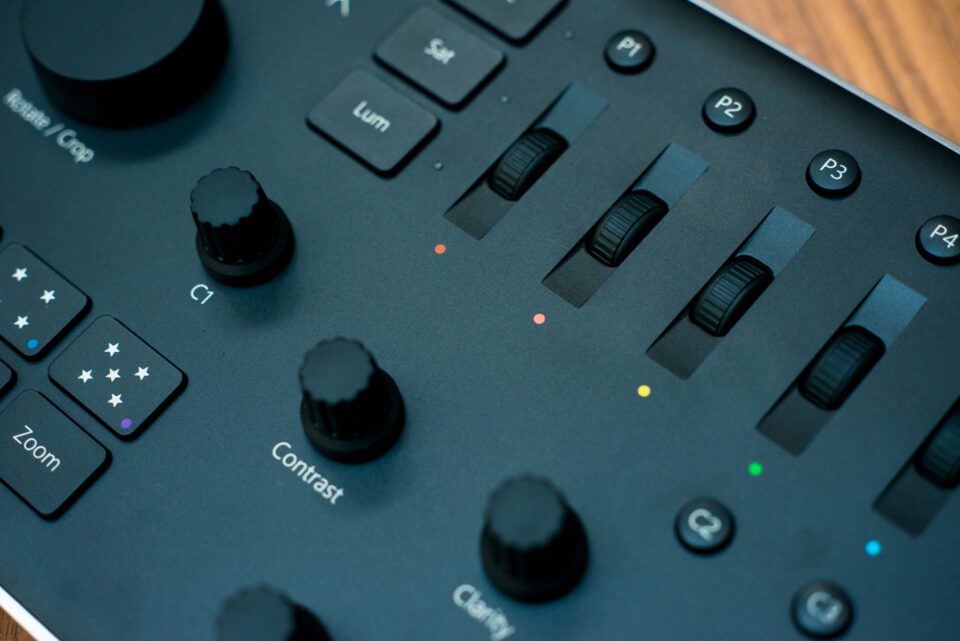 Loupedeck runs off of software that must be installed before it can be used. The download and installation process is fast and easy. Once installed, you can immediately start using the device. If you want, the software allows you to customize all of the "C" and "P" controls (the C1 knob and the C2/C3 as well as all of the P1-8 buttons), as well as the "Export" key. This means you can create up to 24 custom controls that you can use within Lightroom. You can also adjust the sensitivity of the dials and scroll-wheels if you find that you want them to be more or less responsive. Finally, the software has an option to launch on system startup that you can turn on or off.
2) Initial Impressions
I first received the Loupedeck when I was at Nasim's house working on our Landscape Photography video with him and Spencer. All of us are hardcore Lightroom users. We took it out and were all impressed with the packaging and the device itself. We did a quick software install and played with it for a bit. I think it made a pretty good first impression on all of us!
Once I got home and started using it on my own computer for regular photo editing, I started to see a few limitations. When I went into the software to customize some of the buttons, I was disappointed to find that the it limits which actions can be performed by each control. I wanted to map some custom keyboard controls that I frequently use to each button (much like I could do with the Palette Gear device I reviewed earlier this year), but this isn't allowed. Instead, I was presented with these options.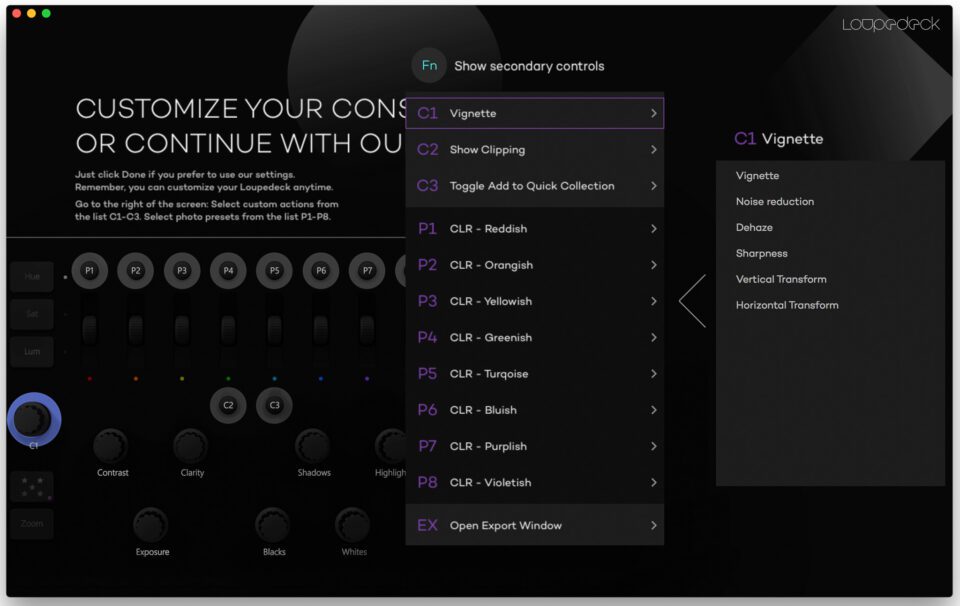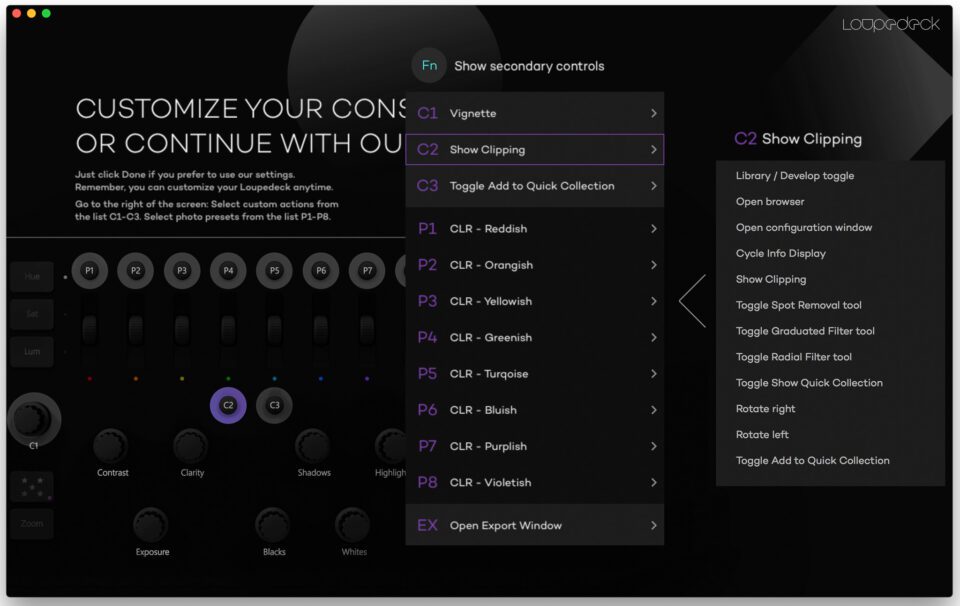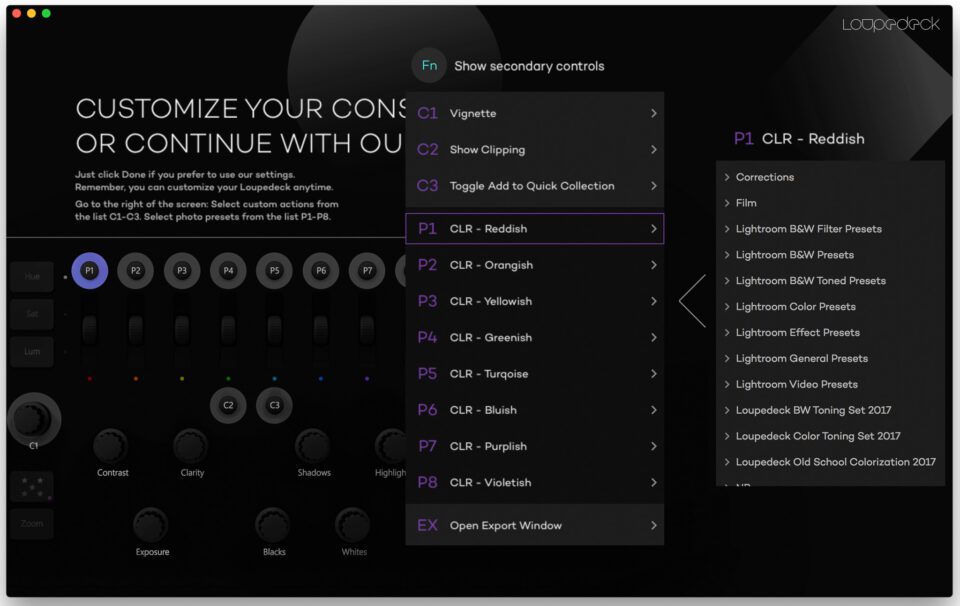 I'm sure there's a good reason for this, but I found it a little disappointing, as it meant I would still have to involve a mouse or keyboard in my editing workflow. The rest of the software was easy to use. Really, the only other option is to set the sensitivity and speed of the knobs and wheels and decide if you want the software to launch automatically.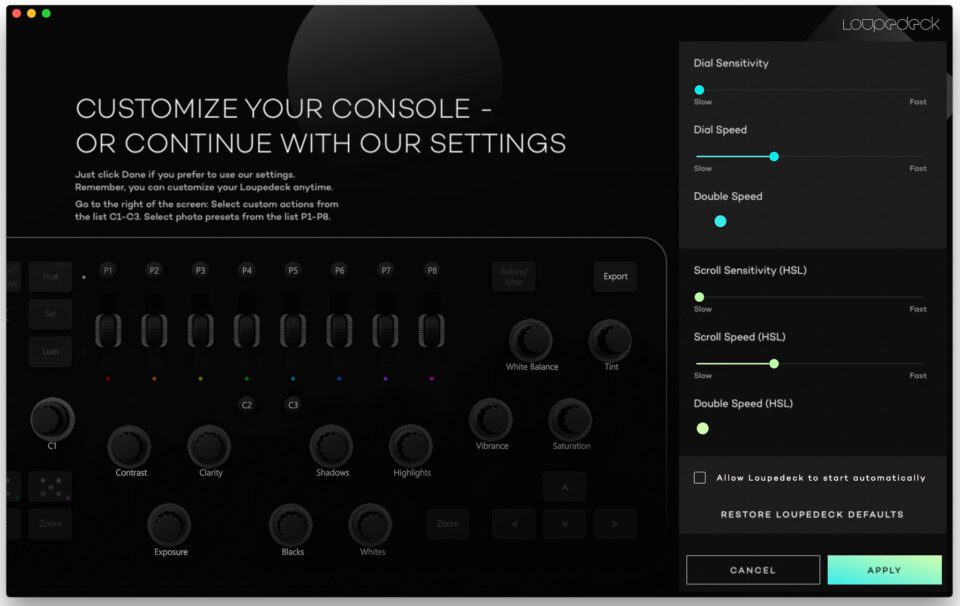 All of the controls on the device feel very solid. The knobs don't feel flimsy and offer just a bit of resistance, making it easy to make precise image adjustments. The wheels have a bit of a hollow sound when they're used, which to me makes them seem a bit clunky, but they work just fine. Both the wheels and knobs, in addition to turning, act as buttons. Pressing on them resets whatever field they control, meaning if you start to adjust white balance and decide you want to start over, pressing the "White Balance" knob will take it back to the "As Shot" value. The keys feel like keyboard keys.
The overall layout of the controls is fairly intuitive. The basic image adjustment controls are located in the center of the device for easy access. All of the controls are clearly labeled, although it is up to you to remember what you assigned each of the custom buttons (C1, P1, etc…) to do.
3) Photo Editing With Loupedeck
To test how Loupedeck works for editing photos (the entire reason for it's existence), I decided to start with a fresh batch of photos that I had just imported and see how it works for my entire post-import process. I should note that I already have very established habits and routines for everything that I do in Lightroom, so any adjustment takes a little getting used to. I try to be as open as possible to any new gear and see how and where it can fit into my workflow. With that being said, here's what I experienced while using Loupedeck.
3.1) Culling and Organizing
I started out needing to cull and organize the images I had just imported into Lightroom (an indoor event shot with a variety of lenses and with a mix of window light, overhead lighting and flash). Loupedeck has almost everything you would need for this task, including arrow keys to navigate images, dedicated star/color keys, and a "Pick" key for flagging images. I flag images that I want to consider for editing, so I started going through images, hitting the "Pick" key for any that I wanted to flag. It didn't take me long to realize that there was no key to reject images, and unfortunately this isn't one of the options you can assign to a custom button. This meant that for every image I wanted to reject I was reaching back to my keyboard.
I ran into other issues with culling images as well. There is no option to go from Grid to Loupe view. There are buttons for "Zoom" and "Full Screen", but these go to 100% magnification and full screen, respectively. I also realized that the arrow/navigation buttons aren't nearly as responsive as I would like them to be, which meant I had to press harder than normal to navigate between images (my hand quickly fatigued just from pressing harder than I'm used to).
Before discussing how it works for editing, I want to say that I personally think that Loupedeck is horrible for image culling. I felt like it was a chore navigating through the images and randomly jumping back to my keyboard every time I wanted to reject an image, compare two images, or switch between Grid and Loupe view. I don't use stars or colors, so it might be amazing for those of you who do, but I don't think I will ever use it again for culling and organizing images.
3.2) Photo Editing
Now let's talk about how Loupedeck works for editing images. As I mentioned earlier, the layout and use of the knobs is fairly intuitive, so I just dove in and started editing. I'm a big fan of batch editing images, so I like to edit one image, copy the edits and then paste them onto similar images. After getting the first image edited, I hit the "Copy" button, went to the next image and hit "Paste". Success! I did this for a few more until I hit a snag and realized something… the "Copy" button copies all of the image adjustments. I'm used to using the Copy Settings option, which allows me to choose which adjustments to copy. In this case, the "Copy" button also copied my lens corrections (which get applied on import) from one lens and pasted them onto an image taken with a different lens. This caused me to quickly change my editing strategy to sort and edit images based on which lens was used.
Once I got that sorted out, it was fairly easy to make rough edits to a few images and then copy/paste the settings onto similar images. Still, I think I personally prefer my normal method of using the Copy Settings method so that I can exclude certain settings (such as lens corrections) and freely paste adjustments to any image I want, regardless of what lens it was taken with or any other adjustments that were made to the image (cropping, spot-healing, brushes, etc…).
As you've probably experienced, even when you batch-process images, there are always small adjustments that need to be made to individual images. I found that this is where Loupedeck truly shines. It was very convenient to quickly turn a few knobs and move on to the next image, especially compared to my usual move the mouse, make an adjustment, move the mouse, make an adjustment, etc… for each image. I know it sounds like there wouldn't be much difference between the two methods, but it just felt so much easier and faster using Loupedeck.
I don't typically make many HSL adjustments to my images, but I can say with a decent amount of confidence that the wheels would make these adjustments very easy. I did a few sample image adjustments and found that the color coding on the wheels and the LED light next to which field was being adjusted (Hue, Saturation or Luminance) made it very easy and intuitive to quickly and easily adjust these values.
I have mixed feelings about the "Rotate/Crop" dial. Again, it's very intuitive to use. Simply turn it and the image rotates. If you want finer control over how much it rotates, hold down the "Fn" key to slow things down a bit. Unfortunately, it doesn't actually crop images, which makes sense. How could a dial crop an image? Still, it would probably be a bit more accurate if it simply said "Rotate". I also wish it could be used within other tools, like adjusting the size of the adjustment brush for example.
While editing, there were also a few hiccups with the software. On one occasion, I was adjusting the white balance of an image and it jumped all the way from 5500 to 50,000. One click of the dial had it back to where it started, but it was still an unexpected glitch. I also experienced two random Lightroom crashes while using the software. I know that Adobe software is not perfect, but I rarely experience crashes, so although it might have been a coincidence that I was using Loupedeck when they happened, it also might not be a coincidence.
Keep in mind, there are many things that you can not do with Loupedeck. For example, if it's not found in the Basic or HSL sub-module, you probably can't adjust it with Loupedeck. Take a look at the screenshots above in Section 2 to see some of the customizations that you can make to the buttons.
4) Conclusion
Loupedeck is an interesting piece of hardware. It is very specialized, as it can only be used to edit photos in Adobe Lightroom. It's not exactly cheap (current retail pricing is $299). It takes up a significant amount of space on a desktop, especially considering it simply can not completely replace a keyboard and mouse. The upside is that it's supposed to speed up your workflow and have better ergonomics than only using a keyboard and mouse.
In my experience, Loupedeck's strength is that it makes it very easy to quickly make a bunch of random adjustments to individual images. I didn't really like using it for batch editing and really didn't like using it for image culling, but found it very useful for making adjustments after my initial batch edits were done. In fact, after the first time I used it, going back and making image adjustments without it felt a little more tedious than I remembered. I could easily see it becoming part of my normal workflow.
The question is, how big of a part? Is it worth almost $300 dollars and a significant portion of my work space to more easily be able to make small adjustments to images? For me, I have to say that it's not. There are two reasons for this. The main reason being that I have a very established workflow. I love using keyboard shortcuts and know exactly what I need to press to do something. Introducing another piece of hardware like Loupedeck puts a kink in things and, as interesting and as useful as it is, ends up slowing me down a lot more than it speeds me up. Another reason is that I use a laptop for editing images, so I can't simply move my keyboard out of the way or off to the side while I'm using Loupedeck. I have to physically move my laptop, which means my screen, keyboard and trackpad are all further away from me.
Of course, not everyone will feel this way. There are people who will think that Loupedeck is the best thing to happen to them in a long time, and they'll be right. Maybe they have plenty of space for it on their desktop. Maybe they have wrist pain from using a mouse. Maybe they hate using keyboard shortcuts in Lightroom. Maybe they like cool gadgets. Whatever the case, many people will find this to be a very useful tool.
For me, it does almost everything that I would want it to do while editing photos in Lightroom. That's not to say that I wouldn't like to see a few changes. On the hardware side, the only real complaint I have is the arrow keys. They are not responsive enough to quickly and easily navigate between images. On the software side, I would love to have the ability to assign any keystroke (or combination of keystrokes) to the customizable buttons. I feel like this alone would address many of the shortcomings that I experienced while using Loupedeck and make it more of an all-in-one piece of hardware.
Ultimately, the price will probably be the deciding factor for many people as to whether they purchase a Loupedeck or not. While I can't decide if it's going to be worth it for any individual, I would say that it has the potential to streamline and speed up your workflow, so if you're a professional photographer it could quickly pay for itself. Even if you're not a professional, if anything else that I mentioned appeals to you and you spend a lot of time editing photos in Lightroom, there are definitely worse ways you could spend your money.
5) Where To Buy
You can find the Loupedeck editing console at B&H Photo Video.
Loupedeck Lightroom Editing Console
Features

Build Quality

Value

Packaging and Manual

Ease of Use
Photography Life Overall Rating