This is an in-depth review of the Linhof 3D Micro Leveling Head with dovetail track, a high-end precision geared tripod head specifically designed for handling medium to large format cameras and other specialized rails for macro and architectural photography. Fitted with an Arca-Swiss compatible screw-knob clamp, this specific version is designed to fit any kind of Arca-Swiss plate or rail (there is also another version of the same head, but with a quick-release "Quickfix" adapter that can be mounted directly to a camera).
After testing out the Manfrotto 405 Pro geared head, I realized that I needed something more precise and stable with no "play" whatsoever. Unfortunately, when it comes to professional gear heads, there are not that many options on the market today. Once you get into the high-end geared head territory, there are only three products on the market – the Arca-Swiss C1 Cube, the Photo Clam Multiflex (which is basically a Korean copy of the Cube) and the Linhof 3D Micro. When I pointed out that I was planning to review the Arca-Swiss C1 Cube and see if it would be suitable for my needs, one of our readers sent me some information about the Linhof 3D Micro and pointed out the fact that it uses an Arca-Swiss compatible screw-knob clamp. This immediately caught my attention, because the C1 Cube has been known to have an odd quick-release clamp that went through several revisions. I always prefer to use screw-knob clamps instead of quick-release versions, because some manufacturers like Really Right Stuff deviate from the original standard, which can create problems. As a result, I decided to test out both the C1 Cube and the Linhof 3D Micro to see which one would best suit my needs.
In this review, I will summarize my findings from about a month of use of both heads and discuss pros and cons of the Linhof 3D Micro, particularly when compared to the Arca-Swiss C1 Cube.
Let's take a look at the Linhof 3D Micro in more detail.
1) Specifications
Here is a quick rundown of the specifications:
Maximum Camera Supported: Large format
Load Capacity: 10 kg / 22 lb
Dimensions: 121 x 104 x 101mm
Quick Release: Yes
Quick Release Type: Arca-Swiss
Level: Yes
Tension Control: No
Tilting/Leveling Rotation: 12 degrees
Panning Rotation: 360 degrees
Tripod Mount Thread Size: 3/8″-16
Weight: 985g
With an impressive load capacity of 10 kg, the Linhof 3D Micro will support pretty much anything you throw at it, including large full format cameras.
2) Build Quality and Packaging
Without a doubt, the Linhof 3D Micro is a very fine instrument that is made to last for ages. At close to a kilo in weight, the all-metal head is built like a tank. The integrated Arca-Swiss compatible clamp is easy to operate and has a large mounting base for maximum stability and security. There is a small safety pin on the clamp to prevent compatible plates from sliding out completely when working at angles. The metal finish is smooth, but mine had a little bit of texture to it in some areas (and very light surface scratches), while other areas were covered with a little bit of grease – not something I expected from such a high-end head. After mounting a couple of quick release plates, I could see some surface paint coming off, which is again something that I normally do not expect to see early on.
There are a total of 5 knobs on the head. The knobs are also made of metal and seem to be pretty sturdy. However, I do have a couple of negative observations here. First of all, three of the five screw-knobs can be fully removed from the head, as can be seen from the below image:
Not sure why Linhof designed it this way, but I definitely prefer to see non-removable knobs instead (RRS, Kirk and others often use non-removable knobs) – less risk of potentially losing parts. In addition, the center of each knob is wrapped in rubber, which does not look very convincing quality-wise. Take a look at the two knobs from the above image: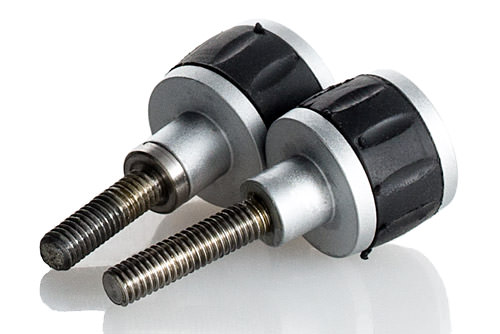 You can clearly see extra rubber parts sticking out, which just does not look good for such an expensive head. Another negative point is the fact that the rubber does not appear to be securely glued to the metal. So if you tighten the knob enough, the rubber part will continue to rotate. Because of this, I prefer to use all-metal knobs that have built-in textured resistance as seen on RRS, Kirk and Hejnar Photo clamps.
The Linhof 3D Micro comes in a relatively small box that contains the head, a small booklet (same as this PDF file) and an extra screw:
3) Operation and Adjustments
When it comes to basic operation, the smaller bottom knob controls the panning motion on the base, which moves smoothly once loosened. The second larger knob from the base allows for side to side tilting motion up to 12 degrees each way and the third larger knob controls tilting front to back (depending on the position of the head), also up to 12 degrees. The two large knobs require a lot of movement to change angles – a full 360 degree rotation moves the head by approximately 1 degree, so you would need to turn the knobs quite a bit to get to each end. This is both good and bad. Good, because there is a lot of precision here and you can apply very fine adjustments. Bad, because it takes a lot of work to get the head to tilt, requiring a lot more time when working in the field. The fourth smaller knob from the bottom serves the same purpose as the one on the base – to provide panning motion. This way, you can tilt and pan the head in any direction, independent from the base.
Two bubble levels are provided for each side for proper leveling. I measured the precision of the bubble levels against the ones on my RRS rails and they seem to be quite accurate.
When working with the head, I had four important requirements:
Allow for precise adjustments for both tilting and panning
Handle heavy loads on either side of the head when tilted, since I use a specialized macro rail setup and can potentially move the camera side to side or front to back
Have zero "play", no matter how much it is tilted or panned
Allow for secure locking/tightening to prevent potential tilting/panning
While the Linhof 3D Micro did an excellent job with the first three, I had a hard time with fully tightening the panning knobs. It seemed like no matter how much I tightened the screws, the head would still allow for panning motion. Although I was probably applying more power than needed/practical with my long rails, the C1 Cube that I compare the Linhof 3D Micro to below tightens very securely and stays that way. Not sure what the differences are – perhaps the switch-type knobs on the C1 are more effective for better tightening of the panning base.
4) Weight and Size
The Linhof 3D Micro is a pretty heavy geared head. Measuring 985g on the scale, it is a tad lighter than the C1 Cube and the RRS BH-55 ballhead that I frequently rely on. Size-wise, it is smaller in both width and height than the C1 cube (as pictured below in the comparison section), and shorter than many high-end full-size ballheads. It is obviously much smaller and lighter than the Manfrotto 405 Pro (which is a beast at 1.6 kg). If you align the knobs, the head should fit in most camera bags, although the larger knobs might be somewhat painful to deal with.
5) Linhof 3D Micro vs Arca-Swiss C1 Cube
When compared to its direct competitor, the Arca-Swiss C1 Cube, the Linhof 3D Micro has a few major weaknesses:
The Linhof 3D Micro only allows up to 12 degrees of tilting and lateral leveling, while the C1 Cube is much more flexible and versatile, allowing for up to 30 degrees movement.
Build quality of the C1 Cube is superior, with smooth finish and no cheap rubber parts.
The Linhof 3D Micro requires a special "angled device" adapter plate in order to switch to vertical mode. The C1 Cube, on the other hand, has a special base that can be unlocked, allowing the head to be tilted to vertical position.
The Arca-Swiss C1 Cube has a tension adjustment dial (+ and -) on both axes, while the Linhof 3D Micro does not.
The Linhof 3D Micro is much slower than the C1 Cube, because it requires 1 full 360 degree turn to move by 1 degree. The C1 Cube moves to about 8 degrees with a similar 360 degree turn.
The Arca-Swiss C1 Cube is significantly cheaper in the US compared to the Linhof 3D Micro ($1,572 vs $2,160), a difference of almost $600.
The only drawback of the C1 Cube pictured below is the flip-lock quick release clamp, which Arca-Swiss has been gluing to their heads to prevent people from using third party clamps. However, you can now buy a screw-knob Arca-Swiss version of the C1 Cube, so it is no longer an issue. Still, even the flip-lock clamp on the C1 Cube worked well for me and I had no problems using specialized RRS / Hejnar Photo plates and rails – all of them fit just fine.
Here is a side by side comparison between the two:
As you can see, the Arca-Swiss C1 Cube is wider and longer than the Linhof 3D Micro. But more importantly, look how much more the C1 Cube can tilt – and that's in both axes!
6) Summary
While the Linhof 3D Micro is certainly a nice head, I struggle to see much value in it when compared to the legendary Arca-Swiss C1 Cube. As pointed out above, the head has limited ability to tilt – only 12 degrees compared to the impressive 30 degree tilt of the C1 Cube. In addition, it requires another heavy and expensive adapter to be able to go vertical, while that capability is built into the C1 Cube. So if you compare all the features, build quality and versatility of the two, the C1 Cube is clearly superior in every way. On top of that, there is a significant difference in pricing between the two in the US – a $600 delta, which could cover the cost of tripod legs or a top-of-the-line BH-55 ballhead from RRS. I have already made my mind on what I will be using for my lab, and unfortunately, it will not be the Linhof 3D Micro. Stay tuned for a detailed review of the Arca-Swiss C1 Cube!
7) Where to Buy
The Linhof 3D Micro Leveling Head can be purchased from our partner, B&H Photo Video for $2,160 (as of 03/01/2014).
Linhof 3D Micro
Features

Build Quality

Handling

Value

Size and Weight

Packaging and Manual

Ease of Use

Stability
Photography Life Overall Rating