A couple of weeks ago, I posted some images without any embedded EXIF data here at PL. Along with the images, I provided a couple of clues about the camera to see if our readers would be able to figure it out. Although some of our readers did guess that the images were captured by a camera phone and some even correctly guessed the specific model, most answers varied greatly from the Canon 5DS to the newly announced Sony A7R II. It was a great exercise to showcase just how good modern smartphones have gotten and the fact that most people have a hard time differentiating images between small sensor cameras and expensive large sensor cameras when web-sized images are posted on the Internet. This again reiterates the point that one does not need a high-end camera if all they do is output to the web. But that's not the subject of today's review. Instead, I will be talking about the new LG G4 Android phone, which AT&T kindly sent me for a review.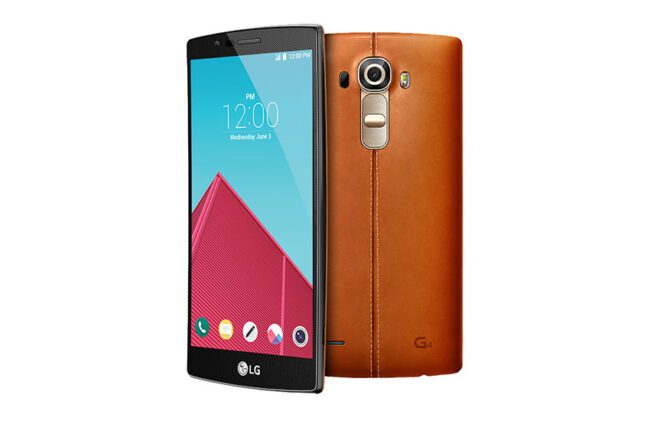 After seeing the impressive camera specifications for the LG G4, I really wanted to test it out and see how it stacks up against my iPhone 6 Plus, which I have been using for a while now. What intrigued me the most about the LG G4 was not its overall specifications (which are quite impressive), but its rich camera features: from built-in optical image stabilization, full manual mode and RAW capture capabilities to a fast f/1.8 aperture lens. The LG G4 seemed like a great tool for capturing images on the go and with the ability to insert large capacity Micro SD cards, I would no longer have to worry about potential storage issues, particularly when capturing RAW images. In addition, the LG G4 provides easy access to the phone's battery, which makes it easy to carry and charge multiple batteries if needed – something I could never do with my iPhone.
When the LG G4 finally arrived, I fired it up and went out to take some photos. It was my first time ever using an Android smartphone – for many years I have only been using either iOS or BlackBerry devices. This review is based on my one month experience with the phone and its camera, so I am definitely planning to update the review with more images later on.
1) LG G4 Camera Resolution
The LG G4 comes with a 16 megapixel camera, which produces images with 5312 x 2988 resolution. That's twice the resolution count compared to my iPhone 6 Plus, which produces images with 3264 x 2448 resolution. Does it mean that the LG G4 is twice better than the iPhone 6 Plus? No, of course not – resolution in modern smartphone cameras rarely ever means anything, because there are other very important factors that come into play. With 41 megapixel camera phones with tiny sensors making headlines, it is easy to see how the megapixel war is affecting the smartphone market too, with manufacturers pushing the "more MP is better" mentality to potential buyers. In reality, small sensors translate to small pixels and when the total number of pixels is increased while the physical size of the sensor stays the same, you are not really doing much to enhance image quality. In addition, smaller pixels put more strain on the lens and if it is not good enough to resolve a lot of detail, you simply end up with muddy images that lack detail. So how does the LG G4's camera resolution, sensor and pixel size stack up against the competition? Let's take a look at the below chart:
| Camera | Sensor Size | Resolution | Pixel Size | Lens Aperture | Image Size |
| --- | --- | --- | --- | --- | --- |
| LG G4 | 1/2.6″ (5.95 x 3.35mm) | 16 MP | 1.12 µ | f/1.8 | 5312 x 2988 |
| Samsung Galaxy S6 | 1/2.6″ (5.95 x 3.35mm) | 16 MP | 1.12 µ | f/1.9 | 5312 x 2988 |
| HTC One M9 | 1/2.3″ (6.45 x 4.50mm) | 20 MP | 1.2 µ | f/2.2 | 5376 x 3752 |
| Motorola Nexus 6 | 1/3″ (4.62 x 3.47mm) | 13 MP | 1.12 µ | f/2.0 | 4128 x 3096 |
| iPhone 6 Plus | 1/3″ (4.90 x 3.67mm) | 8 MP | 1.5 µ | f/2.2 | 3264 x 2448 |
As you can see, the LG G4 has pretty similar resolution and sensor size specifications as the Samsung Galaxy S6. But when compared to the iPhone 6 Plus, we can see that there are noticeable differences in sensor size, resolution, lens aperture and image size. In almost every way, the LG G4 comes out on top of the iPhone 6 Plus. While the pixel size of the LG G4 is smaller in comparison, its sensor size is physically bigger and its resolution is also noticeably bigger. How does this affect images? Let's take a look at the below crops taken from both cameras: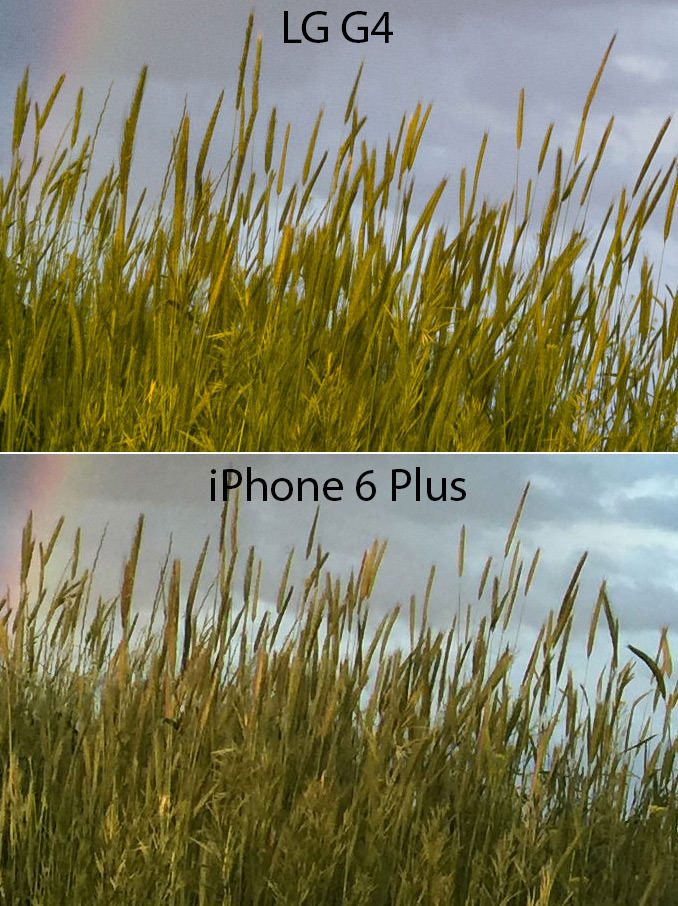 Just based on the above image, we can see that the LG G4 shows better details, especially when you have the leverage to adjust sharpness on RAW level. Now keep in mind that in order to make the above comparison, I had to crop the LG G4 image pretty heavily to retain the same 4:3 aspect ratio as the iPhone 6 Plus. Since the corners have been severely chopped off, the above comparison is definitely unfair towards the LG G4. What if I crop the iPhone 6 Plus to the 19:6 aspect ratio of the LG G4 and then down-sample both images to the same resolution? Let's take a look: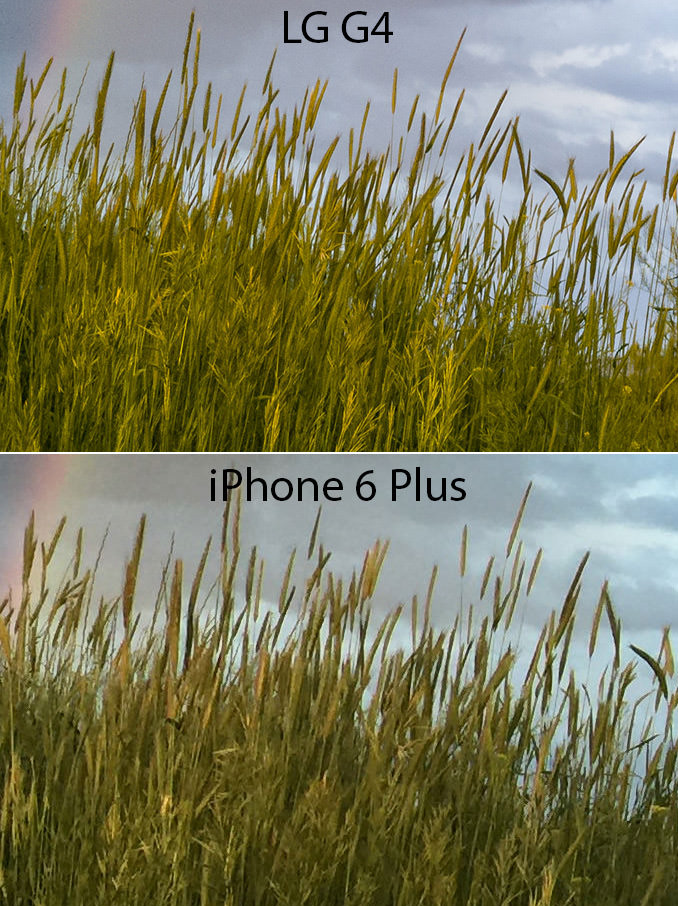 Now we can see a pretty drastic difference in details between the two cameras, with the LG G4 looking much better in comparison.
In short, the LG G4 definitely delivers more details than the iPhone 6 Plus, especially when the LG G4 images are down-sampled to the same width.
2) Image Stabilization
The LG G4 has a very impressive optical image stabilization system, which quite literally puts my iPhone 6 Plus to shame. The difference in how well the camera stabilizes the image is very noticeable when holding the phone and framing – the iPhone 6 Plus feels too jittery in comparison. I captured a few images at very slow shutter speeds using the LG G4 and the images turned out pretty sharp, without any traces of camera shake. My iPhone 6 Plus could not handle such dark environments and showed more blur in images, which means that the image stabilization system on the iPhone 6 Plus is not as effective in comparison.
3) Fast Aperture f/1.8 Lens
Another differentiating factor of the LG G4 when comparing it to its competition is lens aperture – it has a wide f/1.8 lens, which obviously lets in more light than smaller aperture cameras. This is another area where the iPhone 6 Plus loses out, because it has a slower f/2.2 aperture. The difference between f/1.8 and f/2.2 is two thirds of a stop, which is not that big of a difference, but still does play a role when shooting in low-light situations. Basically, the LG G4 would be able to capture the same scene at a faster shutter speed than the iPhone 6 Plus just because it has a faster aperture. And with the added benefit of improved image stabilization, the LG G4 is again in a better position.
At the same time, faster aperture can potentially translate to reduced details, since the lens might not be stopped down enough to its ideal range where it delivers the best details. I noticed that details get progressively worse towards the edges of the frame, especially when shooting in 16:9 aspect ratio. In addition, fast aperture also translates to shallower depth of field, which might not be always desirable. If you have a subject at a close distance and you want to get both the subject and everything in the background in focus, it will be more difficult to do so with the f/1.8 lens than it is with an f/2.2 lens. Since the lens has a fixed aperture of f/1.8, you cannot stop down the lens to increase depth of field like you can do on dedicated cameras.
4) Autofocus Performance
Autofocus performance of the LG G4 seems to be quite good, similar to the AF performance on my iPhone 6 Plus. The LG G4 uses contrast-detection for autofocus acquisition, so it is not going to be a speed demon like the bigger cameras with phase detection AF or hybrid AF. To make it easier to focus in low-light conditions, LG engineers integrated a "laser focusing" module, which basically fires an infrared beam (similar to what advanced speedlights do). The infrared beam bounces off the subject and estimates the distance, and the camera subsequently sets the correct focus. While this laser focusing can be handy in low-light situations, it does nothing to improve AF speed in good to moderate-good light. That's expected, because IR is ineffective in sunlight.
5) 4K Video
Although I am personally more interested in stills than video, it is great to know that the LG G4 can record 4K video – another feature my iPhone 6 Plus does not natively have. I tested out a couple of videos at 4K resolution and the camera handled them quite well. There is a time limit of 5 minutes for each record video, provided that you have enough storage on the phone.
6) Manual Mode
One of the biggest advantages of the LG G4, is that you can use the camera in manual mode, which gives you access to control the following:
White Balance
Focus (Auto / Manual)
Exposure Compensation
ISO
Shutter Speed
Exposure Lock
In essence, you get similar controls as a dedicated camera, without having to rely on third party tools to unlock camera features. Here is how the screen looks when shooting in manual mode: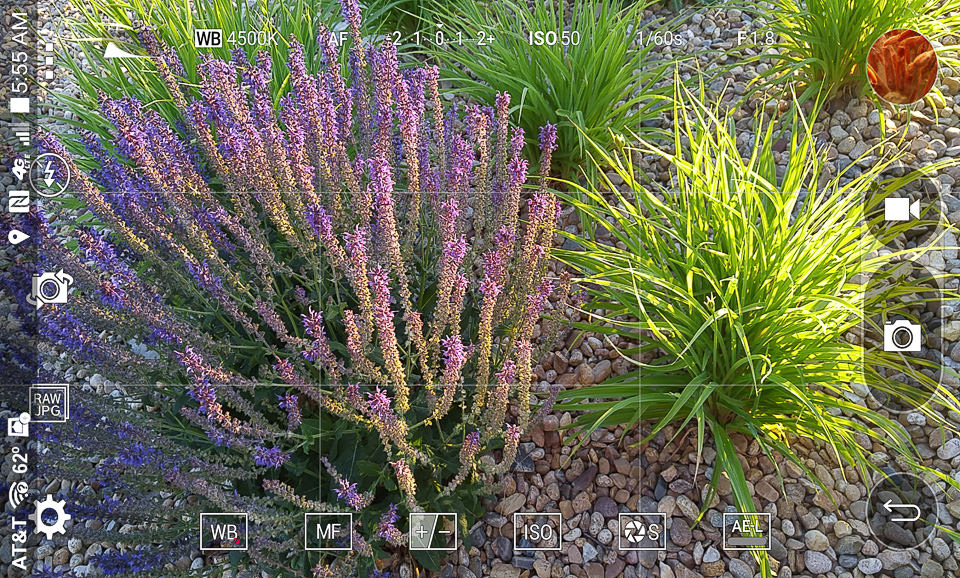 And here is how the screen looks when adjusting one of the settings, which in this case is white balance: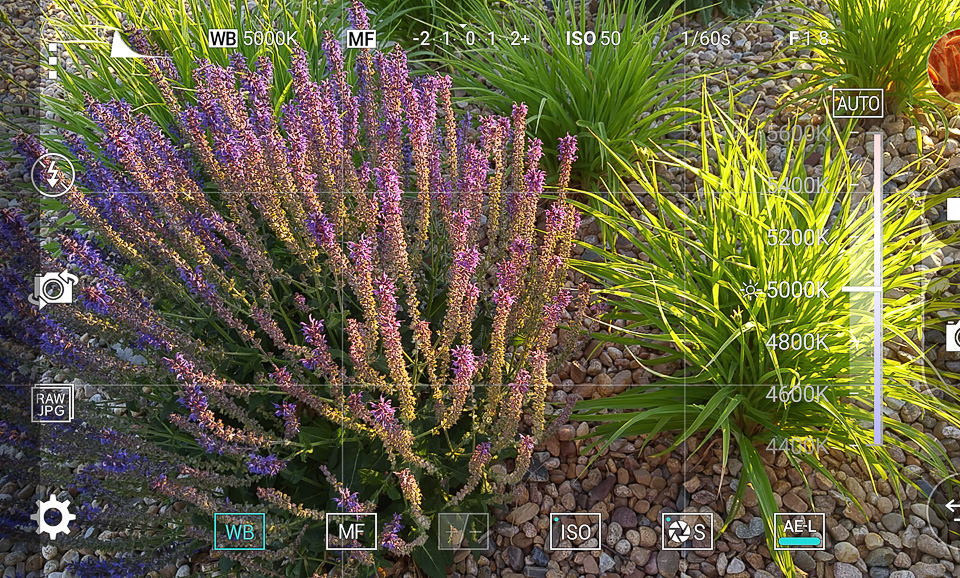 As you can see, I was able to change the color temperature from cool to warm with just a quick swipe!
Why is the manual mode so useful? Because you can shoot creatively! You can set the camera on a firm surface or use an accessory to mount it on a tripod and shoot long exposures at night, you can easily override the camera's estimated exposure values and tweak ISO or shutter speed to match what you are shooting, you can adjust white balance and exposure compensation and even lock the exposure, so that you can shoot frame to frame consistently – the manual mode makes all this possible.
7) RAW File Support
Another huge advantage of the LG G4 is the ability to shoot in RAW. Now this is amazing, because you can make adjustments to your images in post, just like you can adjust RAW files from your DSLR or mirrorless camera! The LG G4 shoots in DNG format, so you do not have to worry about updating your copy of Lightroom or Photoshop to the latest version – any version of both software can open DNG files, since it is Adobe's format.
Here is my screenshot from Lightroom 6, where I edited a DNG file from the LG G4: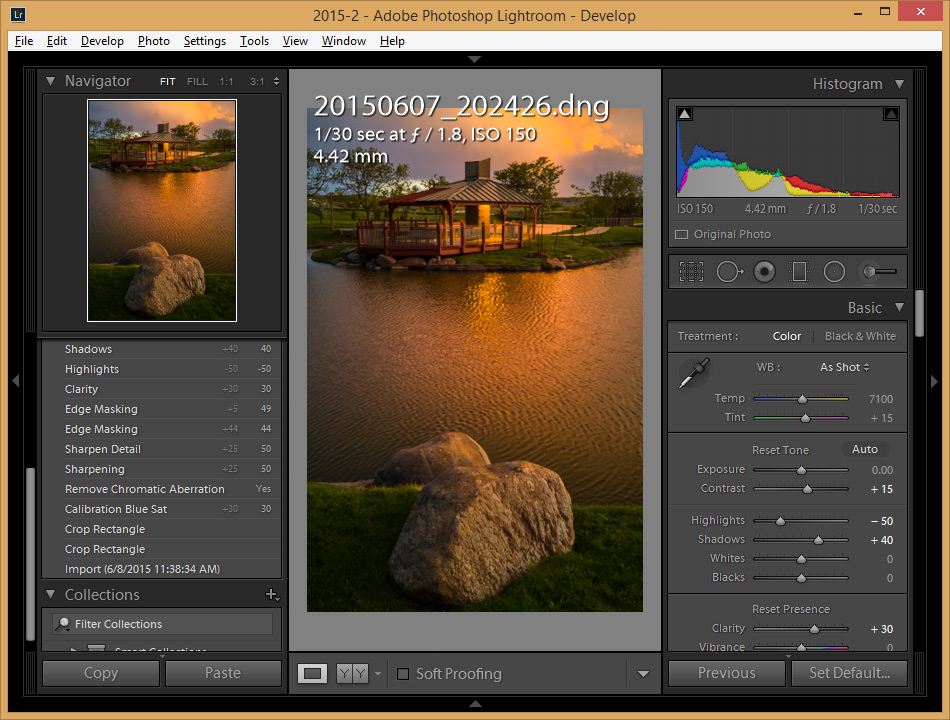 As you can see, I was able to make adjustments to the DNG file, just like I would on a normal RAW file. I can even completely change the white balance, which is cool! You can employ the same techniques and tricks on DNG files, whether it is selective sharpening, highlight/shadow recovery, adjustment brushes, graduated filters or tweaking of colors through the Camera Calibration sub-panel. Basically, you have a lot of flexibility with those RAW files!
Just how much leverage do you have in RAW files? Well, although the LG G4 is not a dynamic range beast, it certainly does offer good opportunities for recovering highlight detail. Take a look at the below comparison of iPhone 6 Plus and LG G4 where I tried to recover the sky: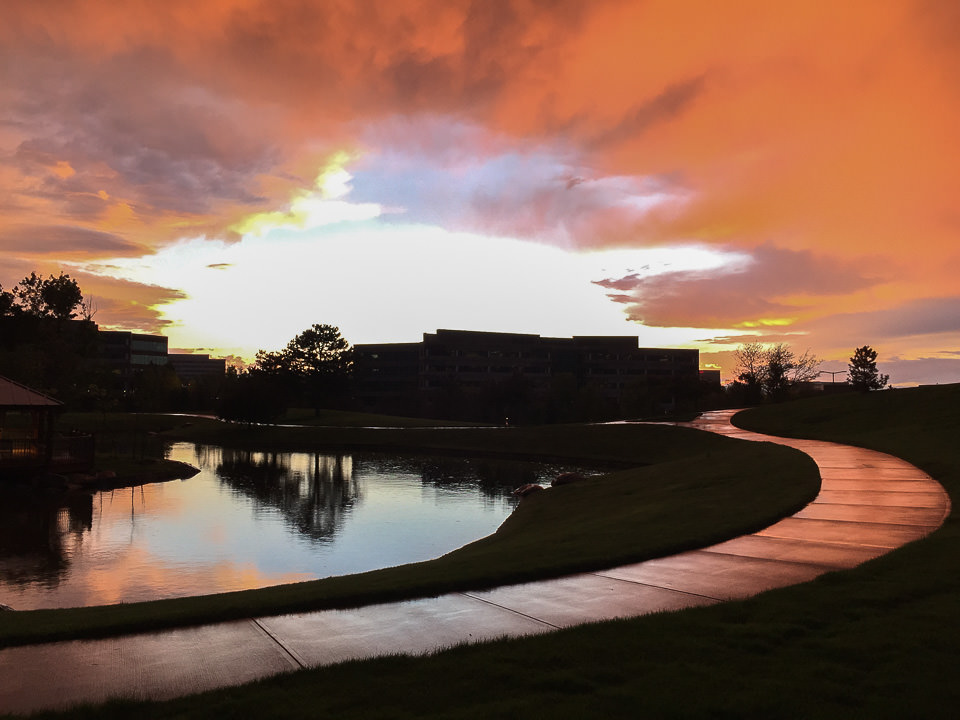 On the left "Before" side, you see what happened to the sky on the iPhone 6 Plus JPEG image – all that white area is basically lost. The "After" image is from the LG G4 and that's how the sky looks after I dialed -100 Highlight in Lightroom. As you can see, most of the sky detail is preserved. Plus, I can tweak white balance to whatever I want on the LG G4 image and I have no such option on the iPhone 6 Plus – tweaking white balance on a JPEG file yields pretty weird results!
8) IPS Quantum Display
The LG G4 comes with a very impressive 5.5 inch IPS Quantum Display, featuring 2560 x 1440 resolution at 538 ppi. In comparison, the iPhone 6 Plus has 1920 x 1080 resolution at 401 ppi, so the LG G4 scores another win there. As I have explained in this article, IPS panels are ideal for photography use, because they are capable of accurately reproducing colors and displaying wider color gamut than TN and other inferior panels.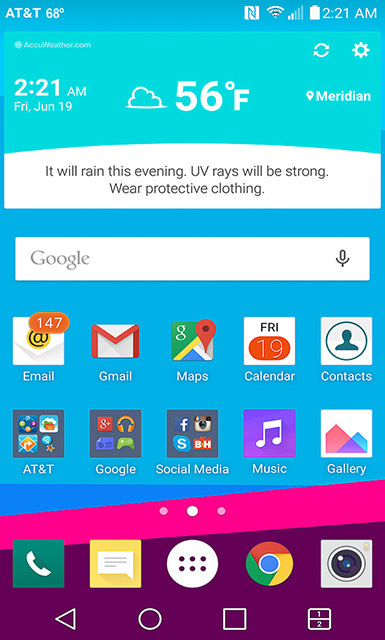 Apple has been using IPS panels for a while now, but others have been actively switching to IPS too. With the G4, LG claims a 25% brighter display, with a 50% increase in contrast and 56% improvement in color accuracy, which is hard to compete with. And indeed, the screen on the LG G4 is excellent – images look beautiful and the smartphone is a joy to use for browsing photography websites.
9) Summary
I had a lot of fun testing and reviewing the LG G4 and comparing it to my iPhone 6 Plus. As you can see from this review, the LG G4 has pretty amazing photo features, putting this smartphone way ahead of the iPhone and most of its competition. While the LG G4 is not a DSLR or even a point and shoot camera when it comes to sensor size, image quality, autofocus speed and other features, it is a great smartphone that happens to have a pretty amazing camera and photo capture capabilities. Although I am still getting used to Android's user interface and its apps, I really do not see big differences in favor of the iOS. Google did a great job with its Android Lollipop operating system and it feels really fluid and intuitive, so if I ever wanted to switch, I don't think I would hesitate. My only gripe with the LG G4 is its battery life – all this new technology put a heavy burden on the battery, so if you are a heavy user, you might be surprised to see how fast the phone will die. But there is good news: you can buy a few of those batteries and replace them when needed, which is another great feature the LG G4 has that most other smartphones like the iPhone 6 do not.
Overall, the LG G4 is a great smartphone for everyday photography and videography needs. No wonder why point and shoot cameras are not selling – these smartphones have gotten very good and considering that you always have one with you, there is little sense left in carrying a dedicated point and shoot camera with a tiny sensor…
10) More Image Samples
LG G4 Camera
Optical Performance

Features

Build Quality

Focus Speed and Accuracy

Image Stabilization

Value

Image Quality

High ISO Performance

Size and Weight

Metering and Exposure

Movie Recording Features

Dynamic Range

Ease of Use
Photography Life Overall Rating