Lexar has been long known for making different type of memory cards for hobbyists, enthusiasts and professionals. Whether you need microSD, SD, CF or the newer memory card technologies like CFast and XQD, Lexar makes lines of products with different quality levels and speeds to satisfy pretty much every still camera or video storage needs. One area you might not be very familiar is Lexar's excellent line of memory card readers. I have been personally using the Lexar Professional USB 3.0 Dual-Slot Reader for years and I find it to be the best solution when working in the field and need to access or back up my data, as stated in my earlier review. But what about a professional memory card reader for a desktop? Since I have always built my own computers, I have had a strong preference for internal readers that I can install in one of the 5.25″ bays, with the AFT PRO-77U being my top choice. And although I am pretty happy with this reader, it does have a couple of disadvantages. First, it only comes with the most common media formats like CF, SD and microSD. If I wanted to attach the newer XQD or CFast cards, I would have to get a separate reader for each one of those. Second, there is only one reader per card type – if I wanted to transfer from two cards simultaneously (and yes, you can do that in Lightroom), then I am left out without options. Luckily, Lexar makes a superb product to address such particular needs (and more) in the form of the Lexar Professional Workflow readers. Today, I am reviewing the HR1 version, which has a USB 3.0 interface. If you are a Mac user and prefer Thunderbolt, there is an HR2 version of the same reader, which has support for both Thunderbolt and USB 3.0.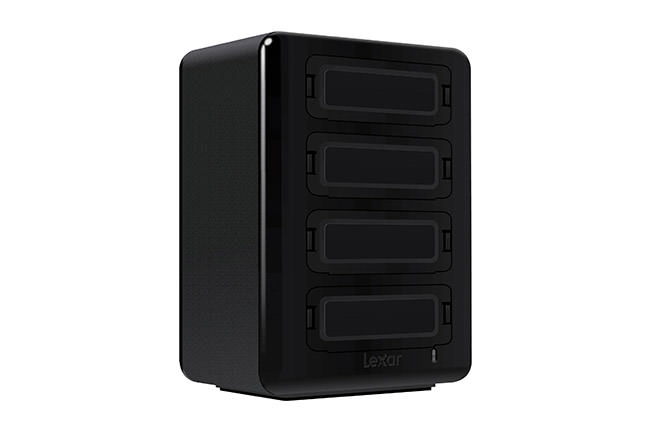 1) Overview and Features
So what is so special about this particular reader when compared to others? First, it is specifically targeted at professionals with more complex workflows and lots of media cards to work with, hence the name "Professional Workflow". Second, it has a very unique and modular design – something no other card reader on the market today offers. The reader comes with four empty bays and you can buy any reader of choice for each slot. If you work with only SD cards, you can fill up the unit with 4 SDHC / SDXC cards (compatible up to UHS-II). If you only work with CompactFlash, you can do the same with 4 CF slots. And if you would rather have support for different formats, you can pick from microSD, SD, CF, CFast and XQD readers.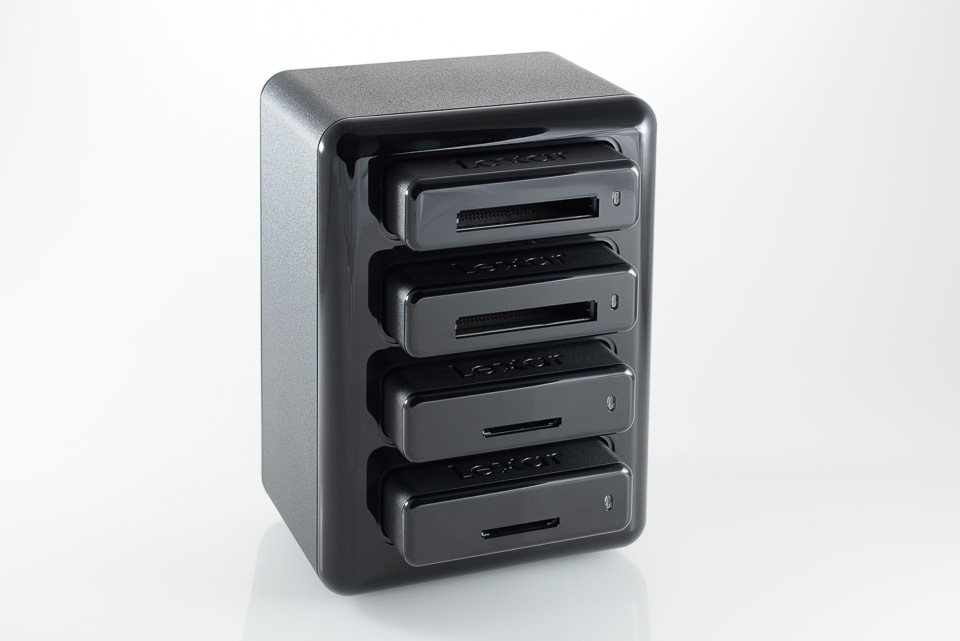 And with such a unique modular design, you could even put a fast SSD hard drive to one of the slots and use it as a backup! Now that's a really cool feature that deserves attention, because it is a huge space saver and a very convenient backup option – you don't have to worry about attaching separate external hard drives just for backup purposes. SSD drives are insanely fast, so you can back up your photo and data very quickly and once you are done, you can either keep the drive in the bay, or put it in rotation for a solid backup system. And if you want to store your backups elsewhere (and you totally should!), you can just buy another SSD drive that you can mirror during the backup process. So whether you need another drive for this purpose or you run out of space, you can just buy more SSD drives – they are priced reasonably when compared to other SSDs on the market (for example, the current 500GB model is on sale for $135).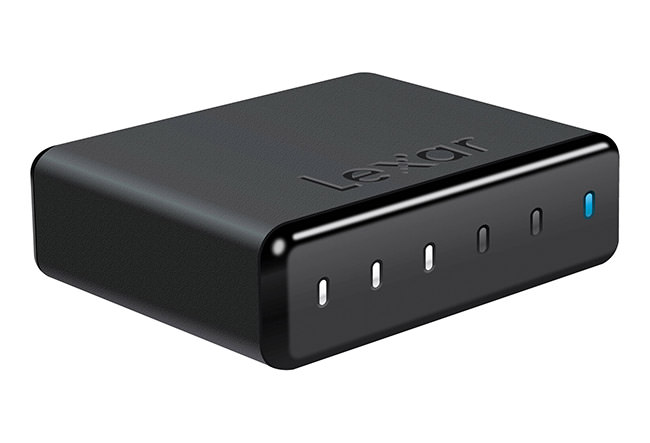 With no spinning parts in these SSD units, they can withstand some good abuse in the field and you don't have to worry about your data if you happen to drop them, whereas on a standard hard drive, you always have a chance to damage it on impact and potentially lose valuable data.
The best part is that each reader / SSD drive can run independently via the USB bus! Yes, that's one of the nicest features of the Lexar Professional Workflow – although the bays look like they always have to be a part of the set, they can run independently with a standard USB 3.0 cable. So if you have plans to travel or perhaps do a remote job / shoot, all you have to do is take out the module you need, grab the supplied USB cable and you have a working reader / backup solution without the bulk. In fact, some photographers start out with a single module on its own and grow from there!
I personally started out with two SD and CF slots as pictured above, because I utilize the two quite heavily. When I come back from shoots, I know that I have a mix of SD and CF data. Instead of waiting for each card to finish transferring images, I can start the image import process on multiple cards and walk away from my computer. Once everything is imported, I continue with another batch of cards, if I have that many.
2) HR1 Base Unit Connection
The HR1 base unit is connected to your PC with a standard USB 3.0 cable, but if you want to be able to use more than a single slot, you will need to provide power to the unit, since it is essentially a USB hub. Lexar provides a power supply with the HR1, so all you have to do is plug it in and you will be ready to go. Although each module comes with its own USB cable, you can put those cables away until you need them, since the module itself connects directly through its back, which is simply a USB 3.0 slot. The modules draw power from the USB port and do not need external, so it is only the HR1 base unit that does.
3) Build Quality
I have been using the Lexar Professional Workflow HR1 for over a year and a half and I am very pleased with its build quality. I have taken the modules in and out, swapped them out and used the readers quite heavily for my work. And so far, I have not had a single failure with the unit itself, or any of the modules. The CF modules are built very well and there is no "play" in the slots that can result in odd angles and potential pin bending issues. The SD modules also have not failed me and I have used many different cards on both. It really is a very solid system designed to withstand heavy use by professionals.
4) Speed and Performance
Lexar has been updating its modules with newer hardware and firmware since the system has been released. If you use SD cards, the latest version of the SD card reader supports the fastest cards on the market, including UHS-II type cards with blazing speeds. The same goes for CF modules, which support the latest UDMA 7 cards. And if you use XQD and CFast cards, Lexar has those too!
Performance-wise, the system rocks – whether you use the modules directly, or through the HR1 hub, you will be maxing out on the speed of the card. I tested a couple of the fastest UHS-II cards and got some crazy read / copy speeds from them, getting above 250 MB/second: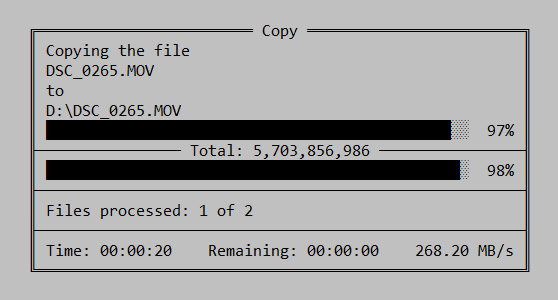 At those speeds, if you have a regular spinning hard drive, it will most likely be slower than the cards, becoming a bottleneck. If you want to get such speeds, you will have to copy to an SSD drive (which is what you should ideally be using nowadays).
I have not tested Lexar's SSD drives yet, but when those arrive, I will be putting them through some tests and will report on those separately.
5) SSD Backup
As I have already mentioned, the fact that you can put an SSD drive into one of the slots makes the Lexar Professional Workflow a whole lot more useful for a working pro or an enthusiast, since you can make it both a memory card reader and a backup solution. Instead of mounting external hard drives and backing up data to them, dealing with more hardware and cables, you can just get an SSD module (in 256 GB or 512 GB capacity as of July, 2015) and backup your data there. Although 512 GB might not seem like a lot given how large RAW files are getting, I am sure Lexar will soon offer larger capacity modules. SSD drives are still a lot more expensive in terms of GB / dollar when compared to spinning hard drives, but costs are getting lower every day and the performance + reliability make them the ideal choice for storage needs today.
Even if you are not planning to use SSD modules for full backup, you can still use them as a temporary or alternate backup. When transferring images from your cards, you can actually create a copy of all copied files right on these SSD drives without leaving Lightroom. Since the hard drives mount as regular drives and they are given a drive letter, you can check "Make a Second Copy To" and select the drive in Lightroom, which will automatically back up all your files on the drive as well. If anything goes wrong, at least you have this backup where you can retrieve your files from.
My personal choice is to use the higher capacity 512 GB SSD module as a secondary backup. Instead of copying files from Lightroom, I would set up a backup job to copy your current Lightroom catalog and photos. If you have too many photos in your current catalog and they don't fit into a single volume, consider splitting the catalog up and backing up files in batches. Once backups are done, I would store them somewhere outside your home, so that if a disaster strikes you or there is theft, you still have a copy of your work…
6) Summary
Lexar did a superb job with its Professional Workflow lines of products. Whether you choose the HR1 for your PC or the HR2 for your Mac, you will not be disappointed with the build, performance and reliability of both card reader and SSD modules. With its unique design and ability to use each module independently, Lexar engineers deserve high praises for making such a unique and amazing product. I highly recommend the Lexar Professional Workflow to any enthusiast or working professional.
7) Where to Buy
As usual, you can purchase the Lexar Professional Workflow from our trusted partners, B&H Photo Video and Adorama:
Please keep in mind that the base unit HR1 / HR2 and the modules are purchased separately, although some bundle packages are available from both B&H and Adorama.
Lexar Professional Workflow
Features

Build Quality

Handling

Value

Size and Weight

Ease of Use

Speed and Performance

Stability
Photography Life Overall Rating