One question I get asked a lot by other photographers or workshop participants, is the type of reader I prefer to use when traveling or when using a laptop. Over the years, I have tried many different types of readers and I have had my share of dead readers, bent pins, unreadable cards and other problems. After trying out the Lexar Professional USB 3.0 Dual-Slot Reader when it just came out, I have been very pleased with its performance. It turned out to be the best memory card reader I have had to date not just because of its amazing performance, but also because it has a solid build and the cable easily detaches from the back of the reader, making it an amazing travel companion.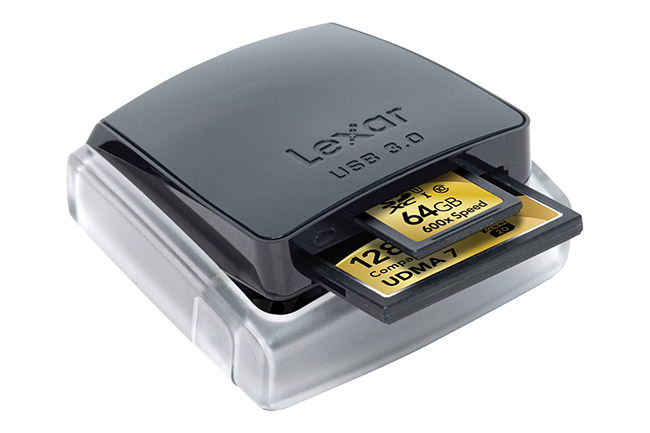 Let's take a look at the reader in more detail.
1) Overview and Build Quality
The Lexar Professional USB 3.0 Dual-Slot Reader is aimed at professionals, who either rely on Secure Digital (SD) or CompactFlash (CF) memory, so unlike some of the all-in-one readers out there, the unit only comes with two slots. So if you use any other kind of memory, the card reader obviously won't work. If you have microSD cards, you can still use the reader, as long as you use a microSD to SD adapter, which should have either come with your microSD memory, or you can buy for under $5 from pretty much anywhere. The reader has a fast chipset that allows you to mount any of the modern SD and CF cards out there, including the newer UDMA 7 CF 6.0, SDXC and the faster SD UHS-II cards.
Build quality is superb for such a small reader. It has a dual plastic shell – the black and shiny one that hosts the two memory card slots and the see-through one underneath that is used for protection and when the reader is collapsed for transportation. Thanks to the use of plastic throughout the reader, it is really light, measuring just 0.3 pounds, or a little over 100 grams. Both slots are of the right size and are fairly tight, made to fit SD and CF cards. Tightness is good in this case, because loose slots lead to wrong pin alignment and especially with CF cards can lead to bent pins. That's one thing I really hated about other readers from Kingston, Transcend and even SanDisk – bent pins are a huge nuisance and can result in all kinds of issues and frustration. I remember the days when I used to open memory card readers with a screwdriver just to straighten out those pins and I had to push memory cards up and put them evenly from all sides not to end up with bent pins again. With the Lexar reader, I never had to do that, because the slots are as tight as they should be.
2) Travel Convenience
As mentioned earlier, the Lexar Professional 3.0 Dual-Slot Reader is an amazing travel companion. I take it with me everywhere I go and it has not let me down once. What I like the most about the reader, is that the reader can be collapsed into its exterior plastic shell, not only making the card reader more compact, but also hiding those slots from dust and other potential debris. While I try to keep my bag clean, I have been to remote areas with a lot of dust, sand, rain / snow – hazards that can permanently damage any piece of electronics. So it is nice that the memory card readers can be hidden away when not being used. Don't expect the reader to be waterproof though. If the reader falls into water or gets subjected to a lot of moisture, shake the water out and let it sit for a few days in dry environment and it should be good to go. There is no active power of any kind or batteries, so unless you plug it in, you won't kill the unit.
Another great feature of the unit is the USB 3.0 cable – it is not permanently attached to the reader like on some units. When packing mine, I simply remove the cable and put it in a different compartment of my camera bag. When I need to use the reader, I attach it back and I am ready to go. This is great, because I don't have to wrap the cable around the unit and make it bigger than it should be.
Opening up the reader is super simple – just push the two plastic pieces on the side and it comes right up.
3) Performance
Being a USB 3.0 reader, as long as you have a USB 3.0 port on your computer, you should be able to push any kind of memory to its limits. I have tested out a few fast cards, like the SanDisk Extreme Pro series cards with this reader, and I was able to get very close to the advertised speeds. Write speeds varied from 120-150 MB on my SanDisk Extreme Pro 64 GB CF cards and reading speed was averaging between 140-150 MB/sec, which is what you can expect to see, provided that you have fast enough cards and internal storage to support such speeds. Keep in mind that most regular hard drives cap at slower speeds, so if you want to see anything over 100 MB/sec, you should probably copy from / to SSD or faster Flash drives. Here is a screenshot of the copy process at 150 MB/sec towards the end of the 2 GB file: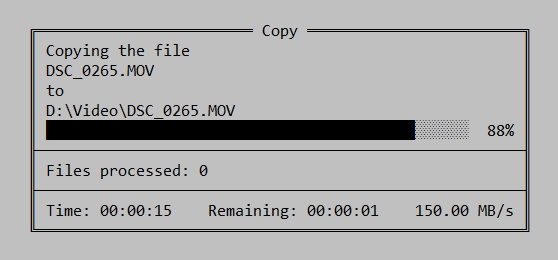 Unfortunately, mine is an older version and there is no support for the newest SD UHS-II cards yet, so if you have one of those cards and an older reader, it will fallback to UHS-I speeds. I tested SanDisk's newest Extreme Pro 280MB/sec 32 GB SD card and it averaged between 30-40 MB/sec, which was worse than what I was getting with the fastest UHS-I cards. So keep this in mind – if you want to use UHS-II cards, you will need to get the most recent version of this reader, which supports them. The below link to B&H will take you to the most current version, which already comes with UHS-II support.
4) Summary
At just $34.95, the Lexar Professional 3.0 Dual-Slot Reader is a no-brainer for anyone who works in the field and needs to back up data from memory cards (yes wedding photographers, that includes you too!). I use mine heavily and I love it – it is of no comparison to other readers I have used in the past. It is a great travel companion, which I continue to rely on all the time. If you use SD or CF cards and need the best compact external memory card reader out there, look no further – you won't be disappointed.
5) Where to Buy
The Lexar Professional USB 3.0 Dual-Slot Reader can be purchased for $34.95 from B&H Photo Video.
Lexar Professional USB 3.0 Dual-Slot Reader
Features

Build Quality

Handling

Value

Size and Weight

Ease of Use

Speed and Performance
Photography Life Overall Rating