I had a chance to use the Leica M7 TTL .72 rangefinder film camera together with the Leica 35mm f/2.0 Summicron M Aspherical lens for about a month and shot with this gear in different conditions and shoots. Prior to the M7, I never shot with any Leica gear but heard so much about them from other photographers and industry peers. So I decided to give Leica a try and see how it would fit my film photography needs. Below is a summary of my findings with the camera.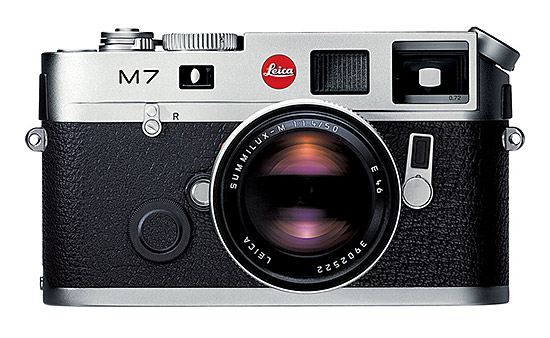 Initial Impressions
I was so excited when the Leica M7 came in the mail. I put up a post on Instagram and Facebook with an image of the camera and most of my friends commented that they were jealous. I noticed that people regard Leica very highly. So, I was excited to see what all the hype was about.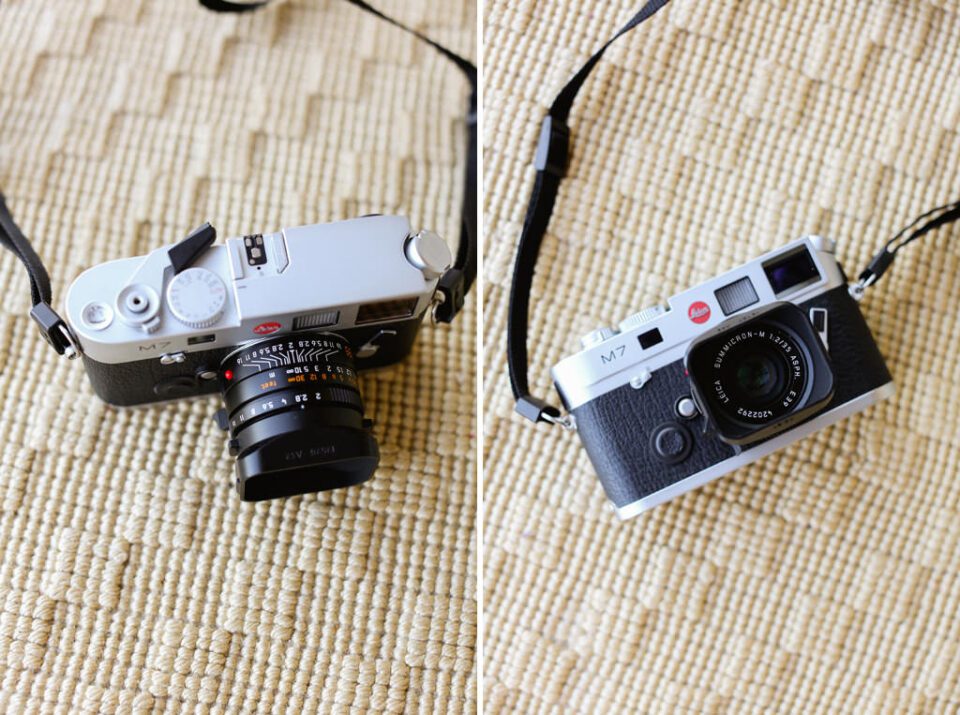 My initial opinion right out of the box was that this camera felt good in my hands. It felt solid, but not too heavy (and not too light either). I loved the size. I am so tired of lugging my heavy 5D Mark III or Contax 645 around. The Leica is the perfect sized camera, in my opinion. It's very discrete, which is a good thing when trying to capture photojournalistic moments at a wedding or for street photography.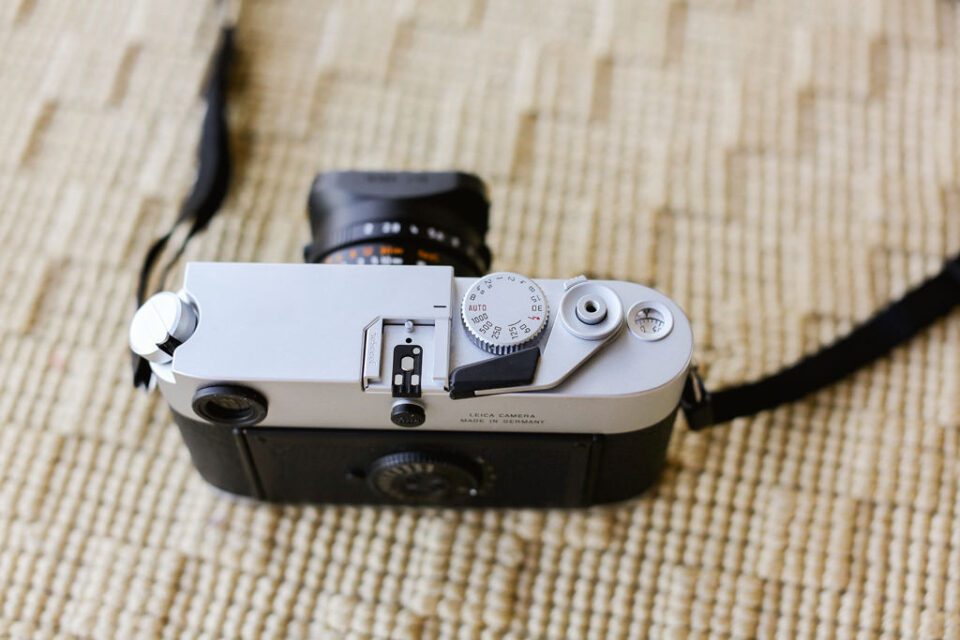 The camera strap was easy to attach and feels very secure. The batteries were easy to insert and came with clear instructions. It was a breeze to attach the 35mm lens to the Leica body.
I had a feeling I was going to love this camera!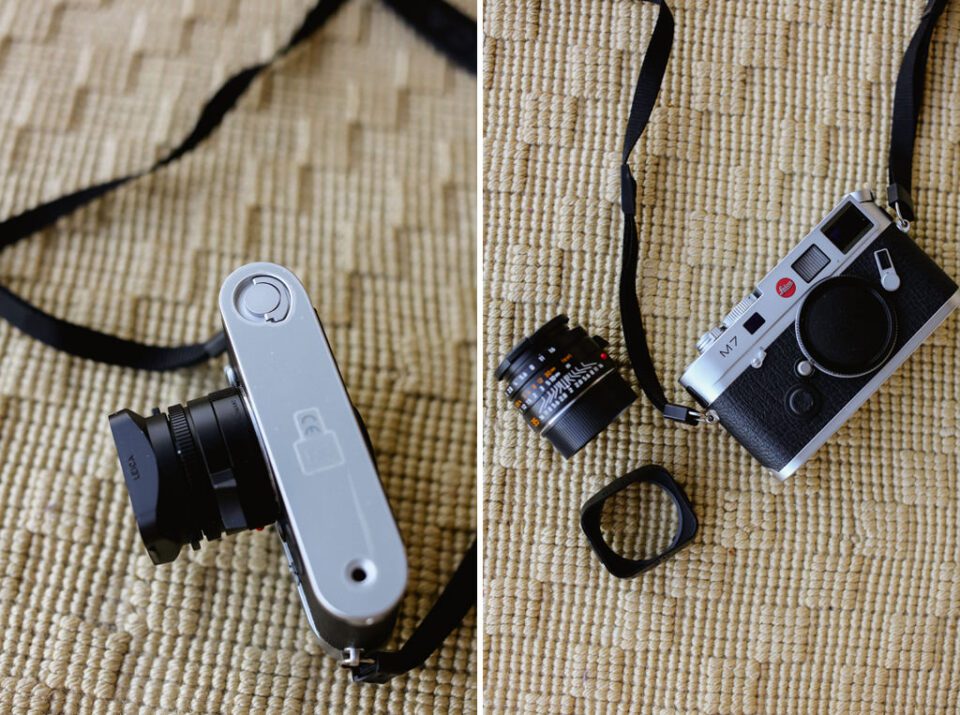 Leica M7 TTL .72 Specifications
Type: 35mm Interchangeable-lens rangefinder camera
Lens Mount: Leica M bayonet
Focus Modes: Manual only
Exposure Modes: Manual & Aperture-priority
Exposure Metering: TTL selective centerweighted
Metering Range: EV -2 to EV +20 with f/1.0 lens at ISO 100
ISO Range: 6-6400 (DX coding with ISO from 25-5000)
Shutter Speed: 1/1000th/second – 1 Second + Bulb
PC Terminal: Yes
Flash Mounting: Hot shoe – X-sync at up to 1/50th sec with TTL (up to 1/1000 with a Metz flash and SCA 3502 adapter.
Film Transport: Manual with lever
Viewfinder Magnification: 0.72x
Diopter Correction: Available optionally from -3 to +3
Self Timer: No
Remote Control: Possible with optional standard mechanical cable release.
Multiple Exposure: No
Power Source: Two 3V 2L76 (DL 1/3N) lithium batteries
Dimensions: 5.4 x 3.1 x 1.5″ (138.0 x 79.5 x 38mm) WxHxD
Weight: 1.23 lbs (610g)
Leica 35mm f/2.0 Summicron M Aspherical Specifications
Filter Size: 39mm
f/Stop Range: 2.0-16
Minimum Focus Distance: 2.3′
Angle of View: 64 Degrees
Groups/Elements: 5/7
Length: 1.4″
Maximum Diameter: 2.0″
Weight: 9 oz (255 g)
Battery
The Leica requires two tiny non-rechargeable button batteries (3V Lithium) which are quite long-lasting. It will also work at two shutter speeds, 1/60th and 1/125th, without a battery. I like that feature!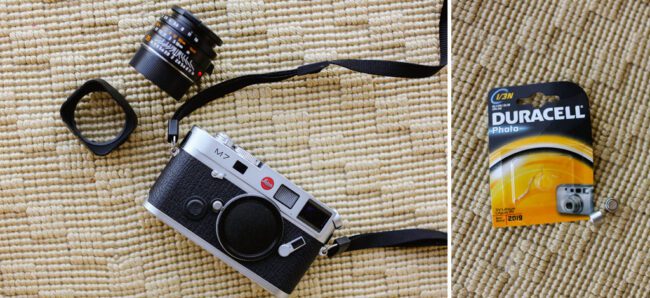 Loading Film
Loading film proved to be more challenging than I had thought. I have been shooting film on a daily basis for the past 2.5 years. I feel fairly confident about using film cameras, but this camera proved to be much more difficult than I expected.
The manual showed how to load film (this was my first time using this specific type of film camera), but I still had to Google and search for a how-to video for instructions. I watched it several times and loaded my film. It seemed to be loaded correctly and I started to shoot.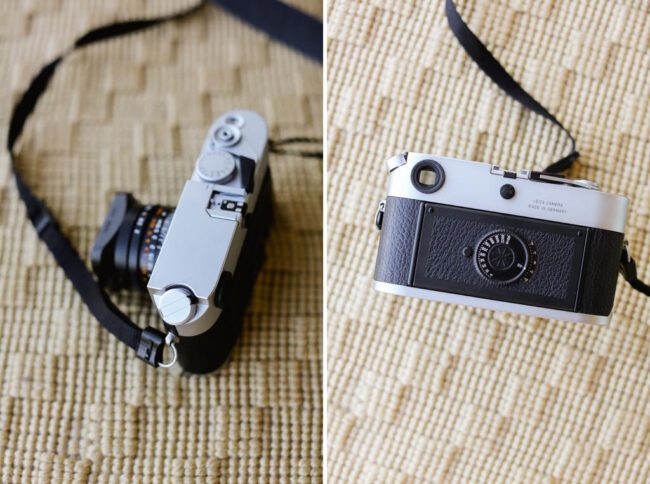 Using the Camera
What I love and hate about this camera is how manual the settings are. The knobs on the camera are simple and there's not too many of them. One thing I do not like about modern digital cameras is how many features are offered. I think camera companies have made their cameras more complex then they need to be. I am happiest with the simplest of cameras because I believe simplicity is elegant and allows the user to focus more on image capture instead of fiddling with settings. That was what I loved about the Leica when I first used it.
However, this camera is so manual with its settings that there is a larger chance for user error. The user manually loads the film, sets the counter to zero, manually focuses the camera, manually cranks the camera, and then manually winds the films. Normally I like this sort of thing… but I ran into lots of trouble!
When I first started shooting it, I noticed that this camera is very quiet (again, another plus in my book!), but part of me was wondering if I loaded the film correctly and if I was actually capturing images with every click of the shutter. However, I kept on shooting.
My first roll of film was Kodak Portra 400 35 mm film. It has 36 exposures. I got to 36 exposures, and then the film kept going. It got up to past 38 so I decided to try to wind the roll.
I switched the camera to the mode that enables winding the film and started the turn the crank. I winded for quite some time, never really felt any pressure, and couldn't tell if it was done or not. I know that I am supposed to feel tension when the film is done winding, so I had a feeling something was wrong. I asked a Leica expert and he said that based on what I told him, I will likely have a blank roll.
I opened the back of my camera, and my film was completely winded (despite the fact that I never felt the pressure of it winding). I shipped the film off to my favorite lab, Photo Impact Imaging in Hollywood, and sure enough, it was blank.
Upon farther searching on Facebook film forums, I am not the only one that has ended up with a blank roll—it happens quite frequently to new Leica users.
I loaded another roll and was extra careful about this one. I loaded a roll of Kodak Tri-X 400 35 mm film. I shot it rather quickly around my home, as I was eager to see what sorts of results it would yield.
I shipped it off to my lab, and it worked! I lost a few exposures at the beginning of the roll, as I was testing to make sure the roll was advancing by keeping the back off the camera for my first few exposures. I ended up with 22 frames from a 24 exposure roll of film.
The next roll was Fuji 400h 35 mm film. It felt like it was loaded incorrectly, so I pulled the film out, cut down the roll of film, and reinserted it. Then, I could see that it was feeding correctly when I reinserted it.
However, the counter was not going back to zero as it should. It usually takes just a couple of clicks to bring the counter to zero. This time it took me 7-8 clicks to bring the counter back to one. Not sure what was going on there. But I finished the roll and it was exposed correctly.
Then I loaded my 4th roll of film and this time the film would not advance. It was stuck, even when I checked the battery and my settings. So I let it sit a few days, tried it again, and it seemed to work.
When the roll was finished I started to wind the film as normal. This time I felt lots of pressure and the roll couldn't seem to finish winding correctly. So, I opened the back of the camera and saw that the film was jammed.
I gave my lab this roll of film that wasn't completely winded and had a dented, broken, bent and ruined strip of film hanging off the end of it.
Luckily for me, the film that was inside the camera did work! I lost about 6 frames because of the jam.
My Frustrations with the Leica
At this point, I was getting pretty tired of this camera, because it has mostly just given me troubles. Troubles loading, troubles winding, and troubles with the image counter.
I have found this camera to be the least intuitive camera I have ever used (which is difficult considering its knobs are so simple). Even my 5D Mark III, which is full of more features than I ever need in life, is more intuitive.
I am sure that the majority of my problems were caused by user error – however, I was being careful each time I used the camera, I read the manual in its entirety, I Googled YouTube videos to make sure I was doing it correctly, and I posted on forums when I ran into trouble. From what I have read in the comments of other Leica users, the chance of user error is very high.
Focusing
The other thing to know about Leica is that it has rangefinder focusing. I have a Polaroid 180 camera that I posted about here, that has rangefinder focusing. You can reference that post for more info on rangefinder focusing.
I have come to the conclusion that I do not like rangefinder focusing, nor will I buy any camera in the future with it.
While I know some photographers are quite quick at it and love it, I am so very slow at it, despite my best efforts to practice. There is no way I could use this camera at a wedding or anything fast-moving. I photographed mostly scenery (so inanimate objects), and even with that, I had to spend a lot of time making sure the image was in focus. I still ended up with quite a few out of focus frames.
Also, what you see in the viewfinder is not exactly what you are going to get – so sometimes precise framing is impossible. I much prefer the viewfinder that shows me exactly how my crop will be when I click the shutter.
Metering
One thing that I did like with this camera was the in-camera meter. I left the settings on aperture priority for the meting and every frame was exposed correctly (well at least my lab told me that when they scanned my film). I am used to hauling around a handheld light meter when photographing on film, and it was a welcome change to leave it at home! However, I noticed the shadows were blocking in more than I prefer in many of my shots.
Leica 35mm f/2.0 Summicron M Aspherical Lens
While I liked the focal length of the Leica 35mm f/2.0 lens and the size/weight of it, overall I wasn't a huge fan. As I describe below, I was underwhelmed with the images that it produced.
The lens comes with a lens hood/flare shield that attaches to the front of the lens. It popped off unintentionally more times than I could count. Every time I took off the lens cap, the lens hood snapped off as well. That part of the lens felt badly designed to me.
Also, it is worth noting that you must make sure the lens cap is off when shooting because the camera is a rangefinder. This means that even if the lens cap is on when you look through the viewfinder, it appears like the lens cap is off. You could accidentally shoot an all-black roll by leaving the cap off (however, this was NOT the cause of my blank roll!).
Sample Images
While I got some "good" images back, overall I did not love them. When I shoot film on my Contax 645 (my go-to film camera – it is a medium format camera with a larger negative, so I know I am not comparing apples to apples here), I am in love with my images. I know the Leica and the Contax are very different cameras, but I did not like the images that came back from the Leica. Some of them were OK, but for an $8000 camera and lens combo, I was expecting more.
Overall, they just look OK to me.
All images below were taken on the Leica and the film scans straight from my lab unless otherwise specified. No editing in Photoshop or Lightroom has been done to these images.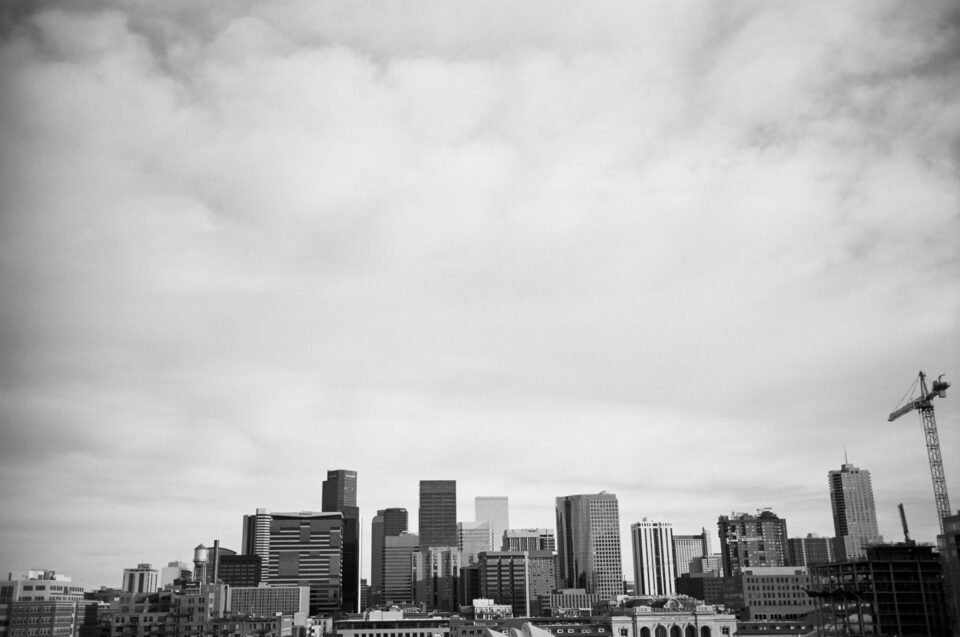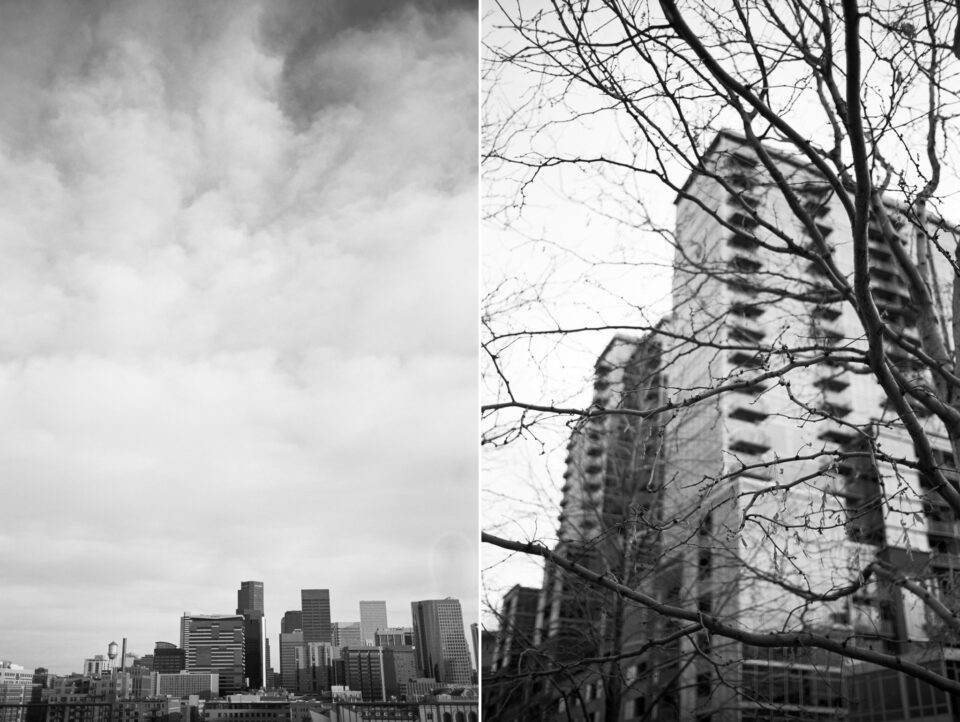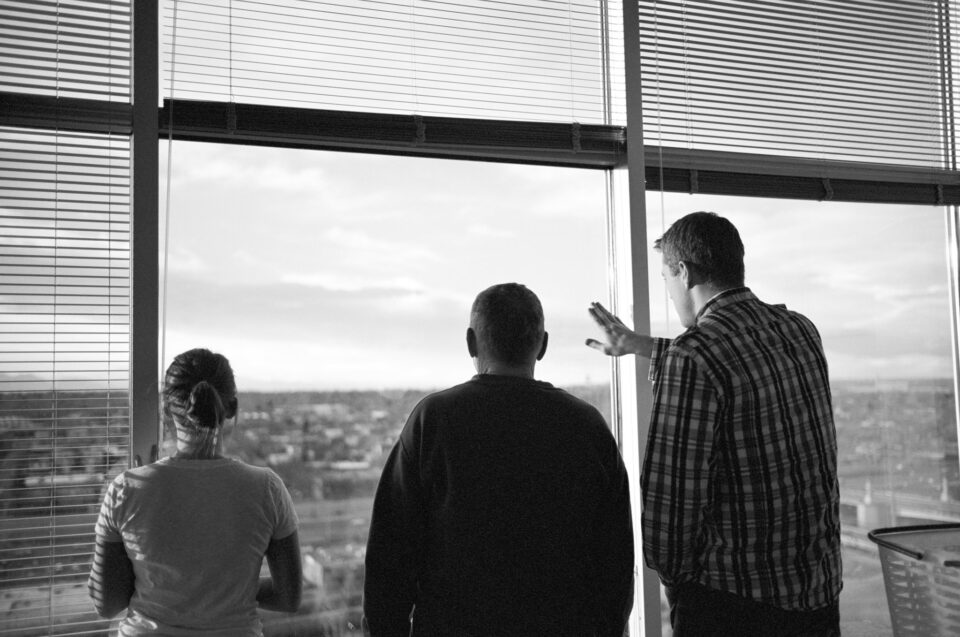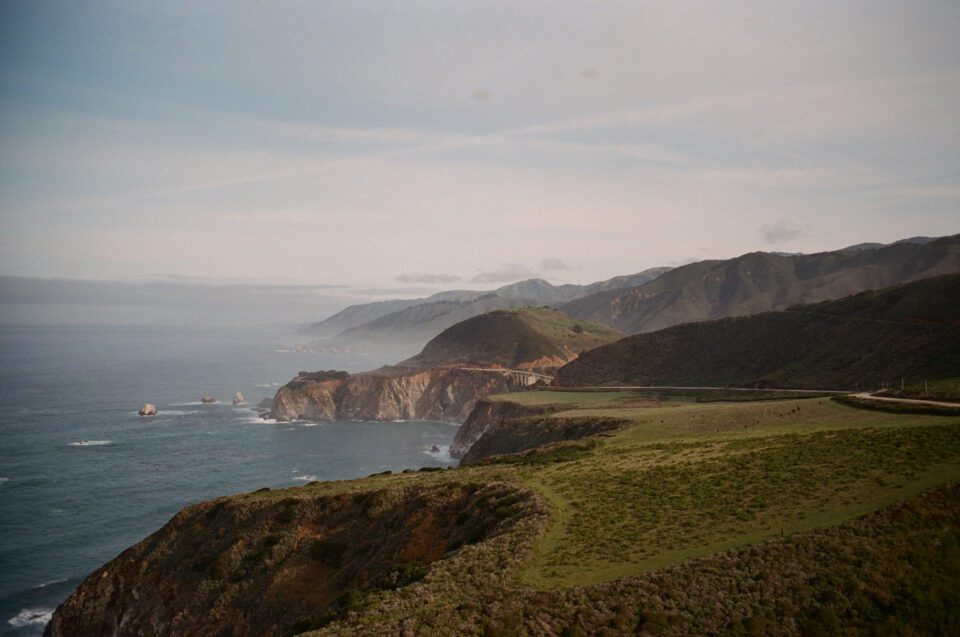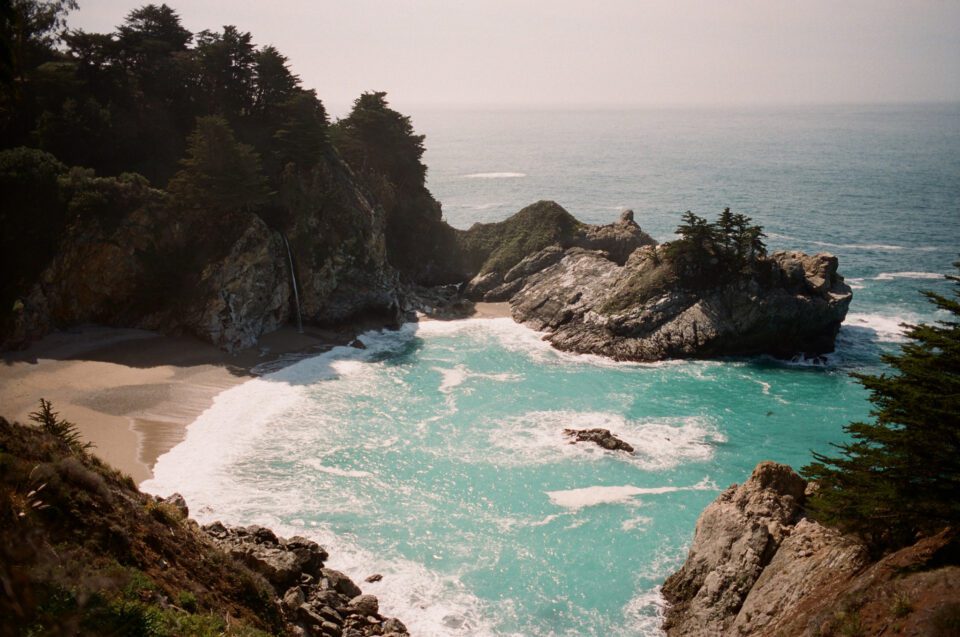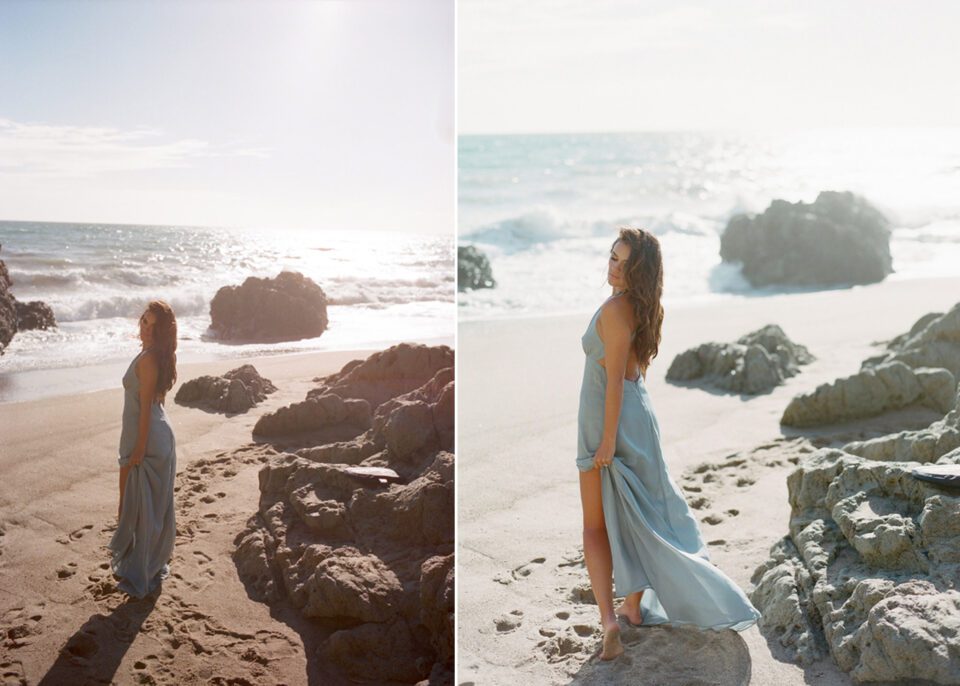 Above: The photo on the left was taken on the Leica, the photo on the right taken with my Contax 645. They were scanned by the same person and shot on the same film stocks (Fuji 400H). I do not like the tones of the Leica and the shadows are darker than I prefer. I like the image to the right better.

Above: This comparison is the most similar. The photo on the left was taken on the Leica, the photo on the right taken with my Contax 645. Again, I prefer the Contax 645. Obviously, they are very different cameras, but it is interesting to compare.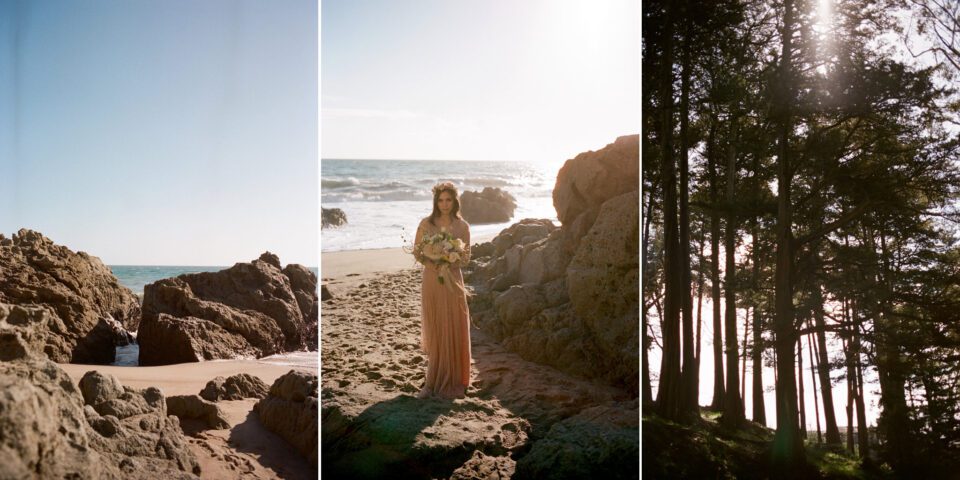 Above: Not particularly happy with any of these three above photos, all taken with the Leica M7. The image on the left has some strange lines happening in the sky. The image in the middle has dark shadows and odd tones. And image to the right has intense chromatic aberrations.
Conclusion
I would not recommend this camera. It gave me tons of problems and after loading 4 rolls of film (my plan was to shoot 5 rolls), I was done. One of them was blank, 1 got jammed, one I had to reload because it wasn't advancing properly, and just one roll worked as expected.
It is a very expensive camera, and in my opinion, the images that I was able to produce from the Leica were not of high enough quality to warrant the price.
While I had heard lots of hype on how amazing the Leica film rangefinders are, upon further inspection, I have found quite a few people in the online film community equally as frustrated. Many have stated they have buyer's remorse. I know there are some good deals out there on used Leicas, so I recommend trying an older, used model before spending the big bucks on a new one.
The Leica M7 and the 35mm f/2 lens are simply not the right camera set up for me!
Leica M7
Features

Build Quality

Focus Speed and Accuracy

Handling

Value

Image Quality

Size and Weight

Metering and Exposure

Packaging and Manual

Ease of Use
Photography Life Overall Rating