Sharpness
Designing ultra-wide angle lenses is not easy, and as we have seen from our Nikon Z 14-30mm f/4 S review, making compact ultra wide-angle lenses is even tougher, especially in terms of corner sharpness. When measuring lens performance in our Imatest lab, I noticed a visible amount of focus shift from f/4.5 to f/5.6 and f/8, so my recommendation would be to set desired aperture first, then focus the lens. Unless, of course, light conditions are so poor that you have to open up the lens to focus.
Let's take a look at how the lens did at different focal lengths and apertures: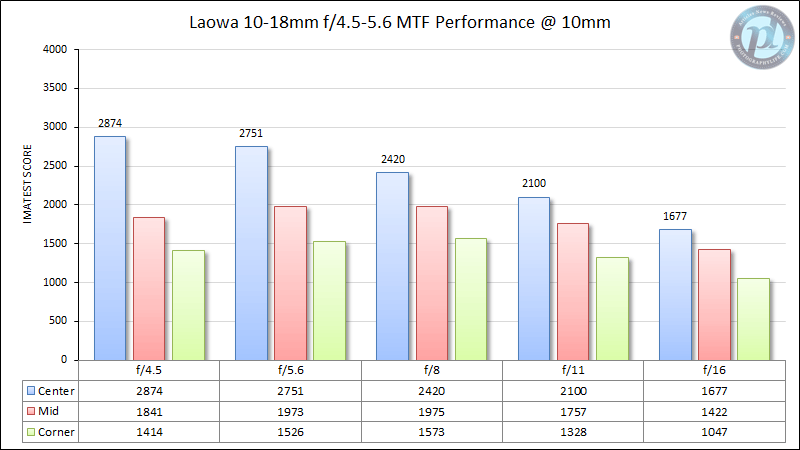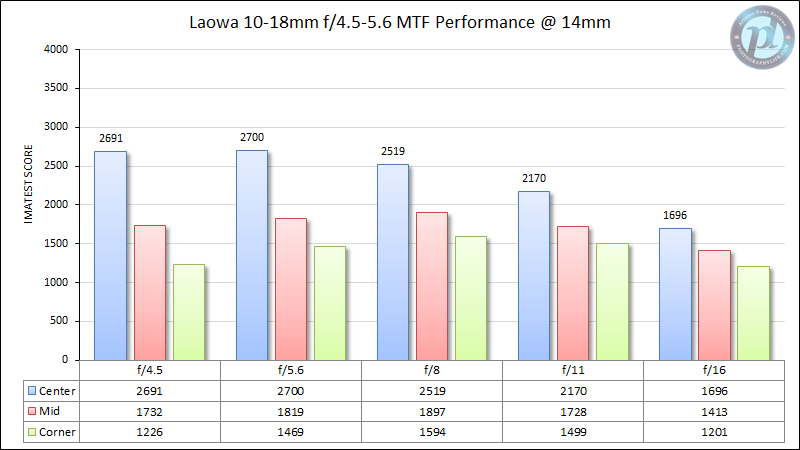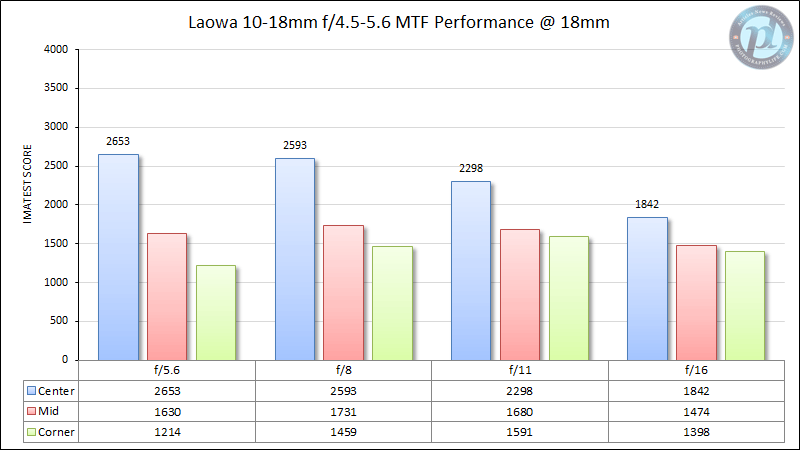 As you can see, the lens does not shine with amazing sharpness. Center sharpness is very good at 10mm and gets worse as you zoom in towards 18mm. The corners aren't great at any focal length and aperture, which is something I expected from such wide lens design – there will always be compromises. The problem with the corners isn't steered by field curvature. Often times, wide-angle lenses can show excellent sharpness in the corners when you focus at them. However, the Laowa 10-18mm is not one of them – I tried to focus in the corners separately and I was never able to get them to look sharp. So if sharpness is your priority, my recommendation would be to look at prime lens alternatives that offer much better overall performance. Still, even on the Nikon Z7, I found the images to look pretty decent, so if you shoot with lower-resolution cameras, you might find the 10-18mm to be a fun lens to use.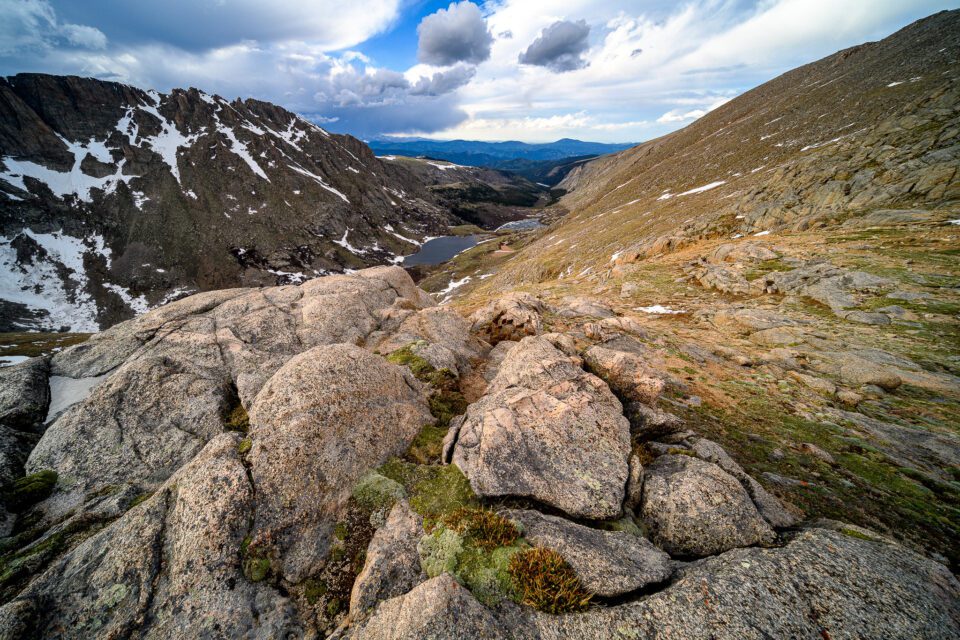 For more information, including comparisons to other lenses, see the next page of this review.
Distortion
Being a rectilinear lens, the Laowa 10-18mm has surprisingly low levels of distortion. Imatest measured 0.61% barrel distortion at 10mm and 1.05% pincushion distortion at 18mm, as shown below: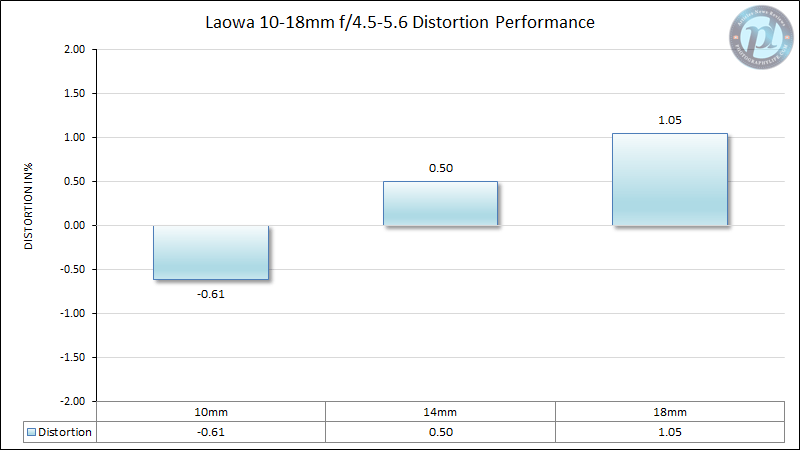 The problem with this lens is not how much barrel or pincushion distortion it has, but rather its distortion characteristic. Unlike most lenses that have easy to correct distortion, the Laowa 10-18mm has "mustache distortion", which can be painful to deal with if you want to correct it. The center area of the frame is what gets impacted, as seen from the below test chart image: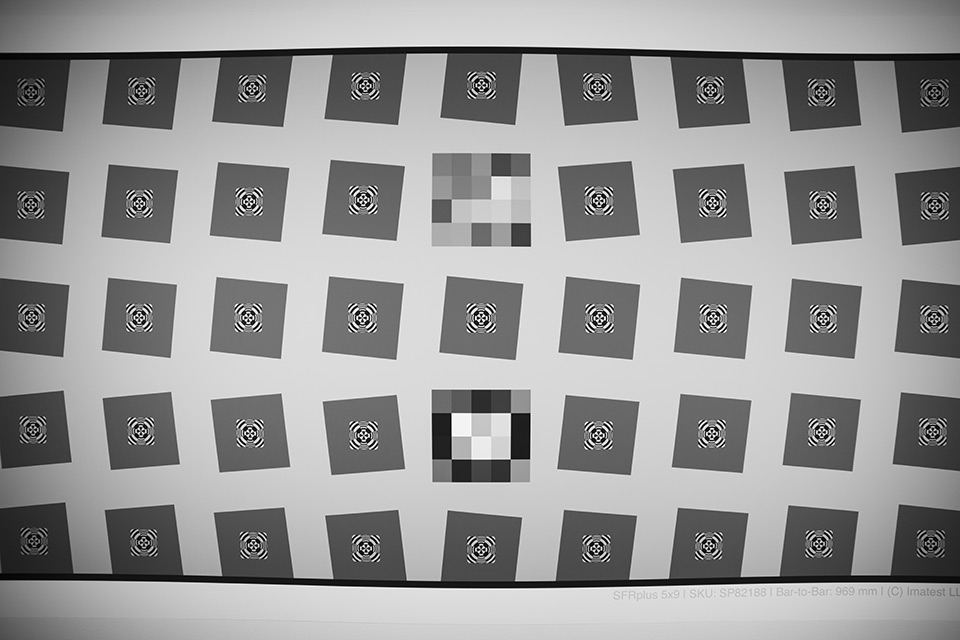 This type of distortion is not easy to fix, so keep this in mind when shooting images with straight lines.
Vignetting
Another issue with the Laowa 10-18mm f/4.5-5.6 is its pronounced levels of vignetting that can significantly affect the look of your images. While vignetting is typically easy to correct in post-processing software, I found it to often impact the color of the extreme edges on this lens. For example, white clouds and other light subjects often end up with tones of blue, as can be seen from some of the images in this review. I tried to correct these color shifts in Lightroom using the graduated filter in combination with the white balance slider and found it work quite well for most images.
So, how much vignetting can one expect from the Laowa 10-18mm f/4.5-5.6? Take a look at the below chart, as measured by Imatest: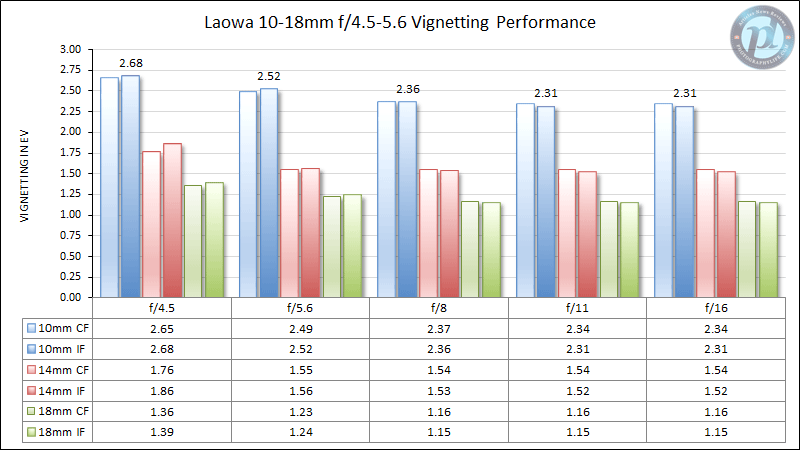 As you can see, vignetting is at its worst at 10mm, measuring over two stops at all apertures. This essentially means that when shooting at 10mm, you can forget about trying to avoid vignetting by stopping down the lens – it will never disappear. Vignetting is cut down significantly at 14mm, showing over a stop and a half of darkening of the corners on average. Once again, stopping down does practically nothing to reduce vignetting, so it is just a matter of lens design. When zoomed in to 18mm, vignetting is reduced significantly, averaging a bit over a stop at most apertures.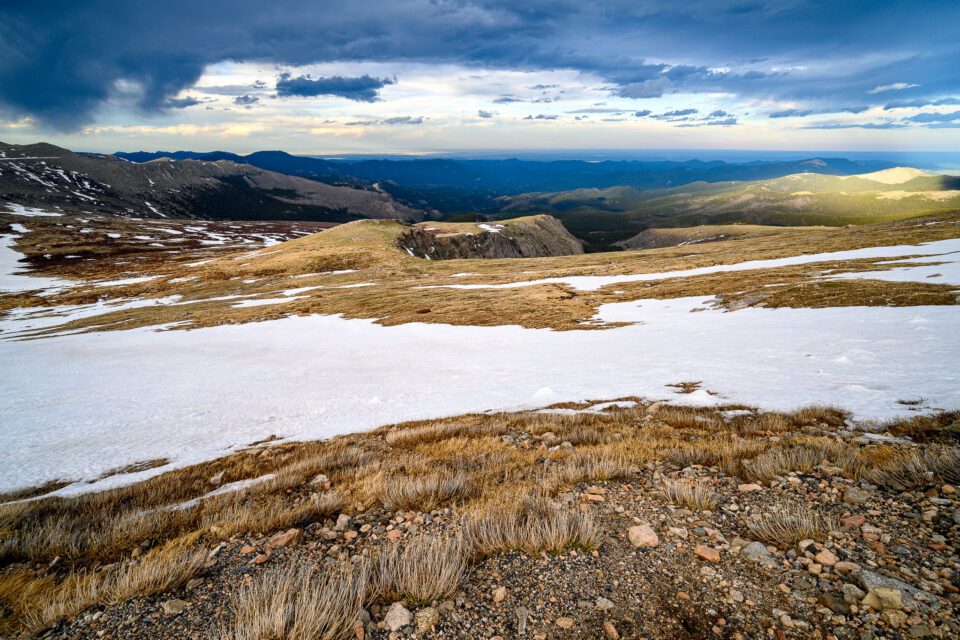 I really wish Laowa came up with a way to communicate basic EXIF information such as focal length and aperture with the Nikon Z mount cameras. As I have previously mentioned, correcting basic distortion and vignetting issues can be painful in post-processing, because you cannot just copy-paste the same settings from one image to another.
Chromatic Aberration
When it comes to lateral chromatic aberration, the lens shows surprisingly low levels of CA for an ultra wide-angle lens. Imatest measured roughly about 1.5 pixels of chromatic aberration at most focal lengths, which is not bad: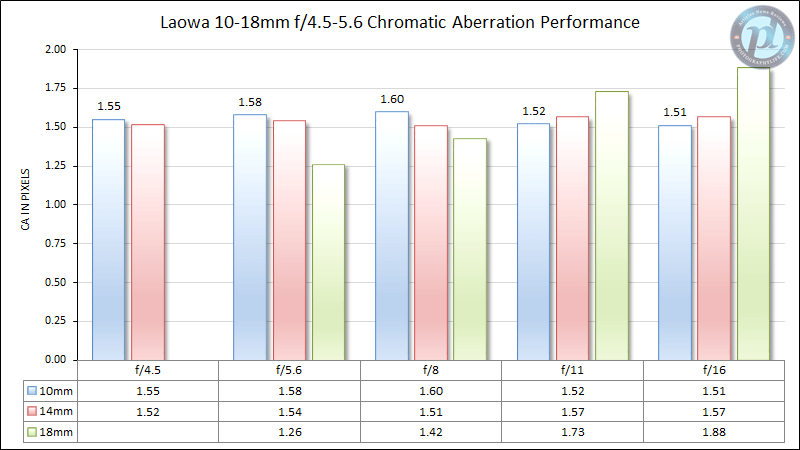 If you were to compare it to other wide-angle lenses, you would typically see more lateral chromatic aberration on others.
Ghosting and Flare
Depending on the location of the bright source(s) of light, the effects of ghosting and flare can be either quite damaging, or subtle. Here is an example of what typically happens when the source of light is very small: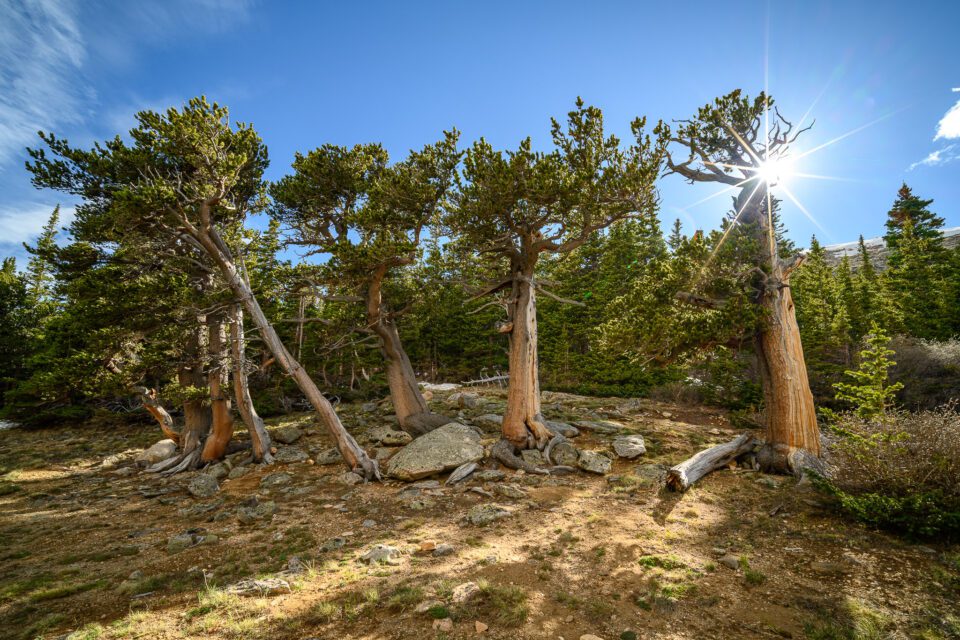 For this image, I blocked most of the sun with tree branches and as you can see, the lens performed quite well in terms of ghosting and flare, with very minimal effects in the rest of the image. However, this can vary greatly depending on the location of the source of light, its size and its relative brightness. In some cases, I was not able to avoid the negative effects of ghosting and flare in my images, and in other cases, I was battling the red dot flare exhibited by the Nikon Z7 due to the sensor being too close to the lens: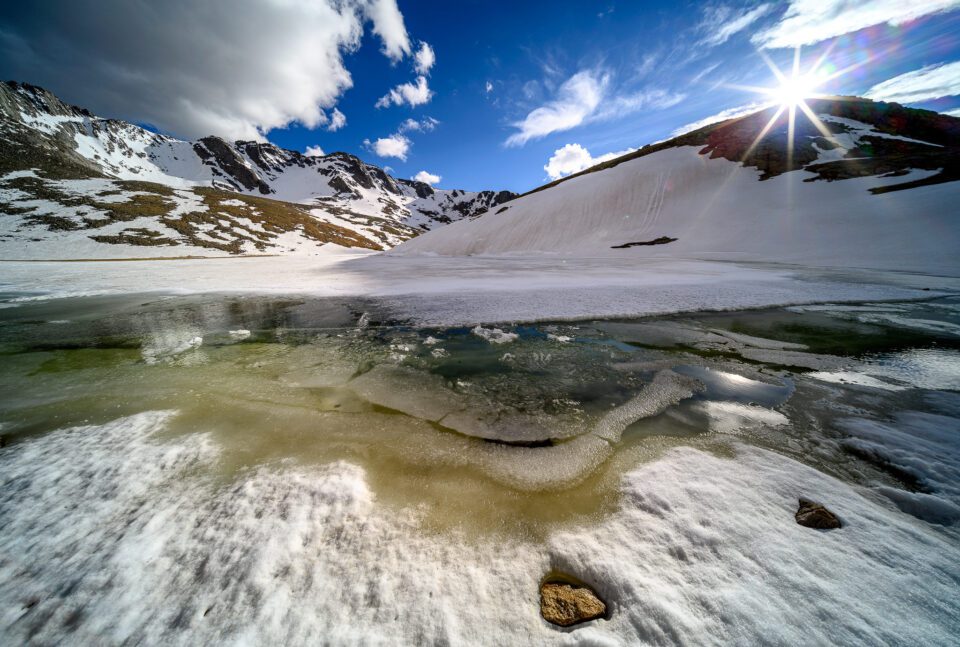 Although I tried to keep the above image cleaner by using my finger to block the sun and then combining two images in Photoshop, the original image had way too much stuff around the sun, which made it difficult to clean up.
Another issue you might want to keep in mind when shooting in the field, is light rays potentially reaching the front element of the lens, even if the source of light is outside the frame. I ended up with a number of images that showed lots of ghosting shapes, even though the sun was way out of the frame: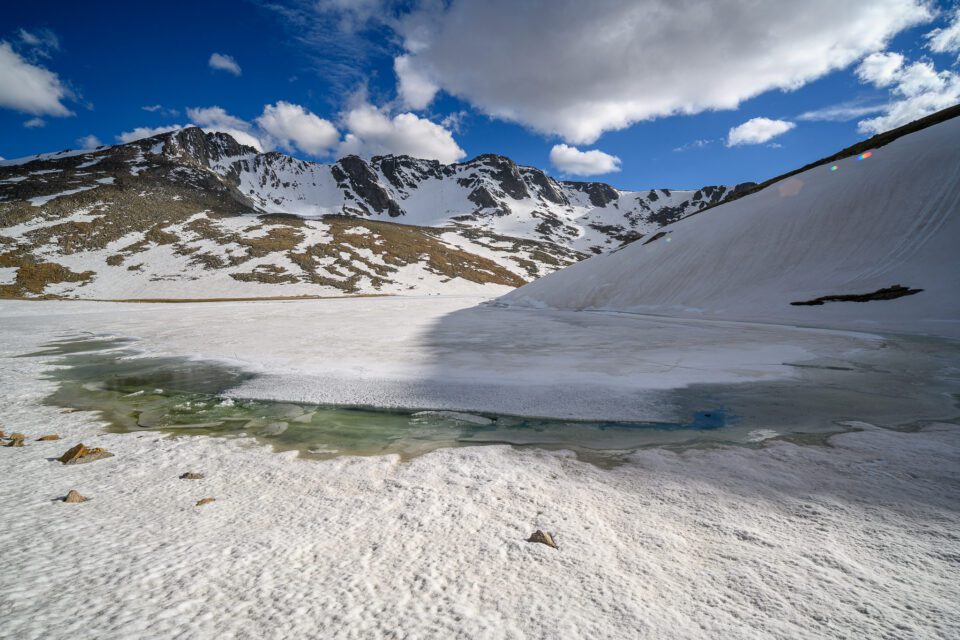 Sun Stars
Venus Optics designed the Laowa 10-18mm lens with a 5 blade diaphragm specifically to make it appealing for photographing sun stars. And as you can see from the below image, the lens does a great job at producing very defined sun stars with straight lines: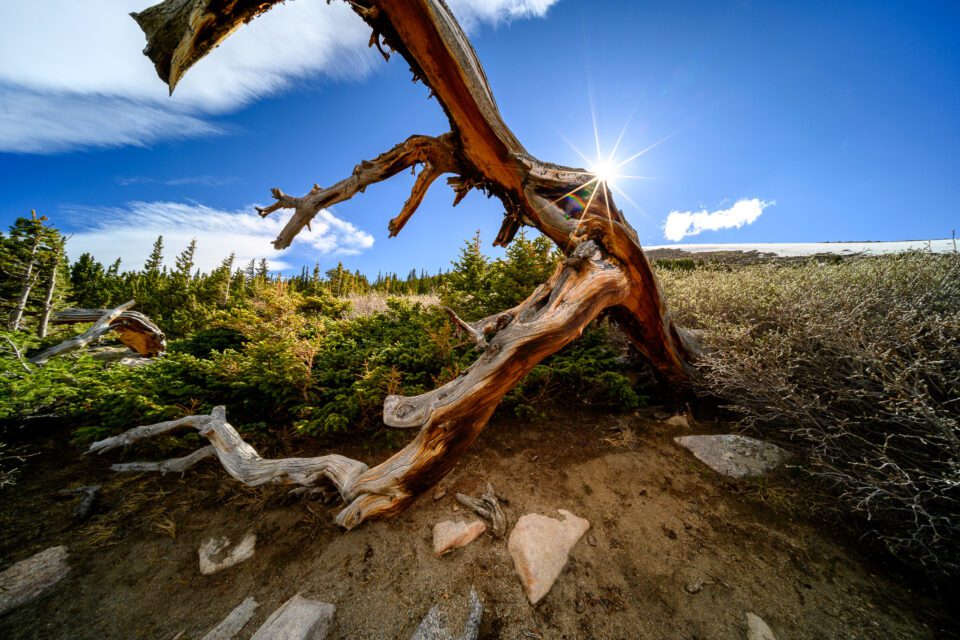 I shot the above image at 10mm @ f/11, partially blocking the sun with the tree trunk.
Coma
Although a lens that can go as wide as 10mm might sound like a great astrophotography lens, I would not recommend the Laowa 10-18mm f/4.5-5.6 for photographing the night sky. First of all, its maximum aperture of f/4.5 is quite limiting and its mid-frame and corner performance aren't great even at f/5.6. Second, as I have already shown above, the lens exhibits lots of vignetting at 10mm, which can make it challenging for evenly illuminating the night sky. Lastly, due to the ultra-wide angle design, the lens shows quite a bit of coma in the extreme corners at wide apertures. All this indicates that the Laowa 10-18mm is not a good candidate for astrophotography.