This is a review of the Large version of the Kata D-3N1-33 3 in 1 Sling Backpack. So you just got a nice new Nikon D800 or D4. What, you shoot Canon? OK, you just got a new Canon 5D Mark III or 1D X, now what do you carry it in? You can read a number of reviews about bags, most of them written after they were used briefly after purchase, but how about a review after long-term use? I have had this bag for 2 years, having purchased it shortly after Nasim recommended it in his "must-have DSLR accessories" post. Since then, it has been my main gear bag for travel.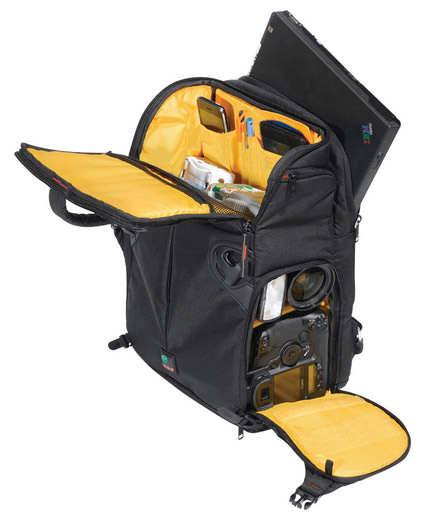 1) General Information and Dimensions
Below are the specifications from the Kata website:
The 3N1-33 Sling Backpack is designed for a Pro DSLR with battery grip & long-range zoom lens attached, 5-6 lenses, flash and personal gear, OR a compact camcorder with accessories. It also accommodates up to a 15.4″ laptop and personal gear. This unique bag provides ultimate freedom and allows for three carrying options in one, morphing from sling to backpack and back again. In sling position, the bag easily swings around from back to front to provide quick-draw access to your main camera/camcorder and backup lenses, as well as fast and easy changing of lenses. In backpack position and "X" position you can comfortably carry your equipment for long distance walking when needed. Arrange your equipment in the bottom main compartment of the pack, taking full advantage of the modular dividers to custom fit the bag to your equipment. The large top compartment will hold personal gear or additional gear, and the internal pockets and mp3 player pouch will allow you to organize your personal effects as efficiently as your photographic gear. Two external pockets allow quick zippered access to accessories without opening the main compartments.
1.1) Dimensions
Color: Black
External Height(H): 18.11 in
External Length(L): 12.6 in
External Width(W): 9.25 in
Internal main compartment height(H): 11.81 in
Internal main compartment length(L): 11.61 in
Internal main compartment width(W): 6.3 in
Laptop compartment height*: 16.54 in
Laptop compartment length*: 10.63 in
Laptop compartment width* 1.57 in
Weight max 3.75 lbs Weight min 3.24 lbs (depending on dividers and tripod holder accessory)
*subject to change without notice according to the manufacturer
1.2) What's in the bag?
Here is a fully loaded Kata 3 in 1: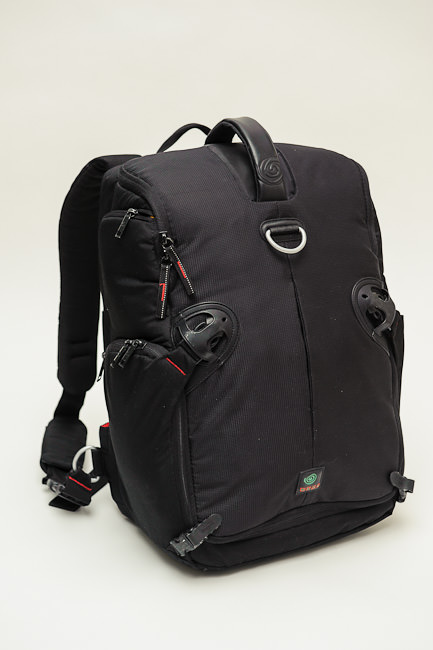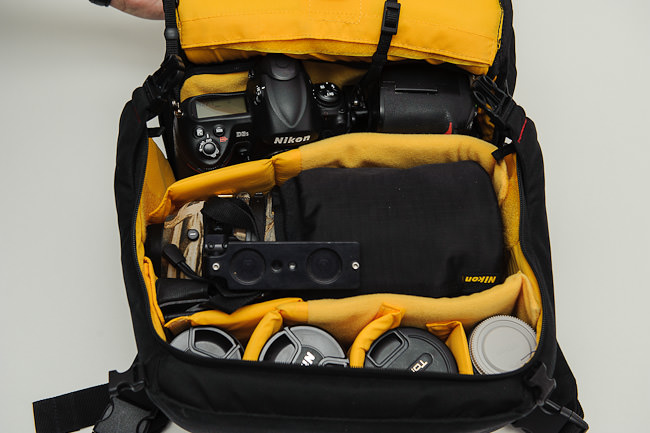 The following items were packed in this bag for the photograph:
Camera Bodies:
Nikon D300
Nikon D3s with L bracket attached
Lenses:
Nikkor 24-85mm lens
Nikkor 18-200mm lens
Tokina 11-16mm f/2.8 lens
Nikkor 50mm f/1.4G lens
Nikkor 1.4x TC
Accessories:
Nikon SB-700 Speedlight
Spare batteries
Battery charger
Assorted filters
USB cables/card reader
Laptop:
15" Macbook Pro
Power adapter for the MacBook Pro
Weight when fully loaded: 33 lbs.
That's a big list of stuff isn't it? Here is everything taken out of the bag: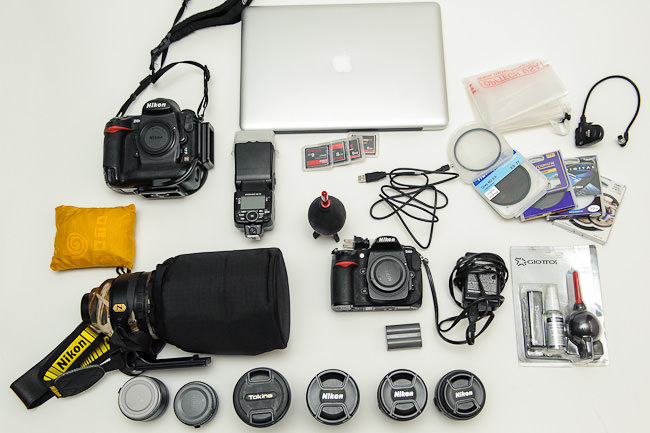 2) Size and Functionality
I have traveled with this Kata 3 in 1 Sling Backpack extensively and one thing I really like is that fully loaded, it fits just under the seats on airlines. The only problem that I have is if it is fully packed, the hip belt can get in the way sliding it up under the seat in front of me. While I like the variable strap system that gives me the flexibility to adjust which shoulder or both, to carry it with, I don't care for the hip strap/pad – mainly because I don't use it and it gets in the way. I like the fact that when a shoulder strap is not in use, it tucks into the bag and out of the way and wish there were a similar way to detach or stow the hip belt. Obviously, if you use the balancing hip strap, you may feel differently.
Although the bag can carry a lot of weight, the bag itself is relatively light at a minimum of 3.24 lbs/1.47kg depending upon the dividers and accessories such as a tripod holder.
One piece of advice: On one flight to Australia, I did run into a problem as the airline had a carry-on weight restriction which I was unaware of, and although the bag fit, the weight was over the limit and I had to repack, so be aware of specific rules that may apply to your flight before you travel.
I really like the multiple zippers that allow accessibility from different points. You can pack a ton of gear in various bags or packs but if it only has one opening, you have to take everything out to access whatever you are looking for (unless of course it is on top). With the Kata 3 in 1 your gear is accessible from the front or from either the right or left side making it easy to get to what you need especially if used in Sling mode.
For those who own a 70-200mm lens, yes, the Kata 3 in 1 will fit a 70-200mm attached to a camera body, as shown below: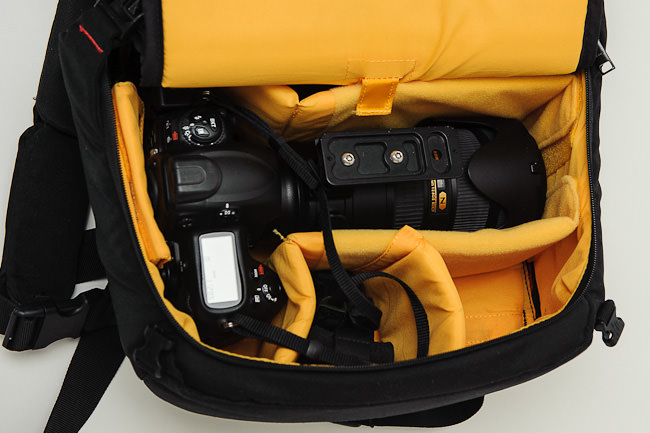 Just make sure to reverse the lens hood.
3) Quality of Build and Durability
I have used and abused this backpack for 2 years now by over stuffing it and carrying it thru multiple cities and airports and it has held up extremely well. I cannot find any torn material or popped stitches and the seams, zippers and straps have held up perfectly. This bag has done everything I have asked of it without breaking down as I have carried it, stowed it and crammed it underneath seats on planes.
4) Interior
Like many bags, the Kata 3n1 gives the user flexibility to customize the compartments for their needs and the padding is adequate for carry on travel. Separate from the main body and lens compartment is an additional compartment to store accessories and provides multiple pockets and spaces for filters and batteries and extra cards.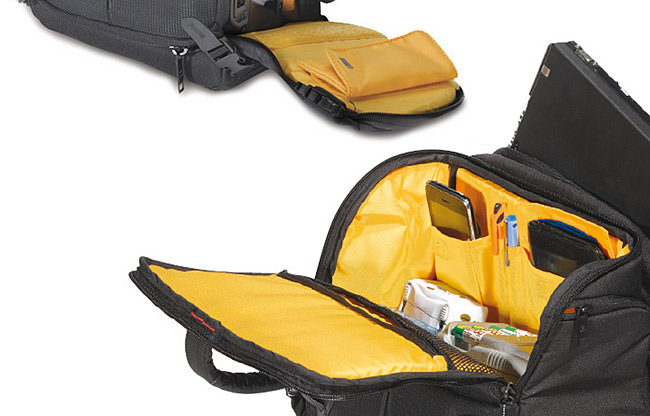 5) A Travel bag vs. a Backpack for hiking?
The answer depends on how much you carry. Personally, I consider this more of a travel bag, than a backpack for gear. In fact, Kata makes an optional trolley or two-wheeler to provide another way to transport the bag, should it be too heavy. If you have a carry-on roller suitcase with a handle, the Insertrolley strap will slide over the handle providing a convenient way to roll the Kata 3 in 1 on top.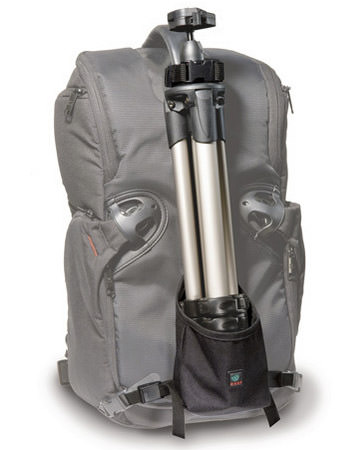 The pack itself has a soft shell, and as such, no real frame that you might like if you were doing a lot of backpacking, so if you had this bag loaded, you may not want to hike very far. If it is lightly loaded I am sure it would be acceptable, but there is very little rigidity to the bag, which helps when trying to stuff gear into tight spaces, but it isn't so great for serious backpacking. I will review another option for hiking in the future.
If you choose to pack a bit lighter and use it as a backpack, then you may wish to use it in the sling mode which allows for you to swing the pack from your back around to in front. While the pack is in front of you, you can quickly access your gear from the side of the pack. With the pack in sling mode and in front of you, the pack can serve as an elbow rest giving you more stable support to hold the camera. The hip belt/pad is thinly padded which again is good for carrying through an airport or on a short hike but might be inadequate on a long hike if you pack heavy. Regardless of the length of the walk, the included rain cover is a nice touch should you need it.
6) Conclusion
I love the flexibility and durability of this bag as it allows me to carry a good amount of equipment and still slide it under the seat in front of me on a plane, thus allowing me to still have a regular carry-on suitcase for the overhead bins. It is an excellent value for the price compared to some competitive bags/packs. While the Kata 3 in 1 comes in various sizes to fit your specific needs, I only reviewed the D-3N1-33 3 in 1 model for this post.
So what is your favorite big bag for gear and why?
Kata 3 in 1 Sling Backpack
Features

Build Quality

Handling

Value

Size and Weight
Photography Life Overall Rating