This is a review of the Black Widow Jr.3 (BWG-JR3) Gimbal head by Jobu Design. A good, reliable and flexible tripod head is a must when using long telephoto lenses. While there are many different tripod heads and mounts out there, the "Gimbal" type head is preferred, because it provides excellent stability and balance with full flexibility to rotate the lens and camera with ease. Any other tripod head type, including ball-head requires constant loosening and tightening when tracking moving subjects and if not properly tightened, could potentially go off balance and damage the equipment. There is no such threat with a gimbal-type head once everything is properly balanced and the camera with a lens could rotate in all directions without the need to adjust anything.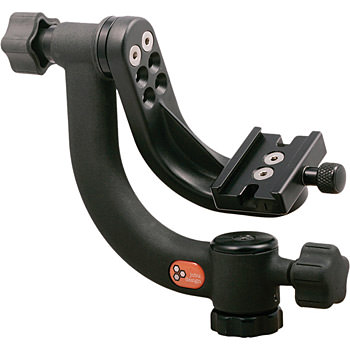 1) Jobu Design Black Widow Jr Specifications
Maximum Load: Recommended Under 10 lb (4.53 kg) total
Maximum Capacity: Up to 15 lb (6.80 kg) for occasional use
Tripod Mount: 3/8″-16
Weight: 1.4 lb (725 g)
Dimensions: 9 x 8″ (22.86 x 20.32cm)
2) Product Use and Performance
In short, if you shoot with any long telephoto lens, you want to use a gimbal head, especially with large and heavy 400mm, 500mm and 600mm prime lenses. I have been a fan of Wimberley WH-200 gimbal head for a while now, which is sort of a gold standard among many wildlife photographers, but I always wanted to see how other alternatives perform in comparison.
As of now, there is a good selection of gimbal heads available from such manufacturers as Kirk, Manfrotto, Acratech, Jobu Design, Induro, Custom Brackets, RRS and Wimberley and you can get either a lightweight half-gimbal version that attaches to a ball-head, or you can get a full gimbal head that directly attaches to the tripod mount.
I had an opportunity to play with the Black Widow Jr while testing the Nikon 400mm f/2.8G VR and immediately fell in love with it. My biggest surprise was its weight – while most heavy duty full size gimbal heads weigh roughly 3 pounds, the Black Widow Jr is less than half the weight at only 1.4 pounds. Size-wise, it is also about twice smaller and much more compact. This is great news for those of us that travel a lot and need to stay as compact and lightweight as possible.
Looking at the small size of the Black Widow Jr, I wondered how well it handled long and heavy lenses. The Nikon 300mm f/2.8G VR II was my first lens to try and it worked very well on it. Action was smooth and the setup was very stable. The second lens to try was my much heavier and bulkier Nikon 200-400mm f/4G VR. Surprisingly, it also coupled pretty well with the Black Widow Jr, although it felt a little too big for a small head like this. I know some 200-400mm owners use the Black Widow Jr for their work and they really like it. My last test was to see how well the Nikon 500mm f/4 would work on it. As Jobu Design states on their website, you can mount a 500mm f/4 lens on the Black Widow Jr, but it is recommended to use the larger Black Widow BWG-Pro that can handle much more weight and provide better stability. I agree with them – while the tilting and panning movement remained smooth, my images were not as sharp, especially when I used the 500mm with the TC-14E II teleconverter. When shooting at such long focal lengths, stability can become an issue and the Black Widow Jr is simply not suited for that. As for the Nikon 400mm f/2.8G VR II, I would not mount it on the Black Widow Jr.3, although as you can see below, I did for illustration purposes.
Here is how the setup looks from the side, with the 400mm f/2.8G VR II attached without a camera body:
And here is a view from behind with the lens pointing up:
Setting up and operating the Black Widow Jr.3 is a breeze. Once it is mounted on the tripod, you attach your lens to the quick-release Arca-Swiss mount (you will need to replace the standard lens foot with an Arca-Swiss type), slightly loosen the top rubber knob and then move it forward or backward until the lens and camera balance. When everything is balanced well, you are good to go. Tilting is controlled by the top knob, while panning is controlled by the bottom knob. The swing arm can be adjusted in three different positions.
3) Summary
Overall, the Jobu Design Black Widow Jr.3 is an excellent gimbal head for lenses lighter than 500mm f/4. At $350 retail value, it is almost twice cheaper than its bigger brother Black Widow Pro and does not require a ball-head like Wimberley Sidekick. Lenses also naturally sit on top of the mount instead of the side, which provides better stability and less chances for accidents, in my opinion.
4) Pricing and Where to Buy
The Jobu Design Black Widow Jr is priced at $329 and is available at B&H Photo Video.
Jobu Design Black Widow Jr
Build Quality

Handling

Value

Size and Weight

Packaging and Manual
Photography Life Overall Rating