Last year I had a chance to test and review the ioSafe 1513+ storage unit, which I found to be an amazing device that not only provides data protection against fire, flood and other potential disasters, but also does it with superb performance, thanks to the Synology DSM architecture. With its relatively steep price, hefty size and heavy weight, the ioSafe 1513+ might not be an ideal choice for everyday backup needs though. For smaller environments with lower storage and performance needs, ioSafe also offers a much more budget-friendly option, the ioSafe 214. I have been using the ioSafe 214 for the past 4 months for my personal and business needs and I decided to review the unit and share it with our readers, based on my overall experience so far.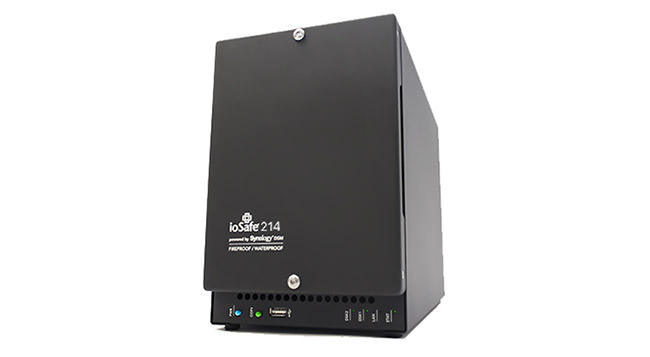 If you have never heard of ioSafe before, here is a quick overview. Basically, ioSafe specializes on manufacturing disaster protected hard drives and network attached storage appliances. The main idea is to provide protected storage that is designed to withstand natural disasters such as floods, fire, earthquakes, tornadoes, hurricanes, etc. without compromising on performance. While there are other companies on the market that provide disaster protected storage, most of them just focus on keeping data safe, which often results in poor storage performance. Instead of reinventing the wheel, ioSafe partnered up with Synology, one of the leaders in manufacturing fast storage solutions for individual and business needs, to provide the storage architecture for its products. This allowed the company to concentrate on carefully crafting disaster protected enclosures without having to worry about the storage architecture. Thanks to this decision, the company was able to create the "best of two worlds" products that provide industry-leading data protection with uncompromising performance.
1) ioSafe 214 Architecture
Although the ioSafe 214 cannot match the performance of its big brother, the ioSafe 1513+, it is no slouch either – you can squeeze over 110 MB of read and 100 MB of write speeds from regular spinning hard drives, which is pretty impressive for a dual hard drive unit. Speaking of which, with the latest firmware update, you can use hard drives up to 6 TB each, providing up to 12 TB of total storage in RAID 0 (stripe) configuration, which is probably far more than what most people need today. Similar to the Synology DS214, the ioSafe 214 also features one USB 2.0 and two USB 3.0 ports to connect other devices.
Since ioSafe 214 is a network attached storage, you will need to either connect it to a network switch or use an Ethernet cable (Cat-5e or faster) to directly connect it to your PC (no need for a cross-over cable, a regular cable will also work). If you have multiple computers in your network and you want to be able to access the ioSafe 214 from all machines, I would recommend to use a Gigabit switch. I have a cheap 5 port NetGear Gigabit switch and it works great to interconnect my internet modem, two computers and the ioSafe 214. There is a single Gigabit Ethernet port available on the ioSafe 214 to connect. If you have multiple computers that need to be connected to a single storage library, the Synology platform provides rich features and capabilities for sharing data. You can use a number of different protocols to connect to the device including NFS, CIFS and iSCSI.
If you have previously worked with Synology DSM, you are probably already aware of the many different applications and add-on packages that are available for the platform. Those add-ons and apps allow you to set up all kinds of things, from simple backup solutions to VPN and Web servers. In short, Synology DSM is a very flexible, scalable and robust platform that ioSafe 214 is based on.
2) Access to Hard Drives
ioSafe provides a hex key to open the thick enclosure to gain access to hard drives. Since I got a diskless model, I had to remove the front cover, then the buy a diskless version or want to swap out a drive, you will have to open the front compartment, then remove another plate, which then opens up the hot-swappable drive bays: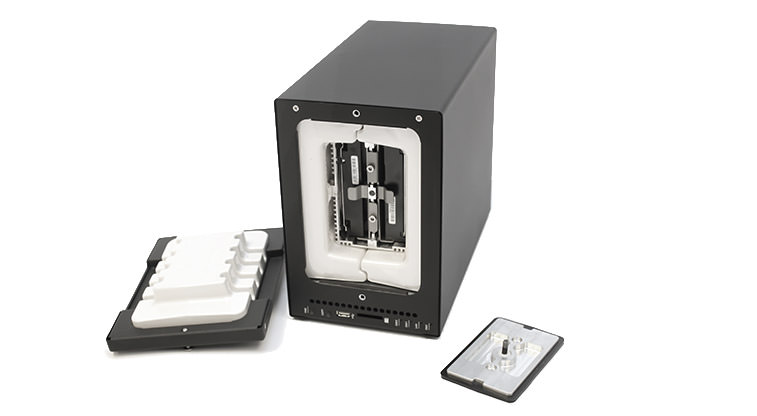 Mounting and installing hard drives is a breeze. Just use the provided screws and once you mount the hard drives, the compartment slides in and connects with the back-end. With Synology DSM, you can configure the two drives to be used either in RAID 0 (stripe) or RAID 1 (mirror) configuration.
Since my unit is used for secondary backup purposes only, I wanted to get as much capacity as possible, so I went for RAID 0 configuration.
3) Hard Drive Considerations
When choosing hard drives, ioSafe highly recommends to use hard drives from their approved list of hard drives. This is due to the fact that the approved drives have been thoroughly tested by ioSafe engineers, to make sure that they do not generate too much heat, have reliability concerns or fail within a short period of time. Unfortunately, I found the list to be a bit limiting when it came to available choices and prices, so I went ahead and ordered a couple of inexpensive NGST 4TB NAS drives. My primary reasons for choosing these drives were capacity, price and speed. With two 4 TB drives, my total capacity would be 8 TB in RAID 0 configuration, which was enough to cover my photo archive. Similar 6 TB drives were almost twice more expensive in comparison and did not give the same dollar per gigabyte value. And speed was also important – many desktop and NAS-specific drives are limited to slow rotational speeds, which drastically reduces their performance. These NGST drives are 7200 RPM and they are graded for prolonged NAS use, so they seemed like a good choice to me.
After getting the drives installed, I fired up the unit, put the drives to use and tested their heat output after several hours (had to open and close the enclosure). The drives were warm and not hot, so the ioSafe 214 seemed to provide adequate cooling for the drives and they were not overheating. Be extra careful when using 7200 RPM drives though, as you do not want to overheat the enclosure and have failed drives. Make sure that your ambient temperature stays at room temperature when drives are actively running too. A good way to check drive health is through the Storage Manager -> HDD/SSD, where you can click on the "Health Info" button to retrieve the drive health status, along with its running temperature: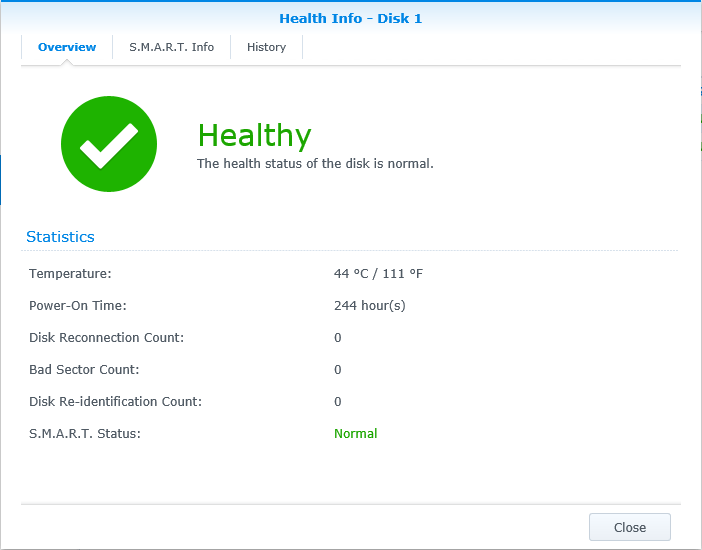 Any heath issues or temperatures nearing 60 degrees Celsius should serve as a red flag.
4) Water and Fire Protection
If you head over to YouTube, you can find a boatload of videos that demonstrate all kinds of abuse on ioSafe units – from burning and submerging into water to dropping from high story buildings. Just search for ioSafe on YouTube and go through some of the videos to see how well ioSafe works when a disaster strikes. Here is a fun video by BBC, where they really put an ioSafe unit to torture by burning it, drowning it, dropping it and then finally running it over with a tractor:
And if you want to see how this particular model, the ioSafe 214 can handle abuse, here is another video you might enjoy.
Now that we have this out of the way, let's check out how to actually set up the unit.
5) Getting Started
Once hard drives are installed and the cables are connected, you can turn on the unit with the button on the front bottom part of ioSafe 214. The device will go through its boot sequence and once it is up and running, you will hear an audible beep. Hard drives will power up and you will see the green LED lights blink. When the "STAT" light becomes green, the unit is fully powered up and is ready to be used.
I installed the Synology Assistant software, which quickly found the device and connected me to the device via my browser. Next, I went through the Synology DSM installation: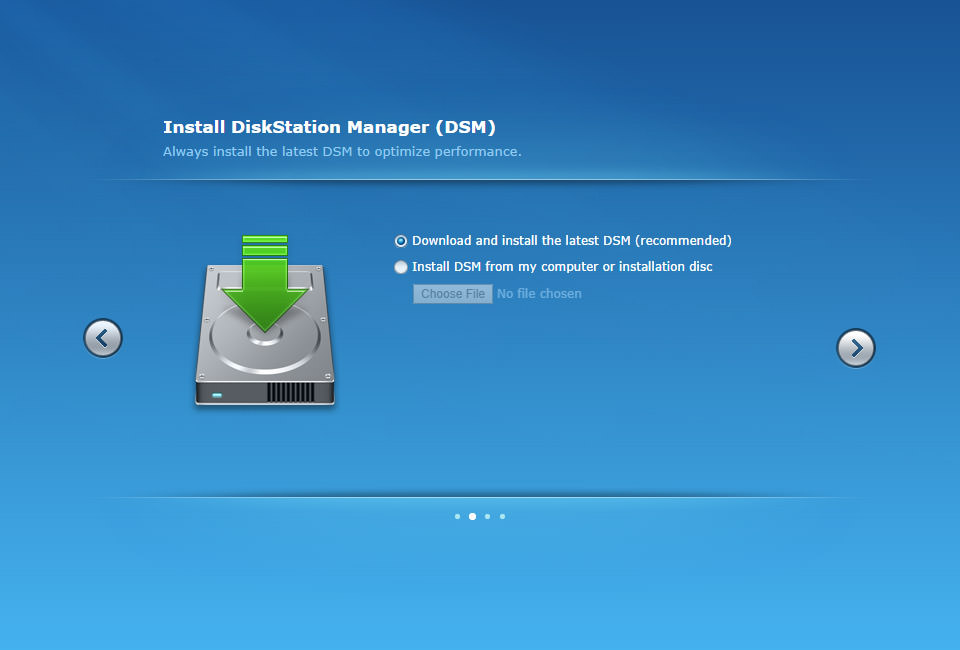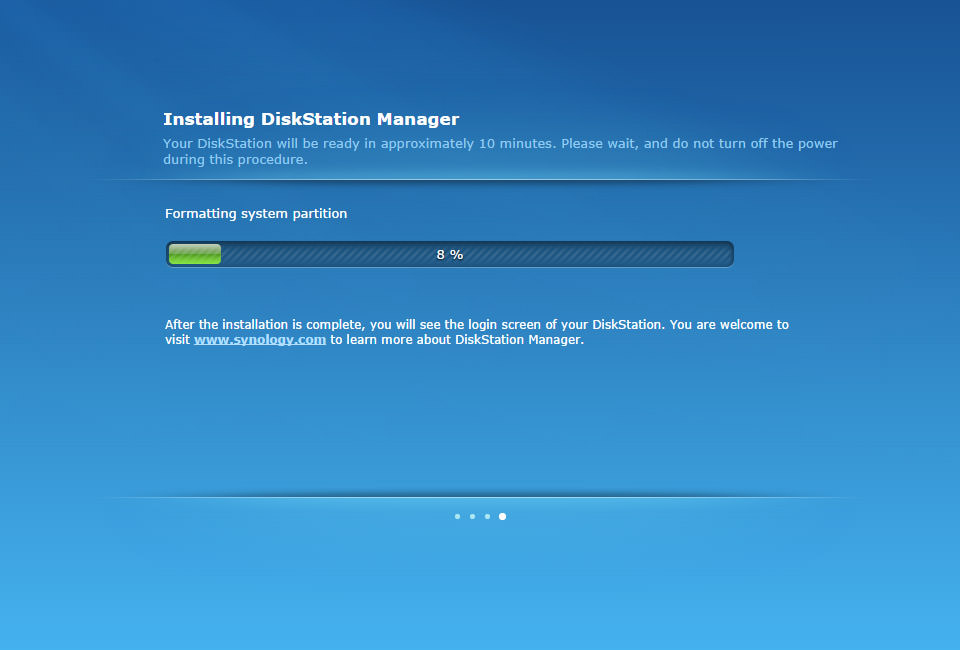 After the software was installed and the unit rebooted, the next step was to configure the drives for RAID 0 and format them. I opened up the Storage Manager, went to Disk Group tab and fired up the Disk Group Creation Wizard: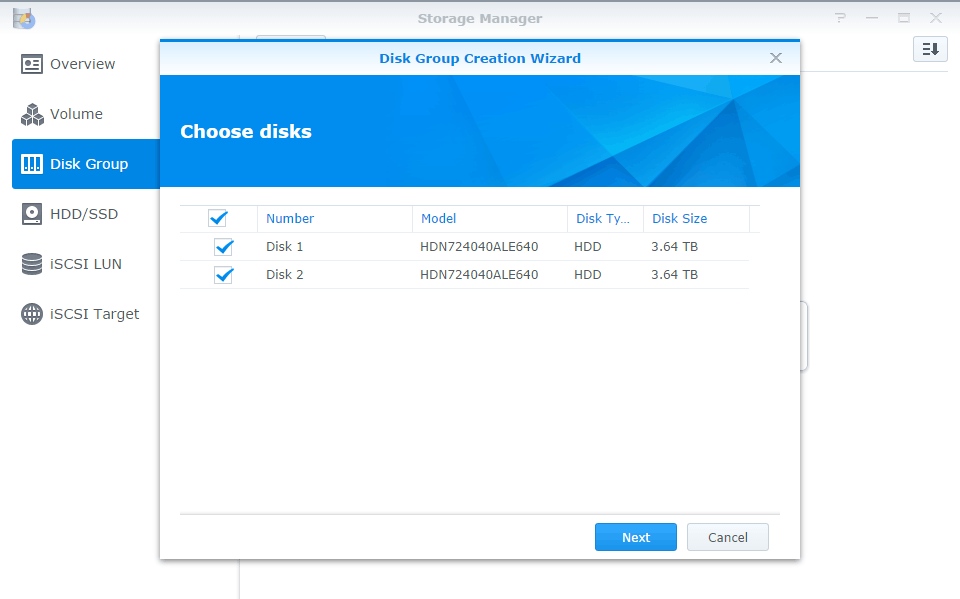 And picked RAID 0 for my install: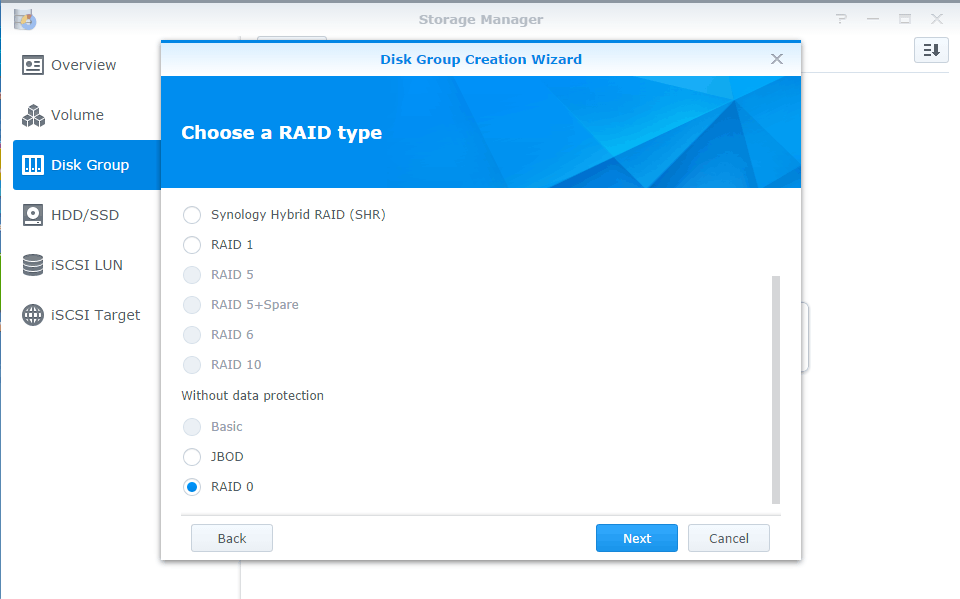 To make sure that the drives are both in good working condition, I fired up disk check at the end of the installation. It took a long time to check both disks, but it was worth the wait. Sometimes hard drives come with problems from factory, so before you put your data on them, it is always a good idea to do a full initialization with sector by sector check in the beginning.
As always, it is a good idea to update to the latest firmware, so after the hard drives were checked, I visited the Control Panel, clicked on "Update & Restore" and started the process of upgrading to the latest version. Updating did not take very long and the device rebooted during the process.
After the upgrade completed and the unit successfully restarted, I went to the Control Panel to set up a shared folder and security. Next, I mapped the network drive on my computer with the folder name I set up earlier: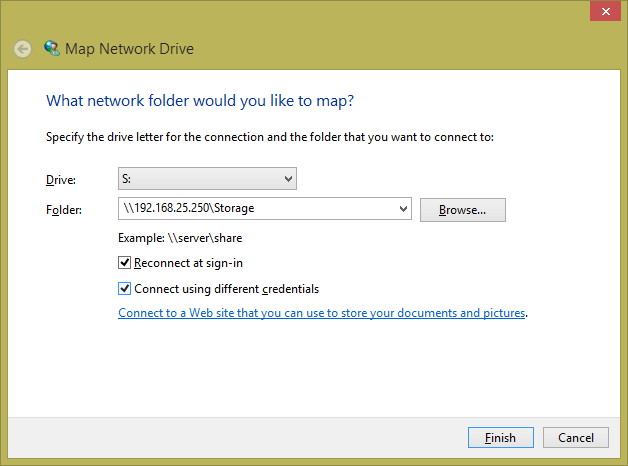 Although I used S: drive and mapped using the IP address, you could use any drive volume you want and you can map the device using its name instead of IP address.
From there, I was all set to conduct performance tests to see what kind of throughput I could expect from the unit.
6) Performance
Synology has always been top notch when it comes to performance, so ioSafe products are equally as good when it comes to squeezing every bit of performance from hard drives and the system. I performed several tests to see what to expect from the ioSafe 214 and see how it compares to its big brother, the 1513+. Here is the first test to see how well the write speed can be sustained when copying a 17 GB file. When the transfer started, I was getting approximately 100+ MB/sec speeds. Towards the end of the transfer, the speed increased a little bit to roughly 107 MB/sec, as shown below: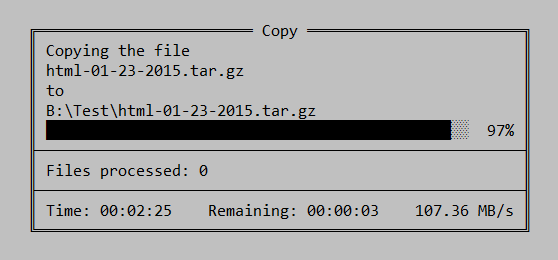 In comparison, the ioSafe 1513+ was averaging around 110 MB/sec, but keep in mind that the speed on the ioSafe 1513+ was capped by the speed of Gigabit Ethernet. If I had connected it with aggregated links, I would have gotten much faster speeds. With the ioSafe 214, you are limited to the speed of a single Gigabit Ethernet port. But the good news here is that the ioSafe 214 is practically utilizing the Ethernet port to 100%, so its performance is really good.
And here is what the Resource Monitor was showing in terms of CPU, memory, disk and network utilization: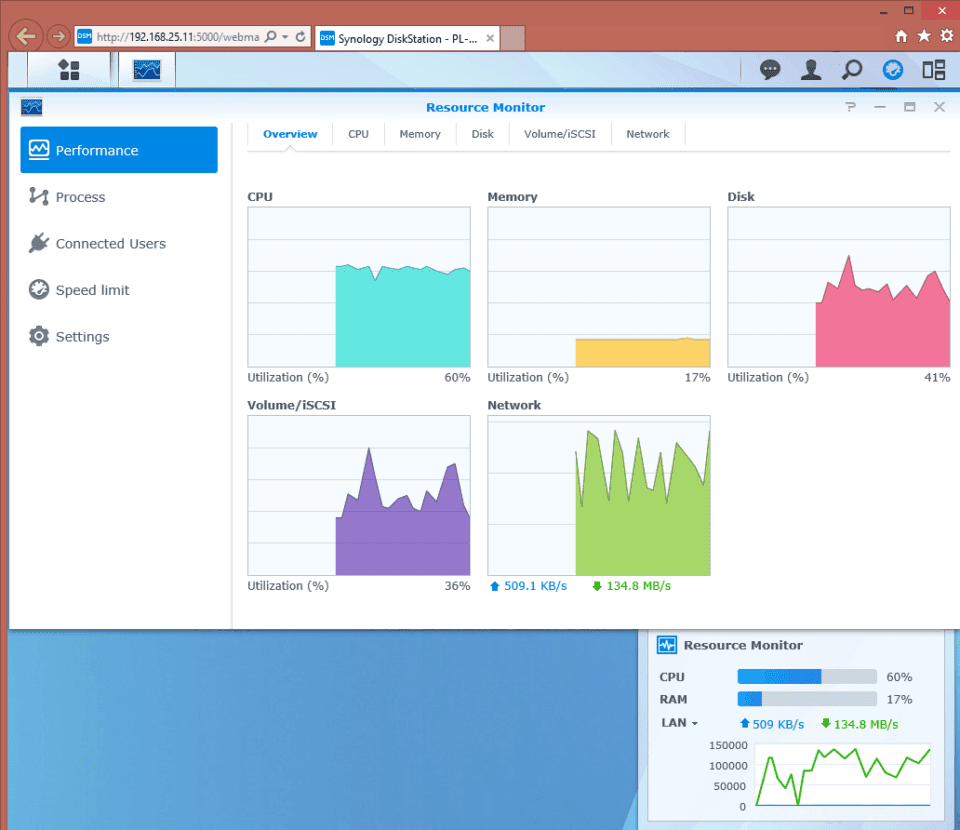 The amazing thing here is that the unit was about 92% full when I ran the above test. A lot of other storage solutions slow down significantly when they have little space left…
I ran several more read and write performance tests afterwards. Write speeds were constantly high, but the read speeds took a hit a little, averaging between 75 to 85 MB/sec. Considering that I use the ioSafe 214 for backup purposes only, the write / backup speed is more important for me anyway.
In summary, given that this is a two drive unit, the performance of the ioSafe 214 is very impressive.
7) Summary
Once again, ioSafe shows a solid line of products, with the 214 model being a superb option for smaller, less demanding and more budget-conscious environments compared to the ioSafe 1513+ unit. During the past 4 months of use, the ioSafe 214 proved to be a reliable, stable and robust system that I now use as a secondary backup unit to store my photographs, Lightroom catalogs and other data. Unlike the 1513+ model that I tested earlier, the 214 is practically silent even during heavy use, which is nice, because that's one thing that bugged me on the 1513+. It now sits right next to my computer, takes little space and stays on 24/7. Although I currently only use the ioSafe 214 as a backup device, I know that I have a lot more features and functionality to explore with the "Package Center", where I can install all kinds of apps for uploading files to the cloud, running a media / iTunes server, mail server, PBX and much more. Thanks to the amazing Synology DSM architecture, it is much more than just a simple storage device.
It is nice to know that ioSafe will protect my data in case of fire, flood or other natural disasters, so I now frequently backup my work to it. At the same time, it is important to note that you should not rely just on a single device for all backup needs – there is still a chance that it can get stolen or misused, so ideally, you should still keep your data safe in a different location as primary or secondary backup…
Overall, the ioSafe 214 proved to be a superb backup solution. Whether you are a photo enthusiast or a working professional, you should take a serious look at this device. Considering what it can do to save your data alone, its cost is negligible. Once you factor in the Synology DSM architecture with its frequent performance and security updates, superb performance and reliability, the ioSafe 214 becomes a "no-brainer".
9) Where to Buy
Our trusted partner B&H Photo Video usually has the ioSafe 214 in stock for around $550 without any hard drives. As specified above, you will have to do your own shopping to find what hard drives suit your needs the best. So far I am pretty happy with my choice of HGST 4 TB NAS drives, but I am sure things will change in a few years when 6-8 TB drives will get significantly cheaper, or perhaps SSD drives will have much bigger capacities to make the switch to more reliable storage.
ioSafe 214
Features

Build Quality

Value

Size and Weight

Ease of Use

Speed and Performance

Stability
Photography Life Overall Rating