Being a professional photographer, I constantly deal with a large flow of photographs that need to be imported, processed and backed up as part of the workflow process. Although I do everything I can to keep several copies of my photo library on different computers and storage devices, it is still a lot of data to keep track of continuously. Every time I revisit my backup strategy and make changes to it, whether by altering the process or introducing new software or hardware, the thought of potentially losing all of my images scares me to death. Years of hard work, client files and resulting terabytes of data make me nervous whenever I think about potential failures and disasters. Taking backups off-site is not something one can easily do continuously and transferring gigabytes of freshly photographed RAW material to the cloud is not only impractical, but can also get quite costly. And despite our attempts in keeping multiple copies of data at home or in our business offices, what if a real disaster takes place? Floods, tornadoes, hurricanes and fire could strike any time and can be very costly to recover from. What if you had a storage solution that offered fire and water protection, with the capability to withstand temperatures up to 1550°F and protect data from floods up to 10 feet deep, submerged fully in water for 3 days straight? What if this storage solution offered scalability, incredibly fast performance and RAID-level protection utilizing the best of the breed platform? That's where ioSafe products come in, which are specifically built for protection against such disasters. These unique solutions are powered by the award winning Synology DSM, the platform that I have been a fan of for the past few years.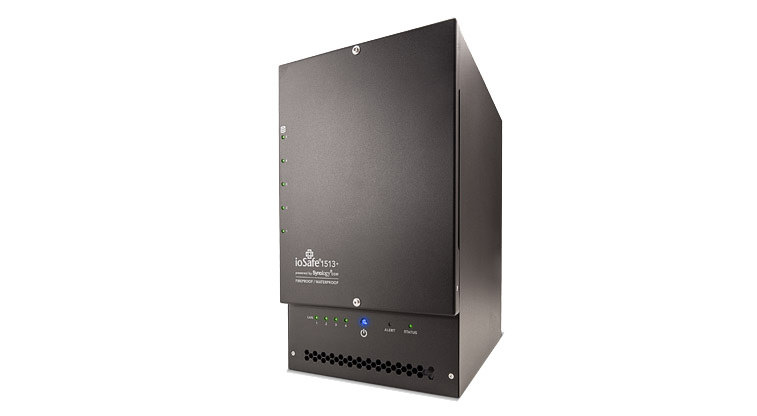 Although ioSafe has been selling their products for a few years now and I have seen their 2 bay ioSafe 214 product before, I did not want to limit myself to smaller and slower storage. Yes, hard drive speeds and sizes have gone up significantly, with new 8 TB drives coming out later this year. However, having previously seen the capabilities and the speed of the Synology DS1513+ array in RAID 5 and RAID 10 configurations, I really wanted to test drive the ioSafe 1513+, which shares exactly the same architecture and software as Synology DS1513+.
Having spent about a month with the ioSafe 1513+, I decided to write a detailed review and talk about my personal experience with this product.
1) ioSafe 1513+ Architecture
Instead of reinventing the storage wheel, ioSafe partnered up with Synology to use the same powerful robust hardware and software architecture. This was certainly a very wise choice for ioSafe, because it put away all storage concerns and let the company concentrate on the real essence of the product, which is making it waterproof and fireproof. Think of it as a dressed up Synology unit that adds protection against natural and man-made disasters.
With 202 MB/sec write and 350 MB/sec read speeds, the ioSafe 1513+ is not a joke in terms of performance. And if 5 drive slots is not enough (which can already provide up to 30 TB of storage on a single unit with 6 TB drives), you can scale it up to 3 ioSafe 1513+ units and get 90 TB of total storage. Add RAID 5 protection and that's 24 TB of storage per unit, for a total of 72 terabytes. That's a lot of data, even for a full time photographer.
Similar to Synology units, the ioSafe 1531+ comes with plenty of USB 2.0 and USB 3.0 ports, as well as eSATA for connecting other devices. With quad Gigabit Ethernet ports that can be aggregated for maximum throughput, the device would work amazingly well not just connected to a single computer, but also shared in a group / office environment. In fact, that's what Synology is very good at. If you have multiple computers that need to be connected to a single storage library, the Synology platform provides rich features and capabilities for sharing data. For example, in my environment, where both myself and my wife need access to the same photo library, the ability to put all RAW files in a single location is very useful. This way, we can work on processing images together, knowing that our data resides in the same location (more on the process below). You can either directly connect to storage volumes via iSCSI, or you can use NFS, CIFS and other protocols for accessing shared data.
If you have previously worked with Synology DSM, you are probably already aware of the many different applications and add-on packages that are available for the platform. Those add-ons and apps allow you to set up all kinds of things, from simple backup solutions (including Apple's Time Machine) to VPN and Web servers. You can create users with different permissions and if you are in a corporate workgroup environment, you could even connect directory services for authentication.
In short, Synology DSM is a very flexible, scalable and robust platform that ioSafe 1513+ is based on.
2) Access to Hard Drives
ioSafe provides a long hex key to open the thick enclosure to gain access to hard drives. Although mine were already mounted in the unit, if you buy a diskless version or want to swap out a drive, you will have to open the front compartment, then remove another plate, which then opens up the hot-swappable drive bays: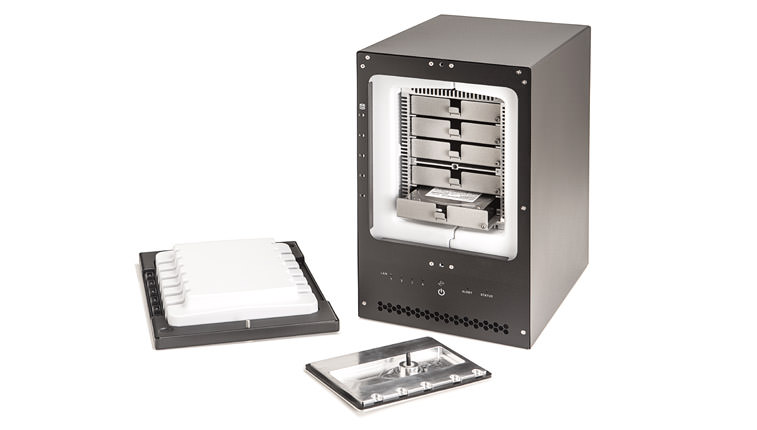 You can pull these drive bays out and mount either standard 3.5″ hard drives, or the smaller and faster SSD drives. With Synology DSM, you can configure 4 drives to be used in RAID 5 or RAID 10 configuration and use the fifth slot with a fast SSD drive for caching, which provides additional performance benefits.
3) Water and Fire Protection
When testing the ioSafe 1513+, my goal was not to test its water and fire protection, since the company had already worked with other companies and individuals on creating videos of their solutions getting subject to all kinds of abuse. If you have not seen those demonstrations yet, check out the following YouTube video by LinusTechTips that shows what happens when an ioSafe unit is first burned, then cooled with water:
And here is another video by the Weather Channel that shows a similar test:
The above videos demonstrate the smaller N2 unit. If you want to see even a crazier demonstration of the unit that I am reviewing, the ioSafe 1513+, see this video by folks at Discovery that first burn the ioSafe 1513+ with temperatures peaking at 2000 degrees, then cool it off with a stream of water, then drop it from much higher than normal altitude. At the end of the video, they are able to recover the data.
If you want to see more videos of ioSafe devices getting abused, just search for ioSafe on YouTube.
Now that we have this out of the way, let's check out how to actually set up the unit.
4) Getting Started
The ioSafe 1513+ came in a nicely padded box that contained the unit itself, a long hex key for opening the unit, a simple instruction sheet and cables. The nice thing was that I did not need to open anything to get the unit up and running – the 5 hard drives were already mounted inside. Although the unit was quite heavy at 59 pounds (27 kg), I was able to take it out myself and bring it over to my office area, where I connected the unit to power and my Gigabit switch. Next, I powered up the unit by pressing the power button on the bottom of the unit and waited for it to boot up. Fans spun up to their max speeds initially, then quieted down a little as the unit continued to power up. After a few minutes and a single beep, the unit started cycling through the hard drives and the hard drive lights came on. The "STATUS" light came on green, which indicated that the unit was ready to be used.
As instructed, I fired up my browser and went to http://find.synology.com to discover the unit and go through the initial setup. For some reason that has never worked in my network and I was greeted with the usual "No DiskStation Found within LAN" error: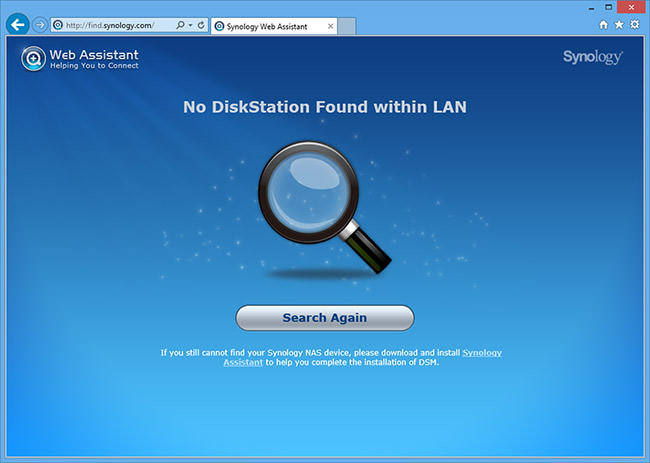 Oh well, not a big deal for me, as it was not the first time I had seen this. My next step was to open up the previously installed Synology Assistant, which found my unit in no time: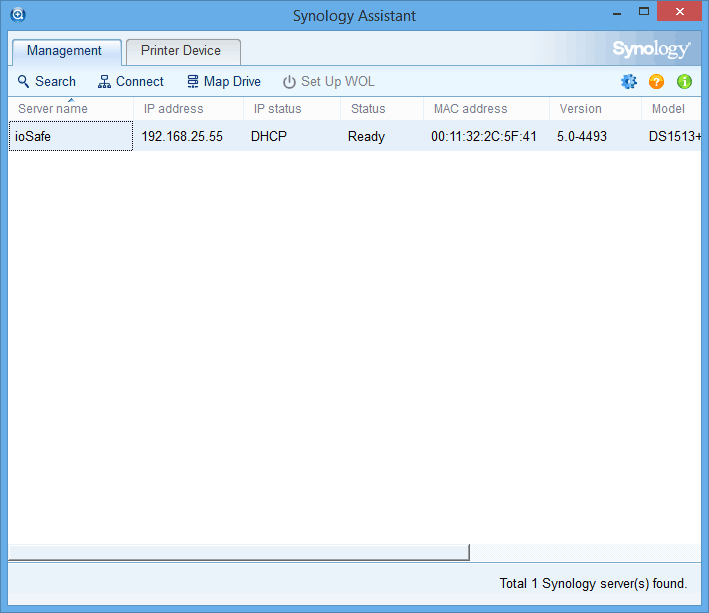 From here, all I had to do was click "Connect", which fired up my browser and connected directly to the unit: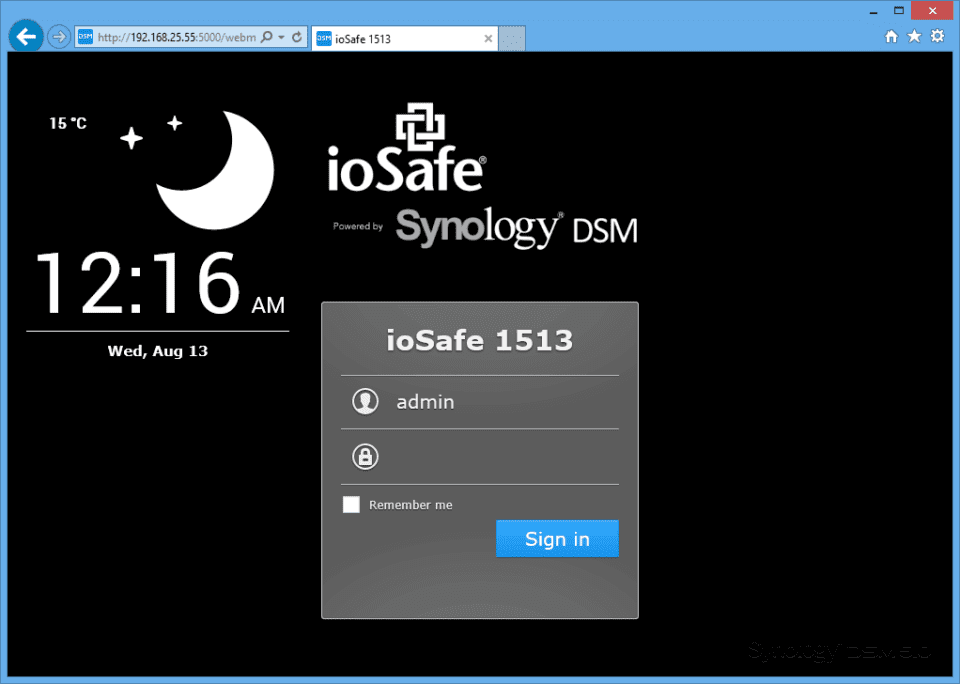 I typed in "admin" as the username and left password blank, which is the default login/password combo for initial setup (the credentials were obviously changed later). The next screen welcomed me and gave me the option to start the initial setup. After clicking "Next", I was asked if I want to set up "QuickConnect", which allows accessing the device from the Internet. I usually don't do that, so I chose to skip the step: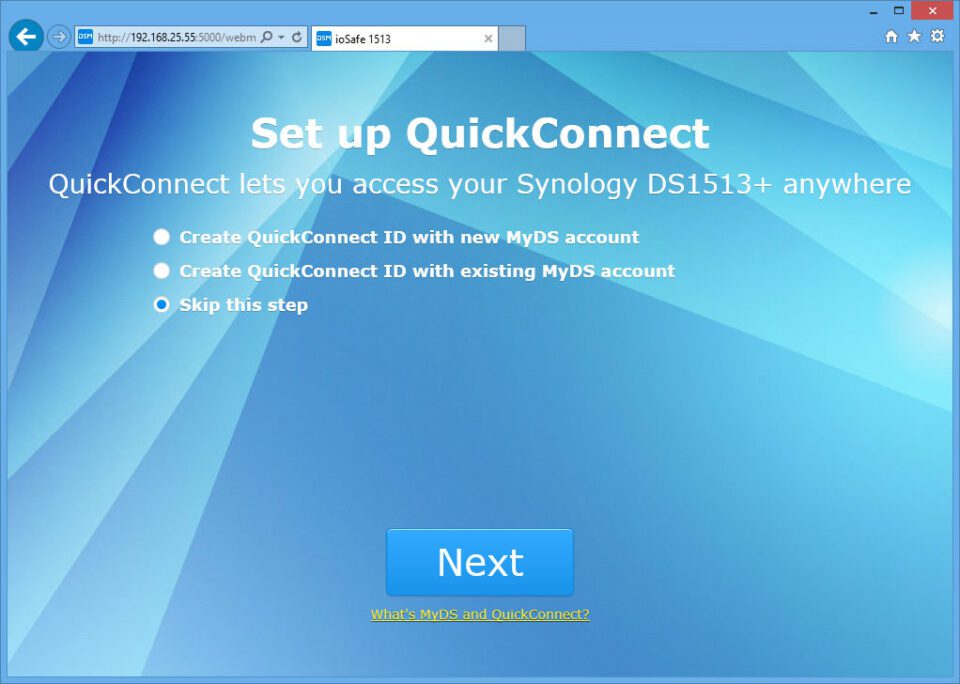 After that, the system gave me a welcoming "You Are All Set!" message:
Clicking the "Go" button took me to the familiar Synology DSM interface with a "System Health" widget indicating good health and other vital statistics: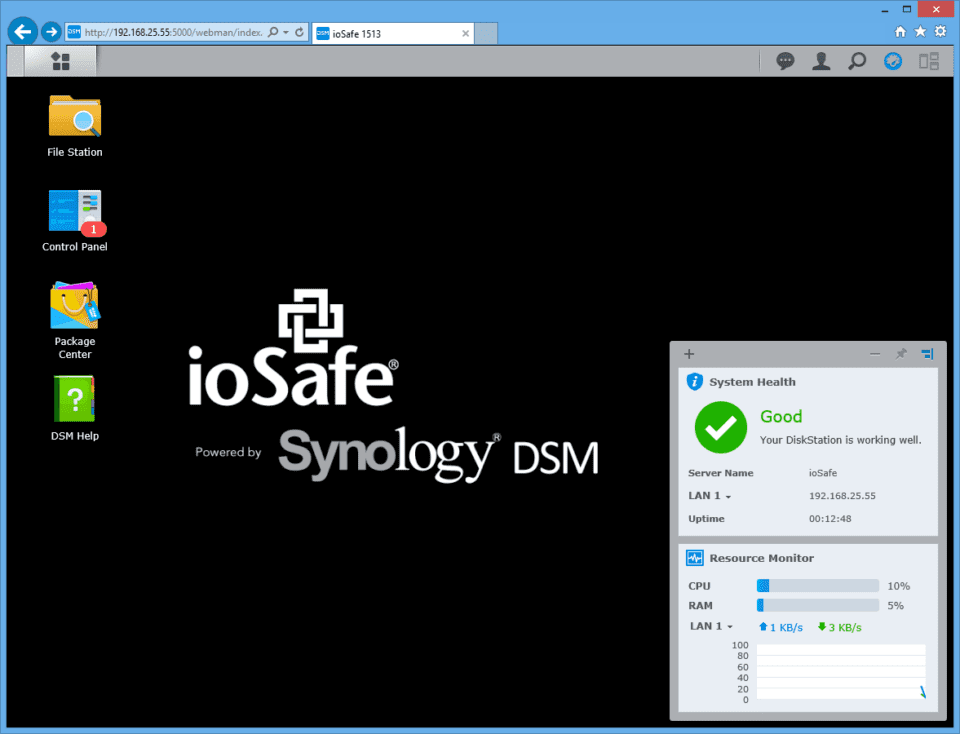 I love the beautiful and simple user interface that Synology provides. Here is how the Package Center, the place where you can download and install apps, looks like: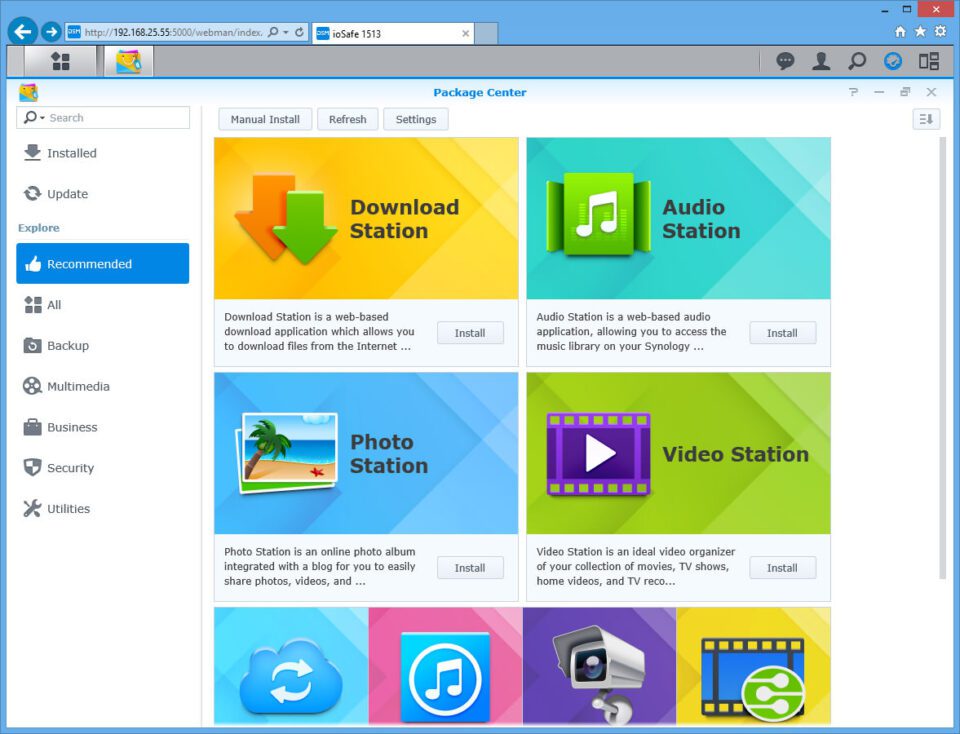 And clicking on the packages shows a huge list of installable apps for you to explore and play with: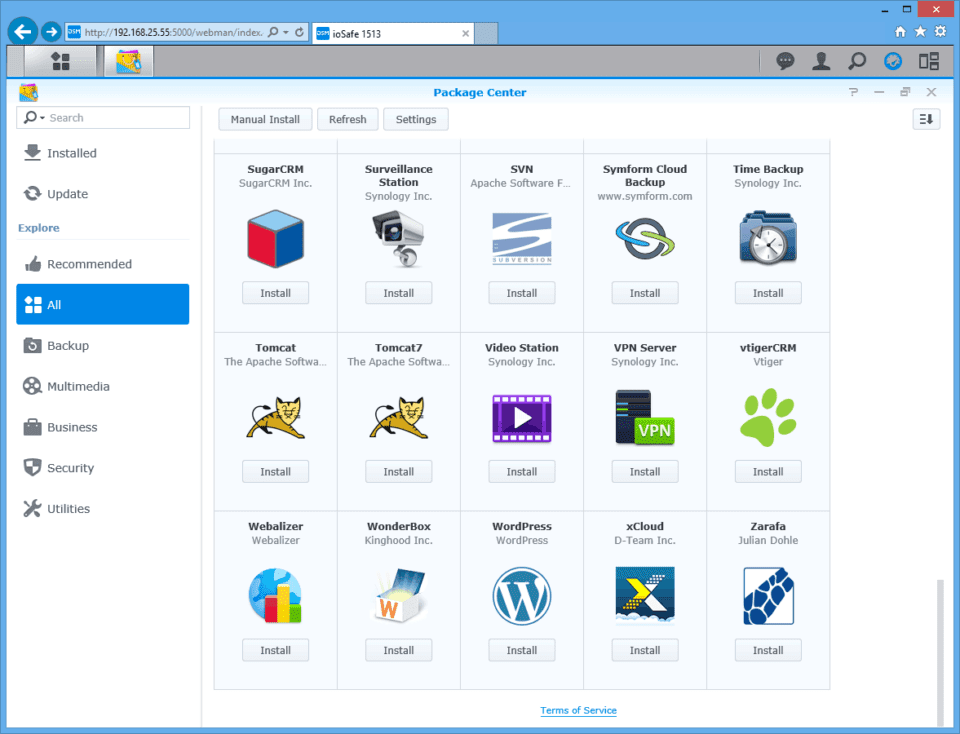 As always, it is a good idea to update to the latest firmware, so I visited the Control Panel, clicked on "Update & Restore" and started the process of upgrading to the latest version. Updating did not take very long and Synology showed the following screen during the process: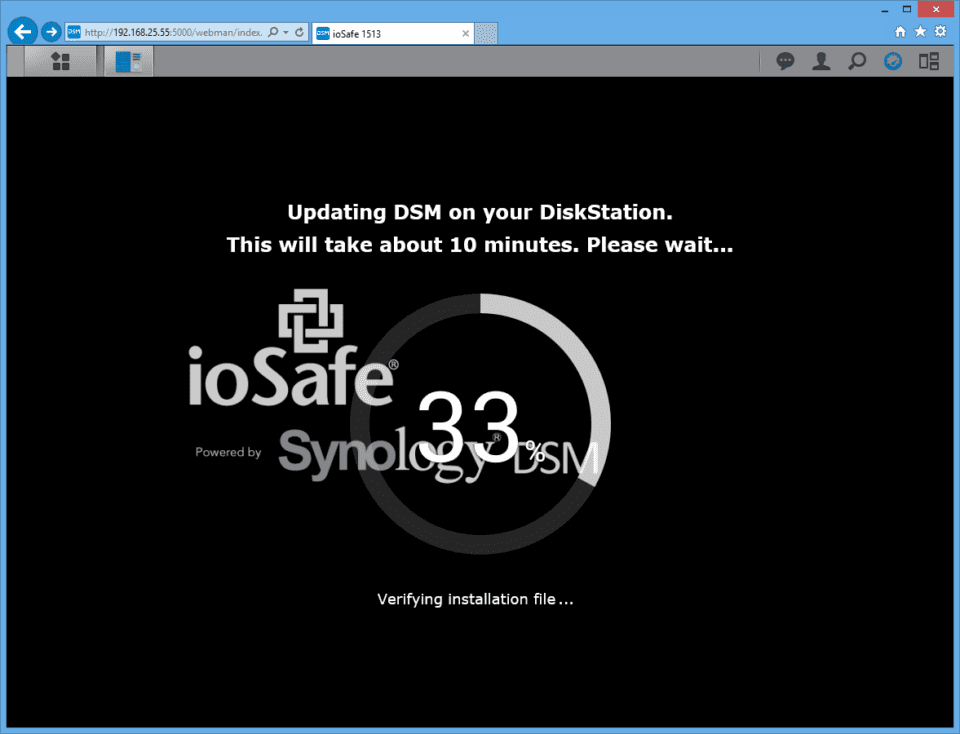 After the upgrade completed and the unit successfully restarted, I went to the Control Panel to set up volumes, security, etc. Here are the Control Panel icons you will typically find on Synology units: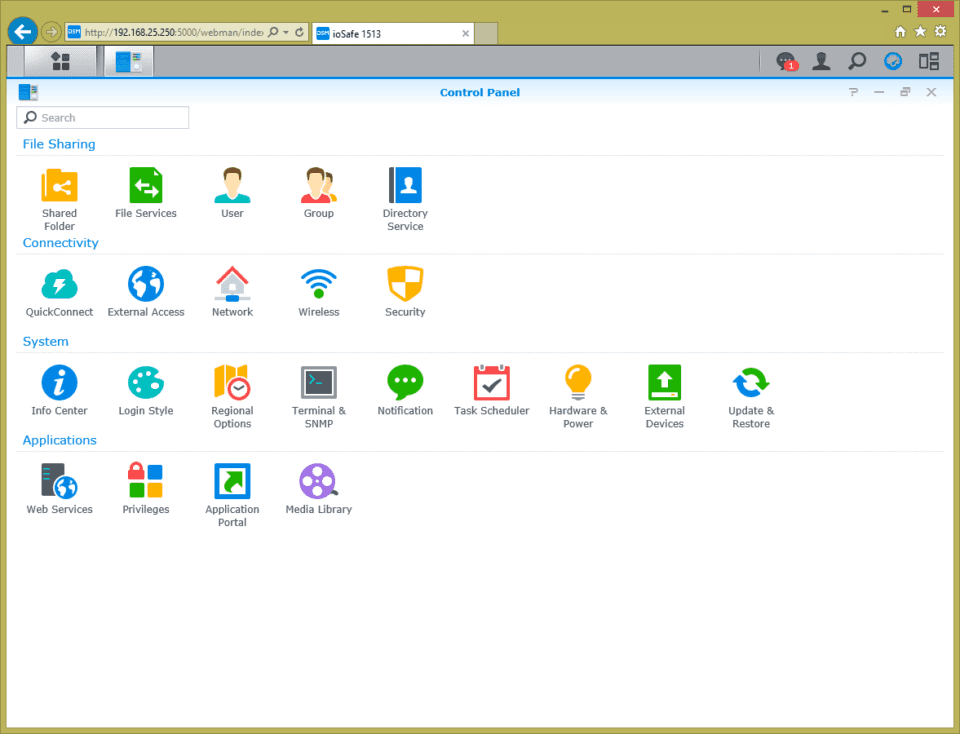 Setting up a shared folder is real easy. Just click on the "Shared Folder" icon in Control Panel, then click "Create", give the share a good name and description and click OK – as simple as that. Just in case, visit "File Services" as well and make sure that the "Windows File Service" and "Mac File Service" are turned on. From there, you will be able to map the folder from your computer. Here is the network share that I set up for storing the photos: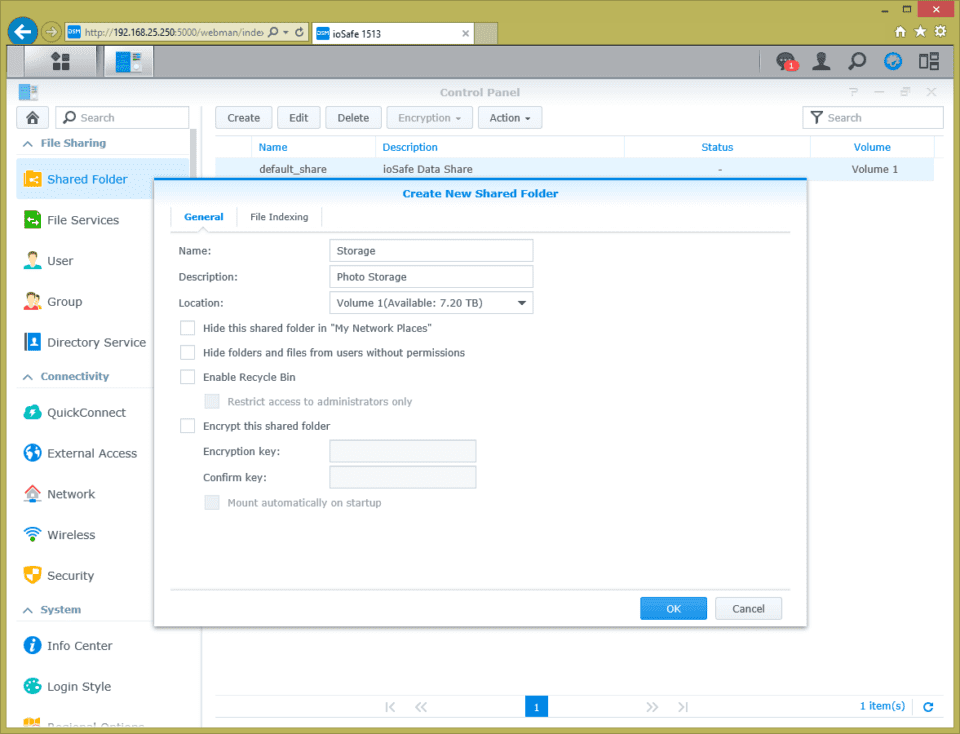 Once everything was good to go, I mapped the drive on my computer: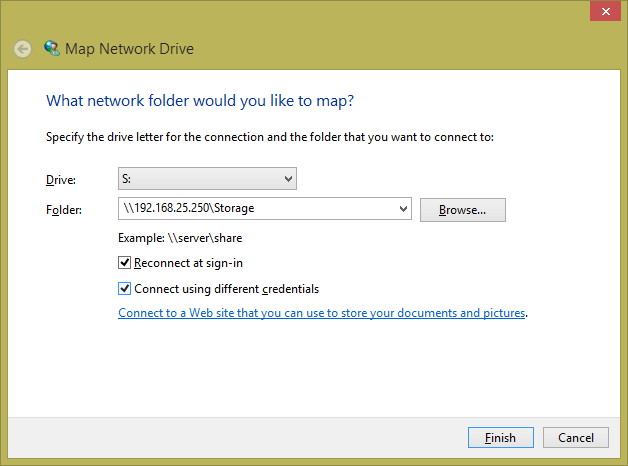 Although I used S: drive and mapped using the IP address, you could use any drive volume you want and you can map the device using its name instead of IP address.
From there, I was all set to conduct performance tests to see what kind of throughput I could expect from the unit.
6) Performance
As I have indicated before, I have been using Synology products during the past few years. Ever since I had my negative encounters and frustrations with Drobo in the past, I moved on to superior products and have tested a few different options on the market from NetGear, LaCie and Synology. Based on my experience, I have been heavily recommending Synology products to our readers not just because of the amazing user interface and simplicity, but also because they usually outperform competition in transfer speeds.
When it comes to performance, many products on the market can perform quite fast, especially when they are new. Drobo's newer products and their higher-end lines also do quite well in transfer speeds. However, once they start getting heavily used and more space is occupied by files, transfer speeds tend to decline pretty quickly. Drobo has been notorious in this respect, with its storage units slowing down to halt when there was little storage left.
Synology has been much better in this regard, thanks to its superior architecture that utilizes traditional RAID instead of some proprietary technology like Drobo. Under heavy load and when transferring large files, Synology devices tend to sustain the same speed, as demonstrated below: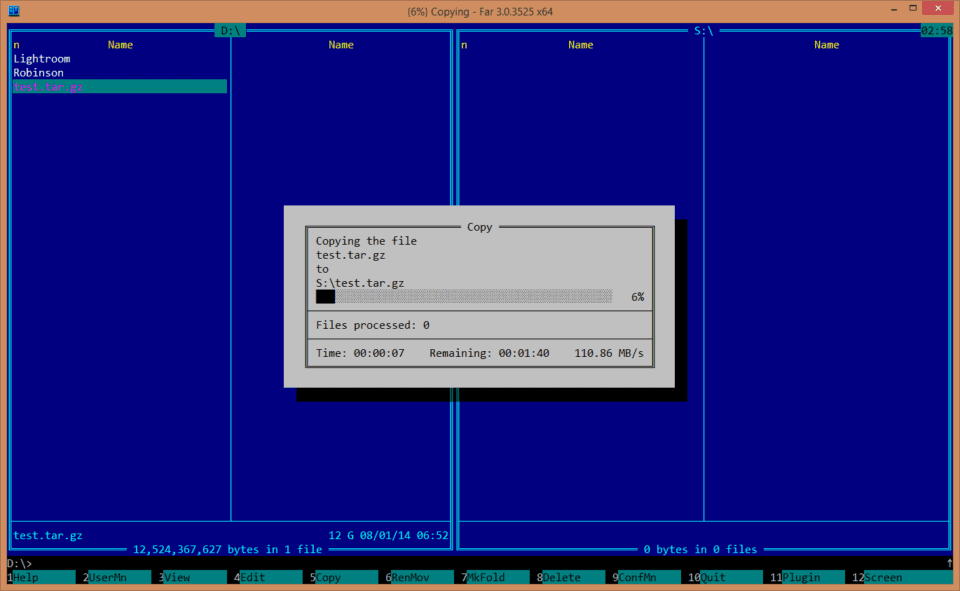 For the above test, I transferred a 12.5 GB file from my local SSD drive to the ioSafe 1513+. As you can see, the performance was maxed out at 110.86 MB/sec, which is the limit of Gigabit Ethernet. The only way to unlock higher speeds would be to aggregate two or more Ethernet ports, which I did not bother doing, as I did not need that much speed. The write throughput remained the same even at the end of the transfer of the large file, as shown below: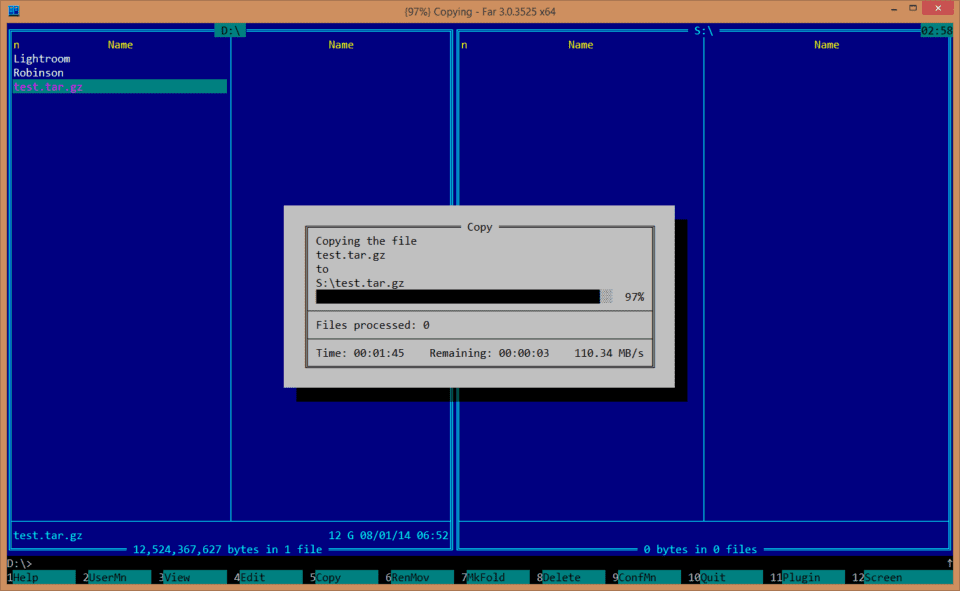 This is good news, because I have seen other storage units perform very well at the beginning of the transfer, with transfer speeds slowing down towards the end – not the case with ioSafe / Synology.
And the Resource Monitor indicated average CPU utilization and only 48% disk utilization, which shows that I could easily double the throughput if I wanted to: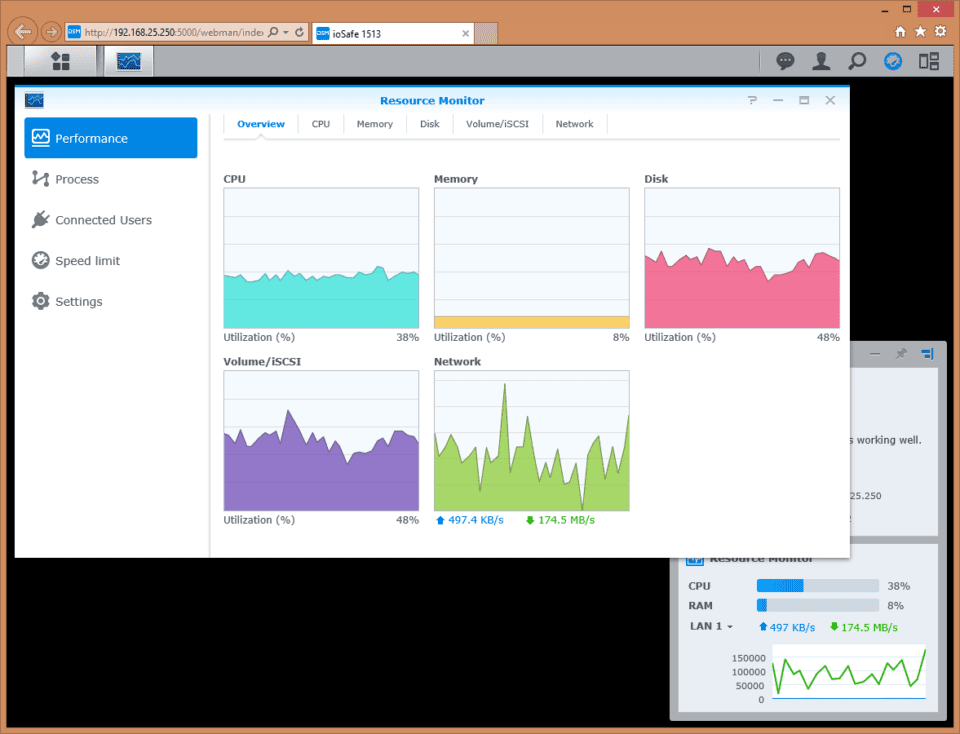 I ran a number of tests, making 20+ copies of the same 12 GB file over and over again to see if the performance would degrade over time. Here is what the last transfer looked like in Windows 8: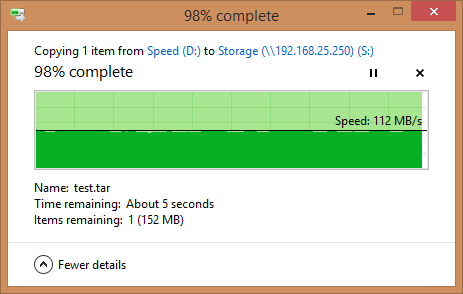 As you can see, the transfer rate remained about the same at 112 MB/sec at the end of the transfer.
The last test was to fill up the drive with lots of files. After filling up the device to around 90% capacity with photos, videos and other files, I ran more tests only to see similar performance.
In summary, the performance of the ioSafe 1513+ is amazing, just like on the Synology DS1513+ units.
Our readers might be interested in how Lola and I store and access photos. We store all RAW files on shared network storage and Lightroom catalogs are created locally on each computer when we process newly imported images. We start off with brand new catalogs, then import images into the same shared storage. Thus, the initial catalog is located on a local hard drive, while the RAW files are copied to the shared storage. Once we are done with editing, the smaller catalogs are merged into a single large catalog that contains all photos taken during that year (we keep one master catalog for each year, as outlined in this article). The final catalog always resides on the shared volume and contains the most up to date information.
Why do we create new catalogs? Because it is much faster to work on images on a newly created catalog, compared to an existing one that already contains many images. Lightroom's ability to merge catalogs works very well, so we combine the work into a single place at the end of the process. Unfortunately, Lightroom catalogs can only be accessed by one device at a time and Lightroom gets very slow overtime when the catalog size grows big. So this was our workaround to get the best out of Lightroom when it comes to performance.
8) Summary
ioSafe has created a solid choice of products and the ioSafe 1513+ is not an exception. With its ability to withstand all kinds of abuse and natural disasters, ioSafe products are quickly gaining popularity among business owners that are worried about keeping their data safe. Having worked in the IT field most of my adult life, I know how painful it was to rotate backups and send them off to a safe on a weekly basis, just to protect the business from fire and flood hazards. Small businesses often cannot afford off-site data replication, so solutions like ioSafe 1513+ can save a lot of time, frustration and money for many business owners. While ioSafe would not save a business from intentional abuse and hardware failures, keeping such a device as either primary or secondary storage has a number of benefits in my opinion. First, one does not have to treat it as a pure backup device – its robust features allow it to be used in a live production environment. Second, if a disaster were to occur, one could recover very quickly without thinking about when the last backup took place. Third, as demonstrated in this review, Synology DSM offers a rich set of features for small and medium sized business that make it more than just a storage box. And lastly, ioSafe offers data recovery service and sells optional floor and rack mount kits that make it rather difficult to be subject to potential theft.
Due to its relatively high cost ($1,599 for a diskless unit), the ioSafe 1513+ is mostly targeted at small and medium size business owners. If you need a smaller solution, ioSafe carries a number of devices that start from $300 for a single drive unit. The ioSafe 214, for example, is a great dual bay option that retails for $599.95 without disks.
Overall, I am very impressed by the ioSafe 1513+. Thanks to its solid build, amazing performance, scalability and a very intuitive user interface powered by Synology DSM, there is very little to dislike about this product. The only disadvantage I can think of is noise – since ioSafe 1513+ has a thick enclosure, it needs proper ventilation for the hard drives, which translates to larger and noisier fans. But it is not a deal breaker by any means and those that want to purchase such a robust solution will probably put it in a server room environment anyway.
9) Where to Buy
Our trusted partner B&H Photo Video only carries the smaller ioSafe Solo and ioSafe 214 units. If you would like to purchase the ioSafe 1513+, please visit ioSafe.com and purchase the product from their website directly. A number of purchasing options and services are provided.
ioSafe 1513+
Features

Build Quality

Value

Size and Weight

Ease of Use

Speed and Performance

Stability

Operating Noise
Photography Life Overall Rating