The Insta360 X3 is an interesting action camera. Even though it targets the GoPro in some ways, it is a radical departure in terms of form factor, thanks to a pair of fisheye lenses on the front and back. Does it deliver on the promise of 360-degree video, 360 panorama capture, and good image quality thanks to the 48MP sensors? Should traditional photographers and videographers consider adding the X3 to their bag? Find out in this field review!
Physical Design of the X3
The X3 is definitely unlike other cameras. Action cameras, whether they're GoPros or similar models, have still retained a traditional, point-and-shoot-like form factor. The X3, however, is something different. The front features a prominent fisheye lens, while the rear includes both a 2.29-in tempered glass touchscreen and a second, identical lens. There's the usual set of buttons for power and menus, and there's also a helpful quick-menu option that I'd love to see brought to regular cameras. Most of the settings, however, are configured via the touchscreen (or surprisingly good app).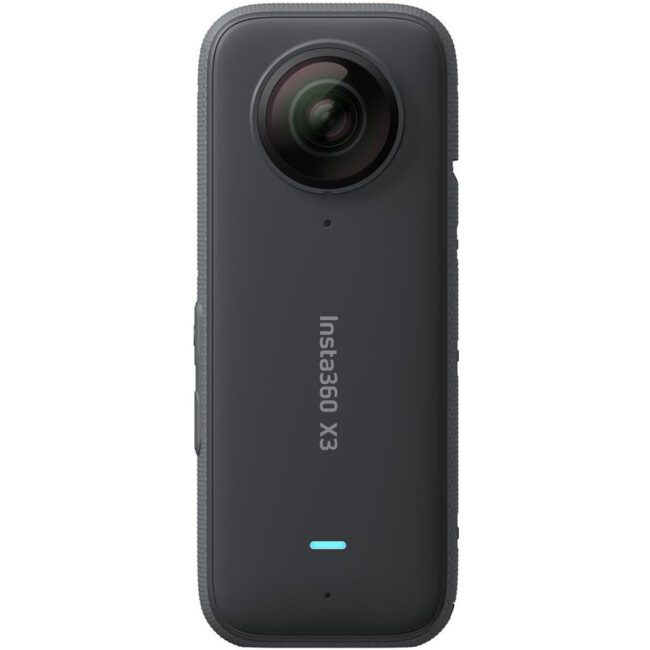 The two fisheye lenses are really the X3's special sauce. They are both 6.7mm (35mm equivalent) lenses which produce fully circular images. The camera can shoot RAW photos – and when you do, you end up with two circular fisheye photos at a time (rather than a single 360 degree stitched image).
A 1/2″ 48 MP Quad Bayer sensor sits behind both sensors. It's the same sensor that has been available in some products like drones – as I detailed in my Mini 3 Pro review, there's very little difference between the "full resolution" 48MP capture and a 4:1 downscaled 12MP capture.
Shooting JPEG with the Insta360 X3, you will get a single 72 megapixel image (or 18 megapixels in the downscaled mode) with a 360 degree panoramic view.

At the bottom of the camera is an integrated tripod mount. This allows for one of the X3's party tricks: an invisible selfie stick. Thanks to the overlap between the cameras, the stick can be seamlessly erased in post. For people who are filming action videos, this is a useful feature that eliminates one common distraction in the frame.
Rounding out the features, the camera itself is waterproof to 33 feet, thanks to seals and port doors, while an optional dive case extends the usable depth to 164 feet. The camera also features a microphone array with 4 mics, allowing for directional audio, stereo, and more.
Image Quality
In terms of still image quality, the X3 delivered great results in well-lit conditions. To be clear, I'm evaluating this performance against price, form factor, and intended use of the camera! You're still just capturing stills from a 1/2" sensor, and it shows at a pixel level. Lower-light shots can exhibit more noise, even with longer exposure times. And if you're shooting JPEGs, the stitched area in the panorama can show some softness and artifacts.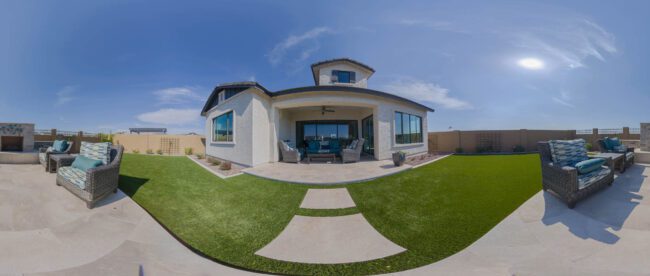 The manufacturer-supplied app, Insta360 Studio, is surprisingly solid, combining basic panorama generation and video editing features into one tool. The downside is that the app really feels focused on video, rather than photos. There's virtually no customization to allow for things like correcting a panorama's horizon, and there's not even an easy way to recompose the frame around a new central point of interest.
If you're shooting seriously for stills, I think the app just isn't suitable. Instead, the best workflow I've found starts with bringing your RAW images into Lightroom, using the AI Denoise option to clean up the files, then making Lightroom adjustments. From there, export for stitching in PTGui. This yields the cleanest pixel level details, the most editing latitude, and the best pano editing experience – at the cost of time and some roundtrips between various apps.
External panorama software of some kind is required, as both Photoshop and Lightroom's tools aren't able to easily generate a panorama from the two images that the Insta360 produces.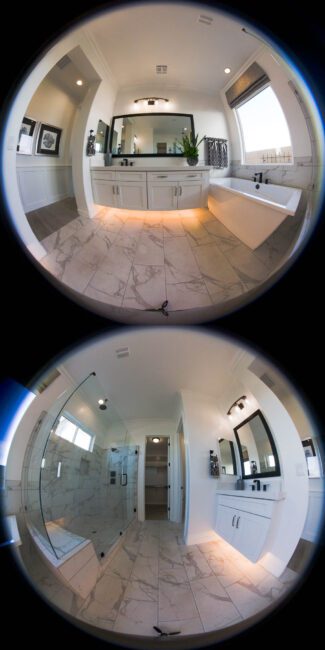 Overall, the process for generating single, equirectangular panoramas requires a few steps, but it can create good results. Insta360 has also done a good job integrating the camera with virtual tour providers, like Matterport, making it quite a useful camera for stills, video, and virtual tours, if your clients need 360 degree options.
Video Quality
The Insta360 X3, like many action cameras, is really a video-first device at its heart. The headline features – like the ability to dynamically reframe the image, and hide the selfie stick – are mostly video oriented.
The video quality is even better than the photos. The video capabilities of the 48MP Quad Bayer sensor have impressed me in other cameras, and they deliver the same great results here as well. Footage is colorful, and dynamic range in HDR mode is good enough to just point and shoot. Capturing 360 video at 5.7K is really the mark for good 360 degree footage, since it means that you can punch into a linear shot and still yield around a Full HD frame.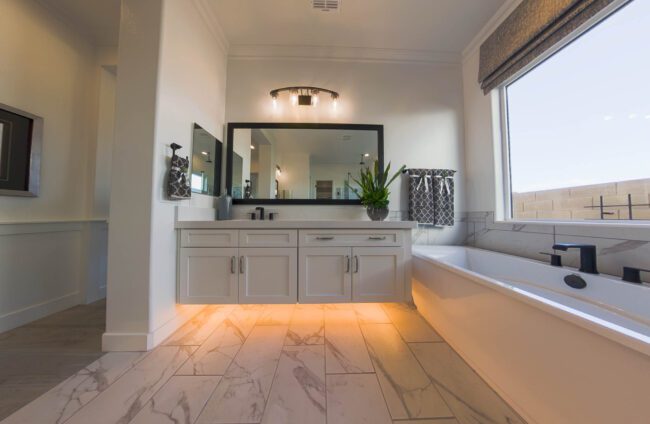 For more traditional applications, the camera is capable of shooting 4K/30 at a 170 degree FOV, yielding a good looking, ultra wide shot akin to what you'd get from a GoPro. In combination with the big, bright screen on the back, that makes the Insta360 X3 a useful alternative to other 360 degree cameras.
Runtime is also reasonable, at 81 minutes of recording when shooting 360 video. Throughout my testing, I never ran into overheating or unreasonable battery drain issues, even during Arizona's summer.
Editing the videos, just like the photos, can be as easy or as difficult as you want to make it. The app supports automated, AI-style montage edits. You can also go in and manually reframe and re-work clips. Lastly, you can move all the way up to editing via the desktop app or editor of your choice. Insta360 even provides a plugin for integration right into Premiere (but I'd love to see support for Resolve down the road).
Overall, the Insta360 X3 is a very versatile camera, and it's clear that Insta360 understands that. They also recognize the most common types of photographers who need 360 degree video or stills, as evidenced by their dedicated virtual tour, construction, and sports-focused kits that you can buy when purchasing the X3.
Starting at just $449, this camera offers a lot of functionality for photo and video applications, but it's something I really only recommend over other action cameras if you know you need 360 degree views. The sensor is a bit small, and you're giving up a few features relative to a GoPro if you just need a basic wide-angle action camera.
For low-light shooting, I would also look into the more expensive Insta360 One RS, which has dual 1-inch type sensors. And high-end 360 degree photographers would likely prefer a dual-camera dedicated setup. Still, for the price, I'm impressed by how much performance Insta360 squeezed out of the X3.
In short, for adventuring, content creation, and even professional uses like virtual tours, this camera is a surprisingly good option. The app is good, the video quality is impressive, and the price is right.
If you're interested in the Insta360 X3, you can find it at our affiliate B&H for $449. To see the various professional or action-oriented kits, check them out on the Insta360 site.