This is a review of the Impact Multiboom Light Stand and Reflector Holder, used in studio environments for holding lights, reflectors, flags and other light accessories. If you do any studio work, whether it is for photographing models or your clients, it is often necessary to use light reflectors to bounce the main light for softer shadows. Other times you might find yourself in a situation when you have too much light spill and you need to block some of that light with a black card, also known as a "flag". It is great if you have one or more assistants for these kinds of situations, because they can assist in holding reflectors and flags. But what if you work alone or need to hold multiple reflectors and flags? That's when a boom comes in handy. I have been shopping around for a good, lightweight, portable and inexpensive boom arm + stand combo, and I think I found a perfect one for my needs.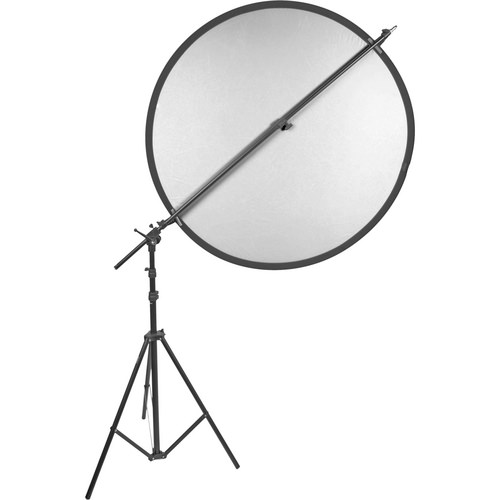 1) Product Specifications
Minimum Height: 40″ (102 cm)
Maximum Height: 13′ (4 m) as light stand, 9 ft (2.7 M) as boom stand
Closed Length: 40″ (102 cm)
Footprint Diameter: 36″ (91 cm)
Weight: 6 lbs (2.7 kg)
Maximum Load: 5 lbs (2.3 kg) as light stand, 3 lbs (1.4 kg) as boom stand
Attachment Size: 5/8″ stud with 1/4″-20 threaded top
Accepts Wheels: Yes
Air Cushioned: No
2) Packaging, Assembly and Use
The Impact Multiboom unit came in a box and was nicely packaged and protected. Best of all, it came in one piece!
Other booms I have dealt with in the past consisted of multiple parts that needed to be put together, which is inconvenient, especially for travel and transportation. I occasionally do corporate photography (primarily headshots) and it is always nice to have gear that is both easy to transport and easy to assemble. With this product, there is nothing to assemble. You just loosen one handle, pull the top section all the way up, set the boom arm in a horizontal position, lock it where you need it and voila!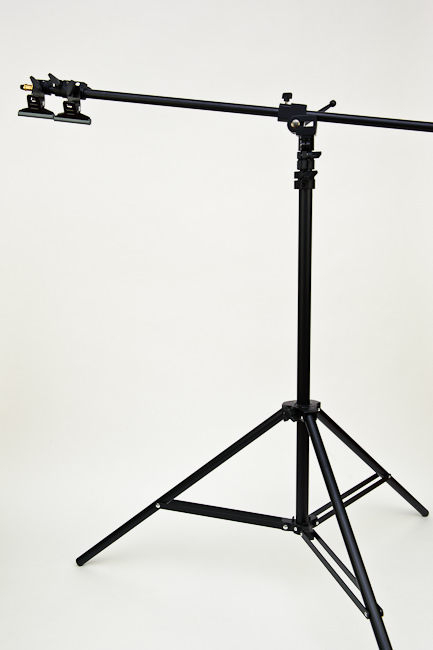 The nice thing about this setup is that when you do not need the boom arm, you can still use the stand as a normal light stand. That's why the call it "multiboom" light stand, because it can do both. Here is a the top of the boom arm, compared to a standard light stand (Left: standard light stand, Right: multiboom):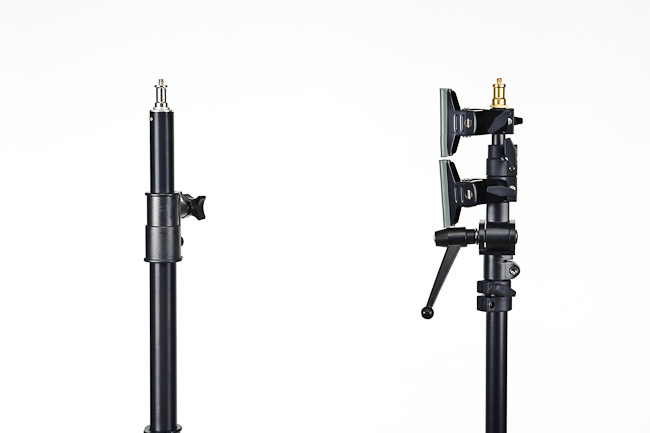 The Impact Multiboom light stand is sturdy enough to hold large reflectors, speedlights and other accessories. I would not recommend it for anything heavier than a couple of pounds, although you could use it to hold heavier gear if you do not extend the arm too long. You should use it with care when mounting speedlights and other expensive equipment – a sandbag or two would definitely help to keep it from falling. I have been using the multiboom for holding reflectors and it handles them very well, even when I use my large 72″ oval reflector or the Lastolite TriGrip: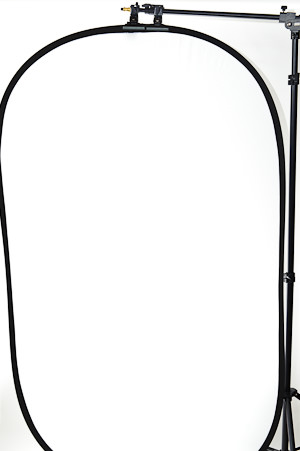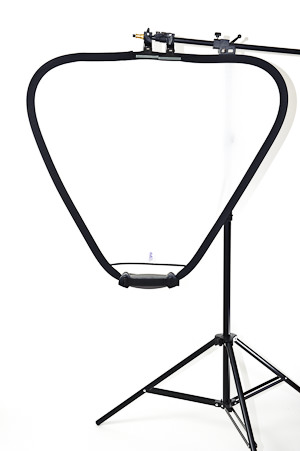 3) Sample portraits with Multiboom in use with a reflector
If you have not done much studio work, you might be wondering why a boom such as the Impact Multiboom can be a useful tool for portraiture. While you can use it for many different things, I will demonstrate how a reflector mounted on a boom can make a difference in portraiture with a single light. For the image below, I used a Nikon SB-900 speedlight with a Westcott 43″ umbrella mounted in a shoot-through configuration on a light stand. I set the light in a standard configuration, angled at about 30-45 degrees to the left of Lola and used a white background behind her. I positioned the light pretty close to her (3-4 feet away) and here is the result: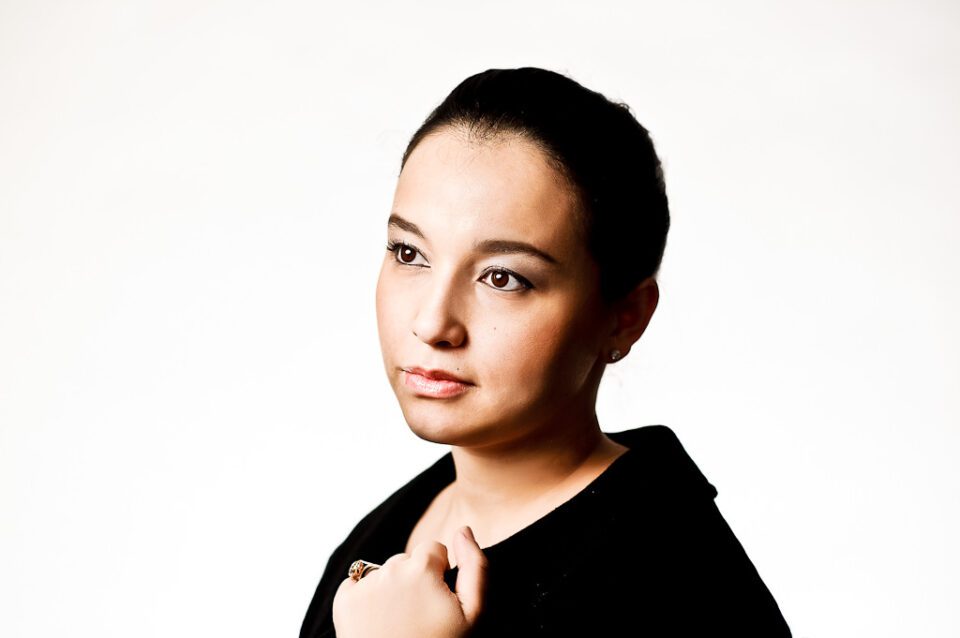 While Lola's face is illuminated well, there is a very dark shadow present on the right side of her head (her left). That's what you would normally see when using just one light.
To brighten up the shadows, I mounted a reflector on the Impact Multiboom and placed it to the right of her. In this configuration, the main light to the left illuminates her face, while the reflector reflects some of the light and reduces the shadows, acting as "fill light". Here is the result: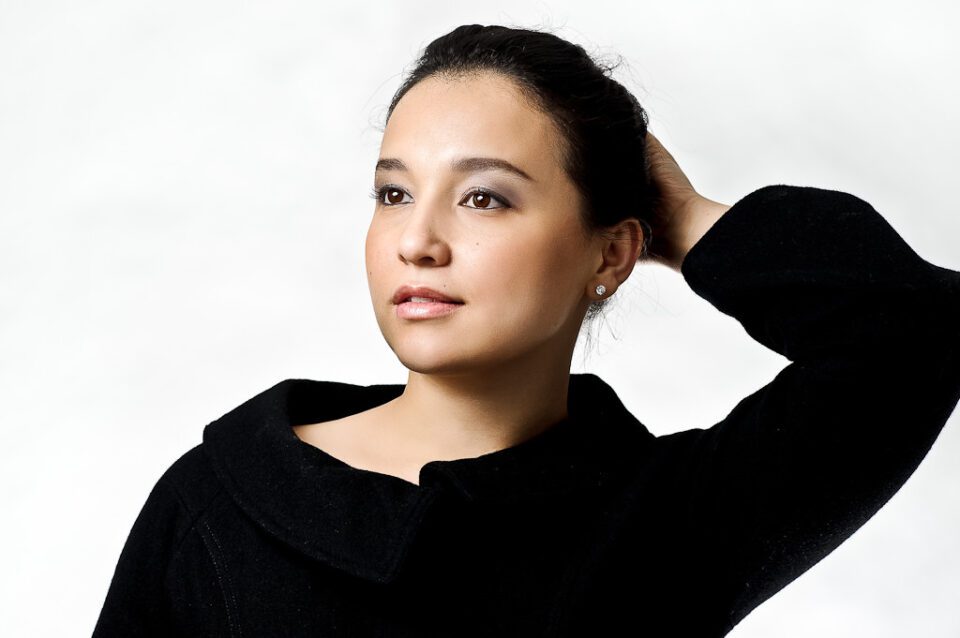 See how much better the image looks now? That's just a simple reflector doing the magic. The deep dark shadows look much brighter and smoother now and Lola's face is getting more even light from both sides. To make it look even better, I placed the reflector even closer to Lola and took another shot: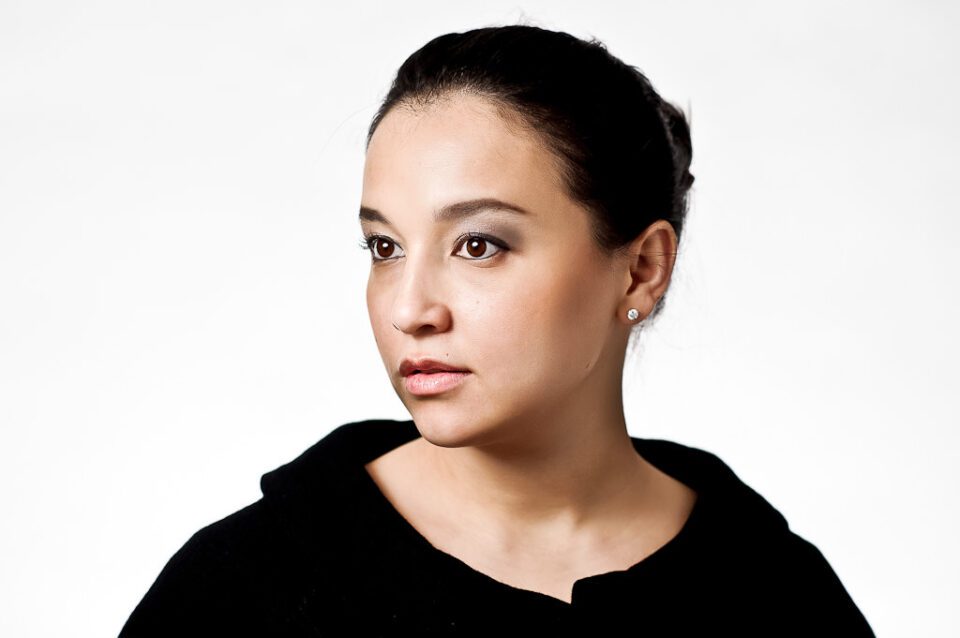 Now the light is more or less evenly distributed across Lola's face and the shadows look much softer and nicer.
Could I have done this with two lights? Absolutely. But I would have needed another speedlight + umbrella, and I would have had to play with flash power on the second light to get the same fill result. I would have needed more equipment and more time for something this simple.
4) Summary
I have been using the Impact Multiboom Light Stand and Reflector Holder for some studio work during the last couple of months and I am very pleased with it. It is relatively sturdy, lightweight, portable and inexpensive – exactly what I have been looking for when using reflectors/flags and other lightweight accessories while photographing models and clients in a studio. It is a good quality multi-purpose product that requires no assembly and at its $79.95 price, it is one of the cheapest boom kits you can find on the market today.
5) Pricing and Where to Buy
The Impact Multiboom Light Stand and Reflector Holder is priced at $79.95 and is available at B&H Photo Video.
Impact Multiboom Light Stand and Reflector Holder
Build Quality

Handling

Value

Size and Weight

Packaging and Manual
Photography Life Overall Rating