This is a review of the Impact Background Support System, along with the Impact Muslin Background, used in a studio environment or in remote locations for portrait and product photography. When taking pictures of people or products, it is often desirable to have a smooth background with a certain color. While you can accomplish this with a "Do It Yourself" (DYI) setup using a white sheet secured on a large wall, sometimes it is either impossible (in a tight space) or inconvenient to do that. Other times, some people are not either uncomfortable with potentially damaging their walls with nails in order to secure a white sheet, or want a setup they can travel with. For those situations, a collapsible and lightweight background support system can be invaluable. The good news is that you can get a good background system without breaking the bank, and the Impact Background Support System is no exception.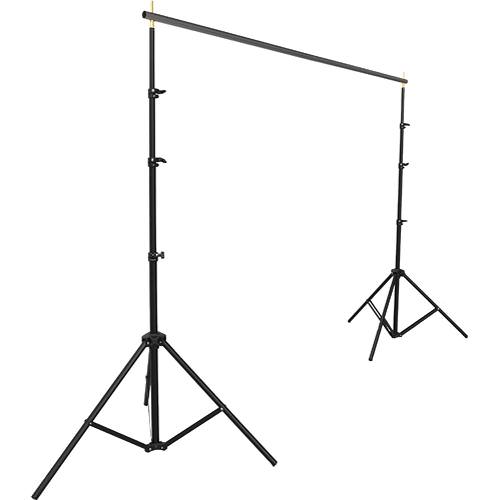 I initially bought a background support system for my corporate photography needs, but eventually started using it for portraiture, product photography and even for lens reviews. The nice thing about the support systems, is that they allow using various types of backgrounds – from color paper to textured muslin.
Product Information and Specifications
Impact Background Support System Information and Specifications:
The Impact Background Support System will support seamless paper up to 11′ in width, as well as accommodate the 12′ width of any brand of muslin background. Total weight distributed across the length of the crossbar should not exceed 20 lb. The system consists of 2 heavy-duty professional support stands with 3 positive locking knobs and tubular legs, a sturdy 4 piece crossbar that snaps together with positive button locking devices, and a heavy-duty canvas carry bag.
It is suggested to secure the stands with gaffer tape, or weight bags when using any background setup where there are several people, or active children on the set. Strong support for paper, or cloth backgrounds. Crossbar may be used by combining some, or all the sections.
Maximum Height: 10.5′ (3.2 m)
Minimum Height: 39″ (99 cm)
Closed Length: 39″ (99 cm)
Maximum Width: 12.5′ (3.8 m)
Minimum Width: 4.1′ (1.3 m)
Weight Capacity: 20 lb (9.07 kg)
Weight: 12 lb (5.4 kg)
Impact Muslin Background Information and Specifications:
The Impact Muslin Background is great for both studio and location work. Made from quality muslin, muslin backgrounds, available in a variety of colors, can transpose a simple portrait into a real serious image.
Color: White
Size: 10 x 24′ (3 x 7.3 m)
Packaging and Field Use
The Impact Background Support System is packaged nicely inside a box: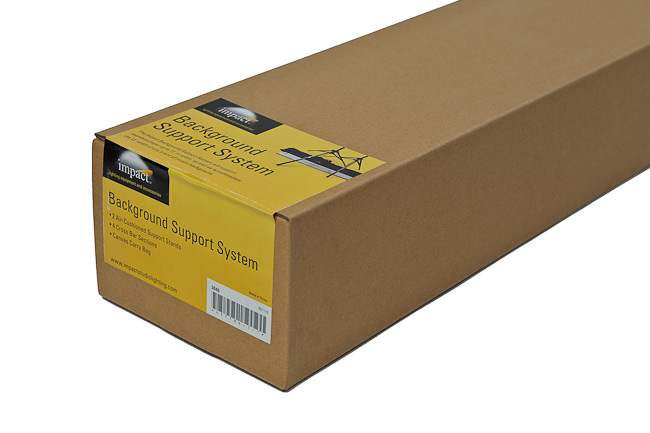 Inside the box you will find a large Impact carrying case/bag: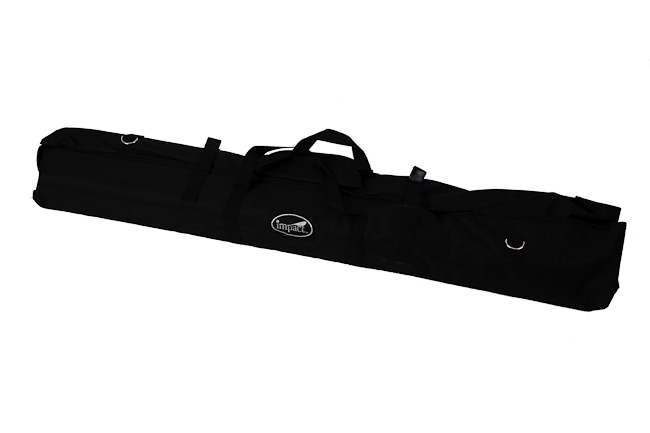 Once you open it up, you will see two heavy duty Impact stands, along with 4 crossbars that can be attached together to form a single long crossbar for the background system. Everything is inside plastic bags as shown below: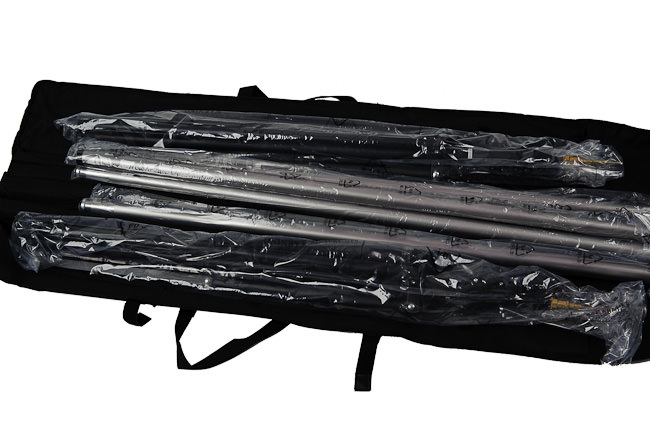 The biggest advantage of using this particular background system, is that you can use the heavy-duty stands as regular stands for your studio photography gear. My first background system was from Savage and you cannot use the stands from that system for anything else. There is a simple pin attached to the end of the stand that you can easily remove to convert it to a light stand: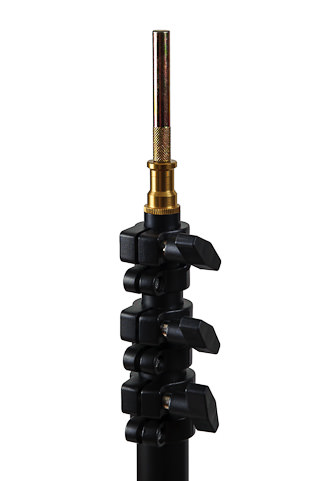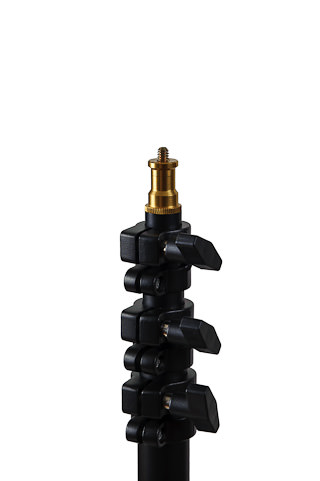 Once fully assembled, here is how it looks with the crossbars connected: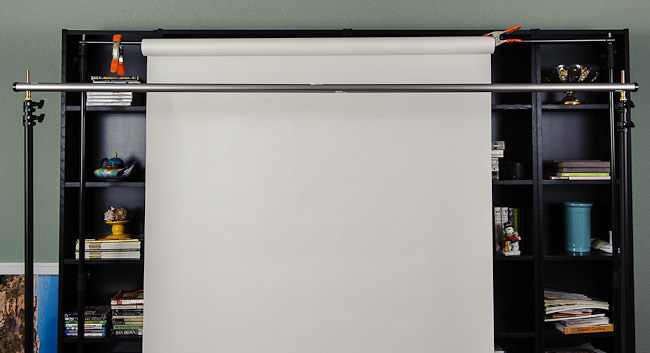 The system is designed to support up to 20 pounds of total weight on the crossbars. While I had no problem using the 10″ Impact Muslin Background, I would not use really large and heavy muslin backgrounds on it, especially with all 4 crossbars in place. I used 2-3 crossbars and the background system worked fine, but as soon as the fourth one was attached, it started to bend with a heavier muslin background.
Sample Images with the Background Support System in use
Like I have already pointed out, the biggest advantage of using this system is because its two heavy-duty stands can be used for anything in a studio. It helps in saving space in especially tight environments. All I have to do is attach the two pins and quickly attach the crossbars to assemble the background support system in minutes. Here is a portrait that I have recently captured using this support system with the white muslin background that I assembled in a minute: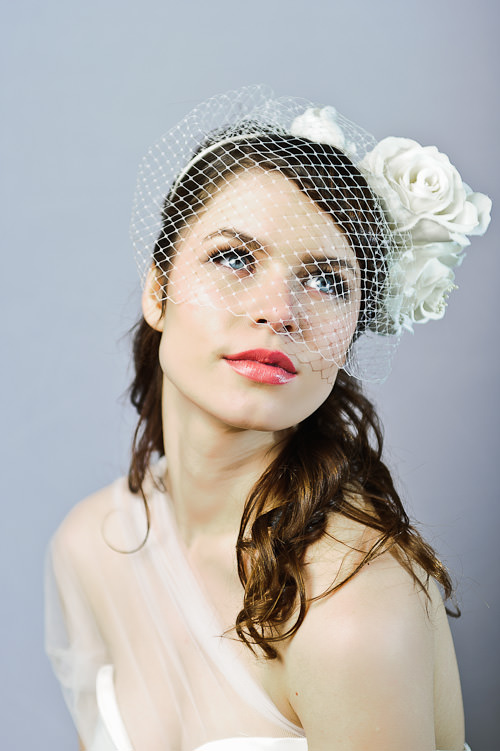 "Wait a second, why is the background gray if the muslin is white?", you might ask. Well, that's a whole different topic, but in short, you could make white appear brilliant white, grey or even black with some flash photography skills. In this case, I specifically did not add any flash to the background to let the light fall off, so that the background color becomes gray. If I wanted to make it brilliant white, all I had to do was point another flash at the muslin background with enough flash power.
Summary
Overall, the Impact Background Support System is very nice for supporting seamless paper and muslin backgrounds. While I would not recommend it for very large setups with heavy muslin backgrounds, it is certainly sturdy enough to be used in a more compact environment with up to 3 crossbars attached. I prefer this system to the Savage background system for one main reason – I already had two more heavy duty Impact light stands that I bought in the past, so I use the stands for both my studio lights and the background system interchangeably. When I need to convert the setup to a background support system, I just take the two female pins and attach them to any of the two stands and I am good to go. As for the white muslin background, it is definitely of high quality, especially at its comparably low price. If you are wondering about what to get – paper or muslin, I find paper to work best on wooden and dirty floors, while muslin is best in indoor carpeted environments.
Pricing and Where to Buy
The Impact Background Support System is priced at $99.99 and the Impact 10×24 Muslin Background is priced at $114.95. Both are available from B&H Photo Video.
Impact Background Support System
Build Quality

Handling

Value

Size and Weight

Packaging and Manual

Ease of Use

Stability
Photography Life Overall Rating