As you know from reading this site, Impact makes a number of excellent products that offer quite a bit of bang for your photography buck. The Impact 22″ Beauty Dish Reflector Kit represents a solid value for those that want to engage in portrait photography, but don't want to pay more for a beauty dish kit than they paid for their portrait lens.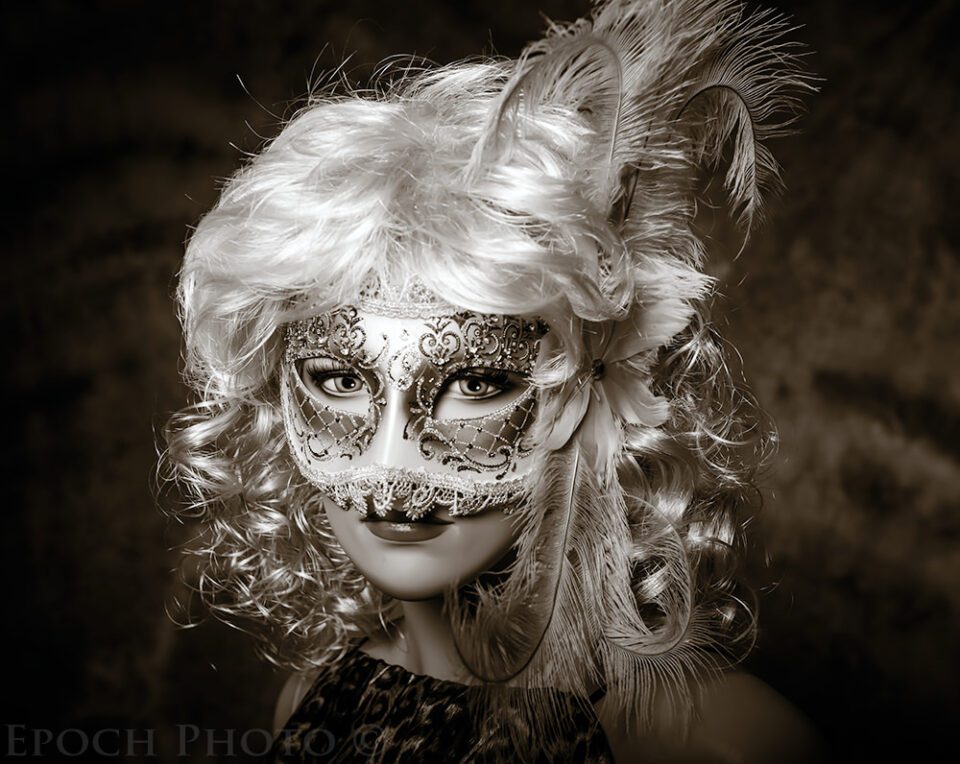 1) Initial Thoughts
This is one well-built kit that will satisfy demanding professionals and amateurs alike.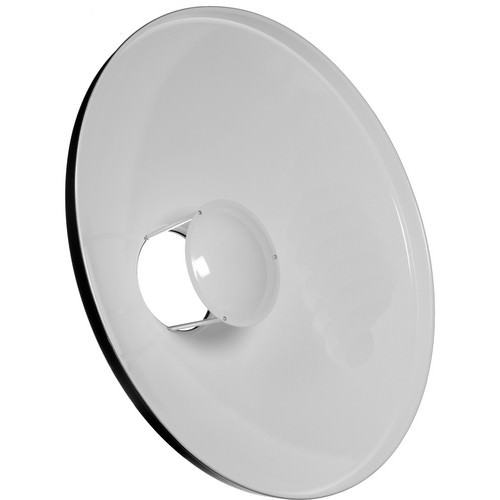 2) Product Specifications
Beauty Dish
Material: Aluminum
Finish: Black exterior, neutral white interior
Mount: Most major brands (requires purchase of adapter)
Dimensions Diameter: 22″ (56 cm)
Depth: 6.5″ (16.5 cm)
Weight: 3.15 lb (1.4 kg)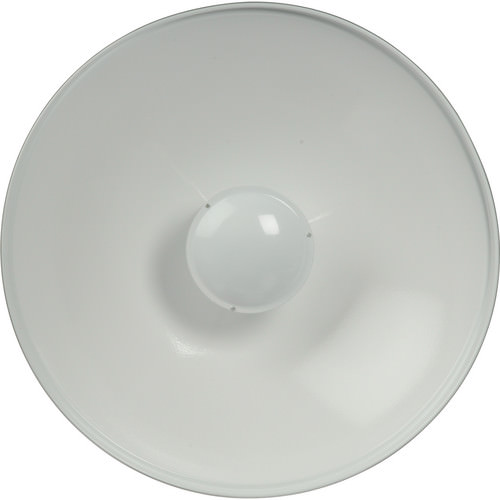 Honeycomb Grid
Material: Aluminum
Finish: Matte black
Dimensions: Diameter: 22″ (60 cm)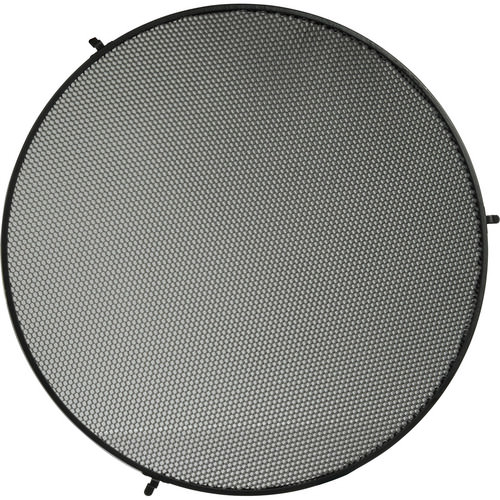 Diffuser Sock
Material: Nylon
Size 22″ (55.9 cm)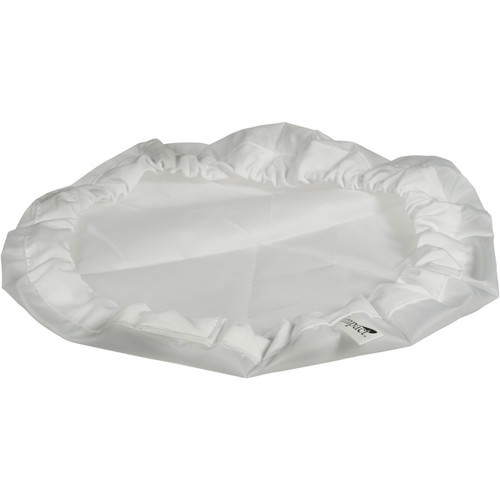 2) Features And Construction
Beauty Dishes are not terribly complicated pieces of gear. Almost all are made of aluminum and painted white or silver on the inside and black on the outside. They have a dome on the inside that reflects the light around the edges of the bowl-like dish. The fit, finish, and paint are top notch and as fine as any other I have seen. The black aluminum grid is very lightweight. Three thick aluminum connectors allow you to easily snap the grid securely onto the beauty dish. The grid also comes off easily enough without a lot of pressure – a very solid design. I like the 22″ models for their versatility. They can easily mimic a large softbox, but are easier to setup – no quirky wire rods and the risk of snapping them and/or driving them through your softbox. Unless you run over you beauty dish with your car, the most damage you are likely to inflict on it is scratching the paint on the outside. And that can be easily fixed with a quick spray of black paint.
You also need to purchase an adapter ring for your specific brand of studio light. This unit cost approximately $25. I ordered one made for my Bowens' Gemini series light.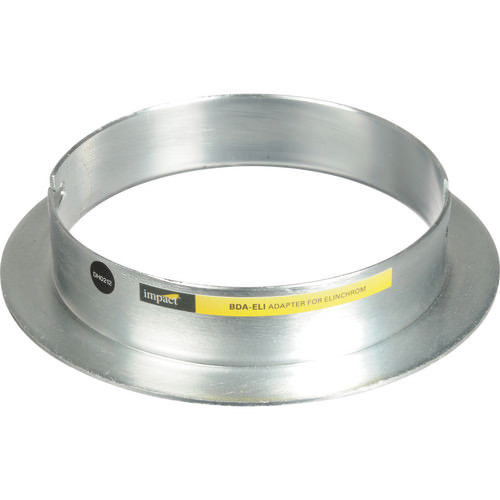 3)Operations
My Bowens adapter ring snapped into place easily enough, and with a few turns of the locking screw, the Impact 22″ Beauty Dish was ready to go. I noticed that the Bowens adapter ring had a bit of play when attached to the Bowens Gemini studio light head. After taking the dish off and comparing the Impact adapter ring to one from Bowens, I noted that the 3 cube-shaped connectors of the Impact adapter were just a hair smaller, which introduced a tiny bit of movement. I consider this to be a minor issue, and have seen similar behavior in other adapter rings I have used.
I asked my lovely assistant, Svetlana, and her beautiful twin sister, Olga, to help out, which they agreed to do (beautiful ladies, but not terribly talkative…). I set up three tests – 1. Beauty dish with diffusion sock. 2. Beauty dish with grid, and 3. Beauty dish without diffusion sock or grid.
1. Beauty Dish With Diffusion Sock
This produced a very soft, flattering light that spilled over to the background. The beauty dish was approximately 2 feet from Svetlana's face at a 45 degree angle. The background was approximately 5 feet behind her. Here's the first photo of Svetlana: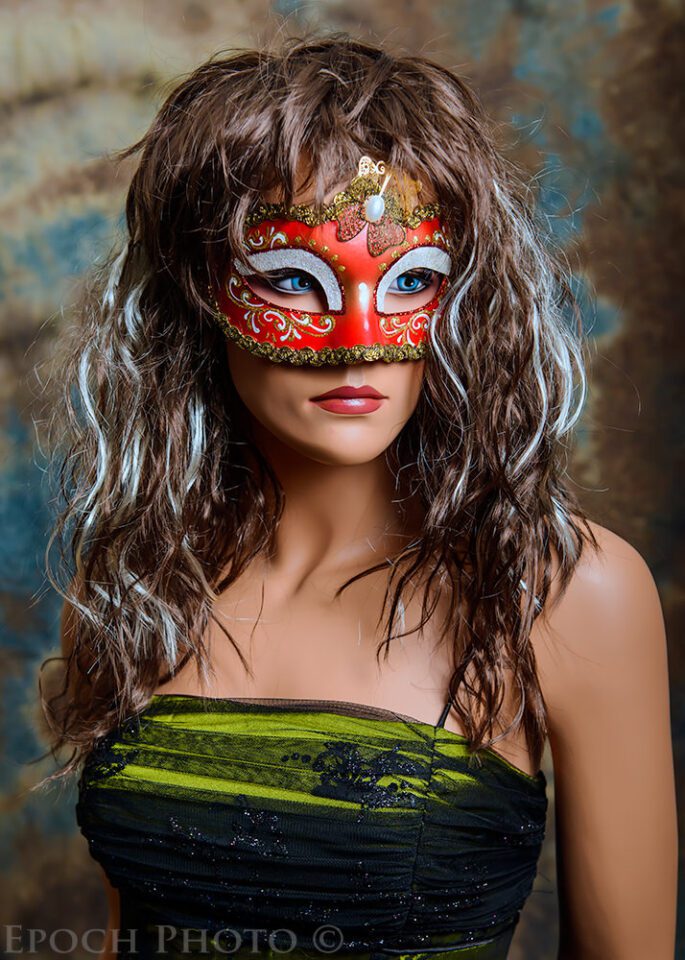 Here's Olga photographed with the same set-up: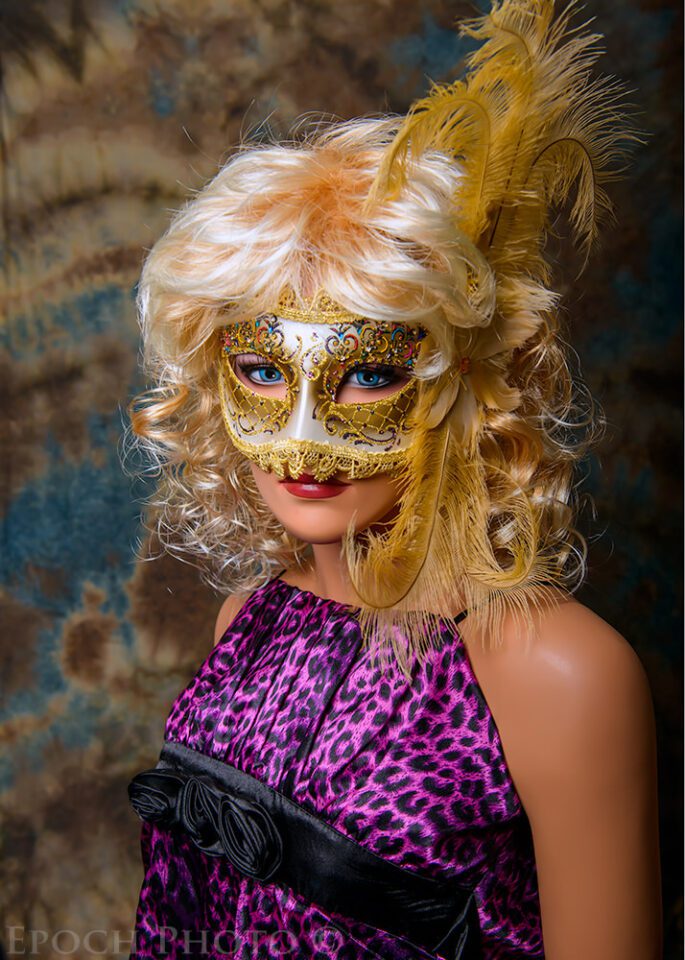 2. Beauty Dish With Grid
The grid better directed the light toward the models' faces, reducing the light's spill on onto the background, and producing deeper shadows. The grid sucks up quite a bit of light. I had my Gemini studio head set at 5, its lowest setting, in the previous test. In order to approximate the same amount of light on my model's faces, I had to up the power to 6. On my light's scale, this represents a 20% increase.
Here's the first photo of Svetlana: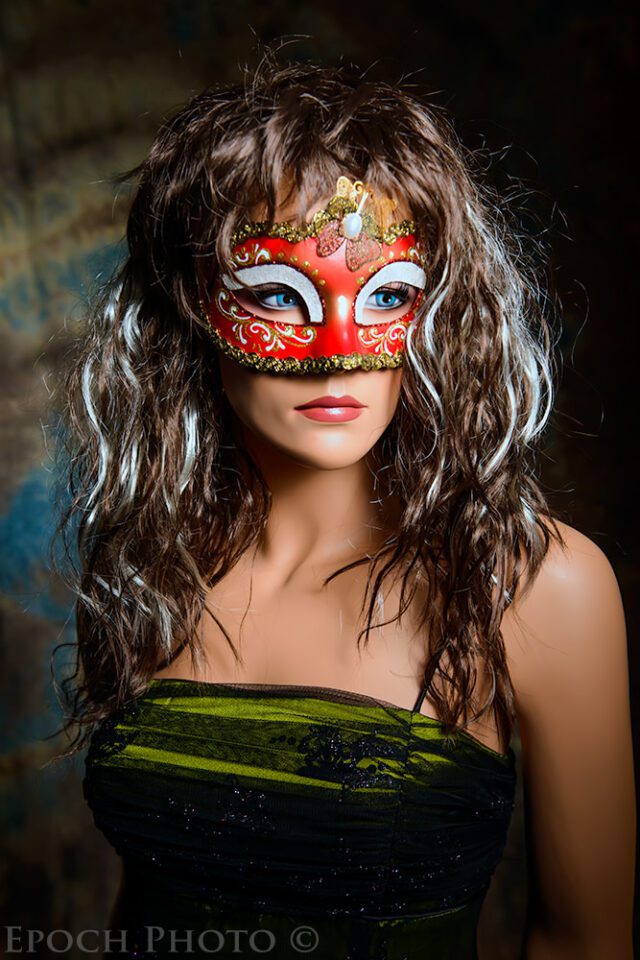 Another of Olga: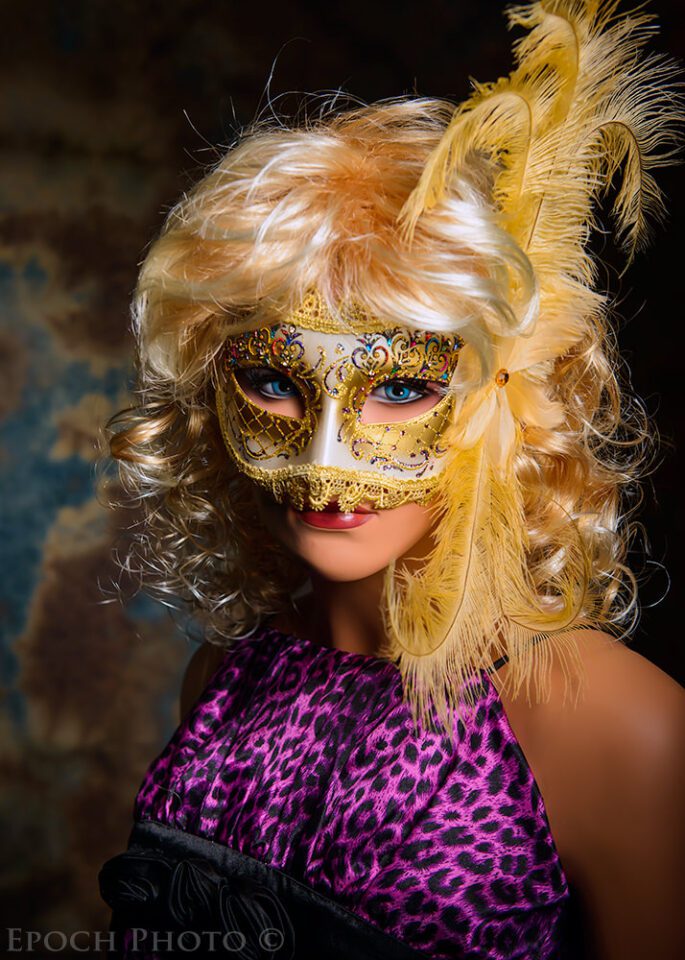 As you can see, the grid introduced a bit more of what call the "40s Glamour Style." This is a classic look which provided striking contrast, dark shadows, and a style often associated with many famous Hollywood actresses from that era.
3. Beauty Dish Without Diffusion Sock or Grid
The photos for this series were hard to discern from those that I took of Svetlana and Olga with the diffusion sock, so I didn't post them. This was probably a function of having the beauty dish so close to the models' faces, resulting in softer light. Moving the light farther away from the models' faces would likely result in more contrast when using beauty dish without the diffusion sock.
I didn't focus much on catchlights, as all beauty dishes produce similar catchlight effects in the models' eyes.
4) What Is In The Box?
– 22″ Beauty Dish
– 22″ Black Aluminum Grid
– 22″ Nylon Diffuser Sock
Not Included But Necessary:
– Adapter Ring for your specific brand of studio light
5) Quality
This kit is very well made and should stand up to just about anything, short of being dropped from of a 10 story building.
6) Value
At $245, this kit may seem expensive – until you consider the competition. You can easily spend between $330 to $850 for the brand name beauty dish kit equivalents. If your style of shooting calls for a beauty dish, you would be hard pressed to find a better deal.
7) Suggested Improvements
The only suggestion I have is for Impact recheck its tolerance for the Bowens adapter ring, and modify the ring just a bit to reduce the amount of play between the beauty dish and the studio light head. For all I know, however, this may only be an issue unique to the Bowens' adapter ring, or perhaps even for the specific ring I received.
8) Conclusion
I highly recommend this kit. Buy the Impact kit and put the savings toward that new lens you have been considering.
9) Compared To
This Impact 22″ Beauty Dish Reflector Kit is on par with brand name manufacturers' units costing significantly more.
10) Where To Buy
You can find the Impact 22″ Beauty Dish Reflector Kit at B&H Photo. You can also find the Impact Beauty Dish Adapter for Elinchrom, Impact EX, Calumet Genesis, Interfit EX Flash Heads at B&H as well.
Impact 22″ Beauty Dish Reflector Kit
Features

Build Quality

Handling

Value

Size and Weight

Packaging and Manual
Photography Life Overall Rating