It is no secret that many landscape photographers, including myself, heavily rely on filters for field work. As I pointed out in my Landscape Photography Guide and Lens Filters Explained article, filters can be very helpful for, among other things, capturing more dynamic range in difficult lighting conditions, decreasing reflections and haze, enhancing colors and slowing down the shutter speed. I have been using a number of different filters and filter systems ever since I started photographing landscapes (more filter holder system reviews coming up soon), so when I found out that Hitech came out with a new filter system this year, I decided to give it a try.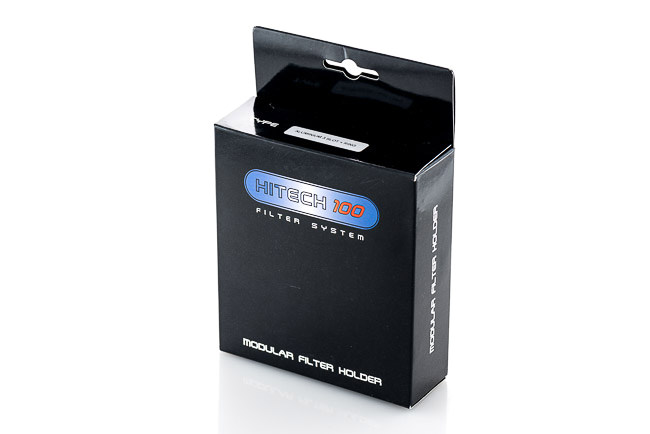 Actually, there are two main reasons why I decided to get the Hitech Filter System with a bunch of new filters. First, my Lee Filters were getting really old. Second, it was very inconvenient to use a polarizing filter together with other filters on the Lee system – I had to mount a CPL on my lens first, rotate it to a needed degree, then mount the Lee filter holder on the filter carefully without rotating the filter. This was just too time consuming for me and it would often result in a lot of vignetting when going a little wider. Lee does make an accessory ring for the filter holder to accommodate a 105mm filter, but I tried it before and it was too painful to use in the field with other filters. Since I was planning on looking at a whole new set of filters anyway, the Hitech filter system seemed like a good solution to the problem.
1) Product Information and Specifications
Product Highlights:
Allows Creation of Multiple Filter Slots
Plain/Spring Spacers for 4″-Wide Filters
Uses Same Rings as MK4 Nylon Holder
Accepts 105mm Adapter Ring
Comes Assembled with Three Slots
Can Be Modified for 4mm-Thick Filters
Constructed from Durable Aluminum
Product Information:
The Hitech 100mm Aluminum Modular Filter Holder is a system that will permit you to use numerous filters depending on your needs in order to create the shot you envision. It comes fully assembled but can be modified to accommodate the filters you require at any moment. It removes the traditional limitation of only three filters per holder by the use of the included plain and spring spacers. Using these included spacers, you can alter the configuration to accept filters as thick as 4mm.
This holder is constructed from durable, rigid aluminum for increased stability while still remaining lightweight. Additionally, this holder uses the same optional 105mm front accessory rings as the nylon MK4 holder, allowing for greater versatility between both systems.
The included filter spacers permit you to use filters ranging from 4 x 4″, 4 x 5.65″, and 4 x 6″ for the greatest amount of flexibility. You are also able to easily modify the number of filter slots with your holder; once you decide upon the number of desired slots, included brass nuts can be used to secure everything in place. Additional spacers and screws are also available to further expand the system.
One of the slots can be modified to hold a 4mm-thick filter by inserting plain spacers.
Additional spring and plain spacers can be used to further configure the filter holder to accommodate multiple filters.
Comes fully assembled for general use.
Utilizes same optional 105mm front accessory adapter rings as MK4 nylon holder for system compatibility.
2) Packaging, Assembly and Use
As described above, the Hitech 100mm Modular Filter Holder comes fully assembled in a nice box, with additional screws for different configurations, plus a two page manual. Here are the screws with the manual that are stored in a separate plastic bag: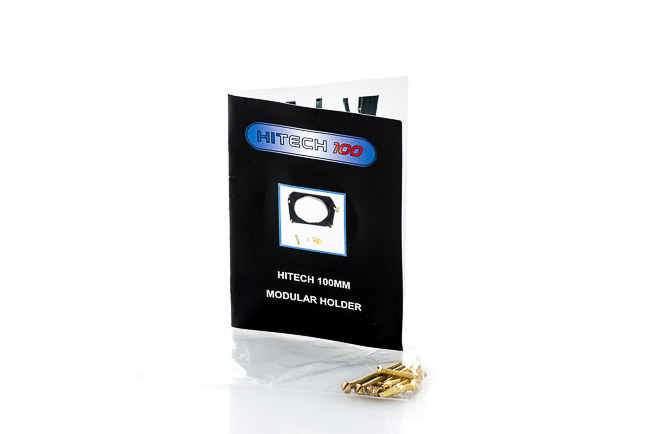 While it is nice to have options for different configurations, I never go back and disassemble/reassemble filter holders, because it is too impractical. Imagine trying to adjust a filter holder with tiny screws in the middle of nowhere in often cold temperatures. That just doesn't work. Since I only use a filter holder to stack multiple filters (I hand-hold single filters), I left it as it was, fully assembled and ready to use.
The very first thing I wanted to try, was to mount the 105mm Hitech polarizing filter on the holder. So I took the Hitech 105mm Threaded Ring and mounted it on the filter holder. The next task was to mount the filter on the ring.
After a few unsuccessful tries to get the polarizing filter to attach to the threaded ring, I realized that the threads on the ring were very poorly manufactured. Why would anyone want to use plastic threads on a filter holder? I ended up pushing the filter hard on the ring and then rotating it, which I thought ended up locking it in place. As soon as I turned the filter holder sideways, the 105mm filter fell off. Gladly, I was trying this at home, so the filter did not get damaged. But I could not imagine trying to do this in the field. I was finally able to secure the filter on the holder after a number of tries and I made sure to tighten it enough, so that it does not easily come off. While trying to remove it for cleaning would be painful, I just did not want to deal with the mounting business (or potentially dropping it somewhere) every time I needed to use it. Here is how the filter holder looks with the 105mm polarizing filter attached: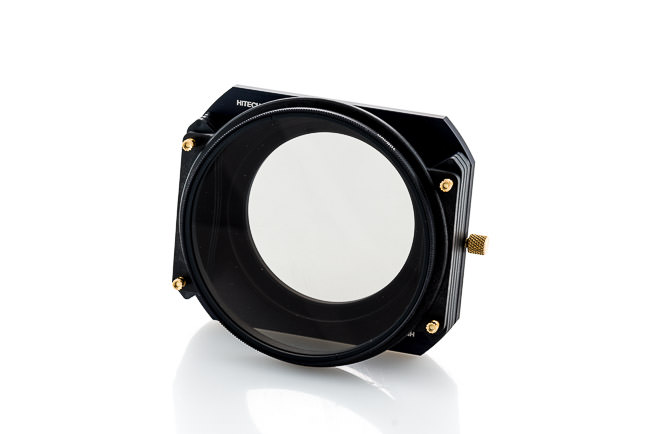 Next, I tested how the filter holder would work with an ND filter attached. The good news is, mounting and removing filters is a painless process and the brackets do not seem to damage filter sides like the ones on the Lee Filter Holder. I was able to easily mount multiple filters and it worked out quite good: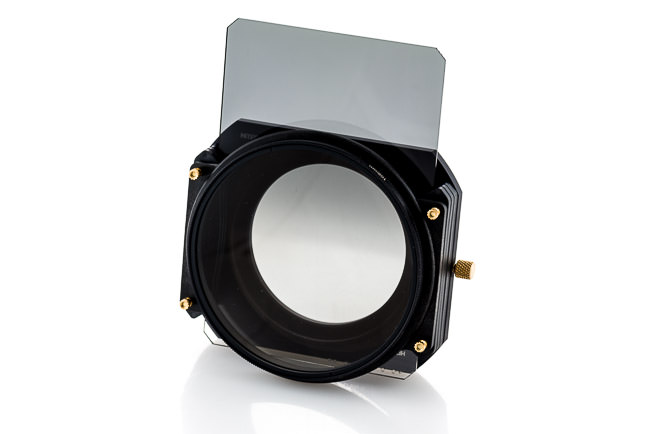 The final task was to get the 77mm ring attached to the filter holder. While the ring itself is nice, the way Hitech designed the mount is terrible. The filter falls into the hole and you use a knob on the side of the filter to secure it. Well, sounds like it should work painlessly, but there are two problems with this approach. First, aside from the single knob, there is nothing to secure the adapter. Second, the knob itself does not come out enough to be able to secure it. At first, I thought I was doing something wrong, but then I realized that this was another design/manufacturing problem. Again, the adapter fell right off as soon as I turned the filter holder sideways. To secure it, I had to over-rotate the knob and have it come out a little more to actually touch the ring. I don't know who came up with this approach, but it is a really bad design. Imagine yourself standing on top of a cliff, thinking that your filter holder is securely tightened and then it just falls off and there goes your filter holder with all filters attached to it! I would not want to lose $500+ in an instant like this.
The Lee Filter Holder System, in comparison, has a much better design. The adapter is secured from one side with hard aluminum teeth that are part of the filter holder and the other side is secured with a spring knob. Once it is attached, it does not easily come off as the one on the Hitech filter holder.
What about vignetting? With the filter holder fully assembled with 3 slots + polarizing filter, the filter holder causes some serious vignetting issues at anything wider than 50mm. Take a look at the below shot taken at 28mm: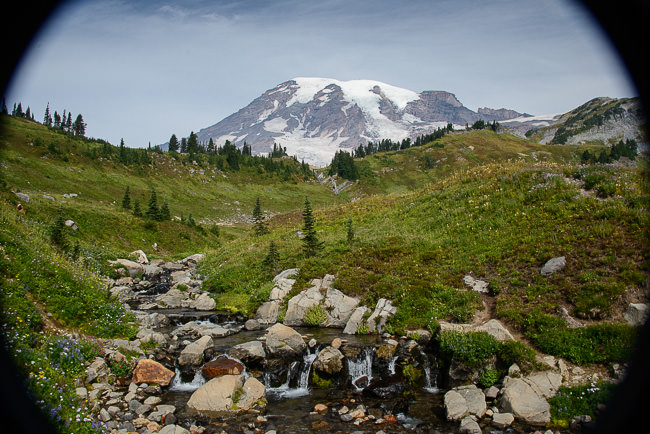 Yikes, not a pretty sight. I would not recommend having all three slots with the polarizing adapter in place at the same time. I ended up reducing mine to 2 filters and vignetting was reduced a bit. Here is another example at 40mm and you can still see vignetting around the edges: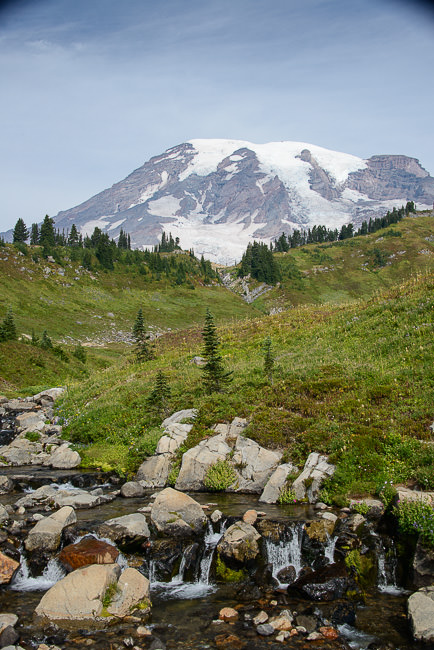 3) Sample Images
Here are some sample images shot with the Hitech 100mm Modular Filter Holder: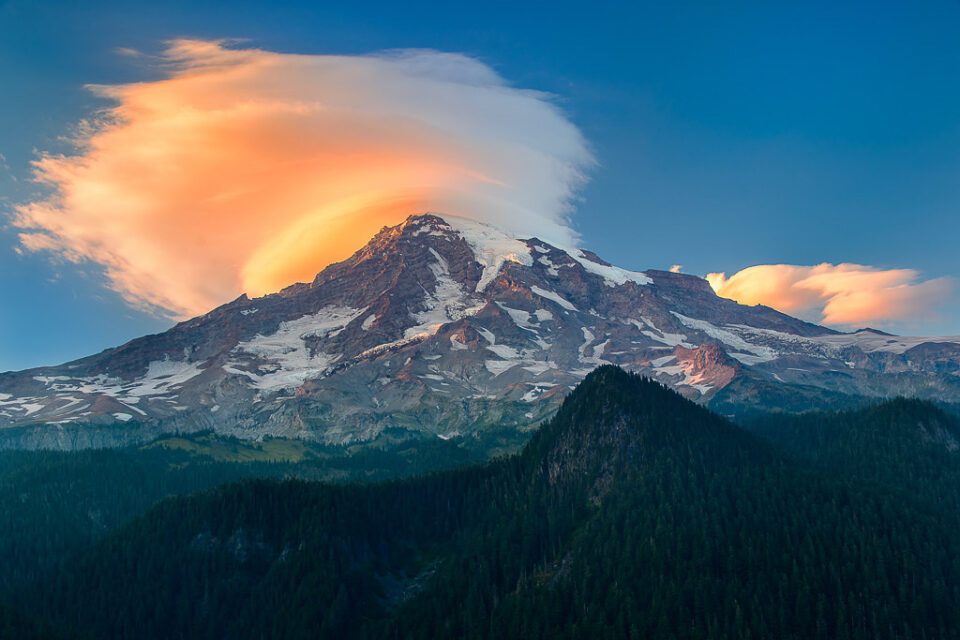 This first image was shot with the Nikon D800E and the Nikon 28-300mm VR. Even at 40mm, I had to crop out the borders to get rid of vignetting. Filters used: Hitech 105mm Circular Polarizer (to reduce haze and bring out the clouds) and Hitech 2 stop GND filter (to bring down the exposure of the sky).
While photographing the above, I took a picture of the setup using my iPhone: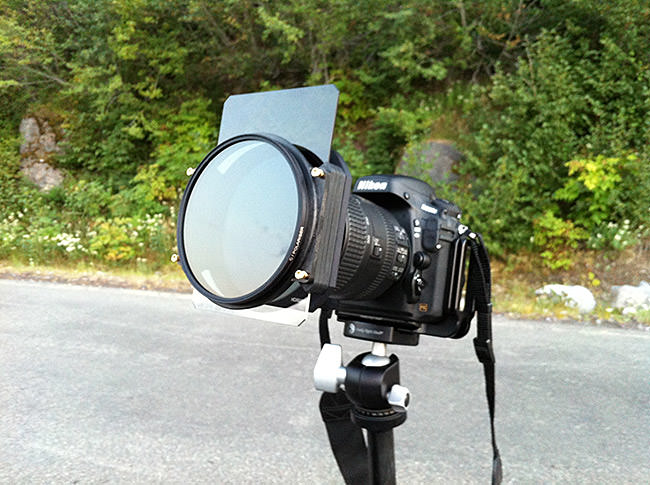 You can see both the GND filter and the CPL mounted on the Hitech Filter Holder.
Here is another sample image: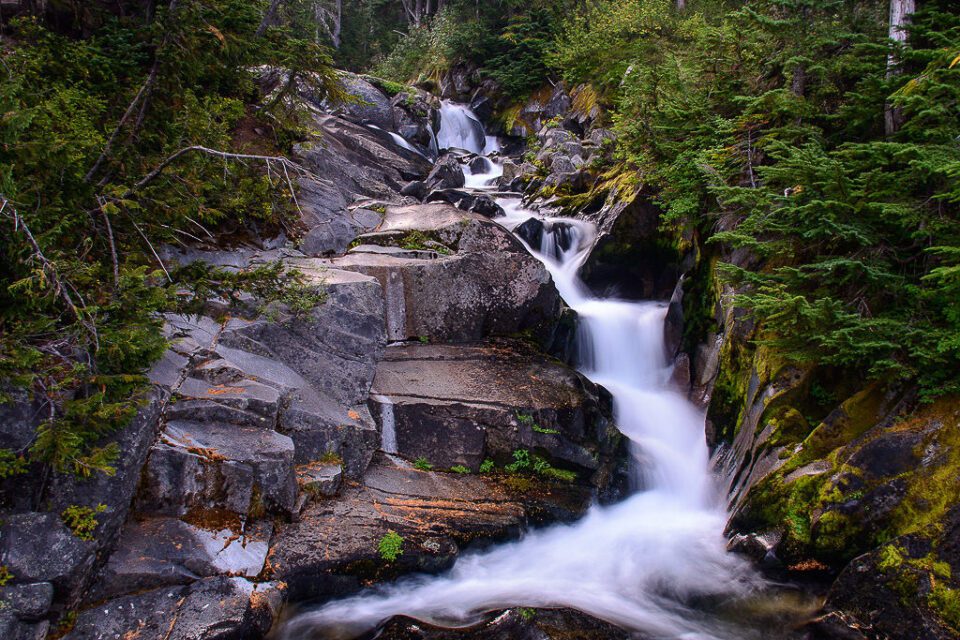 The image was also captured with the D800, but with the Nikon 18-300mm DX lens at 26mm in DX cropped mode (for the upcoming lens review). Also had to crop the corners a little. Filter used: Hitech 105mm Circular Polarizer.
4) Summary
As outlined in this review, the Hitech 100mm Modular Filter Holder has a couple of design issues that need to be addressed. While the filter holder itself is good, the adapter that mounts the holder to the lens needs a redesign with something that tightly holds it in place. Another problem is the plastic threaded ring that holds the 105mm polarizing filter. Hitech needs to come up with a metal ring instead of a plastic one and make sure that the threads are the same both on the filter and on the ring. It should not be this painful to mount a filter. In my opinion, it is unacceptable to sell a product with such bad design flaws. Yes, there are workarounds to both issues, as I pointed out in my review, but why should I be the one thinking about them?
Looks like I am still going to have to rely on my good old Lee Filter Holder that I have been using for years.
5) Pricing and Where to Buy
The Hitech 100mm Modular Filter Holder is available for $83.25 at B&H, although I do not recommend purchasing it, not until a fixed version comes out. If you need a better system that works, go with the Lee Filter Holder or the Cokin Z Pro Filter Holder Systems.
Hitech 100mm Modular Filter Holder
Features

Build Quality

Handling

Value

Size and Weight

Packaging and Manual
Photography Life Overall Rating