About 3 weeks ago, I decided to make some changes to my tripod setup in my lens testing lab, in order to make it easier, more consistent and fluid to test lenses. My decision was based on the fact that I found myself moving the tripod a bit too much when testing lenses, especially the de-centered ones (those that do not have a straight optical axis due to a slight dislocation of one or more lens elements). I decided to replace shorter macro focusing rails for much longer and bigger rails, so that I could have more room for side to side movement and more focus bracketing options for testing telephoto lenses. As I was configuring the setup, I realized that I needed to spend close to $2K in a more versatile tripod head and lots of Arca-Swiss rails, clamps and other accessories. The first task was to replace the standard quick release plate of the heavy duty Manfrotto 405 Pro Geared Head (to be reviewed later) with an Arca-Swiss quick release clamp. As usual, I started researching for a proper solution on Google, which pointed me to Hejnar Photo Store on the first page of search, with exactly the product that I was looking for. I then spent another 30-45 minutes researching the solution and read a number of posts on different forums, where people were raving about Hejnar Photo's products, including the adapter that I needed. This was very important for me, because I needed a setup that would be extremely reliable and stable, especially for handling heavy super telephoto lenses.
Although I have never heard of the company before, I decided to give it a try and purchased the Arca-Swiss adapter and clamp for the Manfrotto 405 tripod head, along with a bunch of other accessories for my custom setup. The pricing was very good, so I wanted to see how Hejnar Photo's products would compare to the most popular brands like Really Right Stuff. My order was processed on the same day and the package was shipped to me right away without any delays. After a few days, I received everything I ordered and started modifying the Manfrotto 405. After going through the instructions on Hejnar Photos's website (which are nicely laid out with images), I was able to modify the head in less than 5 minutes. Once everything was put together, I was pleasantly surprised by how solid the setup was. I slid one of the long rails on Hejnar Photo's tripod clamp and once secured, it was rock solid. No vibrations of any sort – and that's exactly what I need for testing lenses! Here is the image of one of the configurations: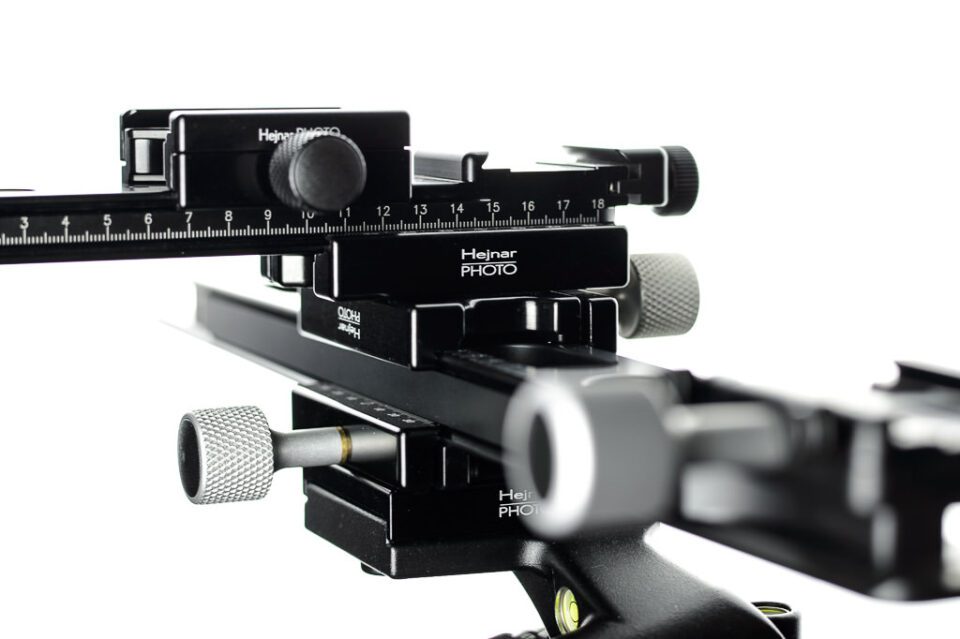 While the setup looks overly complex, it does serve a purpose. The base is secured by a large 3.250″ Hejnar Photo clamp / adapter for the Manfrotto 405 tripod. A long rail is mounted on top of it, on top of which sit a set of two large 3.250″ clamps, similar to the one on the bottom. These clamps sit on top of each other in different orientation and allow another rail to be mounted perpendicularly. For side by side motion, I can simply loosen the bottom clamp from the dual clamp set, which allows me to move the whole setup from left to right as needed. The top rail that sits on top of the second clamp can move back and forth for focus bracketing. This particular rail that I use at close focus (for testing short focal length and macro lenses) has an integrated clamp for a camera. If I need to mount a lens on its foot, an extra dual side clamp sits on top as well. Since this is my "straight" setup, if the whole thing needs to be tilted left or right, I can simply rotate the base of the tripod. For situations where I don't want to rotate the whole base, I replace the dual clamp with Really Right Stuff's PC-PRO panning clamp and change a couple of other things, which allows me to rotate the top portion without rotating the whole base. For vertical adjustments, I utilize the knobs on the Manfrotto 405 head, which allows for very minute adjustments (necessary for calibrating the setup). When testing telephoto lenses, I use a much longer rail on the top for focus bracketing, since small adjustments might not be enough.
The nice thing about the above setup, is that it can be used for pretty much any kind of photography – from macro to architecture and even panoramas (with some adjustments). It is obviously an overkill for most people, but a necessity for my lab. And this is just one component of the lens testing process. I will write a separate article on how I test lenses, so that you could get a glimpse of what it takes to test a single lens. In short, it is a lot of work!
Now let's get back to Hejnar Photo's products, because this is why I wanted to write this review in first place.
Product Quality
One of my main concerns with less known and third party brands is always their quality. When I mount a $5K lens on a tripod, I need to know that it can support the weight and be very stable. Historically, I have been relying on Really Right Stuff and Kirk products, because of their solid craftsmanship. But the cost of buying products from such companies is very high and can easily get into thousands when building a custom rig. Although there are now plenty of alternatives out there, as listed on my Arca-Swiss Quick Release System article, most brands are priced similarly (except for Chinese companies like Sunwayphoto that also provide inexpensive alternatives). The cost of aluminum molding can get quite high, especially with small customizations. And once you add these manufacturing, marketing, staff and other costs, the end result is a high price. That's why brands like RRS and Kirk that are manufactured in the USA charge so much for their products.
In the case of Hejnar Photo products, they are also made in the USA, in Bloomingdale, IL. The product is indeed of very high quality, very similar to what you would expect from RRS, Kirk and other popular brands. But compared to the big brands, Hejnar Photo's prices are lower, sometimes by a substantial amount. For example, a Nikon D800 L-bracket that RRS sells for $140 can be bought for $90 at Hejnar Photo. Prices for clamps, rails and other accessories are also lower in comparison.
The whole shop is operated by a single person, Chris Hejnar (hence the name). He personally designs each product, tests it and makes sure that his manufacturing costs stay low. He packages and ships each product. So if you are wondering why his products are cheaper, here is how he explains it on the website:
I have no distributors, nor large chains of retail stores. No sales teams, rallies, parties, nor "employee of the month" contest. No corporate meetings, no stocks, no options, no employees, no headaches. I have no advertising costs, because my sales come from word of mouth by the people who are happy with my products. Basically you are dealing directly with me and don't pay for markups.

I do not have big development cost because I don't buy a new camera every time something new needs to be designed. I cooperate with those people who have already bought particular equipment and they give me the information that I need. They also check the compatibility of my product. This works for everybody because it lets me keep my costs down and costumers receive the products at a reasonable price.
And compared to the big brands, Chris can also do custom work. Take a look at the custom support rig he designed for a Leica + 800mm lens: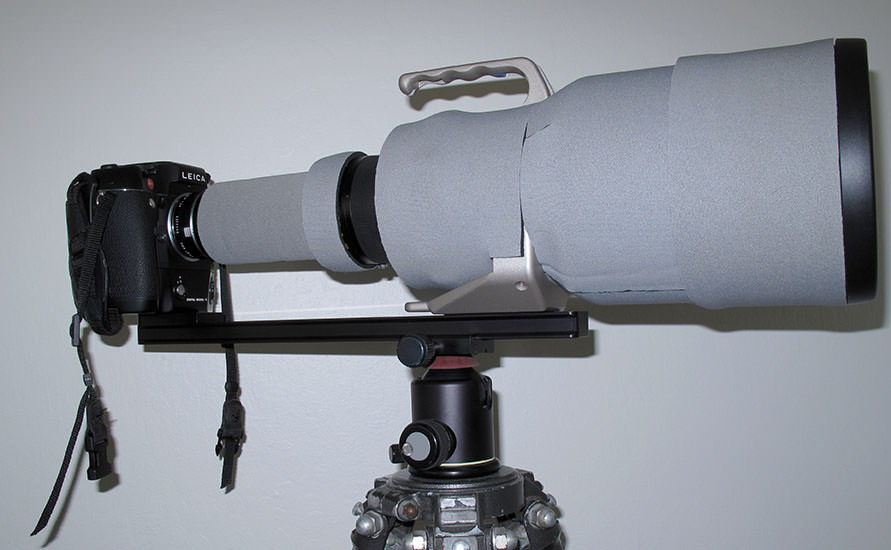 Where to Buy
You can purchase Arca-Swiss compatible accessories and adapters from the Hejnar Photo Store. Any form of payment, including PayPal is accepted via secure check out. Please support Chris by buying from his store!
Hejnar Photo Accessory
Features

Build Quality

Handling

Value

Size and Weight

Packaging and Manual

Stability
Photography Life Overall Rating