Choosing a tripod can seem like a riddle with no correct answer. The lighter and smaller the tripod, the less stable it'll be, seemingly defeating the point of even bringing one. I especially seem to run into this problem while traveling, when a bulky tripod just isn't feasible. Travel tripods always make some tradeoffs, but one tripod from Heipi caught my eye. It's called the Heipi travel tripod, and I've spent some time testing it recently. Here's what I think about it.
The Specs
The Heipi travel tripod is an interesting combination of a main tripod, a ball head, and a smaller sub-tripod that stores within the confines of the larger tripod. When stowed, it's all a seamless package. The sub-tripod can either remain in place, or be pulled out to use separately. At $399, it's well-priced for a high-end carbon fiber travel tripod.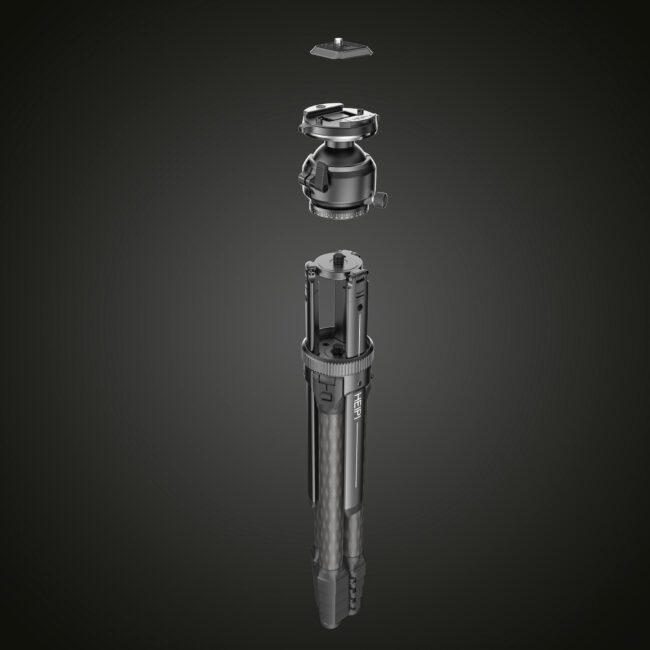 The packed length is 17.5in/44.5cm, with a packed diameter of 2.7in/6.9cm. Total weight is 3lbs or 1.35kg, with the sub tripod accounting for .42lbs or .19kg of the total. There are five leg sections (four flip-lock clamps). Overall, the tripod is very portable and compact, although the small size makes it feel a bit dense.
While the legs are carbon fiber, much of the tripod is metal, including the latches, collar, and tripod head. This certainly gives a better impression of build quality compared to plastic.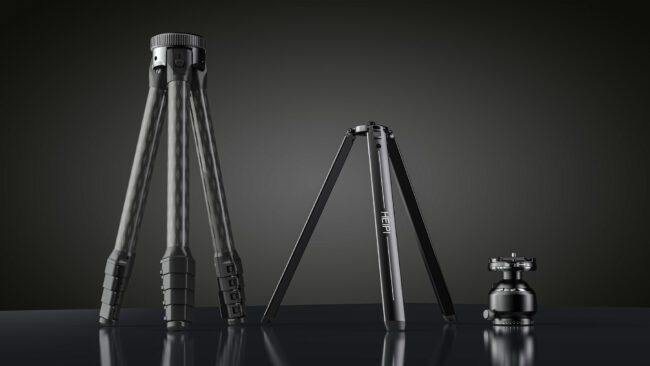 With the legs fully extended, the main tripod can reach 50 inches or 126cm, while the sub tripod can be extended like a center column to boost this to 59 inches or 150cm. It's a rather clever design trick, negating the need for a separate center column.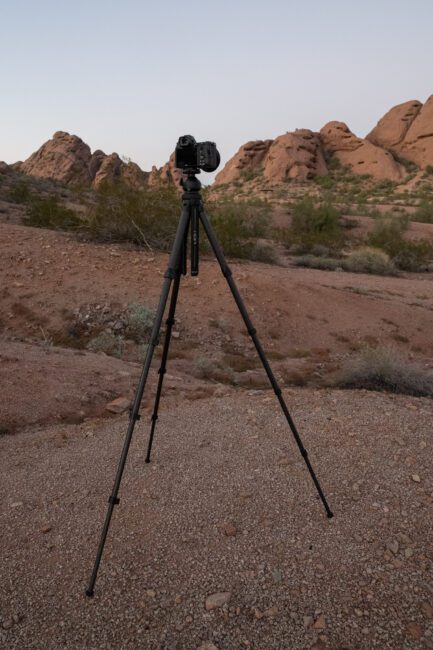 Interestingly, unlike some ultra-portable tripods, many things on this Heipi model feel like a "regular" tripod, from the cylindrical legs, to the tripod head's design and interface. It's compatible with an Arca-Swiss style plate and uses regular tripod screw sizes.
For a travel tripod, the Heipi sits right in the middle of the pack when it comes to height, weight, and number of leg sections. What sets this tripod apart are some of the smaller design decisions.
The Main Tripod Legs
While the sub-tripod is interesting, I care more about the main tripod legs working well. Fortunately, they do. While this tripod is rated for a 55lbs or 25kg weight capacity, that figure (as with all tripods) is not super relevant to real-world use. Instead, I'd consider this tripod to be a good option for lenses up to 200mm, on bodies up to pro-level mirrorless or DSLRs. And if you do more "critical" use, like stacking macro images or shooting in very windy conditions, you'll want to consider heavier tripod setups.
One potential area of concern is the choice of flip locks over twist locks. Flip locks are less ergonomic, slower to set up and tear down, and seem to hold less securely than twist-style locks. While I didn't run into slippage issues in my testing, I still prefer twist locks for long-term (multi-year) usage of my tripods.
The tripod legs have detents allowing you to angle them wider if you need. On my copy of the tripod, moving into these positions is a bit stiff, and it's a bit awkward when the sub-tripod is in the stowed position. By comparison, the leg angle locks on my Gitzo are far easier to operate.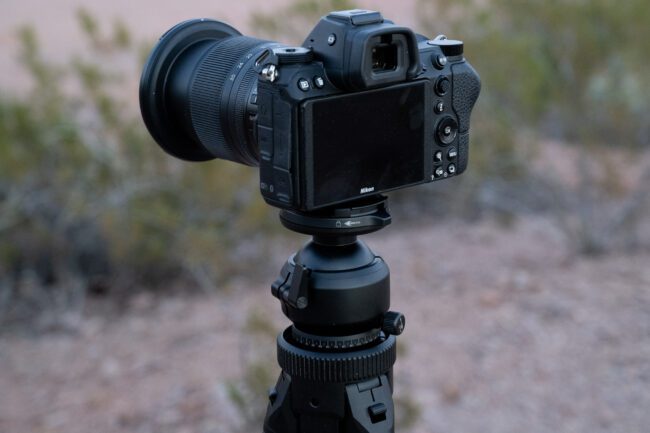 The Tripod Head
Heipi includes a very high quality tripod head with the package. While it's compact, it still offers a 50mm diameter ball with support for a 55lbs load. Again, I don't pay much attention to weight-rating claims, but this one does feel well-built and reassuring.
In fact, Heipi's head is much better than a typical travel head; it offers everything I'd expect of a dedicated full-size tripod head. Starting with the plate for your camera, Heipi supports the industry standard Arca-Swiss style mounting plate. They've tested compatibility with a range of major brands, including Peak Design, Smallrig, Ulanzi, Sirui, and Benro. So, you should be able to use your existing L-brackets and other Arca-Swiss gear.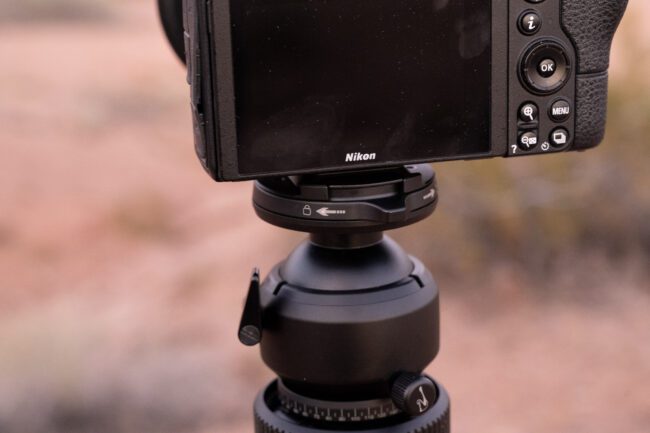 Interestingly, the plate locking mechanism is a twist-lock system, different from the usual flip-locks and screw-locks on most tripod heads. Still, it feels very secure to me. But I would make sure to test it with any third-party plate that you intend to use, just to be safe.
The head that comes with the Heipi travel tripod has an integrated, retractable smartphone bracket. As a pleasant surprise, this bracket is even big enough to comfortably accommodate an iPhone 14 Pro Max in a case. This combo is often beyond the range of many smartphone accessories, so it's nice to see it fit here, and goes to show Heipi's attention to detail.
On the head itself, there are a pair of plate retention screws, which are removable to expand compatibility with other styles of plates. Also present is a small bubble level, which can help when leveling the tripod for shooting panoramas.
Speaking of panoramas, the Heipi head supports 360 degree panning, with audible and tactile clicks at every 10 degrees (these clicks can be muted for video use). Part of the tripod makes it a bit hard to see the panorama markings at the base of the tripod head, but still, it's a solid option for shooting tripods.
Finally, the head supports dropping your camera into portrait mode via a notch on the side. That notch is helpful when using the integrated phone mount, or a camera without an L-bracket.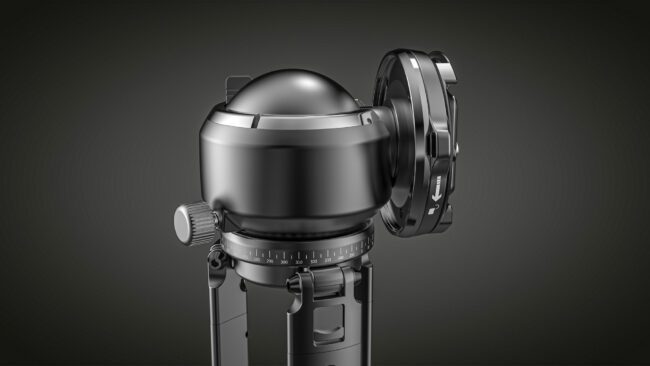 One potential drawback is that the Heipi tripod isn't really meant to use other tripod heads. You can mount a different tripod head, but if your head has a larger base diameter, you would need to physically remove part of the tripod to make it fit. If you already have a small travel head, this issue wouldn't apply.
The Sub-Tripod
The sub-tripod pulls double duty, as both the raised center column of the main tripod and as a detached tabletop tripod. As a center column, it boosts the total height from shorter than chest level to something closer to upper chest. Raising the center column is always a move of last resort when setting up your tripod, as it's inherently less stable, and this approach is no exception. It performed as well as a typical center column, but I'd still only use it if necessary.
With the sub-tripod removed, it's a very functional tabletop or macro tripod. I could see getting away with using this small tripod in many areas where you wouldn't bring a full-size tripod, like in crowded areas. Given the very lightweight design and close integration with the main tripod, I'd be happy to have this with me on a trip and just throw it in my bag for the day.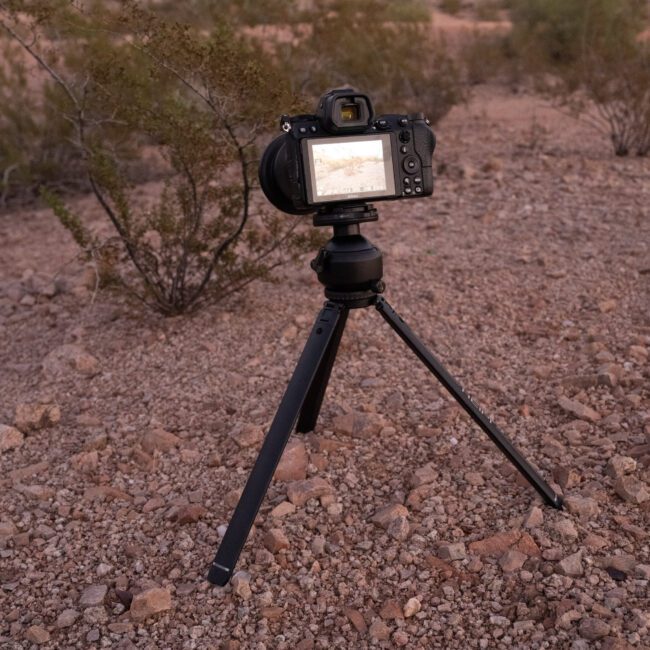 Field Testing the Heipi Travel Tripod
In real-world use, the biggest thing that stood out to me was how effective the tripod was at cutting weight, while still operating like a non-travel tripod. Some things aren't perfect, like the use of flip-locks instead of twist-locks, but I didn't run into major issues. My past experiences with ultra-light travel tripods left me shaking my head at design compromises or just a general lack of stability.
This tripod isn't as rock solid as my full-size Gitzo legs, but I'd have no problem bringing it along on a trip. And considering that it's a travel tripod by design, I can't fault it for that. Relative to other travel tripods I've used, it's clearly in the upper end of stability.
Throughout my testing, I used Nikon 14-30mm, 24-70mm, and 70-300mm lenses on my Z6 and Z7. While these aren't particularly demanding lenses in terms of focal length, they're a great fit for this tripod's use case. Lenses like this are exactly what I'd bring if I were traveling light. For all three lenses, I had no issues with head sagging, shaky images, or any other manifestation of tripod instability, even at long exposures.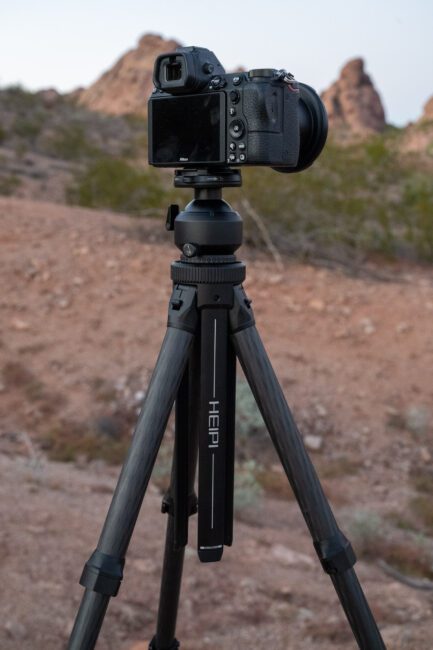 As for using the tripod head in practice, I was a fan of its design and stability as well. One thing that did stand out to me was the relatively high drag tension of the tripod head. Some photographers might prefer this for less sag under heavy loads, but I felt it was set too high, particularly as there is no easy way to adjust it.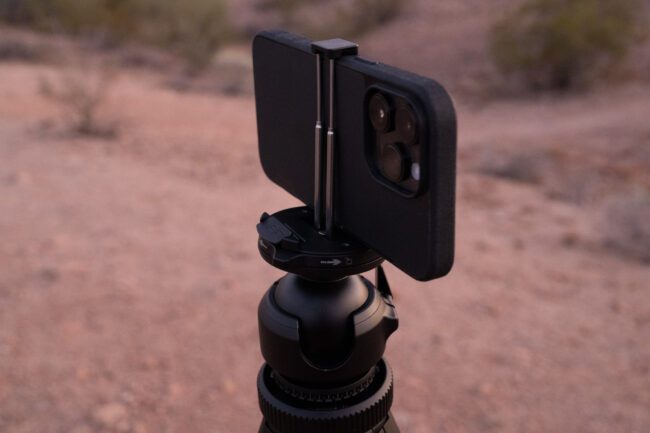 Overall, I'm quite happy with my experience using Heipi's travel tripod. While it's easier than ever to choose lighter camera bodies and lenses that don't compromise on quality, tripods have always felt limited by simple physics. Heipi hasn't broken the laws of physics, but I think they've made a great set of smart design decisions. The Heipi travel tripod feels well-suited for today's travel photographer using a compact DSLR or mirrorless rig.
The Heipi travel tripod is available for pre-order from the Heipi website for $399 and is scheduled to ship in June.