This is a review of the Gitzo Traveler Tripod (GT1542T Series 1, 6x Carbon Fiber, 4-Section), a very lightweight tripod designed specifically for hiking and traveling purposes. Choosing a tripod for photography needs can be a rather frustrating experience, given how many different tripods are available on the market today. Depending on what you shoot and your budget, there are literally hundreds of different choices available – from compact "GorillaPod" to heavy-duty tripod systems designed for super-telephoto lenses. In this review, I will write about Gitzo, a brand name that has truly become one of the most recognized among photographers, thanks to their high-quality support systems designed for life-long use.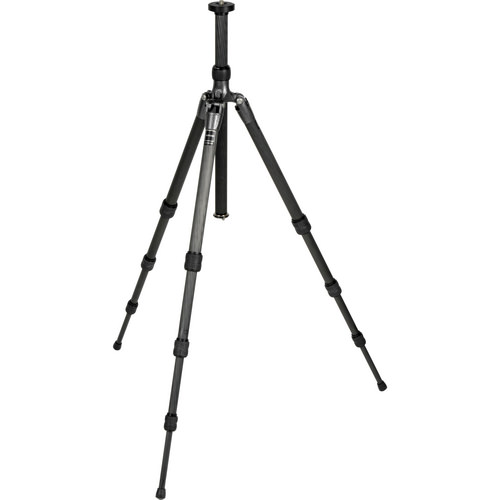 Without a doubt, Gitzo tripods have been reputable among photographers due to their high-quality build, excellent stability, great ergonomics, durability, and reliability – all while being lightweight and easy to carry. At the same time, Gitzo is also known to be a premium brand with a high price tag, with many of its products offered above $500. If you are just getting into photography, that number will surely sound scary for something that is supposed to simply hold a camera. I remember the first time when I saw a Gitzo tripod at a local camera store. Priced roughly at $800 USD, it seemed not only way out of reach of my budget, but it left me wondering why anyone would ever spend that much money on tripod legs alone when my Nikon DSLR kit cost me a little over a thousand. Little did I know then, that I would spend more than that over the next year, going from one tripod system to another.
When it comes to tripods, you almost always get what you pay for. Cheap tripods can not only ruin your pictures, but they can also ruin your equipment. The very first cheap tripod that I bought from Best Buy broke in less than a week. I replaced it with a more expensive tripod that lasted a few months before I threw it away – it almost cost me my camera. The plastic mount broke while I was trying to position the setup, which sent the camera down. Thankfully, the camera fell on the grass and nothing was broken. At the time, I was just getting into wildlife photography and having bought my first telephoto Nikon 300mm f/4 AF-S lens with a 1.4x teleconverter, I knew that I needed something more stable.
That's how I got my next tripod, which I spent several hundred dollars on with a pan/tilt head. The tripod worked great for general photography, but shooting birds in flight was close to impossible with it and my frustration with blurry pictures was just driving me nuts. Finally, after so many failures, I decided to get a Gitzo Systematic tripod with an Arca-Swiss ballhead. I have been using the same setup for over 6 years now and I have used all kinds of gear on it, including some of the heaviest Nikon super-telephoto lenses like the Nikon 400mm f/2.8G VR.
While I will be reviewing my trusty Gitzo Systematic tripod separately later, this review is for the much smaller and more compact version of the tripod that I bought specifically for travel and hiking purposes. The Gitzo Series 1 Traveler tripods are designed to be small and lightweight for portability purposes – exactly why I decided to get one for my photography needs. Since I travel by air quite a bit, taking the bulky Systematic series tripod was just not working out for me. Not only was it painful to squeeze it into a carry-on size bag, but it was also taking half of the space, leaving practically no room for my clothes for short trips. In addition, since I have been doing mostly landscape photography lately, I decided to get a lighter setup with a smaller ballhead. Hiking with the tripod and heavy metal ballhead was getting painful and I found myself leaving the tripod behind more and more, only to regret that I did not have a tripod with me later.
Product Specifications and Features
| General | |
| --- | --- |
| Load Capacity | 15.43 lb (7 kg) |
| Head Attachment Fitting | 1/4″-20 & 3/8″-16 (reversible stud) |
| Maximum Height | 58.66″ (149.0 cm) |
| Maximum Height w/o Column Extended | 45.87″ (116.5 cm) |
| Minimum Height | 8.66″ (22.0 cm) |
| Folded Length | 16.73″ (42.5 cm) |
| Weight | 2.2 lb (1 kg) |
| Legs | |
| Material | 6x Carbon Fiber |
| Leg Stages/Sections | 3/4 |
| Leg Lock Type | Twist lock |
| Independent Leg Spread | Yes |
| Spiked/Retractable Feet | No |
| Center Brace | No |
| Center Column | |
| Center Column Type | Rapid |
| Center Column Sections | 1 |
Description of Main Features:
Rapid Center Column – the center-column locking collar above the tripod chassis makes it easier to adjust the column quickly. A grooved design prevents rotation of the column and improves system stability
Ground Level Set – the center column is removable so that you can shoot closer to the ground. Without using any tools, you can remove the center column and secure the upper disc directly to the upper casting using the center column hook
Reversible Center Column – for even lower-level shooting or for macro work, the center column is also reversible for easy inversion
Counterweight Hook – The built-in hook at the bottom of the center column allows you to hang a weight (such as a sandbag or full camera bag) in order to provide additional stability when you're operating with heavy loads, on uneven ground, or in windy conditions
Anti Leg Rotation – a redesigned Anti Leg Rotation system means the tripod can be opened in less than 15 seconds. With a single twist of your wrist, you can loosen all three twist locks on a leg at the same time, then pull the leg down and tighten the locks individually
Gitzo 6x Carbon Fiber – Gitzo 6x guarantees structural strength, flexion rigidity, and great vibration absorption properties. The performance of this multilayer design is unique and inimitable thanks to the advanced aerospace production technology and the exclusive inner structure. It is the highest-density tube that's 100% made of top-quality ultra-thin (7μm) carbon fibers – a 28mm tube contains 1.5 million carbon fibers
Packaging, Assembly and Use
The Gitzo Traveler comes packaged nicely in a black Gitzo box: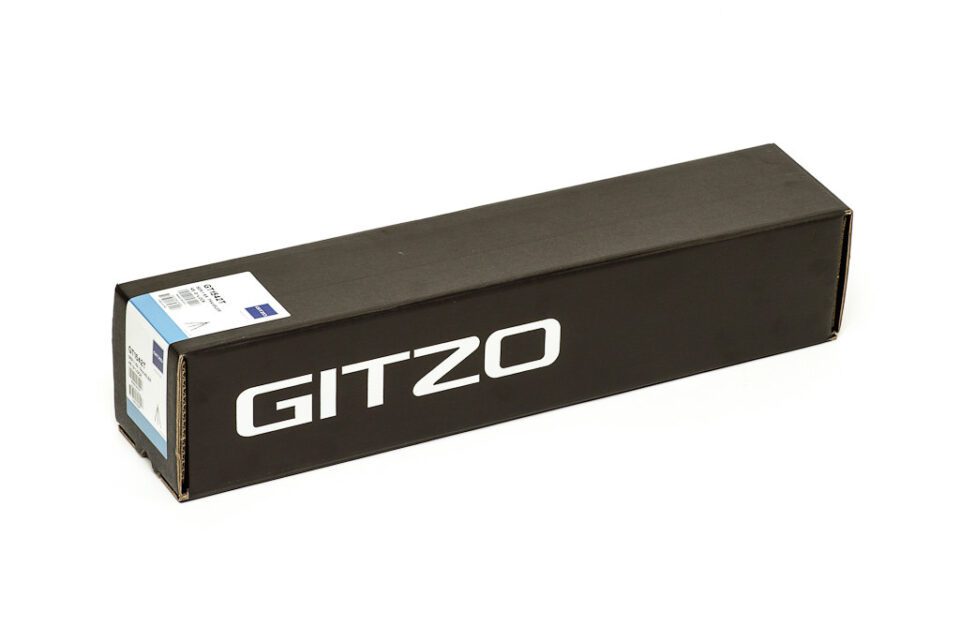 Inside the box, you will find the tripod in a black dust bag, along with a plastic bag containing the product manual, two L wrenches, and tripod head grease. The L wrenches are for adjusting the tripod legs, while the head grease is used when disassembling the legs and cleaning them. Here is the Traveler (left) compared to the Systematic (right) when fully collapsed: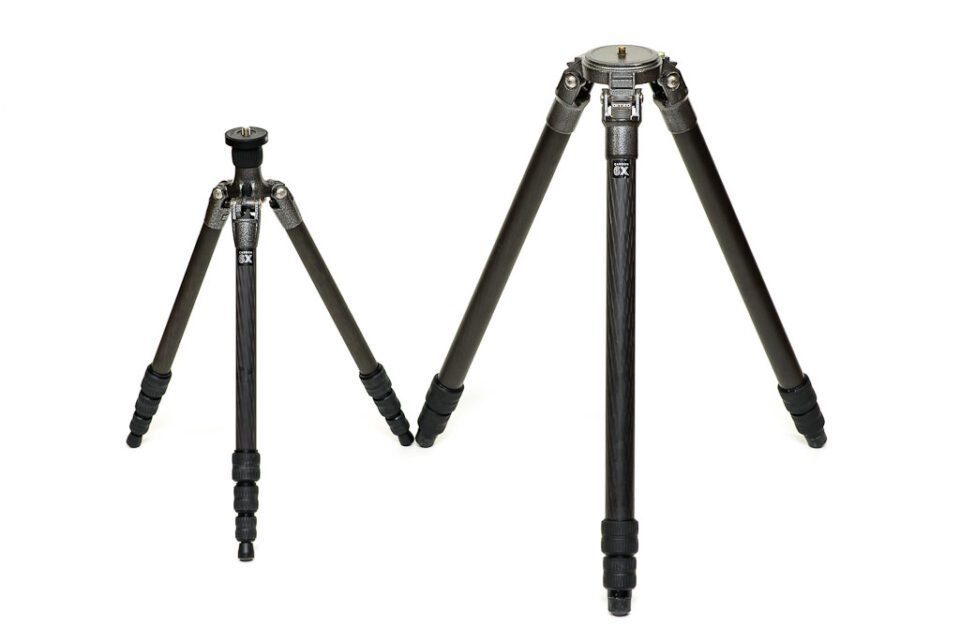 The twist-lock system is very easy and convenient to use. Rotate it counter-clockwise to loosen the legs, extend them to the desired size and rotate them clockwise to tighten the legs. While it might be faster to use a flip lock system, I find the latter to be less stable in general, especially when enough pressure is applied to one of the legs. With a twist-lock system, once you lock it and tighten it, it sits dead on.
I personally stay away from center columns, because they generally de-stabilize the setup. However, Gitzo does a really good job with how it designs the center column – once extended and tightened, it does not wobble at all.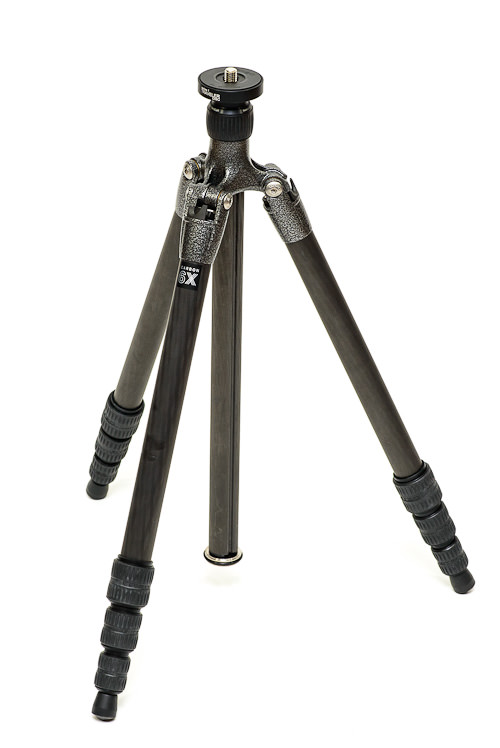 And if that's not enough, you can easily remove the center column without any tools: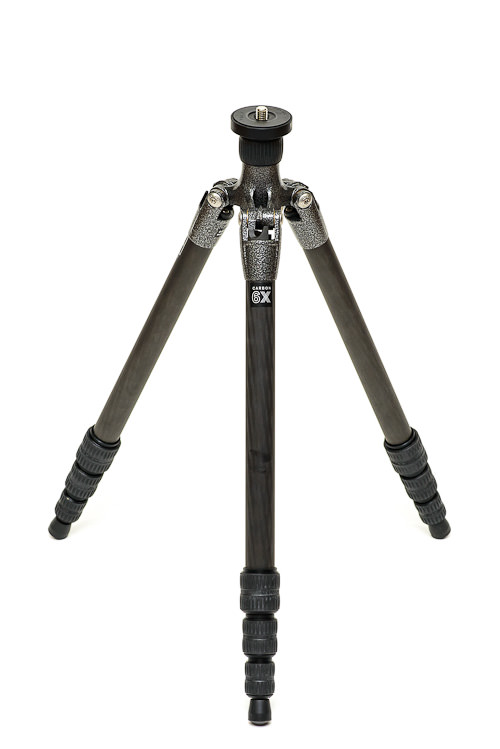 Keep in mind that the tripod only extends to 46″ without it though, so if you do not want to sit on your knees or bend your neck too much, I would leave it there. Here it is extended without the center column, compared to the Gitzo Systematic: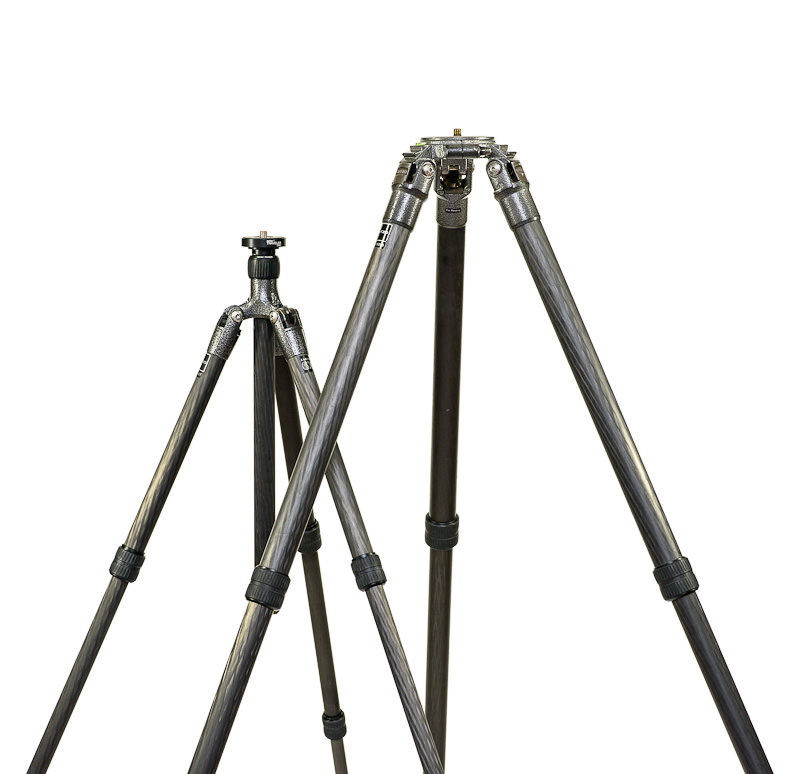 With the center column fully extended, the tripod can reach 59″, which is higher than what the Gitzo Systematic can do: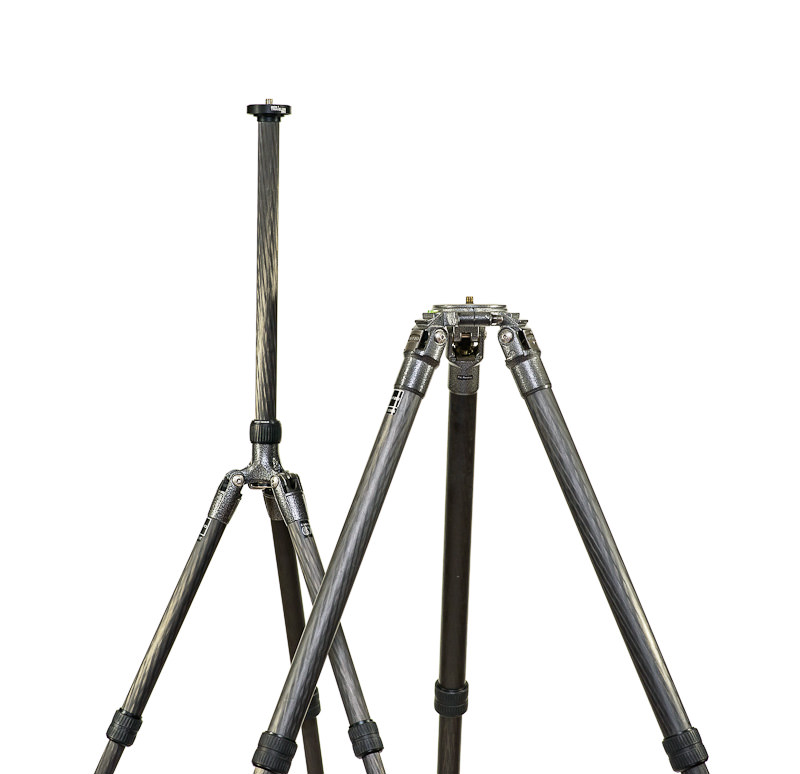 I would not extend it all the way up though since it will surely make the system less stable.
The center post has a hook on the bottom for additional stabilization, so you can hang a light bag or some light weight on it.
Build Quality
It is a Gitzo, so it is nothing less than "excellent" in terms of build quality. Gitzo tripods were originally made in France, then once the company was bought by Vitec Group, all manufacturing was eventually moved to Italy. Gitzo products get tested by very demanding professionals, so you will see very few badly designed or defective products on the market.
I think of Gitzo as a life-long investment. You buy one tripod and it will last for many many years…
Conclusion
I bought this Gitzo Traveler tripod for hiking and traveling light. While it is not designed to handle heavy super-telephoto lenses like the Gitzo Systematic series, it is good enough to handle a pro-level DSLR and relatively heavy 70-200mm f/2.8 lenses. Coupled with a reliable quick-release ballhead (I bought the BH-30 from RRS), the Gitzo Traveler series tripod can be a great lightweight solution, particularly for landscape and urban photography needs. Overall, I am very pleased with this tripod. It nicely complements my Gitzo Systematic series tripod that I now only use exclusively when mounting heavy super-telephoto lenses for wildlife photography.
Pricing and Where to Buy
The Gitzo GT1542T Series 1 Traveler Tripod has been replaced by the Gitzo GIGT1545T, which is available at B&H for $573.48 (as of 02/16/2020). A tripod head must be purchased separately.
If you only use a tripod occasionally, then it might not be worth investing in a Gitzo Traveler tripod. If you are looking for a good tripod to start with, check out the Oben AC-1410 tripod that I reviewed earlier – it only costs around $120 and it comes with a ballhead.
Gitzo Traveler Tripod
Features

Build Quality

Handling

Value

Packaging and Manual

Size and Weight

Stability
Photography Life Overall Rating