The majority of my videography and photography work is with industrial clients, and I almost always find myself shooting onsite in warehouses, factories, and other indoor venues. In many of the buildings in which I shoot, lighting can consist of a mix of technologies such as high intensity discharge (metal halide, high pressure sodium, mercury vapour, low pressure sodium), fluorescent, and LED. To further complicate things sometimes facilities have had physical expansions and specific parts of a building can be illuminated by a mix of lighting sources. Rather than pull out the few, remaining hairs I have left on my head when having to deal with all of these variables, I try to simplify my shooting by bringing my studio lights with me and creating as much wide angle, controlled light as possible.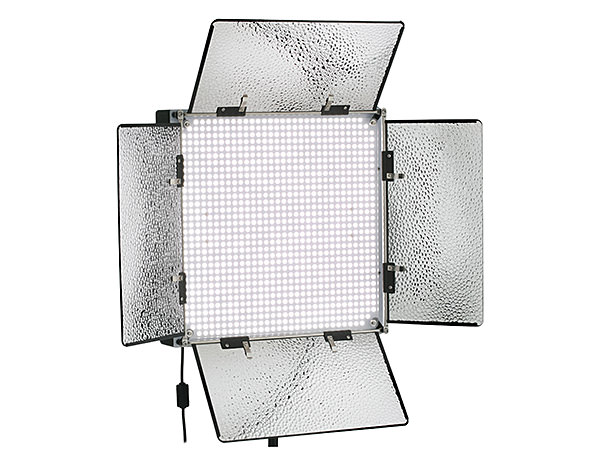 As LED (light-emitting diode) technology has improved I've become more interested in using LED studio lights as their relatively small size and light weight seemed ideal for the type of on-site client work I do. When I found the Genaray SpectroLED Studio 1000 Daylight LED Three Light Kit, it looked like it would be a reasonably affordable solution that would suit my needs from a number of perspectives.
It should be noted that the Genaray lights look almost identical in appearance to similar Ikan lights, but their physical dimensions are slightly larger so it cannot be assumed that Ikan accessories like yokes will fit the Genaray lights. I did check at B&H and the Ikan yoke that they have on their website will not fit the Genaray lights because of the difference in size.
Specifications
Light Source: 1,012 LEDs
Colour Temperature: 5,600K daylight balance
Wattage: 60W
Light Intensity: 6,600 lux @ 3.3' (1.0 m)
Beam Angle: 60 degrees
CRI: >93
Lamp Life: 50,000 hours
Power Requirements: 100-240VAC, 50/60Hz (AC adapter ), 12VDC (battery and DC input)
Dimensions: 13.6 x 13.6 x 2.75" (345 x 345 x 70mm)
Weight: 8.3 lb. (3.76 Kg)
Build Quality and Handling
While the Genaray SpectroLED light kit does have a few issues that are noted in the review, overall I have been very pleased with how it has performed for the specific type of shooting that I do with it. When buying lighting, like any photography gear, it is important to understand your specific needs and buy accordingly.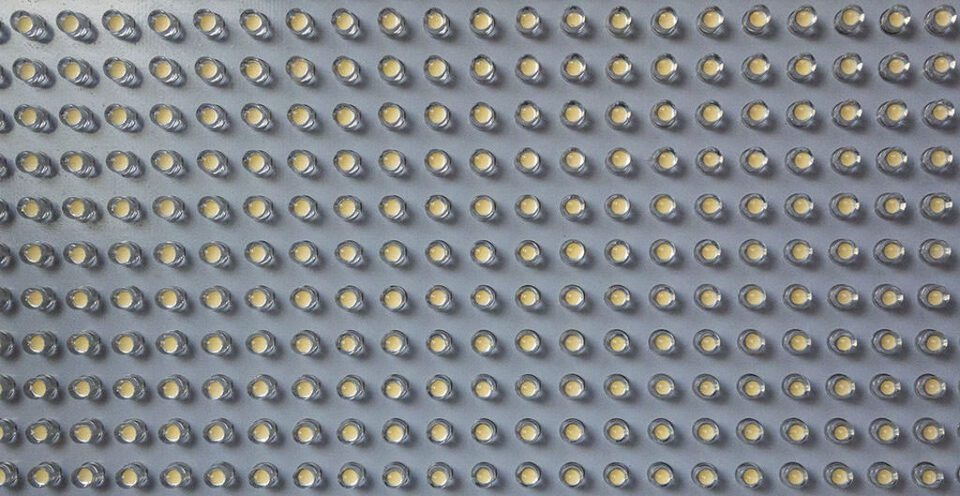 Since the SP-S-1000D lights in the Genaray SpectroLED kit have a 60-degree beam angle they are best suited to provide wide angle light.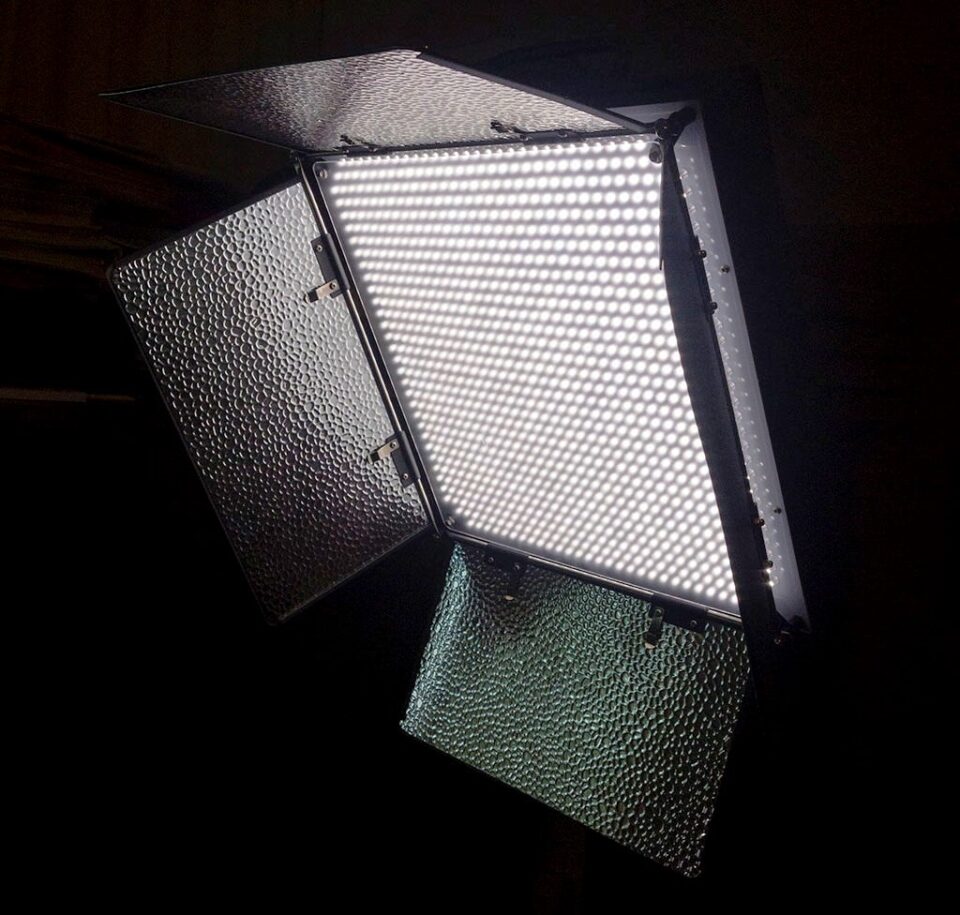 Each of the three light heads has barn doors that are firmly mounted. They hold adjustment very well and the intensifier panels can be removed if required. From a practical standpoint the barn doors are only somewhat effective in re-shaping the light spread. I've found that closing the barn doors too much ends up creating some very faint vertical shadow striping effect in the light spread, even when the diffuser panel is used. Anyone thinking about buying this light kit should consider its primary use as a wider angle light source with only partial use of the barn doors.
If you do require a narrower light beam and additional diffusion, a lightbank can be purchased to help in this regard. I haven't used this accessory so I can't comment on its effectiveness.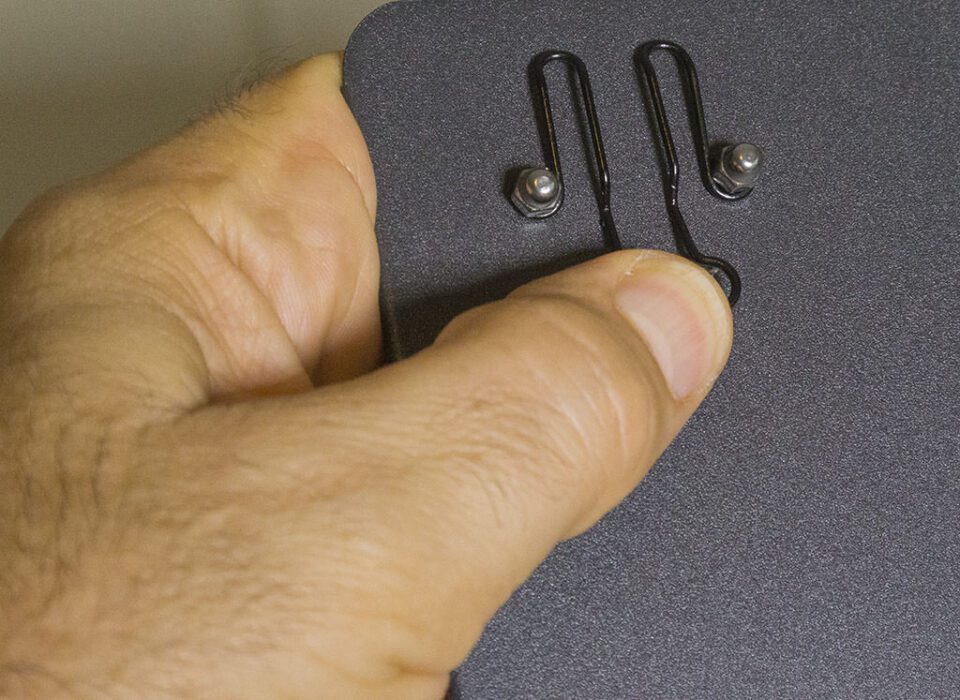 There are two corner clips on the backs of two of the barn doors that are used to hold colour gels and diffuser filters. Depending on the size of your colour gels and diffusers, the barn doors will need to be angled towards their horizontal positions and then the filters can be slipped into place by pressing down on the raised rear portion of the clips.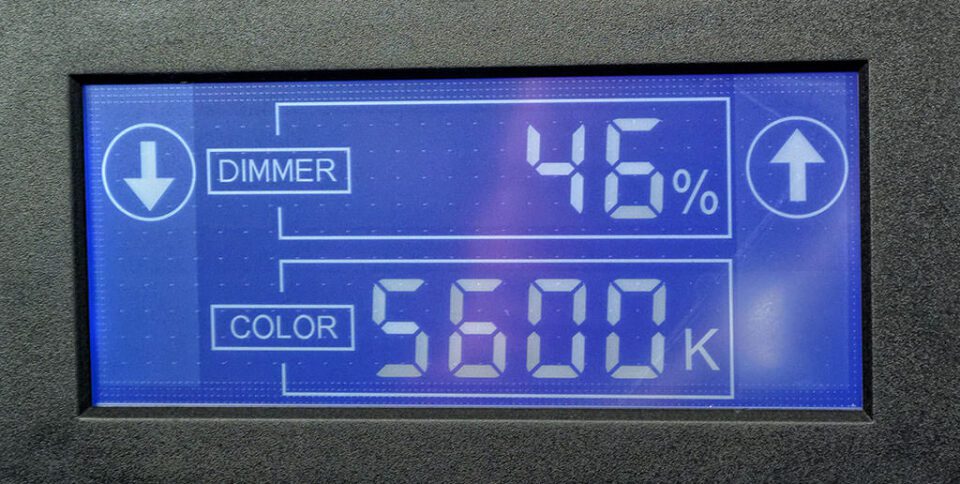 The Genaray SpectroLED Studio 1000 Daylight Three Light Kit specifications indicate that it is daylight balanced at 5600K. My experience indicates that this is not the case and these lights actually operate in the 4800K to 5000K range. If you have some true 5600K lights and you want to use this Genaray kit with them you may need to make some adjustments with colour gels. I have not experienced any kind of flicker issue with these lights thus far.
This style of Genaray SpectroLED light comes in single, double, and triple light kits. I chose the triple light kit to ensure I'd have sufficient wide angle light for my needs. I didn't want to use this kit in conjunction with my other studio lights, just in case they did not match up well from a colour temperature standpoint. When I'm onsite doing a client shoot the last thing I want to do is waste time fiddling around with colour gels to get different light sets coordinated. There are also bi-colour daylight/tungsten versions of these Genaray light kits available.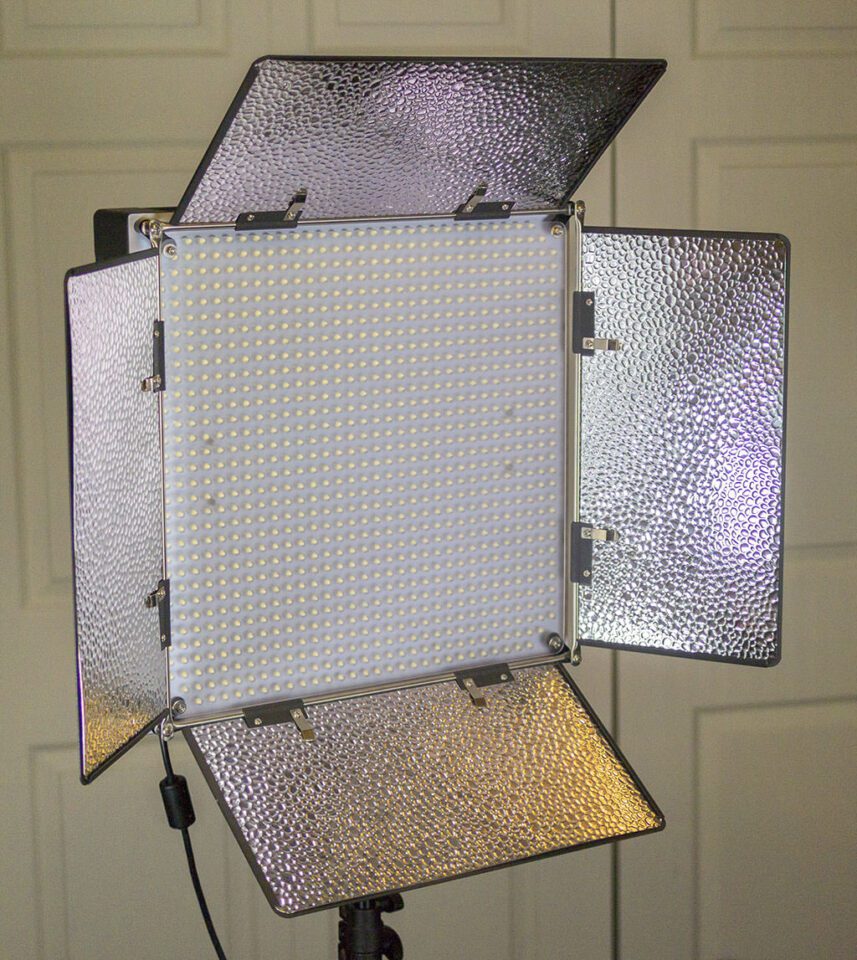 Each of the three SP-S-1000D lights in the Genaray SpectroLED kit is rated at 6,600 lux at 3.3 feet (approximately 1m) and I've found that they throw an ample amount of light when I'm shooting inside industrial buildings. This is especially important when I'm doing video work since my exposure is restricted by shutter speed (usually 1/60) and ISO (typically a maximum of 800), and because I am often shooting wider angle scenes where I often need 15 to 20 feet (4.6 to 6.1 m) of even lighting to capture a scene. The 60-degree beam angle is very helpful for these kinds of shots.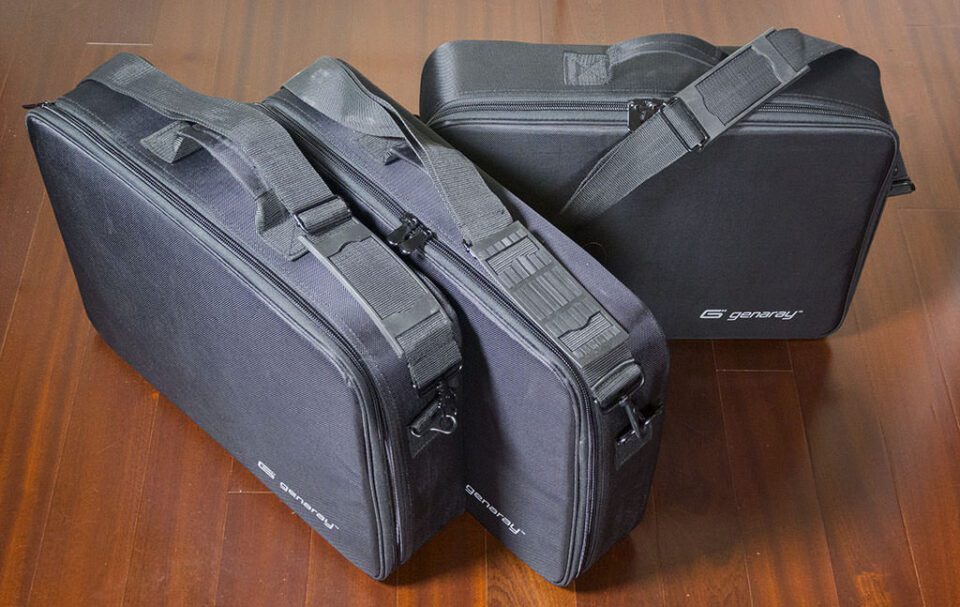 As a 'solo shooter' I am always on the lookout for highly portable gear. Each light in the Genaray SpectroLED kit comes in its own dedicated, padded case measuring 19.5 x 14.5 x 4.75" (49.5 x 36.8 x 12.1 cm). The light head weighs 8.3 lbs (3.76 kg) and the case with the light head and all of the accessories comes in at about 15 lbs. (6.8 kg). Each case has a basic carry handle and removable shoulder strap.
The Genaray SpectroLED kit comes with three, Impact LS10AB air cushioned light stands. These have a maximum load rating of 8.5 lb. (3.6 kg) and the light stand can be fitted with optional casters for added convenience. The light stands weight 3.1 lbs (1.4 kg) each, are made of aluminum, have 4-section construction, and extend to 10 feet. No carrying case for the light stands is supplied with the kit so you'll need to purchase one.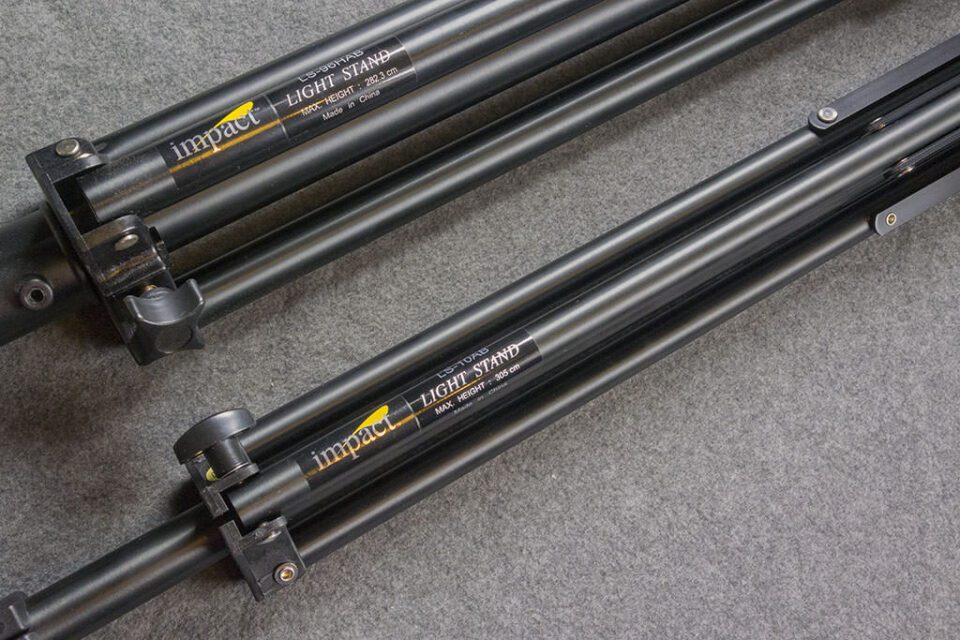 While the stands are load rated high enough to support the SP-S-1000D kit lights, I found them to be a bit wobbly when extended. When I need to elevate these lights above 5 feet (1.5 m) I use my heavy-duty Impact LS96HAB air cushioned stands instead. As you can see from the above comparison photo, the heavy-duty stands are much more robust, having a maximum load rating of 22 lbs. (10 kg). They extend to 9.6 ft. (2.9m) and provide a much more secure mount, especially when the lights are extended to maximum height. For the modest difference in cost I think Genaray would be wise to upgrade the light stands in the kit and also provide a carrying case for the stands.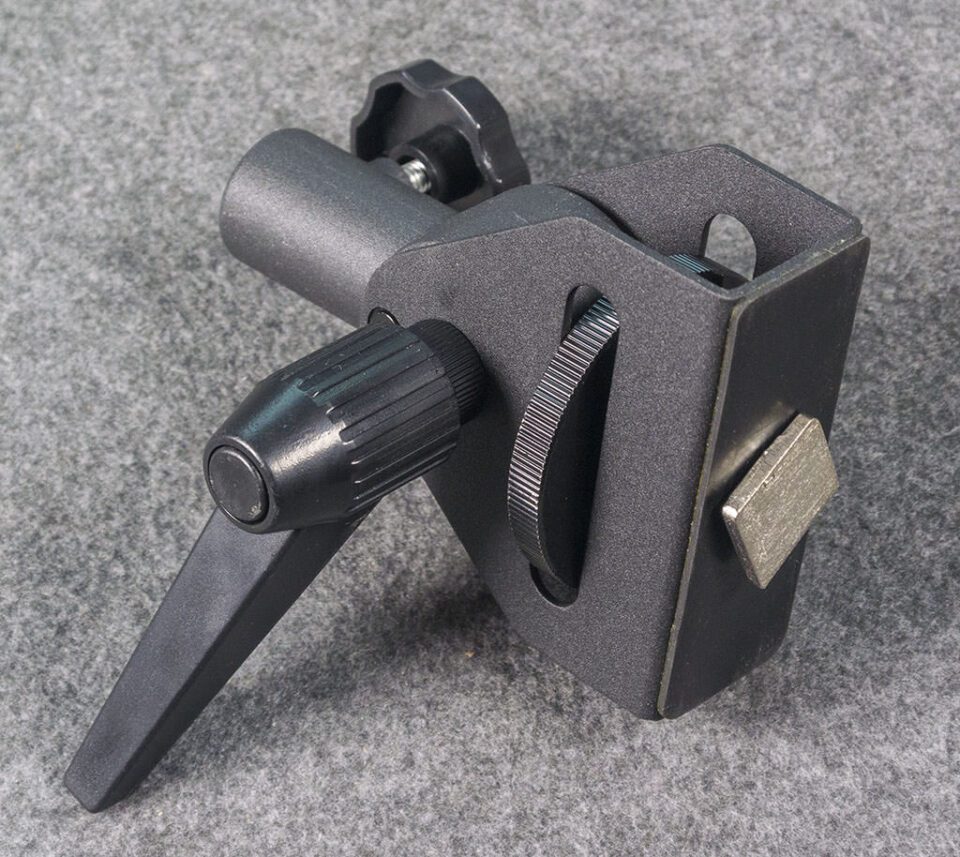 The SP-S-1000D lights are mounted on light stands by way of a removable mounting knuckle. It has a ratchet handle for quick tightening and loosening to facilitate tilting of the light head.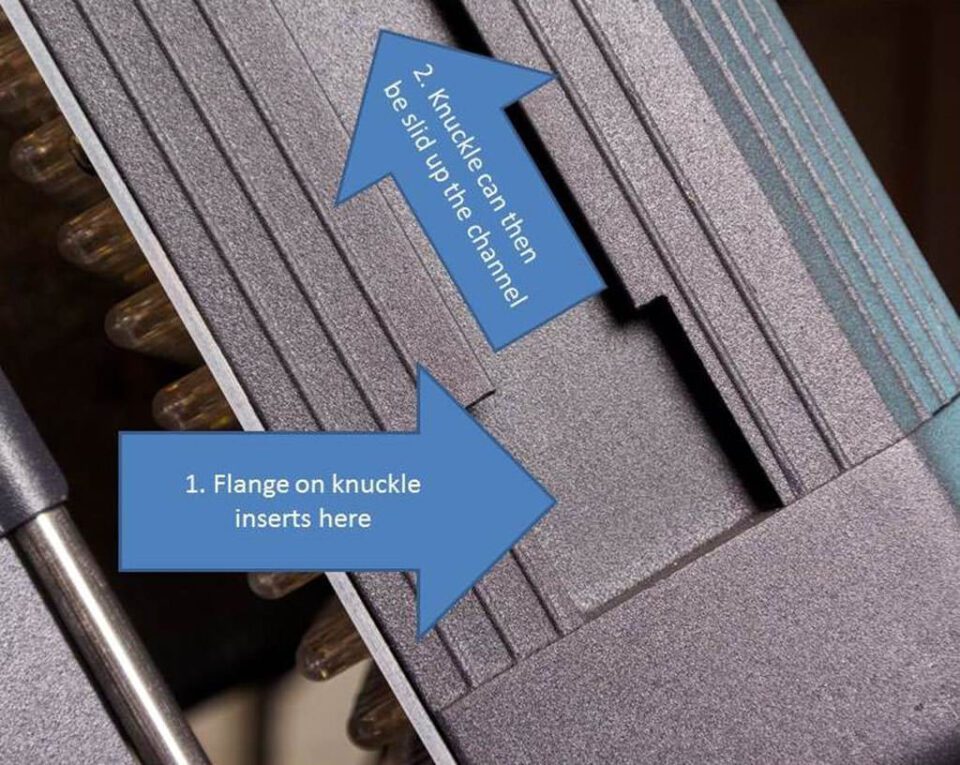 Each edge of the SP-S-1000D light has a grooved channel with an enlarged section on one end so the knuckle can be mounted on any side surface of the light.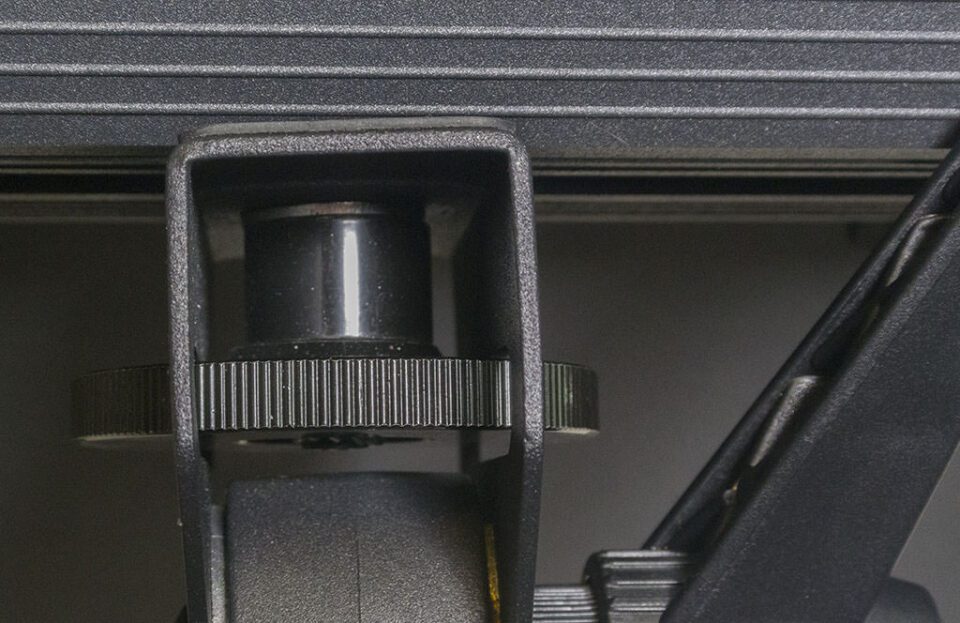 The flange of the mounting knuckle fits into this section, and can be positioned at any point down the channel. To secure the knuckle to the light the tightening ring on the knuckle is rotated counterclockwise.
You have to make sure you have sufficient room to tighten the ratchet handle and thus lock-in the desired tilt of the light. In some cases you may have to adjust the thread position of the set bolt that attaches to the ratchet arm to the knuckle to allow for the right amount of tightening movement. This is done by removing the ratchet handle, partially popping the set bolt out of the recessed area on the head side of the bolt and realigning it.
I found it a bit time consuming to get the mounting knuckle with its ratchet arm properly aligned and initially mounted on the SP-S-1000D lights. If you don't have the ratchet arm properly positioned it is difficult to get good clamping force to hold the light tight when it is tilted as the ratchet arm is about an inch (2.5cm) too long and bumps up against the bottom of the light. Having said that, once you do get the ratchet arm properly aligned and in the correct position on the mounting knuckle it will hold the light securely when it is tilted. And, this initial set-up and adjustment only needs to be done once with each knuckle.
Having the lights each mounted in its own yoke with tightening nuts on either end of the yoke would be a much more effective and easy-to-use mounting approach. I'm hoping that Genaray makes a change in the design of the mounting mechanism of this light set, or at least makes a yoke for it. I checked with the GradusGroup, the parent company of Genaray, and they do not currently make a yoke for these lights, and as noted earlier, the Ikan yoke will not fit.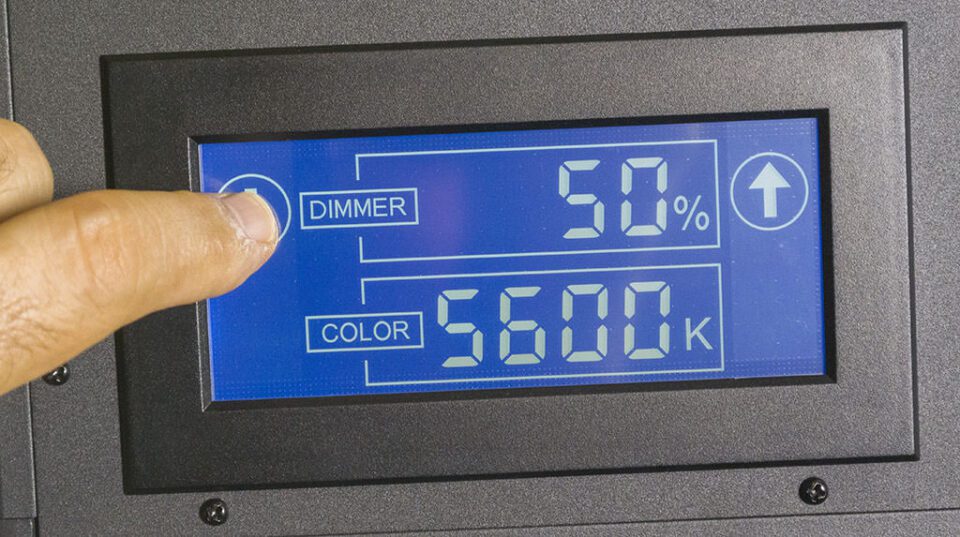 Light intensity is controlled by a touch pad on the back of the light. This works well and the light has adjustments from 0 to 100% in single digit increments so there is a good range of control provided. If you want to accelerate the change in intensity setting you can simply hold your finger down on the touchpad and it will scroll quite quickly.
Wireless Control
The Genaray SpectrolLED kit has three wireless controllers. These can be sync'd with individual lights, with pairs of lights, or you can control all three lights with a single controller if desired. The controllers have plastic bodies and likely would not survive a lot of abuse.
The wireless controllers have a stated operating range of 65 feet (19.8 m). I haven't had the opportunity to use them from this distance yet. I have used them from approximately 35 feet (12.2 m) and they have worked flawlessly.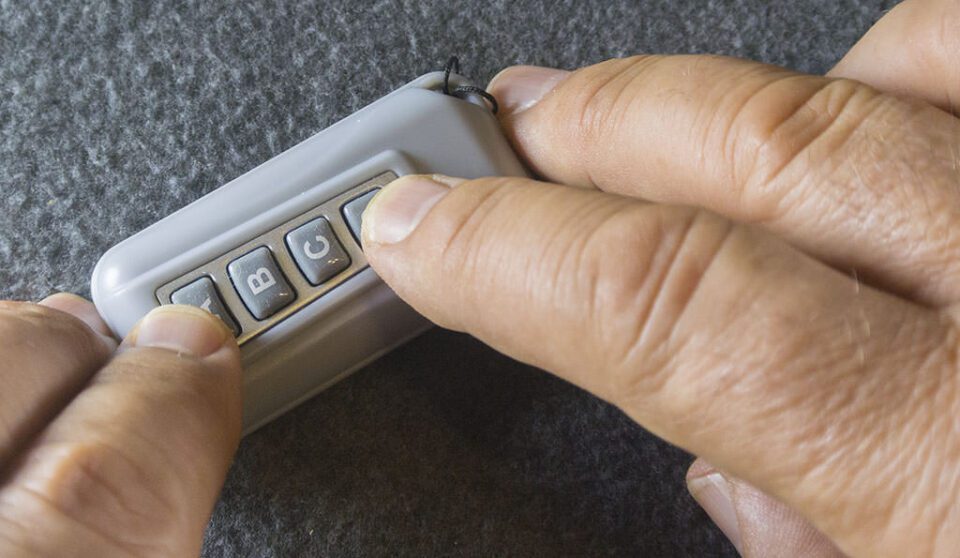 To synchronize the wireless controller with an SP-S-1000D light, or combination of lights, you simply turn on the light(s), then simultaneously depress the A and D buttons on the controller and hold them down until you hear a beep from the light(s). After being synchronized the light(s) can then be turned on or off by depressing the "D" button. Light intensity is increased by using the "A" button and decreased by the "B" button. Clicking the "C" button causes the light to cycle through intensity in 25 percent increments.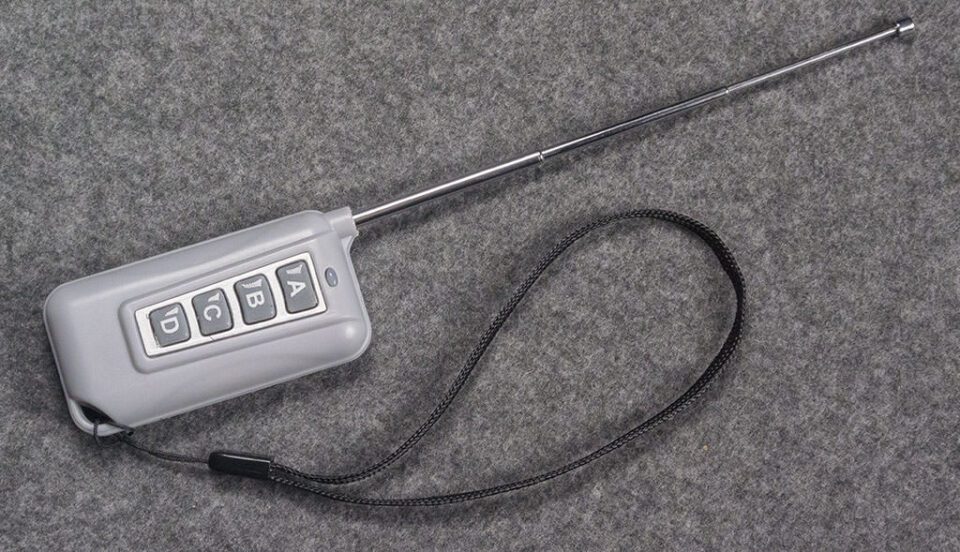 The wireless controllers have pull out antennae to help transmit the wireless signal when the lights are positioned towards their maximum distance (65 feet, 19.8m) away from the controllers.
Diffusers and Filters
The Genaray SpectroLED kit lights come with diffuser and tungsten filters. These use magnetic corners to easily affix to the SP-S-1000D lights. These LED lights are quite bright and the diffuser filter does a good job eliminating LED pattern spots for close up work, but is only partially effective in softening light intensity.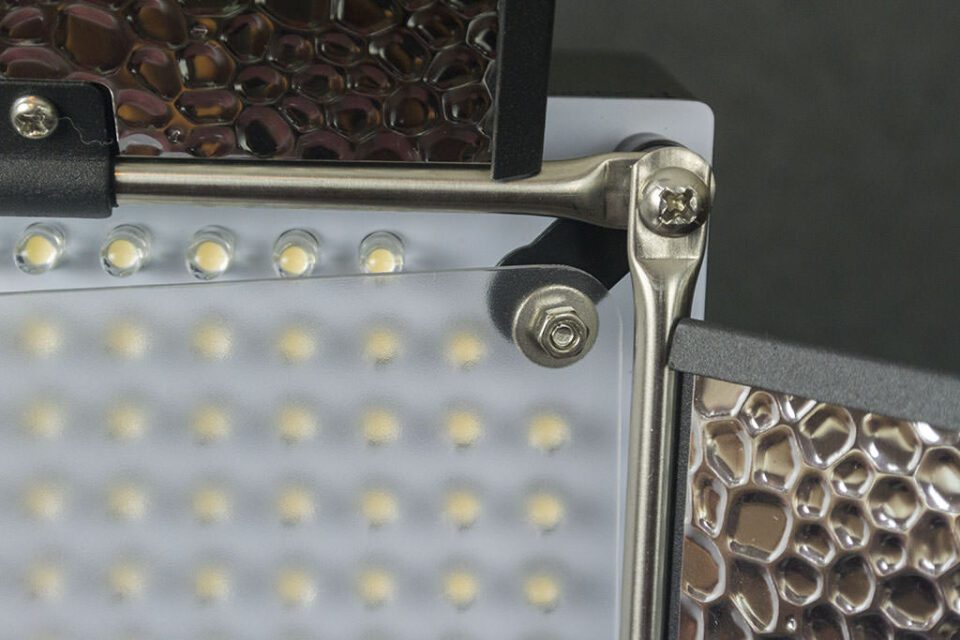 The 0-100% intensity adjustment capability comes in very handy in this regard. Some photographers will want to use additional diffusion filters for added softness.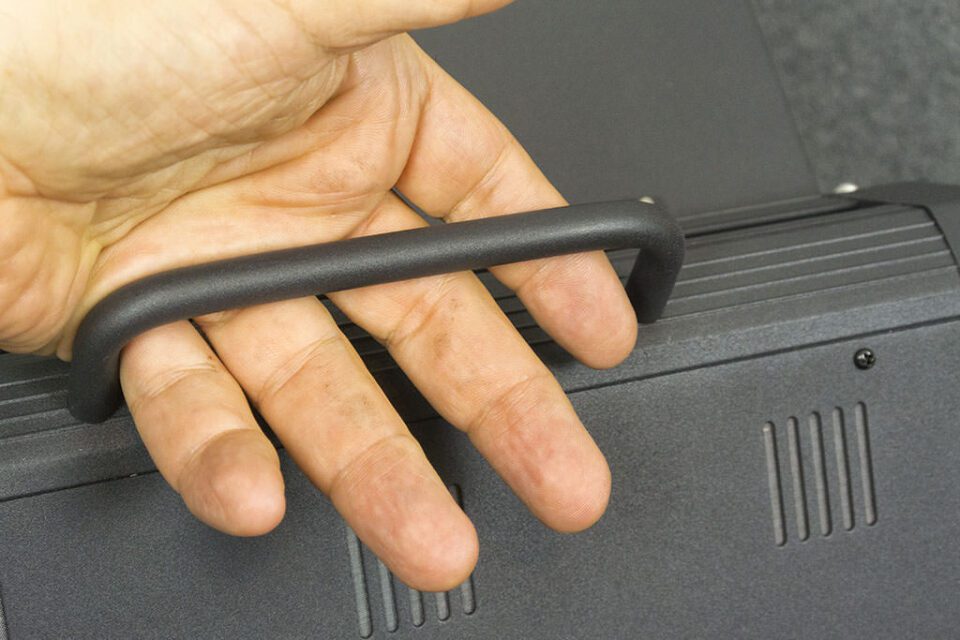 The all-metal construction of the lights seems very solid, with the housing made from a brushed metal that hides fingerprints. There is a robust carry/tilt handle on the top of the light. Overall the appearance is quite professional.
Power
Power is provided by a 100/240V-1.2A 50/60Hz 80W adapter. You can also retrofit the lights with Sony V-Type or Anton Bauer Gold batteries to give you more portability.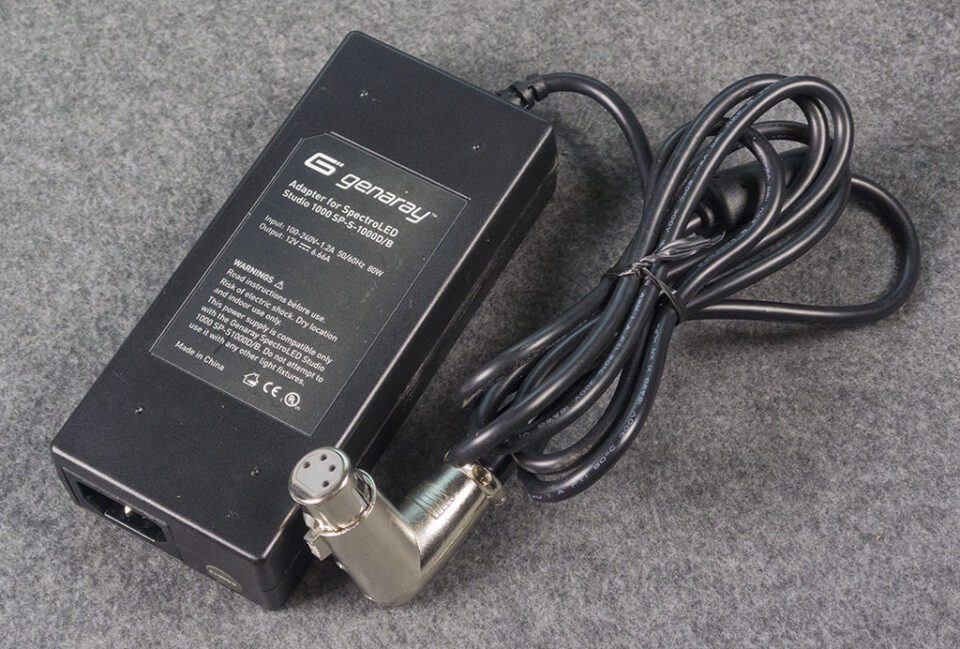 Mounting holes for a battery plate are located in the middle of the back panels on the lights. Instructions for mounting a battery plate would come with the mounting plate and battery you purchase.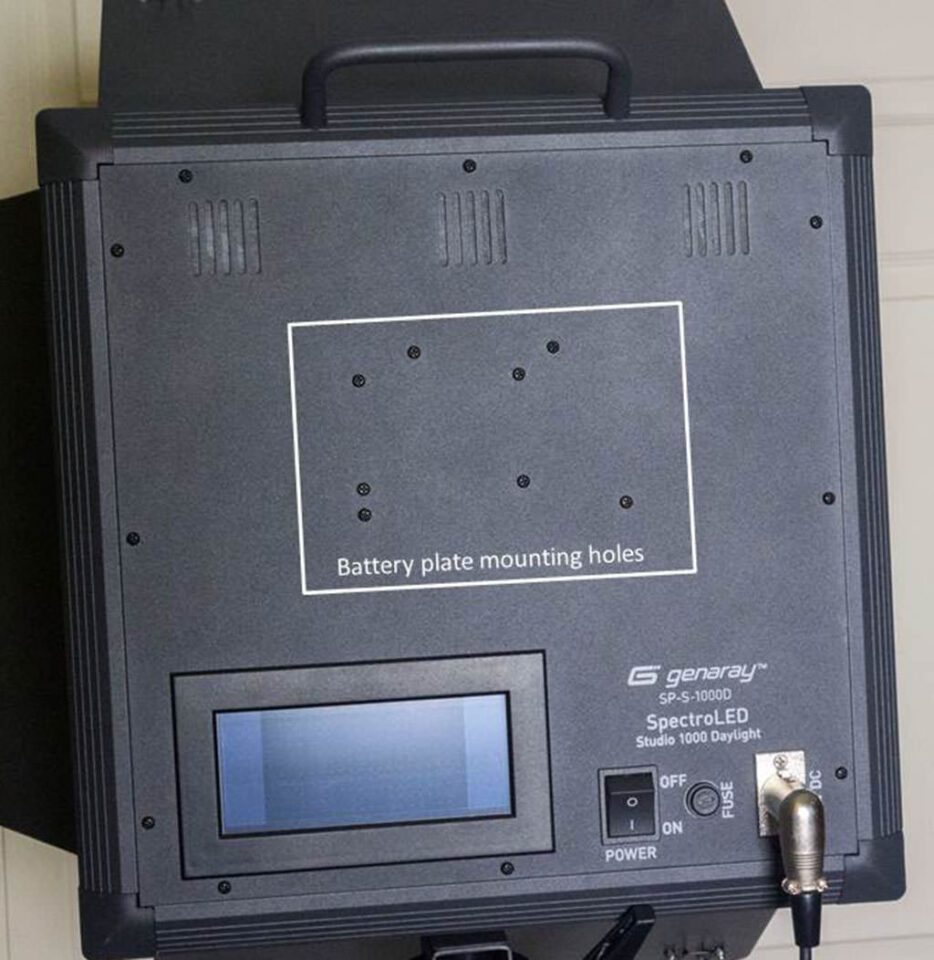 The power adapter is connected to the light with an angled, locking 4-pin power connector which clicks into position and provides a secure lock that helps prevent accidental disengagement of the power cord.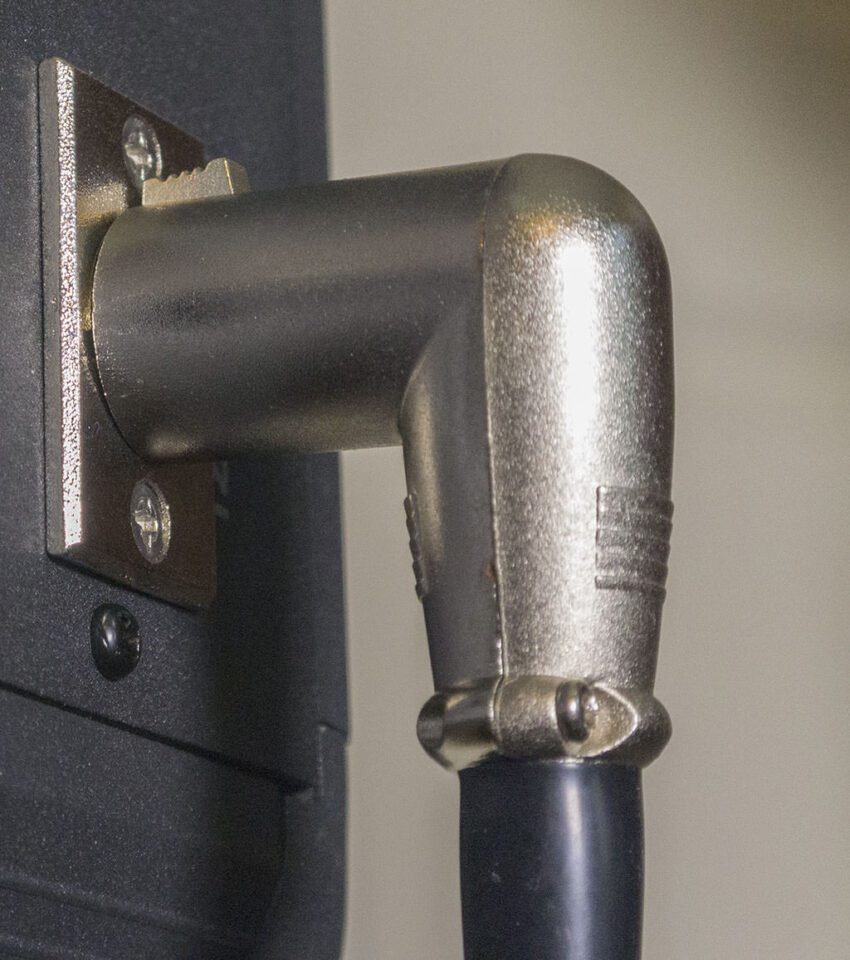 Two Velcro straps are provided to attach the power adapter and power cord to the light stand. This is very helpful especially when the lights are fully extended on light stands.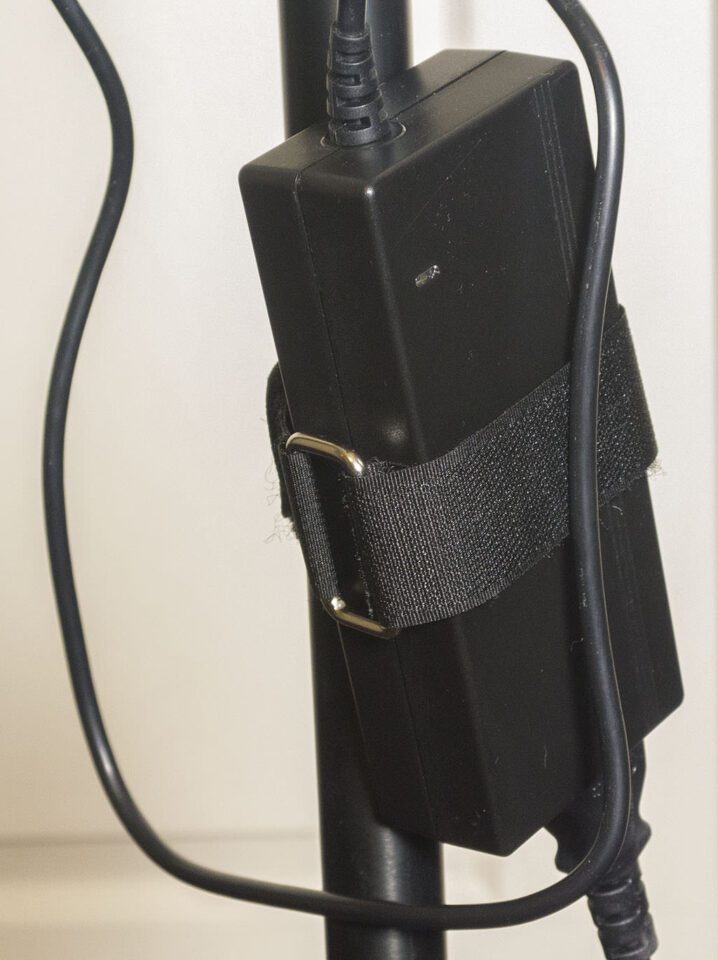 The lights are overcurrent protected by a fuse on the back panel. The fuse is easy to replace by using a small screwdriver to turn the fuse cover counterclockwise while pressing it in. Each light is provided with two spare fuses.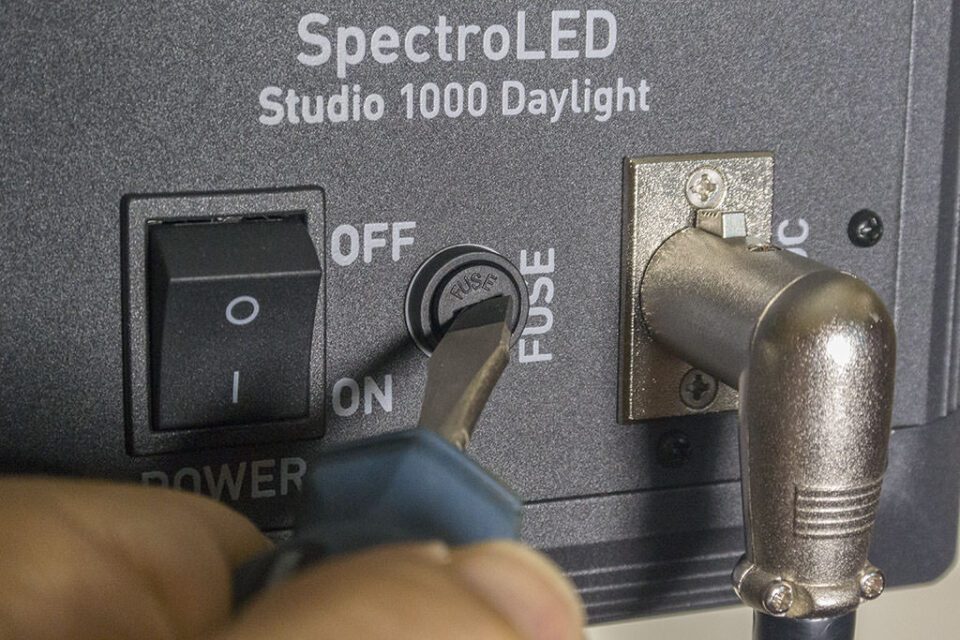 The lights come with foam packing panels that help protect the LEDs and barn doors when the kit is stored. The supplied manual is easy to follow and provides good operating and set-up detail.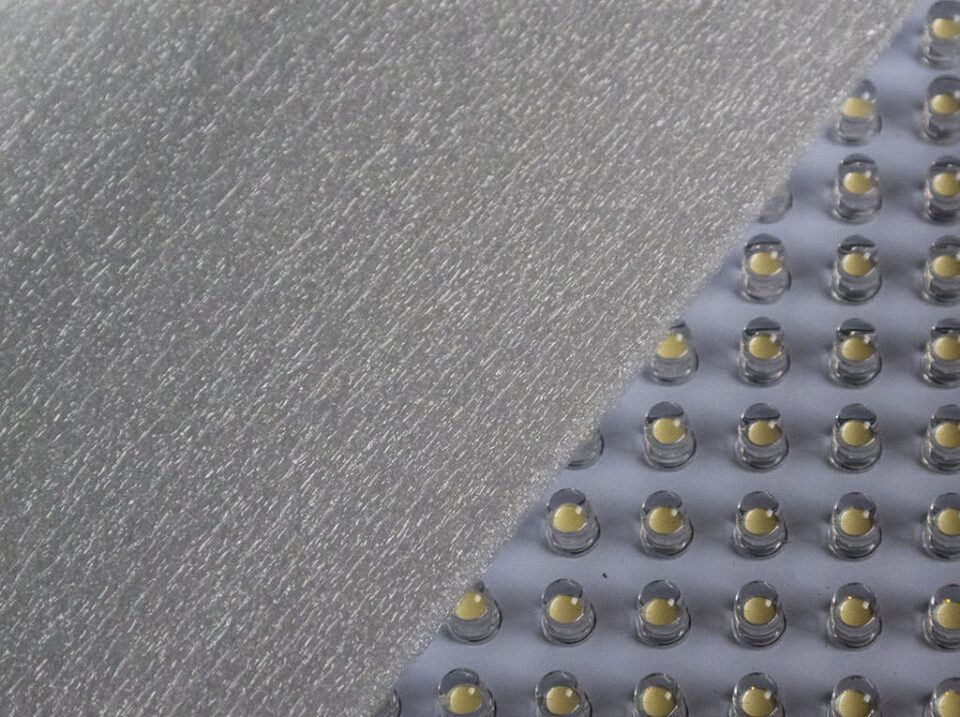 Summary
The Genaray SpectroLED Studio 1000 Daylight LED Three Light Kit represents very good value for a photographer or videographer who is looking for a reasonably cost affordable, bright, portable, LED multiple studio light solution that is primarily used as a wide angle light source.
The lights are solidly made with an all metal chassis and have a range of very useful features including wireless remote operation with multi-light sync capability, easy-to-attach diffuser and tungsten filters, solid barn door assemblies, gel clips, and 0-100% light intensity adjustment. The lights can be retrofitted with batteries for even more portability. The individual cases for the lights are well designed, and along with the foam packing panels, provide a good level of protection.
Users need to be aware that even though the lights are specified to be 5600K daylight balanced they operate in the 4800K – 5000K range which can cause some issues when used with other true 5600K lights. The light stands supplied with the kit should be considered as being just adequate for the job and using heavier duty light stands is recommended when the lights are going to be elevated at full extension of the light stands. Initial set up of the mounting knuckles to get the ratchet arms properly positioned can be a bit finicky, although they do work well once properly configured.
Article and all images Copyright 2014, Thomas Stirr. All rights reserved. No use, reproduction or duplication including electronic is allowed without written consent.
Genaray SpectroLED Studio 1000 Daylight LED Kit
Features

Build Quality

Handling

Value

Size and Weight

Packaging and Manual

Ease of Use
Photography Life Overall Rating