Like many photographers and videographers, I've found that there have been times when I really could have used a small, highly portable, adjustable light source. This most often occurred when I shooting close-up still images or video clips of industrial machinery where I couldn't get my regular studio lighting to fit into cramped quarters. I began looking for a solution and came upon the Genaray LED-7100T On-Camera Light.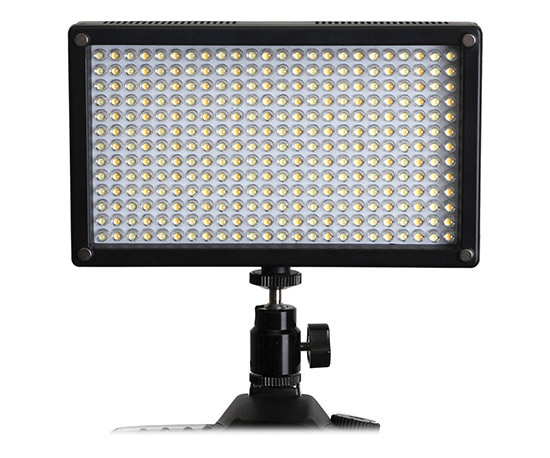 Specifications
Light
Light source: 156 Tungsten and 156 Daylight LEDs
Brightness: 1400 lux @ 3 feet (91.4 cm)
Colour Temperature: 3200K to 5600K
Voltage: 7.4 – 14.8 V
Dimensions: 7.5 x 4.5 x 1.75 inches (19 x 11.4 x 4.4 cm)
Weight: 0.76 lb. (340 grams)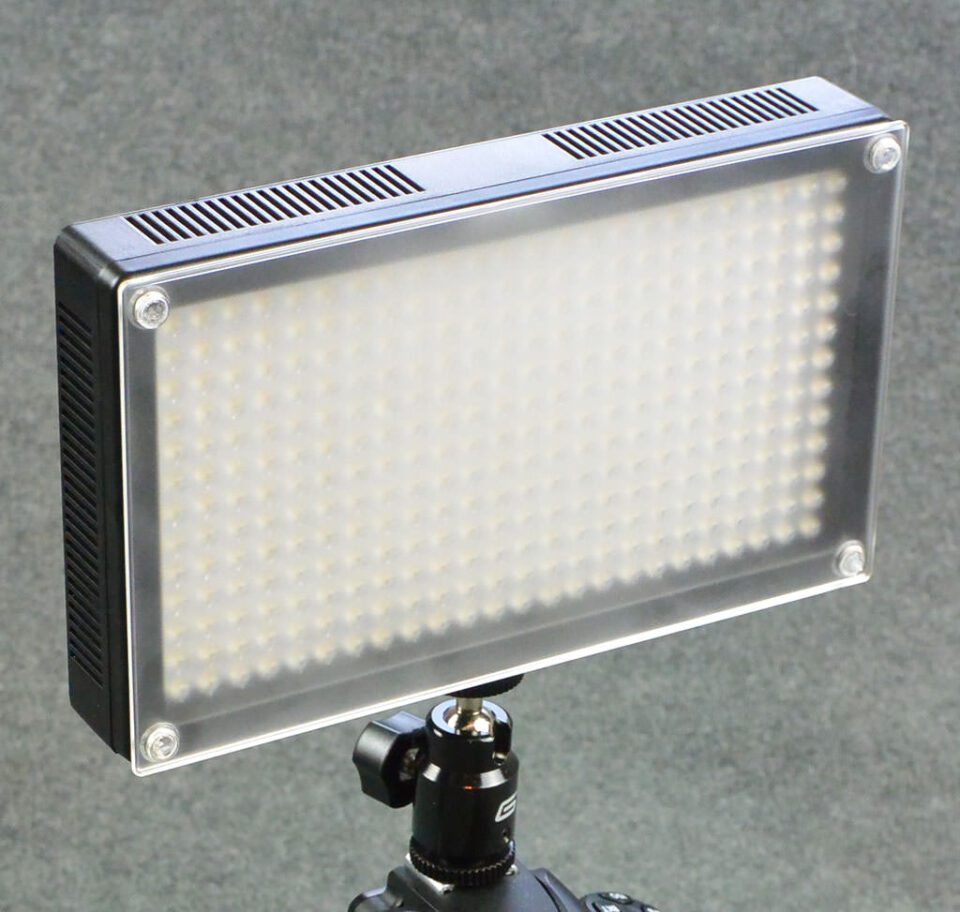 Battery
Chemistry: Lithium-ion
Voltage: 7.4 V
Capacity: 2200 mAh
AC Adapter
Input: AC 100-240 V, 50/60 Hz, 0.5A max
Output: 12 V, 1.0A
Dual Battery Charger
Input: AC adapter: AC 100-240 V, 50/60 Hz, 0.5A max
DC charger: 12 V DC, 0.9A (max)
Output: DC 4.2 / 8.4 V, 500mA / 900mA
The Genaray LED-7100T light is reasonably compact, measuring 7.5 x 4.5 x 1.75 inches (19 x 11.4 x 4.4 cm) and weighs 0.76 lb (340 grams). It features 312 LED lights, 156 of which are tungsten and 156 are daylight. Maximum brightness is 1400 lux @ 3 feet (91.4 cm). The effective range of this light is about 3 to 5 feet (91.4 to 152.4 cm).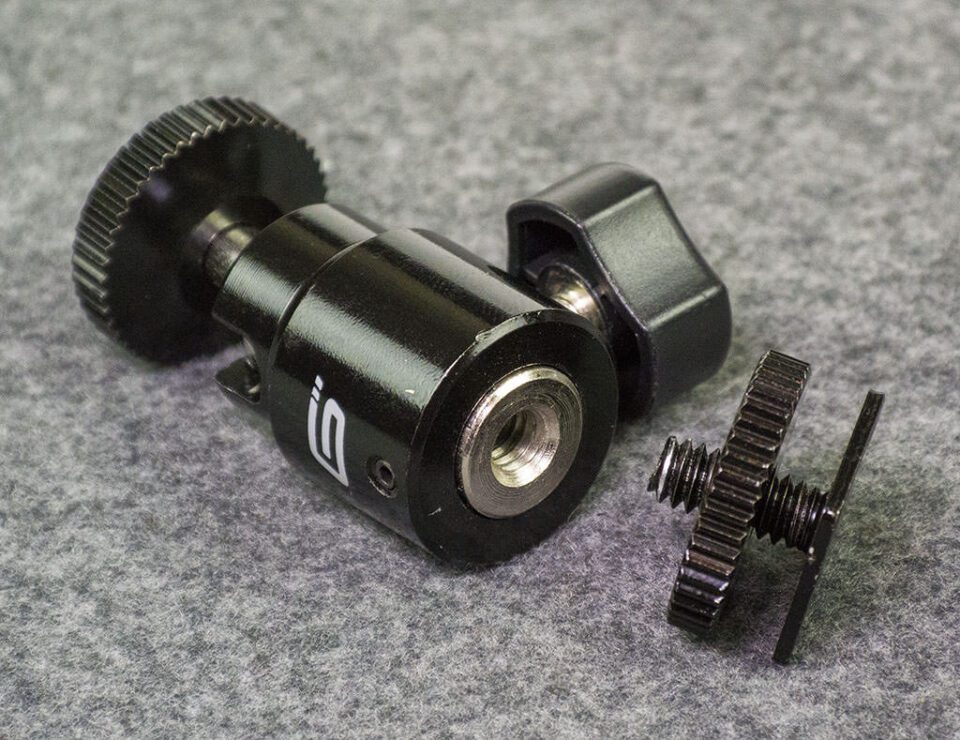 The ball head mount that comes in the kit features mainly metal construction and allows for a good range of adjustment with 360-degree swivel movement and 180-degree tilt. The shoe mount on the bottom of the ball head can be removed, revealing a ¼"-20 tripod thread mount.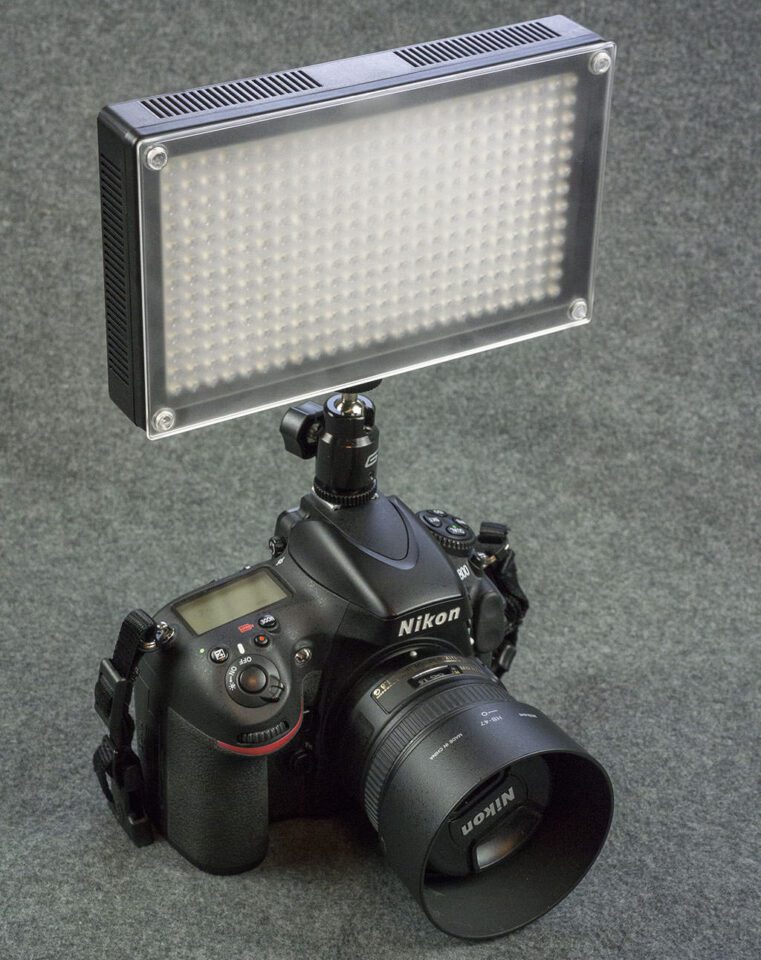 The ball head does a respectable job supporting the light when mounted on the shoe of a DSLR and is best suited for use with a DSLR mounted on a tripod and head. Some 'run-n-gun' video shooting would be possible with this ball head, but you would need to ensure your connection was very secure, and I'd recommend periodic checks on tightness.
I tried mounting this light on my Nikon 1 V2 using the Nikon AS-N1000 cold-shoe mount adapter and found the connection to be a bit sloppy due to the size and weight of the LED-7100-T and the somewhat poor design of the Nikon AS-N1000 shoe adapter. Nikon 1 users are likely better served by using a smaller, lighter-weight unit rather than the LED-7100T.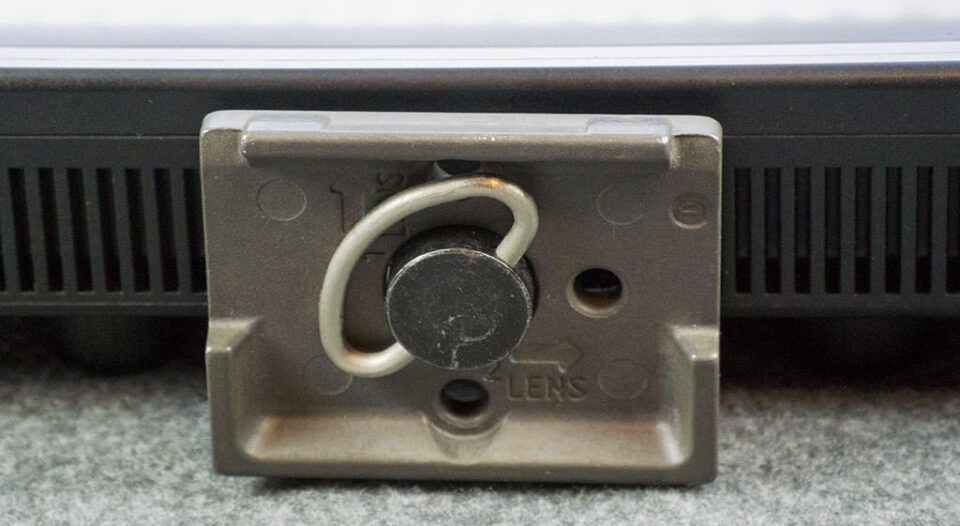 The underside of the Genaray LED-7100T light has a ¼"-20 tripod thread connection to which I often mount a Manfrotto or Arca-type quick connect fitting.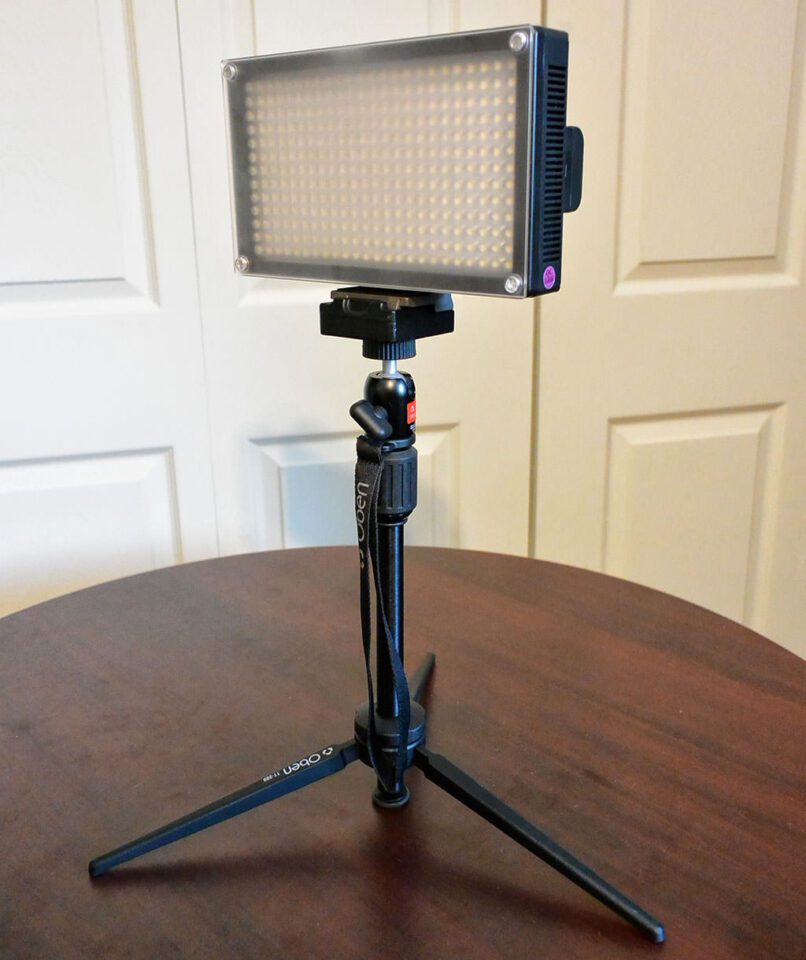 This allows me to mount the light to small tripods like the Oben TT-300 table top tripod (see my review here), creating a very versatile, mini studio light. In fact, I used this single light set-up to take all of the indoor images for my recent review of the Oben CC-2491 Tripod Kit.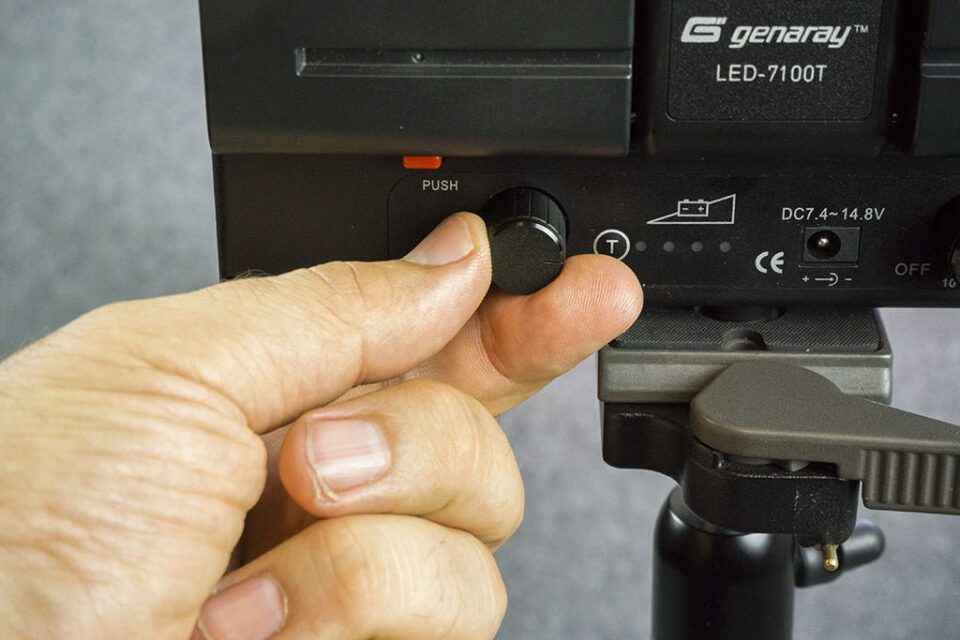 On the left hand side of the back panel you'll find a dial with which you can adjust colour temperature output from a cool 5600K to a warm 3200K.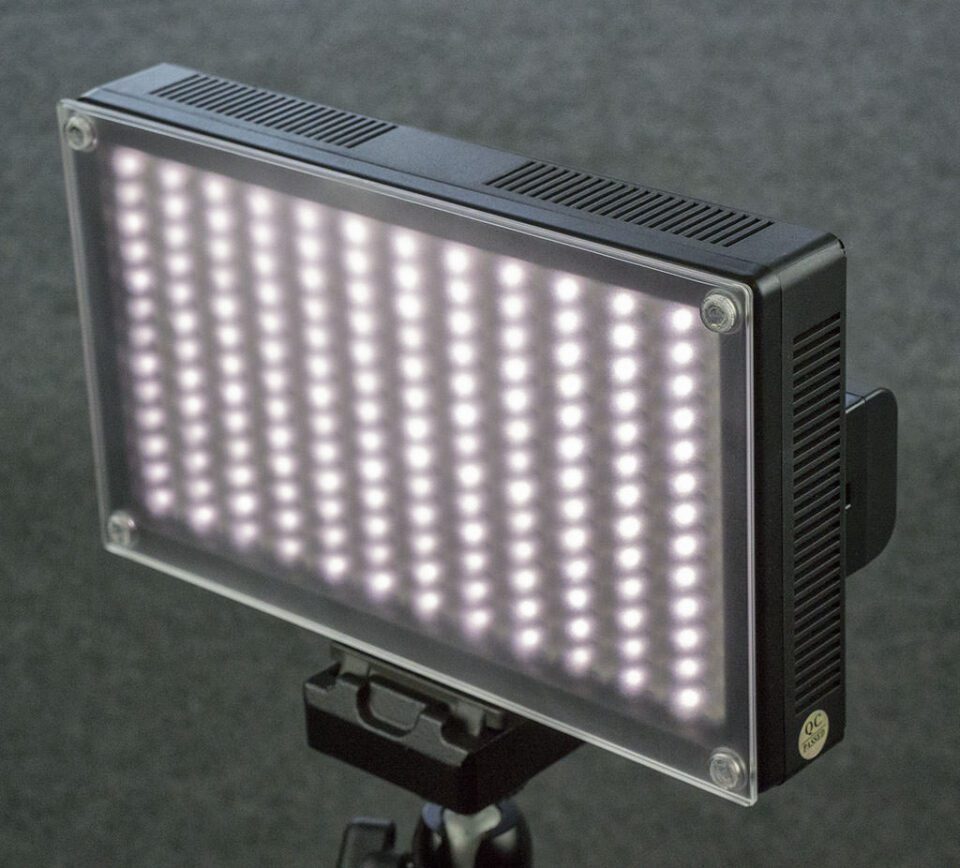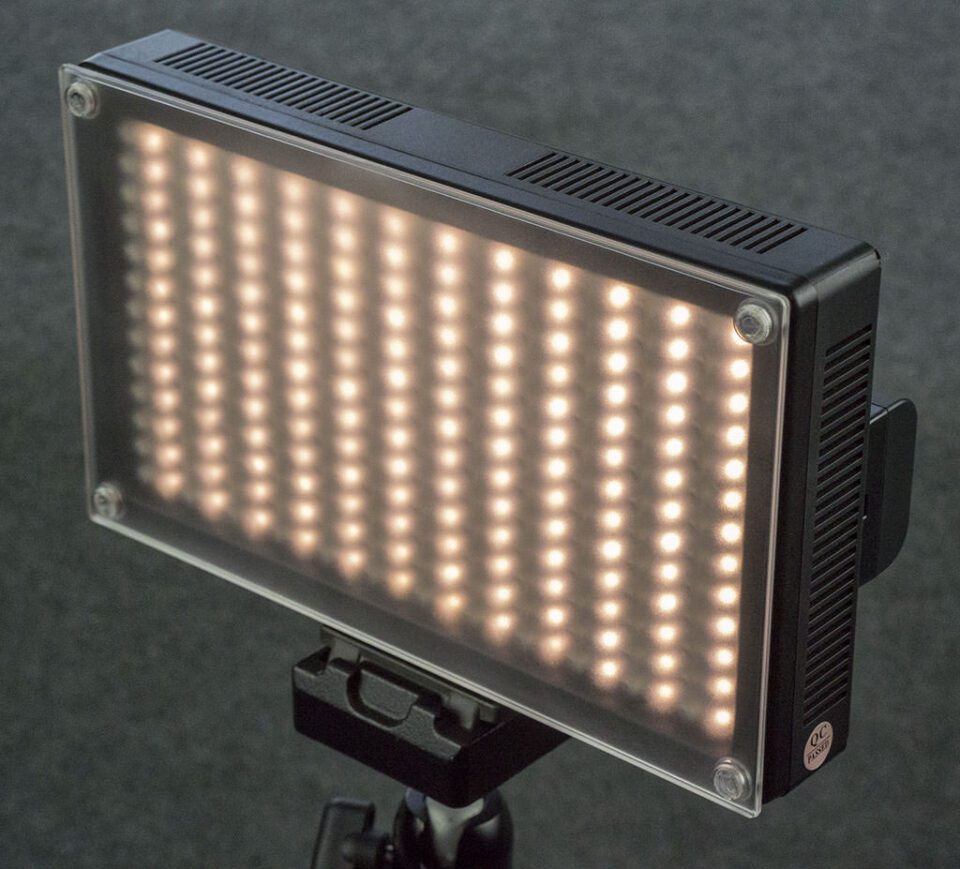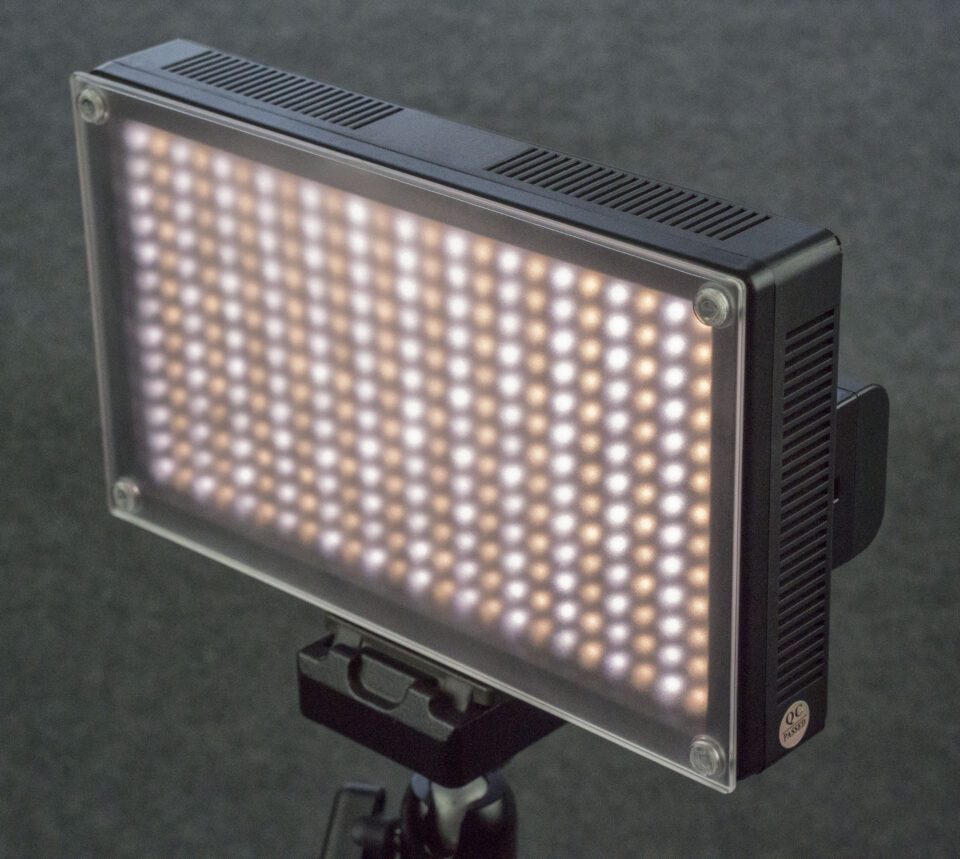 As the colour temperature dial is turned it engages either the Tungsten or Daylight LEDs, or a combination of both. I have not noticed any problems with flickering with the LED-7100T light even when making temperature or intensity adjustments.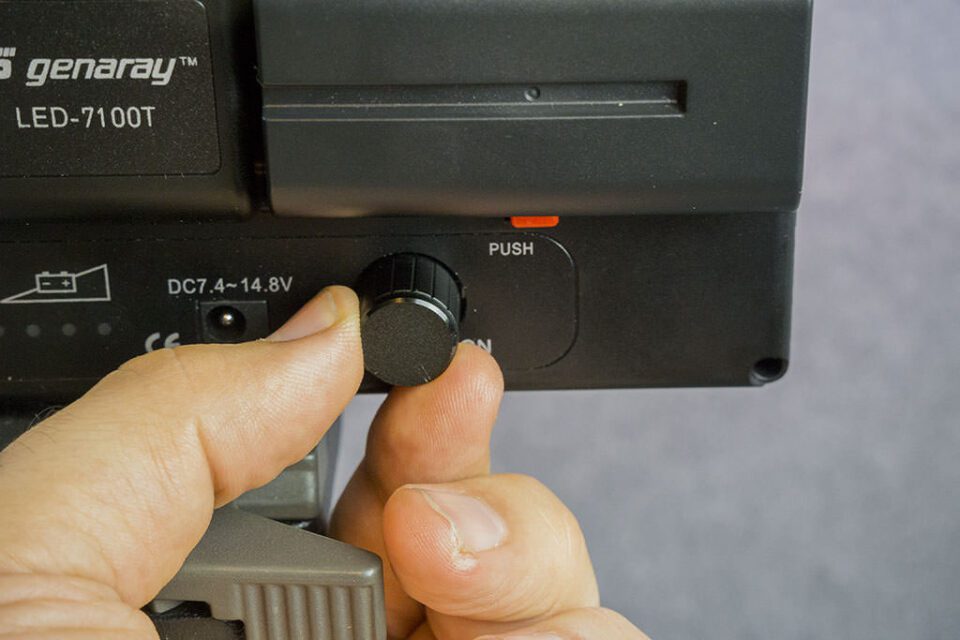 Light intensity is controlled by another dial found on the right hand side of the rear panel and can be adjusted from 10-100%. The light turns on at 10% intensity and nothing much happens for the first 25-degrees of dial rotation. After that the control dial works quite well. Both temperature and intensity dials rotate without any steps to allow for more precise adjustment.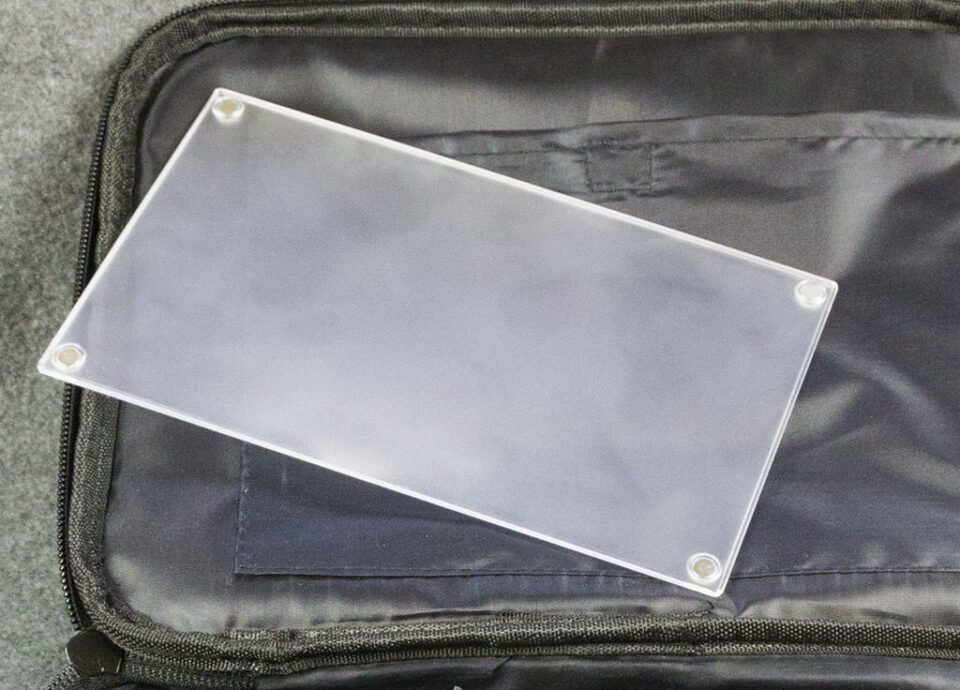 To help soften light intensity the kit comes with a diffuser panel that snaps into place using magnetic corners. Due to the brightness of the LED lights I found the diffuser to be only partially effective and users wanting more softness may choose to drape an additional diffuser sock over the unit.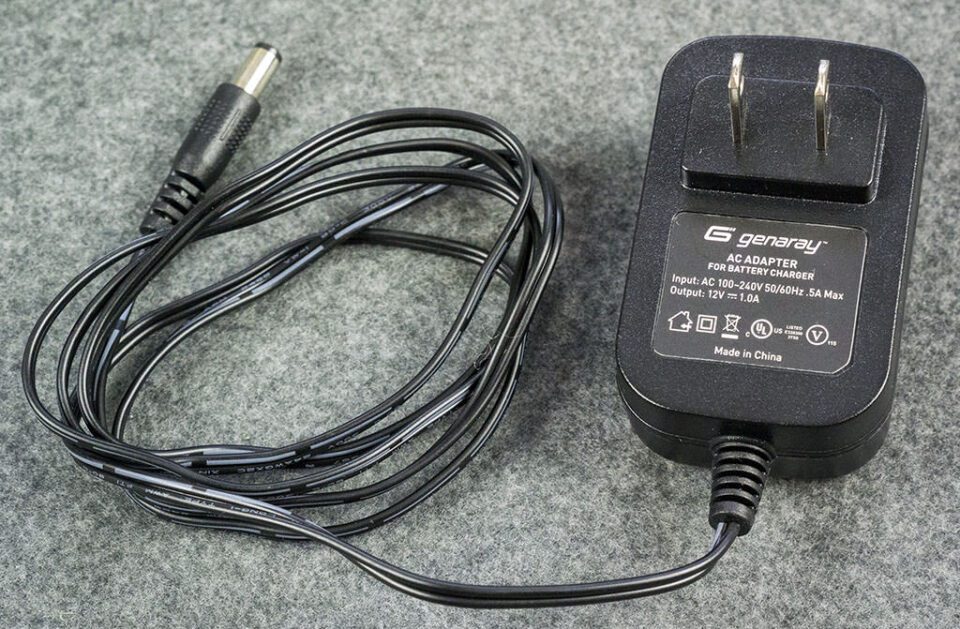 Packed inside the carrying case you'll find an AC adapter that can be used to power the light directly on a continuous basis, or it can be plugged into the supplied battery charger.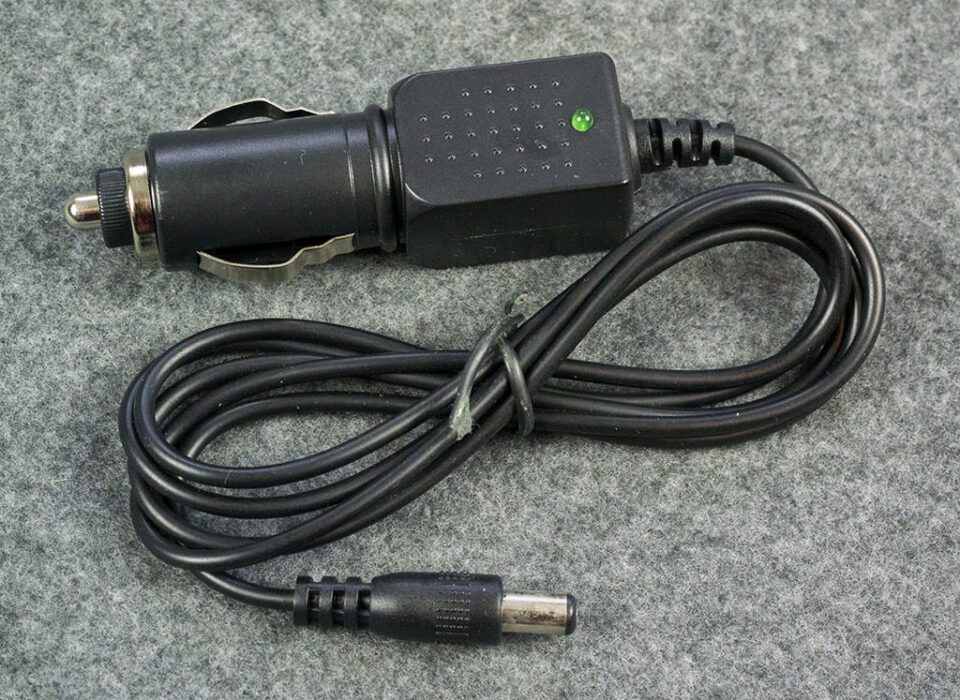 A car adapter is also included in the kit and has the same dual function as the AC adapter.

Two NP-F550 batteries are included and the light will work with either one or two batteries installed. I did not notice any difference in light intensity when only one battery was installed, but operation time is obviously reduced when only one battery is used. Although I did not try to use any with the 7100T, Sony L-series batteries are said to be compatible with the 7100T light.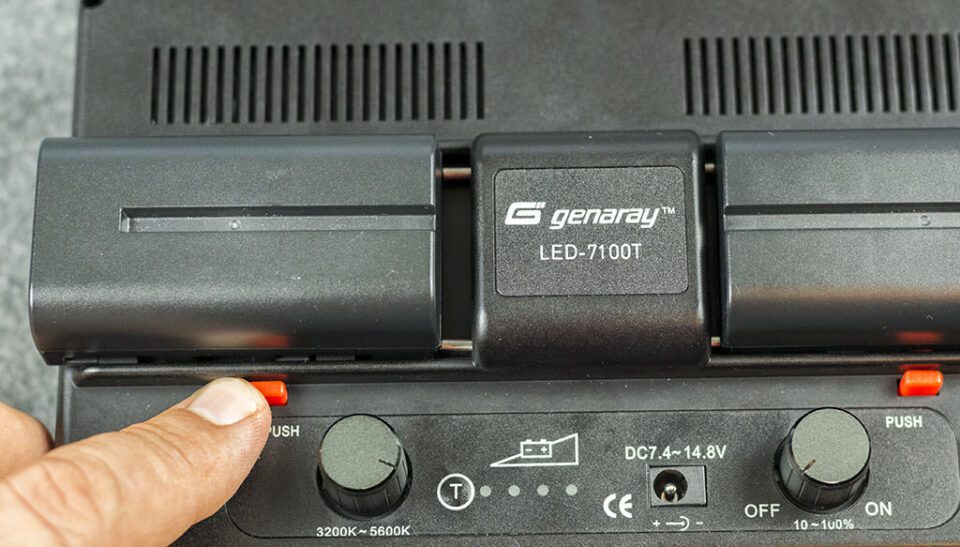 The batteries can be removed from the LED-7100T by pushing down on the red release buttons.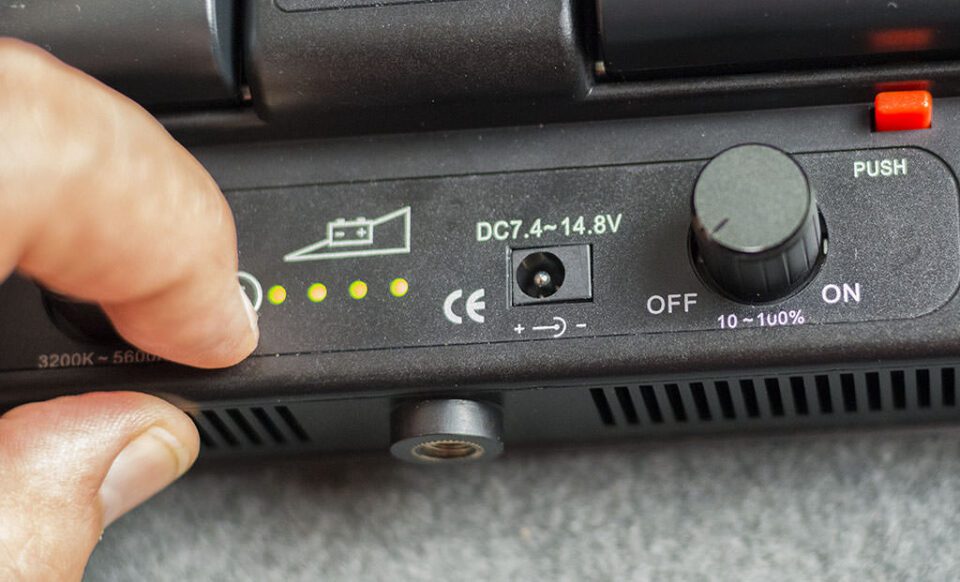 The back of the LED-7100T has four green lights that indicate the amount of remaining power in a single battery, or the pair of batteries if both are used simultaneously. To test the battery power level all you need to do is depress the raised area inside the encircled 'T' graphic.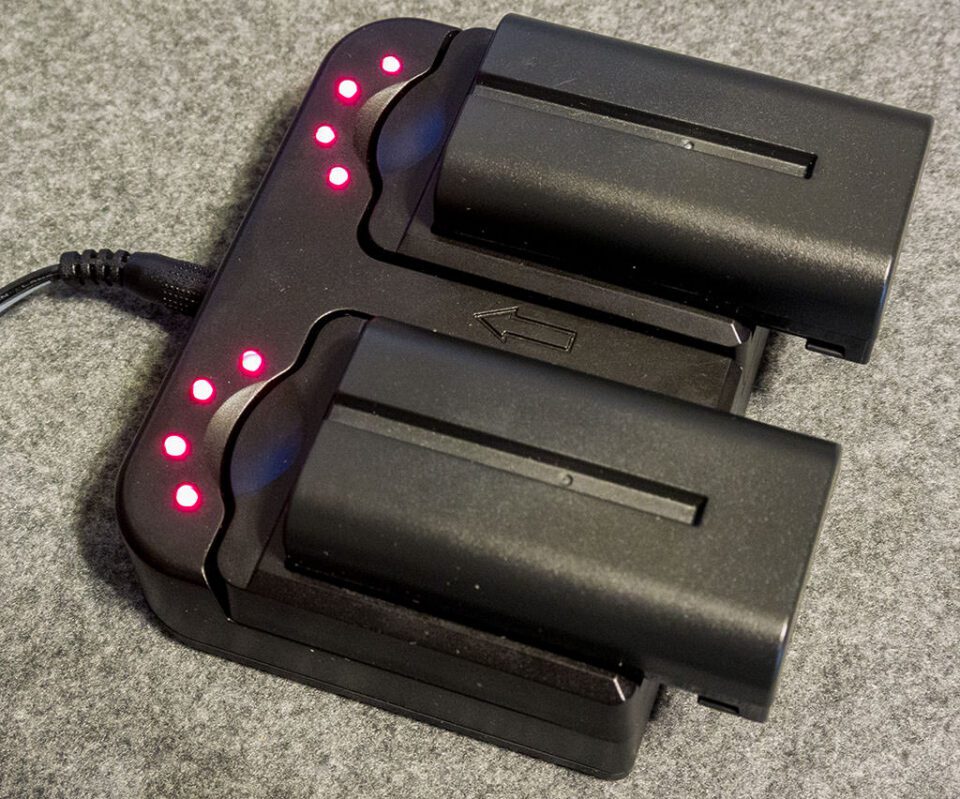 The battery charger has four red lights per side which measure the charge level of each battery independently.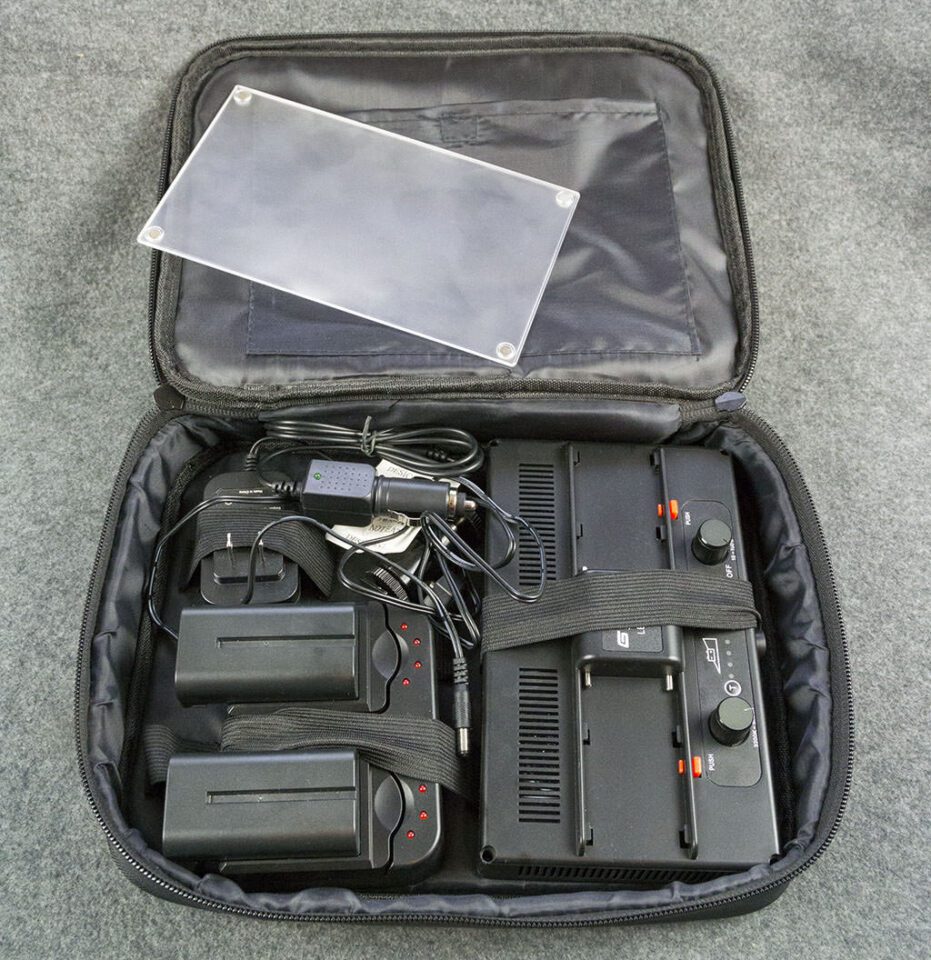 The kit elements are protected by a supplied, padded and zippered case which has an integrated soft carrying handle.
Summary
The Genaray LED-7100T kit is a small, portable light that many photographers and videographers will find to be a very flexible and practical addition to their equipment list. Even though it is quite compact, it throws a good level of light, albeit only for a relatively short distance. It can be used both on-camera or mounted on a tripod.
While the supplied ball head is adequate when mounted to the shoe of a camera on a tripod, it seems a bit undersized for extended 'run-n-gun' video use and a more robust ball head would make this light kit even better.
While I originally thought I would be using the LED-7100T mainly for video work, I have found myself using it a lot more than I anticipated for still photography, especially in situations where I want to travel without a lot of gear and I'm taking images of fairly small subjects. When I am at my studio I almost always have the LED-7100T mounted on my Oben TT-300 desk top tripod and readily available to provide some fill-in light, or for an easy-to-use single light for small subjects.
Article and all images Copyright 2014, Thomas Stirr. All rights reserved. No use, reproduction or duplication including electronic is allowed without written consent.
Genaray LED-7100T On-Camera Light
Features

Build Quality

Handling

Value

Size and Weight

Packaging and Manual
Photography Life Overall Rating