First Impressions and Build Quality
This kit is made up of many different pieces, all of which work together in some way or another. While the main reason you would buy a kit like this is for the lights, you also need to consider the case, mounting hardware and other accessories. Let's take a look at them in a little more detail.
The Carrying Case
When I first received the light kit, I was immediately impressed with the compact size of the carrying case that it comes in. When there are so many different accessories and cables, managing them can be a nightmare. This case offers some amount of organization for the lights and accessories. In addition to organizing everything, the case also has lightly padded sides, so it offers some protection. Rounding out the case are a zipper closure, a pair of handles with a velcro wrap and an adjustable shoulder strap. The case doesn't have any external pockets, which I thought would have been a nice touch.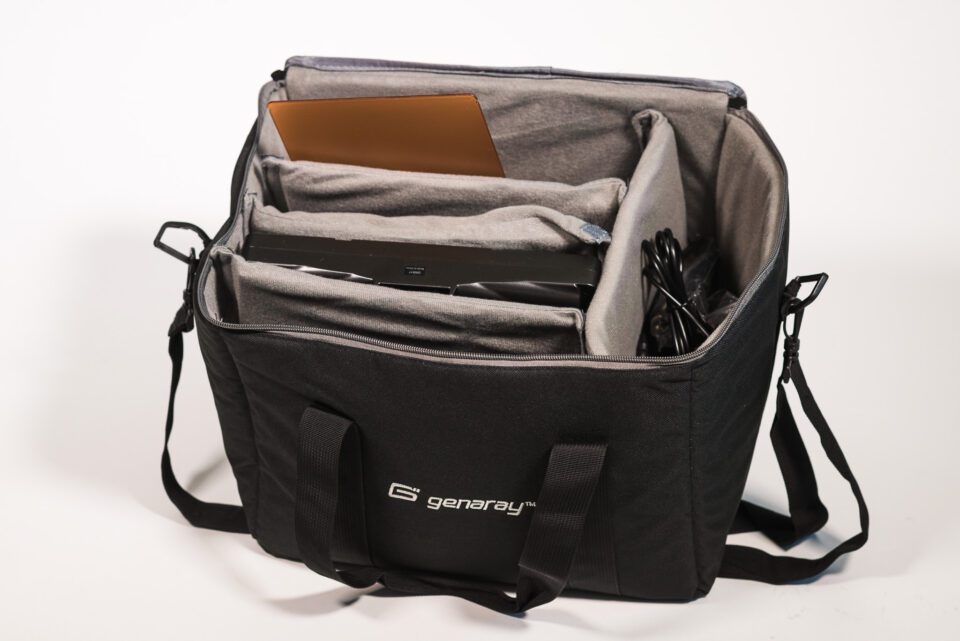 Inside the case you'll find adjustable dividers, although I don't see much need to adjust them. Each divider can hold one light panel and one filter. Additionally, the front and side areas hold the cables, batteries, remote and stand accessories. One thing that I noticed is that the remote tends to get lost amongst all of the other accessories in the bag, but that's easily remedied by keeping it in a small pouch that won't slip to the bottom of the bag.
The Light Panels
The LED light panels are compact and relatively lightweight. The front of each light includes a set of built in barndoors that allow you to shape the light output. Since they are built into the lights and are not removable, they fold down very flat for storage. There is a slot on one side of the light panel that can hold either a frosted or tungsten diffusing filter (both of which are included).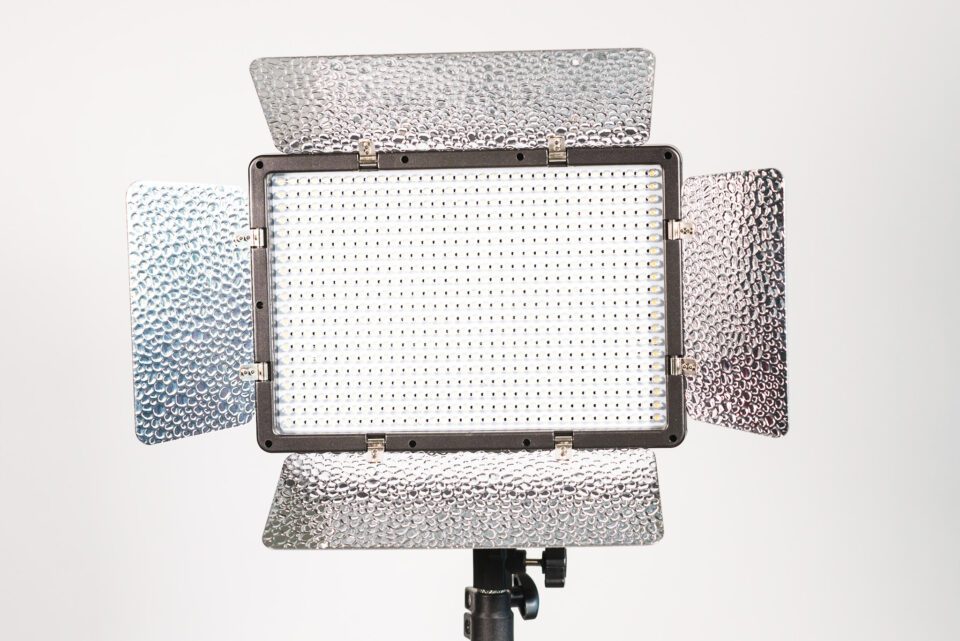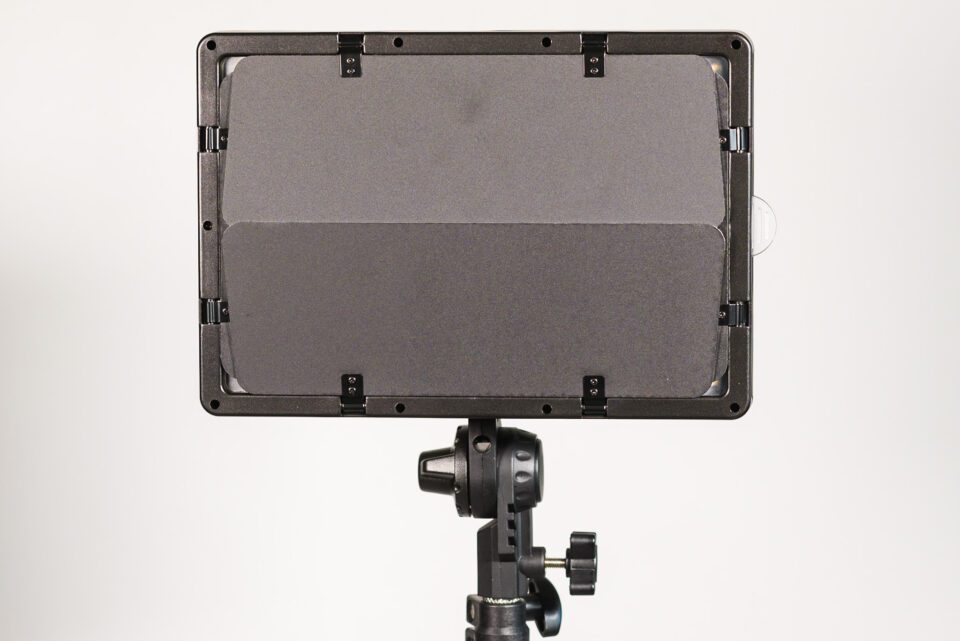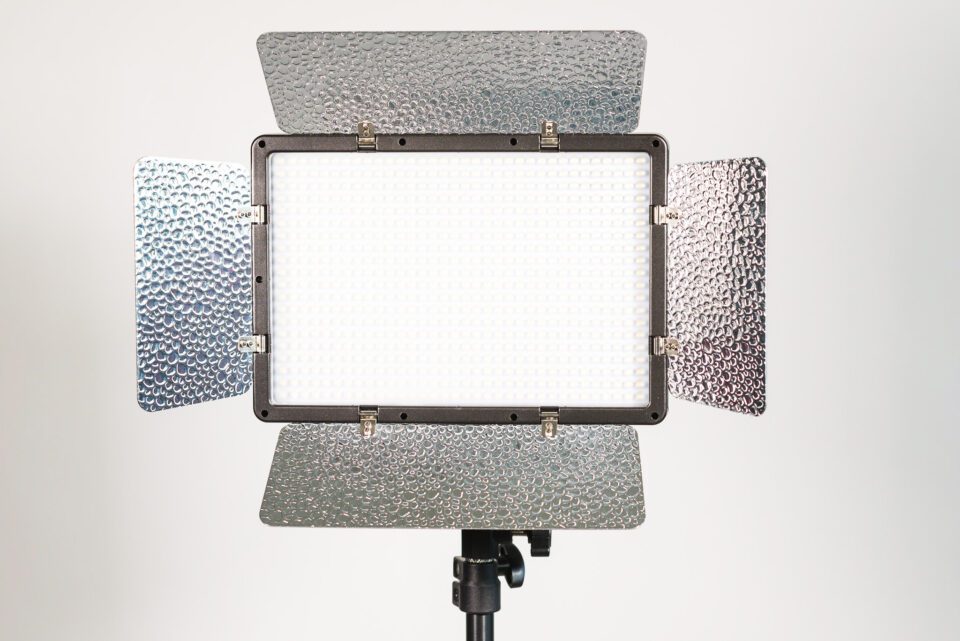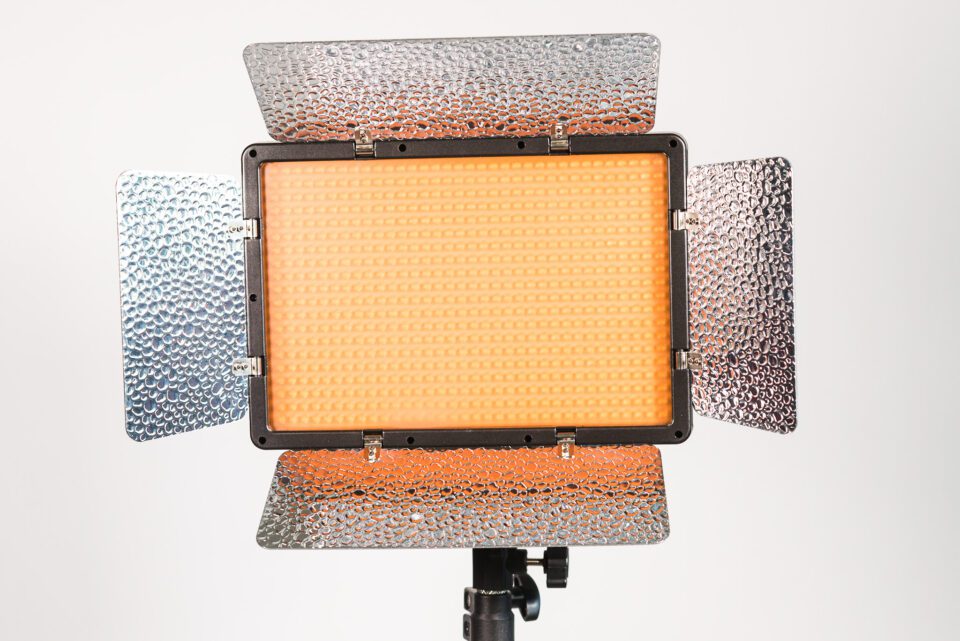 The back of the panel has a few notable features. Near the top, you'll find the battery mounts. Below those you'll find an LCD screen, some buttons, a power switch and the input for DC power. The screen display lets you know the current intensity setting (between 10-99) and the color temperature (which is always 56 on these lights since they're not adjustable).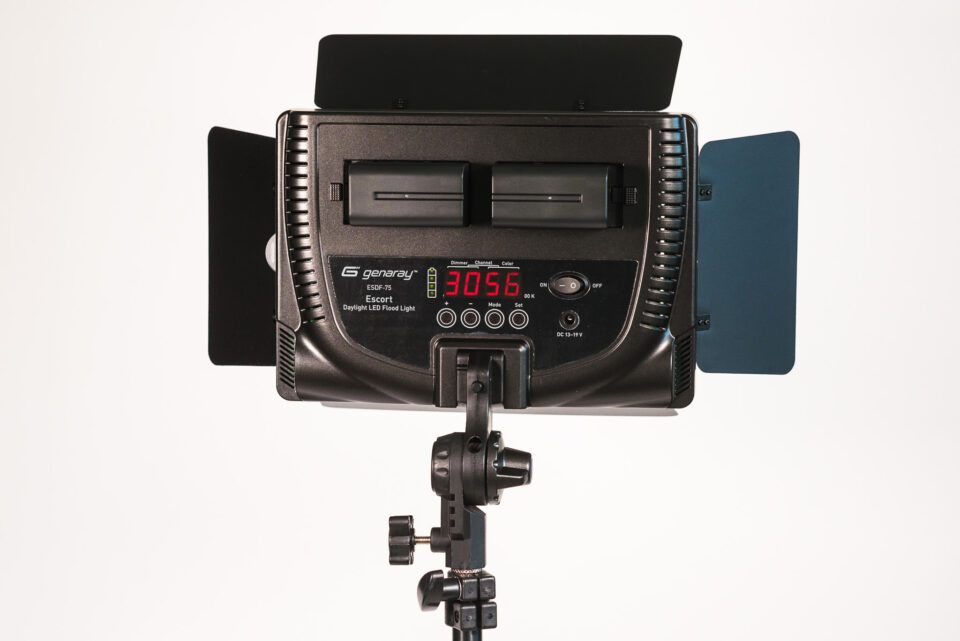 To adjust the different light settings, you use the + and – buttons on the back of the light panel. By themselves, the + and – buttons adjust the light intensity. If you press Mode, you can change the channel for that particular panel, which allows you to adjust it using the remote control when it is set to the same channel. Once you have the correct channel, press set and you're back to adjusting light intensity.
Below all of these different things is where the mounting accessories connect to the light panel. A locking mechanism holds them securely in place. They are removed by pressing a button on the back of each accessory.
The Accessories
Many different accessories are included with this light kit. The most notable are the mounting accessories and the remote control. It also includes batteries and a variety of cables and chargers that allow it to be powered by AC power (plugging it into a wall outlet) or DC power (using the included batteries).
Mounting Accessories
There are two types of mounting accessories included in this kit. Both types mount to the light panel in the same way (via a slot on the back of the panel that the mounts slide and lock into). The first is a hand-held mount that would allow for video or photo work in the field, while the second allows the light to be mounted to a light stand. The hand-held mount does not offer any type of adjustability, while the light stand mount allows for approximately 225-degrees of tilt adjustment.
Remote Control
The remote control allows for multiple light adjustments. It has four buttons: Power, +, – and Mode. Power wakes up the remote and will also turn off the light panels. Mode cycles between the light intensity, white balance and channel. On this particular kit, the white balance is not adjustable, so that mode does nothing. A colored light at the top of the remote lets you know which mode you are in. Blue stands for light intensity, orange stands for white balance and no light means you are in the channel select mode. The + and – buttons are used to adjust the selected mode.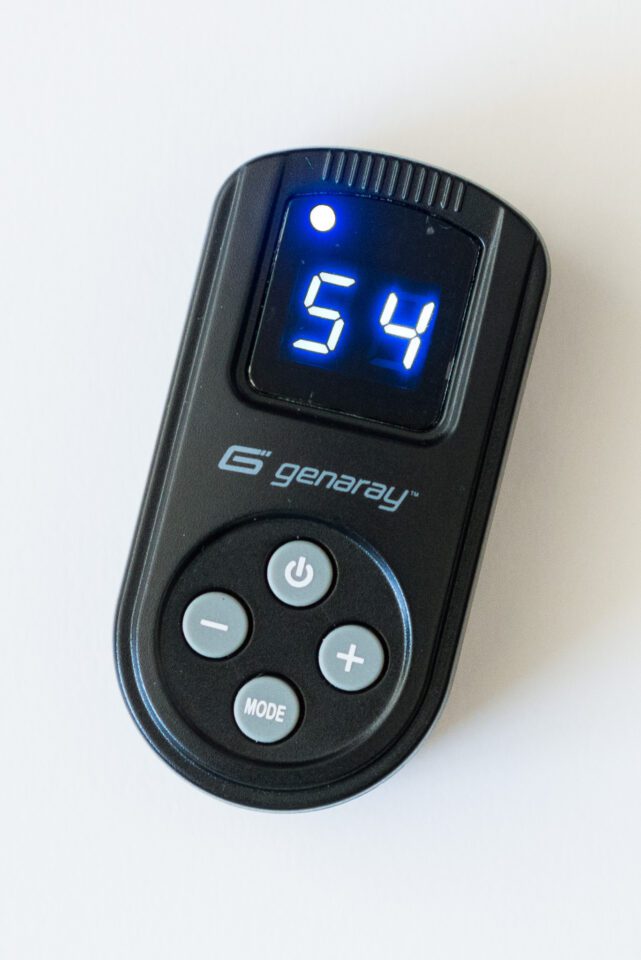 By setting each light to a different channel, you are able to control all three independently of each other. It took me a little while to get used to using the remote control and, if I wasn't paying attention, I often found myself accidentally changing the channel that the remote was using instead of adjusting the light intensity. After a little practice, I found the remote to be extremely useful. At one point I was standing on a ladder photographing something and wanted to change the lighting. The remote control saved me multiple trips up and down the ladder, as I could see the adjustments I was making to each light in real time from the angle of my camera.
Performance
The learning curve on these lights is very low. The controls are minimal, setup is easy and their effect is straightforward and immediate. I feel like most people would be able to use them with little to no knowledge of artificial lighting. With that being said, let's look at the performance of the lights themselves.
Light Panel Performance – Output, Barndoors and Inserts
With lighting, one of the most important things to consider is the actual output of the lights. This will determine what aperture, ISO and, in the case of photos, shutter speed you'll be able to use with them. To test this, I set up both the spot light and the flood light, turned them to full power and measured their individual light output at a distance of 4-feet with a Sekonic L-358 light meter. Here are the results:
Spot Light: ISO 100, 1/60s, f/10.7
Flood Light: ISO 100, 1/60s, f/9.7
This is plenty of light for both photo and video work. For video work, these lights are perfect for interviews where they can be placed just outside of the frame. While they do not provide enough light to balance an extremely bright background such as a window, they do provide enough light for most other settings. If you wanted to use them in a large room to light motion and needed to place them far from your subject (for some reason dancers were the first thing that came to my mind), you could probably still get good results with video, but they would struggle to provide enough light for still photos.
Speaking of photos, I found these lights to be very useful for product and still-life photos. I was able to set up all three, along with a backdrop, in my small San Francisco apartment and still have room to move around. Things would have been much more cramped with my studio photography lighting setup that consists of Alien Bees flash units and softboxes.
With the built-in barndoors, the light falling on your subject can be shaped or even flagged from entering your cameras lens. While for straightforward lighting they will typically be used wide open to provide maximum light with minimum variance, it is possible to vary the light by adjusting them. I also found that I was able to reduce glare on some shiny objects by adjusting the bottom wing to block the light's reflection on my subject.
The diffusion and tungsten inserts are a little difficult to remove. They have a notch in them that locks them into the light when they are completely inserted. This is a good thing, as it keeps them from falling out, but I had to use both hands and pull hard to remove them. Another thing that I discovered is that the barndoors need to be completely open or closed when inserting or removing the inserts. If they are not completely open or closed, the built in hinges, which are in the insert opening, can scratch the insert. While this doesn't affect the performance of the insert, it's still annoying.
Light Panel Performance – Battery Life, Display and Buttons
Since the lights have the ability to run on batteries, battery life is an important thing to measure. The last thing you want to do is head out into the field for some filming, only to find that the batteries die after 30 minutes of use. Fortunately, they last significantly longer than that. I tested both the spot and flood light and found that they both last 2 hours at maximum intensity on a full battery charge. Since this kit comes with three sets of batteries, you could have up to 6 hours of light if you only used a single light panel.
The LED display on the back of the panels is bright and easy to read. I found it very easy to see what my settings were at a glance. The remote control also tells you what the current settings are for each light, so you don't need to see the display when adjusting the lights with the remote, but it's nice to be able to quickly glance at the display to see if the light can be turned up or down any more than it already is.
The control buttons on each light are touch-sensitive, meaning they don't physically depress. While this means there is one less mechanical part to worry about breaking, it also means that they aren't as responsive as a mechanical button might be. I found that I had to have my finger in just the right place on the button if I wanted to adjust more than one increment at a time. If the setting was 50 and I wanted to increase it to 70, I would press and hold the button and it would change to 51. I'd take my finger off, put it back on and it would increase to 52. I'd take my finger off, put it back on in a slightly different place and it would scroll up to 70 or so. In the end, I found myself using the remote control to adjust the lights, even when I was standing right next to the light I wanted to adjust, simply because it had a mechanical button that was easier and more consistent to use. Fortunately, when using the mode and set buttons on the lights, you only have to press them in increments of one, so I had no issues using them.