When it comes to ultra-wide-angle lenses, the Nikkor 14-24mm f/2.8G is an outstanding choice, thanks to its top-notch corner-to-corner sharpness, amazing colors, and superb performance throughout the focal range. The lens has become a legend, outperforming most ultra wide-angle primes on the market in terms of resolution. As I have revealed in my in-depth Nikkor 14-24mm f/2.8G review, even Canon shooters have been using this lens with adapters since it is so good (and I have seen Sony A7/A7R users with this lens as well). The only downfall of the 14-24mm is its lack of a lens filter, which makes it impossible to use regular circular polarizers and filter holders. Thanks to the popularity of the lens, a number of manufacturers developed larger filter holder systems that allow the mounting of both polarizing and rectangular filters (such as neutral density and graduated neutral density filters). One such manufacturer is FotodioX, which developed the most popular filter system for the lens, the WonderPana FreeArc, which I am reviewing here. Although the review sample I received is for the Nikon 14-24mm lens, the FotodioX WonderPana is in fact available for a number of lenses from different manufacturers. For example, those that shoot with the Canon 14mm f/2.8L II lens can also use the same system using slightly different adapters.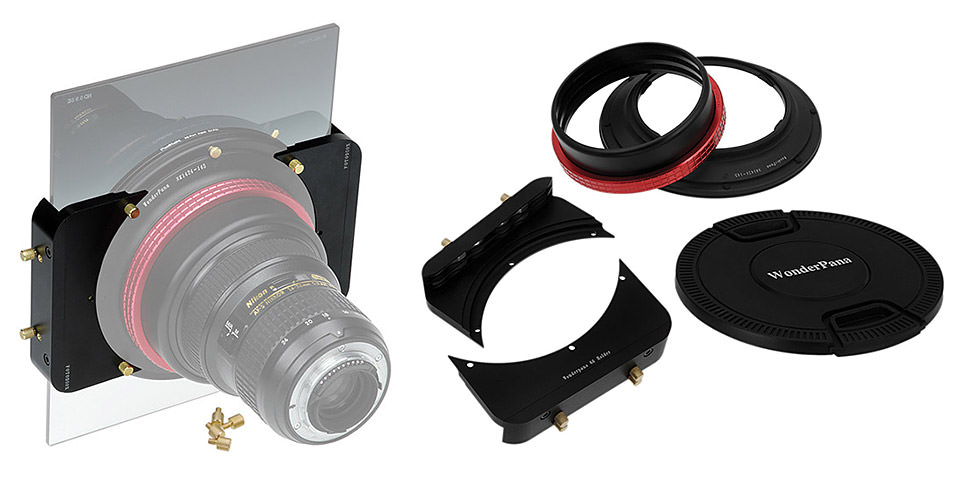 1. Mounting and Handling the WonderPana Filter Holder
Mounting the WonderPana is a bit of a nuisance when compared to mounting traditional filter holders since you have to take the lens off first. The black metal ring with the rotating red ring is put from the back of the lens, with the red ring facing towards the front. Once it reaches the front part of the barrel, it stops. From there, all you have to do is align the filter holder with the front protruding hood, snap it in place, then rotate the red ring clockwise to secure the two pieces together. After the setup is securely tightened, the front filter holder can easily rotate in any direction. This is great for mounting large Graduated Neutral Density (GND) filters with the additional holder bracket (as explained below), but could be a bit tricky when using a polarizing filter – you will need to hold the ring with one hand while rotating the polarizing filter with another if you do not want both to rotate.
The reason why the product is called "FreeArc", is because it allows this free rotation in either direction with the holder bracket in place. Speaking of which, the holder bracket comes in two pieces as shown in the top image, and gets secured to the front filter holder using four screws, two for each side. FotodioX provides a nice padded black case for the holder bracket and screws (with some extra screws inside). While mounting the holder bracket is super simple, I was a bit worried about doing it in the field since I thought I could easily lose the small screws. So I ended up leaving the case at home and keeping the holder bracket permanently attached to the front filter holder. This of course made the whole unit appear massive, but it fit perfectly fine in my Think Tank Airport Commuter bag, which is by far my favorite and most used bag for carrying my photo gear. In situations where I did not want the filter holder on my 14-24mm, I would take off the front filter holder with the holder bracket attached and store it separately from the black + red inner ring. Both fit fine in the front compartment of my Airport Commuter.
Although the mounting and handling of the WonderPana can be a nuisance, once you do it a few times in the field, you will quickly get used to it.
2. Circular Polarizer
If you have been utilizing a 77mm filter, you might get a bit shocked to see how big the WonderPana Polarizing filter is. At 145mm, the polarizing filter is just massive in comparison! Mounting and dismounting the filter is not as easy and can take a few attempts to properly align the threads. If you decide to buy the circular polarizer (CPL) separately, there is a caveat – FotodioX makes two versions of it. The regular version goes for $119.95 and that's the one you want to avoid since it is not properly coated. I have seen a number of reports from some of our readers that were quite unhappy with the polarizing filter and that's because they were using the cheaper version. Some people reported hot spots, while others have seen all kinds of weird issues from rainbow color effects to inconsistent colors. The version you want is the FotodioX 145mm Multi-Coated Ultra Slim Filter, which sells for $80 more than the regular version. I am not sure why FotodioX even sells the non-coated version since it seems to be quite poor in quality. So if you want to avoid the above-mentioned problems, get the multi-coated 145mm CPL.
If you are wondering why anyone would ever use a polarizing filter on an ultra-wide-angle lens, you should read this article on how to use a polarizer and this article on using lens filters. In short, polarizing filters can be great for a number of situations such as reducing atmospheric haze, reducing reflections from water/surfaces of objects, and enhancing colors. They are great for photographing waterfalls and foliage. On a wide angle lens though, they can potentially screw up the sky and make it look very uneven, so be careful when using CPLs on those bright sunny days.
The nice thing about the 145mm CPL filter, is that it has two protruded screw-like knobs that are really easy to rotate with your fingers. If you have small hands, rotating the filter by holding it with your fingertips from side to side might not be the best option, so the knobs work much better.
In terms of the optical quality of the filter, judging from images captured with and without the filter, there seems to be very little to no loss of quality, which is great. Unlike some other filters on the market, this CPL seems to be very good optically.
3. Holder Bracket
The 6.6″ wide holder bracket itself is also made from high-quality aluminum. Once attached to the WonderPana, it sits very securely without wiggling. With two slots, the holder bracket allows mounting up to two filters. Since even the ultra-slim polarizing filter is quite thick, it takes up the full front slot. So if you decide to use the polarizer, you will be limited to a single filter only. Unfortunately, the only way to mount two filters is to remove the CPL.
You have to be really careful when mounting GND filters on the holder bracket though. There are two screw holes on each side of the holder bracket. If you are planning to use two GND filters, I would only use one screw on each side and put them on opposite ends, then reverse the position for the second slot. That's because if you put two screws side by side, they will rub against each other and make it difficult to move those filters up and down. Here is how I set up mine:
The other side of the bracket has screws in reverse position.
So why one has to be careful when mounting GND filters? Because of the way the holder bracket is designed – if you let the screws get too loose and your camera is mounted straight on a tripod, the large GND filters might slip and fall on the ground. Mine slipped the first time I tried to mount it and I was able to quickly catch it, but I could see how one could potentially end up on the concrete ground and get scratched or shattered in pieces. Those filters are not cheap to replace, so keep this in mind! Over-turning the screws is not good either, because the filter won't come down and if you force it, you will scratch the corners of the filters. If you do need to move the filter up or down, my recommendation would be to either use both hands (holding the filter underneath at all times with one hand, while working on the screws with another), or change the holder bracket to horizontal orientation, so that nothing falls off. I wish FotodioX came with a better way to secure these large filters, as I am not a huge fan of this design.
4. ND and GND Filters
The 6.6″ (168mm) filters are huge! The GND ones I have are 6.6×8.5″, which look massive when compared to my 4×6 filters. In addition, these filters are 4mm thick, which is twice thicker as my 2mm Lee filters. Despite their thickness and big size, these filters are made of high-quality glass with a multi-coated surface, so picture quality should not be affected. If you get ND filters, those are going to be circular just like the CPL. This means that you will have to drop the CPL to use an ND filter, as the two won't mount on top of each other (both are "ultra-slim" versions without front threads). That's unfortunate – I wish FotodioX made square ND filters too for situations when both an ND and a polarizing filter are needed. I could see much use for such a combo when photographing waterfalls and other movements. The good news is, similar to the polarizing filter, the ND and GND filters appear to be of excellent optical quality.
5. Vignetting
When using the WonderPana with the Nikon 14-24mm, a little bit of vignetting is only visible at the widest focal length of 14mm, as shown in the below image. However, if you use lens corrections in Lightroom or Photoshop Camera RAW, you will notice that the vignetting problem disappears completely when an image is corrected. Take a look at the below comparison that shows vignetting at 14mm, which is completely removed after lens corrections are applied: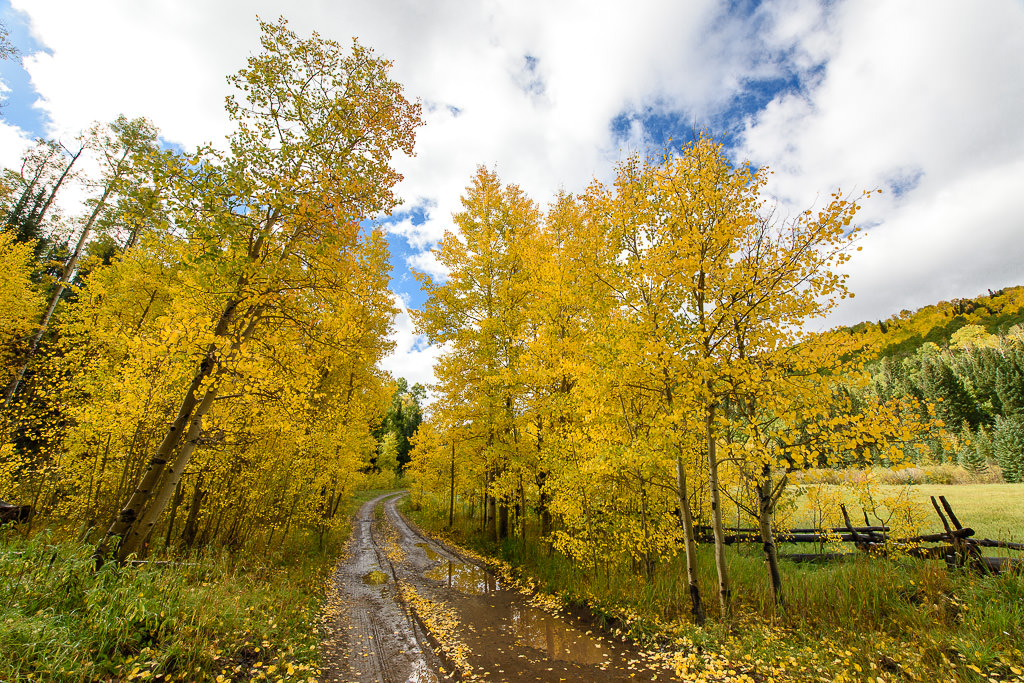 As you can see, the vignetting issue completely disappears, so it is not a problem at all.
6. Color Cast
In my experience, every ND filter on the market, including the most expensive ones have some color cast to them, with some being better than others. I have not noticed any serious color cast issues with the faster WonderPana ND filters, but the ND32 (5-stop) filter definitely had some noticeable color cast. Again, this is expected from a dark ND filter and this one was actually pretty decent compared to my HITECH ND filters that have some crazy color cast issues that are hard to correct in post.
7. Field Use
How practical is it to use such a filter system? In my opinion, the best example would be to showcase real samples from shooting with the 14-24mm in the field. Take a look at the below photo that I captured with the 14-24mm by itself:
The light conditions were tough, but it is pretty clear that there are a few problems here. First, there are plenty of reflections on the grass and the foliage, making the colors appear a bit too pale. Second, the sky is over-exposed and some areas of the clouds are overexposed way too much for potential recovery – it was a tough scene to capture.
With the WonderPana mounted on the 14-24mm, I added the circular polarizer, adjusted it for the sky and lower reflections, then slapped on a 0.6 GND to darken the sky and the clouds. Here is the result:
That's a pretty drastic change in my opinion. The colors look more saturated and there is no over-exposure anywhere in the image. The sky is a bit darker to the right of the top frame, but it can be fixed in post, so it is not a big issue for me.
8. Summary
If you love the Nikon 14-24mm f/2.8G lens and you are looking for the best filter holder system for this gem, the WonderPana FreeArc Filter Holder System seems to be a superb candidate for the job. While WonderPana is a bulky filter system that requires using large 145mm polarizing filters and massive 6.6×8.5″ 4mm GND filters, it is a high-quality product that fits the 14-24mm lens perfectly. Thanks to optically excellent polarizing, ND and GND filters, it does not noticeably impact lens sharpness, yielding superb results. I have been using the WonderPana for the past few months and I have been impressed by this filter system. At close to $500 for a full set, it is definitely not a cheap filter system by any means, but it is still worth the investment for any 14-24mm lens owner in my opinion.
In fact, if you do purchase this filter system, you could use it with any other lens you own without worrying about vignetting problems (thanks to that massive filter size!). All you have to do is purchase step-up rings for 77mm and your other lenses will be able to mount the filter holder as well.
9. Where to Buy
The FotodioX WonderPana FreeArc system can be bought from our partner B&H Photo Video or from FotodioX directly. You can purchase the WonderPana 66 / FreeArc holder for $249.95, add a 145mm Circular Multi-Coated Ultra- Slim Polarizer for $199.95 and a single GND filter for $149.95 (total $599.85), or get the whole "Essentials" kit for $489.95 at FotodioX.com.
FotodioX WonderPana 145 Filter Kit for Nikon 14-24mm
Optical Performance

Features

Build Quality

Handling

Value

Size and Weight

Packaging and Manual

Ease of Use
Photography Life Overall Rating