Throughout history, man has sought immortality, whether by the elusive Fountain of Youth, religion, the cloning process, cryogenics, and many other means too numerous to mention. Forever.com is a new business seeking to ensure that you can indeed live forever – at least the digital aspect of your persona. A friend of mine told me about Forever at a recent party. I was intrigued since the company was located in Pittsburgh and founded by a local entrepreneur, Glen Meakem. Meakem founded Free Markets, Inc., after leaving GE Information Services. Free Markets was eventually bought by Ariba.
I have to admit that when I first heard the term "Forever.com," my mind immediately raced to that cryogenics company, Life Extension, portrayed in the futuristic psychodrama, Vanilla Sky. The concept of Forever.com is quite simple: Over the course of our lives, we will create or acquire many photos and videos from digital and non-digital sources. These documents depict our family history, relationships with friends, chronicle important moments of our lives, and capture our creative efforts, which may be associated with hobbies and professional pursuits. Why not preserve them online granting friends, family, and the public varying degrees of access, along with a transition path for management of your archive during your lifetime and long after you are gone?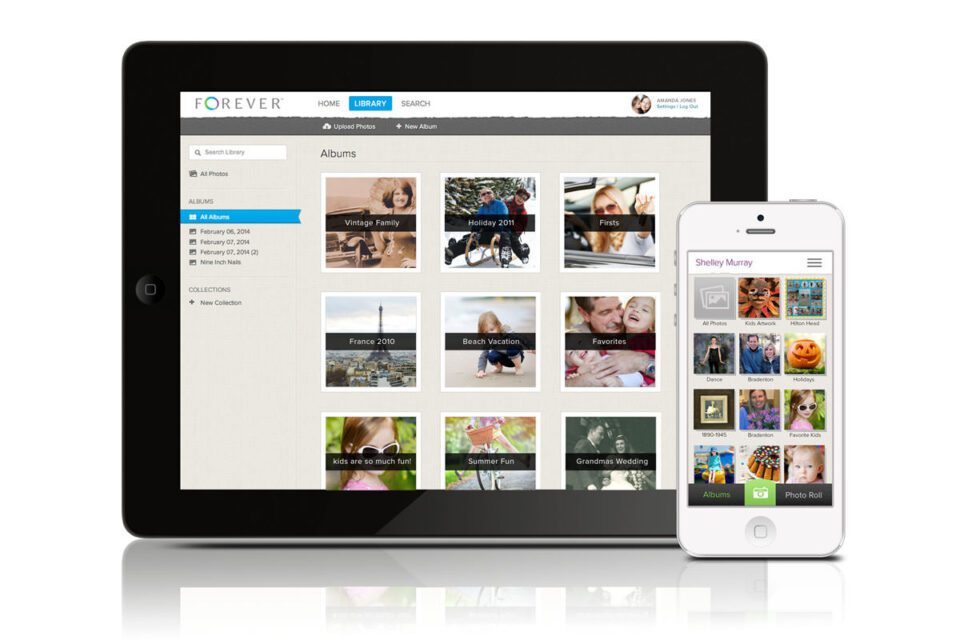 Welcome to the concept of "Digital Estate Planning" – a lofty term describing the need to manage our digital assets, not only during our lifetime, but in the event of our passing – just as we create wills to manage our property and financial assets. The following article provides an excellent explanation of the concept.
Social media sites, email services, photo sites, and cloud service providers are all seeking to stake some claim to your digital self. Forever.com is the first online service specifically focused on the preservation of your digital archive during and beyond your lifetime.
1) When Disaster Strikes
I can easily relate to the need Forever.com is seeking to satisfy. When our house exploded during Hurricane Agnes, which wreaked havoc on northeastern Pennsylvania in 1972, my family lost nearly everything we owned. Hundreds of photos of my great grandparents, grandparents, parents, and other family members were gone in instant.
More than any possessions they lost, my parents lamented losing the cherished family photo albums that went up in smoke that day. In the early 70s, we had little recourse to easily obtain copies of our lost photos. They and the associated negatives were gone for good. We were able to reach out to some studios that had taken various photos and purchase copies. And since some family members had taken some of the photos, we would occasionally get lucky and find that they had retained the negatives. For those photos without negatives, we had to resort to taking a "picture of a picture." It would be quite some time before scanning services would become mainstream and enable us to easily and cost effectively duplicate the photos from other family members.
2) The Rapidly Expanding Digital World
Fast forward to today – the amount of photos and video taken is literally exploding as low cost, high quality digital cameras and cellphones of various flavors enable us to record more of our lives than ever before. Much of this falls into the "daily snapshots of our lives" category – not works of art per se, but perhaps meaningful to someone on some level.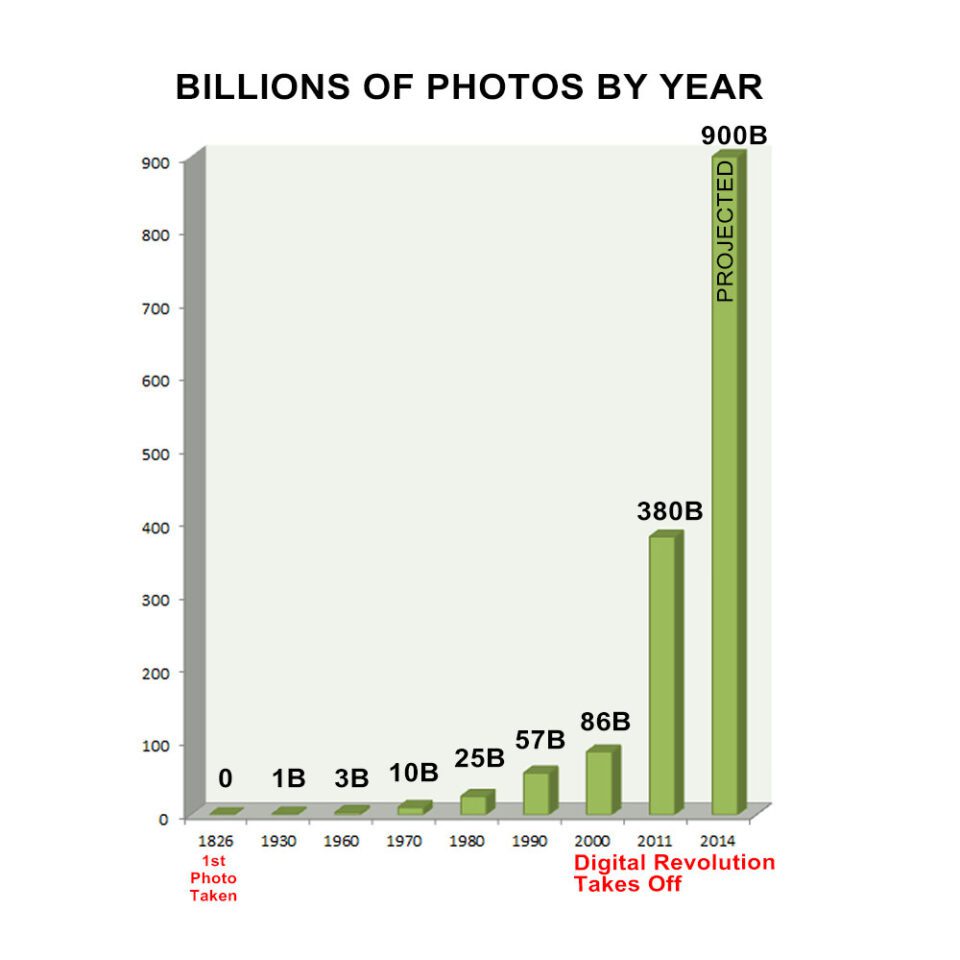 Base information provided courtesy of 1000memories
Most teens posting photos of their high school hijinks or videos of the family cat on Facebook probably don't think much about what will happen to such content should their lives suddenly be cut short. But as we mature (or at least feign the appearance of it!) we start to think differently regarding our time on this earth and what we leave behind. There is a burning desire in most of us to leave some legacy of our lives to others, as well as ensure that future generations know something of the many ancestors that helped make their lives possible.
Some may have extensive family albums passed down to them and recognize the need to ensure they are successfully transferred to future generations. And those that engage in various media professions, creating photos, illustrations, and video, are likely to be extremely concerned regarding how their content is managed during their lifetime and beyond, particularly if financial interests are involved. Enter Forever.com…
3) What Do You Get And How Much Does It Cost?
3a) Core Service
A permanent subscription to Forever.com for $295
A subdomain name (www.YourNamehere.forever.com)

Guaranteed permanent 1 GB of file storage in the cloud for at least 100 years after you (or your partner if a joint account) pass on
Ability to upload your photos, videos, and other content to Forever's servers from your PC, tablet, or smartphone (iPhone initially with Android application to follow)
Redundancy of your data across multiple data centers to eliminate data loss
Access to a user interface that enables you to classify your information into categories, create accounts (see below), and grant permissions
The ability to designate who should control your Forever assets after you have passed on
2 free hours of phone support
Terms of Service and Privacy Policy specifically designed for managing your digital archive during and beyond your lifetime
3b) Optional Services
Additional storage for $95/GB
A Forever.com Box for $79 (plus 1 free roundtrip shipment), which represents a secure weatherproof option for sending your photos to/from Forever
Ability to purchase digital conversion services (scanning, film-to-digital, sound-to-digital, etc.) for $50/hour
4) Your Forever Account
Creating a Forever account is very simple. I created one in less than a minute by designating a username and password. With my guest account, I was able to see a variety of content others had labeled "public." There are various roles you can assign, including an Account Manager(s) who will manage the account once the originator has passed away. You can tag your photos with keywords to facilitate searching. Forever's policies contain the usual stipulations and warnings regarding posting false information, copyright infringement, decency concerns, publishing information regarding the identity of others, etc.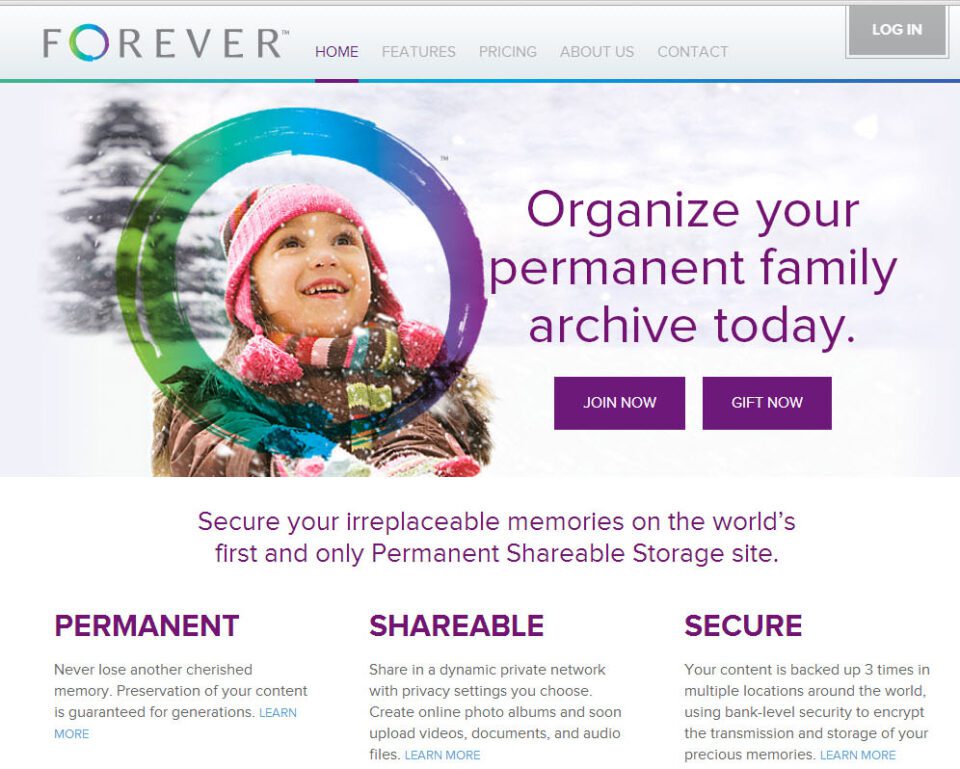 The good news is that Forever recognizes that your content is your content – not existing for the service provider to use at its own discretion for its own purposes. This may not seem like a big deal to some, but to quote the reality of our online world, "If you are not paying for a product, you are the product." Simply put – those "free" social media sites are marketing your demographic information and in some cases, your published content as well. As such, Forever draws a clear distinction regarding its Terms of Services and Privacy Policies and those of other service providers.
Forever provides different privacy layers including those below. You can organize your content into folders and then assign people to each of these roles. As expected, if you assign information to the Public category, anyone that has a Forever account can view it.
Public
Professional
Friends & Family
Private
5) How Long Is Forever?
Ah yes – the age old question… The short answer is your lifetime plus 100 years after you pass on (or your partner if a joint account). That is known as the Forever Guarantee. Your acceptance of Forever's Terms of Service indicates your acknowledgment that Forever cannot guarantee the preservation of your content after the 100 year Guarantee Period. Forever does state that its goal is go well beyond the Guarantee Period to provide access upwards of (drumroll here)… 1000 years or more! Touché for dreaming big.
The notion of a 100 year guarantee is an interesting one. We know that businesses come and go over time, despite the best intentions of their owners and employees. As I understand Forever's policy, it invests a portion of your fees into a "Forever Fund," which can be thought of as an endowment that continues to earn interest. The Forever Fund enables the company to pay for cloud storage well into the future. This appears to be a sound strategy to ensure the longevity of your content, even if Forever closes its doors. This helps explain why Forever's per GB storage costs are higher than pure cloud storage firms.
Since most people have experienced some disappointments regarding product warranties and guarantees and are rightfully skeptical of them, it would be helpful for Forever to provide a more detailed explanation of this strategy on their website. A clearly articulated guarantee could be a key selling point for many people concerned about the long-term continuity of their digital archive.
6) Amount Of Storage And Target Audience
For those seeking to scan that box of family portraits and videos, and upload the occasional photo and short video from their cellphones or point-and-shoot cameras, and JPEG images from their DSLRS, Forever's 1GB storage is probably more than enough to meet their needs. You will need to be circumspect regarding what you upload to Forever. The idea is to preserve cherished memories, works of art, treasured moments, etc., and share them with others – not serve as a second hard drive. If you start uploading every snapshot you take from your 16MB DSLR or smartphone, you will quickly run into capacity issues.
No doubt some of you photographers are chomping at the bit to say, "But what about my multi-layered Photoshop PSD files from my D800 that can approach 500MB – 1GB per file?" The short answer – Forever's not the ideal solution for replicating your entire RAW, JPEG, and PSD archive – at least not now. Cloud storage prices are indeed falling rapidly, but they still have quite a way to go before you can begin to think about storing your voluminous PSD files in a cost effective manner in the cloud. Perhaps this will make sense 2-5 years from now. Of course, by that time our smartphone cameras will generate 64MP images!
Forever's main appeal is a direct tug to your heartstrings and addressing the desire to preserve your cherished memories for current and future generations. No doubt that as cloud storage prices continue to drop, the Forever's service will have a broader appeal to other segments of the market which require higher storage volumes, including the serious amateur and professional photographer crowds.
7) Service And Support
For those with old photos and/or videotapes that need to be digitized, Forever's digital conversion services and customer support may be far more important than the number of GBs offered. It was very easy for me to call and speak with a friendly Forever customer service. The same cannot be said for many listed below that may be loosely defined as competitors to Forever.
8) The Competition
On one hand, Forever has no direct competition, since its service focuses on a very specific niche not targeted by others – Digital Estate Planning. But as my friend Geoffrey Moore said in Crossing The Chasm, every company needs to "define the battle," and name their competition in order to clarify their value proposition.
Who competes with Forever? It really depends on how broadly you wish to draw the box. In no particular order (and not an exhaustive list), the options below offer possible alternatives for ensuring that your personal archives live on:
Your personal hard drive
The backup of your hard drive stored in your home
The backup of your hard drive stored at your Mother-in-law's house, safety deposit box, or in your cousin Carl's basement
Flickr, 500px, Smugmug, Pbase, Zenfolio, and any other free/paid photography hosting sites
Any webhosting service that provides some storage and enables you to use a WordPress theme or even basic FTP (file transfer protocol)
The ever growing list of Cloud Storage providers – Dropbox, SugerSync, SOS, Mozy, Carbonite, JustCloud, etc.
Facebook
Twitter
The Big Guns – Google Drive, Amazon Cloud Drive, and Microsoft SkyDrive (soon to be OneDrive)
8a) Your Hard Drive And Backups
Your computer hard drive is the weakest component of your digital archive. It is easy enough to develop an in-home backup strategy with programs such as Acronis, particularly since you can purchase a 1TB drive for as little as $70. But your house still represents a single point of failure in the event of a flood, fire, or theft. And until you upload your digital content to some internet-based service, no one can view the information.
8b) Everyone Else Offering Free And Paid Cloud Storage
Forever's competition from various email services, photo sites, and cloud storage providers is a bit more complicated. Everyone seems to be angling for a piece of your digital self and to lure you into relying upon whatever service they are offering. To entice you, they offer various forms of free storage. They hope you will become comfortable with and reliant upon their services and one day sign on to a subscription fee plan.
By way of example (not a comprehensive list by any means), here are a few of the major players and amount of free storage they offer (subject to change):
You are probably thinking, "Free sure beats $295 for the initial 1GB and $95 for each additional GB!" Obviously, from a pure cost/GB perspective, Forever would not be your first choice if you were only in the market for cheap cloud storage. Can you figure out how to utilize one or more of these other services to mimic those of Forever? Absolutely. But it may take a bit of work and not be quite as easy or intuitive for more casual users. Some cloud service providers limit the type of files you can upload (such as JPEG). The various providers listed have a range of customization options, from simply acting as a "hard drive in the sky" to enabling you to create groups with various access privileges, similar to those of Forever.
9) Those Pesky Oft-Ignored Terms of Service And Privacy Policies
When you consider the important aspects of a successful Digital Estate Planning service – Terms of Service, Privacy Policy, Accounts and Access Privileges, and Long Term Management – it may not be quite as easy to mimic Forever's suite of services as you might imagine. By way of example, Flickr (owned by Yahoo) indicates that it will not delete your content (other than violation of copyrights, inappropriate content, etc.), but then references a link to Yahoo's Terms of Service (Section 28) which states this:
No Right of Survivorship and Non-Transferability. You agree that your Yahoo account is non-transferable and any rights to your Yahoo ID or contents within your account terminate upon your death. Upon receipt of a copy of a death certificate, your account may be terminated and all contents therein permanently deleted.
Oops. Apparently when you pass away, your rights and photos do as well! This may not sit very well with you if your goal is the preservation of your scanned historical family photos and more recent digital uploads!
Forever's business model, terms of service, customer support, and configuration options are specifically designed for creating, managing, maintaining, sharing, and passing on your archive of digital files. The policies of other players – email services, photo sites, or cloud storage providers – may not be conducive toward preserving your digital archives beyond your lifetime. Few, if any, offer conversion services. And when it comes to getting someone to answer a phone call from some of the other service providers, you may find yourself wading through various automated voice mail menus and have a difficult, if not impossible time, connecting with a real person.
10) Google Circles
Google Circles may be the most viable competitor to Forever, although I suspect others may have a different opinion. Circles enables you to define different groups (friends, family, general public, etc.) and allow them to access different content. Of course, in order for you to use Google services to replicate Forever's service, your friends and family members will have to sign up for a Google account.
Interesting enough, I discovered that Google has an Account Management feature that enables you to release various Google content to those you designate after some defined period of inactivity (defined by you). I will give Google some credit here, as it has considered the fact that you might have some opinions regarding how your digital archive should be handled once you are gone. Then again, some my have concerns regarding Google's Privacy Policies and not feel quite as comfortable relying upon Google for their Digital Estate Planning purposes.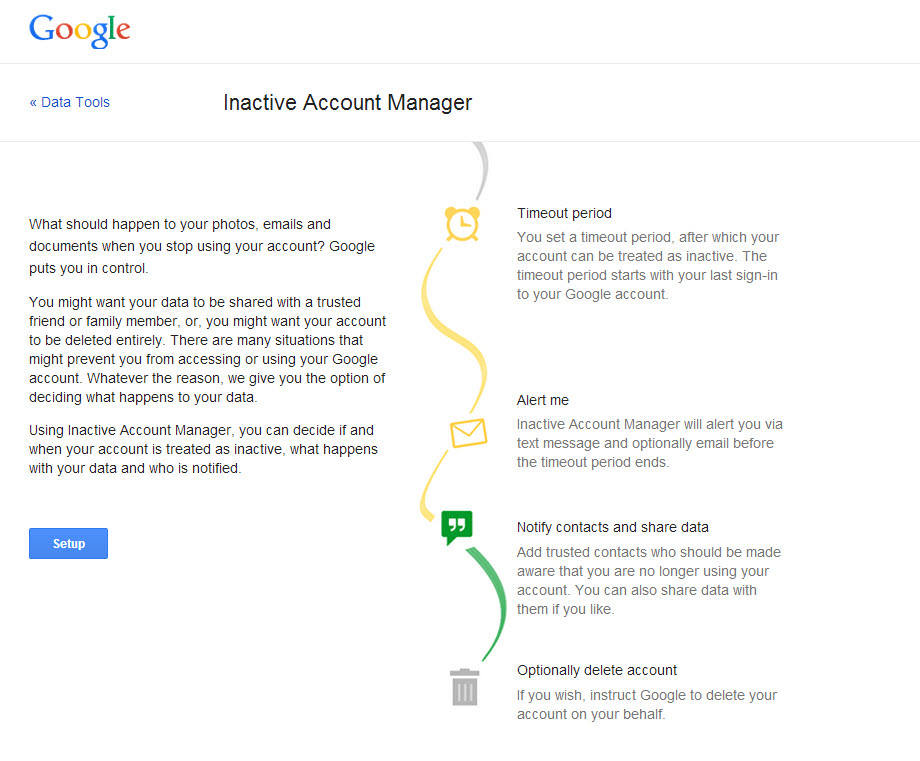 11) Facebook?
It is obvious that Facebook wants everyone to "live out their lives" on a real time basis for the world to see. Many are doing just that, admittedly in sometimes humorous and somewhat disturbingy ways. Welcome to the new normal… There is little doubt that Facebook is angling (and proving to be rather successful at it) to serve as that historical reference for your life and your family, even if it approaches the issue from a different perspective. And people are indeed scanning and uploading photos to Facebook in record numbers – estimated to be more than 300 million photos per day.
There are already many Facebook accounts dedicated to various deceased figures which have photos, videos, or links to other sites with such content. Then again, you might want to consider Facebook's Terms of Service, since it stipulates that when you die, the company inherits your soul as well as your digital archive. Just kidding… sorta…
Here's an example of one father's plea to get access to his son's Facebook account after his son tragically died a few months ago. While it appears that Facebook finally granted this man permission to access his son's account, you surely don't want your family member to resort to creating youtube videos in order to gain access to your digital content once you are gone!
12) Summary
Digital photography/videography is still relatively new and the amount of content generated per year continues to increase at an exponential rate. Forever is the first company to offer a service specifically designed with the short and long-term aspects of capturing, managing, sharing, and preserving people's traditional media and expanding digital archives.
As people begin to grasp and appreciate the importance of Digital Estate Planning, I believe Forever and others that venture into this space will gain traction. At a minimum, people concerned with having their digital archives live on after they are gone should ensure that their wills include account names and passwords to the various services they subscribe to.
While it is currently possible to mimic Forever's services through a variety of existing service providers, you need to be especially careful to familiarize yourself with the Terms of Service and Privacy Policies of each vendor you rely upon. Don't be surprised if some vendors do not support your goal of preserving your digital archive beyond your lifetime and fail to provide sufficient safeguards for privacy.
With Cloud storage prices continuing to plummet, it will become more feasible to upload increasing amounts of content in a cost-effective manner. I look forward to seeing how the other service providers (email, cloud storage, photo sites) respond to the growing awareness and demand for Digital Estate Planning services. The barriers to entry are relatively low, but there is much to be said for first-mover advantage and developing a strong brand image. If Forever can quickly grow its customer base, it may become the dominant player in this emerging field. Just don't count on seeing the cryogenics option listed in its services section anytime soon!
Forever.com
Features

Value

Ease of Use

Speed and Performance
Photography Life Overall Rating