Photographers have an interesting dilemma when choosing a bag for long hikes. Camera backpacks are great at holding cameras, but they tend to be poor choices for comfort on long hikes. For some people – those who rarely need to trek with their camera equipment – a traditional camera backpack may be more than enough. For landscape and travel photographers, however, or those who need to carry their equipment longer distances, technical hiking bags tend to be the only option. The issue with these bags is that they aren't made with photographers in mind, meaning that gear access and tripod attachment is quite difficult. One of the companies trying to fix this problem is F-Stop Gear, who makes trekking-style backpacks with separate compartments for camera equipment. I have owned the F-Stop Loka UL since it was first released, and it has never disappointed me. So, when F-Stop announced their newest line of Mountain Series backpacks, I was excited to see some of the improvements that had been made. In this review, I will take a look at the brand new Sukha bag – at 70 liters, F-Stop Gear's second-largest backpack.
1) Specifications
Dimensions: 27 inches tall, 14 inches wide, and 12 inches deep (68.6 x 35.6 x 30.5 centimeters).
Weight: 4.6 pounds
Volume: 70 liters
Compartments:

Main 70L compartment, with openings at the top and across the back of the bag (between the bag and your body)
External "shovel pocket" along the entire front of the bag, including a tiny drainage hole at the bottom.
Two Velcro pockets within the shovel pocket – one which extends the entire length of the pocket, and one smaller mesh section.
Smaller zipped compartment on the outside of the shovel pocket
External top pocket
Two mesh compartments inside the external top pocket – one Velcro and one zipped
Large zipped compartments on both sides of the bag
Zipped mesh pocket on the lid of the bag's interior
Laptop/water bladder compartment inside the bag
A small zipped pocket on the back flap inside the bag

Materials: Water resistant canvas exterior, rubber along the bottom for mud and water protection.
Suspension: Removable aluminum frame.
Straps: Sternum strap and comfortable hip belt. Additional stabilizer straps above the shoulder pads
Attachment points all over the bag for hanging a tripod, skis/poles, or other straps
Emergency whistle on the sternum strap
Side straps to compress the bag or hang a tripod
Hydration system, including a water bladder/laptop compartment
Laptop: Fits up to 17 inches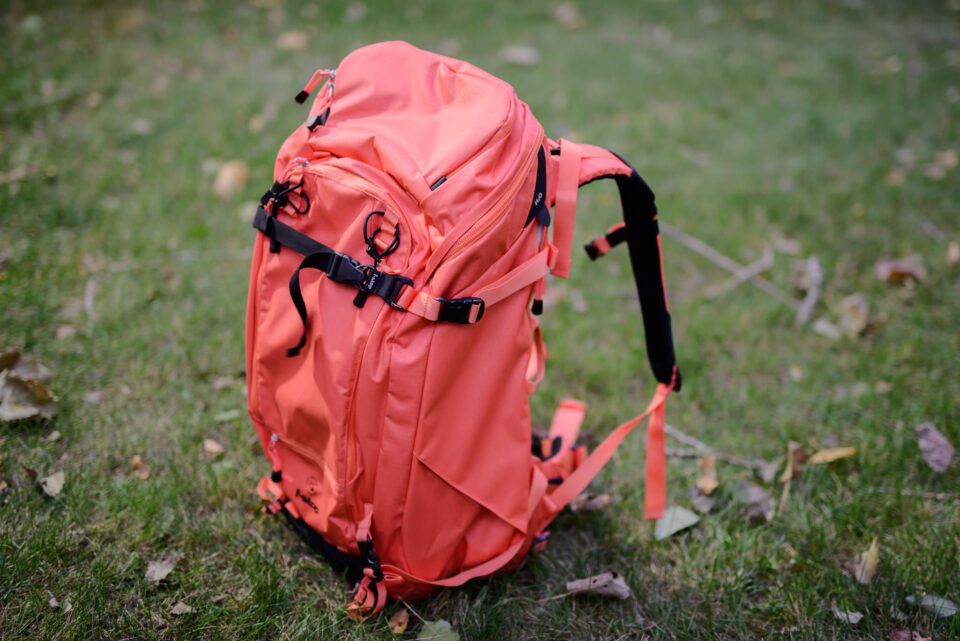 2) What's New?
The most significant change that F-Stop introduced in their newest Mountain Series is the fabric of the bag. Although the old F-Stop bags were very water resistant – I hiked through more than a few rainstorms with mine – the new series is a major improvement. This bag isn't technically waterproof, but it's about as close as you can get. I would have no reservations about using the Sukha, or any of the new Mountain Series bags, in the craziest of rains.
At 70 liters, the Sukha is larger than any of the old Mountain Series bags, the largest of which was 63 liters. The Sukha is a huge bag, to be sure, but sometimes you need to carry a huge load. I definitely don't recommend filling the Sukha completely with camera equipment – it could reach fifty pounds (23 kilograms) without a problem – but this size is perfect for a multi-day hike, where you need to carry a full camera kit with a lot of food and clothing. A bag this large is not for everyone, but long-distance hiking photographers typically want a bag in the 60-80 liter range to carry all their equipment.
The new Mountain Series bags also have the benefit of extra pockets, which was one of my few issues with the older F-Stop Loka UL. The largest of these new pockets spans the length of the bag on either side. These side pockets are large enough to hold additional lenses – I can fit my 70-200 f/4 without a problem – or perhaps a jacket and some food. The Sukha also adds an improved harnessing system, which makes the sternum strap more comfortable and adjustable.
Alongside the structural changes, the Sukha also adds a new color to the F-Stop lineup. The old Mountain Series bags were offered in tan, black and light blue; the Sukha (and the entire new Mountain Series) adds the option of sunset orange, or "Nasturtium." I can see that some people might not like this new color – it is very orange – but I'm a fan. I have a tendency to leave my bag on the ground and wander a half-mile away, then forget where I put it. The new color fixes this problem! If you don't want to stand out as much, I recommend the black or tan colors instead, which are much subtler.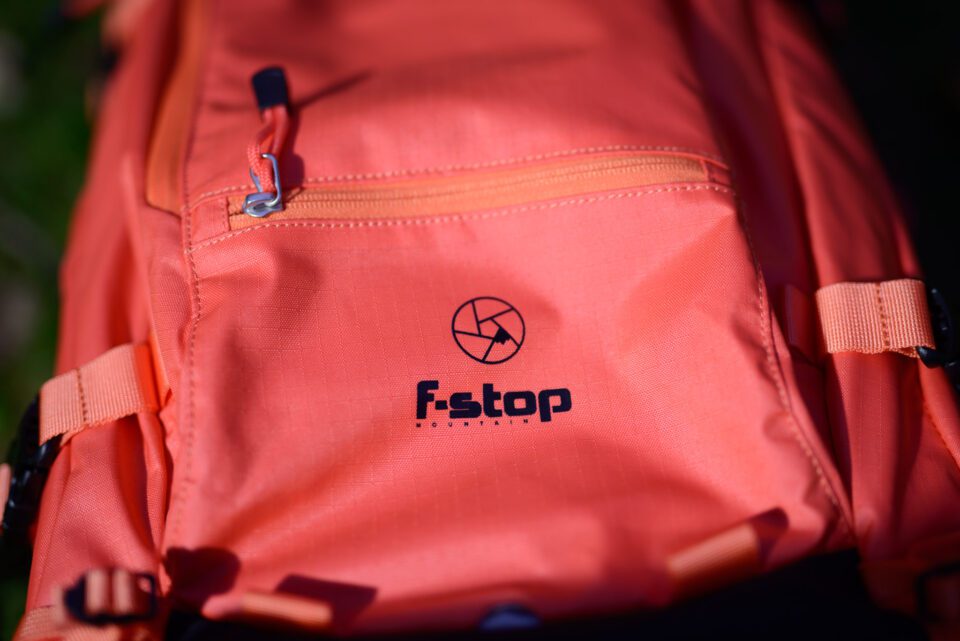 3) Highlights
One reason that F-Stop gear backpacks stand out from the crowd is that their bags have a back panel made to access your gear. This opening zips across the entire backpack, opening between the two shoulder straps and down the length of the bag. The most crucial benefit of this section is the ease of accessing all of your equipment. In a traditional hiking backpack, it would be easy for your camera gear to get buried at the bottom of the bag, since the only opening is typically at the top. With the Sukha – and any F-Stop backpack – the rear compartment makes it easy to get to any part of the bag. Although some other camera backpacks have this feature, I have yet to find a technical hiking bag that offers such a panel. Here, F-Stop has a clear advantage over the competition.
Another crucial benefit of the Sukha is its comfort for long-distance hiking. Many landscape photographers have begun to buy technical hiking backpacks rather than camera-specific bags, simply because camera bags are terrible at carrying weight. I can say with certainty that the Sukha is the most comfortable camera backpack I have ever worn (along with the Loka UL) – near the level of a traditional hiking bag.
I also love the improved water resistance of the Sukha backpack – for all intents and purposes, this bag is fully waterproof. I certainly don't recommend dunking it in a lake, but the Sukha will protect your gear regardless of the weather. The canvas used in the construction of this bag is quite thick, and water tends to bead on its surface. Plus, the bottom of the bag is constructed out of a waterproof rubber, so you can put your Sukha down in the mud without water soaking through to your gear.
Speaking of which, the fabric and zippers on this backpack are wonderfully-built. I am picky about zippers, and I must say that these are the best I have ever seen. The zippers are large, extremely smooth, and fully waterproof. This might not seem like a big deal, but the goal of a good camera bag is to make life easier for the user. These zippers accomplish their goal. The fabric, too, is extremely well-made; I don't think this bag will ever fall apart.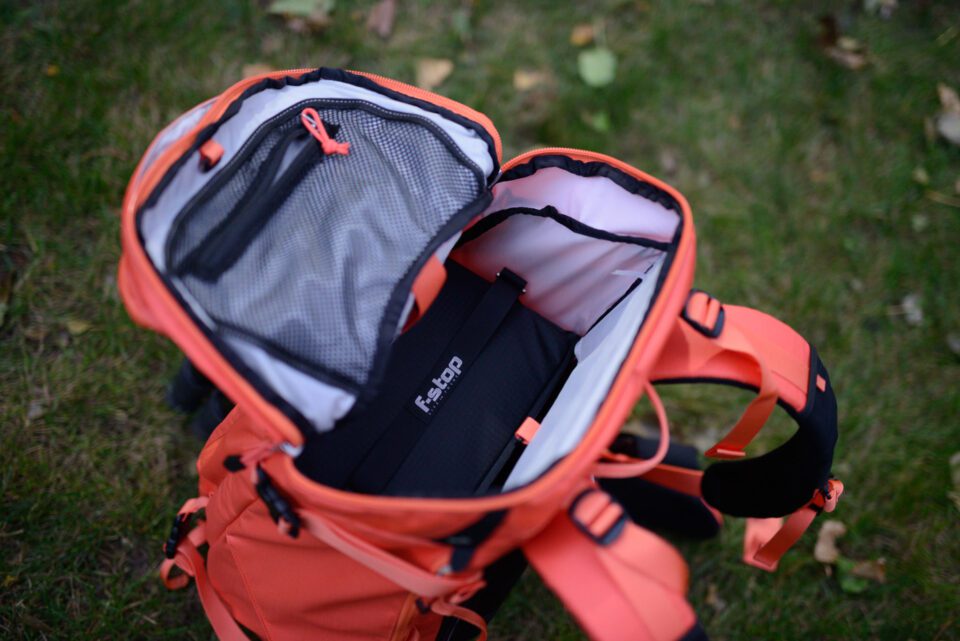 4) Accessories
The Sukha is a great bag on its own, but it is made to be used with some additional accessories. The most important of these is what F-Stop calls an ICU, or Internal Camera Unit. An ICU is a bag within your bag – it holds camera equipment in a way that is easy to access through the back panel, and it includes several dividers to separate your equipment.
F-Stop makes several sizes of ICU for the Sukha. Personally, I use the Small Pro ICU and the Large Pro ICU. Together (one on top of the other) they both fit in the bag, and I can choose just one when I need less gear on a given shoot. The Sukha is also large enough that it fits the new "Tele Master" ICU, which can carry lenses up to an 800mm f/5.6 in size. F-Stop sells their ICUs in conjunction with their backpacks, so you have the ability to design a system that works for you when you buy the bag.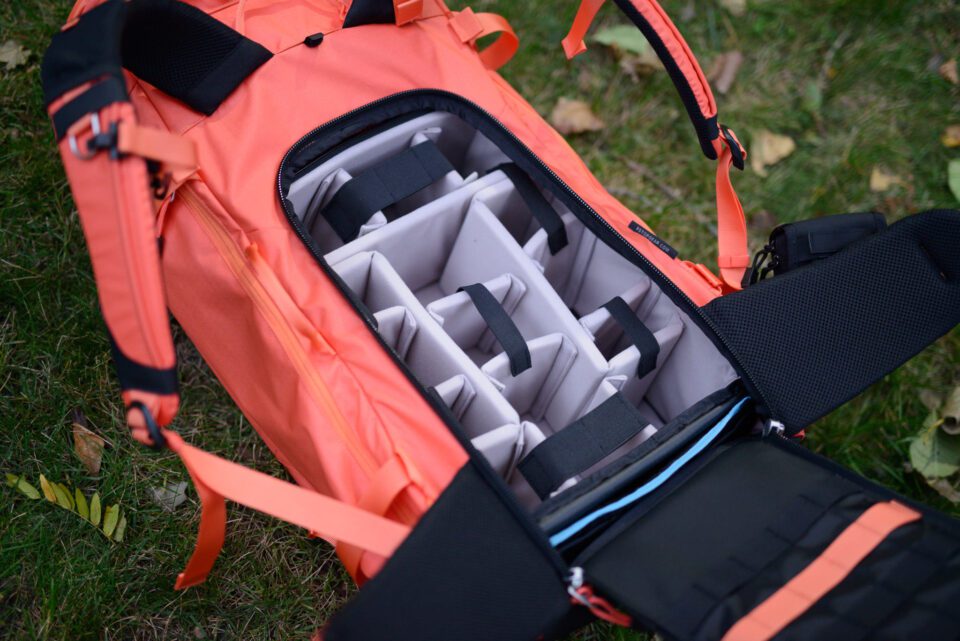 I also use F-Stop's Gatekeeper straps on my Sukha, and I have been quite impressed with how sturdy they are. I hate attaching my tripod to the side of a backpack, since the weight shifts so much. However, most backpacks don't have the option to hang a tripod from the center, which doesn't leave me with many options. F-Stop's Gatekeeper straps are a great solution to this problem, even if you are using a bag that isn't from F-Stop. These straps have a hook on both ends, and they can hang a tripod when stretched across the bag.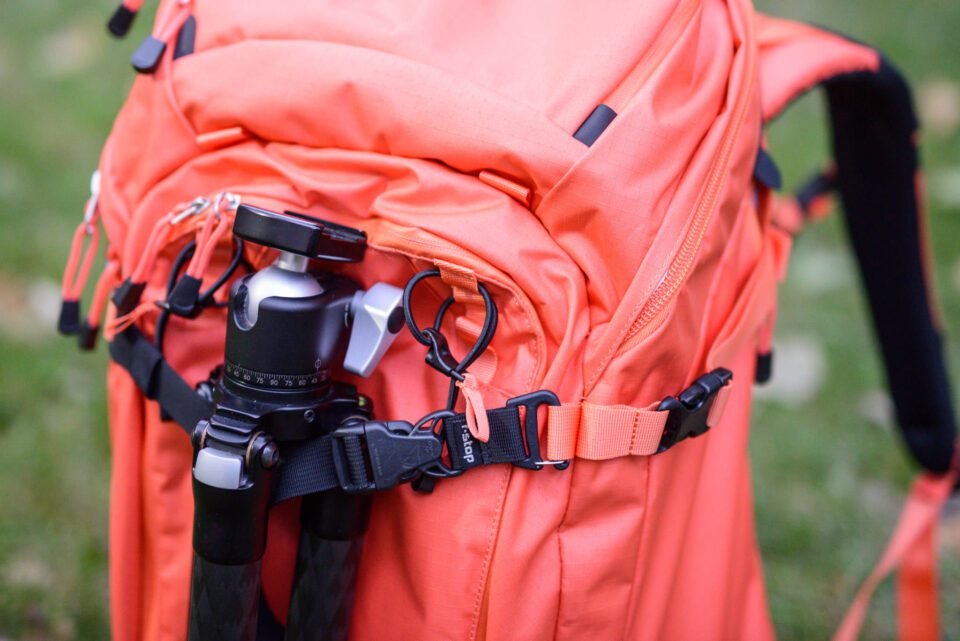 The other F-Stop accessory that I have been using recently is a little pouch called the Digi Buddy. This accessory is quite small, but it serves my purposes very well. It attaches firmly to the side of the hip belt, adding an additional pocket for lens caps and batteries. The Digi Buddy is lightweight, so it isn't a bother to use. It may not be the most obvious accessory for a backpack, but I have found it to be extremely useful.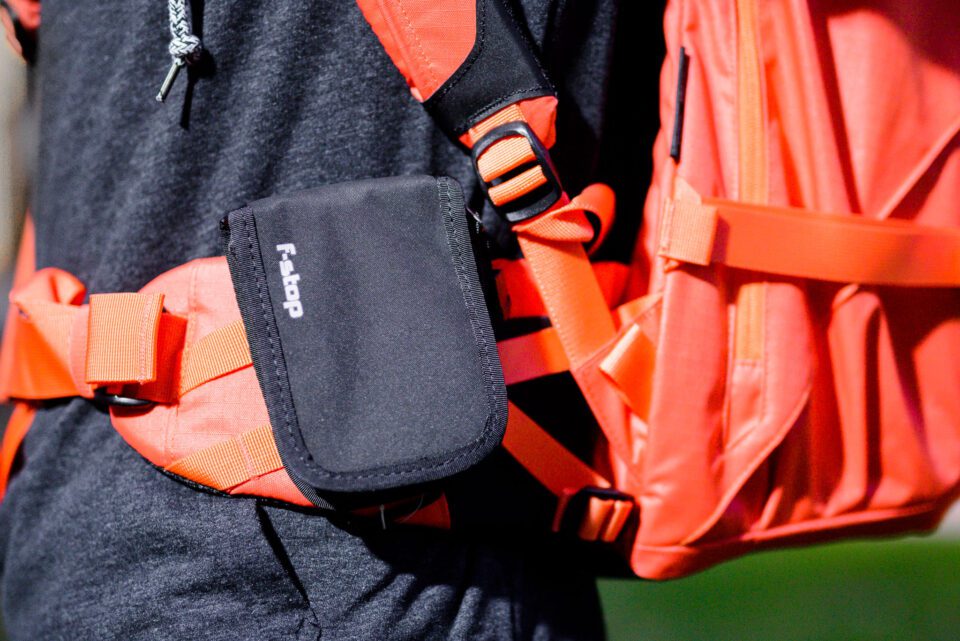 5) Drawbacks
I am happy to say that the F-Stop Sukha has very few crucial drawbacks – fewer than most any bag I have used in the past. However, there are some of areas where the Sukha isn't optimized in the same way a traditional hiking backpack would be, and it is worth pointing out these possible areas of improvement.
The most significant drawback to me is the low breathability. The Sukha's wonderful back panel is a double-edged sword – despite its usefulness for accessing gear, the panel makes it impossible for F-Stop to add a spacing mesh between the bag and your body. Unfortunately, this means that the bag is less breathable than some other hiking bags. The Sukha actually is better in this regard than is my F-Stop Loka UL, but it is far from perfect.
Another issue, at least for me, is the lack of a side pouch for water bottles. I understand that F-Stop removed these mesh pockets to give more room for the zippered compartments on the side of the bag – which also can hold water bottles – but it is quicker to grab a water bottle from a pouch than to swing the bag to the side and unzip a compartment. That said, the addition of zippered pouches was a wonderful decision – I love the extra carrying space. I just wish that F-Stop had found a way to include mesh pockets as well, possibly even at the expense of smaller zippered sections.
Also, I think that F-Stop could have saved some weight on this bag by using a neoprene hip belt and shoulder straps. This isn't a major problem so much as a suggestion for the next Mountain Series, but it seems to me that the straps could be thinner than they are without sacrificing comfort. I am used to the neoprene-like straps of the F-Stop Loka UL, which I actually find more comfortable than the ones on the Sukha, and they certainly are lighter in weight.
Lastly is the price. Such a well-specified backpack isn't cheap, unfortunately, although its price definitely will be justifiable for certain photographers. The standard Sukha bag is $299, with extra costs for ICUs and other accessories. This puts the Sukha firmly in the territory of other high-end hiking backpacks, and it may be more than most people are willing to pay for a bag. However, if the Sukha is taking the place of two bags for you – a camera backpack and a technical hiking backpack – then its price may be easier to justify.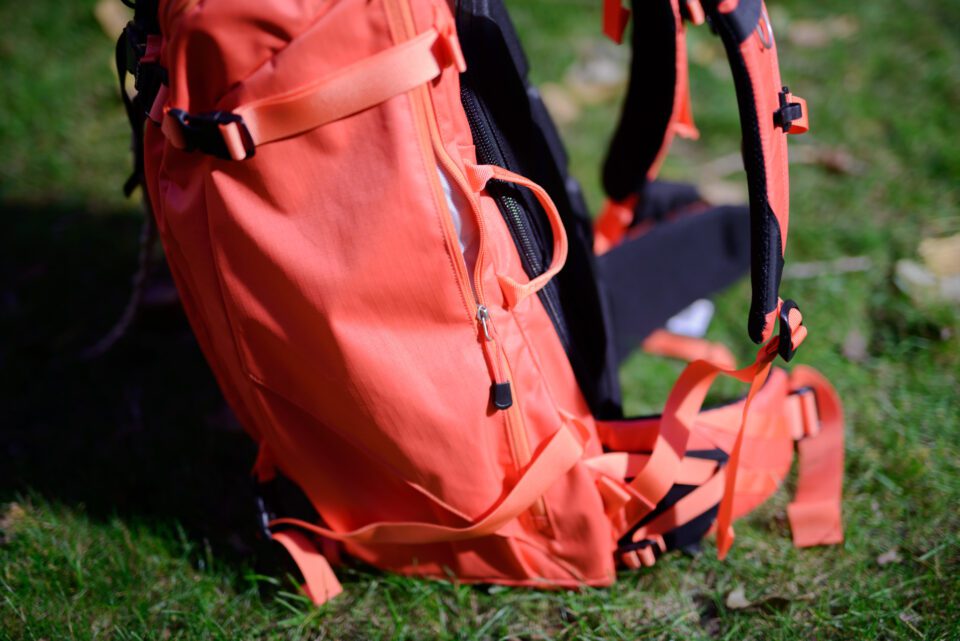 6) Recommendations
If your only need for a large camera backpack is to hold equipment on small walks between locations, this certainly isn't the bag for you – you certainly can find far cheaper options. However, if you hike or walk long distances with your camera equipment, this is one of the best 70-liter bags on the market. Not only is it remarkably comfortable for a camera bag, but it also is built to withstand any conditions you encounter.
The real question for landscape photographers is whether to choose this Sukha or a traditional technical hiking backpack. Despite the usefulness of the Sukha for hiking, there are some areas where a traditional backpack may have an advantage – breathability, for one. However, for photographers, the flexibility of the Sukha is hard to ignore. Not many hiking bags allow for easy access to camera equipment, and even fewer can carry a tripod without blocking major compartments. The number of pockets on the Sukha also is unusual in the world of hiking backpacks, where most bags have only a few extra sections – I count a total of eleven additional pockets on the Sukha, the smallest of which can still hold a camera like the RX100 IV with ease. Lastly, the extreme quality of the Sukha's fabric means that this bag could last for decades without falling apart.
In short, if your main use for a large backpack is to carry camera equipment on hikes, the Sukha is one of the best bags on the market. No hiking-specific bag will have been designed with photographers in mind, meaning gear access almost certainly will be compromised. If you are willing to work with the Sukha's few shortcomings – most significantly, the $299 price – then this could be the perfect bag for you. In my opinion, F-Stop Gear has created a winner.
F-Stop Sukha Backpack
Features

Build Quality

Handling

Value

Size and Weight
Photography Life Overall Rating