This is a detailed review of the DroboPro 8-bay storage array by Data Robotics. After I published my Drobo S Review, where I provided plenty of negative comments about its performance, a senior member of the Data Robotics technical support team contacted me, asking if he can help me with the issues. Since I returned the Drobo S unit, I responded that I no longer have it. After a short while, I received a request to check out the DroboPro product instead. The company felt that the DroboPro unit would be a better fit for what I was trying to do and they pointed out that it was also much better in terms of performance. I thought that this was a pretty bold move by Drobo…asking me to test another unit for them after all the heat. At the same time, it was a nice surprise, after all the trouble I had with their technical support earlier. Without further delay, I agreed to take the challenge and test it out. This DroboPro review is based on the experience that I have had with the unit since I received it approximately 3 months ago. I have been actively using it for different purposes and I conducted a number of performance tests in various conditions and compared it against other products such as DroboElite and Netgear ReadyNAS Pro.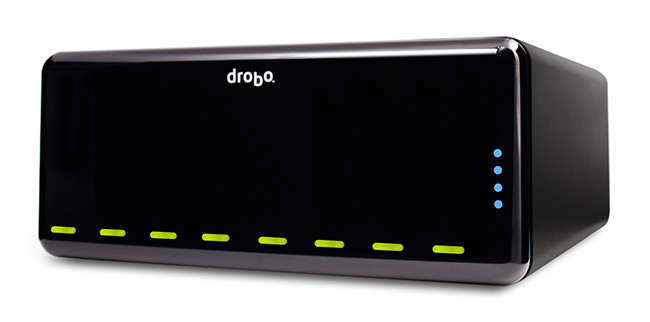 The purpose of the test and review was to measure the real world performance and see how the solution scales for photography needs. I will do my best to make this review as objective as possible, with plenty of data and screenshots to back up my words.
1) Introduction to DroboPro
DroboPro is an 8-bay (DAS) device developed by Data Robotics, targeted at small businesses and creative professionals that need up to 16TB of storage and beyond. While designed with simplicity and reliability in mind, the DroboPro uses a fairly complex, proprietary "BeyondRAID" technology with a single or dual drive redundancy, which means that your data would be safe even if two drives were to fail at the same time, as long as dual drive redundancy was enabled before drives failed. On top of that, "BeyondRAID" has some great features like mixed drive size utilization, which allows mixing any size SATA hard drives, and instant expansion, which allows users to insert additional drives when more storage is needed. Traditional RAID technologies such as RAID 5 and RAID 6 have certain limitations and do not provide as much storage as BeyondRAID, especially when mixing small and large hard drives of various sizes. Lastly, the self-managing and self-healing features of the Drobo family are very attractive – if a drive experiences a failure such as a bad block, the system switches to a "self-healing" mode, where it will try to work around bad sectors and return to the normal state. During such failures, the system will blink with red lights in front of the unit and will prompt you with warnings (through Drobo Dashboard), indicating which drive must be replaced. DroboPro also proactively monitors the amount of free space available on the unit. If you get to near full capacity, DroboPro will notify you through lights and its dashboard software.
In short, the DroboPro is a single large storage unit expandable up to 16TB (or more with 3TB+ single drives) that is designed to consolidate your data into one place, or serve as a backup device to store data from multiple machines on your home or office network.
2) Key Features and Advantages
DroboPro comes with a rich set of features that make it stand out from the rest of the competition:
Up to 8 physical SATA hard drives of various sizes can be used (in comparison, Drobo S is limited to 5 drives)
Data protection against single or dual hard disk failures
More drives can be added while the unit is running
Instant capacity expansion without downtime
Self-management and automatic self-healing
Works with most operating systems (Windows, Mac and Linux)
Lights in front of the unit indicate the health status of each drive
Rebuild time depends on the amount of data
Automation and simplicity make it very easy to use and operate
Orderless operation of drives allows moving drives to different slots without losing data
Triple Interface featuring iSCSI, FireWire 800 and USB 2.0 interfaces
Better ventilation/cooling than Drobo/Drobo S/Drobo FS models
DroboCopy within Drobo Dashboard can be used to set up scheduled backups
Can only be connected to a single PC/server (no iSCSI multi-host support)
Dimensions: 309.1×138.7×358.1mm
Weight:16lbs 3ozs
While some of the features like single/dual drive failure and instant capacity expansion without downtime are available on many storage arrays nowadays, DroboPro comes with some unique features that cannot be found on any other products on the market. For example, if a single drive fails on a RAID 5 array, the rebuild time would take a significant amount of time, whether your drives were full or empty. DroboPro works very differently in this regard – the rebuild time depends on the total amount of data stored on the unit, so if you are not storing much data on the Drobo, you would not have to wait long to be able to fully utilize the system. Another cool feature is the ability to use drives in any order. If the DroboPro fails, all you need to do is take out the drives and put them into a new DroboPro in any order and you are back up and running. Other systems would require you to label each drive and put them in exactly the same order – if you messed up, you could potentially lose all of your data.
3) Why use DroboPro?
Photographers and videographers often run into problems when storing massive amounts of RAW images and video – locally attached hard drives are currently limited to 2-3TB and can often be too small for storing all the data. There are only two solutions to the problem: either to move out/archive the old data and keep only the newest data, or to invest in a bigger storage solution that can accommodate much more data. I personally prefer the latter, although I also realize that I will have to archive and purge some of the old data sometime in the future. Here is my list of things I could use the DroboPro for:
Data Consolidation: You can put all of your photos, videos, music, documents and other files from multiple drives and computers into a single, centralized location.
Workflow and Lightroom: It is always a good idea to store Lightroom catalog files on a local hard drive for performance reasons. However, it would be nice to be able to move all JPEG, RAW and movie files to external storage, so that those media files do not occupy a lot of space on your hard drive.
Data Protection: Drobo is a safer way to keep photos than a single hard drive or a RAID 0 array and it can live through up to two drive failures.
Backup: It is nice to be able to backup your computer to an external volume in case it crashes.
4) DroboPro Box Contents
All Drobo products are packaged professionally and DroboPro is no exception. The package contained only two items – the padded DroboPro unit and a separate box with cables and manuals:
As I opened the smaller box, here is what I found in it:
Power Supply + 110v Power Cord
USB 2.0 Cable
Firewire 800 Cable
Network patch cable
User Guide and Quick Start Card
Drobo Resource CD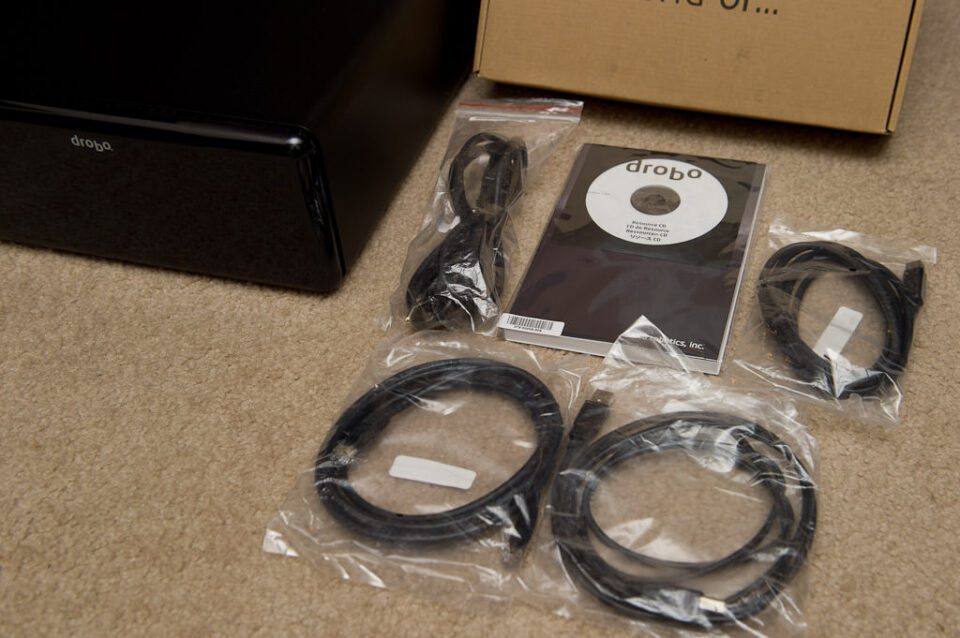 Next, I removed the padding and the cover: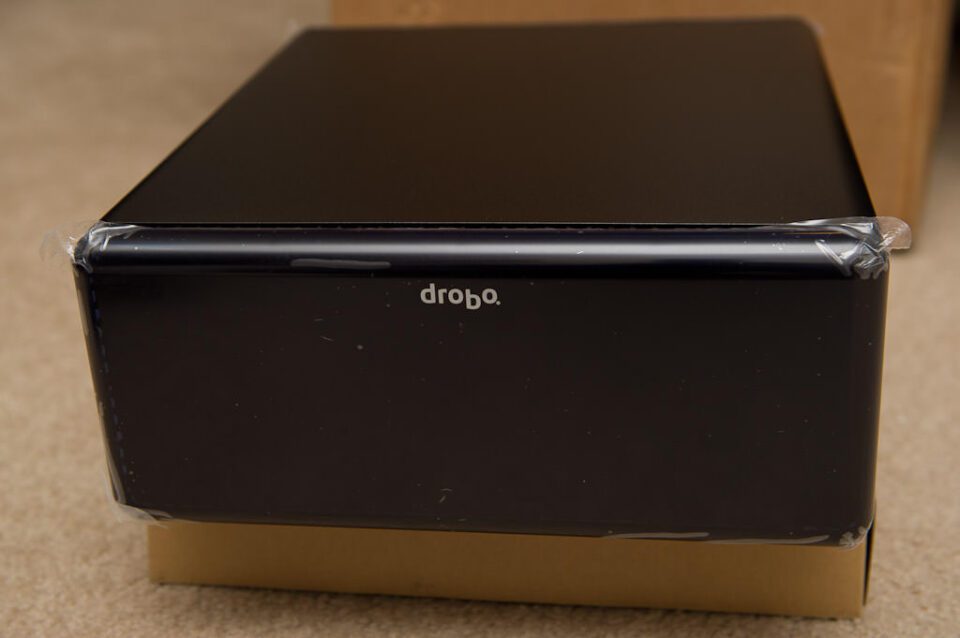 It certainly has a sleek design and I really like how the front cover is attached to the unit with magnets. The only thing about that front cover – it seems to be a dust magnet and your fingerprints will be quite visible on it. Here is what we see when the front cover is removed: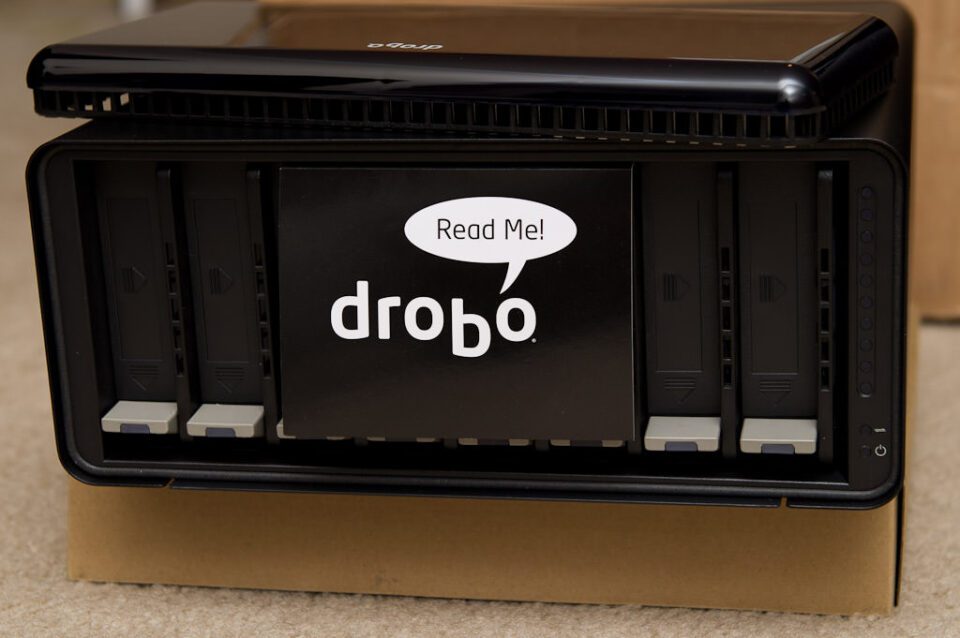 Now that's a clever and beautiful design! All you do is insert hard drives and voila – they are connected without using any screws and screwdrivers. You can see why Drobo prides itself on simplicity. There is even a nice "readme" card that provides some information on upgrading to the latest software and firmware and register the Drobo.
The next task was to insert some WD 2TB drives: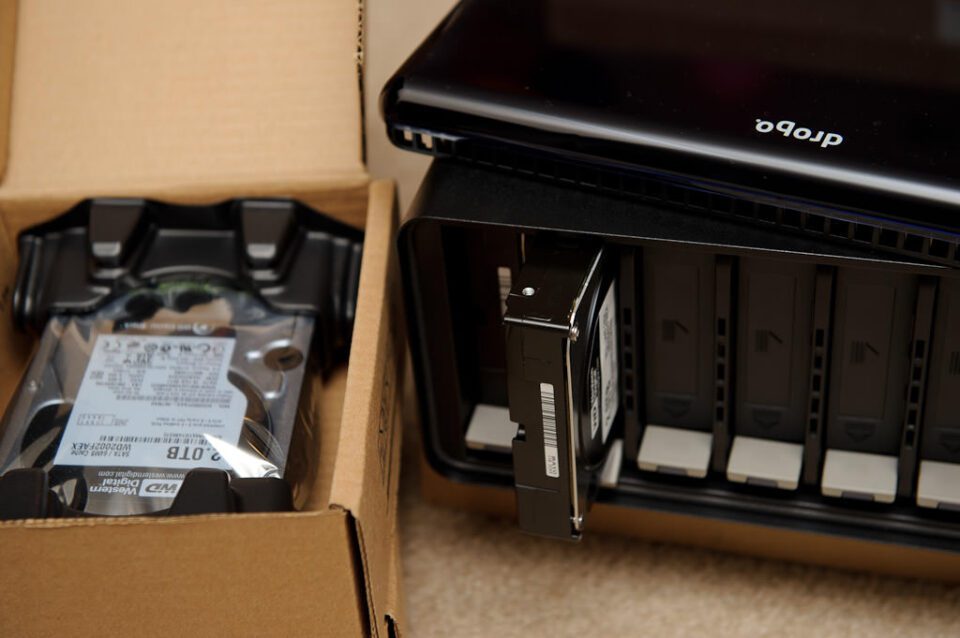 I used four brand new 2TB 7200 RPM WD "Black" series drives with 64MB cache, so I was expecting good performance results with this setup.
5) Connecting DroboPro
For the initial configuration and initialization, I connected the DroboPro to my PC through USB 2.0. The setup was short and easy and I used the latest version of Drobo Dashboard software (1.7.3) from Drobo's website. Once the software was installed, I powered on the unit and after a couple of minutes, Drobo dashboard recognized the unit. The following message came up, indicating that the drives have to be formatted and initialized: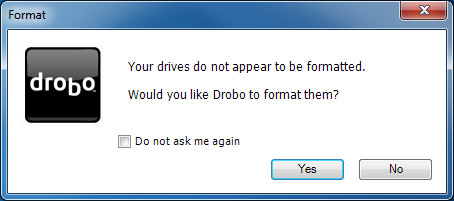 The next step was to choose a file system type. I picked the middle NTFS option, because it allows partition sizes up to 16TB on the DroboPro:
On the next page, I was presented with an option to pick the size of the partition: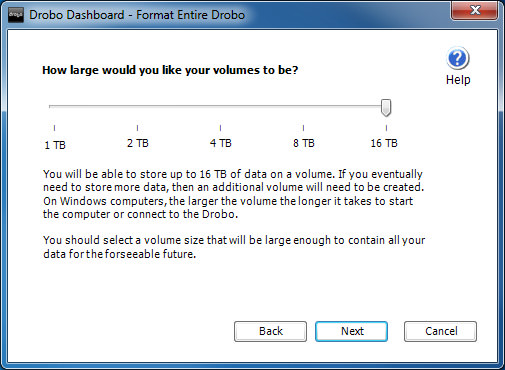 Now this is the part where things can get tricky. Although I only had 4 drives inserted into the DroboPro, I had the ability to create a 16TB volume. Why does Drobo allow doing this? Because if I created a smaller volume to start with, I would have to either create a different volume and have multiple drive letters, or I would have to move everything to different storage, then delete and recreate a larger volume. Drobo does not have the ability to dynamically change partition sizes, which is why you can pick a large partition in the beginning, then add more drives later. The true partition size will be shown in Drobo Dashboard, but the operating system is basically tricked to think that there is a 16TB volume attached. While this might sound like a great idea, there is actually a potential threat that can result in full data loss – read more on this below.
In the next screen, I was given the option to choose a volume drive and label the DroboPro: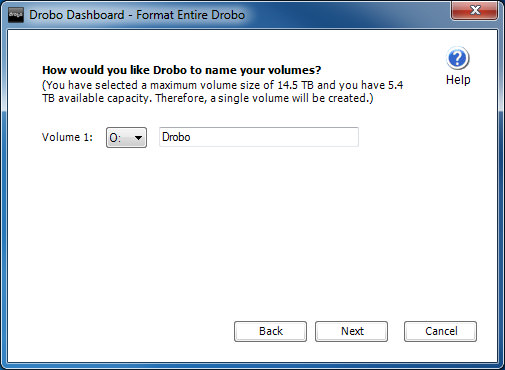 Right after I clicked "Next", DroboPro started to format the volume: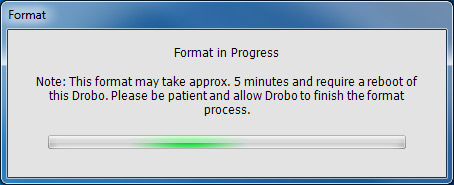 The format process took a couple of minutes and once the process was completed, I was able to see the volume within Drobo Dashboard. I then navigated to Advanced Controls and was happy to see that the DroboPro is healthy and protected: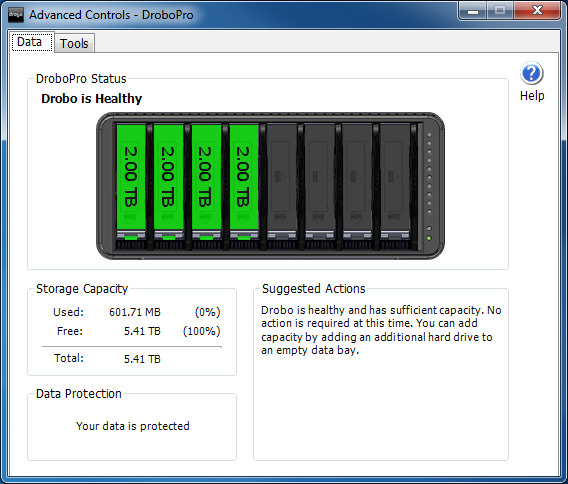 Next, I decided to check for firmware updates: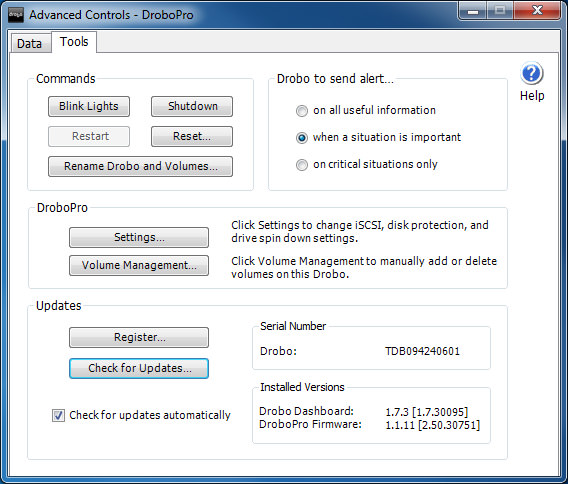 The firmware that I had was version 1.1.11 and when I clicked on "Check for Updates…", I got a message that a new version of firmware v1.2.1 was available:

I clicked "Yes" and the update process started: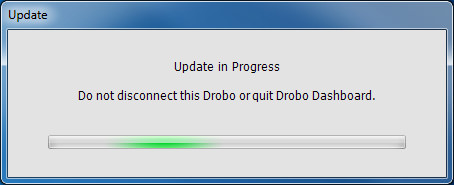 Once the firmware was installed, Drobo Dashboard asked me to reboot the unit:

In a few minutes, DroboPro was fully back up and running again, running on the latest firmware.
6) Connecting DroboPro via iSCSI
Although DroboPro was working just fine over USB 2.0, I knew that my throughput would be limited on the USB bus, so I started configuring iSCSI, which would give me better performance on Gigabit network. If you do plan to use DroboPro or DroboElite via iSCSI, make sure that all network switches, cards and cables support Gigabit speeds – otherwise you will be limited to much slower speeds. Configuring iSCSI was very easy – I just needed to put the IP address of the unit in the "iSCSI" tab and click "OK":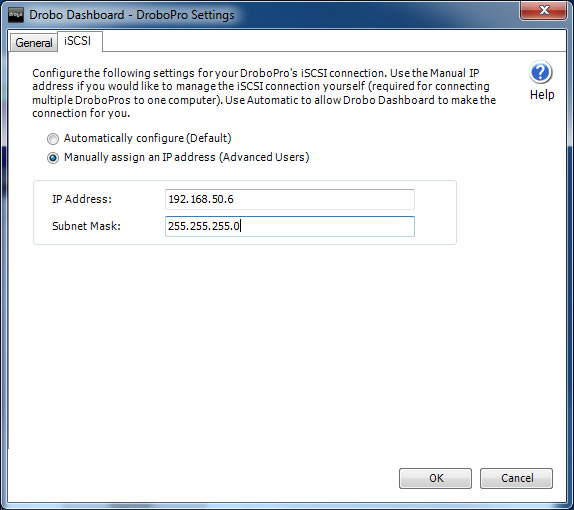 Normally, setting up iSCSI can be painful. If you use Microsoft Windows, you have to use the iSCSI Initiator and manually set up the connection. Drobo simplified the process of connecting to DroboPro via iSCSI, because I did not have to touch anything else. When I went to the iSCSI Initiator, Drobo already showed as connected: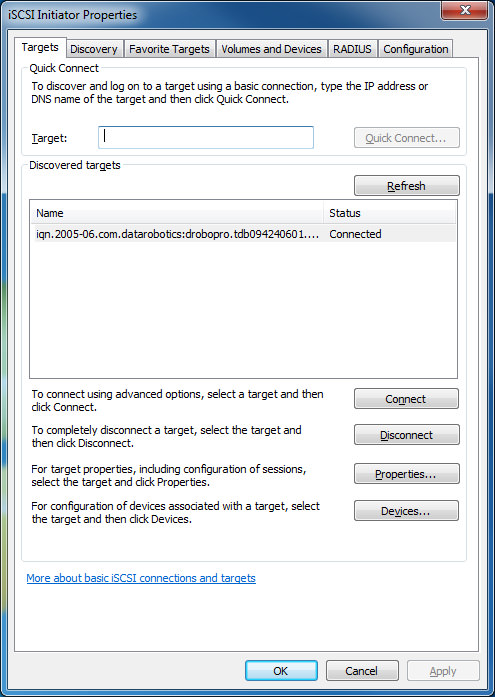 Bravo Drobo! That certainly does make it easy and painless, especially for the non-techies out there.
My next project was to measure the performance of the DroboPro.
7) DroboPro Performance
Now that everything was properly connected and running, I really wanted to see how fast the DroboPro performed via iSCSI. I did not bother testing it with USB 2.0, because the speed would be limited by the USB bus. Before copying anything to it, I ran some benchmarks on the DroboPro, my Netgear ReadyNAS Pro and other hard drives. Here is the first read performance result from HD Tune Pro benchmark: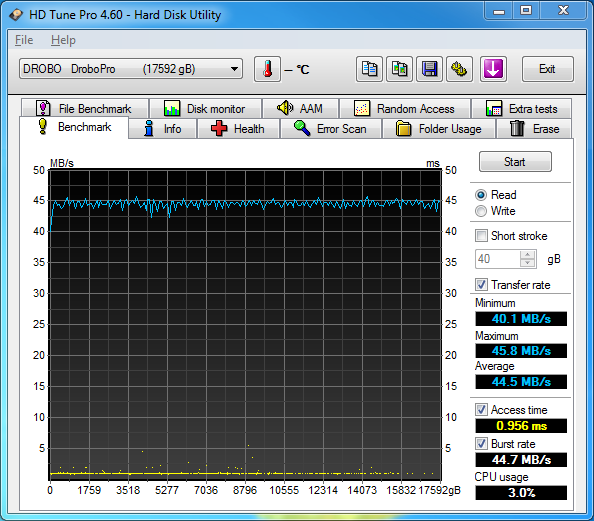 And write performance: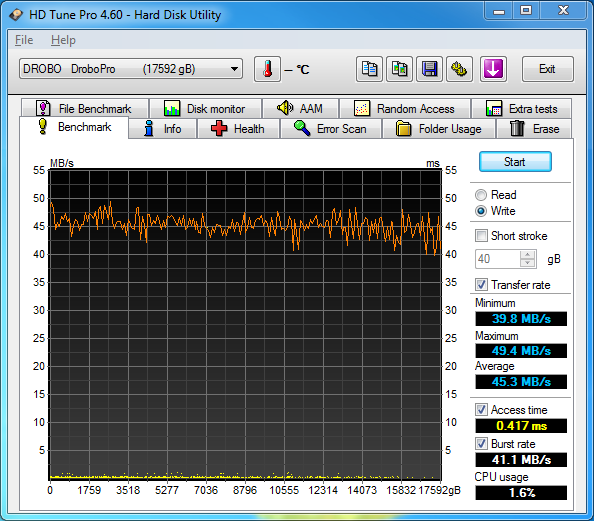 Not bad, that's a consistent 45MB/sec read and a little less consistent write, averaging 45MB/sec as well, with some spikes at 50MB/sec. Now this is all with a brand new unit and brand new drives with no data. After several months of heavy use, I put a lot of data into the DroboPro, which ended up hurting its performance. Both read and write speeds dropped by 15-20 MB/sec, averaging 25-30MB/sec, which is considered to be slow.
Let's see how the DroboPro compares to the Netgear ReadyNAS Pro.
7.1) DroboPro vs Netgear ReadyNAS Pro
I have been using the Netgear ReadyNAS Pro unit for a while now and it works great as a home library for both photos and my media. Since ReadyNAS Pro Business Edition also supports iSCSI, I created a 12GB iSCSI volume on the ReadyNAS, formatted it with the same block size and performed the benchmark tests on it. Let's see how the DroboPro fared against the Netgear ReadyNAS Pro: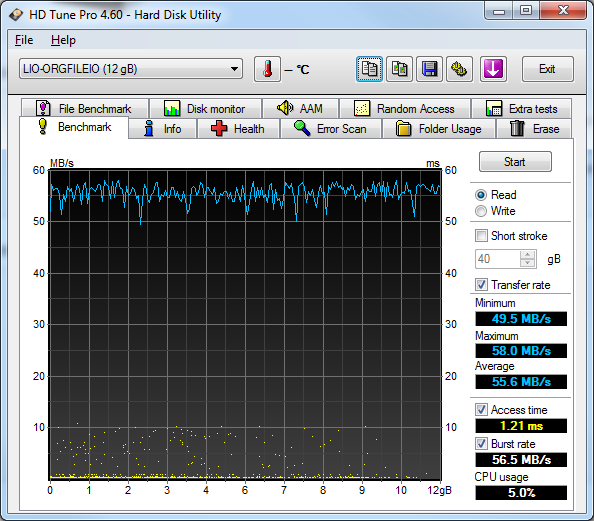 The read performance on the Netgear ReadyNAS Pro is clearly better, peaking at 58MB/sec and averaging 55MB/sec, which is around 10MB/sec faster than the DroboPro. The read performance is in line with what I have gotten before in my Drobo S Review. Let's take a look at the write test: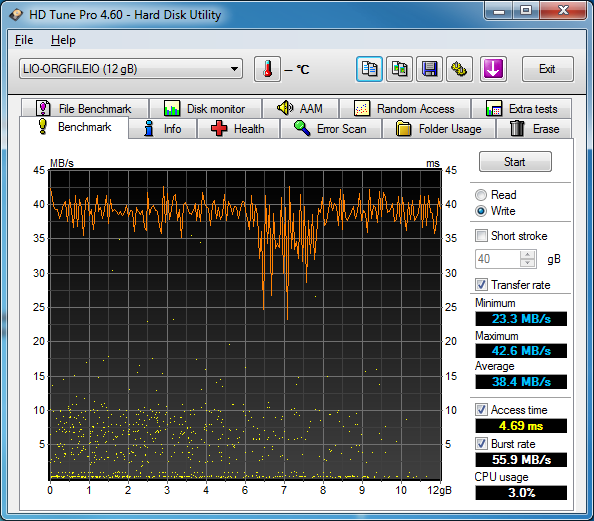 I could not get a good write speed out of the ReadyNAS unit for several reasons: I have been using the ReadyNAS Pro for a while now and there is lots of data in it, and I believe there was some other drive activity taking place at the time when I was performing the test (note the spikes). Still, I got around 40MB/sec average write speed, which is not bad, but certainly below what ReadyNAS Pro can do. In my earlier tests, I was getting between 75-85MB/sec average write speeds on the ReadyNAS.
7.2) DroboPro vs Local Hard Drives
Most entry-level external storage solutions like Drobo are no match to internal hard drives. In this particular test, I ran a benchmark against two 2TB 7200 RPM SATA hard drives in RAID 1 configuration with the same benchmark software and parameters and got the following result: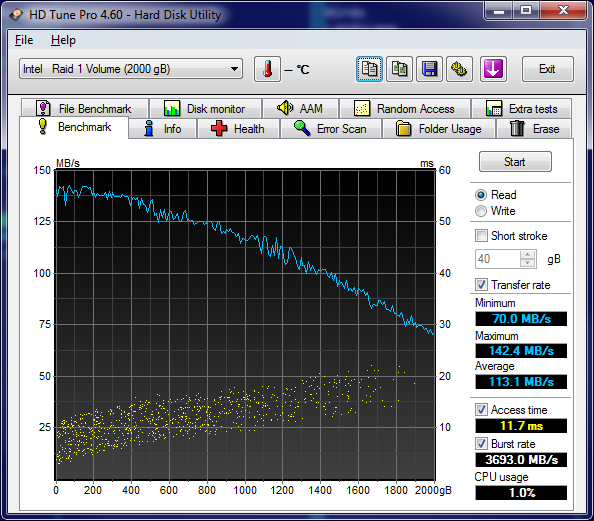 With an average read throughput of 113MB/sec, my internal drives are much faster than both the DroboPro and ReadyNAS Pro storage units.
As a comparison, let's see what type of performance I can squeeze out of my Intel SSD drive: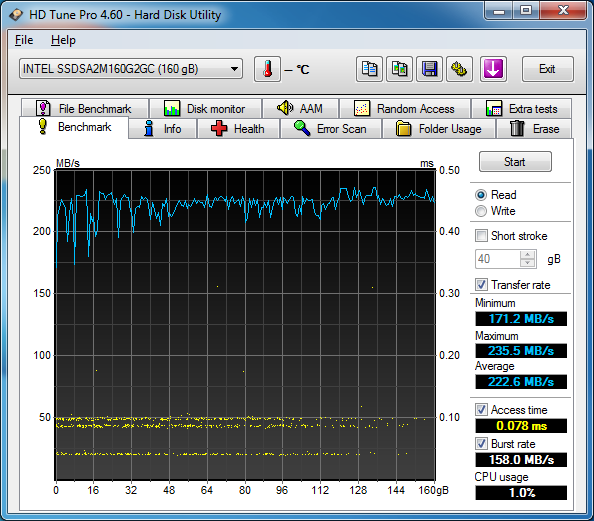 And an external WD Studio II drive: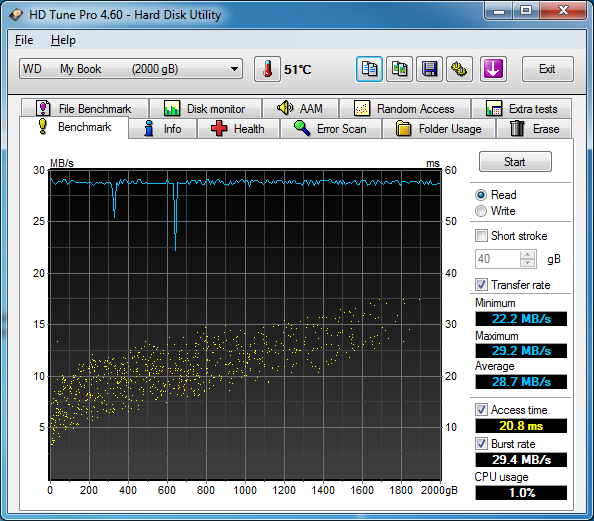 Here is a quick summary of performance between different types of storage:
| Storage Unit | Sequential Read | Sequential Write | Access Time |
| --- | --- | --- | --- |
| DroboPro (iSCSI, 4x2TB 7200 RPM) | 44.5 MB/sec | 45.3 MB/sec | 0.417 ms |
| WD Studio II External Drive (USB 2.0, 4TB/2x2TB Green) | 28.7 MB/sec | 27.0 MB/sec | 20.8 ms |
| Intel X25-M 160GB SSD (SATA) | 222.6 MB/sec | 85.2 MB/sec | 0.078 ms |
| Netgear ReadyNAS Pro (iSCSI, 5x2TB 7200 RPM) | 55.6 MB/sec | 38.4 MB/sec | 4.69 ms |
Overall, the DroboPro performance looks pretty good when compared against the ReadyNAS Pro, but still lags behind by around 10MB/sec. So if you are looking for speed, ReadyNAS Pro is going to be your best bet after local drives.
7.3) Lightroom Performance
What about Lightroom performance and moving your RAW files to the DroboPro? Compared to my last painful experience with the Drobo S, DroboPro actually performed decently. Obviously not as fast as a local drive, but still not bad – the response time was only about 1 second for opening each RAW file. Thumbnail generation also took 3-4 times longer than normal to generate. Again, you definitely do not want to be moving your Lightroom catalog file to any external storage volume. So if your library is growing enormously, you might want to look into storing RAW files in the DroboPro and launching the Lightroom catalog file from a local hard drive. If you shoot JPEG, you can safely move your files to the DroboPro and you will not see any major performance issues. RAW/DNG/TIFF files are typically much larger in size, so if you have many of those, you will have to try it out and see whether the wait time is acceptable for your needs. I personally decided to still use my local hard drives for storing my current images and only used the DroboPro for backup purposes. It is a great solution to be used as a backup.
8) The 16TB Partition Problem
As I have pointed out earlier, DroboPro allows partition sizes of up to 16TB, even when much less disk space is available. This means that you could potentially create a 16TB with just a few hard drives. While this might sound like a great idea for future expansion, there is one case where doing this might result in data loss (as far as I know as of today. Drobo might come up with a solution to this problem soon). Let's say you have just three drives with a total of 4TB of usable space. Once you create a 16TB partition, your system will be tricked to think that it has 16TB of free space available, instead of 4TB, so all programs that are running on your PC will also see 16TB of free space. If you are using the DroboPro as normal storage on your PC and you happen to fill up the empty space, the Drobo Dashboard software will let you know when to add more drives. However, if you set up an automated backup and you are not there when the drives fill up, your applications might start to crash and the Drobo unit can eventually die on you or go into the "reboot loop". The reboot loop has been identified as a problem for a while now, where you cannot connect to the Drobo because it reboots constantly. This would happen when Drobo runs out of all space and becomes unusable. Some available space is required on all Drobos in order to perform periodic file moving operations and normal background activities. If you happen to experience this sort of problem, the only real cure is to reset the Drobo unit and lose all of your data. So unless you know that you will be expanding to 16TB in the future, you should not create a volume size larger than the total available disk space.
One more thing, if you get the larger 3TB drives that are currently available, you will still be limited to 16TB total, not 24TB. Seems like 16TB is the current limitation of the Drobo firmware.
9) Pros and Cons
Based on my experience using the DroboPro during the last 3 months, here is a summary of what I like and don't like about it.
The Good:
Exterior design and easy drive insertion/removal: I really like how Drobo designs the Drobo products. Screw-less insertion and removal of hot-swappable hard drives is very nice and the exterior design is certainly very pleasant to look at.
Simple to set up: the process of setting up the unit was quick and simple, even with iSCSI.
Front lights: The indication of how many drives you have, along with their health status is a great feature. I like how the lights change colors when the drives fill up or when a drive fails.
Rebuild time: With only a few gigs of data loaded on the DroboPro, try adding another drive and you will see that the rebuild time is fast. It certainly helps to have a small amount of data when expanding.
Easy to use interface/software: The Drobo Dashboard is very easy and intuitive to use. You can manage all tasks such as creating a new volume, formatting, etc. all from the dashboard and it works great most of the time.
Decent performance: Although it does not beat Netgear's ReadyNAS Pro, it still does pretty well in terms of read and write performance.
Good as a backup solution: DroboPro would be a great backup solution, because it makes a lot of storage from your hard drives available.
Better ventilation than on Drobo/Drobo S/Drobo FS units: my WD Black series drives stay cool and do not overheat as in Drobo S.
The Bad:
High price tag: DroboPro is not a cheap product with its $1,500 price tag (without hard drives).
Bad price/performance ratio: given its price, the DroboPro should be able to beat the Netgear ReadyNAS Pro in terms of both features and performance. Not only it is slower, but also it does not have half the functionality ReadyNAS Pro has.
No eSATA option: for those who want to directly attach the DroboPro without having to worry about iSCSI and network equipment, there is no eSATA option. USB 2.0 is just too slow for direct connection and not all PCs are equipped with a Firewire port.
BeyondRAID is a proprietary technology: if you experience a failure, where Drobo fails during the rebuilding process or for whatever reason cannot recover your data, you cannot easily hire a data recovery company to get your data back from those drives.
Rebuild time: While the rebuild time is certainly fast when you have a limited amount of data, you will have to be extremely patient if you are over 60% capacity and be very careful not to fill up the unit when the partition size is larger than the total disk size (see my 16TB limit note above),
No iSCSI multi-host support: unlike the DroboElite unit, DroboPro is limited to only one host. I don't understand why Drobo decided to cripple the DroboPro unit like this. ReadyNAS Pro, in comparison, supports multi-host iSCSI and is cheaper than DroboPro.
Inconsistent performance: overtime, DroboPro's performance can drop significantly, especially when the unit starts filling up.
10) Conclusion
If you are looking for a large storage array to backup your photos, movies and other data, the DroboPro offers plenty of great features and squeezes the most amount of storage from your hard drives. Overall, it delivers pretty good read and write performance, but not as fast as it should be for its high price tag. As you can see from this review, Netgear's ReadyNAS Pro is around 10MB/sec faster, cheaper and offers much more functionality that can be partially found in Drobo's "FS" product line. If you are thinking about consolidating your photos and videos into one location, give DroboPro a try and see if performance works out for your needs. I found JPEG performance in Lightroom to work well (with Lightroom catalog stored on the local drive and images stored on DroboPro), but RAW processing took a while to load on each photo. I did not want to slow down my workflow, so I decided to continue using my local hard drives for faster performance and use DroboPro for archival and backup purposes only. Please note that I do not use Netgear ReadyNAS for this purpose either – these entry-level storage solutions are simply not fast enough for heavy processing within Lightroom and other demanding applications. Unless you are ready to sit tight and wait, your best bet is to continue using internal drives for storing catalogs and media. Once your drive fills up, move your old, less frequently accessed data to DroboPro for archival purposes.
The biggest advantage of the Drobo products is simplicity. Setting up the DroboPro unit was very simple and the fact that you do not have to mess with iSCSI settings makes it easy for beginners to set one up without external help. The exterior design of the unit is also pleasing to the eye and the front lights can be very helpful to quickly identify problems, although I would personally rely on email notifications instead, in case you are not physically there when something fails. To be honest, I have some mixed feelings about Drobo's BeyondRAID technology for several reasons – it is a proprietary technology, which makes it risky to lose data, and seems like it is a little too complex and slow for the internal Drobo hardware to quickly move data across the hard drives. All the nice features and simplicity are good to have, but performance is the key for my type of work. I would rather have less features, but better performance. At the end of the day, regular RAID arrays also protect my data in a similar way and while they might not give me the most amount of storage, they are at least faster and do not have some of the problems Drobo has now. I hope that Drobo will continue working on their product line and improving it, because it has a great potential. This product has a great potential in the entry-level market, so I hope Drobo addresses the performance issues soon.
DroboPro
Features

Build Quality

Value

Size and Weight

Packaging and Manual

Ease of Use

Speed and Performance
Photography Life Overall Rating