This is a review of the new Drobo S second generation 5-bay storage array by Data Robotics. Although the Drobo S is officially known as the 2nd generation unit, my PC recognized it as a 3rd generation Drobo S, so I'm not sure what I should call it. I guess I will simply call it the "new Drobo S" for this review. There are several reasons why I decided to write this review. First of all, Drobo products are gaining more and more popularity among photographers and in many cases are becoming a part of their workflow. While some well-known photographers have already endorsed Drobo as a photo storage solution, I wanted to see exactly how fast and reliable this unit is for storing photographs, compared to internal and much cheaper single/dual disk external storage. Second, I have been working with some of the best DAS/NAS/SAN storage solutions during the last 5 years (from small business to enterprise-level storage solutions like EMC Clariion) and having a pretty good idea on what to expect from a storage array, I wanted to see what Drobo has to offer compared to other similar products like Netgear ReadyNAS Pro. Lastly, I wanted to test and see how well the new Drobo S works with the latest technologies like USB 3.0 and how the new eSATA port performs in comparison. I will do my best to make this review as objective as possible, with plenty of data and screenshots to back up my words.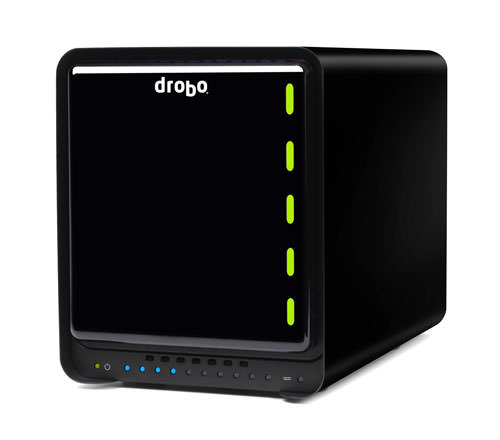 1) Introduction to Drobo S
Drobo S is a 5-bay Directly Attached Storage (DAS) device developed by Data Robotics, targeted at "creative pros, photographers, videographers, small office/home office", as stated on their website. While designed with simplicity and reliability in mind, the Drobo S uses a fairly complex, proprietary "BeyondRAID" technology with a single or dual drive redundancy, which means that your data would be safe even if two drives were to fail at the same time, as long as dual drive redundancy was enabled before drives failed. On top of that, "BeyondRAID" has some great features like mixed drive size utilization, which allows mixing any size SATA hard drives, and instant expansion, which allows users to insert additional drives when more storage is needed. Traditional RAID technologies such as RAID 5 and RAID 6 have certain limitations and do not provide as much storage as BeyondRAID, especially when mixing small and large hard drives of various sizes. Lastly, the self-managing and self-healing features of the Drobo family are very attractive – if a drive experiences a failure such as a bad block, the system switches to a "self-healing" mode, where it will try to work around bad sectors and return to normal state. During such failures, the system will blink with red lights in front of the unit and will prompt you with warnings (through Drobo Dashboard), indicating which drive must be replaced. Drobo S also proactively monitors the amount of free space available on the unit. If you get to near full capacity, Drobo S will notify you through lights and its dashboard software.
In short, the Drobo S is a single large storage unit that is designed to consolidate your data into one place, or serve as a backup device to store data from multiple machines on your home or office network.
2) Key Features and Advantages
Drobo S comes with a rich set of features that make it stand out from the rest of the competition:
Up to 5 physical SATA hard drives of various sizes can be used
Data protection against single or dual hard disk failures
More drives can be added while the unit is running
Instant capacity expansion without downtime
Self-management and automatic self-healing
Works with most operating systems (Windows, Mac and Linux)
Lights in front of the unit indicate the health status of each drive
Rebuild time depends on the amount of data
Automation and simplicity make it very easy to use and operate
Orderless operation of drives allows moving drives to different slots without losing data
eSATA, FireWire 800/400 and USB 3.0 interfaces
Dimensions: 150.3×185.4×262.3mm
While some of the features like single/dual drive failure and instant capacity expansion without downtime are available on many storage arrays nowadays, Drobo S comes with some unique features that cannot be found on any other products on the market. For example, if a single drive fails on a RAID 5 array, the rebuild time would take a significant amount of time, whether your drives were full or empty. Drobo S works very differently in this regard – the rebuild time depends on the total amount of data stored on the unit, so if you are not storing much data on the Drobo, you would not have to wait long to be able to fully utilize the system. Another cool feature is the ability to use drives in any order. If the Drobo S fails, all you need to do is take out the drives and put them into a new Drobo S in any order and you are back up and running. Other systems would require you to label each drive and put them in exactly the same order – if you messed up, you could potentially lose all of your data.
3) Why I got the Drobo S
I decided to buy the Drobo S for several reasons:
Consolidation: My photo library is growing too fast and is barely fitting on my 2 TB internal/external drives. I also had a bunch of files (iTunes music, movies, etc) on other hard drives that I could not keep in one place. So I wanted to consolidate all of my data into a single storage array and Drobo S seemed like a great solution to my problem.
Workflow and Lightroom: I wanted to move all RAW files, including old Lightroom catalogs to Drobo. It is never a good idea to keep both Lightroom catalog and photos on the same drive for performance reasons, so I wanted to keep the most current catalog on my local SSD hard drive, while keeping the RAW files on the Drobo.
Data Protection: Drobo is a safer way to keep photos than a single hard drive or a RAID 0 array and it can live through up to two drive failures.
Access files from other computers: Since the Drobo S is a Direct-Attached Storage, I thought about mapping it through Windows sharing to other computers on our home network. It is often painful to work on photos, since both Lola and I need access, but only one of us can work at a time. Lightroom catalogs cannot run from network drives, but the photos can be stored anywhere.
As seen above, the Drobo products have some great features compared to other storage arrays.
4) Drobo S Box Contents
All Drobo products are packaged professionally and Drobo S is no exception. The package contained only two items – the padded Drobo S unit and a separate box with cables and manuals: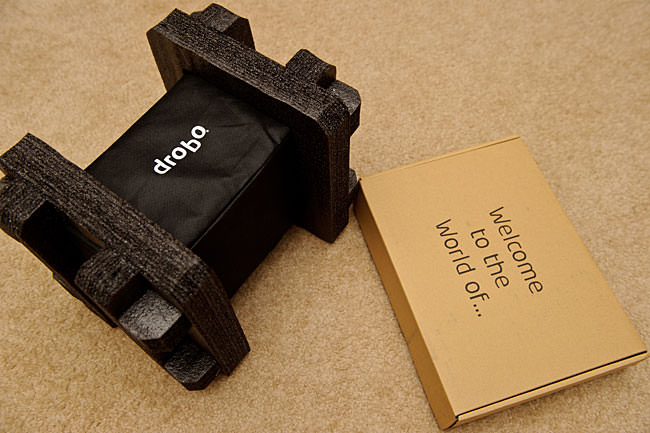 As I opened the smaller box, here is what I found in it:
Power Supply + 110v Power Cord
USB 3.0 Cable
eSATA Cable
Firewire 800 Cable
User Guide and Quick Start Card
Drobo Resource CD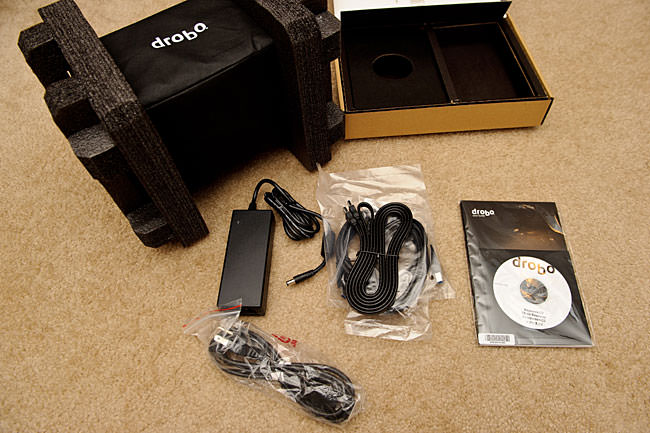 Next, I removed the padding and the cover from the Drobo S: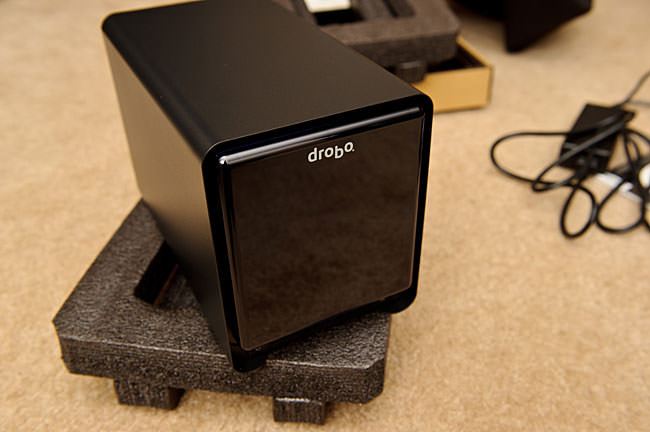 It certainly has a sleek design and I really like how the front cover is attached to the unit with magnets. The only thing about that front cover – it seems to be a dust magnet and your fingerprints will be quite visible on it. Here is what we see when the front cover is removed: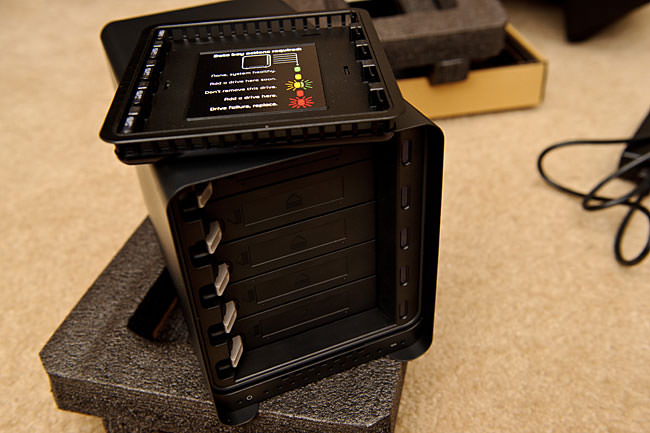 Now that's a clever and beautiful design! All you do is insert hard drives and voila – they are connected without using any screws and screwdrivers. You can see why Drobo prides itself on simplicity.
Next, I added a few drives and hooked the unit up to my PC.
5) Connecting Drobo S
Before connecting the unit to my PC, I had to decide which interface and cable to use – eSATA, USB 3.0 or Firewire (since all three are available on my motherboard). I decided to first try eSATA, because it is a direct interface that treats attached devices as local/internal devices and it is supposed to be very fast. Once everything was hooked up and ready to go, I installed the latest version of Drobo Dashboard from Drobo's website and powered on the unit. I waited for about 5 minutes and Drobo Dashboard could not see the Drobo S. Not good. I knew there was something going on with eSATA connection, so I switched to USB 3.0 interface instead. As soon as hooked up the unit with the provided USB 3.0 cable, my Windows 7 64-bit PC started complaining about the speed: "This device could perform faster". Something was causing USB 3.0 to drop back to USB 2.0, not sure what. But at least the Drobo Dashboard seemed to recognize and connect to Drobo now. To my surprise, the first message I saw on my screen was not a pleasant one: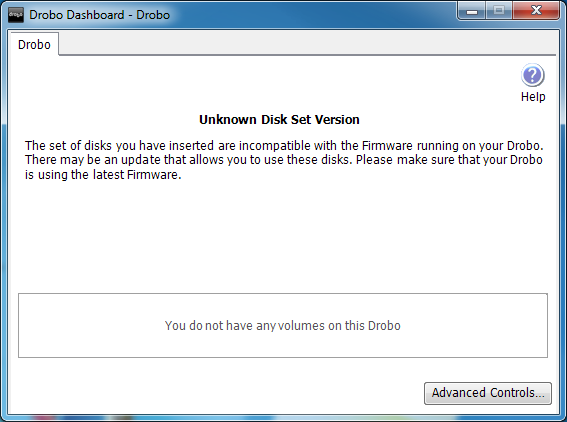 The error message was "Unknown Disk Set Version" and the system complained that the firmware I was running might be incompatible with my WD 2 TB Enterprise-class drives. It wanted me to get the latest firmware, so I went to Advanced Controls and tried to get the latest firmware:

Indeed, there was a new firmware available, so I clicked on "Yes" and waited. After about 10-15 seconds, this message pops up:

Huh? What is that supposed to mean? My Internet connection was working, the new firmware file was downloaded (I checked the Drobo folder), but it could not install the firmware! I started Googling for answers and after 15-20 minutes or so of reading various forums, I ended up nowhere. Next, I picked up my phone and decided to call Drobo tech support. My wait time was not bad, about 3-4 minutes before a tech support person answered the call. I told him about what was going on and that I could not connect through eSATA and that USB 3.0 works at 2.0 speeds, but the unit won't recognize my hard drives. The guy put me on hold for about 5 minutes, then came back with an answer. Apparently, my Drobo Dashboard was outdated, which is why the firmware would not install. I told him that I was running the latest Drobo Dashboard 1.7.3 that I downloaded from their support site and he told me that the new version is apparently not even posted on their website yet. He then gave me a link to download the 1.8.2 version of Drobo Dashboard. Apparently, the v2.1.0 firmware could only be loaded with the 1.8.2 version of the Drobo Dashboard.
Next, I downloaded the 1.8.2 version of Drobo Dashboard and tried to update the firmware. This time, the firmware update was successful. I thanked the tech support guy and he closed the case. I shut down the system and rebooted the unit after the firmware update (as instructed by the tech) and now the Drobo Dashboard was able to recognize the hard drives. I then proceeded with creating a partition and formatted the drive with NTFS: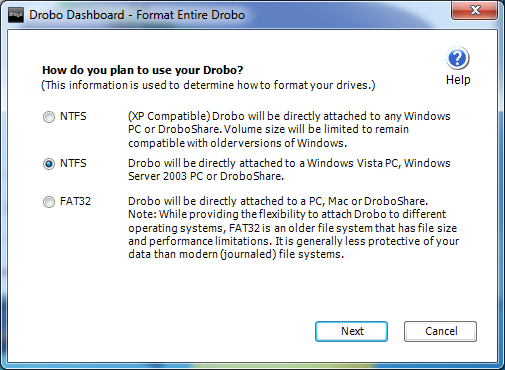 Everything seemed to be working now. Next, I tried to copy a few large files through Windows to the Drobo. The transfer speed was not very bad for a USB 2.0 specification – I was getting around 20-25 megabytes (MB) per second. But 20-25 MB/sec is very slow (my super slow WD MyStudio II external drives give me around 30 MB/sec) and with the really fast enterprise-class hard drives I was using, I knew I could get a lot more. So I tried to see if I could get USB 3.0 to work. I struggled for a few hours and tried everything I could, including updating the BIOS on my motherboard and USB 3.0 firmware/drivers. USB was still working at USB 2.0 speeds. Before finally giving up, I called Drobo tech support once again. I was asked if I was calling about an open or a new case. I said that I called earlier and the tech looked up the ticket. He then told me that the guy who originally helped me was supposed to call me and that he could not assist. I told him that it was a different issue and he insisted on them calling me back. He got my number and told me that I would get a call shortly. Great! I waited and waited and I knew I would not get a call anytime soon. I picked up the phone and called again. This time, I did not say that I was calling on an existing case. For my next call, I wasted over an hour on the phone with no results. I tried doing everything from rebooting the unit and my PC, to trying another USB 3.0 cable – all to no avail. The guy then tells me that my USB 3.0 controller is incompatible with the Drobo S! I finally gave up on trying to make USB 3.0 work. With the useless help from tech support, I thanked the guy and hung up the phone.
Next, I jumped on eSATA to see if I could make it work myself. I connected the Drobo S through eSATA to see if the original problems were still there, now that I had the latest version of BIOS and drivers. Drobo Dashboard immediately recognized the unit and everything was now working great! Oh well, I guess it was my bad for not having the latest BIOS and drivers to begin with.
My next project was to measure the performance of the Drobo S.
6) Drobo S Performance
Now that everything was properly connected and running, I really wanted to see how fast the Drobo S performed, especially with Lightroom. Before copying anything to it, I ran some benchmarks to measure its performance. Here is the first result from Disk Mark (PerformanceTest 7.0) benchmark: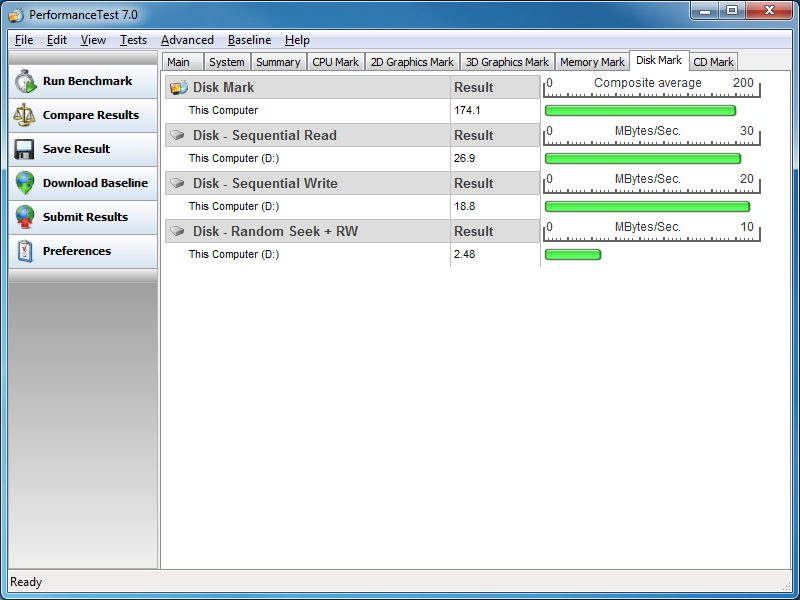 The results of the benchmark, as you can see, are very disappointing. The sequential read is a pathetic 26.9 MB/sec, sequential write is even worse at 18.8 MB/sec and random seek + read/write is at 2.48 MB/sec! I first could not believe what I saw. I then ran two more tests and got about the same results, at 26.8 MB/sec, 19.1 MB/sec, 2.54 MB/sec (second test) and 26.7 MB/sec, 18.8 MB/sec and 2.50 MB/sec (third test). As you can see, the performance results are consistent. And that's with fast 7200 RPM WD drives with 64 MB cache!
How slow are the above numbers? Let's see how they compare to my slow WD Studio II external drive with two WD Green Drives (the ones that spin down when not used):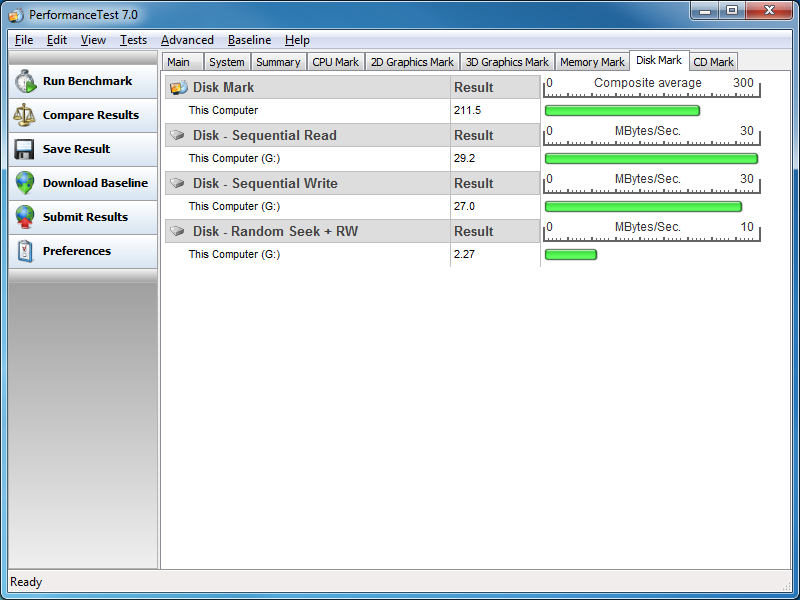 Yikes! The WD Studio II is configured for RAID 1 (mirroring) with 2 TB drives that are slower than the WD 2 TB drives I was using on the Drobo! Both read and write performance were higher at 29.2 MB/sec and 27.0 MB/sec, respectively, and the only test where the Drobo S was a little better was the random seek test, where the WD Studio II only gave me 2.27 MB/sec (compared to ~2.50 MB/sec on the Drobo). And that's with the WD Studio II connected via USB 2.0!
And here is how my Intel 160GB SSD drive performs in comparison: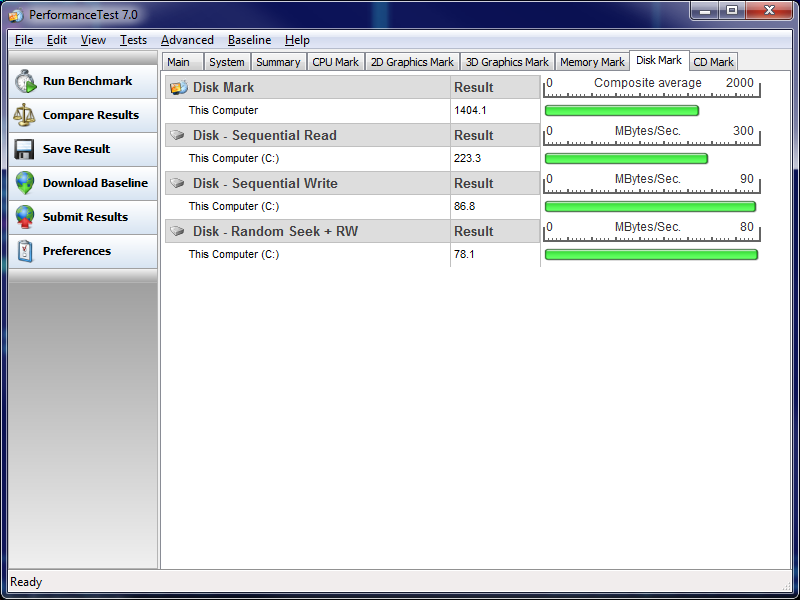 Obviously, it is unfair to compare a hard drive to an SSD drive, so treat the above as a reference point only.
NOTE: No additional read/write operations were taking place on the Drobo S while the above tests were performed.
6.1) Drobo S vs Netgear ReadyNAS Pro
While testing the Drobo, I was simultaneously testing the Netgear ReadyNAS Pro unit. Since ReadyNAS Pro is a Network Attached Storage (NAS), I know that a more appropriate comparison would be between the Drobo FS and the ReadyNAS Pro. But I am sure the Drobo FS is going to be very similar (if not worse) to Drobo S in terms of performance, so I decided to run a quick test and see the difference: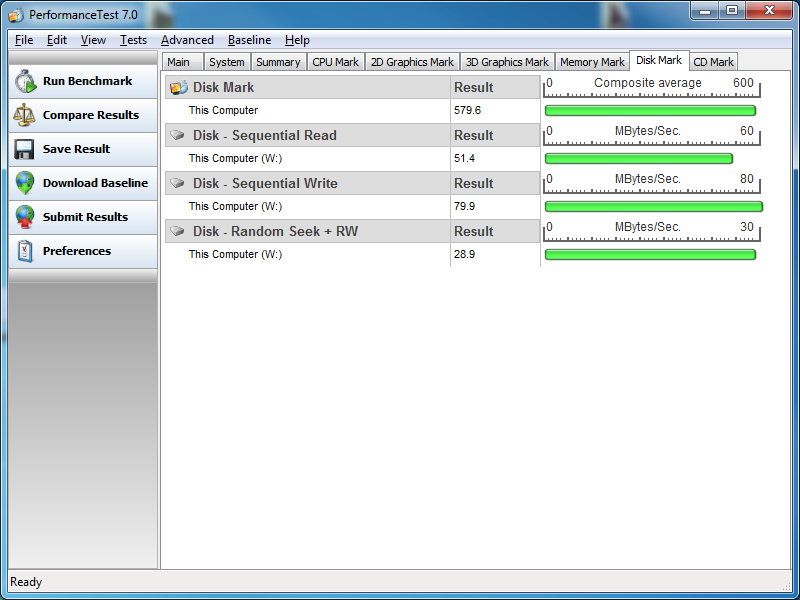 I will be posting a detailed Netgear ReadyNAS Pro review with more performance benchmarks, but as you can see, the ReadyNAS Pro blows the Drobo S out of the water, with 2x read, 4x write and over 10x faster random seek speeds! I had a really crappy gigabit switch while performing the tests and I know that the ReadyNAS Pro can give up to 100 MB/sec read and write speeds. In addition, the above stats are from a very standard, non-tweaked ReadyNAS Pro configuration.
Here is a quick comparison chart between the tests:
| Storage Unit | Sequential Read | Sequential Write | Random Seek + RW |
| --- | --- | --- | --- |
| Drobo S (eSATA, 3x2TB 7200 RPM) | 26.9 MB/sec | 18.8 MB/sec | 2.48 MB/sec |
| Drobo S (USB 2.0 via USB 3.0 port, 3x2TB 7200 RPM) | 19.5 MB/sec | 19.0 MB/sec | 2.09 MB/sec |
| WD Studio II External Drive (USB 2.0, 4TB/2x2TB Green) | 29.2 MB/sec | 27.0 MB/sec | 2.27 MB/sec |
| Netgear ReadyNAS Pro (Network/Gigabit, 3x2TB 7200 RPM) | 51.4 MB/sec | 79.9 MB/sec | 28.9 MB/sec |
| Intel X25-M 160GB SSD (SATA) | 223.3 MB/sec | 86.8 MB/sec | 78.1 MB/sec |
If you are looking for a storage unit with good performance, look elsewhere – the Drobo S will slow your drives down.
6.2) Lightroom Performance
What about Lightroom performance? Unless you are fine with waiting forever, forget about moving your RAW files to the Drobo S. Lola could not stand how slow the Drobo S was when she was trying to edit photos. It took forever for Lightroom to generate thumbnails from RAW images and working with photos was just unbearable. I'm sure JPEG performance is not as bad, but opening RAW/DNG files was very painful. And that's with my catalog sitting on my local SSD hard drive.
7) Pros and Cons
I have been playing with the Drobo S for about two weeks now and here is a summary of what I like and don't like about it.
The Good:
Exterior design and easy drive insertion/removal: I really like how Drobo designed the Drobo S product. Screw-less insertion and removal of hot-swappable hard drives is very nice and the exterior design is certainly very pleasant to look at.
Front lights: The indication of how many drives you have, along with their health status is a great feature. I like how the lights change colors when the drives fill up or when a drive fails.
Rebuild time: With only a few gigs of data loaded on the Drobo S, I added another drive and the rebuild time was surprisingly fast. It certainly helps to have a small amount of data when expanding.
Easy to use interface/software: The Drobo Dashboard is very easy and intuitive to use. You can manage all tasks such as creating a new volume, formatting, etc. all from the dashboard and it works great (when it works).
Good as a backup solution: Drobo S would be a great backup solution, because it makes a lot of storage from your hard drives available.
The Bad and the Ugly:
Drobo S is extremely slow, even when using eSATA. As shown above, the maximum throughput I have been able to get is around 25-30 MB/sec, which is super slow when compared to external drives or other storage solutions like ReadyNAS Pro.
BeyondRAID is a proprietary technology. If you experience a failure, where Drobo fails during the rebuilding process or for whatever reason cannot recover your data, you cannot easily hire a data recovery company to get your data back from those drives.
While the rebuild time is certainly fast when you have a limited amount of data, you will have to be extremely patient if you are over 60% capacity. I ran a test with around 80% full Drobo S and replaced one of the drives. The process has been running for the last 4 days. The data has been virtually inaccessible during this time, with extremely slow performance. I did a similar test on the ReadyNAS Pro and it fully rebuilt the array in about 22 hours.
The new USB 3.0 port is virtually useless. I have done everything from updating my motherboard BIOS to the latest version to installing the latest drivers and I still could not get it to work. Drobo support tells me that my chipset is not compatible. My motherboard is Gigabyte GA-X58A-UD3R, which is one of the most popular motherboards on the market today. I am surprised that it is not supported.
Firewire 800 was not any faster than eSATA.
My WD Enterprise-class 2 TB 7200 RPM drives were running so hot, that I could barely touch them. The ventilation for drives on the Drobo S is horrible. Running hot drives continuously will make them fail quickly.
The Drobo S started producing low-pitched fan noise after several hours of use.
The firmware upgrade process was painful (see above).
Technical support was horrible, with techs not having a clue about eSATA or USB 3.0 technologies.
8) Conclusion
If you are looking for a large storage array to backup your photos, movies and other data, the Drobo S offers plenty of great features and squeezes the most amount of storage from your hard drives. However, if you are looking for a fast storage array, or a solution to consolidate your photographs/data into one location to simplify your workflow, the Drobo S is not something I would recommend. As you can see from this review, Drobo's biggest problem is its performance, even when fast SATA drives are used. Drobo's claims like "blazing fast transfer speeds for creative professionals and small businesses" are simply marketing gimmicks and the new USB 3.0 interface is useless, if your hardware does not fully support it. Even getting eSATA to work was quite painful – not something a beginner would be able to do on his/her own. Drobo's technical support was simply horrible and I had to figure out most of the stuff myself. Drobo introduces new technology and yet its staff does not know how to make it work. And by the way, I never got the promised call back from Drobo's 1st tech support guy!
So, what is Drobo S good for and how would I use it? First, I would not use fast SATA drives that get hot in these units. As I have pointed out above, the ventilation is simply not good enough to keep the fast performing drives cool. I would just get some cheap 5400 RPM drives and only use Drobo as a backup device. Why waste your money if Drobo slows down those fast drives anyway? Think of it as a large, external backup hard drive. If you have some computers and data that needs to be backed up, the Drobo S is a good candidate that you could leave running at night to do the job – that's what it is good for. It is fully compatible with Apple's Time Machine and works very well in that configuration. Another case where you could use Drobo is if you have a lot of data that needs to be dumped somewhere for archival purposes. Like your old photo catalogs of your customers that you no longer need to work on.
As for me, I will be returning the Drobo S – at $750+ USD (without hard drives), it is a very expensive backup solution that only complicates and slows down my workflow.
Drobo S (USB 3.0, 2nd Generation)
Features

Build Quality

Value

Size and Weight

Packaging and Manual

Speed and Performance

Stability
Photography Life Overall Rating