We recently reviewed the Sport Strap from BlackRapid which we really liked, but for some people straps are still too bothersome. There are alternatives that allow the photographer to clip their cameras to a belt and avoid the strap altogether if they so desire. The Capture Clip Pro from Peak Design and the SpiderPro Camera Holster from Shai Gear are both strapless camera carrying systems that give you the feeling of stepping back in time to the days of the wild west but instead of gunslinging, you're a camera toting cowboy. In this head-to-head review, we will examine the Capture Clip Pro vs the SpiderPro Camera Holster and try to help you know which system might be best for you.
It should be noted that we are specifically reviewing the Pro versions here, but both companies make less expensive versions that are well suited for smaller/lighter gear.
1) Capture Clip Pro (v.2) from Peak Design
First up is the Capture Clip Pro (v.2) from Peak Design. Capture Clip was initially brought to market as a successful Kickstarter project and now they have their second version of the Capture Clip.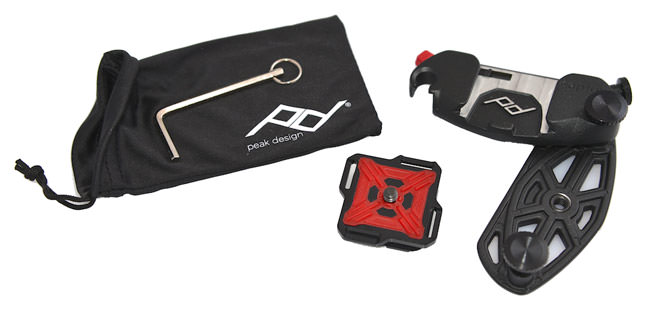 The idea is simple, take a clip that can be placed on any strap or belt and attach a plate to the tripod mount of the camera body. The plate then slips into the clip and is "captured" into a locking mechanism that holds the camera in place until you are ready for it. When it is time to put the camera into action, simply push the red release button and grab the gear.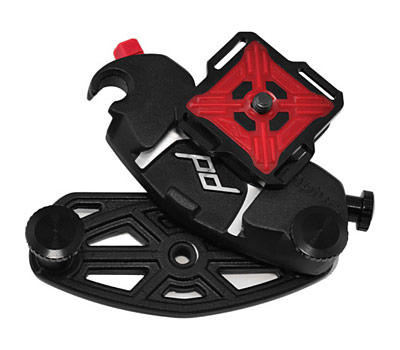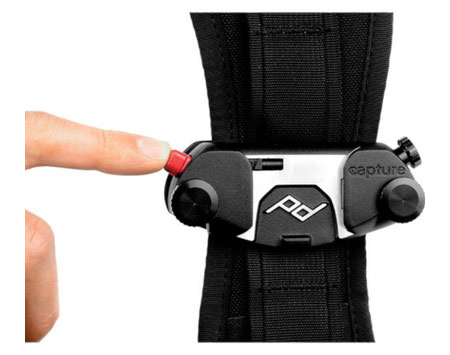 What I really liked about the Capture Clip Pro is the fact that it can be used with any strap or belt such as on a backpack, messenger bag, diaper bag, sling or purse. Two summers ago while hiking at a nearby park, I had just put my camera into a backpack when a mountain lion appeared within a few yards of me. I scrambled to get the camera out of the pack, but before I could retrieve it, it started to rain and lightning. The cougar ran into some rocks and was gone before I could get a shot. If I had been using the Capture Clip on the front of the backpack or on my belt, I would have been able to fire off a quick shot or two. Instead, all I have left is the memory of this rare and very unexpected sighting.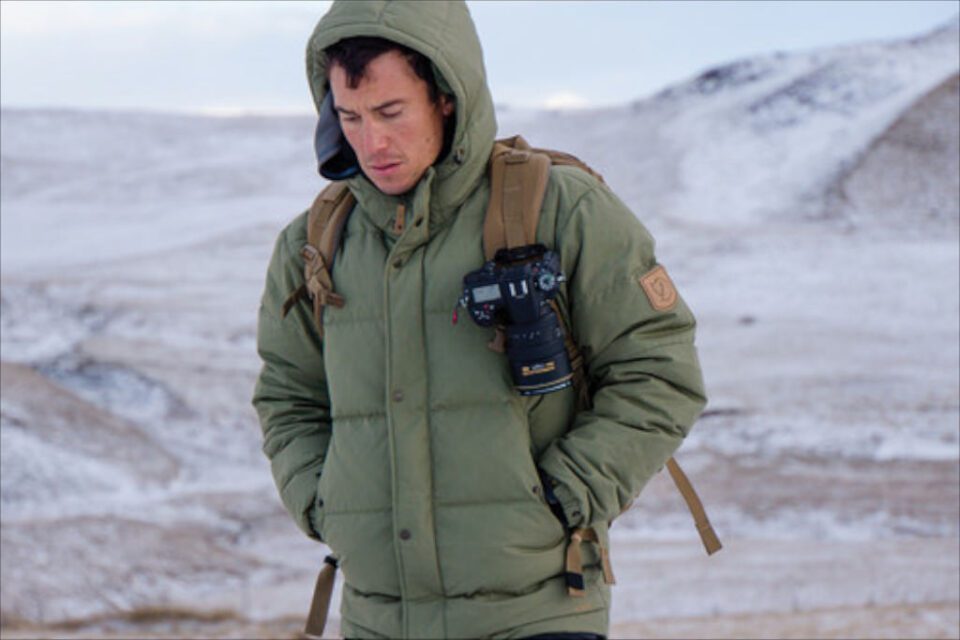 The Capture Clip Pro is small, light and has mounting plates that are ARCA and Manfrotto RC/2 compatible, just be sure you know which plate you need when you buy it. This makes it super easy to go from clip to the tripod and back to the clip again without having to add or remove hardware. When the camera is attached to the Capture Clip it's held rigidly with no swinging or movement as you walk. Speaking of tripod, the base of the capture clip has a hole which allows you to mount the clip to a tripod or monopod and use it as a quick connect. Personally, I'm not sure why anyone would want to use this on a tripod because it doesn't give you rotation or tilt control, but I could see a place for it when used with a monopod. The black knob is to tighten the plate in the clip so that there is less play if used on a monopod/tripod. If it is looser, the plate will engage and disengage from the clip easier.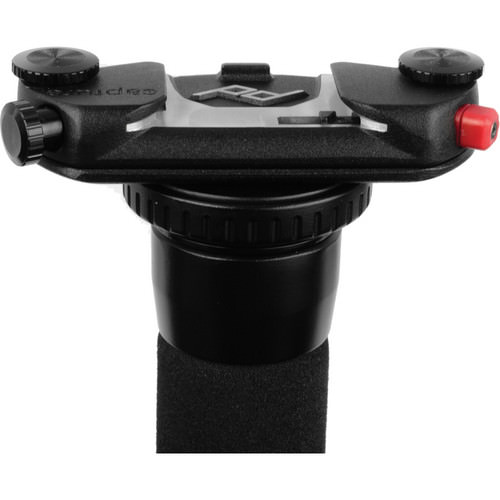 Heavier gear on your pants belt does create a pull and if that bothers you or places you in an uncomfortable situation, then a separate belt like that which is available from other manufacturer's such as Think Tank works well. Peak Designs makes a cushion that they call the PROpad for use with larger camera/lens combos. With a D600 and a 24/120 lens, it didn't take long for me to start getting an uncomfortable pressure point. The PROpad relieves that discomfort and so if you're using anything but smaller gear, I recommend buying this accessory.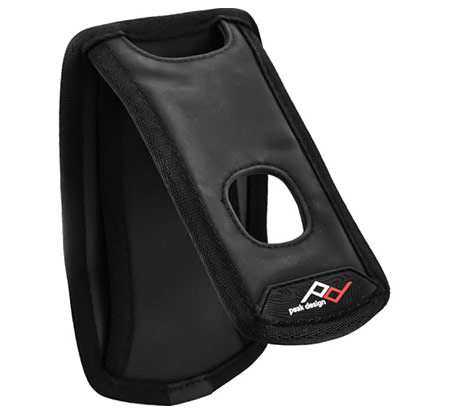 One small annoyance that I did find with the PROpad is that mounting the Capture Clip vertically for a side mount made turning the red release button to lock it difficult as there isn't much room for your fingers. Moreover, turning the red knob would be easier if it had a raised lip for a better grip. The likelihood of inadvertently releasing the camera from its holster is low due to the button being somewhat sheltered and recessed when the camera is seated but it is nice to have the option to secure it if desired.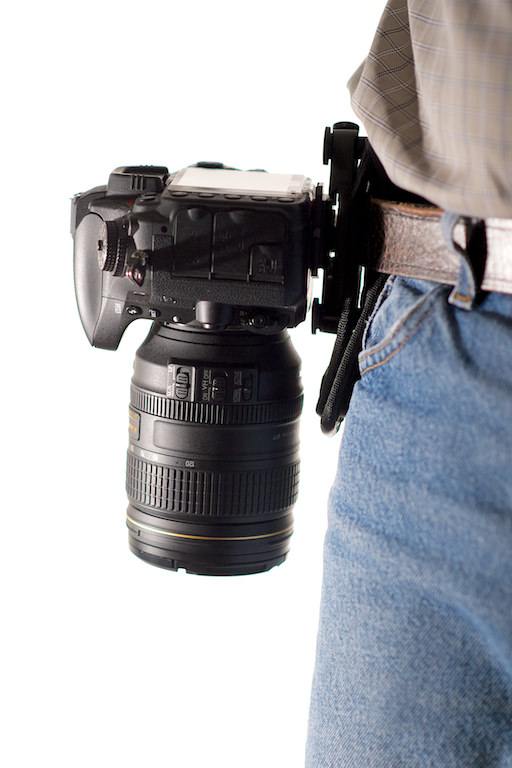 A nice feature with the Capture Clip Pro is that it allows you to change a lens with one hand since it holds the camera body rigidly. You can also holster or unholster the camera with one hand if the gear combo is not too large. If you have lighter gear such as a point-and-shoot or a mirrorless camera, Peak Designs makes a lighter, less expensive non pro version of the Capture Clip. For these slimmer cameras, use their MICROplate so that the plate doesn't get in the way of the lens or battery compartment.
The guys at Peak Designs also have a line of accessories such as wrist straps, tethers for added security, and maybe the coolest accessory, the P.O.V. kit , which allows you to attach a POV camera such as a GoPro or a point-and-shoot adding even more versatility to the Capture Clip system.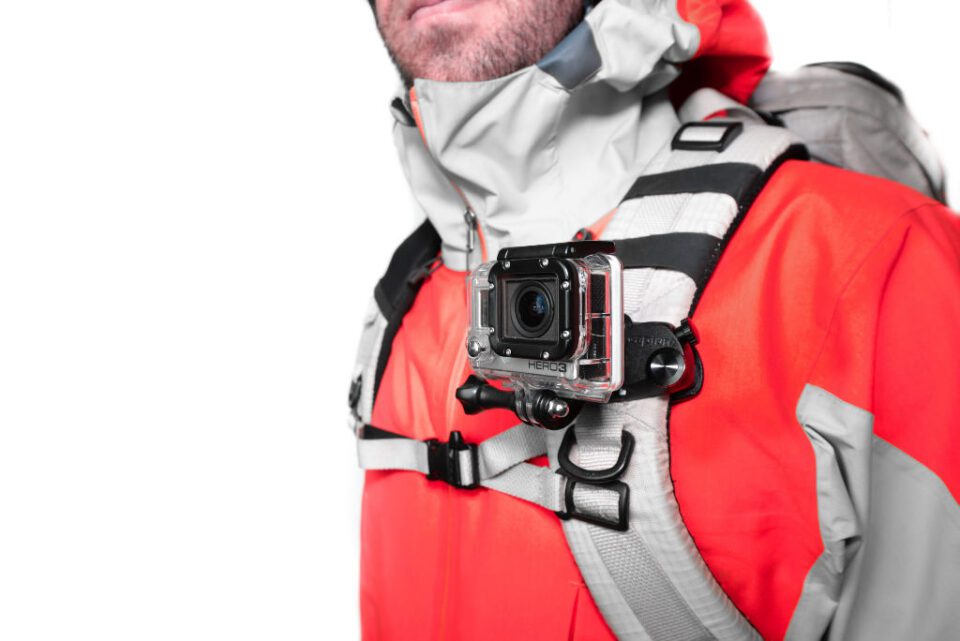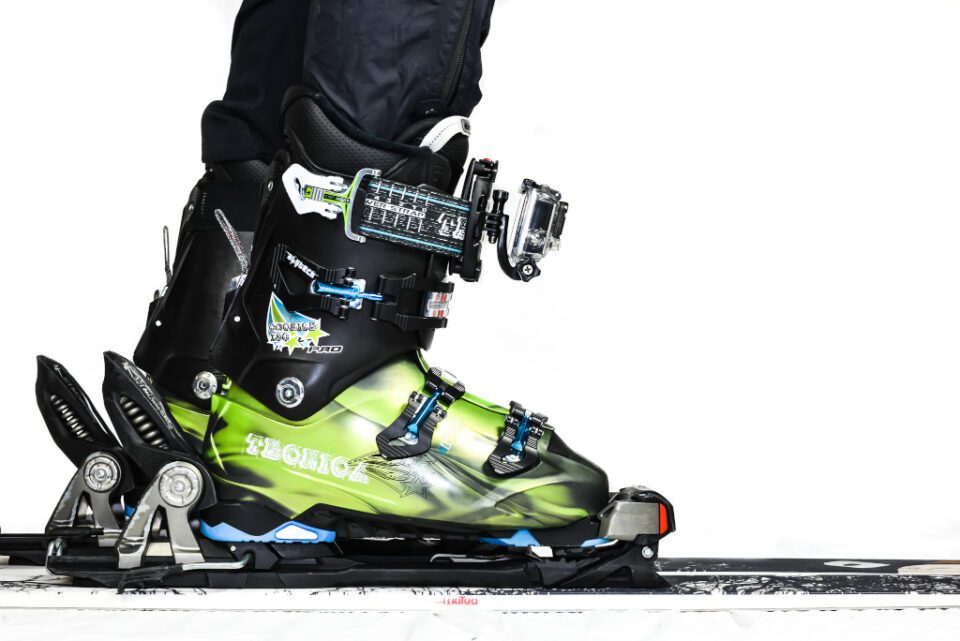 The Capture Clip Pro v.2 is well designed and manufactured and like all products from Peak Design, is backed by a lifetime warranty.
2) SpiderPro Camera Holster
Next up is the SpiderPro Camera Holster from Shai Gear. The SpiderPro Camera Holster works on more of a "ball and socket" principle than the "clip and plate" of the Capture.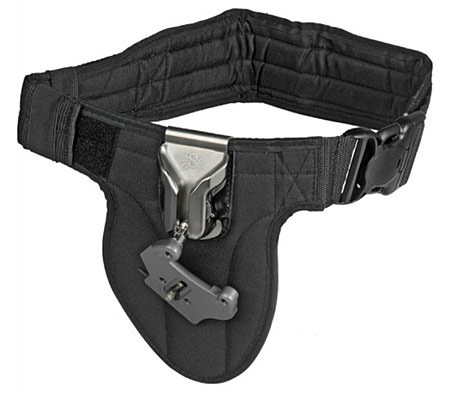 There is a plate with a ball that attaches to the tripod mount or the lens collar or plate like the Capture. A nice design feature is the allen wrench needed to attach it, fits into the plate itself so it's always available when needed.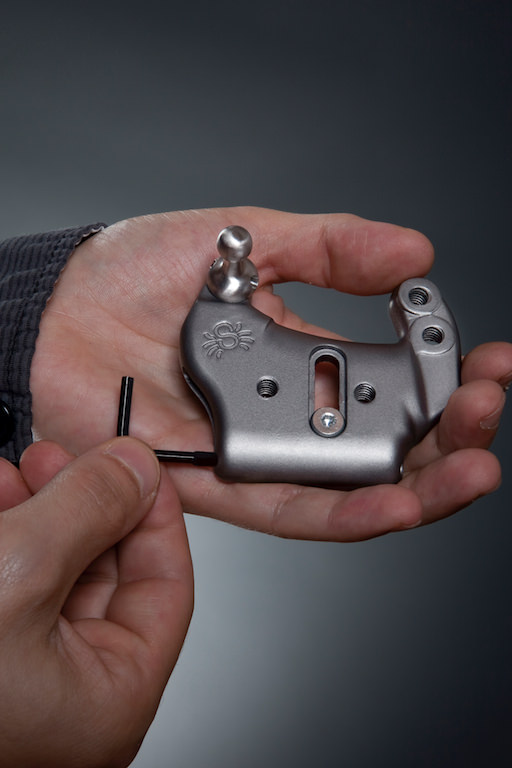 The other main component is the metal "socket" portion that is mounted on a sturdy "utility-like" belt with a built in pad. The socket has a wide opening that funnels or guides the ball into its final resting place. There is a lock on the side of the SpiderPro that allows you to leave the camera "free-wheeling" which lets you take the camera in and out at will without unlocking it. If you prefer, you can set it to safely lock the camera into the holster which requires that the latch be released to remove the camera.
While there is less versatility by using the dedicated belt with the SpiderPro, it does have some great features. I really like the ease with which the camera "parks" itself as the plate directs the camera into its final resting position. I like the flexibility to be able to keep the safety lock on or to take it off for simplicity when you're not concerned about it dislodging and when you're going to be placing it in or removing it from the holster frequently. With heavier gear, the SpiderPro exerts less torque on the belt and less pressure on your body which translated means more comfortable and less wear and tear than other systems. The reason for less torque is when fully seated, the camera rests upside down and the pin is oriented vertically, transforming the stress from torque to tension on the pin.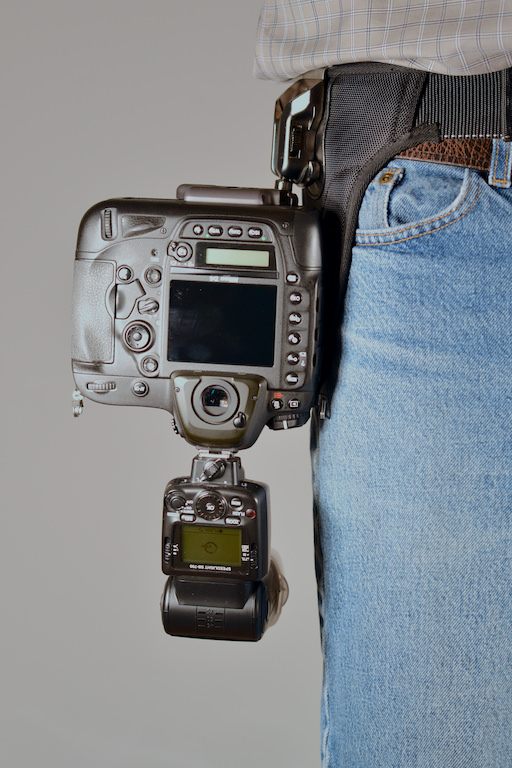 If a second camera is desired, SpiderPro is available in a dual camera system consisting of a single belt with two holsters. If you like the SpiderPro system, they make a lighter, plastic version called the Black Widow holster intended for use with camera/lens combos that weigh 3 lbs or less. It can be used on your own belt or you can buy a heavier belt and pad separately or as a kit.
Speaking of the belt, there were isolated reports with an earlier version of the belt clip on the SpiderPro unbuckling unexpectedly. The manufacturer came out with a second, improved version which has a solid 3-point lock making it very difficult to have it accidentally come undone so that is no longer an issue or concern. If you already have a camera belt from other manufacturers like Think Tank or Lowe, Shai Gear makes SpiderPro adapter kits that will work with them.
If you are using a flash, the SpiderPro system works well in that the camera rotates as it seats and it keeps the flash from extending out directly away from your body which protects the flash as well as decreases the torque exerted on the belt. Shai Gear also makes what they call the Spider Monkey, that can be used to hold your accessories such as your flash or a battery pack on the belt for easy access when you need to add or remove it from your kit.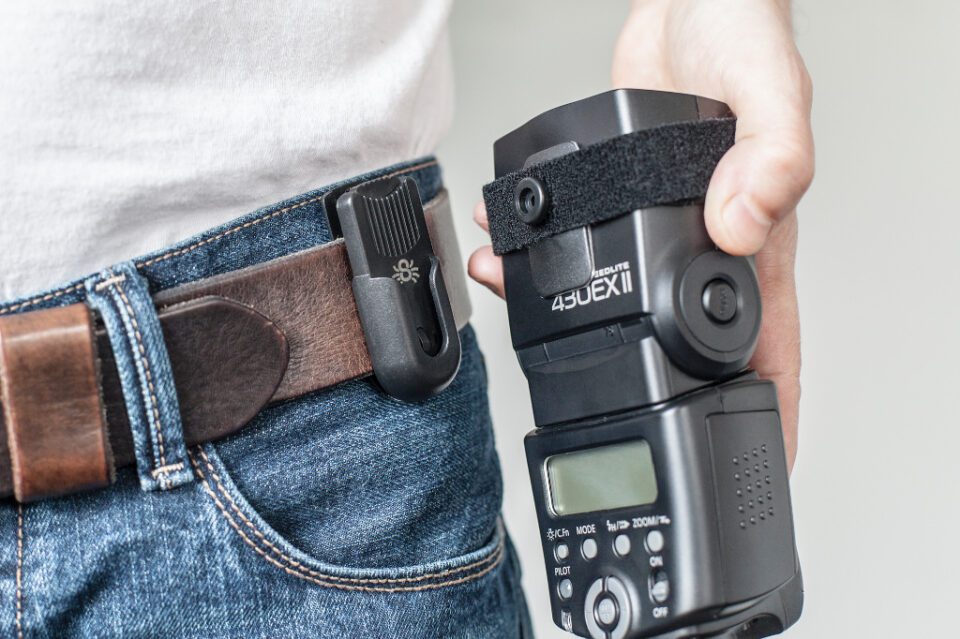 3) Comparison of the Capture Clip Pro to the SpiderPro Camera Holster
3.1) Build Quality
Both units are designed and built well but I have to give the edge in this department to the SpiderPro with its all metal design. This heavy duty feel does come at a price however, with the system actually costing and weighing more overall. While the Capture is no slouch by any means, it just didn't feel as solid.
Advantage: SpiderPro
3.2) Handling/Ease of Use
This is a mixed bag and it depends on the gear you are carrying, for anything with an external flash, the SpiderPro gets the nod. It's better designed for larger gear and flash units. I also like the fact that the camera "finds" its final parking spot so easily with the funneled opening of the holster. However, for smaller gear, the Capture gets the nod. It's light, flexible and simple to use and it offers single-handed operation, including unlocking the gear from its clip. Changing a lens is easier on the Capture since the body is locked into a fixed position when engaged in the clip.
Advantage: Tie
3.3) Cost
Capture Clip Pro – $79.95 for clip and ARCA plate, add $30 for a PROpad if you have heavier gear.
SpiderPro Camera Holster – $135.00 for belt, holster and plate (Prices at the time of this writing).
Advantage: Capture Clip Pro
4) Verdict
For a wedding or event photographer, we like the SpiderPro, in our opinion, it's set up better to handle your professional needs. It offers a more complete system with the ability to work with flashes, battery packs and pouches. It's design reduces torque created by carrying heavier gear and in the end, the ability to work with a flash separates it from the Capture Clip.
The Capture Clip Pro is excellent for times that you're active because it keeps your hands free and the gear from bouncing around. A Capture Clip Pro on a hike or a ride would be worth every penny. As a parent, there is never enough hands to go around and when we took our kids to Disneyworld or when we went on hikes, I would have loved to have had one. When bending over to help with a child, who hasn't had the camera want to swing into the child's face or head? The Capture Clip Pro is just plain versatile and fun!
So which one wins? Just like a shoot-out in an old western movie, we call it a draw and like many choices in life, one isn't necessarily better than the other, it's which one best fits your needs. Both of these systems offer the freedom of no straps and definitely have their place so we wouldn't hesitate to recommend either one. In reality, we're comparing apples and oranges here, both are good fruits but they're different for sure. If your looking for an alternative to a strap, then give one of these systems a try and you may just find that you really love the freedom.
5) Where to Buy
Both the Capture Clip Pro and the SpiderPro Camera Holster are available through B&H Photo or Adorama.
Capture Clip Pro vs SpiderPro Camera Holster
Features

Build Quality

Handling

Value

Ease of Use
Photography Life Overall Rating