Focus Performance and Accuracy
The Canon RF 24-105mm f/4L IS USM is the first L-series lens to feature the company's Nano USM motor rather than the Ring USM focus motor. Canon's Ring USM motor has been a mainstay of their L lens lineup due to its quick drive speed and high accuracy. However, what works for stills photography doesn't always translate to video shooting, which requires smooth and consistent focus movements rather than quick starts and stops. Canon's solution is the STM (Stepping Motor) autofocus technology, which provides the necessary smoothness and consistency for video recording at the expense of focus speed. Due to this compromise, Canon mainly employed the STM motor mainly in cheaper entry-level lenses so far.
With DSLR videography growing in popularity, though, it was only a matter of time before Canon's priorities would shift. That's where the new Nano USM focus motor comes in. This motor combines the best of both worlds, as it features the speed of Ring USM with the smoothness and quietness of STM. Nano USM first saw the light of day in 2016 on the entry-level Canon EF-S 18–135mm f/3.5–5.6 IS lens. More recently, Canon has successfully implemented it on the EF 70-300mm f/4-5.6 IS II USM. Now, with the RF 24-105mm f/4L IS USM, the technology has matured enough for the company to include it in their L lens lineup.
Any standard zoom needs to have fast and accurate autofocus, especially one that will be as popular as this. These days, even the most basic lenses offer solid focusing performance under normal conditions – but top-of-the-line lenses are really worthwhile in how they focus under challenging conditions. Low light, fast-moving subjects, and complex backgrounds require lenses that make the most of the camera's tracking capabilities, and thankfully the Canon RF 24-105mm f/4L IS Nano USM (Ultrasonic Motor) is highly impressive in this regard. When paired with the Canon EOS R, the lens focuses very quickly and accurately. In One-Shot AF, images snap into focus almost instantly, and the accuracy is highly impressive. Low-light performance in one-shot mode is class-leading.
In AI-Servo, focus speeds remain very high, but the EOS R camera itself does not perform as well in that mode. However, that is typical of mirrorless cameras at this price range, and it is not necessarily a reflection of the 24-105mm f/4's tracking performance. With a future sports-oriented Canon mirrorless camera, I suspect that this zoom will focus very well regardless of servo mode.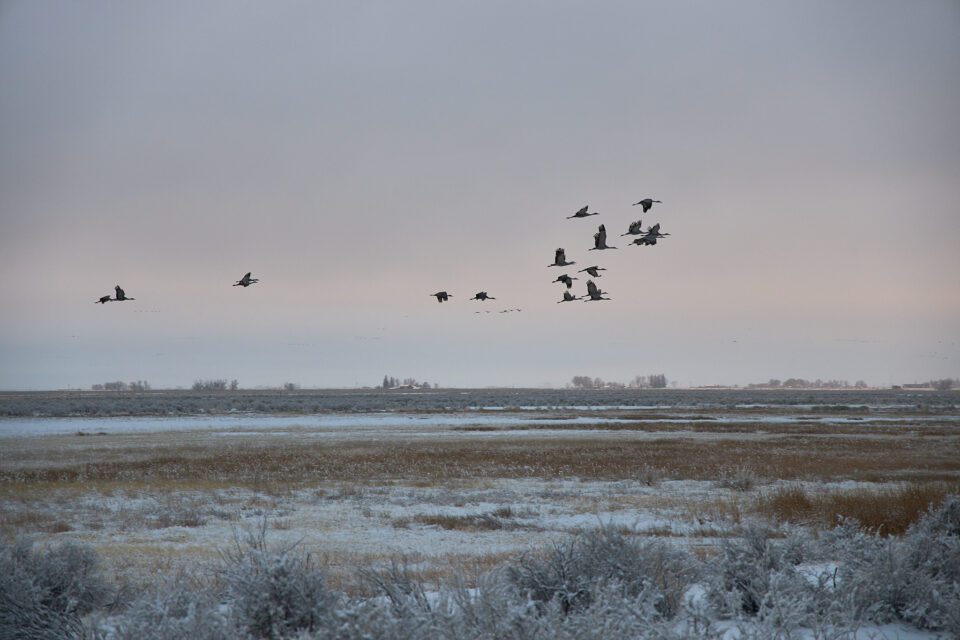 When it comes to video, this lens is also very well suited. Nano USM is ideal for filmmaking, and the lens also works very well with the EOS R's Dual Pixel CMOS AF and Movie Servo AF. It offers very smooth focus transitions without any jarring movements, and the sound of the focusing is quiet enough so that it isn't picked up by the camera's mic. All in all, the RF 24-105mm f/4L IS USM makes for an excellent choice for videography when shooting with the EOS R.
In manual focus, the RF 24-105mm f/4 also has very impressive performance. The manual focus ring is located beyond the zoom ring, which is my preferred position. It offers what is, to me, ideal resistance, and adjustments are very smooth. Note that Nano USM is a focus-by-wire manual focus design, which means that the manual focus ring electronically controls the lens's focus. When the camera is off, for example, turning the focus ring does not do anything.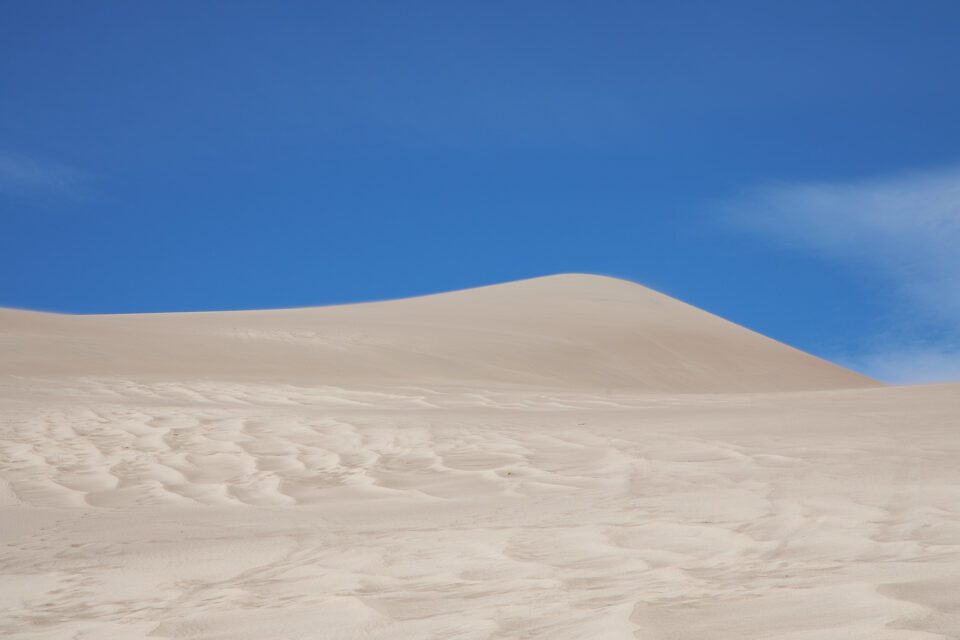 Image Quality
The versatility of the 24-105mm focal length is undeniable, but it is a genuine challenge to design a high-quality lens with stellar image quality throughout the range. Naturally, I was keen to find out if the Canon RF 24-105mm f/4L IS USM would meet my high expectations – and the answer was yes. The lens turns in a strong performance that is highly consistent throughout its focal range.
At 24mm and f/4, sharpness is excellent across nearly the entirety of the frame. Even in the corners, quality is nicer than expected for a lens of this type. You gain a negligible amount of extra sharpness in the center of the frame when stopping down, while the already very good corners improve a little bit from f/4 to f/5.6. You don't gain any extra sharpness by stopping down to f/8, and diffraction means that sharpness gradually decreases at f/11 and beyond.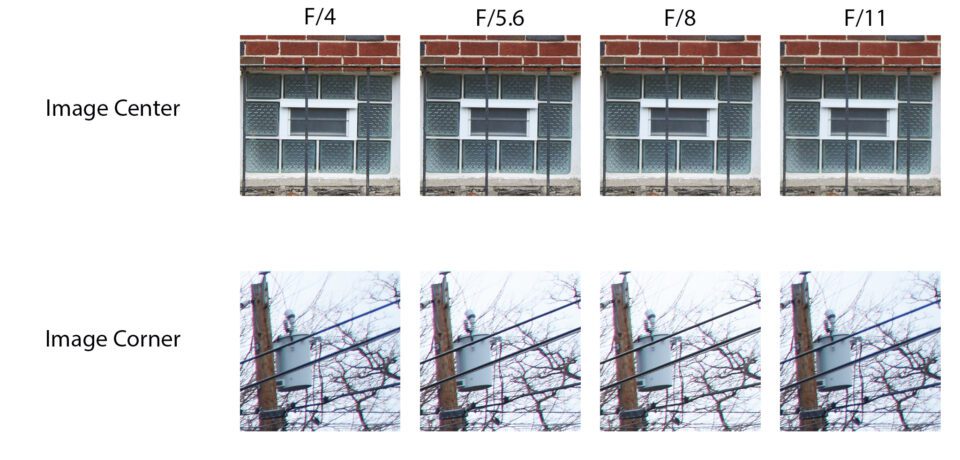 Zooming to 35mm exposes a trend that is also seen at 70mm: the center grows a bit sharper, but the corners start to weaken compared to the 24mm setting. At 35mm and f/4, the lens offers excellent sharpness in the center of the frame, and you gain very little by stopping down. The corners are still good, but they are definitely weaker than at the 24mm setting, showing a hint of softness. Stopping down to f/5.6 improves things noticeably, and by f/8 the corners are very good.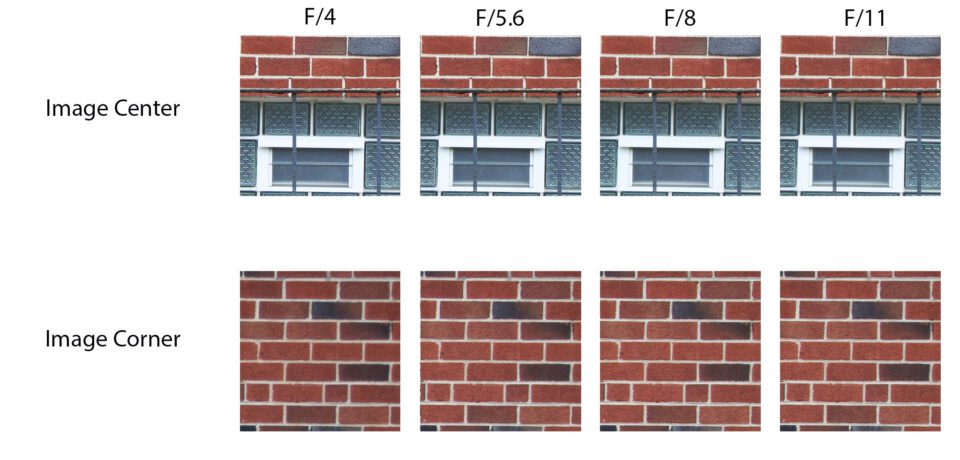 A similar performance is found at the 70mm setting. At f/4, the center of the frame has excellent sharpness, and stopping down changes very little. The corners show a hint of softness here, but they substantially improve at f/5.6. You get similarly good performance in the corners at f/8, perhaps a hair sharper.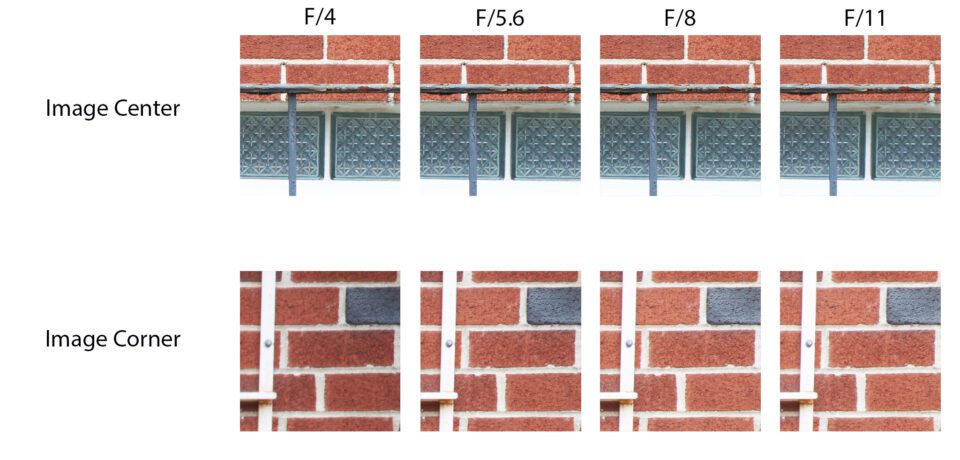 Frequently, 24-105mm lens designs falter at the 105mm setting, but the Canon lens really doesn't. At 105mm and f/4, the center of the frame offers very good levels of sharpness, and by f/5.6 the center is at excellent levels again. The corners are not as good at f/4, however. They improve somewhat at f/5.6, but you need to stop down to f/8 to get a nice amount of sharpness back.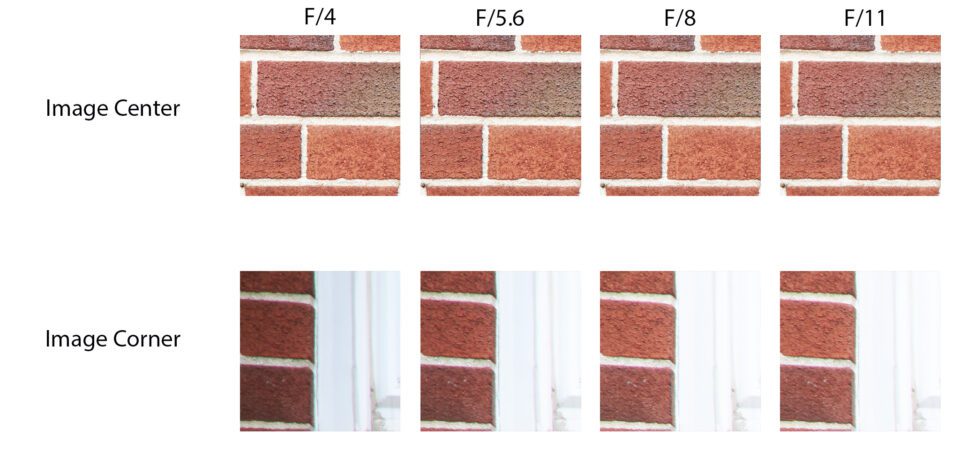 Sharpness wise, the Canon RF 24-105mm f/4L IS USM is a wonderfully consistent performer. It has very good sharpness at f/4 across the range, and excellent sharpness at all focal lengths between f/5.6 and f/11. If I had to compare it to our recently reviewed Sony FE 24-105mm f/4 G OSS, I would say that the two lenses are alike in many ways. While Sony has better central sharpness at the wide end of the focal range, the Canon is more consistent overall and has better corner sharpness.
Note: Once Canon adds a high-megapixel EOS R mirrorless body, we will add Imatest charts for this lens.
Vibration Reduction
The Canon RF 24-105mm f/4L IS USM features Canon's in-lens optical stabilization system rated at up to five stops of stabilization. In use, I found that I couldn't quite get to five stops worth of stabilization – closer to four in practice. This performance is still very good and helps mitigate the EOS R's lack of in-body image stabilization. Hopefully, Canon will implement IBIS in future EOS R bodies, especially if the company finds a way to integrate lens-based and camera-based systems for the best possible performance.
Bokeh
Lenses of this type are not usually known for the quality of their bokeh, and the Canon RF 24-105mm f/4L IS USM turns in a mixed performance in this regard. Out-of-focus highlights are rendered circular in shape thanks to the 9 aperture blades, but the discs are relatively busy with a noticeable "onion ring" effect. When it comes to the blur in areas of focus transition, the performance is rather lackluster, with a somewhat rough rendering in the bokeh of foreground areas.
The RF 24-105mm f/4L IS USM is not a portrait lens, and its maximum aperture of f/4 is very limiting when it comes to subject isolation. Nonetheless, the quality of the bokeh could have been a bit smoother if to compare to similar lenses from other manufacturers like the Sony FE 24-105mm f/4G OSS lens.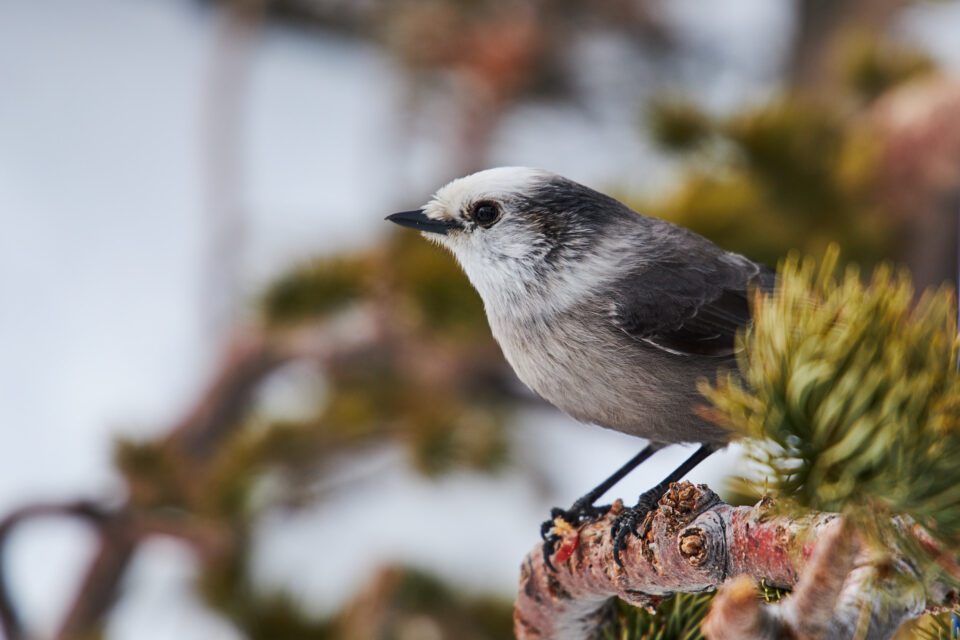 Vignetting
The vignetting characteristic of the Canon RF 24-105mm f/4L IS USM is quite similar to its Canon DSLR counterpart, and much better than the Sony FE 24-105mm f/4 G OSS or Nikon Z 24-70mm f/4 S. The Canon lens suffers from the greatest amount of vignetting at 24mm and 105mm, where it is about 2.5 stops and 2.1 stops respectively. Stopping down improves this performance significantly, with about 2 stops at f/5.6 and 1.3 stops at f/8 (24mm focal length). At 105mm and f/5.6, we already find less than one stop of corner shading. In the middle focal lengths of the zoom, there are only 1-1.5 stops of darkening at f/4, and less than a stop by f/5.6.
Here are some examples of vignetting at 24mm setting, first at f/4 and then at f/8. These are crops from the top-left corner. Note how the top-left of the sky is brighter in the second image, but even the first photo does not have objectionable vignetting: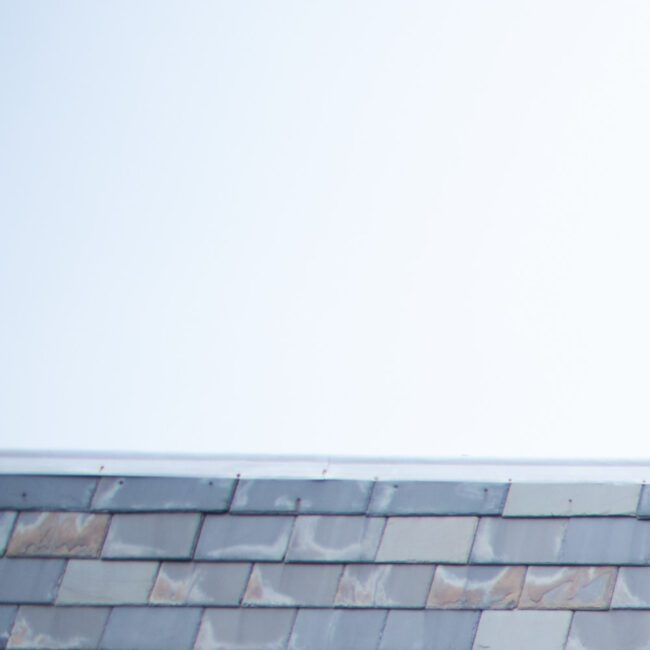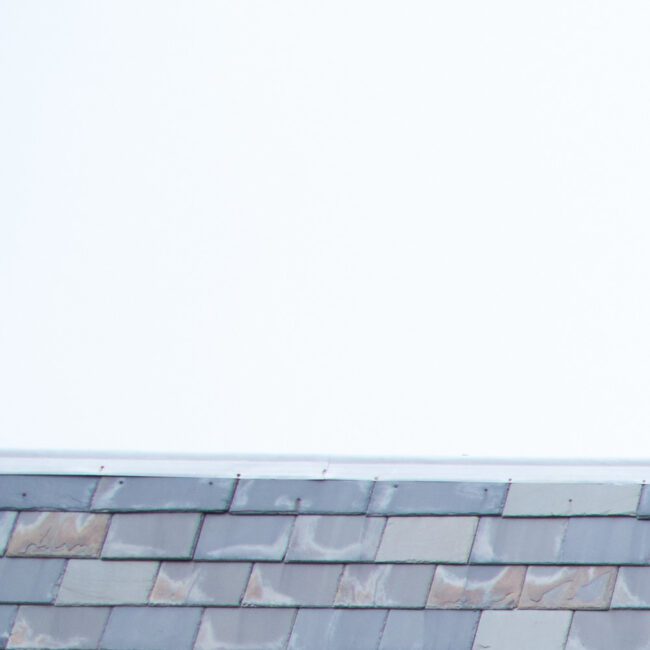 Flare
Flare and ghosting are well-controlled for a lens of this type, though the relatively complicated optical design means you'll still encounter some when shooting against bright sources of light. Here is an example of flare artifacts at 24mm, the worst that you are likely to see it in practice: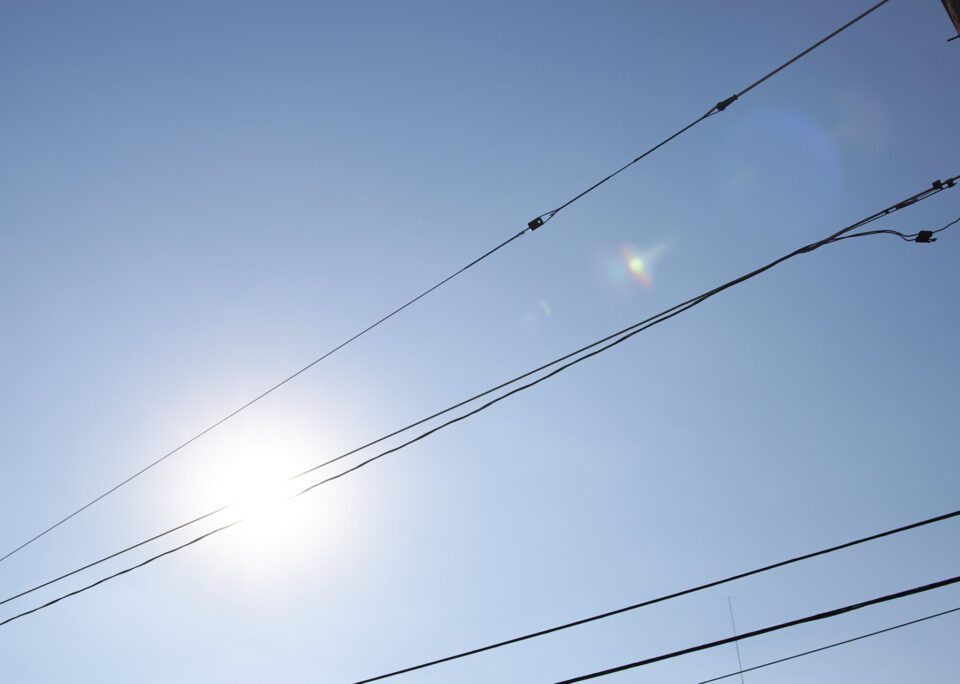 Chromatic Aberration
When it comes to chromatic aberration, the Canon RF 24-105mm f/4L IS USM turns in a mixed performance. At 24mm, there is minimal chromatic aberration in the center, but you'll find a moderate amount of purple/green fringing in high-contrast corner regions.
At 35mm, chromatic aberrations are quite low in the center of the frame (a bit more than at the 24mm setting) and get gradually worse as we move toward the edges, where there are moderate to high amounts. At 50mm, things improve substantially, with an outstanding performance in the center of the frame and relatively low amounts in the corners. At 70mm, the strong performance at the 50mm focal length continues.
Unsurprisingly, we find the worst performance at the 105mm setting, where we again see a significant disparity between the center of the frame (where chromatic aberrations are quite minor) and the edges of the frame (which has moderate to high chromatic aberration). Lateral CA like this usually can be corrected through software via a lens profile, but extensive fringing leaves some artifacts behind. In my experience, the 24-105mm's fringing is not so bad that correction leaves visible artifacts behind, even at 105mm.
Longitudinal chromatic aberration, or bokeh fringing, is relatively well-controlled for a lens of this type. The Canon's strong performance is especially noticeable at the wide and midrange of the focal range, where bokeh fringing is almost nonexistent. It becomes a bit more noticeable at 105mm, but overall the Canon RF 24-105mm f/4L IS USM does a great job of handling bokeh fringing. To me, this is more important than lateral chromatic aberration, since it's harder to correct.
Here are some examples of lateral chromatic aberration in the corners of the frame.
At 24mm: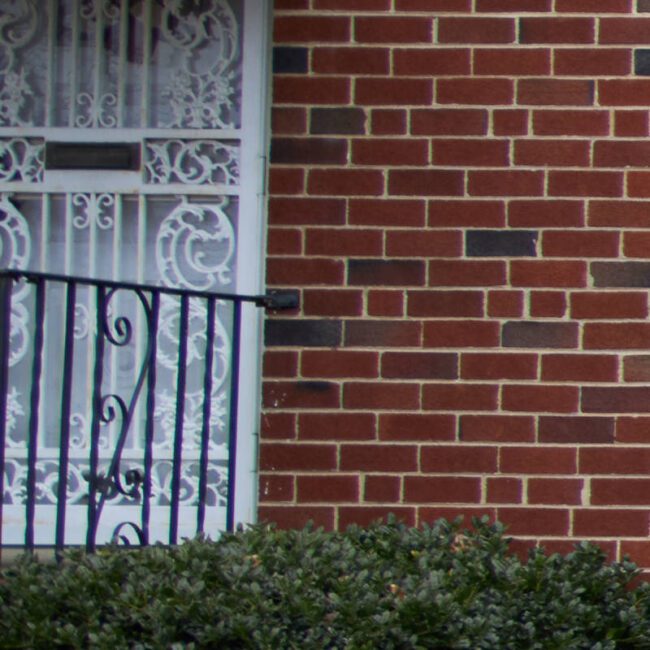 At 35mm: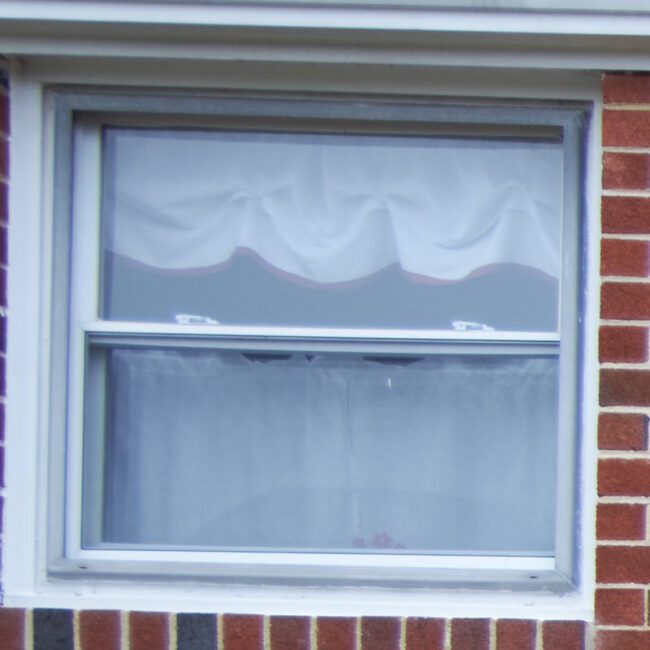 At 70mm: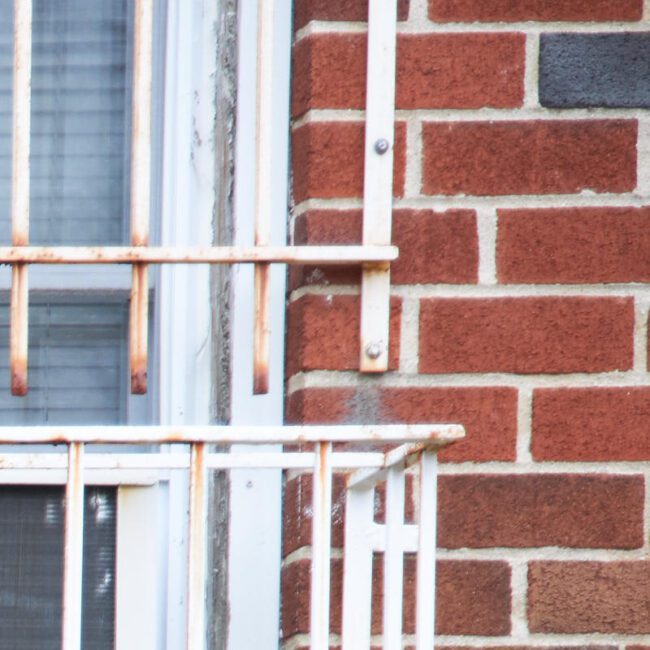 At 105mm: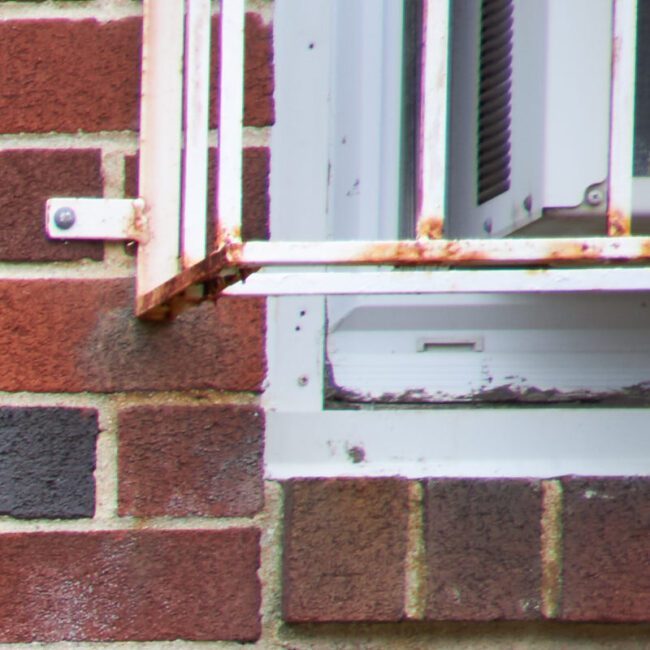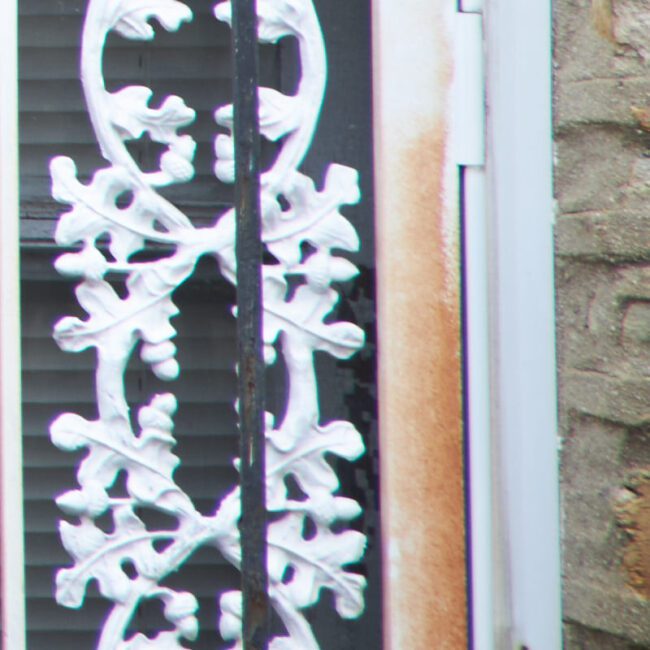 Comparisons
With only four native mount lens options at the time of publishing this article, the EOS R lens ecosystem is still in its infancy. As such, the RF 24-105mm f/4L IS USM has no genuine native mount competition.
The RF 28-70mm f/2L USM shares much of the same focal range as the RF 24-105mm f/4L IS USM, but the similarities between the two lenses end there. The RF 28-70mm f/2L USM is a specialized lens – the first full-frame zoom lens with a focal length beyond 35mm to feature a max aperture wider than f/2.8. Unsurprisingly, it's also very heavy and comes with a sky-high price tag of $3000. So, as a whole, it lacks the general-purpose functionality of the RF 24-105mm f/4L IS USM.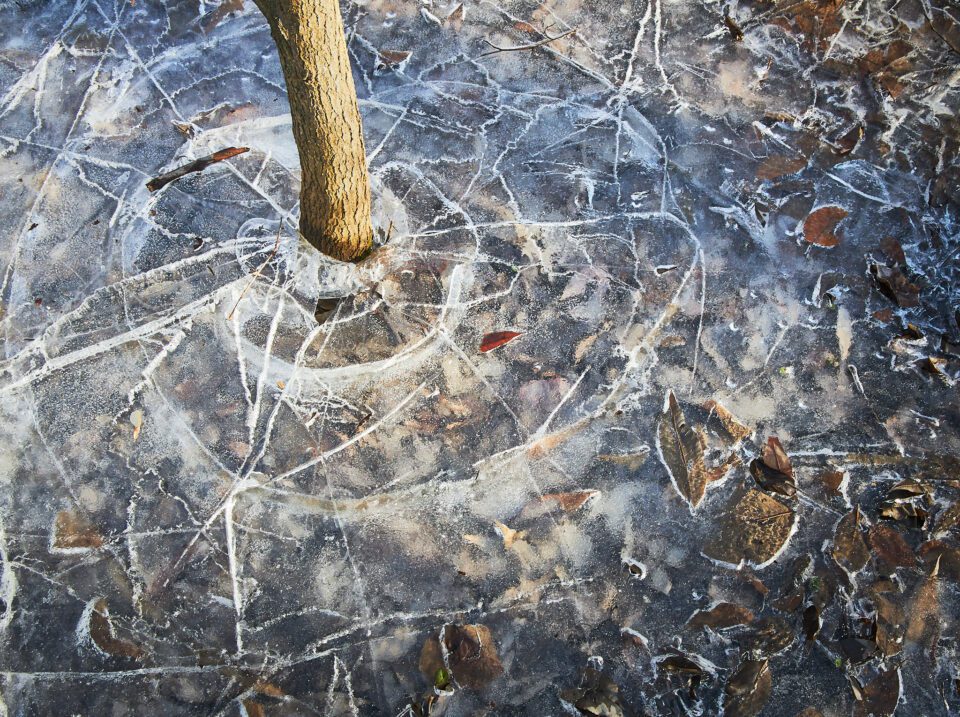 Canon has emphasized using adapted EF lenses alongside the RF-mount cameras, which makes the Canon EF 24-105mm f/4L IS USM II a natural alternative. This EF lens is a little bigger and heavier than the RF equivalent, a difference that becomes especially pronounced when you add the EF to R adapter to the DSLR lens. However, the two lenses feature similar image quality overall; the RF version offers better sharpness in the corners, while the EF variant has even less vignetting.
The choice between the two lenses really comes down to whether you plan to use the EOS R exclusively (in which case the RF 24-105mm f/4L IS USM is the way to go) or whether you plan on using the EOS R alongside an EOS DSLR camera body (in which case the EF 24-105mm f/4L IS USM II may make more sense). Both lenses have the same $1100 MSRP, although the mirrorless lens is currently selling with a $200 savings. Given how new this lens is, it seems that the $900 price for the RF lens is Canon's real target rather than $1100, but we will have to wait and see.