Canon EOS R vs Nikon Z6
Since all cameras perform very similarly at low ISOs, we will skip those over. Let's take a look at how the Canon ESO R compares to the Nikon Z6 at ISO 1600 and above.
As expected, both cameras perform very similarly at ISO 1600.
The same thing can be said about ISO 3200.
At ISO 6400, one could argue that the Nikon Z6 seems to contain slightly more color noise, but to be honest, the differences are too small to matter.
Both cameras start to look bad at ISO 12800, but the noise performance is still very similar.
At ISO 25600, the Nikon Z6 seems to retain detail a little better.
With ISO 51200 still showing very similar performance in slight favor of the Nikon Z6.
While ISO 102400 looks unusable for both cameras, the Nikon Z6 shows clearly better results, especially in terms of retaining details.
Canon EOS R vs Sony A7 III
Let's now take a look at how the Canon EOS R compares to the Sony A7 III at the same ISO levels of 1600 and above:
Just like with the Nikon Z6, the Sony A7 III produces very little noise at ISO 1600, making it look quite similar to the Canon EOS R.
The same behavior occurs at ISO 3200, with both cameras looking about the same.
And, as expected, ISO 6400 also looks remarkably similar.
Noise and detail level remains similar at ISO 12800 between the two cameras.
As ISO is pushed towards 25600, both cameras produce quite a bit of noise and it is hard to say which one looks better.
The Sony A7 III sample we used for this test (brand new) produced quite a bit of hot pixels at ISO 51200, but the noise levels are again somewhat similar to those of the EOS R.
Both cameras look terrible at ISO 102400, but the Sony A7 III seems to retain a bit more detail in comparison.
Dynamic Range Comparison
The dynamic range of the EOS R is highly reminiscent of the EOS 5D Mark IV which comes as no surprise as the two cameras have a very similar sensor. The dynamic range captured by the camera is about as good as you'll get on a Canon camera and it offers plenty of flexibility for recovering shadows and making tonal adjustments in Photoshop. However, like the Canon 5D Mark IV, the EOS R's dynamic range falls short against competing cameras from Nikon and Sony.
Here is a comparison taken at three stops of overexposure with highlight recovery. First, the Canon EOS R: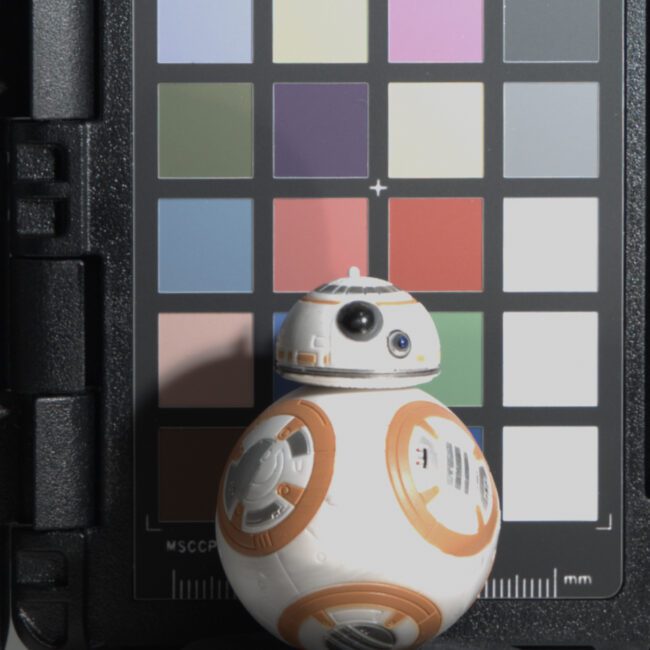 Followed by the Sony A7 III, Nikon Z6, and Nikon Z7: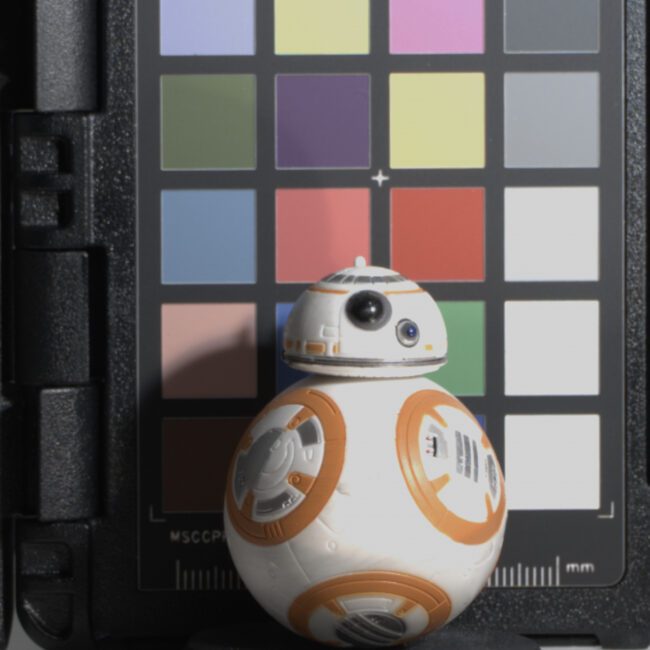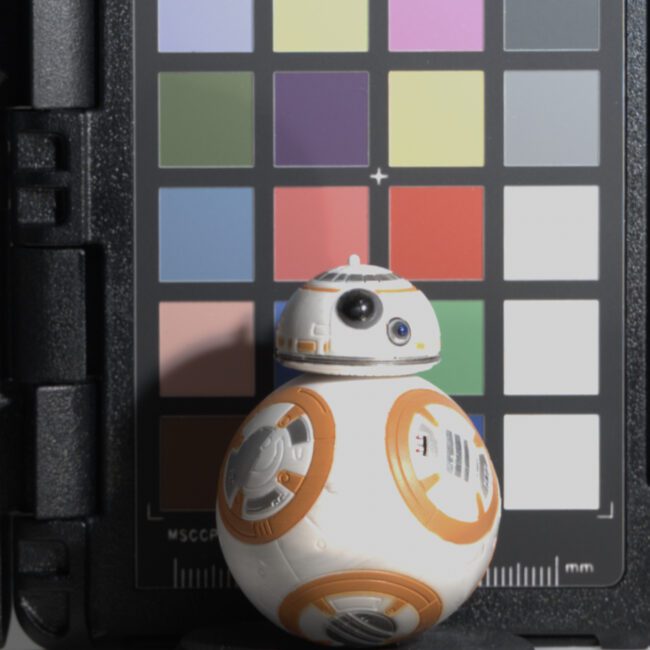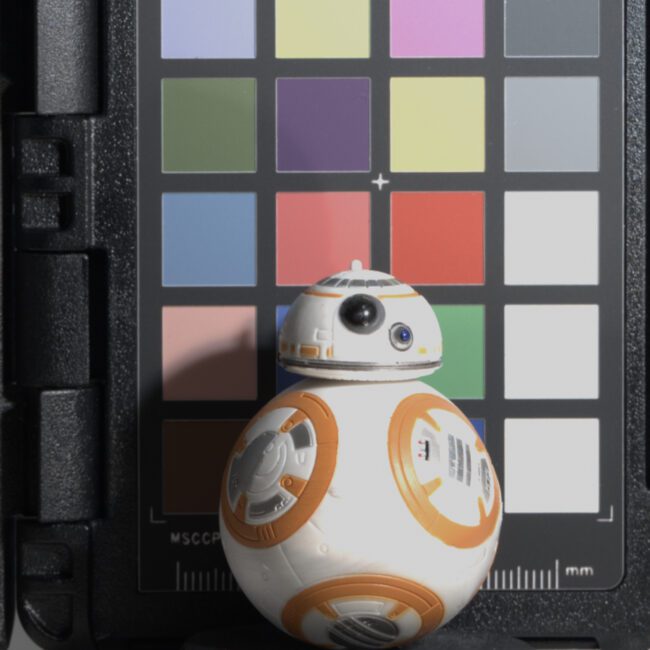 All the cameras struggle to recover full highlight details at three stops of overexposure, but the EOS R is still worse than its peers. Note the discoloration in various regions of the photo, especially the yellow swatches. Whether or not this matters in practice depends on how much extreme highlight recovery you do, but the result is that the Canon is not going to perform quite as well for the most extreme recovery.
Now let's take a look at shadow recovery at an excessive (though instructive) six stops of underexposure. First, the Canon EOS R: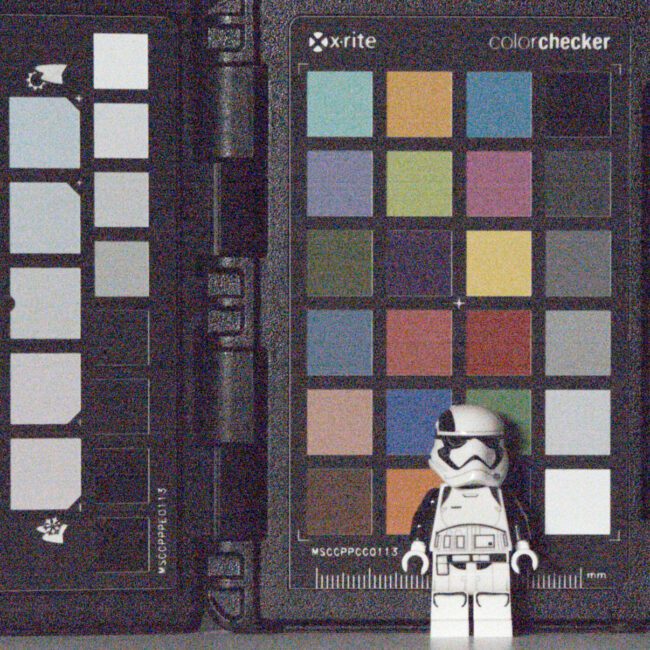 Now the Sony A7 III, Nikon Z6, and Nikon Z7: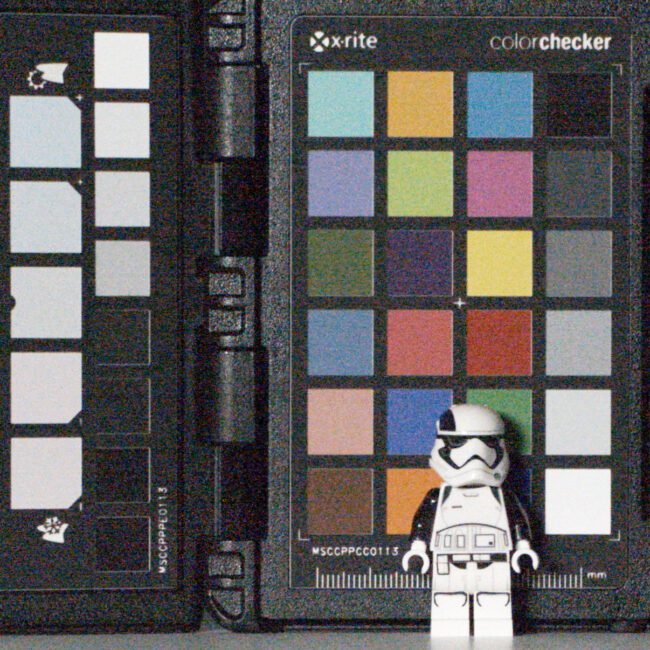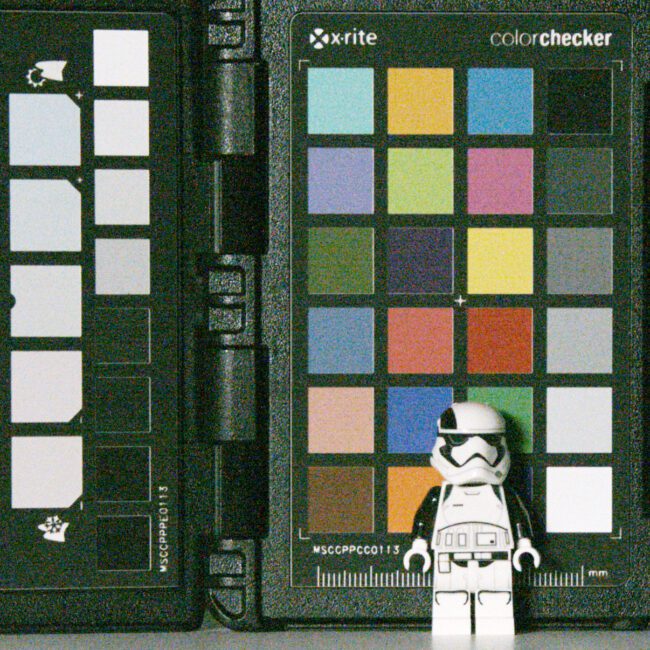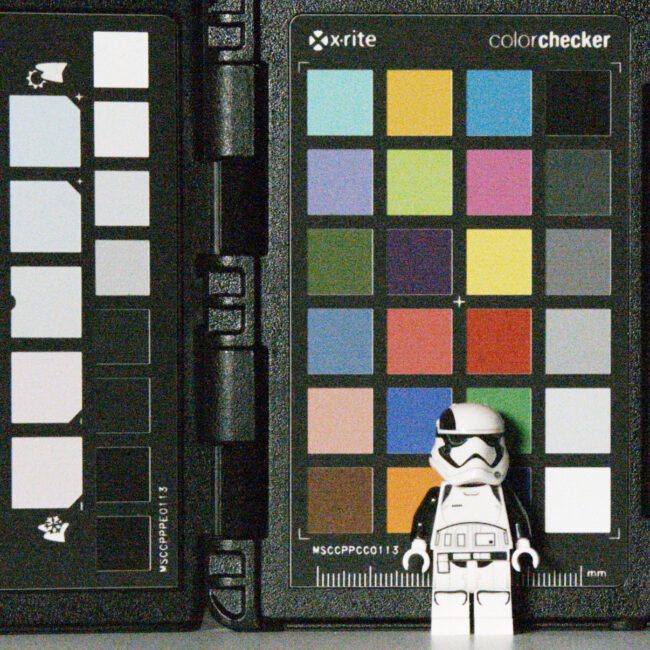 The Canon has noticeably more shadow banding than the other cameras in this test. It also exhibits more noise than the others, especially compared to the Nikon Z7, which has a lower base ISO of 64. Again, remember that these cameras were tested at an excessive 6 stops of underexposure. Nevertheless, it is clear that the Sony and Nikon cameras are preferable if you are dealing with high-contrast scenes, especially when pushing your files to the limit in post-processing. Whether or not the differences matter to you is a different story. For most photographers, they will not; these are very special case characteristics. But if your style of photography relies on heavy shadow and highlight pulls, the EOS R doesn't quite measure up to the performance of its full-frame mirrorless competitors.
Also, note that one of our copies of the EOS R had even further shadow banding when updated to the 1.1.0 firmware version released by Canon in February 2019. We have already written about this phenomenon extensively here.