The Canon EOS M was released on July 23, 2012, as the first mirrorless interchangeable-lens camera from Canon. Along with the EOS M, Canon also announced the first two lenses for the new "EF-M" mount: Canon EF-M 18-55mm f/3.5-5.6 IS STM and Canon EF-M 22mm f/2 STM. Among major camera manufacturers, Canon was the last to enter the mirrorless market.
Aside from Panasonic and Olympus sharing the same Micro Four Thirds sensor and Nikon going with a smaller "CX" sensor, all other manufacturers chose large APS-C sized sensors (Samsung, Sony, Fuji, and Pentax), each with its own proprietary lens mount. With the introduction of the EOS M system, Canon has officially joined the APS-C club. Instead of developing a new sensor format, Canon chose to reuse the same 18 MP sensor from the EOS Rebel 650D / T4i DSLR camera. Canon also released an EF-M to EF / EF-S adapter for mounting existing and future DSLR lenses on the EOS M, with full compatibility with all lens functions such as autofocus and image stabilization.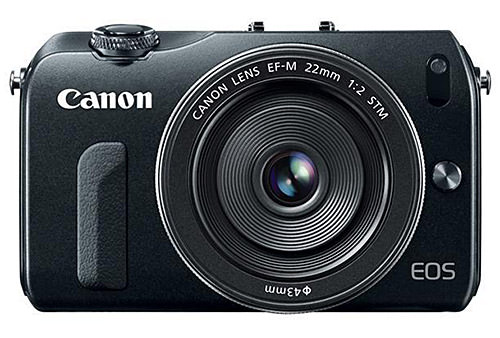 With its arch-rival Nikon debuting the Nikon 1 CX mount with a smaller 2.7x crop factor sensor a year earlier, Canon made sure that the 1.6x crop factor APS-C sensor was in the headlines of its announcements, with "The Quality of a Canon DSLR" title being a major part of the initial marketing effort. I spent over two months with the Canon EOS M while testing other mirrorless cameras, so I will be doing a lot of comparisons of the EOS M to other cameras in this review, along with discussing the strengths and weaknesses of the camera. Let's take a look at the Canon EOS M in detail.
Canon EOS M Specifications
Sensor: 18 MP CMOS image sensor, 4.3 µm pixel pitch
ISO Sensitivity Range: ISO 100-12800, expandable to 25600 in H mode)
Autofocus System: Hybrid CMOS AF (phase-detection AF/contrast-detection AF)
Autofocus Points: 31 AF points
LCD: 3″ Touchscreen LCD with 1040K dots
Video: Full 1080p HD movie shooting 30p/24p/25p
Video AF: Face Detection + Object Tracking AF
AF Modes: 4 Standard "Creative Zone" Exposure Modes (Program, Shutter Priority, Aperture Priority and Manual) and 8 additional presets
Battery Life: Up to 230 shots
Shutter: Vertical-travel, mechanical, focal-plane shutter with all speeds electronically-controlled (1/4000 max)
Lens Compatibility: Compatible with Canon EF and EF-S lenses via an optional EF-EOS M mount adapter
Flash: Standard size flash hot shoe
Continuous Shooting Speed: Up to 4.3 FPS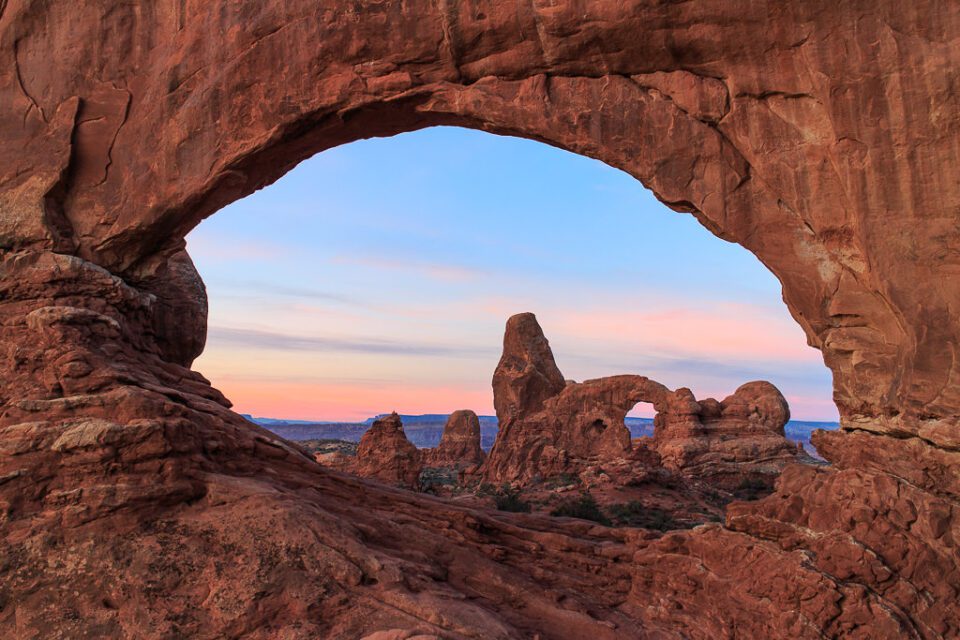 Detailed technical specifications for the Canon EOS M are available at Canon.com.
Canon 18 MP CMOS Sensor
One of the most important attributes in a digital camera is its sensor – the heart of the camera that is responsible for capturing images. As I have already pointed out, the Canon EOS M has exactly the same APS-C sensor as the Canon 650D DSLR. It is a big, 1.6x crop factor sensor that can deliver ISO 100 to 12800, expandable to ISO 25600. Here is a chart that shows how Canon's APS-C sensors compare to others (courtesy of Wikipedia):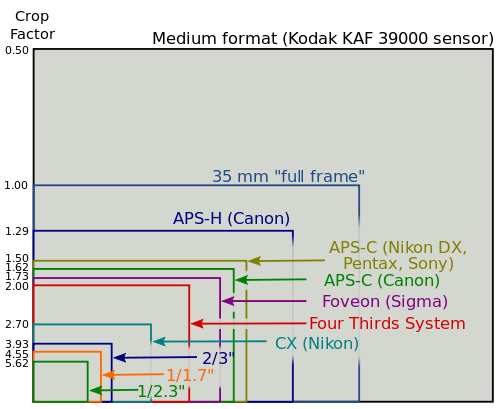 Another big advantage of a larger sensor is the smaller depth of field, which translates to better opportunities to isolate subjects from the background – an important factor for many photo enthusiasts and pros out there. Once Canon releases fast primes for the M mount, it will be possible to capture creative photographs with beautiful bokeh; something that is tougher to achieve on small sensor cameras. At the same time, a larger sensor requires a bigger image circle from lenses, which means bigger lenses. So a big sensor can be both good and bad, depending on how you look at it (more on this below).
In terms of image quality, as you can see from the Camera Comparisons page of this review, it is very good at low ISOs below ISO 1600 and a little weaker at high ISOs when compared to the excellent 16 MP sensor from the Sony NEX-5R. It is also weaker in dynamic range when compared to the competition (as can be seen further down below). But despite this, the EOS M produces the same excellent colors and skin tones as Canon's DSLRs and 18 MP is more than plenty for most photography needs. Hence, while image quality is important, I would not look at it as the only benchmark. That's why I recommend reading about all the other features of the camera and then decide if it fits you or not.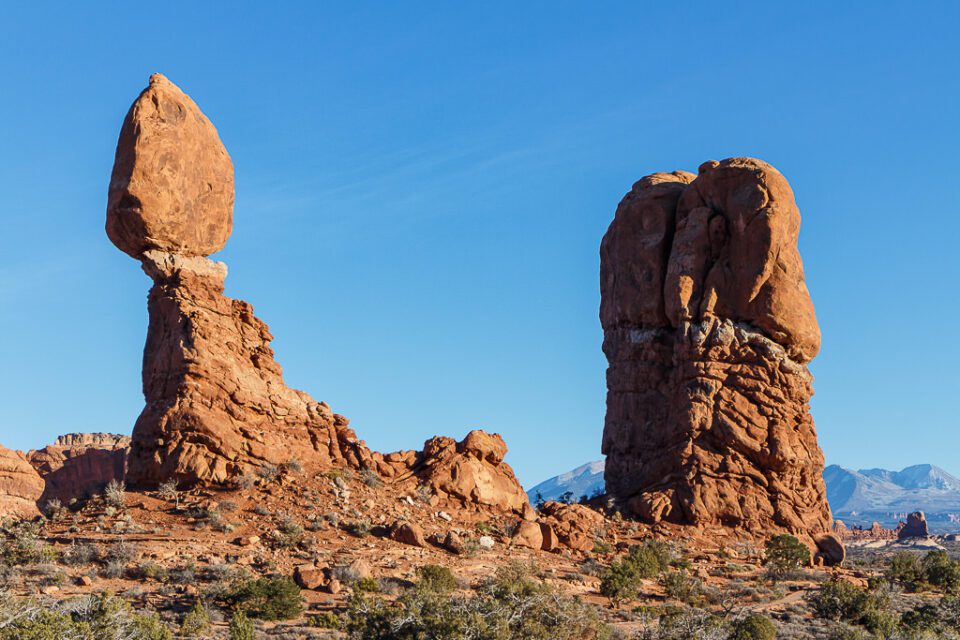 Camera Construction and Handling
The Canon EOS M has a solid build, with a magnesium alloy body that does not feel cheap like some of the entry-level DSLRs do. Despite the great build, it is unfortunately not weather-sealed for photographing in harsh environments. Design-wise, the EOS M looks and feels a lot like the Nikon 1 J2 that we reviewed earlier. It is almost identical in size and width, except it is a little taller.
Just like the J2, it does not have a protruding grip, although Canon equipped it with a piece of plastic for slightly better handling, similar to what Nikon did on the Nikon 1 V1. The front of the camera has a very simplistic design that resembles the J1/J2, with only a single button to release the lens, as seen below:
Interestingly, the lens release button and the AF assist lamp are located in the same spot on both cameras.
The top of the camera is designed differently, with an ISO standard hot shoe, a power On/Off button, camera mode dial with a shutter button on top of it: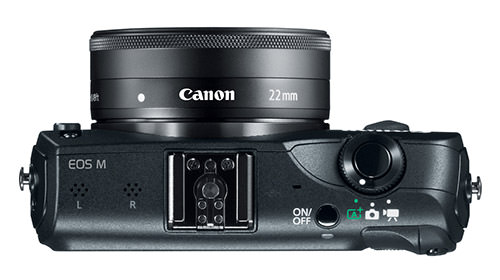 The ISO standard hot shoe is a huge plus to this camera. One of my biggest complaints of the Nikon 1 system, is its proprietary flash mount, which limits the cameras to speedlights that are only designed for the Nikon 1 cameras. Canon took a different route with the EOS M and decided to use the same hot shoe it uses on its DSLRs, which makes all existing speedlights fully compatible with the camera. It also means that you can use the EOS M with third party flash triggers like PocketWizard and attach various accessories. Since the camera does not have a built-in flash, Canon threw in the Canon 90EX flash into the kit, which is a compact and pretty good quality flash when compared to the cheap N50 flash that Sony bundles with the NEX-5R.
I did not like how Canon implemented the On/Off button with the dial. Instead of having a separate power button, Canon should have integrated it into the dial, similar to what Sony did on their NEX cameras. It is much more convenient to rotate the dial to turn the camera on and off, instead of pressing a small button (especially when wearing gloves in winter). On NEX cameras, you power on the camera and the shutter release is right there on the top. Simple and convenient. The dial on the EOS M is used to switch between three shooting modes: Scene Intelligent Auto (same as on Digital Rebel DSLR cameras), image stills and movies.
Unfortunately, there is no traditional PASM dial anywhere on the camera – the only way to switch between different camera modes is by using the Info button on the back of the camera, then using the rotary dial or the touchscreen to choose between Manual, Aperture Priority, Shutter Priority, and Program modes. When I started using the camera for the first time, it took me some time to find these hidden settings. Naturally, I went into the camera menu looking for the shooting mode setting, only to find that it was nowhere to be found there. I am not sure why Canon came up with this idiotic method to change the most basic exposure setting. If there is no dial or button to do it, it should have at least been included in the camera menu.
The back of the camera is designed similarly to Nikon 1 and Sony NEX cameras. The 3″ LCD touchscreen is located to the left of the camera, while all function and control buttons are located to the right: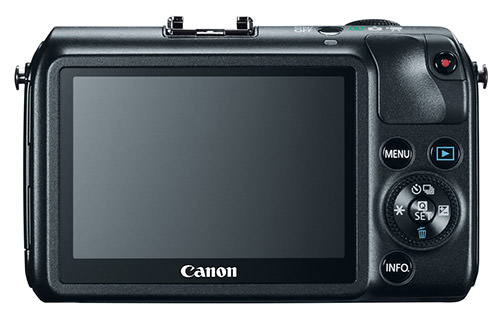 The video record button is on the top right side, which conveniently puts it right where your thumb would be. Most of the buttons are located lower, with the Menu and Playback buttons first, followed by a rotary dial that is very similar to the ones on Nikon 1 J2 and NEX-series cameras. The last Info button is located on the left bottom side of the dial. The design is indeed very simplistic – there are no additional buttons, including a function button anywhere else on the camera. Clearly, Canon's goal was to minimize the number of physical buttons on the camera and increase the interaction on the touch LCD instead.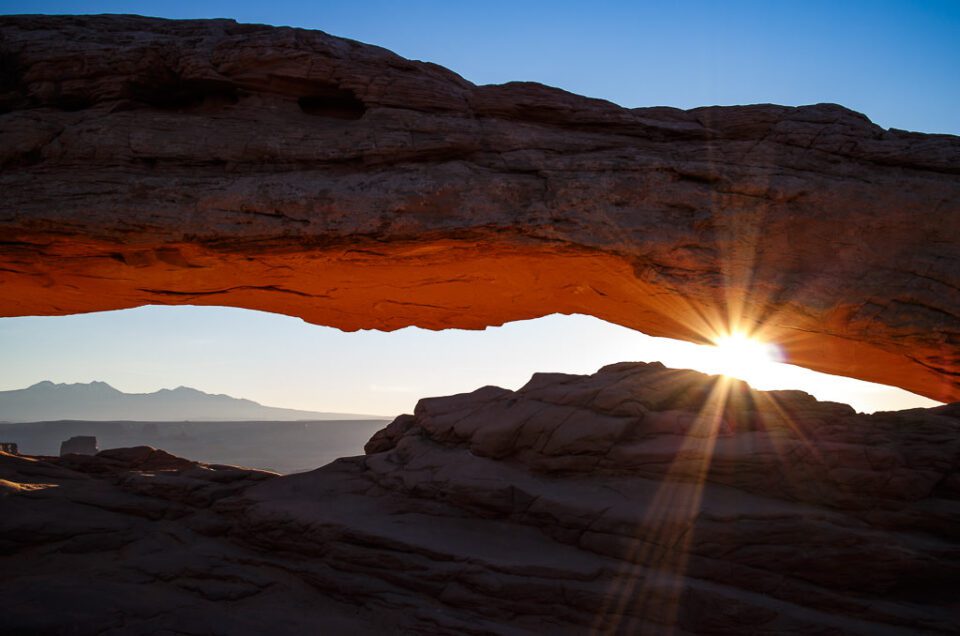 Speaking of the touchscreen LCD, it is surely Canon's biggest success on the EOS M. I have used the touchscreen LCD on Sony NEX cameras and I have tried it on other cameras before. Canon's touchscreen LCD implementation beats them all very easily, by far. It is a very responsive design, without any noticeable lag. You touch an area of the LCD once and it responds immediately. It reminds me of the touchscreen on Apple's iPhone – it is that good.
Images look beautiful on the gorgeous LCD with 1040K dots. When viewing images, you can swap the LCD and it will move to the next or previous image. The touchscreen LCD is multi-touch, which means that you can pinch your fingers to zoom in and out of an image. I wish Canon added a double tap to zoom to 100% of the image view and implemented more multi-touch features to take it to the next level. Clearly, I have not seen touchscreen LCD this good on any other camera. Sony's touchscreen is terrible in comparison.
Now let's talk about the size and bulk. While the camera itself is small and lightweight, it has a rather large lens mount, which translates to bulky lenses. The standard 18-55mm zoom lens that is shipped with the EOS M is a massive chunk of glass, as clearly shown the below image: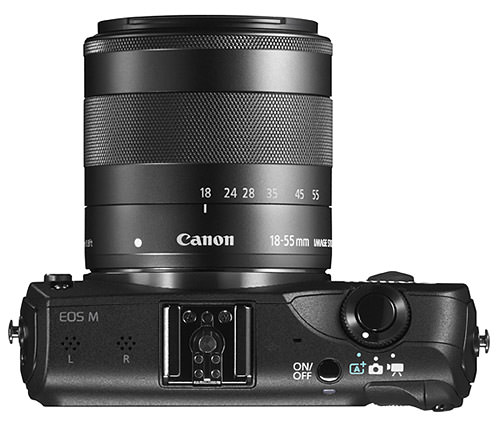 The lens extends even more when zoomed in to 55mm. The lens resembles Sony's 18-55mm kit lens in size and bulk, although the Canon version is much better in quality and optics (more on this below under "Lenses").
As I have already pointed out, a larger sensor requires larger lenses, which is a definite disadvantage for any APS-C sized sensor camera, including the EOS M. The good news is, you can use small pancake lenses like the Canon EF-M 22mm to fit the camera into your pocket. And because it is Canon, you can expect lenses to be excellent.
The bad news is, any decent f/1.4 or f/1.8 portrait or telephoto lens that Canon makes in the future will not be small or lightweight. Definitely not anywhere close to what Olympus and Panasonic were able to achieve with their Micro Four Thirds system. I hope Canon is working on "collapsible" zoom lenses for the EOS M and shorter focal length prime lenses like 35mm f/1.8. The EF-M mount desperately needs smaller and lighter lenses, instead of 18-200mm superzooms. Otherwise, large lenses defeat the purpose of a compact mirrorless system the EOS M intends to be.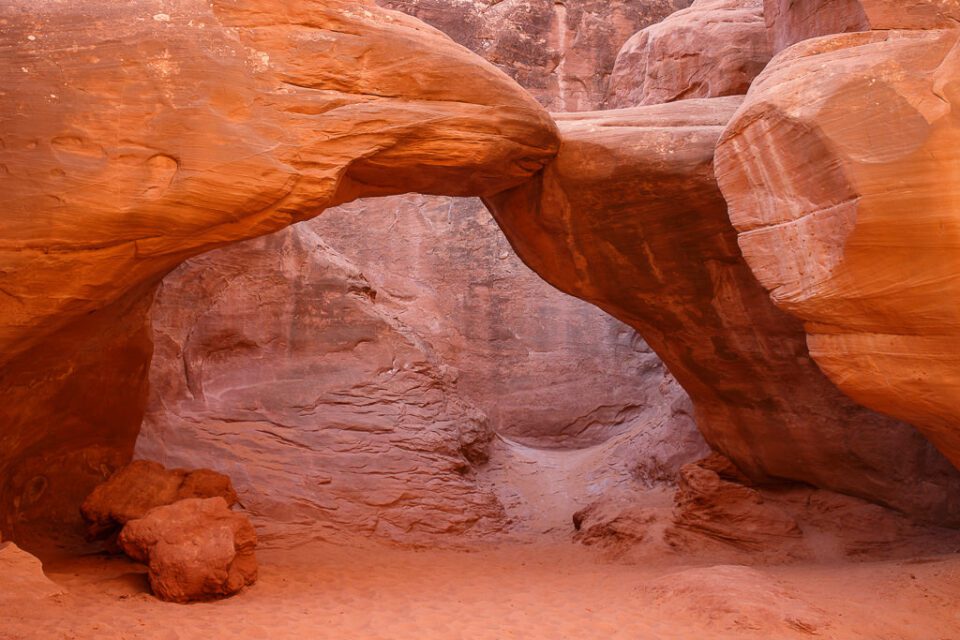 A very important feature that is missing on the EOS M is an electronic viewfinder (EVF). Unlike the entry-level Sony NEX cameras that come with a port that you can attach a viewfinder to (which you can purchase separately), the EOS M has no such option. For me, this is almost a deal-breaker, because I am used to composing shots using a viewfinder. I find it hard to take good shots when I have to photograph with my arms extended.
Battery life is also pretty low. Just like the Nikon 1 J2, it only lasts up to 230 shots. In comparison, the Sony NEX-5R is rated at 330 shots, while the Nikon 1 V1 can do 350 shots. While writing the review, I had the battery charged close to 50% and the battery died pretty quickly (in less than an hour) when I was going through the camera menu, playing with autofocus and taking random shots. The camera was not powered on all the time either.
Overall, it looks like Canon is going after the beginner crowd with the EOS M, rather than a serious enthusiast/amateur with this simplistic design, lack of EVF and a touchscreen LCD. For me, the ergonomics are rather poor and I would say that the EOS M rivals the Nikon 1 J2 and NEX-5R, than the more serious cameras like Nikon 1 V1/V2, Sony NEX-7 and Olympus OM-D E-M5.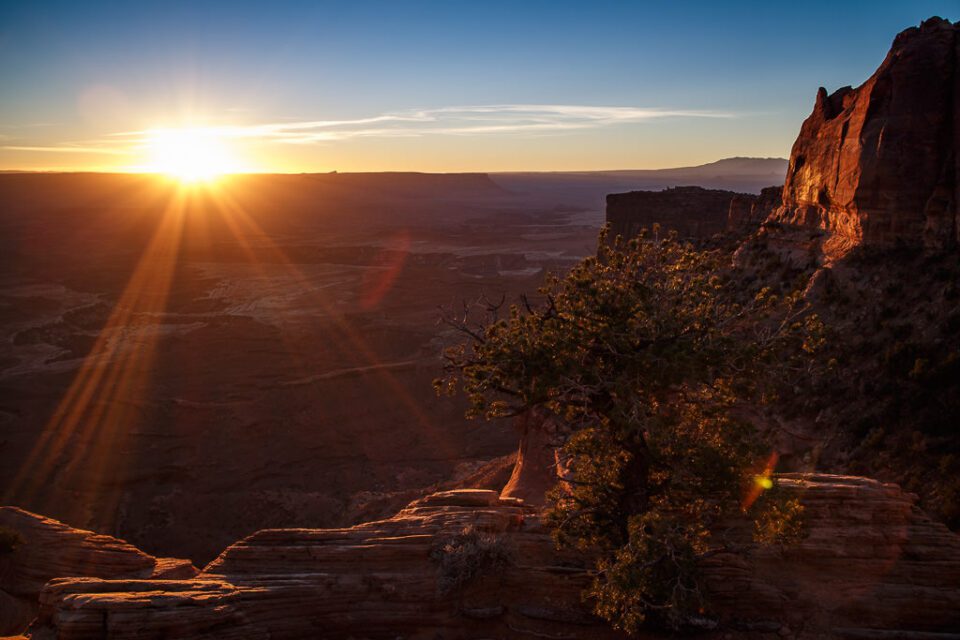 Camera Menu System
If you have used a Canon DSLR before, you will be pleased to see the same "tabbed" menu system on the EOS M. Navigating through the menu system is easy and you can either use the touchscreen or the rotary dial to move between the settings and choose them. Being a Nikon user, I have always disliked the Canon menu system. I could never understand why Canon does not group menu items properly, allowing one to scroll down for more options. Instead, they use small icons with dots that indicate the menu number, making the menu system appear a little cluttered. And the Custom Functions menu setting is even more confusing to comprehend for a beginner. There goes my Nikon vs Canon rant :) On the other hand, the Canon EOS M has a lot of menu options and plenty of customization capabilities. Way better than Nikon 1's oversimplified menu system or Olympus' cluttered "Custom Menu" in my opinion.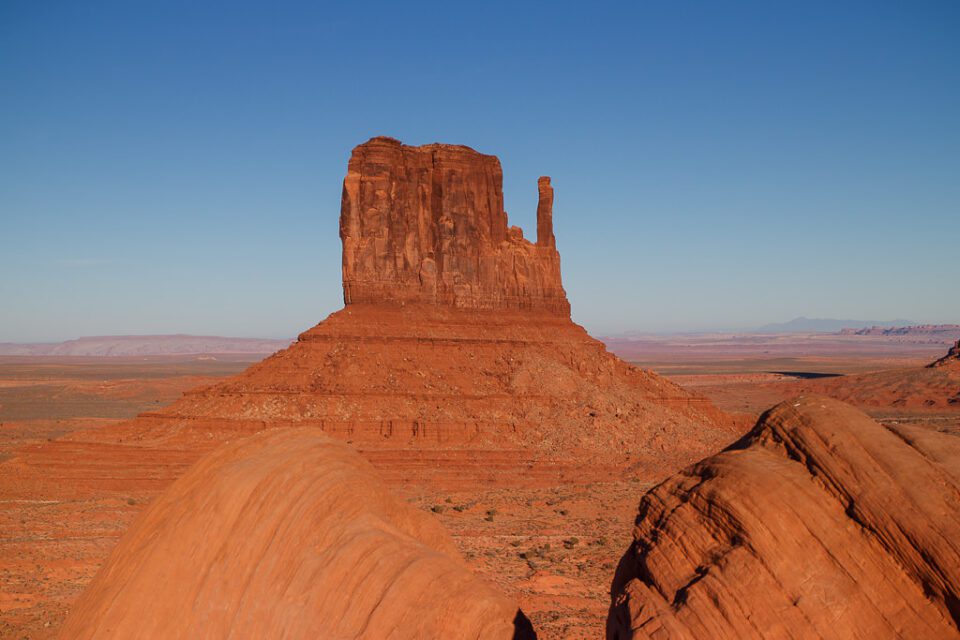 Features and Responsiveness
The Canon EOS M comes with a standard set of in-camera features that can be useful for everyday photography. The "Lens aberration correction" feature found in the menu allows for in-camera peripheral illumination (vignetting) and chromatic aberration corrections. 7 picture styles with 3 custom styles can be selected from the Info menu screen. "Auto Lighting Optimizer", which is similar to Sony's "Dynamic Range Optimizer" and Nikon's "Active D-Lighting" is also available in 3 different presets (Low, Normal, High). In-camera HDR is included, but there are no options for automatically stitching panoramas, as on Sony NEX cameras. Exposure bracketing and built-in intervalometer are also missing.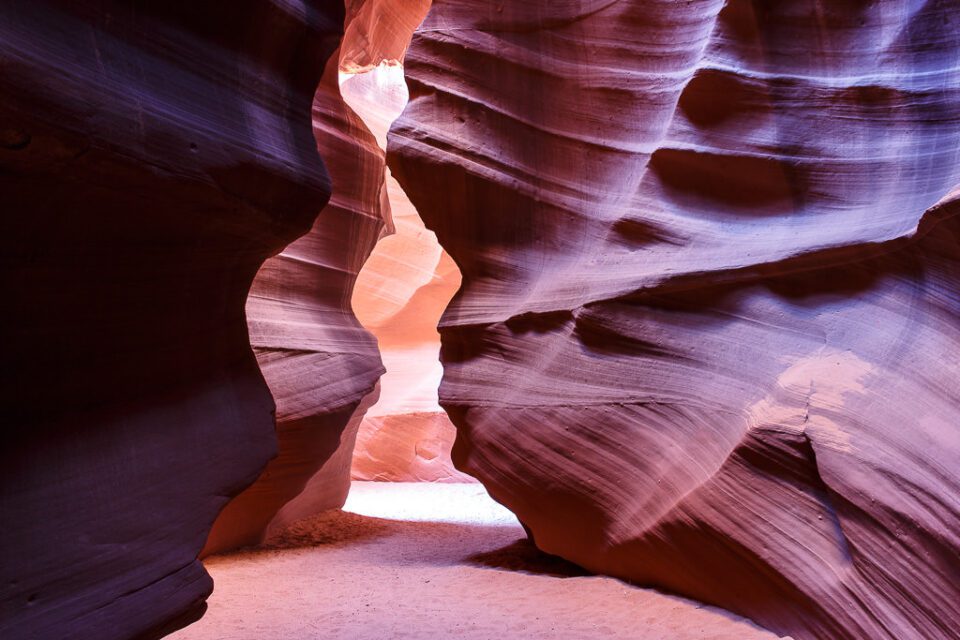 As for responsiveness, the Canon EOS M is very similar to the Nikon 1, which is excellent. I have not yet experienced any lags with the camera menu or touchscreen (like on Sony NEX cameras) and navigating through the camera is a pleasure. On the negative note, the camera does take over a second to power on, so the Nikon 1 comes out with an advantage there.
Canon EF-M Lenses
As I have previously mentioned, the Canon EOS M came out with two lenses when it was launched – the Canon EF-M 18-55mm f/3.5-5.6 IS STM and the Canon EF-M 22mm f/2 STM. These are the only two lenses available for the EF-M mount, which is very limiting in my opinion. Unfortunately, Canon has not published any EF-M lens roadmaps either, which makes it impossible to know what is in the works for the new mount. I think Canon should have launched the EOS M with a couple of more lenses to give more options to the end-user. In comparison, Nikon came out with 4 lenses for the CX mount upon launch. So, for now, we only have two lenses to list for the EF-M mount:
As with DSLR cameras, Canon chose to go with lens rather than in-camera stabilization, so small and short focal length lenses like the 22mm pancake will not have built-in IS.
With the sensor crop factor of 1.6x, you have to multiply the focal length of each lens by 1.6 to get an equivalent field of view of a full-frame camera. For example, the 18-55mm lens is equivalent to a 28.8-88mm lens, while the 22mm pancake is equivalent to a 35.2mm lens.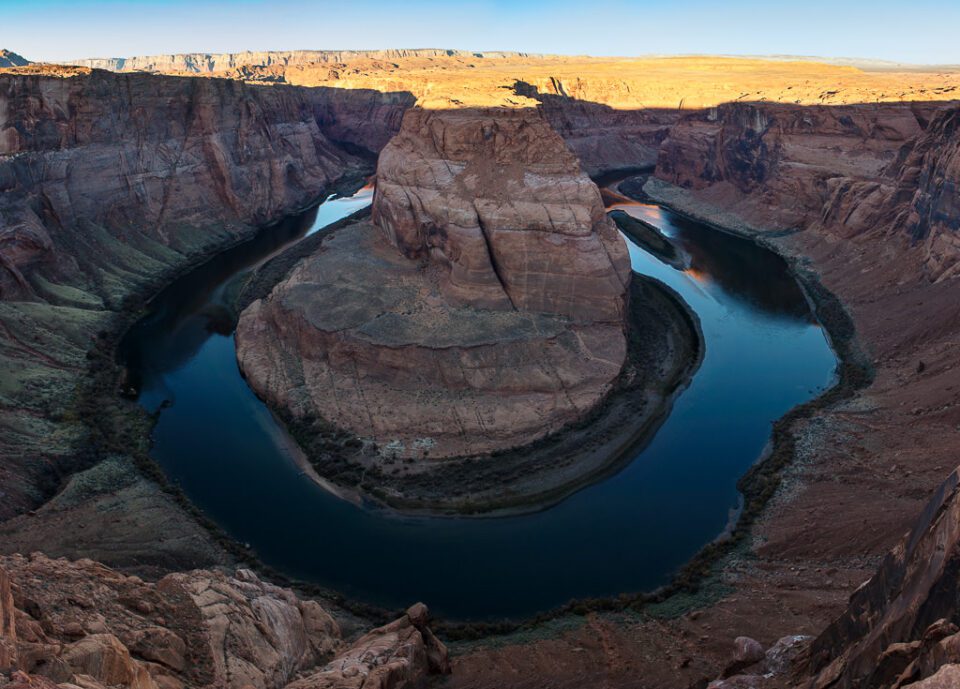 Both lenses are very good in sharpness, contrast, and colors, as expected from Canon optics. The Canon EF-M 18-55mm f/3.5-5.6 IS is sharp all around, making the Sony 18-55mm lens look bad in comparison. The 22mm pancake is also excellent, even wide open. I am planning to write full reviews of both lenses and evaluate their sharpness using Imatest software within the next few weeks.
A very big plus to the EOS M is the possibility to mount any Canon EF and EF-S lenses on the EOS M with an adapter. This is a huge advantage for anyone that owns Canon lenses, because the adapter is fully electronic, which means that all normal lens functions such as auto exposure, aperture control, metering, and autofocus work. So you can take any EF or EF-S lens, mount it on the adapter and attach it to the camera and it will work almost natively. Why almost? Because autofocus only works in single servo mode. Continuous servo mode does not function with the adapter. I did not find this surprising, as continuous AF is really bad to start with on the EOS M.