When Canon announced the 7D Mark II in September of 2014, I got quite intrigued by the camera and really wanted to try it out. Like many others, I have been getting pretty tired of waiting for Nikon's "Pro DX" refresh to replace the D300S, which came out back in 2009 (almost 6 years ago!), so I wanted to see whether such a tool would still make sense for Nikon to release based on specifications, performance, and price.
Sporting a high-end autofocus system with 65 cross-type focus points, insanely fast 10 fps continuous shooting speed, dual image processors, -3 EV light sensitivity, magnesium alloy construction, and weather sealing, the Canon 7D Mark II is specifically tailored at sports and wildlife photographers. And with its price tag of $1799 MSRP, the 7D Mark II sounds much more appealing to budget-conscious photographers who do not want to pay close to 4x more for the much heavier and bulkier EOS-1D X.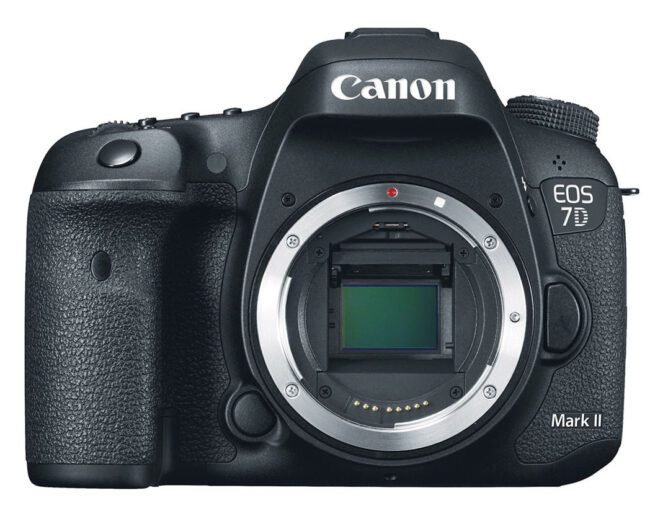 Since there is currently no direct competitor to the 7D Mark II from Nikon, I will be comparing the camera to the enthusiast-level D7100, as it is the most capable APS-C camera today from Nikon. Keep in mind that a lot of what I say about the Canon 7D Mark II is from the standpoint of a long time Nikon shooter.
Canon 7D Mark II Specifications
Sensor: 20.2 MP APS-C CMOS sensor, 4.1µm pixel size
Sensor Size: 22.4 x 15.0mm
Resolution: 5472 x 3648
Native ISO Sensitivity: 100-16,000
Boost High ISO Sensitivity: 25,600-51,200
Sensor Cleaning System: Yes
Image Processor: Dual DIGIC 6
Autofocus System: 65-point all cross-type AF system with EV -3 sensitivity
Lens mount: Canon EF
Weather Sealing/Protection: Yes
Body Build: Magnesium Alloy
Shutter: Up to 1/8000 and 30 sec exposure
Storage: 1x CF and 1x SD (SD/SDHC/SDXC compatible)
Viewfinder Type: Pentaprism with 100% coverage
Speed: 10.0 FPS
Exposure Meter: 150,000-pixel RGB+IR Metering Sensor
Built-in Flash: Yes
LCD Screen: 3.0 inch diagonal Clear View II LCD screen with 1,040,000 dots
Movie Modes: Up to 1920 x 1080 @ 60p
Movie Output: H.264/MPEG-4 in MOV and MP4 formats, Uncompressed HDMI out
In-Camera HDR Capability: Yes
GPS: Built-in
Battery Type: LP-E6N / LP-E6
Battery Life: 670 (CIPA)
USB Standard: 3.0
Weight: 820g (excluding battery)
Price: $1,799 MSRP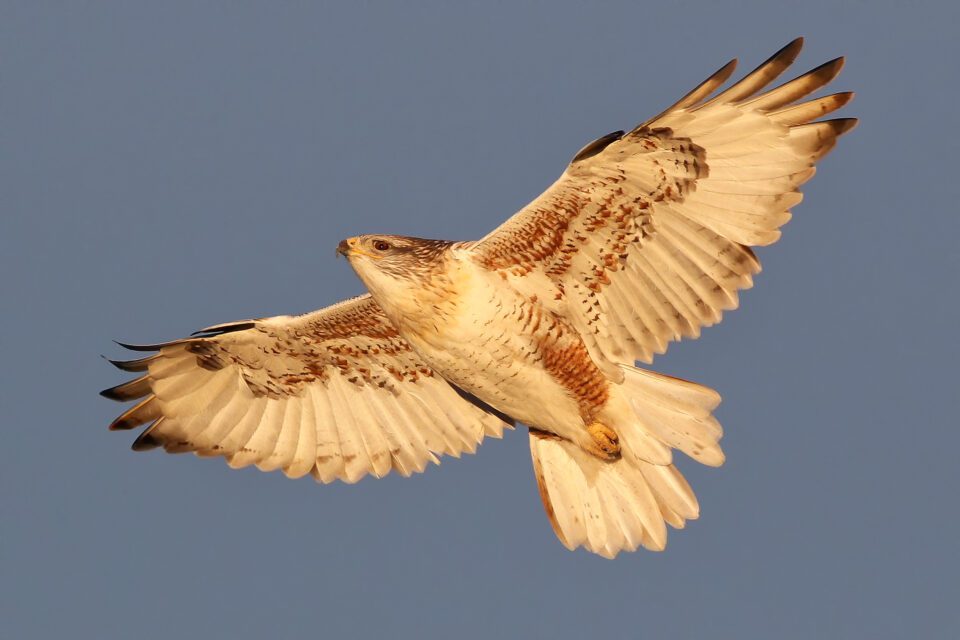 A detailed list of camera specifications is available at Canon.com.
Let's take a closer look at how the Canon 7D Mark II compares to its predecessor and the Nikon D7100.
Canon 7D Mark II vs Canon 7D vs Nikon D7100
| Camera Feature | Canon 7D Mark II | Canon 7D | Nikon D7100 |
| --- | --- | --- | --- |
| Sensor Size | 22.4 x 15.0mm | 22.3 x 14.9mm | 23.5 × 15.6mm |
| Sensor Resolution | 20.2 MP | 18.0 MP | 24.1 MP |
| Sensor Pixel Size | 4.1µm | 4.3µm | 3.9µm |
| Image Size | 5,472 x 3,648 | 5,184 x 3,456 | 6,000 x 4,000 |
| Viewfinder Type and Coverage | Pentaprism, 100% | Pentaprism, 100% | Pentaprism, 100% |
| Built-in Flash | Yes | Yes | Yes |
| Storage Media | 1x CF, 1x SD | 1x CF | 2x SD |
| Continuous Shooting Speed | 10.0 FPS | 8.0 FPS | 6.0 FPS |
| Buffer Size (RAW) | 31 | 25 | 9 |
| Continuous Shooting Duration | 3.1 sec | 3.1 sec | 1.5 sec |
| Shutter Durability | 200,000 cycles | 150,000 cycles | 150,000 cycles |
| Native ISO Sensitivity | ISO 100-16,000 | ISO 100-6,400 | ISO 100-6,400 |
| Boosted ISO Sensitivity | ISO 25,600-51,200 | ISO 12,800 | ISO 12,800-25,600 |
| Autofocus System | 65-point all cross-type AF | 19-point all cross-type AF | 51-point AF with 15 cross-type sensors |
| AF Detection | Up to f/8 | Up to f/5.6 | Up to f/8 |
| Video Maximum Resolution | 1920×1080 (1080p) @ Up to 60p | 1920×1080 (1080p) @ Up to 30p | 1920×1080 (1080p) @ Up to 60i |
| LCD Size and Resolution | 3.0″, 1,040,000 dots | 3.0″, 921,000 dots | 3.2″, 1,228,800 dots |
| Built-in GPS | Yes | No | No |
| Built-in Wi-Fi | No | No | No |
| Construction | Full Magnesium Alloy | Full Magnesium Alloy | Partial Magnesium Alloy |
| Battery Life | 670 shots (CIPA) | 800 shots (CIPA) | 950 shots (CIPA) |
| Weight (Body Only) | 820g | 820g | 675g |
| Dimensions | 148.6 x 112.4 x 78.2mm | 148.2 x 110.7 x 73.5mm | 135.5 x 106.5 x 76mm |
When compared to its predecessor, the 7D Mark II shows improvements in many areas. First, the autofocus system is drastically better, with 65 AF points, all of which are cross-type. The 7D Mark II is clearly a better choice for use with teleconverters since it can now autofocus at up to f/8. There is a slight bump in resolution from 18 MP to 20.2 MP. Next, the maximum native ISO is increased to 16,000 from 6,400. The 7D Mark II adds a dual card slot for both CF and SD card types.
The continuous shooting speed has increased from 8 to 10 FPS and the buffer size has also been slightly increased to keep the camera shooting for about the same duration. The 7D Mark II comes with a new shutter mechanism rated to 200K cycles compared to 150K on the 7D. Movie shooting has been improved with up to 60p @ 1920×1080 resolution. There is also now a built-in GPS on the 7D Mark II and the LCD screen resolution has been slightly improved too. The only downgrade is battery life – the 7D Mark II is CIPA-rated at 670 shots vs 800 shots on the original 7D. So in pretty much every way, the 7D Mark II has improved over its predecessor.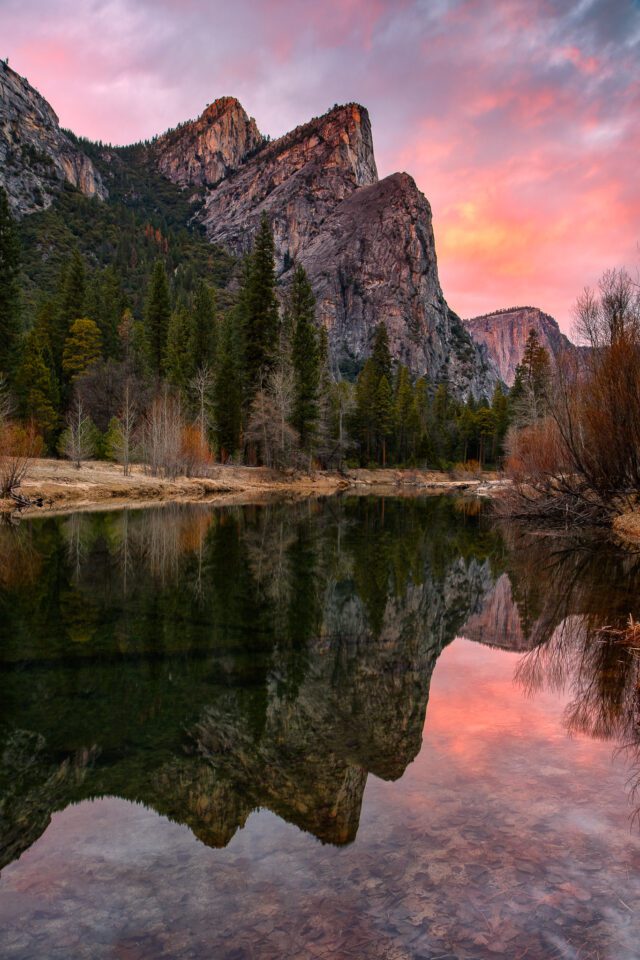 The comparison to the D7100 is a bit tricky because we are dealing with a different brand and a different class camera. To start off, the D7100 has a physically larger sensor and there is a 4 MP difference in image resolution. The autofocus systems are quite different, with the 7D Mark II having a 65-point all cross-type AF system vs the 51-point AF system with only 15 cross-type sensors, putting the 7D Mark II ahead of the D7100, at least on paper. Where the 7D Mark II clearly shines is the continuous shooting speed of 10 fps vs 6 fps on the D7100 and a larger buffer that allows for twice longer continuous shooting. The shutter mechanism is also rated higher on the 7D Mark II at 200K vs 150K on the D7100 and it sounds quieter in comparison.
The 7D Mark II has a built-in GPS, while the D7100 does not. Where the D7100 comes out on the top is its bigger rear LCD screen with more dots, better battery life, lower weight, and smaller size. The most important differences here are the autofocus system, continuous shooting rate, buffer and image quality. Aside from image quality (refer to the camera comparisons page of the review), the 7D Mark II is certainly a more capable camera for capturing fast action. Like I pointed out earlier, the D7100 is not a direct rival to the 7D Mark II and there is a pretty big difference in price too, so these differences are expected…
Camera Construction and Handling
When it comes to build quality and construction, the Canon 7D Mark II is as good as it gets, thanks to its full magnesium alloy shell and much-improved weather sealing over the original 7D that can easily withstand dust, rain and extreme humidity. Canon describes the 7D Mark II to be closer to the 1D X in terms of construction and weather sealing, so you do not have to worry about abusing this camera in the field, as it is designed to be.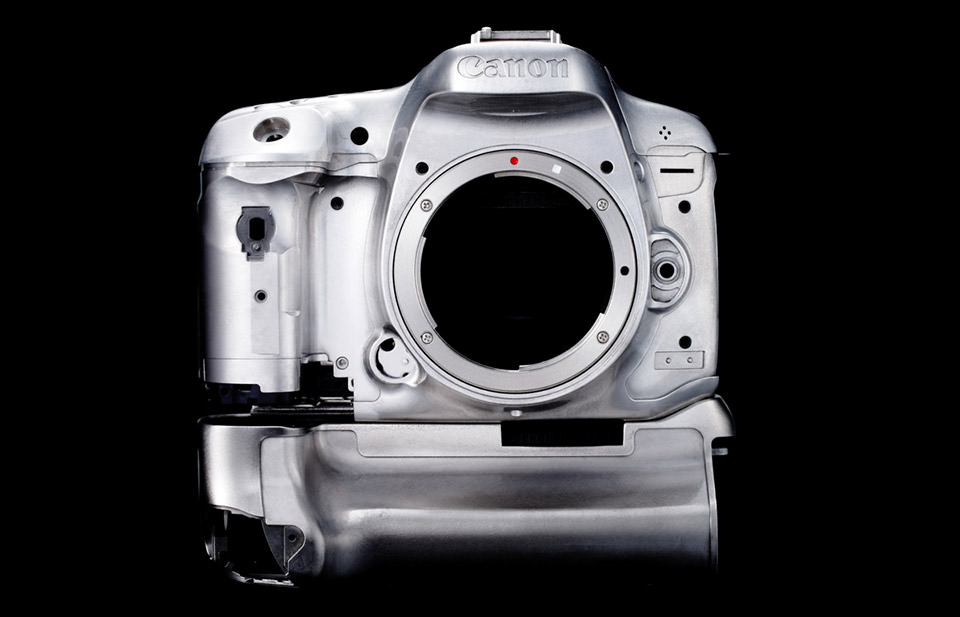 The camera feels very solid in hands and truly does feel like a professional camera when compared to other DSLRs like the Nikon D7100. I have been using the 7D Mark II in very cold, below freezing conditions (we've had our share of very cold days in Colorado this winter) and pretty much got it soaked in rain several times – the camera performed flawlessly afterward as if nothing had happened.
Handling-wise, the Canon 7D Mark II is superb. It definitely feels more comfortable to hand-hold than the D7100, pretty close to what the Nikon D810 feels like. The large grip is very nice and comfortable and the controls of the camera very much resemble the Canon 5D Mark III. In fact, aside from the added lever under the multi-controller, the slightly repositioned LOCK switch and the minor differences in shape of the camera, there is virtually no difference between the 7D Mark II and 5D Mark III on the top of the rear of the camera (Left: Canon 7D Mark II, Right: Canon 5D Mark III):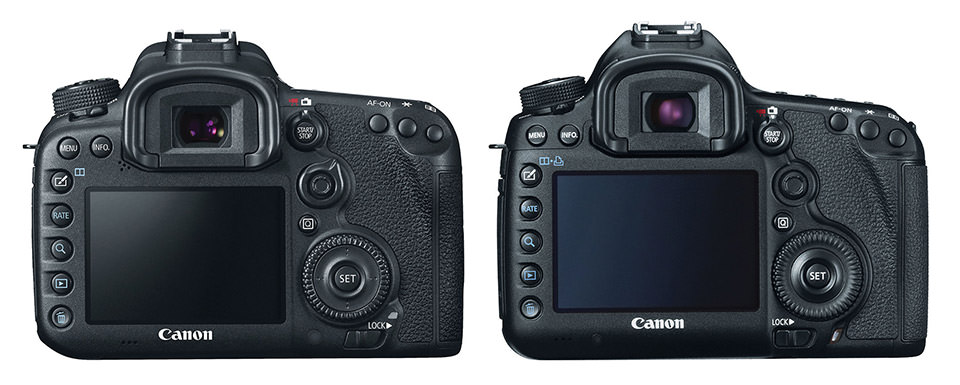 The camera is extremely customizable and many buttons on the camera can be set to perform different functions, which is expected from this class of a camera. From the Nikon shooter perspective, the toughest thing to get used to was the lack of a rear dial. I am very used to the dual dial setup on Nikon DSLRs (with one on the front and one on the back), which makes it easy to change aperture, shutter speed, and other camera settings. On the Canon 7D Mark II, the top rotary dial changes its behavior depending on what mode you are in.
For example, in aperture priority mode, the dial changes the lens aperture; in shutter priority and manual modes, it changes the camera shutter speed. The big rotary dial on the back of the camera is used for exposure compensation in aperture and shutter priority modes and switches to changing the aperture in manual mode. It usually takes me some time to get used to this behavior when switching to Canon, but it is not bad and you can get used to this behavior rather quickly if you shoot often.
The left backside of the camera has a similar layout as Nikon's higher-end DSLRs, except some of the buttons serve different purposes. I like the button placement, except for the "Rate" button. The good news is that if you choose to rate your photographs in your camera, the information is carried over to Lightroom and Aperture when the images are imported. On the other hand, why would you want to rate pictures on your camera looking at the tiny LCD screen in the first place? I sort through and rate my photographs in Lightroom and if there is something wrong with a picture I took, I simply delete it.
When working in the field, I do not have the time to sit and look through images on the camera – I import them into my computer as soon as possible. I really wish the Rate button was swapped with another zoom button, just like on Nikon DSLRs: one button would be used for zooming in and another for zooming out. I prefer using two buttons to zoom in/out instead of pressing a button, then changing zoom levels with a rotary dial on the top of the camera. At the same time, you can program the zoom button to jump to 100% view, just like you can program the OK button in Nikon DSLRs to show 1:1 magnification, which is very nice and useful for assessing sharpness images.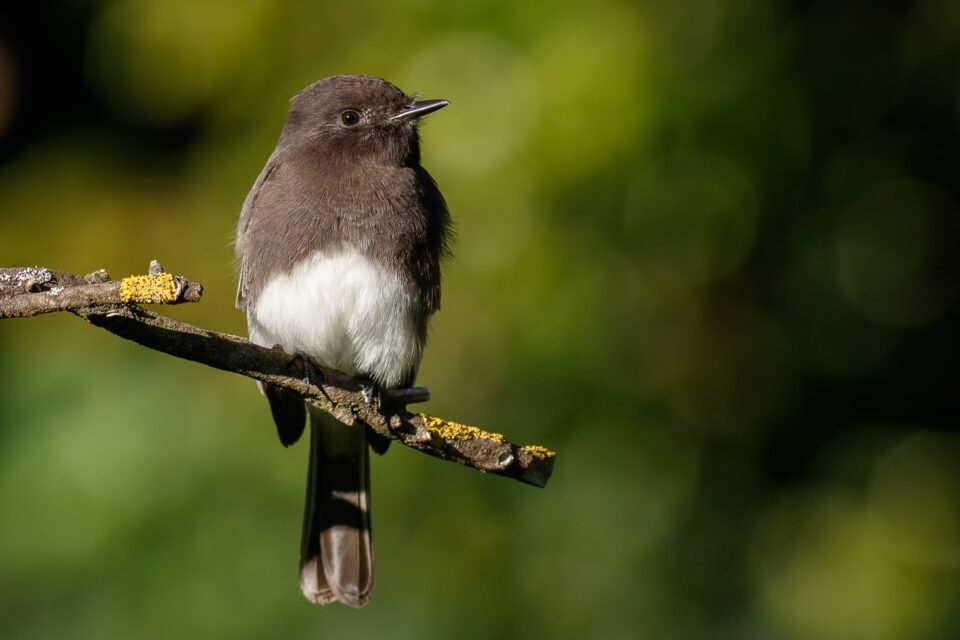 Another huge annoyance that Canon has had in its DSLRs forever is image review after capture. For some strange reason, once you capture a single image or a sequence of images, you cannot use the rotary dial on the back of the camera to see previous images (with image preview turned on). You have to press the Play button first and only then you can scroll back to previous images. This wastes time and I wish Canon finally addressed this bug in a firmware release.
By default, the multi-controller / joystick on the back of the camera is programmed to do nothing when looking through the viewfinder, so it cannot be used for moving AF points. In contrast, on Nikon DSLRs, the AF focus point is moved by the multi-function joystick. Having to constantly press the AF selector button in order to change my focus point slows me down quite a bit, so I had to change the behavior of the camera so that the joystick moves the AF points. If you want to change this behavior, here is what you need to do: Press the "Q" button, then navigate to "Custom Controls" with the joystick, scroll down to the very last option "Multi-controller AF point direct selection" and set it to "AF point direct selection" instead of the default "OFF". Once you do this, you will be able to change the AF focus point with the joystick.
The above setting change, along with other camera menu recommendations are provided in my "recommended Canon 7D Mark II settings" article.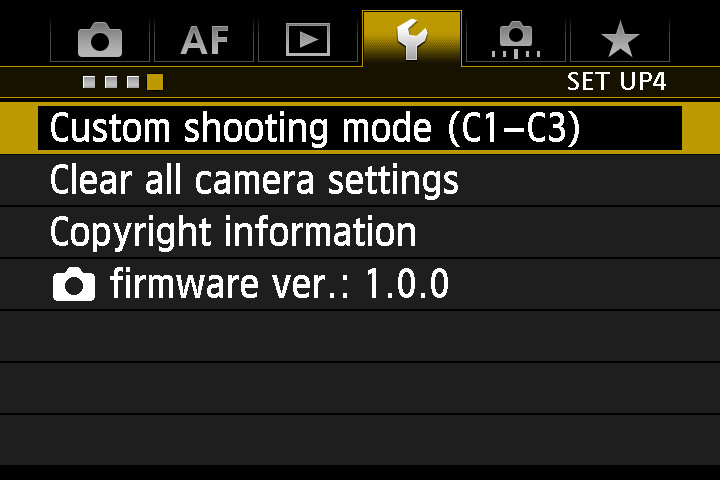 The menu system on the Canon 7D Mark II closely resembles that of the Canon 5D Mark III. There are 6 main icons and dots underneath that represent sub-menus. Although everything is grouped together by function, the menu system on the camera is quite extensive and can be difficult to understand, especially for a beginner or someone who has never shot with a Canon DSLR before. I would recommend taking a look at the above-referenced recommendations article to get a better understanding of the menu system.