Image Sensor, Dynamic Range and AF Performance
The Canon 6D has a 20.2 MP sensor, with a native ISO sensitivity of 100-25,600, which can be boosted all the way to ISO 102,400. Unlike Nikon, which often buys sensors from other manufacturers like Sony and Aptina, Canon develops and manufactures its own sensor technology for its cameras. Although Canon has numerously been blamed for reusing the same sensor technology on multiple generation cameras, the sensor that Canon developed for the 6D is superb in terms of handling noise. As you will see from the Camera Comparison page of this review, the Canon 6D performs admirably compared to its direct competitor, the Nikon D600, surpassing it in performance at high ISO levels and retaining more details, colors and dynamic range.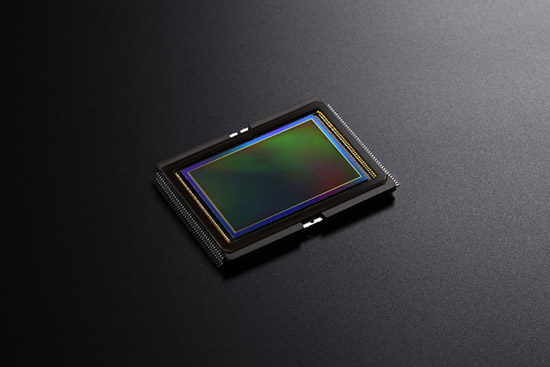 Although a close look at DxOMark's sensor rating page reveals that the Canon 6D has a hard time catching up with other full-frame offerings in terms of ISO performance and color depth, this is one area where I have to disagree with DxOMark's results. I wonder if their testing methodology takes into account potential exposure differences between brands. For example, when I was looking at exposure differences between the D600 and the Canon 6D, the former was approximately 0.8 stops brighter than the 6D. If one does not properly compensate for these differences by altering the exposure, then it can drastically change test results. If the Nikon D600 yields brighter images, it is expected that it would produce a higher dynamic range and cleaner images.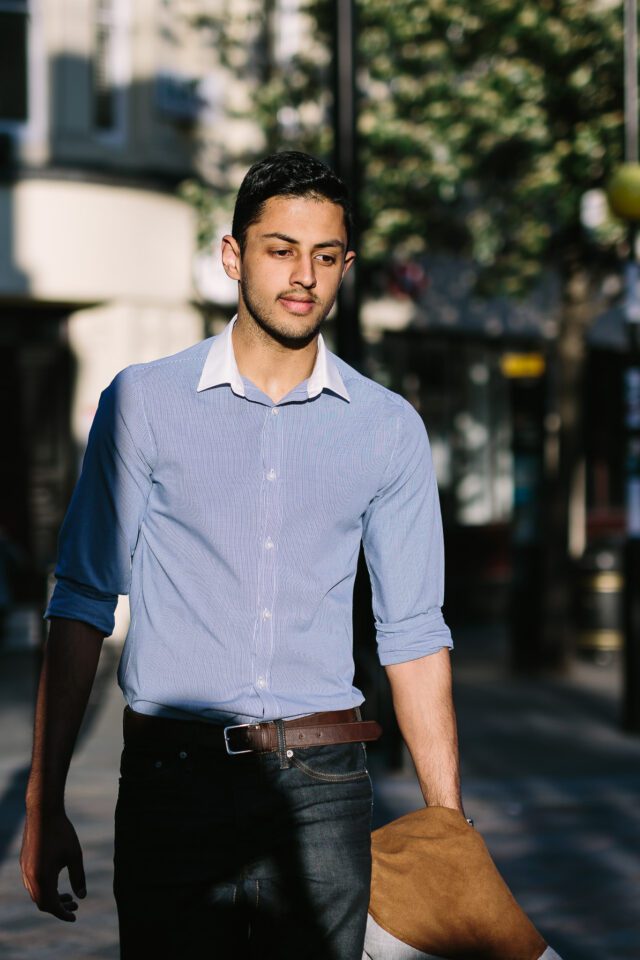 Speaking of dynamic range, DxOMark placed the 6D at #100 spot, which puts the camera right next to the Nikon D300, an APS-C sensor camera! Sometimes one has to wonder if such measurements are in any way meaningful or even relevant, as I have a hard time believing that the 6D would yield the same dynamic range as a camera that was produced in 2007 and has over twice smaller sensor… Yes, in my experience Canon RAW files tend to yield poorer results compared to Nikon when recovering shadows – this is demonstrated on Page 2 of the Canon 5D Mark III review, where I compared shadow detail recovery between Canon 5D Mark III and Nikon D800. However, the difference is not as drastic as DxOMark leads us to believe…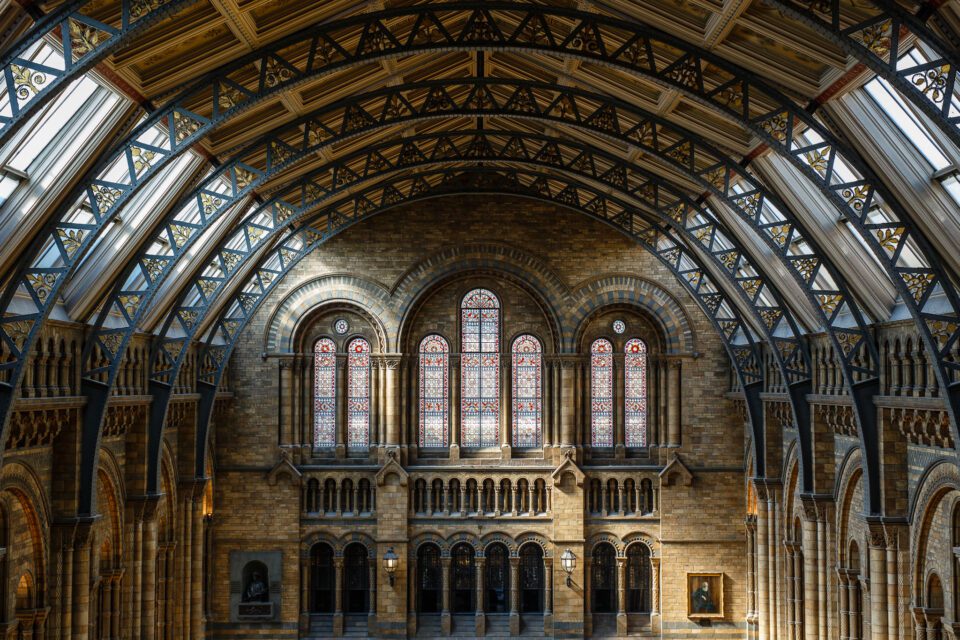 Overall, I am very impressed by what the Canon 6D sensor is capable of. Its ISO performance, dynamic range, and color depth are superb and the 20.2 MP resolution seems to be a nice balance between pixels and noise for most photography needs.
Autofocus Performance
One area that Canon has been dragging and reusing for a while now is autofocus systems. Unfortunately, Canon decided to use its ancient 11-point autofocus system from the 5D Mark II, which only has one cross-point sensor in the center, as shown below: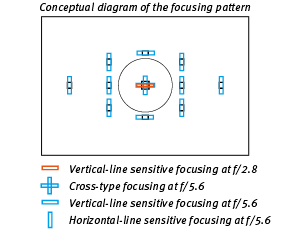 This 11-point AF system is not as versatile as the AF system on the 5D Mark III and at the same time is also inferior to the 39-point autofocus system found on the Nikon D600 / D610 cameras that utilize 9 cross-type sensors. Although Canon states that the AF system is fast and accurate, that only really applies to the center focus point. Once you move to other focus points, autofocus performance certainly suffers, especially in low-light situations.
So if you want a camera for sports and wildlife, I would recommend moving up to the 5D Mark III at the minimum. Another choice at the expense of image quality is the Canon 7D, which also has a superior AF system. In my opinion, Canon could have made the 6D a much better camera if it used the 7D AF system instead. Oh well, you cannot ask for it all I guess! Nikon followed a similar route with an older and inferior autofocus system, but at least its 39 point AF system gives you more options…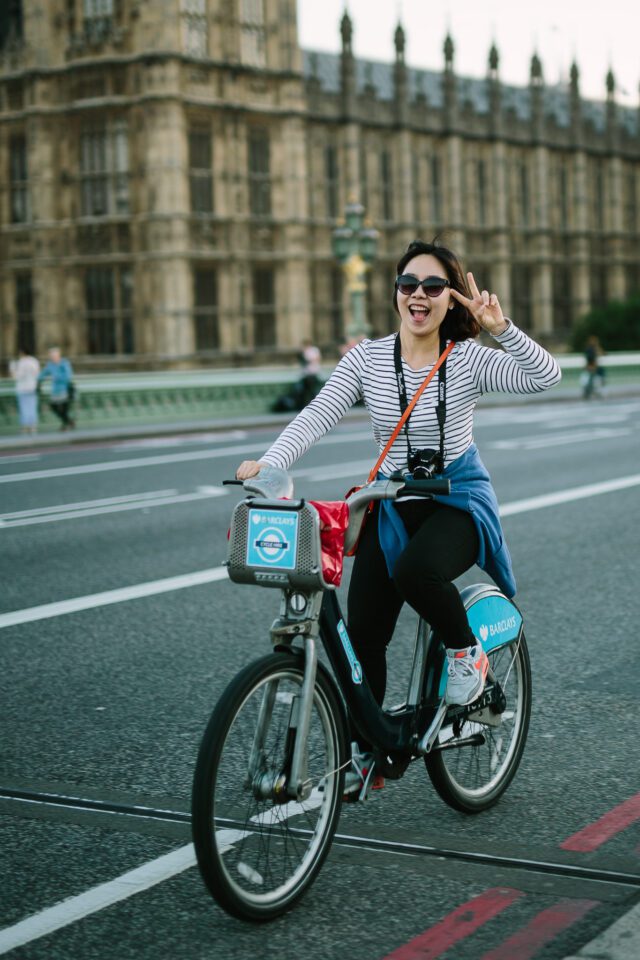 If you find yourself in a situation where the AF system of the 6D loses focusing ability and/or the accuracy, I would recommend to switch to the center focus point and use the focus and recompose technique instead.
Metering
Canon also reused its old 63 zone metering sensor from the 7D, instead of the 100,000-pixel RGB sensor that is used on the flagship Canon 1D X (not that there was anything wrong with the older metering sensor). Despite its age, I found the metering sensor to be fairly accurate in most situations. All metering modes (evaluative, center-weighted, partial and spot metering) worked as expected and when I did have exposure problems in some rare situations, taking care of the exposure issues with the 3-step exposure compensation using the big rotary dial on the back of the camera was pretty easy.
Shooting Speed (FPS) and Battery Life
The last disappointment with the 6D for sports and wildlife photographers is its continuous shooting speed of 4.5 FPS, which is rather slow for fast-action photography. In comparison, the Nikon D600 started out with 5.5 FPS and the speed was increased to 6 FPS when the D610 was released. That's a noticeable difference in performance.
As for battery life, the 6D has exactly the same battery as the Canon 5D Mark II, 5D Mark III, 60D, 70D, and 7D DSLRs, so its performance varies from model to model. On the 6D, the battery yields approximately 980 shots (CIPA), which is very good. The Nikon D600 / D610 can yield around 900 shots. If you sparingly use the preview and Live View features, it will easily reach 1200 shots. My average was between 1100 and 1200 shots on a single charge (with GPS and WiFi turned off). The battery indicators on the top LCD and in the camera menu seem to be pretty accurate, so it should be a pretty good indicator of both charge potential and battery health.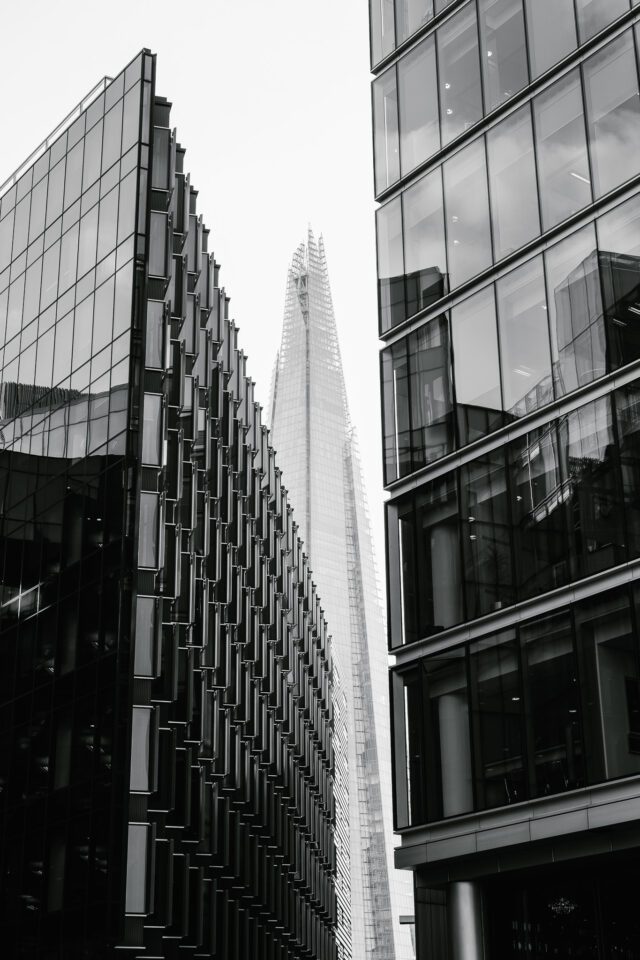 Live View
Canon's implementation of Live View is excellent. No interpolation at either 5x or 10x zoom and superb clarity at all zoom levels. I love the way Canon designed the Live View/Movie switch with the Start/Stop button that changes in functionality depending on whether you are in movie or live view mode. Changing the switch to video mode automatically flips the mirror up and starts the video mode and the Star/Stop button is used for recording video. This is a great feature for videographers since you can keep the setting on movie mode when powering the camera on or off and the mirror will automatically lift up or down without the need to press anything.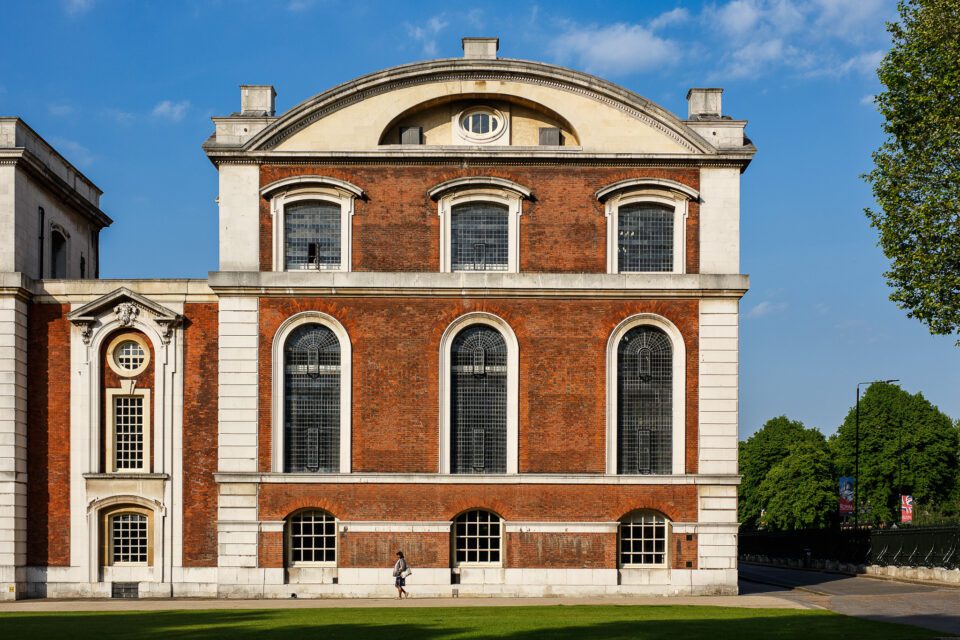 Chromatic Aberration Correction
Just like the Canon 5D Mark III, the 6D also comes with a built-in Chromatic Aberration Correction feature, in addition to vignetting and distortion corrections. Unlike Nikon DSLRs that perform automatic chromatic aberration correction with an algorithm that works with any Nikon lens, Canon decided to program correction for specific Canon EF lenses. While this method might be more accurate, it has one major drawback – the lens database stored on the camera needs to be updated when a new lens becomes available. In addition, such corrections are not possible with third party lenses like Sigma 50mm f/1.4 Art.
Now keep in mind that both Nikon and Canon apply lens corrections on JPEG images. When writing RAW files, both store their proprietary lens correction data differently and these corrections can only be read with manufacturer software like DPP (Canon) and Capture NX (Nikon). If you import RAW images into Lightroom, none of the applied lens corrections will be visible, so you will have to use Lightroom's "Lens Correction" module instead.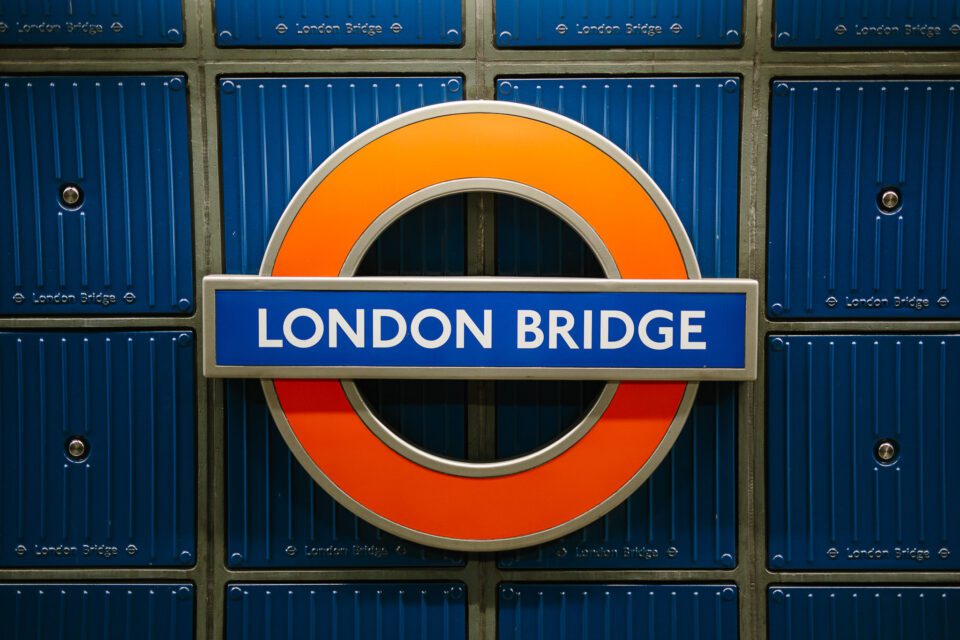 Movie Mode
Although there is no 4K video support, the 6D has the same superb HD movie recording capabilities as the 5D Mark III. You can record videos up to full HD resolution of 1920×1080 at 29.97p and if the speed is not enough, there is always an option to drop the quality down to 1280×720 at up to 60 fps. Canon obviously does not want its DSLR line to compete with high-end dedicated video recording cameras like the EOS 1D and EOS C300, which is why there are some limitations. Personally, I look at video recording as a "nice to have", since I rarely ever shoot video…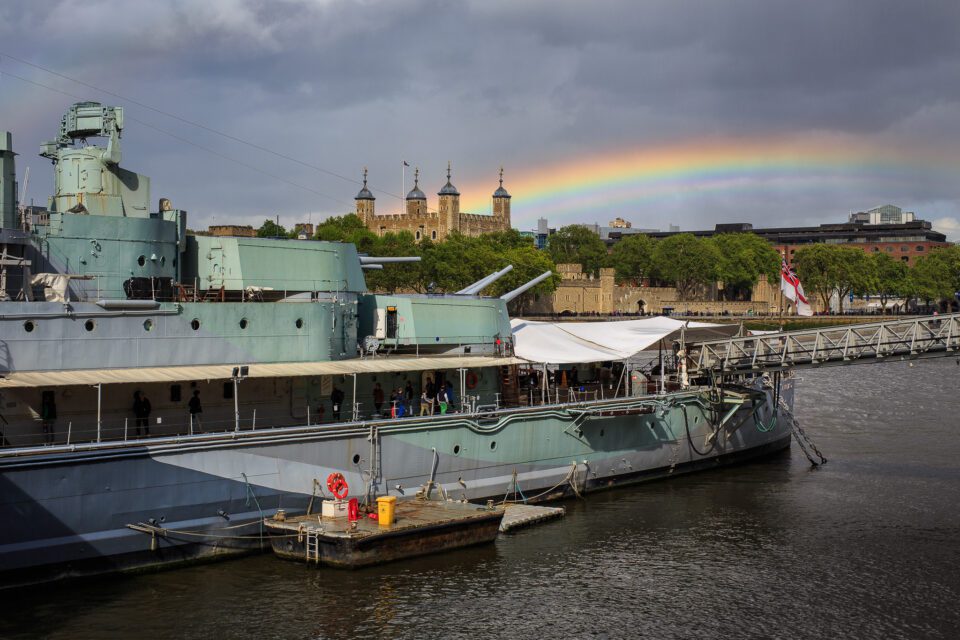 Wi-Fi
As I have stated on the first page of the review, I find the WiFi feature of the Canon 6D to be quite useful when traveling. First, you can easily send images to your smartphone or tablet by simply connecting to the device directly. No need for a wireless network, you simply set up the Canon 6D in "access point mode", select the created wireless network from your device, then connect with a provided password. Yup, it is that easy and it really works! Here is a screenshot of my phone connecting with the 6D: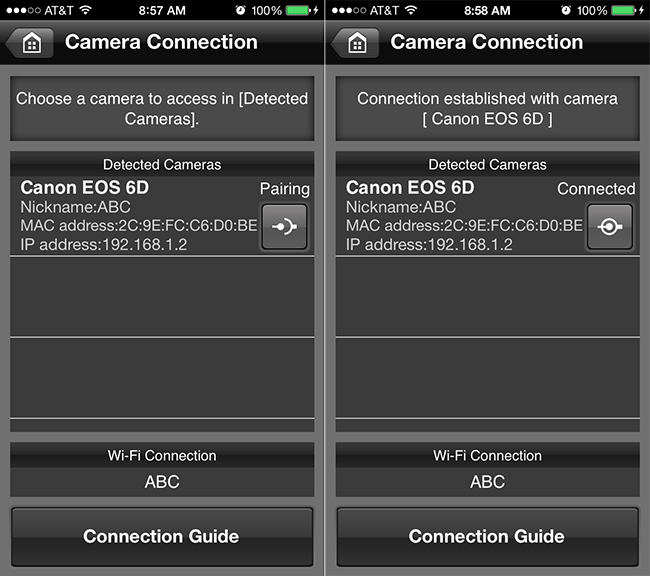 Once you confirm the connection on the camera, the status will change from "Pairing" to "Connected" and you are in business! From here, you can easily transfer images by selecting "Camera Image Viewing" option as seen below, pick the images you want and transfer them.
Second, you can use WiFi to control the camera remotely. This can be used in both "Camera access point mode" with direct device connection, or "Infrastructure mode" if you have a wireless point at the location. Once connected, you can navigate to "Remote Shooting" and you will be able to jump to Live View screen, change camera controls, change focus and take pictures. Live View is pretty smooth and it did not lag like many other cameras, so I am happy to say that remote control also works reasonably well.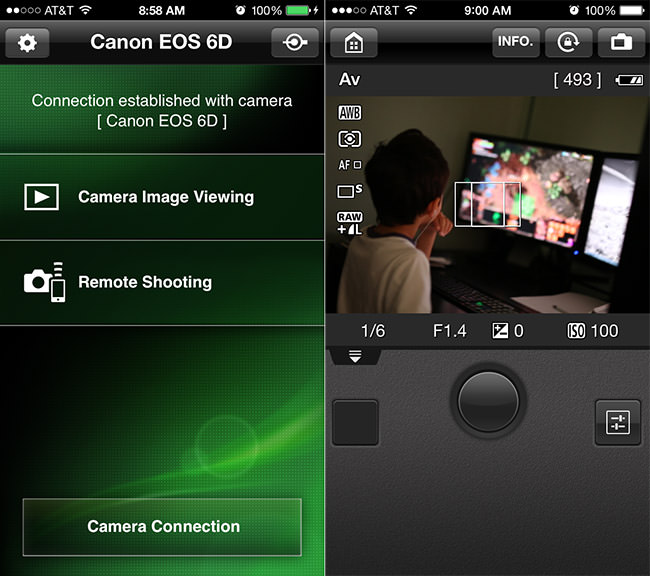 There are not that many options and the controls are simplistic compared to some other remote control solutions on the market, but it is still done quite well and seems to be pretty stable. Everything worked on the first try and I did not have any issues with connecting devices, transferring images or controlling the camera.
GPS
The GPS capability also works quite well, which is a huge plus for travel and landscape photographers. The camera obviously needs a clear sky to locate satellites initially, but once it is done, the tracking works quite well when traveling. I set the camera in the passenger seat when traveling by car and it was continuously tracking Latitude, Longitude and Elevation just like my car GPS did. Accuracy seemed to be very good when I compared the information with my car GPS.
Setting up GPS is easy. Locate the "GPS" option in the camera menu under Setup #2 sub-menu, then go to "Select GPS device" and set it to "Internal GPS" (yes, you can connect external GPS units as well). Next, go to Set Up and set other options. I set up the 6D on "Auto update" for "Auto time setting" and "Position update timing" to "Every 15s". I disabled GPS logging, but if you want to keep a log, you have that option under "Log GPS position". Keep in mind that updating of position drains battery fairly quickly, so if you want to save power, set "Position update timing" to a longer interval. And if you have limited access to power, I would recommend turning off GPS completely – it will save a lot of battery life.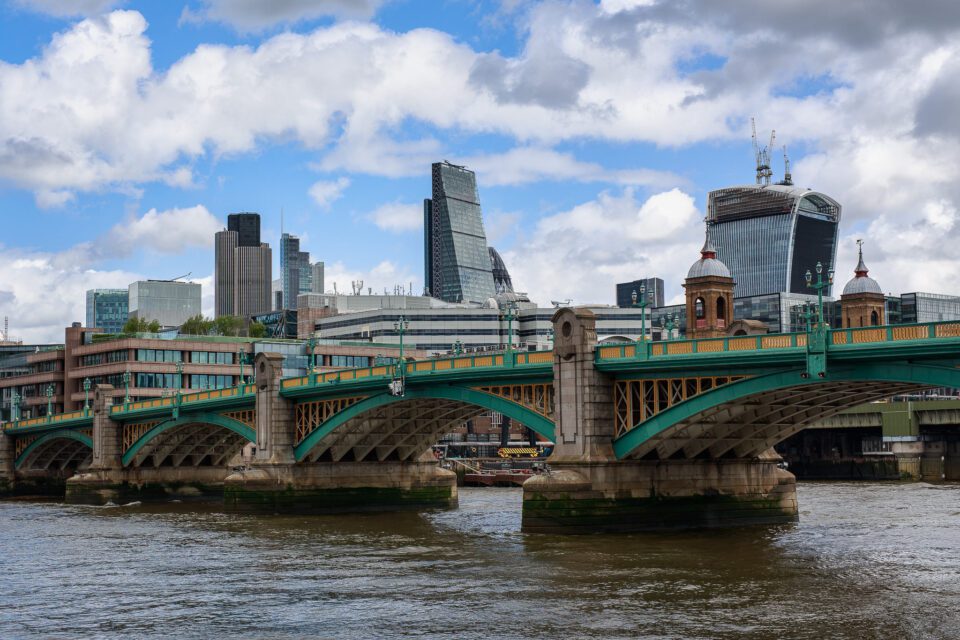 See the next page to see more examples of Canon 6D's ISO performance, along with comparisons to Nikon D600 on the following page.