In this review, I will talk about my experience and impressions with using perhaps the finest tripod head I have seen to date, the Arca-Swiss C1 Cube. Targeted specifically at macro, architecture and landscape photographers that need ultra high precision, with the ability to handle large and heavy cameras, the "Cube" is a very specialized, high-end tool. It has been on the market for a few years and went through several changes. The version I tested is the most current model and this particular review is for the Flip-Lock quick release type head – the one that had the most problems (more on this below). As of today, Arca-Swiss manufactures two types of the Cube: one with the the "Flip-Lock" clamp and one with a "Classic" screw-knob clamp, both of which are capable of securely attaching Arca-Swiss compatible plates, rails and other accessories.
For the past few months, I have been on a long quest to find the perfect tool for my lens testing lab. After building a custom rig with sliding rails for focus bracketing and test chart alignment needs, I realized that I needed a very precise setup that would allow me to tilt the whole rig without having to constantly fiddle with making adjustments. I love my Really Right Stuff BH-55 ballhead, but for my particular situation, I found it to be a nuisance to use when small adjustments are needed. After reading good things about the Manfrotto 405 Pro geared head, I bought it and tried it out, only to discover that it had a little bit of "play" that was unacceptable for my lens testing needs. I then understood that my only option was to go premium and buy something that would give me fine precision and stability. In a short period of time, I discovered that there are very few options available on the market when shopping for geared heads. Aside from the Arca-Swiss C1 Cube, the Photo Clam Multiflex (which is basically a Korean copy of the Cube) and the Linhof 3D Micro, there is literally nothing else available. I could not obtain the Photo Clam Multiflex, but I was able to get a hold of the Linhof 3D Micro and Arca-Swiss C1 Cube. Both turned out to be very fine heads, but as I pointed out in my review, the Linhof 3D Micro disappointed me in a couple of areas like build quality and limitations, which made the C1 Cube stand out.
Let's take a look at the Arca-Swiss C1 Cube in more detail.
1) Specifications
Here is a quick rundown of the specifications:
Maximum Camera Supported: Large format up to 8×10
Load Capacity: N/A
Dimensions: 110 x 84 x 84mm (without knobs, approx 110 x 110 x 110mm with knobs)
Quick Release: Yes
Quick Release Type: Arca-Swiss
Lock-Type: Flip-Lock
Level: Yes
Tension Control: Yes
Tilting/Leveling Rotation: 30 degrees
Panning Rotation: 360 degrees
Tripod Mount Thread Size: 3/8″-16
Weight: 1032g
Interestingly, Arca-Swiss does not specify anywhere what the maximum load capacity is. Some websites list a load capacity of 100 kg, which is insane! I am sure the Cube can take a lot of load – more than you would probably ever need, but the 100 kg claim sounds a little over the top. I have tried out my Nikon 200-400mm f/4G VR on it (coupled with the Nikon D800E) and I did not see any issues with stability / handling, even at extreme angles.
2) Build Quality and Packaging
As expected from Arca-Swiss products, the build quality of the C1 Cube is top notch. I have owned a number of Arca-Swiss products in the past, including the popular Monoball Z1 head (which I still use after 6 years) and I can certainly vouch for the quality of their products – simply outstanding. To appreciate how well the C1 Cube is made, just compare it to anything else on the market and you will quickly realize that the C1 almost belongs to a different class of its own. The finish is smooth and polished all around, with no sharp corners or edges. Each knob is made consistently, with securely attached rubber grips for enhanced handling. To me, the Arca-Swiss C1 Cube can be best described as work of art and engineering excellence. Just by holding and feeling it in your hands, you could tell that it probably took a team of incredibly talented individuals to craft such a fine tool.
The only thing Arca-Swiss often cheap-outs on is the manual – my C1 Cube came with literally two pages of paper manual stapled together and folded. Along with a warranty card and a small red notice that warns about use of third party non-compatible plates, everything was put in a Ziploc bag. Arca-Swiss could have designed a better manual with some marketing material and illustrations to make it a little more appealing. At the same time, I do not particularly care for packaging and product manuals, as long as the product itself is solid, which it certainly is!
3) Operation and Adjustments
Operating the Cube is certainly easier than it might appear when looking at the product image. There are four knobs that control tilt and leveling movements (two per axis). The knobs are interconnected on each side, so you could use one or both for adjustments. Knob rotation is very smooth, but it does not mean that the head is loose in any way – there is a bit of tension on the knobs to allow for finer adjustments. And if you want to go slower, there are two tension control dials on each axis that can be moved from minus (-) to plus (+) in order to tighten the movements even more: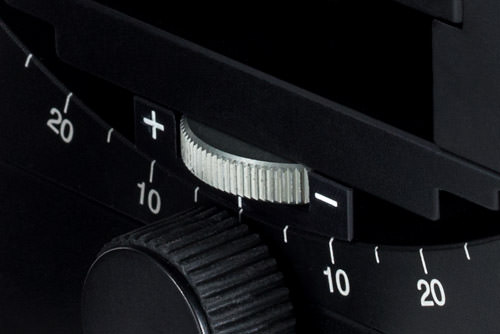 If you keep the dial on the minus (-) side, the head loosens up and if you move it towards the plus (+), the knob gets harder to turn. If you apply some force on the dial and move it as far to the plus (+) sign as possible, the knobs get extremely hard to move.
There is one additional knob on the bottom of the Cube that allows opening it up to use in vertical mode, which is great – it makes the Cube much more versatile when compared to the Linhof 3D Micro. Another huge plus to the Cube is the fact that it rotates up to 30° on each axis, which is far more than what the Linhof 3D Micro can accomplish (limited to just 12 degrees each way). Take a look at the below image that clearly demonstrates how much more the Arca-Swiss C1 Cube can tilt in comparison:
In addition, the Cube does not require making a lot of turns on the knobs to move it. Adjustments can be done much faster when compared to the Linhof 3D Micro, which is good when needing to make bigger tilt changes – you won't get as frustrated. Similar to the Linhof 3D Micro, there are two bubble levels for each side. I compared the bubble levels to the ones that sit on my macro rails and they appeared to be accurate.
There are two panning bases for capturing panoramas: one on the base for panning the whole head and one right under the clamp. So it is definitely a "panorama-friendly" head.
When working with the head, I had four important requirements:
Allow for precise adjustments for both tilting and panning
Handle heavy loads on either side of the head when tilted, since I use a specialized macro rail setup and can potentially move the camera side to side or front to back
Have zero "play", no matter how much it is tilted or panned
Allow for secure locking/tightening to prevent potential tilting/panning
I am happy to say that the Cube met all of my requirements. After I locked my rails on the head, I tried to move the setup in different directions – there was no play whatsoever. And once I tightened everything up (including the top and bottom panning bases), the rails would not move at all, even after applying some force. In comparison, I could not get Linhof 3D Micro to tighten fully no matter how much force I applied when tightening the panning base.
4) Flip-Lock Clamp
The original version of the Arca-Swiss C1 Cube was shipped with a flip-lock clamp that was heavily criticized by many. First of all, it did not properly fit many plates and rails made by US manufacturers like RRS and Kirk – unlocking the flip-lock could fully detach the plate (imagine dropping camera gear as a result). Second, the flip-lock was too small and rather painful to use, especially with gloves. And lastly, the base of the clamp was rather small for the size of the Cube.
Arca-Swiss has made improvements to the flip-lock clamp and I am happy to say that the important problems have been addressed. First of all, the flip-lock clamp that came with my Cube fit all of my plates perfectly. I have tried RRS, Kirk, Hejnar Photo and other third party plates / rails and all of them securely fit the clamp. When the clamp was in fully open position, I could drop any of the plates that I have (not fully straight, needed a little bit of a side angle to drop). Bringing the flip-lock to the half position already tightened the plates pretty well and pushing it all the way to the closed position fully locked the plates in, dead on. I am not sure if Arca-Swiss has been making slight changes in locking size for the US market, but that's how my sample was. The flip-lock is still somewhat painful to use though. It took me a little to figure out how to unlock the flip-lock – you have to push the small silver pin outwards and then it unlocks. Once it is in the half open position at 90 degrees, you then have to push the small silver screw inside towards you, which then allows to fully open the lock. If you have thick gloves, it would be very difficult to unlock it, so I am definitely not a big fan of this design. Take a look at how the flip-lock design works: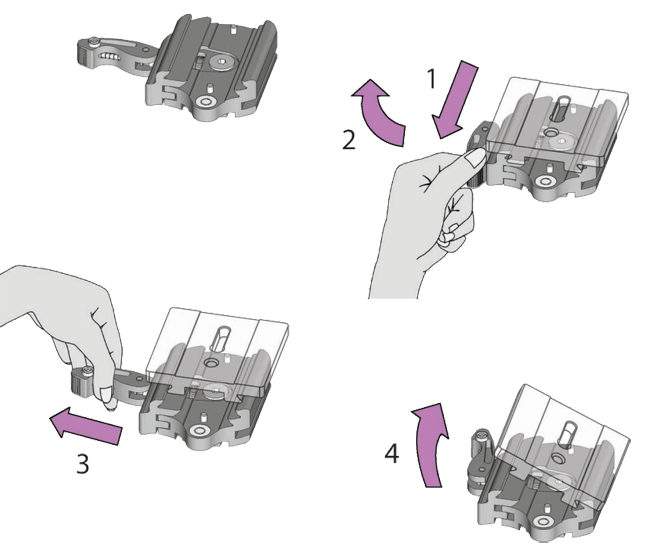 That's why I have never been a fan of flip-lock quick release clamps!
The base of the clamp is still rather small, so I would love to be able to swap it out to a better clamp from RRS or Hejnar Photo. The bad news is, due to the number of repairs Arca-Swiss USA had to perform on these heads (due to wrong screw sizes that damaged the threads), the clamp is no longer easily detachable – Arca-Swiss now glues the clamp to the head. The good news is, Arca-Swiss finally realized that people might not like their flip-lock clamp design, so they are now offering heads with a classic screw-knob clamp. While I initially thought that I could get used to the flip-lock version of the head, I realized that it was just not for me, so I returned this one and ordered the screw-knob version instead. I don't think I will be attempting to replace the screw-knob clamp with a third party clamp – too risky to potentially damage the Cube.
5) Weight and Size
At over a kilo of weight, the Cube weighs approximately the same as my full-size RRS BH-55 ballhead with a panning clamp. If you take into account all the knobs, it is also similar in width and height. It is a solid chunk of metal, although Arca-Swiss did a good job with minimizing its weight by shaving off some parts of the Cube, particularly along the axes and the base. When compared to the Linhof 3D Micro (as seen in the comparison image below), it is wider, a little taller and heavier.
6) Arca-Swiss C1 Cube vs Linhof 3D Micro
When compared to its direct competitor, the Linhof 3D Micro, the Cube has a few major advantages:
The Linhof 3D Micro only allows up to 12 degrees of tilting and lateral leveling, while the C1 Cube is much more flexible and versatile, allowing for up to 30 degrees movement.
Build quality of the C1 Cube is superior, with smooth finish and no cheap rubber parts.
The Linhof 3D Micro requires a special "angled device" adapter plate in order to switch to vertical mode. The C1 Cube, on the other hand, has a base that can be unlocked, allowing the head to be tilted to vertical position.
The Arca-Swiss C1 Cube has a tension adjustment dial (+ and -) on both axes, while the Linhof 3D Micro does not.
The Linhof 3D Micro is much slower than the C1 Cube, because it requires 1 full 360 degree turn to move by 1 degree. The C1 Cube moves to about 8 degrees with a similar 360 degree turn.
The Arca-Swiss C1 Cube is significantly cheaper in the US compared to the Linhof 3D Micro ($1,572 vs $2,160), a difference of almost $600.
Here is a side by side comparison between the two:
7) Summary
Without a doubt, the Arca-Swiss C1 Cube is the finest tripod head I have used to date. When you factor in its features, ultra-high precision design and versatility, it is an engineering marvel and a work of art. For a number of years I have been wanting to try out the Cube, but I struggled to justify its high price and simply did not understand how it could be better than a solid ballhead. But after spending many hours in a lab testing lenses, I realized that a ballhead simply did not cut it for making fine adjustments, so I started looking at different solutions. After testing out several products, including the Manfrotto 405 Pro Geared Head and the Linhof 3D Micro, I realized that the Arca-Swiss C1 Cube stands above its competition and represents exactly the head that I have been looking for. Having spent over $10K on gear, charts and software for testing lenses, I am sure the Cube will be another good investment that will serve me well for years to come. It definitely deserves all the praises that it has been getting for years from working professionals and I am happy to join this list.
7) Where to Buy
The Arca-Swiss C1 Cube can be purchased from our partner, B&H Photo Video for $1,572. The Flip-Lock version of the head is also available for $1,699 (as of 03/07/2014).
Arca-Swiss C1 Cube
Features

Build Quality

Handling

Value

Size and Weight

Packaging and Manual

Ease of Use

Stability
Photography Life Overall Rating