I never thought that I would be reviewing an Apple Mac Pro, since I have never owned a Mac and was always a PC user. In fact, the last time I really handled a Mac was about 14 years ago, when I worked as an IT tech at the University of Colorado, servicing campus computers. Since then, aside from occasional encounters at local stores or friend's houses, I have been keeping myself away from Macs. Although I have nothing against Apple in general, there were a number of reasons why I kept myself on the PC platform. The first and the biggest reason was personal preference – having been "PC-savvy" for many years, building computers and providing support for them (whether it was for my family, friends or work), I was pretty content with what I had and never really had much interest in Macs. Second, having spent the majority of my adult life working for various companies and organizations, I took part in building PC and server networks based on the Microsoft OS platform, as Macs have just not been very popular in the corporate world. Lastly, the cost was also an issue – for the price of a Mac, I could easily build a PC or buy one at half the cost.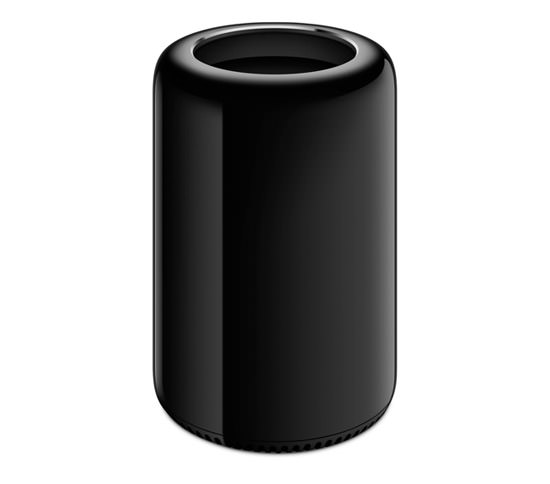 The Apple announcement for the new generation Mac Pro back in December of 2013, however, sparked my interest in Apple. For the first time, I watched the keynote presentation, checked out the promo videos and thought that if I ever decided to upgrade my PC, I should take a very close look at the Mac Pro. Why? Because considering the small size and the weight of the Mac Pro, the thing is a performance monster. And it looks absolutely stunning. World's most beautiful PCs look ancient, obsolete and plain ugly in comparison. And performance? Boy, will I be repeating this word over and over again in this review… A workstation-class Xeon CPU with up to 12 cores: check. Dual AMD workstation-class FirePro GPUs (up to 6GB of VRAM each) with Thunderbolt 2.0 + DisplayPort 1.2, HDMI 1.4 and up to three 4K display support: check. Dual Gigabit Ethernet ports and 802.11ac wireless: check. Bluetooth 4.0: check. Up to 64 GB of 1866Mhz ECC RAM and up to 1 TB of PCIe-based flash storage: check. For you this might all sound too gibberish and technical, but for a tech junkie like me, it is like music to my ears. I found it hard to believe that one could put all the latest technology in a small, portable, workstation-class setup. Yes, "portable" is the key word here, because any workstation that I have ever built or bought with a Xeon processor was something I would never want to move anywhere. My current PC, with the Fourth Generation Intel i7-4770K CPU based on the Haswell architecture, weighs a ton and takes up space roughly equivalent to five of these Mac Pros! Even the biggest Mac haters were honestly admitting that Apple just totally killed everything on the market with the Mac Pro.
So when I found out that I could test drive the latest generation Apple Mac Pro (courtesy of our good friends at B&H), I got super excited. So excited, that I wanted to quench my thirst by getting one of the more expensive Mac Pros on the market. Sitting in the middle of the price range of the Mac Pro at $5,799 (Mac Pro starts at $3K and the most expensive configuration will make a $10K hole in your wallet), the model I received featured a 3.0 Ghz Intel Xeon E5 with 8 cores, 16 GB of RAM, 512 GB of PCIe Flash Storage and Dual AMD FirePro D500 GPUs with 3 GB of VRAM each: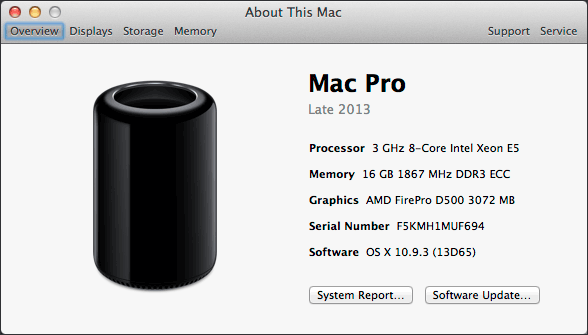 With the processor itself retailing around $2,200, this is a no-joke setup. You could literally throw anything you want at it, whether it is video editing, 3D modeling, etc., and the Mac would run it without any issues. Heck, this guy could even run many enterprise server applications!
The biggest challenge for someone like me, however, is getting used to Apple's Mac OS. Despite the fact that I have used pretty much every Microsoft OS since Windows 2.0 and many flavors of Linux, Mac OS has its own user interface, shortcuts, utilities, and tools that are proprietary to Apple. Although I do have some favorite software tools that I frequently use, whether it is ACDSee Pro (the Mac version has not been updated for over a year) or my good old Far Manager (yes, my old habit from the DOS days) or other PC-specific software, there are plenty of alternatives out there now. So it is not the end of the world and I would just have to get used to different software tools.
1) Set Up
Setting up the Mac Pro was super easy. Once I removed it from the nice-looking Apple box, it was a matter of connecting the power cable and the monitor cable. After I pressed the power switch, the initial setup screen guided me through Bluetooth keyboard and trackpad configuration, as well as the initial connection to my home WiFi network. When they say that Macs are built for ease of use, I now understand what that means. It truly was a hassle-free process and I was up and running in a matter of minutes.
For a PC user like me, the one button mouse / trackpad configuration is a total disaster. I kept on trying to right click, only to realize that the button was not there. After just a few hours of trying to use the combination of the mouse and the control button on the keyboard, I ended up switching to my Logitech solar keyboard + wireless mouse. To my surprise, simply unplugging the Logitech Unified USB adapter and plugging it into one of the four USB ports was enough – both the keyboard and the mouse were immediately recognized and working. What wasn't working were all the Windows buttons and various functions keys, so I reconfigured the setup for only the mouse, and went back to the Apple keyboard. Now that I had the two button mouse, I was in business! And yes, I did try to reconfigure the trackpad for the "bottom right click" method and still had a hard time getting used to it. Years of working with a regular mouse slowed me down with the trackpad, so I was glad to jump back to my favorite mouse.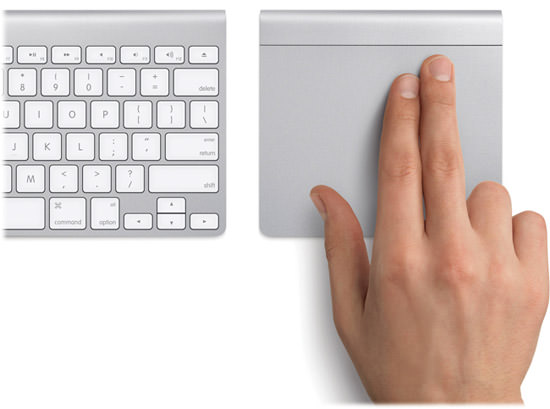 3) The User Interface and Apps
For a Mac newbie like me, getting used to a new user interface was quite important. After many years of using a PC, I wondered if it would be too painful to get used to the Mac Pro. Once again, that was certainly not the case – configuring the Mac through the System Preferences screen was super easy and the Apple Dock with one-click access to the most frequently used software applications actually turned out to be much easier and better to use than Microsoft's cluttered Start menu in Windows 8.1. I fired up Google Chrome, synced up my Google account and everything ported over to the Mac Pro, including my extensions and bookmarks, which was nice!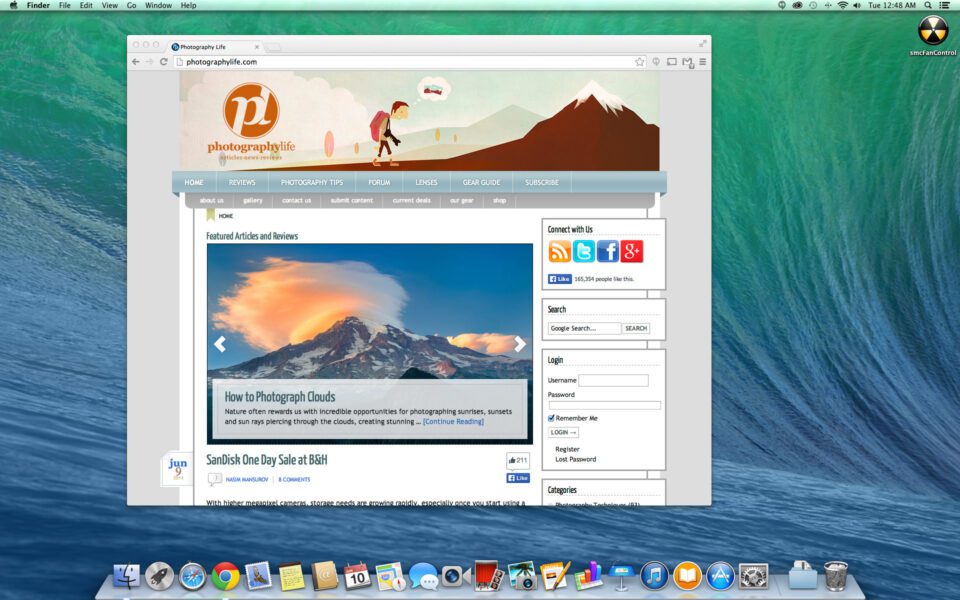 Setting up Apple's email client "Mail" was also very simple. I connected my Gmail and Yahoo accounts and once signed in, the client synced up all the emails. The setup process also allowed me to sync my contacts, calendar and notes from my Gmail account, so my initial set up already gave me more tools to use than vanilla Windows environment. For my Windows box, the "Mail" app has no contacts, calendar or notes features, and if you try to connect those to Gmail, you have to connect your Gmail account with a Microsoft account! With Microsoft's practice to pretty much mandate an MS account on Windows 8.1, that's too much pain and hassle just to get simple things going. Thanks, but no thanks!
Aside from the above and main apps such as iPhoto, iMovie, Pages, Numbers, Keynote, iTunes and iBooks, I did not do a lot of exploring with the Mac OS's native apps, but there was quite a bit of stuff available. My interest was sparked by the "Boot Camp Assistant" software, which allows creating a partition on the Mac Pro to actually allow booting Windows 8 OS! Although I did not go through the process, reading up on the Boot Camp help document revealed that I could actually run Windows 8.1 from this Mac Pro natively, without any software layers on top. So unlike Microsoft, which wants nothing to do with Mac, Apple gives the possibility to utilize all that latest hardware to run Windows on its hardware. This was a big surprise for me, as I always thought that Apple was all about pushing their OS to their hardware platforms. So if you do not want to lose the ability to work on Windows, buying a Mac allows you to use both on the same computer and that's a built-in, native feature of Mac OS. With a PC / Windows, you would have to use a bunch of third party tools and hack your way into building a dual boot "Hackintosh". And even then, if your hardware is incompatible, you risk not being able to use that hardware in Mac OS…
4) Dual Screen Setup
Although everything so far looked good, not everything turned out to be problem-free. My first negative experience came across on the second week of using the Mac Pro, when I decided to hook up both of my Dell U2413 monitors with two Thunderbolt to DisplayPort cables. Although the first monitor came up perfectly fine, the second screen gave me all sorts of trouble. It looked over-sharpened and plain ugly. My research online yielded nothing, although some people apparently did come across such issues with non-Apple screens and were told to use Apple screens instead. The solution turned out to be rather simple – I went to my monitor settings and reduced sharpness down to zero and it then looked similar to the first screen. A better solution turned out to be even simpler. I hooked up the first monitor with a single DP cable, then daisy-chained the second screen with another DP cable. I had to enable DisplayPort 1.2 on both screens to make it work, but it did work pretty well in this configuration. Once setup, the dual screen configuration worked fine and I was able to make changes to the configuration in System Preferences under "Displays", if needed. Lightroom worked perfectly fine in a dual screen setup (which I always use) and I did not notice any performance degradation with the second screen.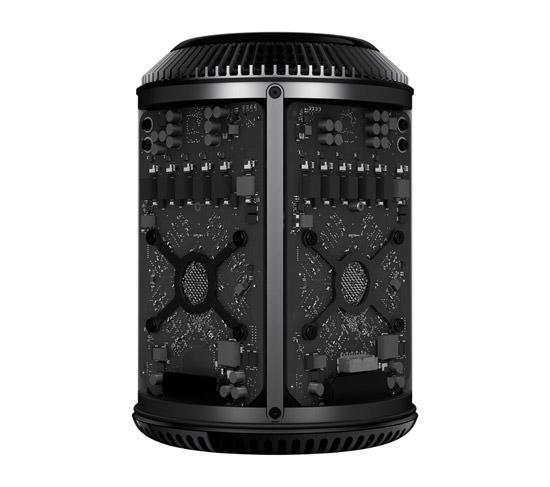 5) Thunderbolt and WiFi Conflict
I came across another rather serious problem when hooking up my displays, which is most likely a hardware issue. Cramming all that hardware into very small space has its implications and this one let itself know rather quickly. After I connected the first screen on the top Thunderbolt port, my WiFi stopped working. I tried everything, from turning off WiFi and turning it back on, to setting up access to the wireless access point manually. Nothing worked. Whenever I tried to connect, Mac OS complained with a "Connection Timeout" error. When I tried to reconnect, the OS would complain with a "could not be joined error" as shown below: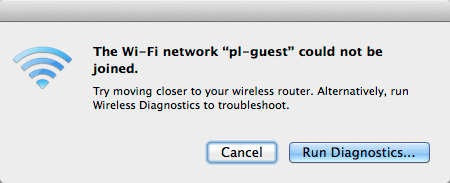 I tried restarting and shutting down – all to no avail. I wondered why it worked before and it did not this time, trying to figure out what happened in between. When I looked at the back of the Mac Pro, I realized that the monitor cable was hooked up to the top left Thunderbolt port, whereas it was on the bottom right port before. I switched it out and as soon as I rebooted the Mac, WiFi started working. To make sure that it was not some temporary glitch, I switched the ports again and the Mac did exactly the same thing – WiFi would not work. That's how I figured out that there were some proximity issues coming in play here, most likely something to do with the wireless antenna being too close to the top left port. I don't know if this happens only on my model, or perhaps only with third party screens. I have no way to verify what's actually going on, but it is definitely a hardware issue.
6) Expandability, Upgrades and USB Ports
While the new compact design is a define strength for those that need the extra space, expandability, upgrade possibilities and lack of enough USB ports can be a problem. With my current PC setup, expanding components is easy. I have a full tower case and I can add a bunch of hard drives, DVD/Blu-Ray drives and other components any time I want. If I need to upgrade, I can upgrade separate parts without having to purchase a brand new system. Although my motherboard ships with a bunch of USB 3.0 ports, I can always install an add-on card and add more USB ports. With the new Mac Pro, your options are very limited. First, considering how small and compact this unit is, adding more hardware is impossible. If you run out of disk space, you cannot just add another hard drive to the case – you have to use an external USB/Thunderbolt or network storage. Second, you cannot replace the video cards with the latest models, because the are custom-built by AMD for the Mac Pro. Third, the insanely fast PCIe storage is great, as pointed out below, but until third party parts become available, it won't be a cheap part to upgrade as you can only buy it from Apple and it will cost you. Fourth, there are no memory card readers or DVD/Blu-Ray drives built-in, so if you want any of those, you will have to designate more space on your desktop and keep on plugging more external devices. Lastly, with only 4 USB slots available, you might find yourself looking for USB hubs fairly soon, unless you balance it out with more Thunderbolt devices. Although this list might seem like a huge drawback, that's the cost of having a small and portable Mac Pro.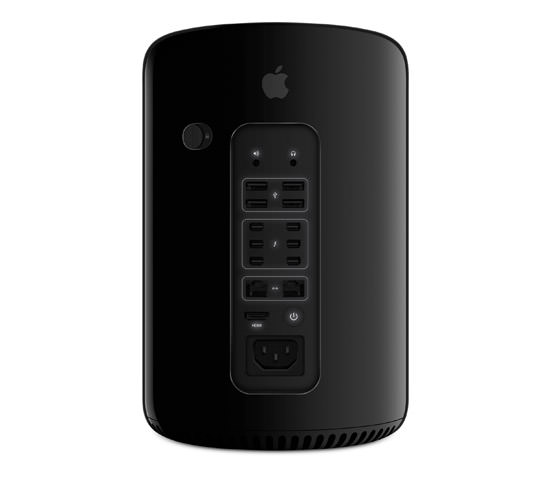 So if you own an older Mac Pro and like having all those options, you might want to evaluate your needs and the connected external devices before jumping on one of these new machines. For me personally, I doubt I would need to expand or upgrade for another 3-4 years and there are only three external components that I would connect to the Mac Pro – a USB memory card reader, a USB adapter for my mouse and external storage, so the number of ports on the Mac Pro would suffice for my needs.
7) Lightroom and Photoshop Performance
Adobe does an excellent job with keeping their software up to date on both Mac and Windows platforms. Because of this, installing and running Lightroom and Photoshop was both fast and easy. Although the performance differences in Lightroom with a large database were already noticeable between my high-end PC and this Mac Pro, I could not quantify these differences easily. Plus, the Mac Pro takes over in processor-intensive scenarios and applications, since it has twice more cores and threads than my PC. Still, I made a simple test, stitching a 5 image Panorama in Photoshop (36 MP images from the D800E) and it certainly performed faster. My PC stitched the panorama in roughly 50 seconds, while the Mac Pro did it in about 40 seconds. I knew that such tests would not necessarily represent real performance differences between the two machines, as there were a number of different variables involved, so I started scouting for cross-platform testing software to perform actual benchmarks and measure the performance of both. I came across a number of different software packages to accomplish this task, which I will go over in below section #9 of the review.
8) Gaming and Overheating Issues
With my boys occasionally playing games like Starcraft II, I wanted to check how some games would perform on the Mac Pro. I installed both Starcraft II and Diablo III on the Mac Pro and let the kids handle it from there. With games maxed out on video settings, both games ran very well, although Diablo III did crash a couple of times (most likely software issues). The ultra-quiet chassis continued to be quiet during gaming, so after about an hour of gameplay, I touched the exterior of the case and it burning hot! Not sure how thermal control works in the Mac Pro, but the single fan inside was clearly not doing its job. I then decided to see if I can manually speed up the fan for better cooling and temperature control, so I downloaded a tool called "smcFanControl". Although the tool could not read the temperature of the Mac Pro, it did allow me to change the RPM speed of the fan: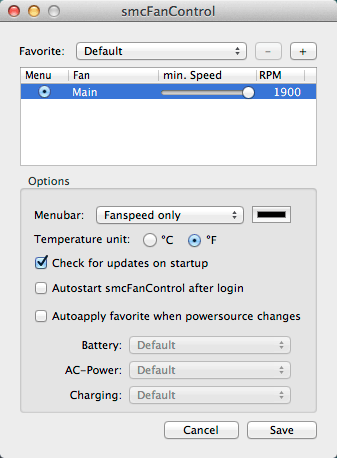 Once I moved the speed to 1900 RPM, the Mac Pro was not so quiet anymore. But the faster RPM speed of the fan cooled off the whole unit in a matter of minutes. From there, when kids wanted to play their games, I would use smcFanControl to set good fan speed, then even if they played for a couple of hours, the Mac Pro stayed cool. The best RPM speed for the fan that handled heat from games well was at around the 1100-1200 RPM mark. At medium speeds, the fan was not as loud either.
Again, I don't know how thermal management is handled by the OS, but in my opinion, the default setting is not enough to keep the machine from overheating. Apple should set the thresholds correctly, so that the fan revs up to faster RPM to properly handle all that heat coming from the CPU and video cards.
9) Performance Benchmarks
Let's move on to the good stuff – performance benchmarks. After evaluating a number of different tools, I stopped at three different tools: Geekbench 3, Cinebench and NovaBench. All three have their strengths and weaknesses, but the most important part for me was cross-platform compatibility, so that I could run tests and compare the Mac Pro to my PC. NoveBench is the only tool out of the three that was able to measure SSD / PCIe flash disk performance. Let's first take a look at Geekbench results. Here is the result from the Mac Pro and comparison to my PC in 32-bit mode (demo version limitation):

Although a single core on my PC is faster for a 32-bit environment, the 8 core Xeon E5 processor obviously slaughters my PC in the Multi-Core benchmark. Since a 32-bit test is not really valuable in a 64-bit application environment, let's see how the two compared in Cinebench: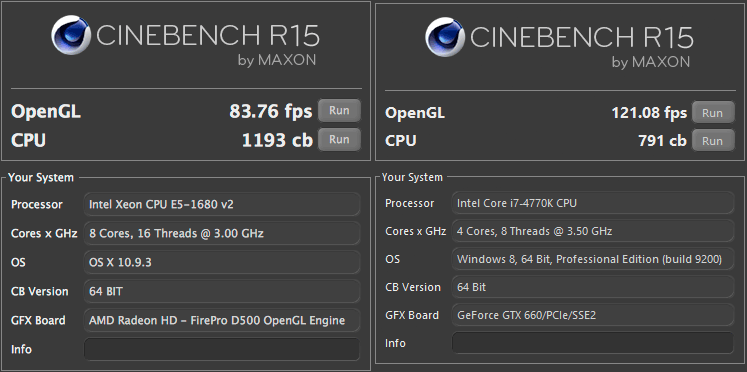 Although the workstation-class AMD Radeon HD FirePro D500 scored less than my GeForce GTX 660, if gaming is not your thing, I would not take the OpenGL graphics performance differences seriously. First of all, workstation-class video cards are not optimized for gaming and hence typically score less and second, in application-specific environments such as 3D modeling, they tend to score higher than gaming video cards anyway. But do take a look at the second "CPU" line, which clearly shows that the Intel Xeon E5 with 8 cores just kills the desktop class i7-4770k processor in benchmarks. Twice as many cores, twice as many threads certainly do their part in such benchmarks.
Lastly, let's take a look at what NovaBench measured: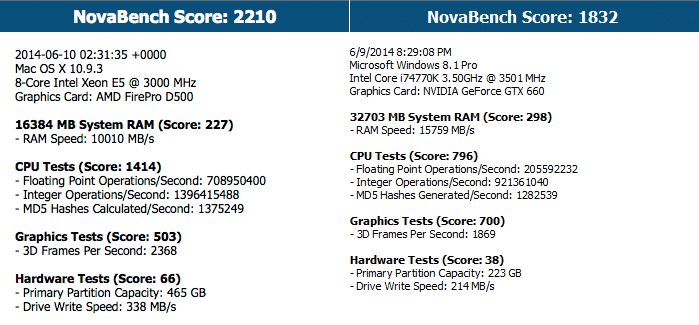 Overall, the Mac Pro scored higher than my system and you can see why. The CPU alone scored 1414 vs 796, almost twice the speed. Although my RAM is not workstation-class ECC-type, it is pretty darn fast and it outperformed Mac Pro's memory. The same goes with the Graphics Tests, where my PC scored higher (although 3D frames per second stat on the Mac Pro shows better performance), as expected. However, the difference in speed between PCIe storage and my SamSung 840 Pro Series SSD drives (which are the best in class) is pretty dramatic – Mac Pro measured 338 MB/s, while my SSD drive measured 214 MB/s. Having taken part in testing EMC's XtremSF hardware in my past life in the IT field, I know quite well what PCIe storage is capable of. It is a big step above SSD storage, to say the least, especially in the enterprise world. Now that PCIe flash is getting more popular and prices are coming down, the technology is making its way into our desktops and workstations, so I must applaud Apple for introducing this technology to its Mac Pro line.
What does this all mean for us photographers? Faster image editing time in both Lightroom and Photoshop, faster export time in Lightroom, faster backup/restore times (when using fast directly attached (DAS) or network attached (NAS) storage, and more running applications in the background while the machine is busy doing the work. For videographers, it is faster editing time, especially when working with large 4K videos. For graphic artists, designers and building architects, it is faster rendering times of their 3D projects. With a fast CPU, GPU and storage, there is a lot you can achieve in shorter timeframe.
10) Summary
Although time went really fast when playing with the new Mac Pro, I thoroughly enjoyed my time with this incredible machine. Although the Mac Pro does have its list of issues such as WiFi / Thunderbolt proximity issues, potential overheating problems when using CPU/GPU intensive applications and games and lack of expandability with limited upgrade options as pointed out above, Apple did an amazing job with designing the new line. The Mac Pro is like no other Mac Pro from the past, boasting the latest and greatest technologies, fast workstation-class CPU, GPU and PCIe storage that set a new standard in workstation performance. Although at a starting price of $3K, it is not a cheap option, a similarly sized configuration from HP, Lenovo or Dell would cost more and would never be able to measure 9.9" x 6.6" in size or weigh 11 pounds. Lenovo's Thinkstation S30 is a beast in comparison, measuring 6.9″ x 18.8″ x 19.0″ and weighing as much as 35 pounds! In a similar configuration, the Lenovo S30 comes out almost $2K pricier and does not even have PCIe storage. While in the past, Apple products were always considered to be much pricier when compared to PCs, the new Mac Pro sets a new chapter in history, actually being cheaper than comparable workstations from the biggest PC manufacturers. I don't know where Apple is planning to take the new Mac Pro line in the future, but if they update these machines more frequently than in the past with better CPU/GPU and storage options that become available, these Mac Pros might be taking a big chunk of the market share away from PCs.
Overall, I am very impressed by the new Mac Pro and what it has to offer to photographers. Although I personally do not need a machine right now (as I have a fast enough PC that I built less than 6 months ago), before thinking about building my next dream machine, I will most likely be buying the Mac Pro for my future needs. If you cannot decide if the new Mac Pro is worth upgrading to, I would recommend to take a close look at one. Visit your local Apple store or a friend that bought one and certainly check it out. And if you decide to buy one and found our review to be helpful, we would appreciate your support if you use the purchase links below.
11) Where to Buy
B&H Photo Video is one of the largest resellers of Apple products. Their selection of Mac Pros includes the cheapest base model that you can purchase for $2,984.99 all the way up to the most expensive twelve core model that retails for $9,599. To see a selection of all current configurations offered by B&H, check out this page.
Apple Mac Pro for Photography Needs
Features

Build Quality

Handling

Value

Size and Weight

Packaging and Manual

Ease of Use

Speed and Performance

Stability
Photography Life Overall Rating