We are continuing our coverage of memory card readers this week and this time I want to talk about my personal preference for internal memory card readers, or the ones one would have to install in an empty / available bay in a computer. Since I have always been building my own PCs, picking the best components for the fastest performance, I am comfortable with installing internal devices without resorting to external help. Having a memory card reader always integrated into a PC means that I don't have to fiddle with external devices and wires dangling off my PC, which helps in keeping my work area nice and clean. In addition, it allows me to choose an all-in-one memory card reader that can read pretty much any format out there and potentially offer additional USB slots that I can use for other devices. The Atech Flash Technology PRO-77U gives me exactly that. For years I have been using the previous-generation PRO-57U model and I have recently moved up to the PRO-77U in my latest PC build and I have been happy with my decision.
1) Overview and Build Quality
The AFT PRO-77U is a 5.25″ USB 3.0 device, which means that you can take advantage of the much faster bus capable of up to 5 Gbits/sec transfer speeds. It also means that you need to have a motherboard that can support USB 3.0 devices and has a special port to accommodate such a device, as pointed out under "Installation Considerations" section below. There are a total of 4 slots for different memory card types, including CF, MS / Duo, SD and microSD. Here are all the supported media types:
CompactFlash, up to UDMA 7
Secure Digital (HC/XC/UHS-I)
micro Secure Digital (HC/XC/UHS-I)
Memory Stick PRO Duo
Memory Stick PRO HG Duo
In addition to the 4 memory card slots, there is also an integrated USB 3.0 hub, giving you four additional USB 3.0 slots on the top of the device, which is very nice. These ports can be used for both charging and for mounting other external devices.
The AFT PRO-77U is made in Taiwan and its build quality is pretty decent. I have not had any major issues with the unit and it has been operating just fine, unlike the previous generation PRO-57U, which sometimes disconnected and reconnected. AFT changed the internals and the design of the unit with the PRO-77U and it is no longer powered by the motherboard USB slot – now you have to attach a separate power source. Makes sense, since it is a 4x USB hub and those ports need power.
The ports are of high quality. I have been using SD, microSD and CompactFlash cards and I have not had any issues with mounting any cards so far. While SD and microSD slots are safe to use on pretty much any card reader, CompactFlash is of particular concern, since there are so many pins a CF card must match on the opposite end. I have seen my share of bent pins and had a terrible experience with some card readers. What I found, was that the CF slot must be very accurately cut down to a millimeter. If there is any "play" in the slot, there is a chance that you might mount a CF card at an angle and end up bending pins. The AFT PRO-77U does not have a loose CF slot and the card goes straight in when inserted, so I have not had any issues with bent pins so far.
Since there are so many slots, the unit itself does not look very pretty. However, it is not as bad as some other units out there. Here is the front face of the PRO-77U:
Not too bad I guess – the ugliest part is the USB ports, but that's just what you get with USB 3.0. Hopefully the future iterations of USB will look smaller and not as ugly! Time to move away from that ugly USB interface.
The unit supports pretty much any operating system and it officially supports both Windows 7 and 8 operating systems. It should continue to function when Windows 10 is officially released.
2) Installation Considerations
Installing the unit is pretty straightforward, but there are some considerations. First, you obviously need an available 5.25″ bay. Second, you need to have a 20-pin USB 3.0 port on your motherboard, so make sure that you have one and it is not being used by your case before you buy the PRO-77U. The unit is shipped with a cable that will fit such a port and the cable is rather long and thick, so you will need a bit of space in the case to accommodate it. The good news is, if you have a tall tower, it will still reach pretty well without having to purchase additional extension cables. The provided cable is a V cable, splitting the output to two separate USB 3.0 ports on the back of the unit. To power up the four USB 3.0 ports on the AFT PRO-77U, you will need to provide additional power to the unit with a SATA power cable. My modular power supply had an extra SATA power cable that I could use for this, but since I mounted the unit right under my DVD / Blu-Ray drive, it was a pretty tight fit. You will find the installation instructions right on the box, once you get the cover removed.
The great thing about the PRO-77U, is that you do not have to install any drivers to get the unit going – it is just a plug and play device. However, like some other USB devices, you might need to first "initialize" the inserted card. If you fire up Lightroom and start the import screen, that should do the trick.
4) Performance
Performance-wise, the AFT PRO-77U does not disappoint. I tried out a SanDisk 64 GB Extreme Pro CF card with up to 160 MB/sec advertised speed and the reader was able to copy large files from the card between 150-160 MB/sec speed on average, which is excellent: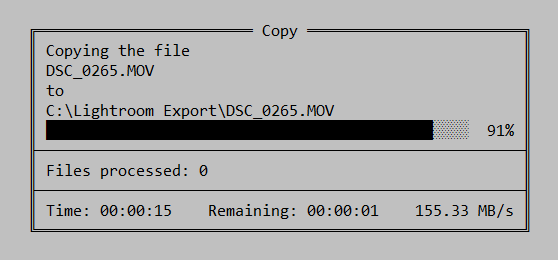 Write speed is typically slower on memory cards, but the SanDisk Extreme Pro series is an exception – I was again able to get between 140-150 MB/sec write speeds, which is very impressive for UDMA 7:
Since there is no support for SD UHS-II cards, I would not try to mount those on the AFT PRO-77U – you will be disappointed to see 30-40 MB/sec speeds.
Summary
If you are looking for the best internal memory card reader for a custom-built PC, the AFT PRO-77U seems like one of the best ones you can buy. It is cheap, has integrated USB 3.0 hub with 4 slots, supports most memory cards out there, has a pretty solid build and it works on Windows and other operating systems without needing to install any drivers. I have been personally using the AFT PRO-77U for the past few months and it has performed without any hiccups, so I can definitely recommend it to our readers.
Where to Buy
You can purchase the AFT PRO-77U internal memory card reader from B&H Photo Video for $39.95 (as of 07/15/2015).
AFT PRO-77U Internal Card Reader
Features

Build Quality

Value

Ease of Use

Speed and Performance
Photography Life Overall Rating