With spring here and thunderstorms in the forecast, I thought I would review the Lightning Strike Pro, a lightning shutter trigger from AEO Photo which has been kindly provided by B&H – the largest photo reseller in the world that we use more than any other to buy our photography gear.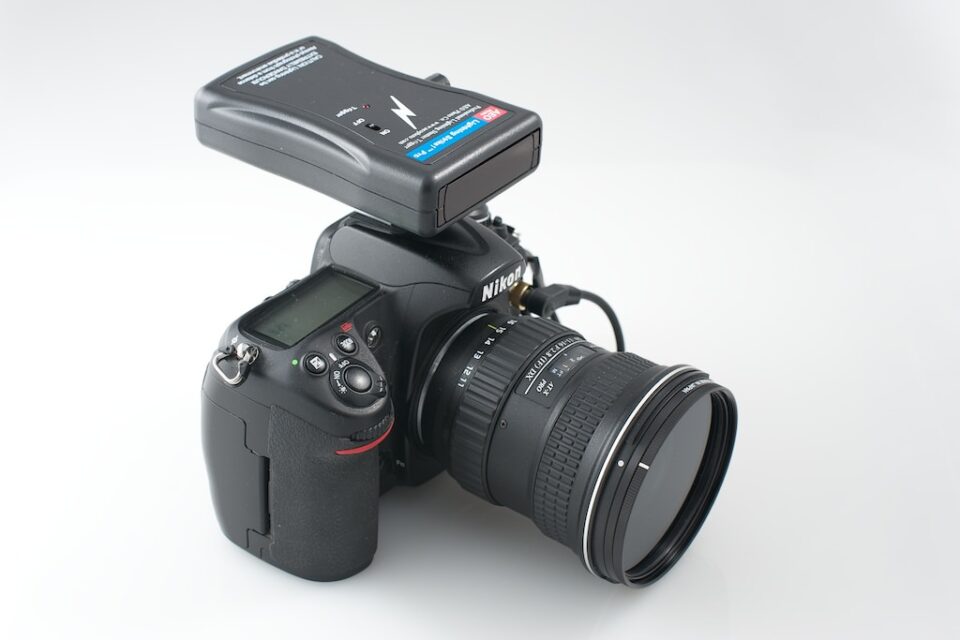 The AEO Photo Lightning Strike Pro makes capturing a photo with lightning easy – and potentially safer. Without a lightning strike trigger, one would either utilize a long exposure and hope that you capture the moment or you would have to hope your shutter finger is fast enough to react to the first millisecond of flash. Now, there is an easier and better way to capture lightning strikes with your camera. It is so easy in fact, that the first time I tried to use it, I set it up on my backyard deck, and since the sporadic lightning occurring was more of a flash in the clouds as opposed to a bolt, I left the set-up on the tripod and did a few minor chores around the house. After about 10 or 15 minutes, I came back to check the pictures. What I found was that amongst a number of shots of a cloudy but lit up sky, was one shot that included a lightning bolt. Kind of like those commercials on television, you can set it and forget it, it is that easy. Not only easy, but it is also safer than standing outside exposed to the elements while trying to grab a photo.
AEO Photo manufactures 3 different models, a basic model the Lightning Strike!, the Lightning Strike Pro that adds sensitivity adjustment to give the user some flexibility and more control and finally, the Lightning Strike! MT which adds a motion sensor to the trigger for wildlife photography. Let's take a closer look at the middle model, the AEO Lightning Strike Pro.
1) Handling
The Lightning Strike Pro is simple and straightforward to use and mounts to your camera's hot shoe and communicates to the camera by a cable. In the case of the Nikon D300, it connects via a 10-pin cable. The design of the Lightning Strike Pro will allow you to buy cables to suit your needs so that should you change camera models or if you have multiple cameras, you need not replace the entire unit, just the relatively inexpensive cable to fit the appropriate camera.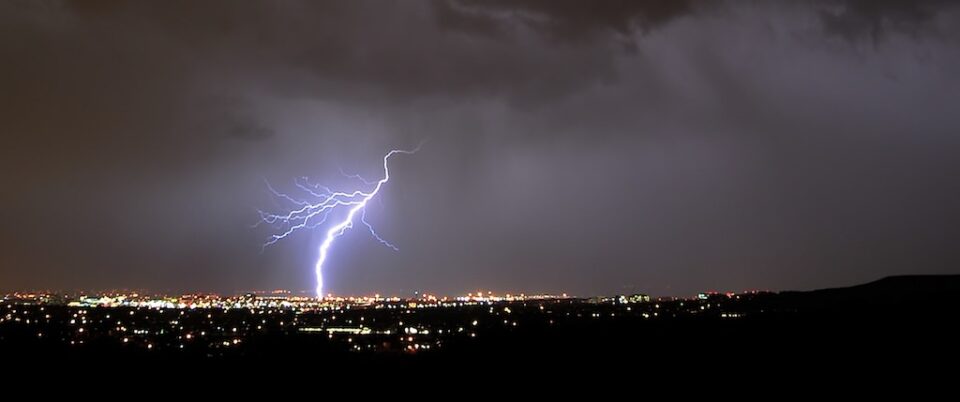 The sensor is placed on the hot shoe with the sensor facing forward and the cable attached to the unit and the camera. It is best to shoot in manual mode and I found shooting from f/5 for 4 seconds to f/7 for 5 seconds was an acceptable range at night. You should set your ISO as low as possible and if your camera has a Long Exposure Noise reduction setting, then adjust it accordingly. Set your camera to manual focus and set the focus to infinity. Double check ahead of time that your lens is actually focused on infinity when it says it is as it could be slightly off. You then turn on the switch at the top of the sensor, one frame will fire and then you are set to watch the show. Should you find that you need to adjust the sensitivity of the trigger, there is an adjustment screw on the side of the unit. I found that my unit worked excellent with no adjustments needed in daylight, dusk or night scenes, but should you need it, it is there.
The trigger will fire in the first 0.1 milliseconds of the lightning flash and will activate the shutter. Of course your camera will snap the photo immediately, depending on your camera's normal lag.
Overall, this unit worked excellent out of the box, it consistently triggered only when it was supposed to. I did have a brief period in which it did not fire correctly, but I believe that when I moved locations, the cable connection came loose. The unit worked again flawlessly after that.
2) Packaging and Manual
The Lightning Strike Pro comes packaged in a Micro Pelican Case that is custom fit with foam to cradle the unit and its cord beautifully. In fact, all photo equipment manufacturers would do well to provide protective packaging as nice. The only negative to it, is that for the space challenged equipment bag, it might take a bit more room than one would like. I can see many photographers taking it out of the plastic case and just putting it in an equipment bag to save space. A nice touch would be an additional small, lightly padded pouch (think neoprene) that protects without taking up as much space.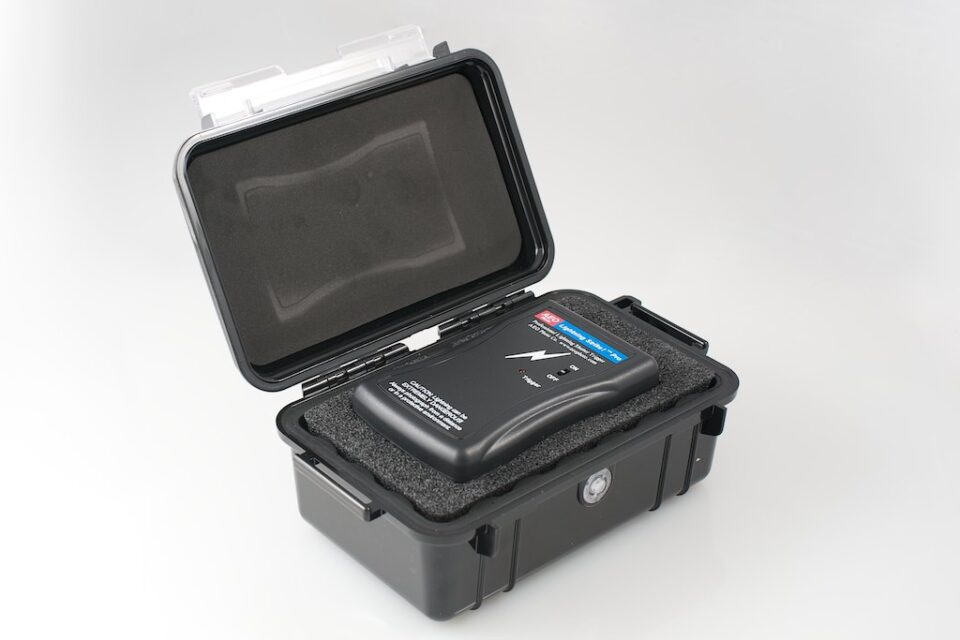 As for the manual, well there is good news and bad news. First, the good news, the trigger is extremely easy to operate and so a lot of operational instruction is not needed. The bad news is that there isn't much in the way of a manual, it is just a single sheet of paper with straightforward instructions and a few tips. While this is adequate, maybe a little more information would be helpful in case someone is trying to troubleshoot.
3) Build Quality
The AEO Lightning Strike Pro Trigger is well built, it is plastic, but all the parts seem to fit well and be constructed nicely. The on/off switch seemed small to me at first but there is a method to the manufacturer's madness. In an earlier version, the switch was larger and although it was easy to find and use, that ease of use made it easy to be accidently turned on while in a camera bag, thus resulting in drained batteries. AEO Photo has since redesigned the switch to minimize the chances of this happening.
4) Size
The Lightning Strike Pro Trigger is light so weight is not a problem. As for the size, it has a low profile when seated on the hot shoe. However, it does hang off the back of the camera rendering the viewfinder difficult to use as your forehead and the back of the unit battle for the same space. Luckily, you do not need to use the viewfinder much because you will likely have this mounted on a tripod with the camera set to fire. The only time you need the viewfinder is to recompose as the storm moves.
5) Value
First off, anything that increases your safety has a value. As for value relative to similar products on the market, I compared the cost of the AEO Lightning Strike Pro with others and found it less expensive making it a good value considering it does what it claims.
6) Safety First
It goes without saying, lightning is a deadly beauty and so in your excitement to capture an interesting scene, PLEASE DON"T FORGET TO BE SAFE! Position yourself a safe distance from the strikes and pay attention to surroundings that might attract a strike and avoid unsafe areas. Here is more information on lightning and safety tips.
7) Conclusions
At the time of this review (May 2012) AEO Photo has just announced new 3rd versions of their triggers which will have improvements, chief among them, a reduction in size.
I found the Lightning Pro Strike Sensor to work as advertised, it was both accurate and reliable and allowed me to shoot from the relative safety of a car or building. It isn't as cheap as just repeatedly pressing the shutter with long shutter speeds but it is just as fun and prevents taking scores of frames with no lightning in them. My only regret is that I didn't have more storms to take photos of before this review. So if adding some lightning shots to your landscapes interests you, consider adding a Lightning Strike Pro trigger to your camera bag. Have fun and be safe!
8) Where to Buy
B&H Photo currently sells the AEO Lightning Strike Pro as reviewed here for $239.95. (as of 05/04/2012)
AEO Photo Lightning Strike Pro
Features

Build Quality

Handling

Value

Size and Weight

Packaging and Manual
Photography Life Overall Rating