Focusing
The Nikon 500mm f/5.6 PF is a fast-focusing lens. It goes from minimum focus distance to infinity about twice as fast as the Nikon 200-500 f/5.6 lens. However, it is a little bit slower than the F-mount and Z mount 70-200 f/2.8 lenses, likely due to the narrower maximum aperture of f/5.6. This is not a surprise, and I've still had no issues tracking birds in flight with this lens and getting in-focus results. (Or, I should say, no issues beyond those of my own making!)
Close focusing performance on the Nikon 500mm f/5.6 PF is nothing special, with a maximum magnification of 0.18x (or 1:5.6 magnification). That's enough so that you won't be limited by the lens's close focusing distance even for smaller subjects. However, it's not enough for serious close-up or macro photography.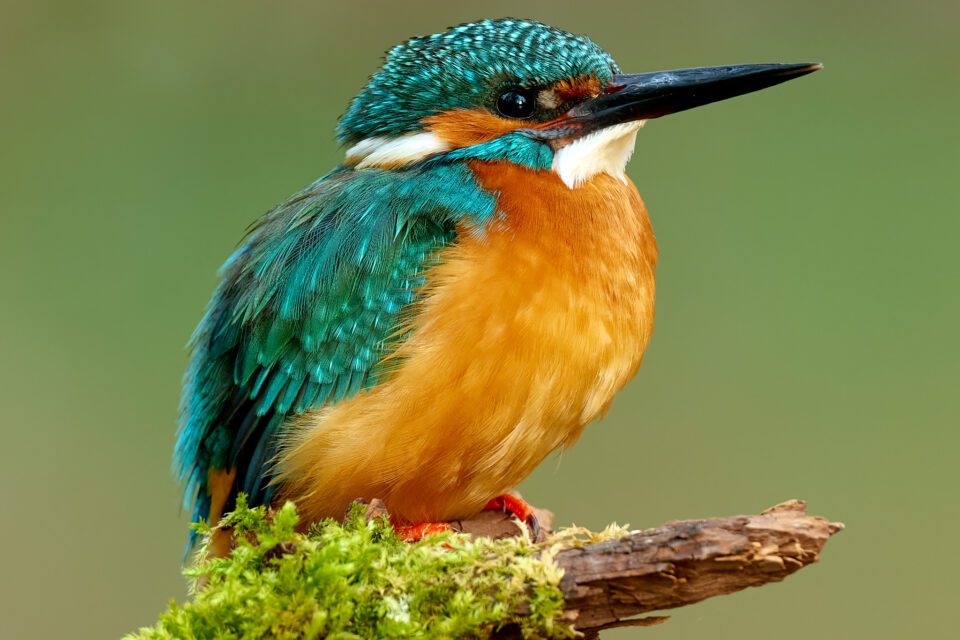 Distortion
In general, distortion is not very relevant in supertelephoto lenses, since you're probably not going to be shooting a lot of subjects with straight lines. Telephoto lenses are also well-corrected for distortion most of the time anyway. The Nikon 500mm f/5.6 PF certainly follows that trend: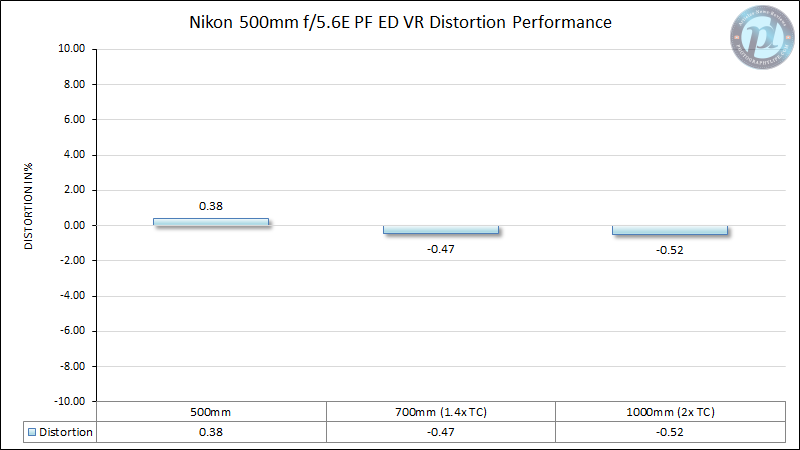 As you can see, we have just a tiny amount of pincushion distortion (a mere 0.38%) which is small enough so as to be invisible, no matter what subjects you're shooting. Attaching the 1.4x TC to the lens gives you 0.47% barrel distortion (still negligible), and the 2.0x teleconverter is basically the same, at 0.52% barrel distortion.
Vignetting
Unlike distortion, vignetting is a problem with some telephoto lenses. Just not with this one: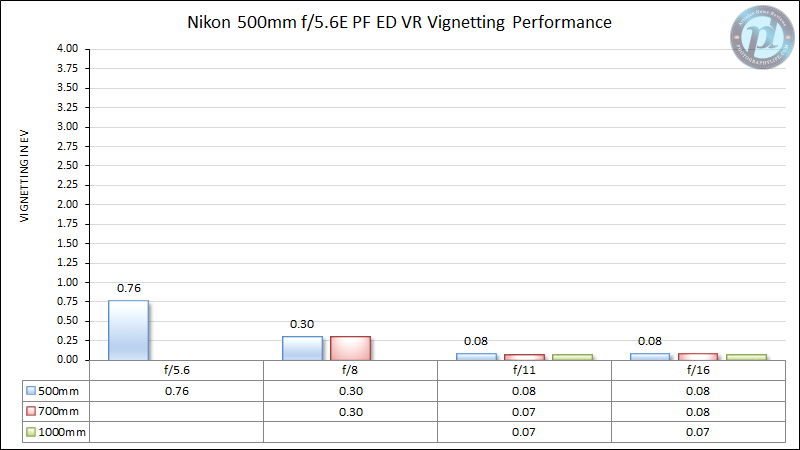 As you can see, the absolute highest vignetting on the Nikon 500mm f/5.6E PF VR is a mere 0.76 stops, which is what you'll see when shooting wide-open at f/5.6. Adding a teleconverter has no detrimental impact on vignetting at all. Considering that any vignetting under about 1 stop is negligible, this is excellent performance.
Chromatic Aberration
One other optical issue I wanted to examine is chromatic aberration. The results here are noteworthy, because they are basically perfect on the 500mm f/5.6 PF as a bare lens, but adding the teleconverters increases the chromatic aberration significantly: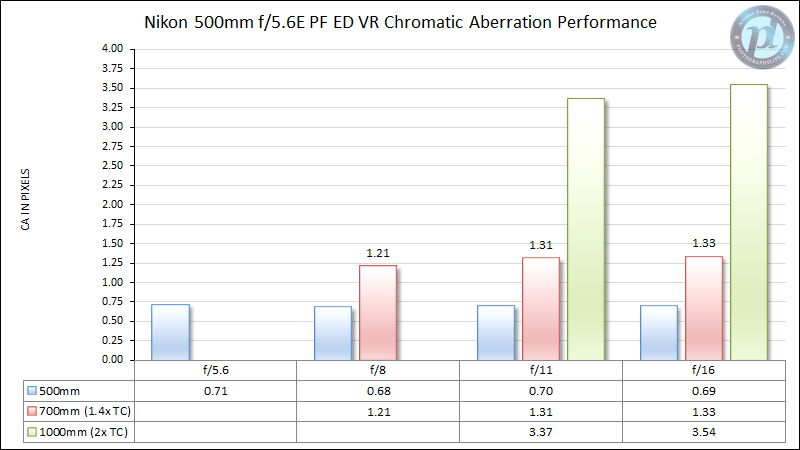 Anything under about 1 pixel of lateral chromatic aberration is invisible in real-world photos. The Nikon 500mm f/5.6 PF easily clears that hurdle, never reaching above 0.71 pixels. However, adding the 1.4x teleconverter increases the maximum CA levels to 1.33 pixels, which is just at the point where you may see it in occasional (uncorrected) real-world photos.
The real problem comes with the 2.0x teleconverter, however. At that point, chromatic aberration jumps to a whopping 3.54 pixels. At that level, you'll definitely want to keep chromatic aberration corrections turned ON in your imaging software, and even then, it may not correct it fully. This is the teleconverter's fault rather than the lens's fault. Even so, you should be wary when shooting strongly backlit subjects using the 500mm f/5.6 PF with the 2.0x teleconverter.
Sharpness
The Nikon 500mm f/5.6E PF is one of the sharpest telephotos we've ever tested, and it holds up to usage with teleconverters surprisingly well. Here's our lab test of the lens at 500mm: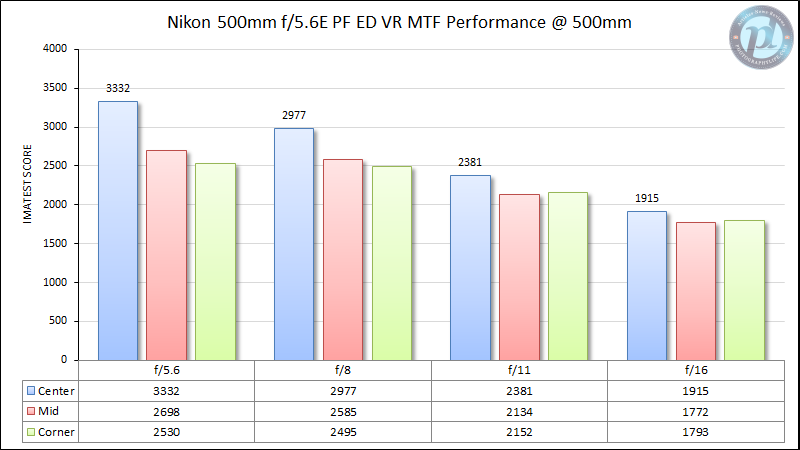 For context, the following is our lab test of the Nikon 500mm f/4G VR (note – this is not the newer 500mm f/4E FL, but it's still an exotic supertelephoto):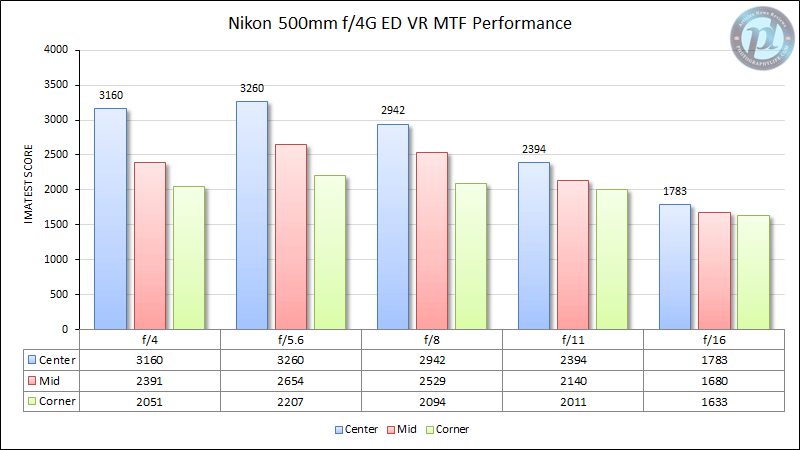 As you can see, the Nikon 500mm f/5.6 PF performs just as well as the expensive 500mm f/4G VR, and even out-performs it slightly in the corners! That's a really excellent performance.
We also tested the Nikon 500mm f/5.6 PF with two of Nikon's F-mount teleconverters, the 1.4x and 2.0x. Here are those test results: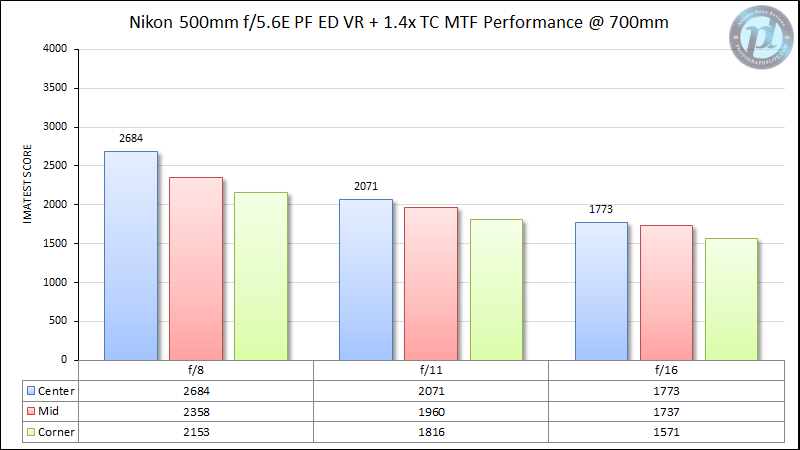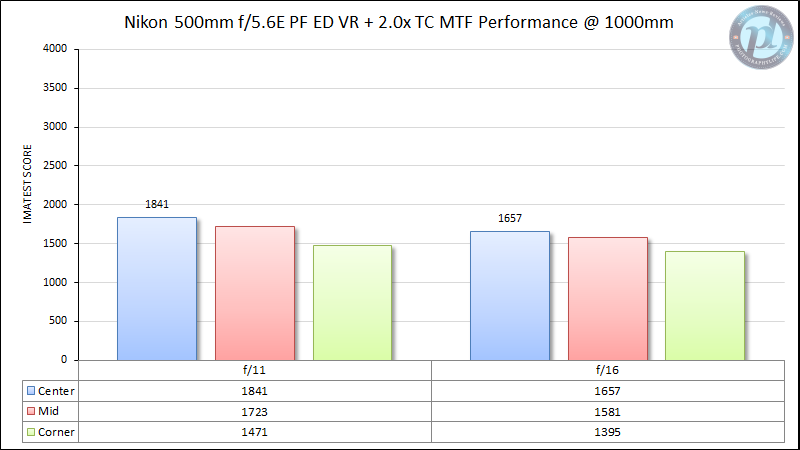 Although there is obviously some loss in sharpness, even the performance with the 2.0x teleconverter is still very usable. And the performance with the 1.4x teleconverter is downright impressive! At f/8 with the 1.4x teleconverter, you are only slightly worse than at f/8 without the teleconverter. To say "not bad" would be an understatement – the Nikon 500mm f/5.6 PF is basically state-of-the-art in sharpness, even compared to the newest mirrorless lenses out there.
Bokeh
There are two minor drawbacks to the Phase Fresnel element. The first is that the ridges on the lens element inherently cause a tiny bit more diffraction than a traditional lens element. This drawback is not really relevant on the 500mm f/5.6 PF, because it's such a sharp lens that it outpaces the loss of sharpness from diffraction.
The other drawback is that Fresnel lens elements in general can cause strange bokeh with concentric rings in out-of-focus highlights. Although this was a big question before the 500mm f/5.6 officially launched, it has turned out not to be a major problem with this lens. In my experience, the "Fresnel bokeh" doesn't occur unless the out-of-focus background has extremely bright highlights, like sunlight reflecting off water: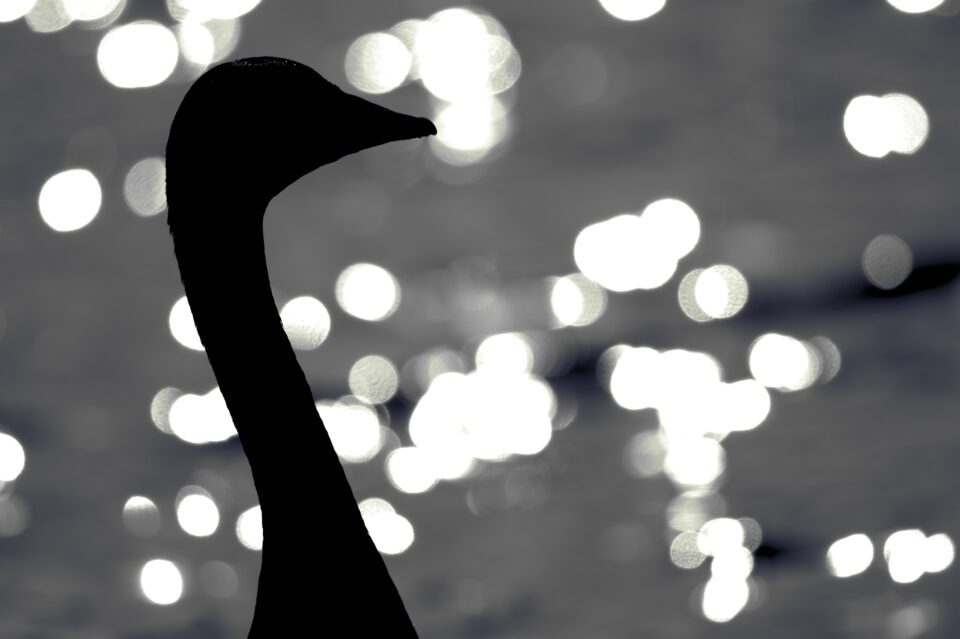 In most cases, however, I am happy with the bokeh of the 500mm PF. In virtually all real-world shooting scenarios, I do not notice any of the texture in out-of-focus highlights. I would only consider a different lens if your main subject requires you to shoot against the water very frequently, like surfing photographers.
By comparison, a more typical situation with a blurry background (even a busy one) looks like this: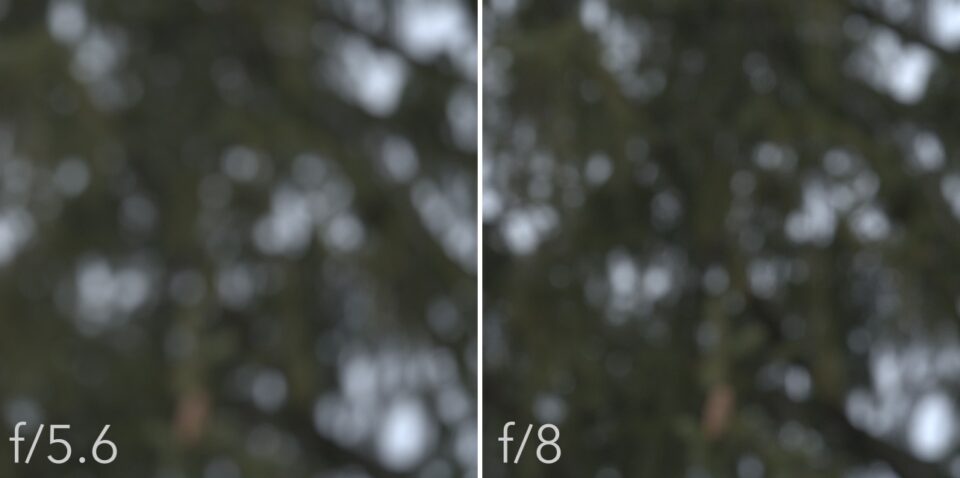 That covers my assessment of the Nikon 500mm f/5.6 PF's image quality. On the final page of this review is my verdict!