Although the Nikon D5600 has a more streamlined menu than some other cameras in Nikon's lineup, there are still a huge number of camera settings and options that you need to know about. In this article, I will cover everything you need to know about menu settings for the Nikon D5600, including a specific recommendation for every important setting. This should help you make the most of your new camera and use the D5600 to its full potential.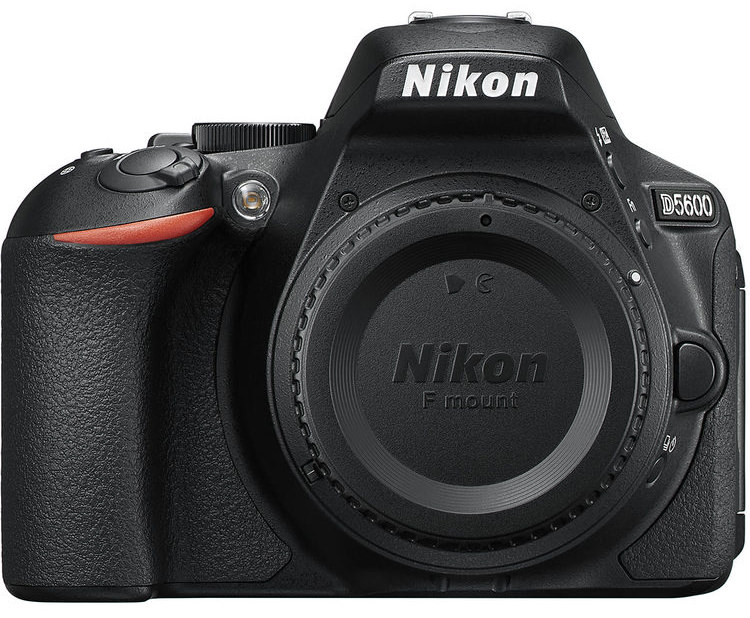 Playback Menu
Most of these settings are personal preferences, and you can leave the bulk of them at their defaults. However, there are a few playback settings that can make a big difference, so I will cover those here:
Playback display options

None (image only): Checked
Highlights: Checked (enables the ability to have overexposed regions of a photo blink black and white)
RGB histogram: Checked (see our article on histograms)
Shooting data: Not checked
Overview: Checked

Image review: ON (this determines whether or not your photo pops up immediately after you take it)
After delete: Show next
Auto image rotation: ON (signals to rotate vertical photos when you've opened them on a computer)
Rotate tall: OFF (otherwise, vertical photos will be too narrow on your camera, and you'll have to turn your head to review vertical photos when you're using a tripod)
The playback settings I skipped are one-time things that don't matter for setting up the Nikon D5600, such as creating a slideshow.
Photo Shooting Menu
Next up is the Photo Shooting Menu, which has several options. I'll add a note whenever something about the recommendation is worth clarifying:
Reset photo shooting menu: —
Storage folder: default, no need to change
File naming: DSC (default), no need to change, unless you use several cameras and want the file names from each to start in a unique way (such as NIK_1234 rather than the default DSC_1234)
Image quality: NEF (RAW) – but see our article on RAW vs JPEG if you aren't sure, since a number of D5600 users may prefer JPEGs
Image size: grayed out
NEF (RAW) recording: 14-bit
ISO sensitivity settings

ISO sensitivity: 100 (this simply matches whatever ISO you're using)
Auto ISO sensitivity control: ON (though you will potentially be turning this off quite frequently, such as tripod-based work where you always want the same ISO; see our article on Auto ISO)
Maximum sensitivity: 3200
Maximum sensitivity with flash: 3200
Minimum shutter speed: Auto -> Center option

White balance: AUTO
Set Picture Control: SD (Standard), Default values, unless you already know you have a specific reason to change it (doesn't affect the photo itself if you're a RAW shooter)
Manage Picture Control: —
Color space: Adobe RGB if you shoot RAW, since it doesn't affect the photo itself and provides a slightly more accurate in-camera histogram. Use sRGB if you shoot JPEG
Active D-Lighting: OFF, especially important if you shoot RAW, since it affects how your camera meters a scene (see a list of all the settings which affect RAW photos)
HDR: Grayed out if shooting RAW
Release mode: Single Frame for typical photos, Continuous High for action photography where you need a burst of shots, Quiet mode if you need a slightly quieter camera, and self timer if you need a delay between pressing the shutter button and taking the photo. (Note that you can also change this via the button on the left-hand side of the D5600, on the front, near the lens mount.)
Long Exposure NR: OFF, unless you are taking relatively long exposures (20-30 seconds or more) and you don't mind waiting twice as long to capture the photo
High ISO NR: OFF (doesn't affect RAW photos)
Vignette control: OFF (doesn't affect RAW photos)
Auto distortion control: OFF (doesn't affect RAW photos)
Optical VR: ON in most cases, if your lens's vibration reduction can only be adjusted via a menu, like Nikon's newest 18-55mm AF-P
Movie Settings

Frame size/frame rate: 1920×1080; 30p (though use 24p if that's what your output requirements specify, and use 60p if you want slow motion)
Movie quality: High
Microphone: Auto (this only affects the in-camera microphone)
Wind noise reduction: ON (also only affects the in-camera microphone)
Manual movie settings: ON (enables the ability to adjust shutter speed and ISO manually for videos when in manual mode)
Custom Setting Menu
Next up on the D5600 is the custom settings menu (the pencil icon), which includes important options like autofocus settings and custom button layouts.
Autofocus

AF-C priority selection: Release (since release priority takes a photo when you press the shutter button, while focus priority waits until the D5600 thinks your subject is in focus before doing so. I find that the D5600 can take too long when set to focus priority, but this is a personal preference)
AF-S priority selection: Release (same note as above)
Built-in AF-assist illuminator: OFF
Rangefinder: OFF (this puts little arrows in the viewfinder to help you use manual focus, but I personally have never found them helpful; other photographers differ)
Manual focus ring in AF mode: ON

Exposure

EV steps for exposure cntrl: 1/3
ISO display: ON

Timers/AE lock

Shutter-release button AE-L: OFF (I don't want the D5600's exposure to lock the moment I half-press the shutter button)
Auto off timers: I prefer "Normal" on this, but it's totally personal preference, and you can customize each option individually
Self-timer

Self-timer delay: 5s (may change depending upon your needs for the photo)
Number of shots: 1 (also may change)

Monitor off delay: 1m, 1m, 5m, 20s, 5m
Remote on duration (ML-L3): 5m

Shooting/display

Exposure delay mode: OFF (but this can be very useful to turn on for tripod shooting)
File number sequence: OFF (not a big deal regardless)
Viewfinder grid display: ON (personal preference)
Date stamp: OFF
Reverse indicators: The bottom option (also personal preference; I prefer it when overexposure is indicated on the right-hand side and underexposure is indicated on the left-hand side)

Bracketing/flash

Flash control for built-in flash: TTL
Auto bracketing set: AE bracketing

Controls

Assign Fn button: ISO
Assign AE-L/AF-L: AF-ON (this is a highly recommended setting – it decouples autofocus from your shutter button. So, you'll focus by pressing the AE-L/AF-L button instead, also known as back-button focusing. Once you try it, I doubt you will go back!)
Assign touch FN: I personally do not use the touchscreen on the D5600 (or any other camera at the moment), so this option is totally up to your personal preference. You might find some value in setting it to "Auto bracketing," since there is not a bracketing button on the D5600.
Reverse dial rotation: Unchecked for exposure compensation, checked for shutter speed/aperture. That's just how I learned it; you may be different.
Setup Menu (Wrench Icon)
With this menu, once you set it, you probably will leave it there – things like time and date. However, some of these settings are still important to know, so I'll cover them below. The options I don't list below are either irrelevant to setting up your camera (like Image Comment, where you write a note on a particular image) or very personal (like language and time zone).
Format memory card: Only click "YES" when you want all the photos on your memory card to be deleted. This is irreversible, but it is important to do when you switch a memory card into the D5600 from another camera, or you've finished offloading all your images onto the computer and you want a clear card.
Copyright information: It's a good idea to put your info here in case you lose your camera
Beep options: OFF
Touch controls: OFF, personally, but most photographers will want them ON (I just don't like using touchscreens with a camera)
Info display format: Totally up to you, but I find that the top center option (black text with white background) causes the least eye strain
Auto info display: OFF (can pop up annoyingly when you half-press the shutter button, and you can turn it on/off anyway by just pressing the "INFO" button)
Info display auto off: OFF (doesn't always work; and, again, I'd prefer just to do it manually by pressing the INFO button)
Clean image sensor: Clean at startup/shutdown
Lock mirror up for cleaning: — (grayed out when you don't have enough battery life; this is for manual sensor cleaning only)
Flicker reduction: AUTO
Slot empty release lock: LOCK
HDMI

Output resolution: AUTO
Device control: ON

Airplane mode: This is only relevant for disabling image transfer connections to a smartphone. If you haven't set up these connections or are not actively using them, OFF does the same thing as ON
Connect to a smart device: Only use when you want to access SnapBridge (used for transferring low resolution JPEGs from the D5600 to your phone in the background – see more on Nikon's page for SnapBridge)
Send to smart device (auto): OFF – but turn it on if you do want to send photos to your phone
Wi-Fi: Defaults
Bluetooth: OFF
Conclusion
That's all! Now you know all of the D5600's most important settings and which options to select for yourself. Again, the specific recommendations above are simply what work for me, and your own needs may be different (which is why so many settings exist in the first place) – but these options should be a good starting point. Also, note that you can add the ones you're likely to change most often (such as ISO sensitivity settings, exposure delay mode, long exposure NR, auto bracketing set, and perhaps a few others specific to your style of shooting) to your "MY MENU" for quicker access.
I hope that these recommendations will be helpful and allow you to get the most out of your Nikon D5600! If you have any questions about why I recommended some of these particular settings, please feel free to ask in the comments section below.